Step inside enchanting worlds inspired by Van Gogh's art at the Singapore Edition of Van Gogh: The Immersive Experience at Resorts World Sentosa.
What is Van Gogh: The Immersive Experience in Singapore?
From 1 March 2023, Van Gogh: The Immersive Experience is open to the public at Resorts World Sentosa. Making its Southeast Asia debut in Singapore, this digital art experience is inspired by Van Gogh's artworks, and the 'Immersive Experience' has been touring around Europe and the US for several years. Visitors can learn about Van Gogh's troubled life, see numerous reproductions of his artworks – including the less common ones. And perhaps at the very least, find the entire journey a therapeutic one, because it's filled with colourful Impressionist-style swirls and relaxing music. There is a new room also debuting in Singapore – find out more in the Photo Tour below.
'Van Gogh exhibitions' around the world are actually produced by different organisers, each show offering slightly different things, but all backed by a main show with digital projections. When characters from Netflix hit Emily in Paris visited one of such exhibitions, it created even more hype and demand for Van Gogh projection art. According to the Van Gogh: Immersive Experience website, there are currently 19 Editions produced by that company alone running worldwide.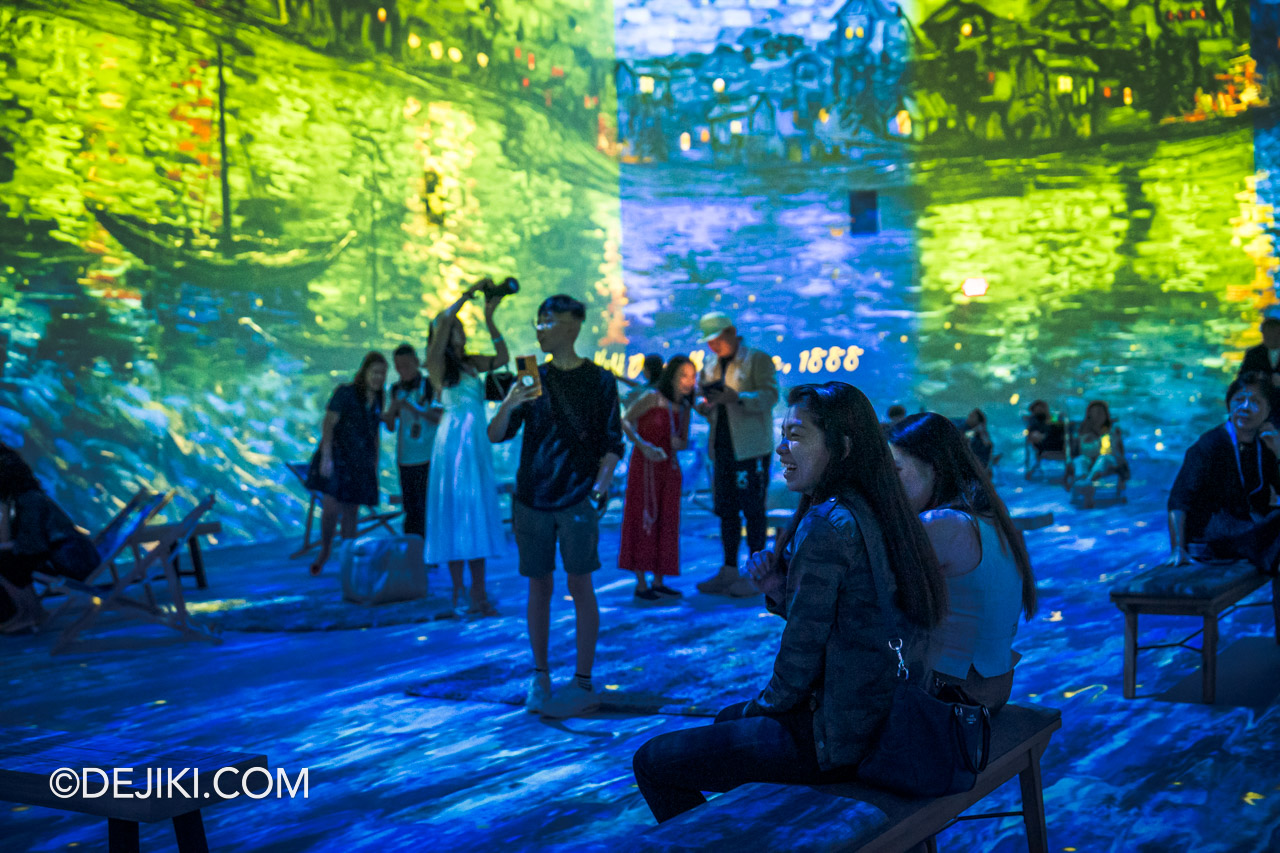 Some may also recall Van Gogh: Alive!, an exhibition that was held at ArtScience Museum way back in 2011 – that's created by another company. If you have also been to that 2011 exhibition (like me) and enjoyed it, then you might also like this new one. It has better projections – especially the floor projections, and the central room is immensely bigger. The animations are also much better than before. The only problem might be getting a ticket, especially if you don't like to plan ahead.
---
Ticket Prices for Van Gogh: The Immersive Experience in Singapore
Now this is where things get tricky. Tickets are sold with fixed date entry, and there are all sorts of bundles available. While tickets can be easily bought online, many dates are already sold out due to high demand.
Tickets are available online from RWS website, Fever (event organiser) and Klook. At this time, the cheapest tickets are available from RWS (use the link below), however tickets for March are sold out.
Van Gogh: The Immersive Experience in Singapore Tickets
Starting Price
(Adult/ Child)

Purchase from RWS Website


Various ticketing packages, each including a $5 meal voucher for use at Malaysian Food Street or within an attraction (Universal Studios Singapore or S.E.A. Aquarium), depending on bundle chosen.

from

$27/ 19


Buy from RWS »

Purchase from Fever
Various ticketing options, including VIP Tickets (which includes priority access to VR experience and one Van Gogh poster) and Family Bundles. Typically has more dates/ timeslots available. Starting prices are indicated; actual price varies depending on date chosen.

from

$24/ 15


Buy from Fever website »

Purchase from Klook
Bundles with either Universal Studios Singapore or S.E.A. Aquarium. $5 Meal voucher included.

from

$69/ 50


Buy from Klook »
---
Photo Tour: Van Gogh: The Immersive Experience in Singapore
Start your journey with a walk through Portraits of Van Gogh – a section that brings you to the lower level of the exhibition space.
These spaces look interesting because they were part of a pirate-themed dining attraction (Once A Pirate) that was supposed to replace the RWS Theatre. The project was delayed and eventually cancelled – but some of the sets were left behind.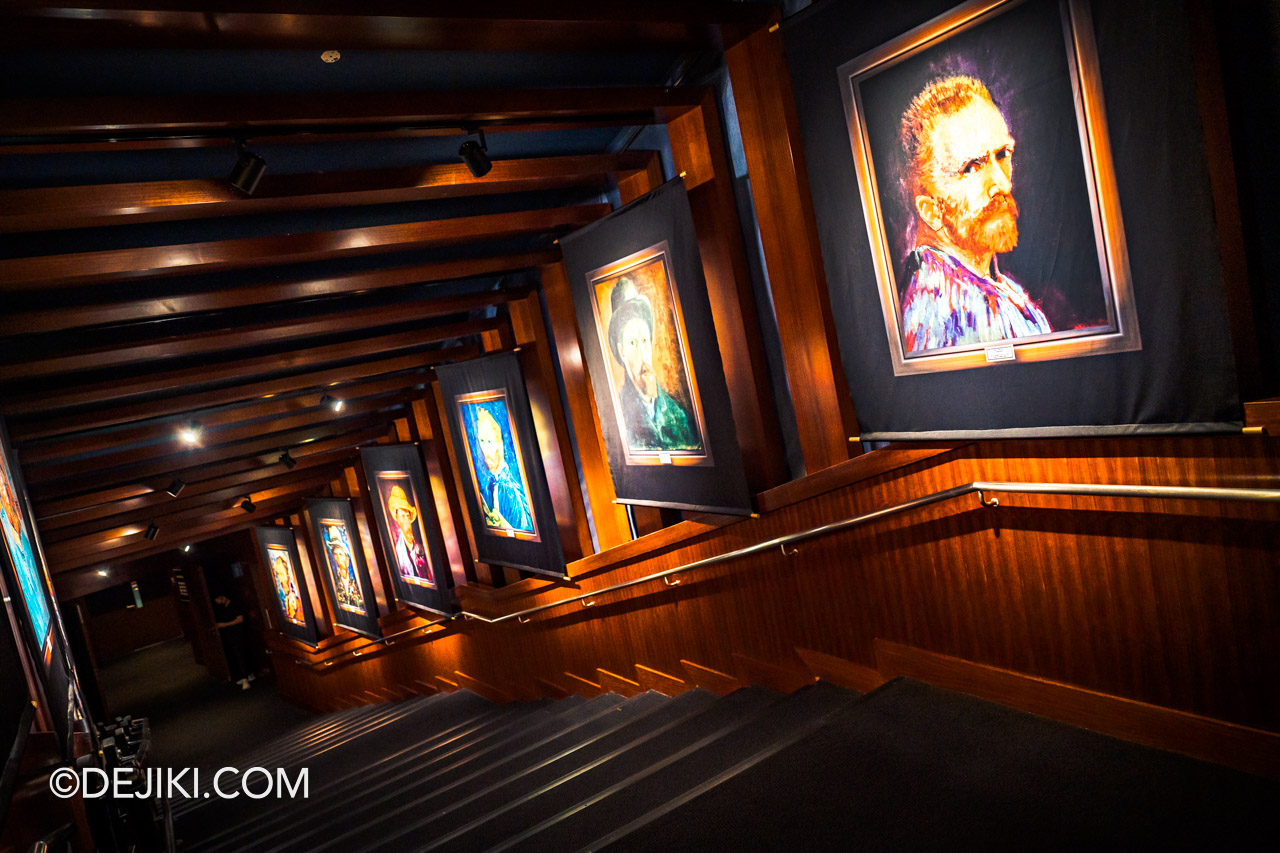 Walk down the original steps to the theatre stalls, and soon you will arrive at the exhibition site.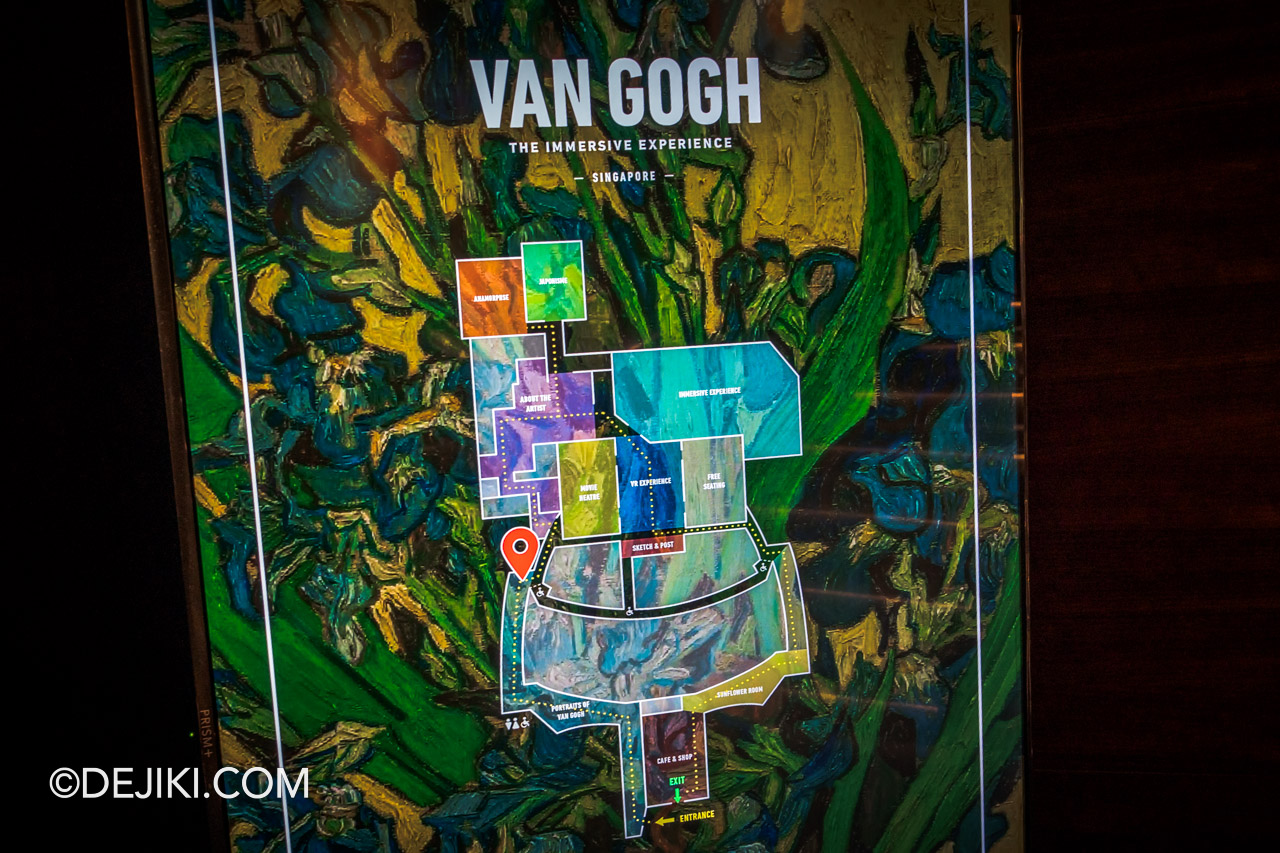 This map basically shows how the Exhibition is making use of the original RWS Theatre space. It has become a flexible venue for such exhibitions moving forward. The next exhibition is completely different from Van Gogh and would appeal to fans of a major media franchise.
And now you're at Van Gogh: The Immersive Experience, and the first area, About The Artist, is filled with exhibits about Van Gogh, along with reproductions of his famous pieces.
There is a section dedicated to the series of Sunflowers.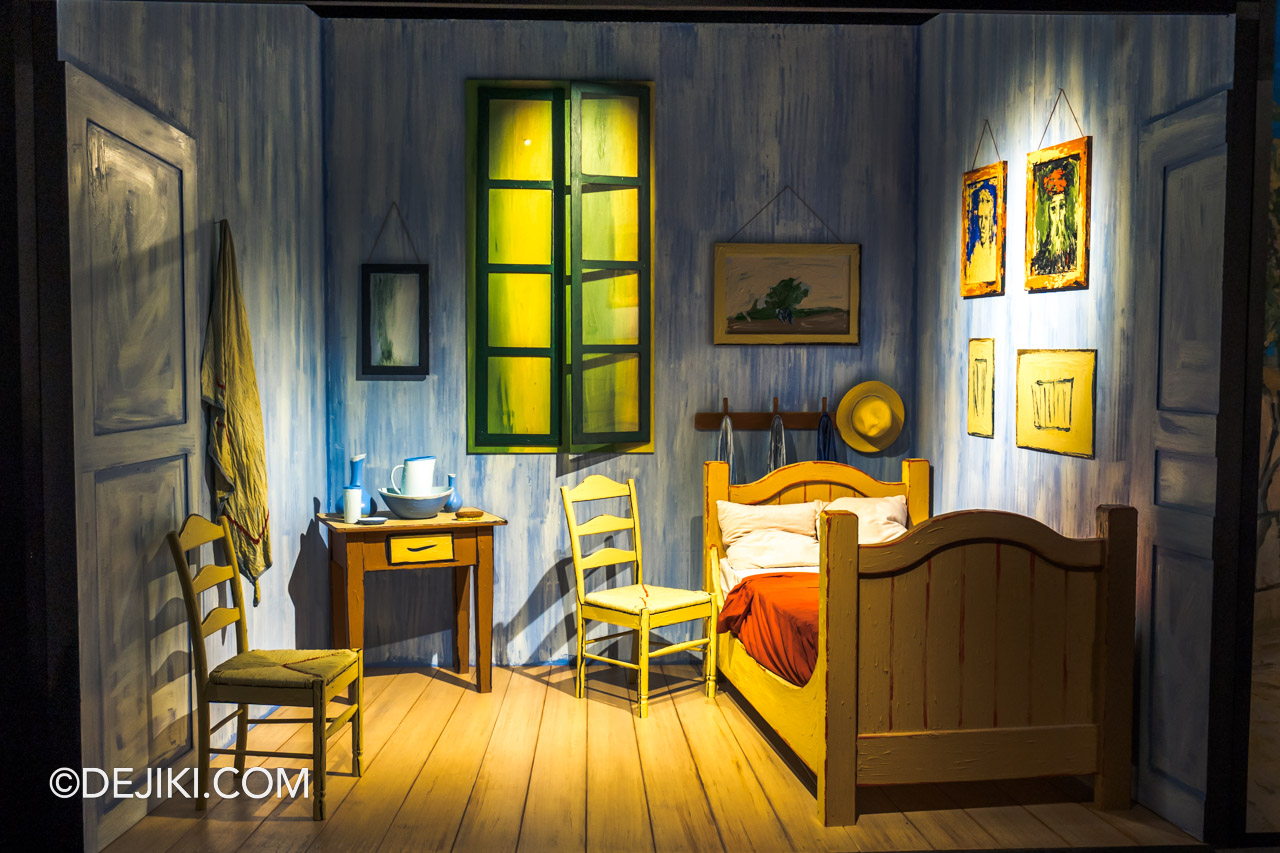 You can also find a room decorated like the Bedroom in Arles series – and you can walk right in. It's also great for group photos.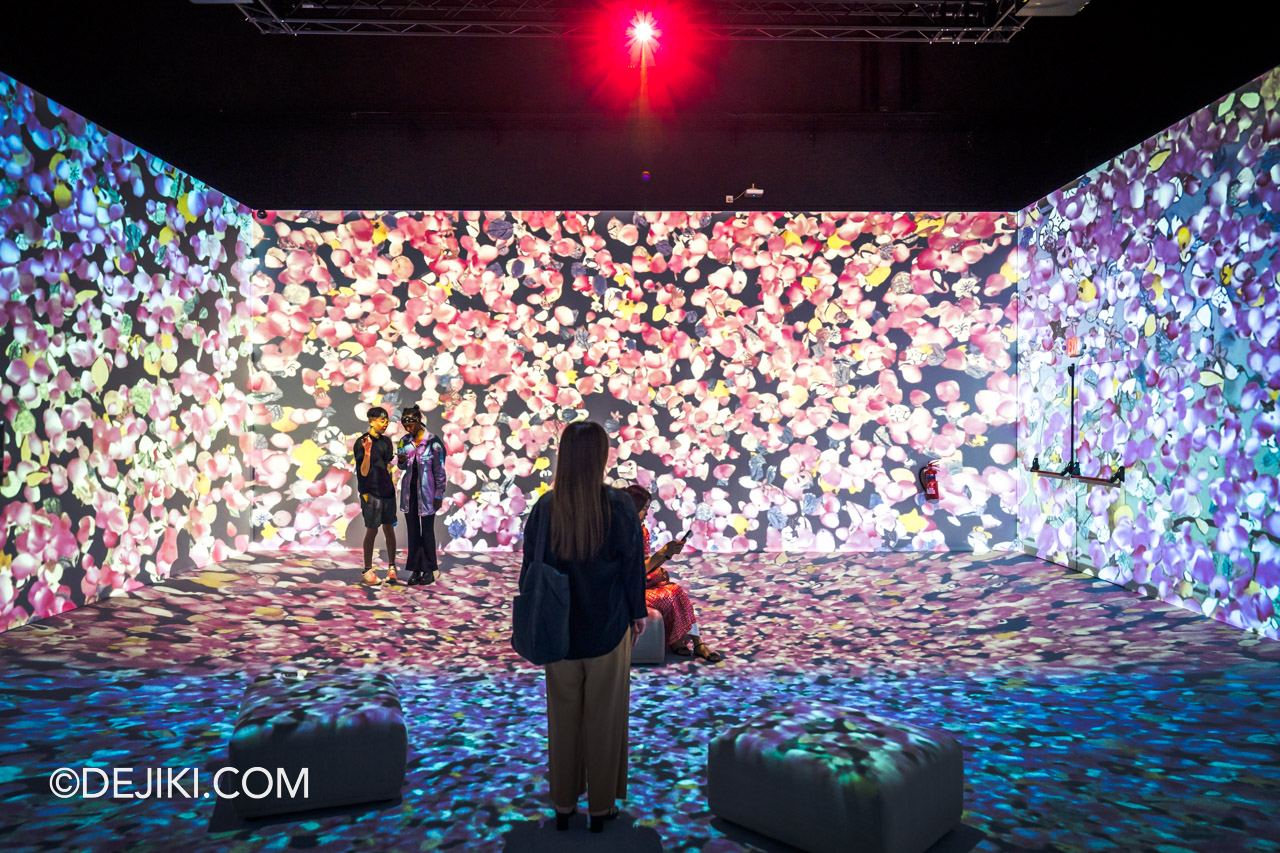 Next to the bedroom and other anamorphic art installations: The Japonisme showcase, a room with 360 degree projection artworks, inspired by the Japanese woodblocking art form.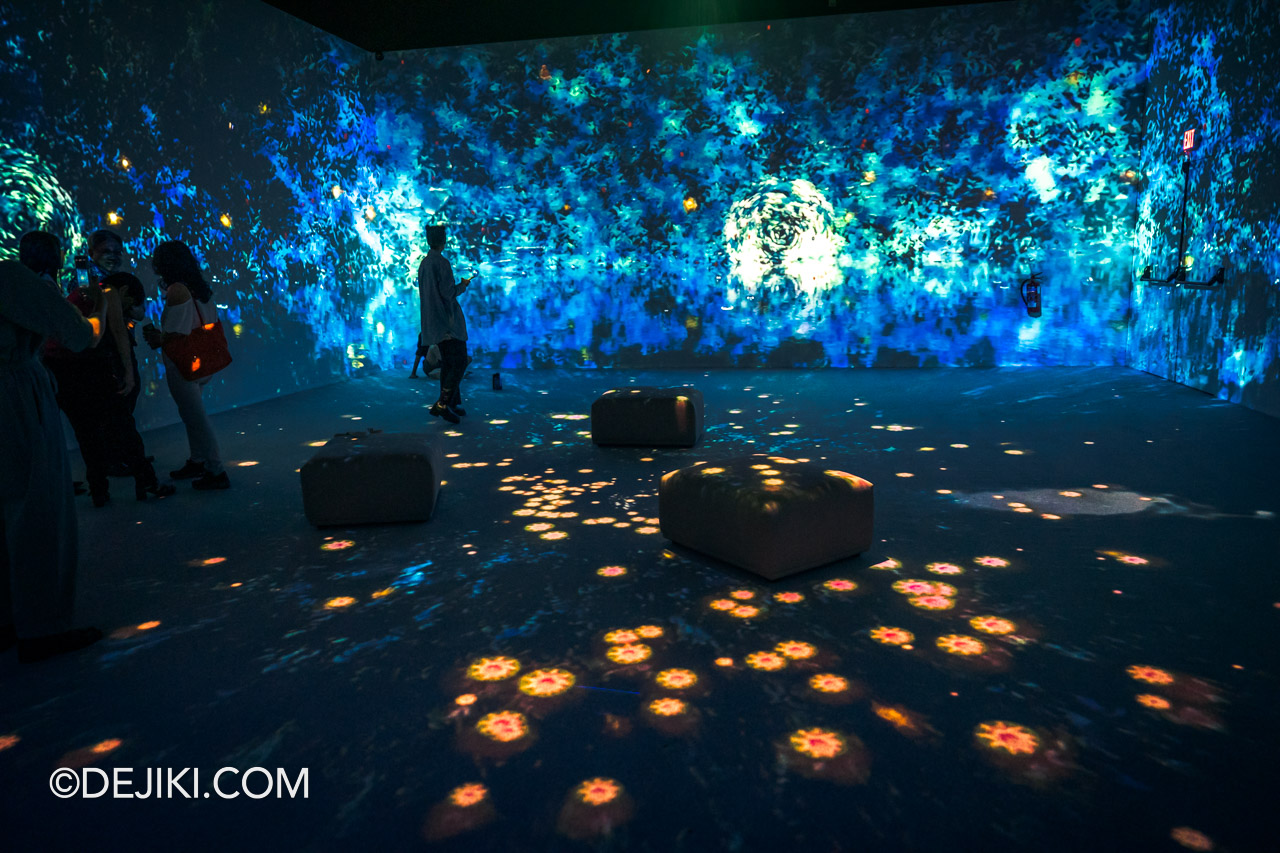 This room makes its international debut in the Singapore Edition, and has dazzling (or even trippy) animations and 3D landscapes that are unlike the main Immersive Experience gallery. You can also enjoy some matcha tea in this room.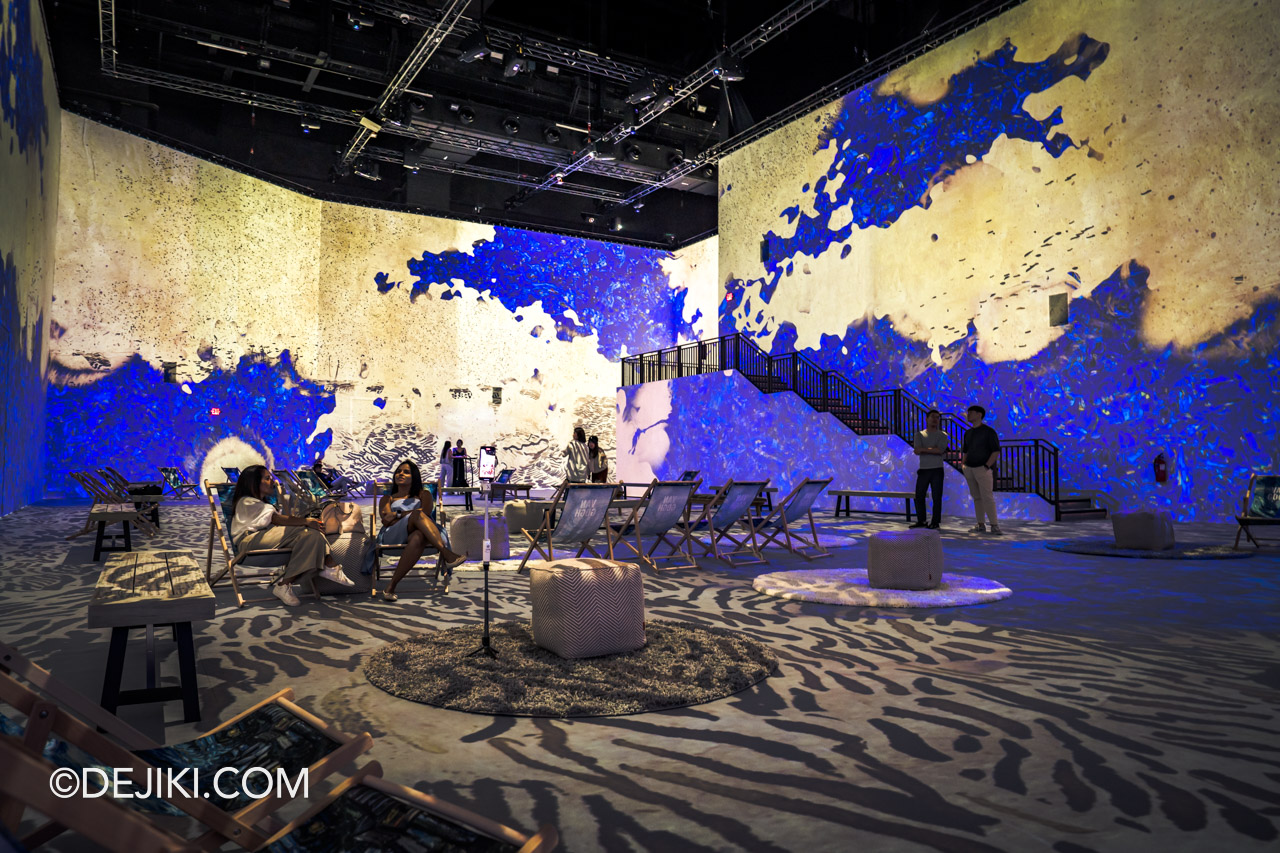 You'll be spending most of your time in the main Immersive Experience gallery, featuring the most expansive projections.
Here you can relax and be surrounded by the mesmerising artwork which blends and morphs into iconic landscapes inspired by Van Gogh's works.
There is also an upper viewing gallery which offers a unique perspective, and of course, an opportune spot for impressive photos.
The full loop is about 40 minutes, so prepare to spend most of your time here.
Take the immersive experience further with the Virtual Reality Experience. For $5 Add-On (or included in VIP Ticket packages), you can enjoy a VR journey through 8 3D spaces and landscapes inspired by of Van Gogh's artworks.
At the Studio, take part in a colouring activity where you can create your own Van Gogh artwork and see it proudly displayed at the big screen.
After this, you make your way back to the upper level, and exit through the bright and yellow Sunflower Room.
At the Shop and Cafe, you can enjoy pastries and desserts from Janice Wong, or shop exclusive merchandise – all in this space that is beautifully themed.
---
Van Gogh: The Immersive Experience in Singapore
The Forum (B1) at Resorts World Sentosa
From 1 March 2023
Closed on Tuesdays
Opening Hours varies: Monday, Wednesday and Thursday: 11AM – 8PM
Friday and Saturday: 10AM – 9PM
Sunday: 10AM-7PM
Due to high demand, this event is selling out on many dates. Book your tickets early to avoid disappointment:
Van Gogh: The Immersive Experience in Singapore Tickets
Starting Price
(Adult/ Child)

Purchase from RWS Website


Various ticketing packages, each including a $5 meal voucher for use at Malaysian Food Street or within an attraction (Universal Studios Singapore or S.E.A. Aquarium), depending on bundle chosen.

from

$27/ 19


Buy from RWS »

Purchase from Fever
Various ticketing options, including VIP Tickets (which includes priority access to VR experience and one Van Gogh poster) and Family Bundles. Typically has more dates/ timeslots available. Starting prices are indicated; actual price varies depending on date chosen.

from

$24/ 15


Buy from Fever website »

Purchase from Klook
Bundles with either Universal Studios Singapore or S.E.A. Aquarium. $5 Meal voucher included.

from

$69/ 50


Buy from Klook »