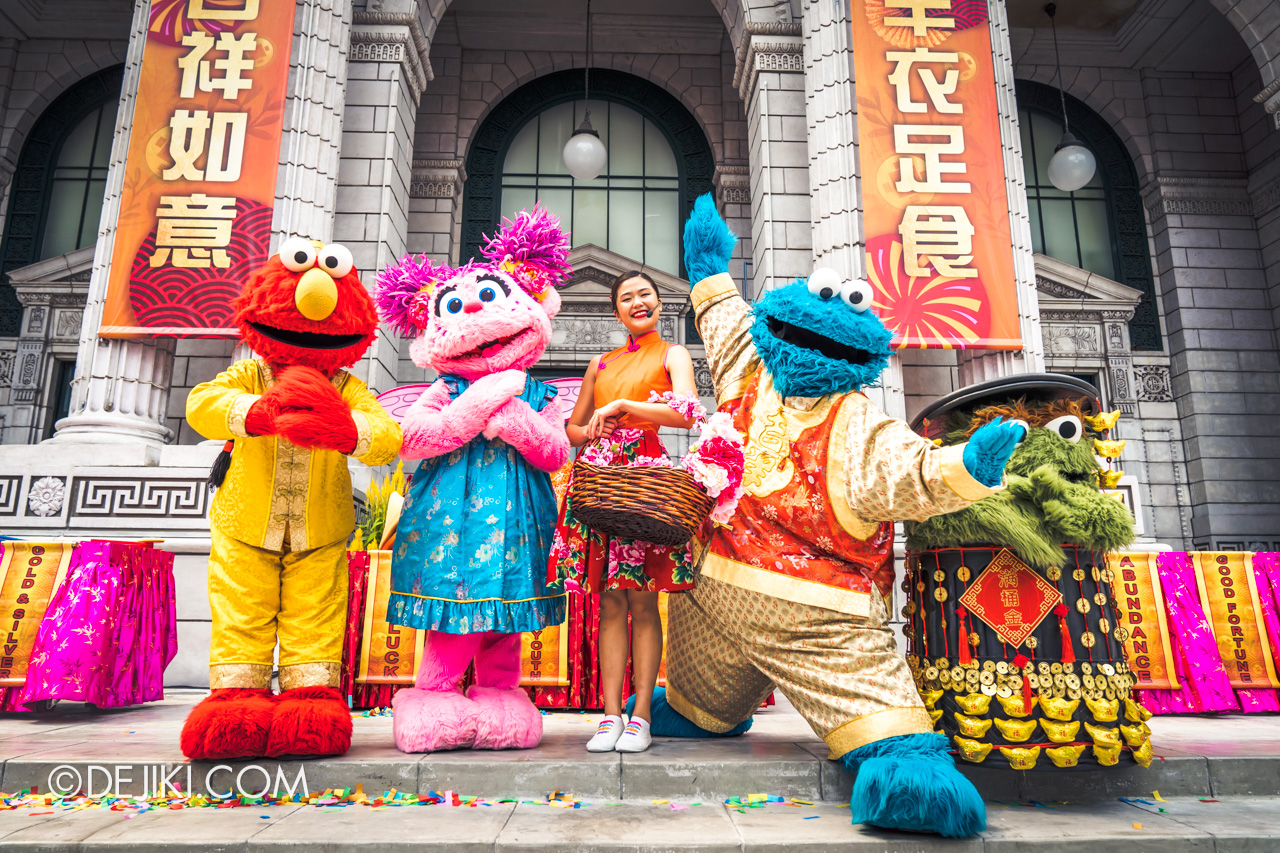 Ring in the Chinese New Year at Universal Studios Singapore's first festive event for 2019! Read on to learn more!
It's the first park update article of 2019 and this covers the new Chinese New year (CNY) event, so brace yourself for lots of fresh photos and news from the park!
Park Hour Changes
For the upcoming Chinese New Year holiday week, the park will be open for extended evening hours:
4 – 7 Feb, 10 Feb: 10AM – 9PM
8 – 9 Feb: 10AM – 10PM (Universal After Hours)
On the first two days of Chinese New Year (5 and 6 Feb), park guests can enjoy Hollywood Dreams Light-Up Parade in the evenings, followed by Lake Hollywood Spectacular towards park closing. These two shows are also available on Universal After Hours event nights. More information on that below.
Chinese New Year festivities at USS
The USS Chinese New Year event lineup is available from 25 Jan till 19 February 2019, so drop by the park to enjoy the seasonal shows and festive decor!
Check out huat's happening at the Hollywood and New York zone: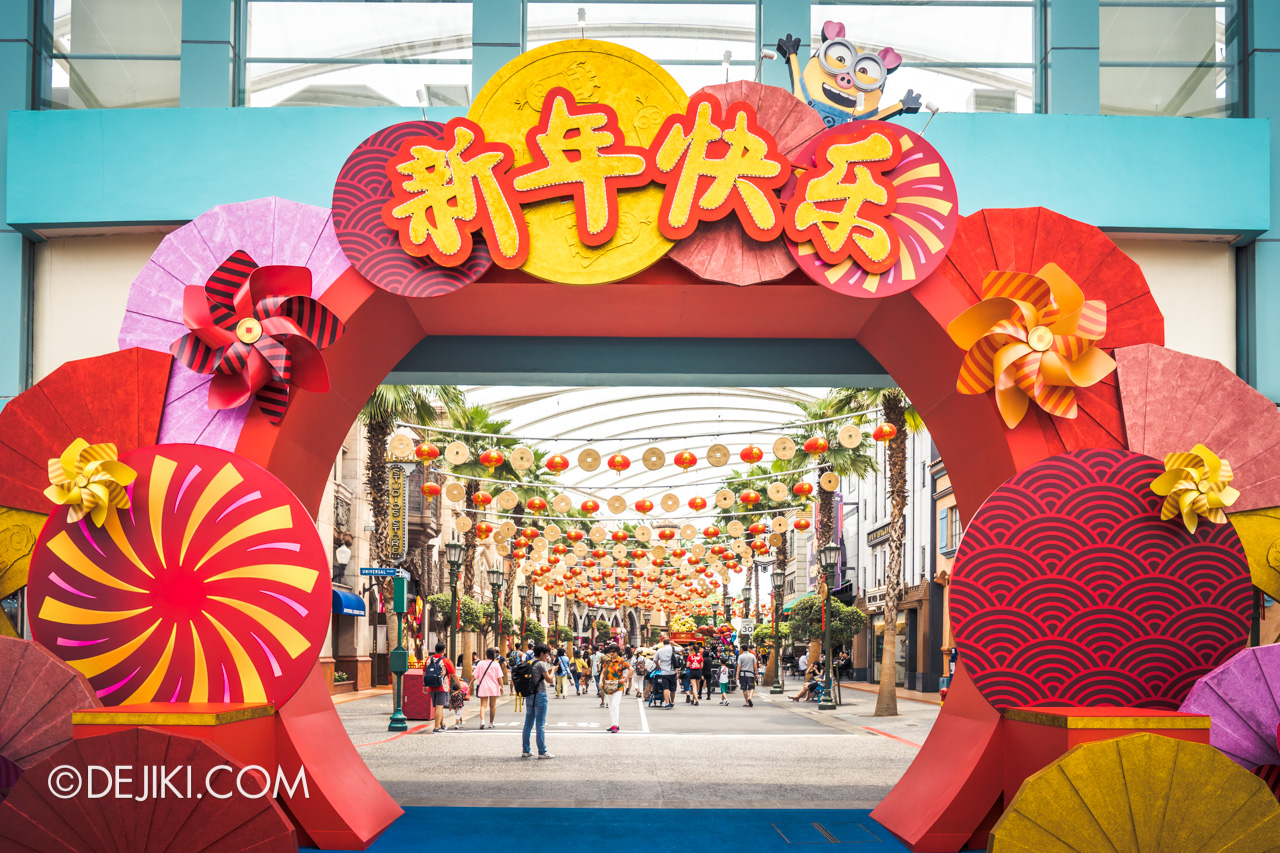 Colourful pinwheels and fans welcome you into the park. Look up above! It's a Minion with pig snout and ears! And a shiny Minion coin!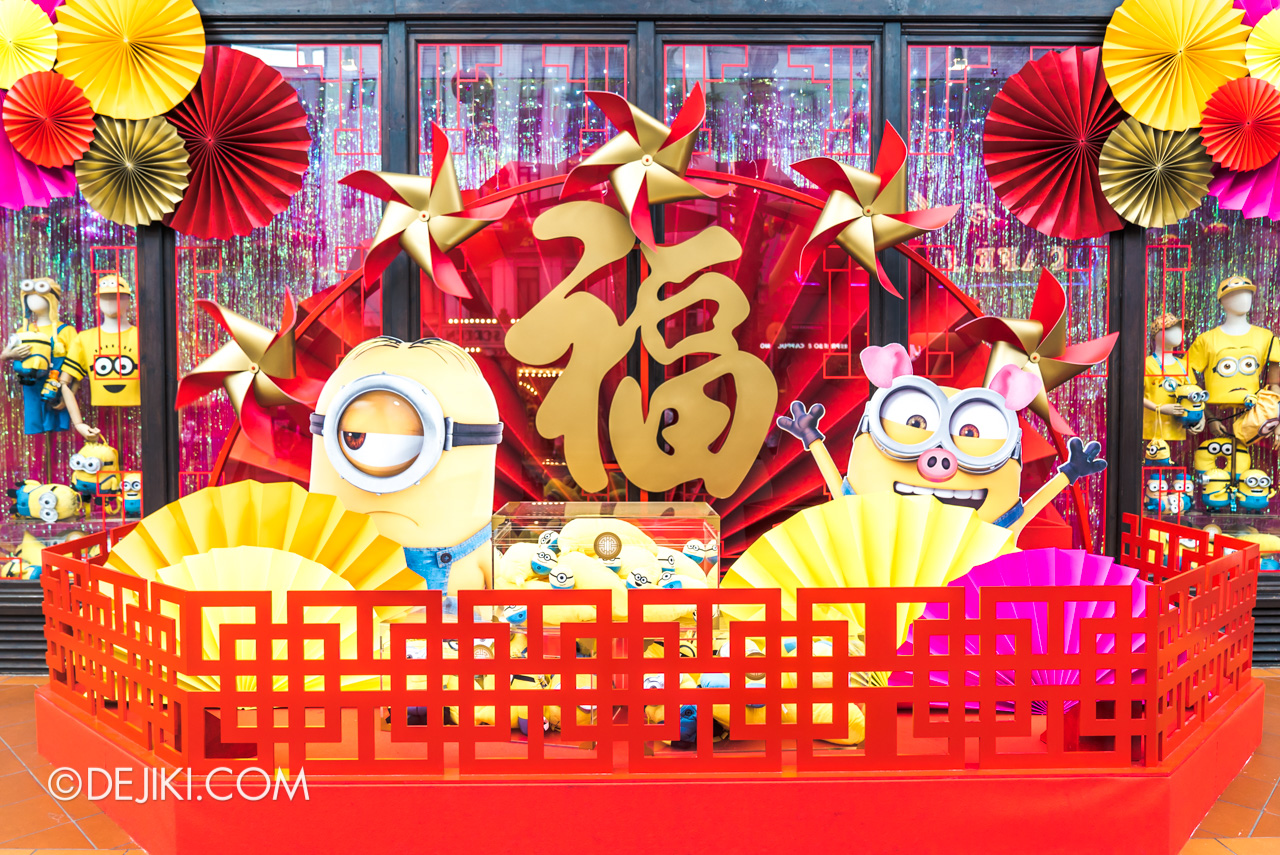 It's the same Minion again, at the Universal Studios Store window!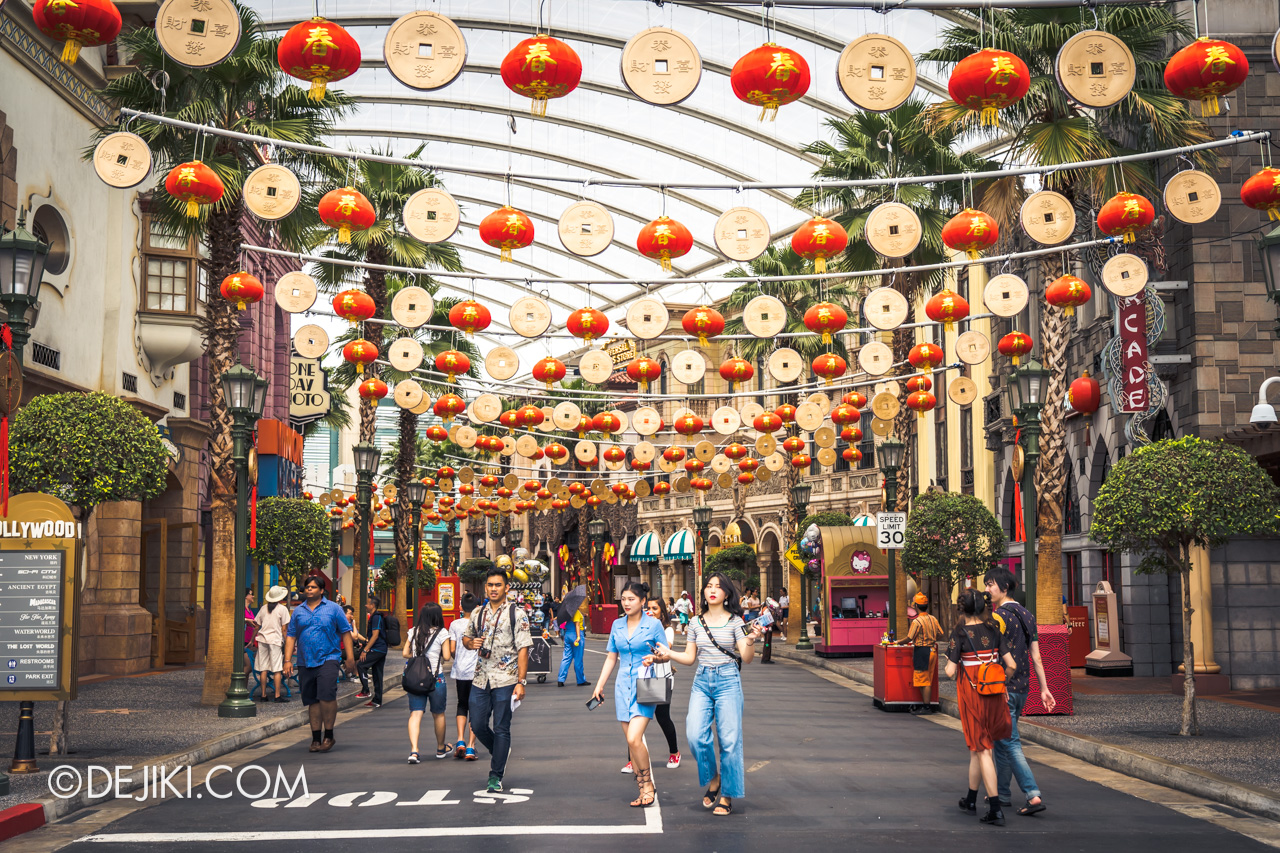 Lots of coin everywhere – it's basically raining gold.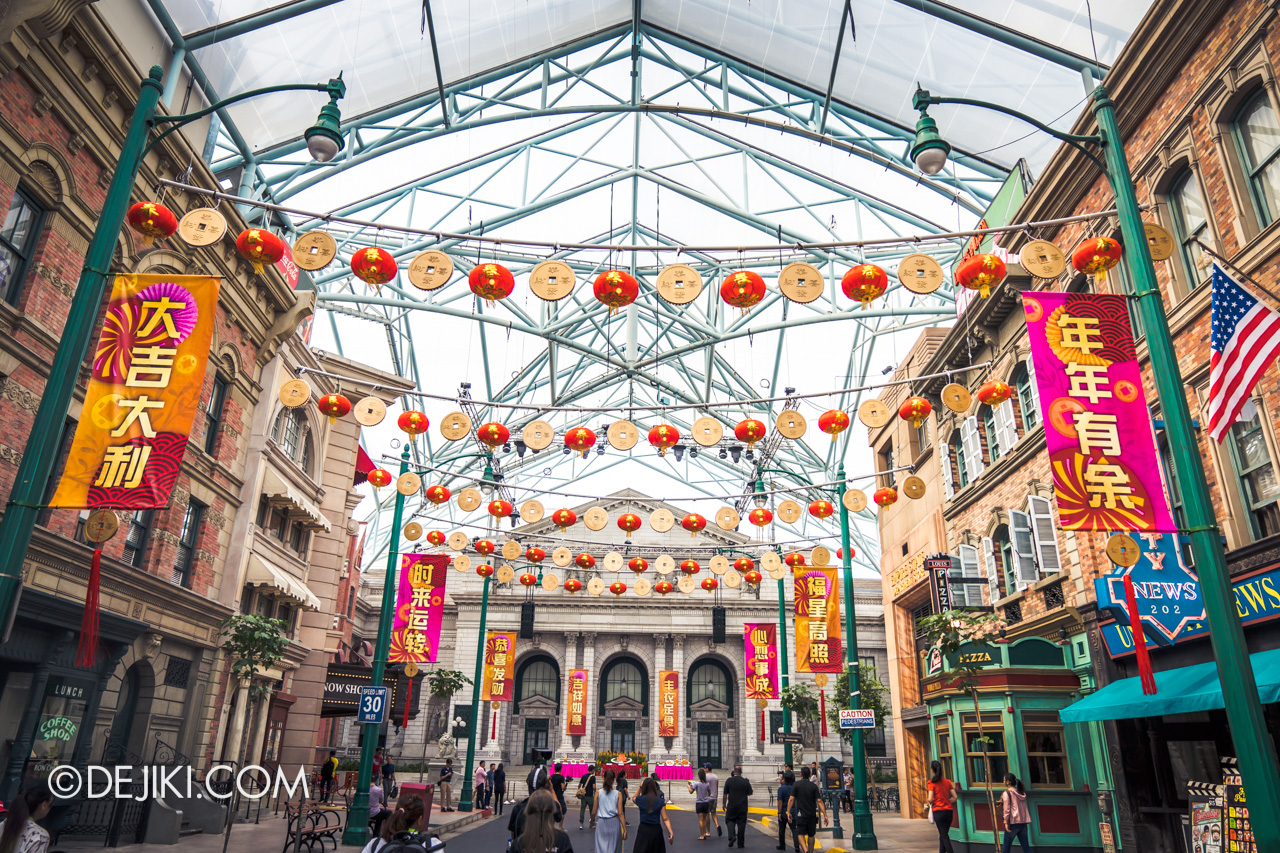 FREEBIE ALERT
Now that I got your attention… If you are visiting the park during the CNY event (25 Jan to 19 Feb), get to the park early for the Lucky Red Packet Giveaway. The first 1,000 guests to enter the park each day will receive red packets containing: Two USS exclusive gold embossed stickers, a $5 meal voucher, and Hollywood China Arcade credit voucher!
What's more, some of the red packets come with special surprise, a chance to win something really nice – the top prize being the USS Annual Pass! Good luck!
NEW SHOW: Monster Lo Hei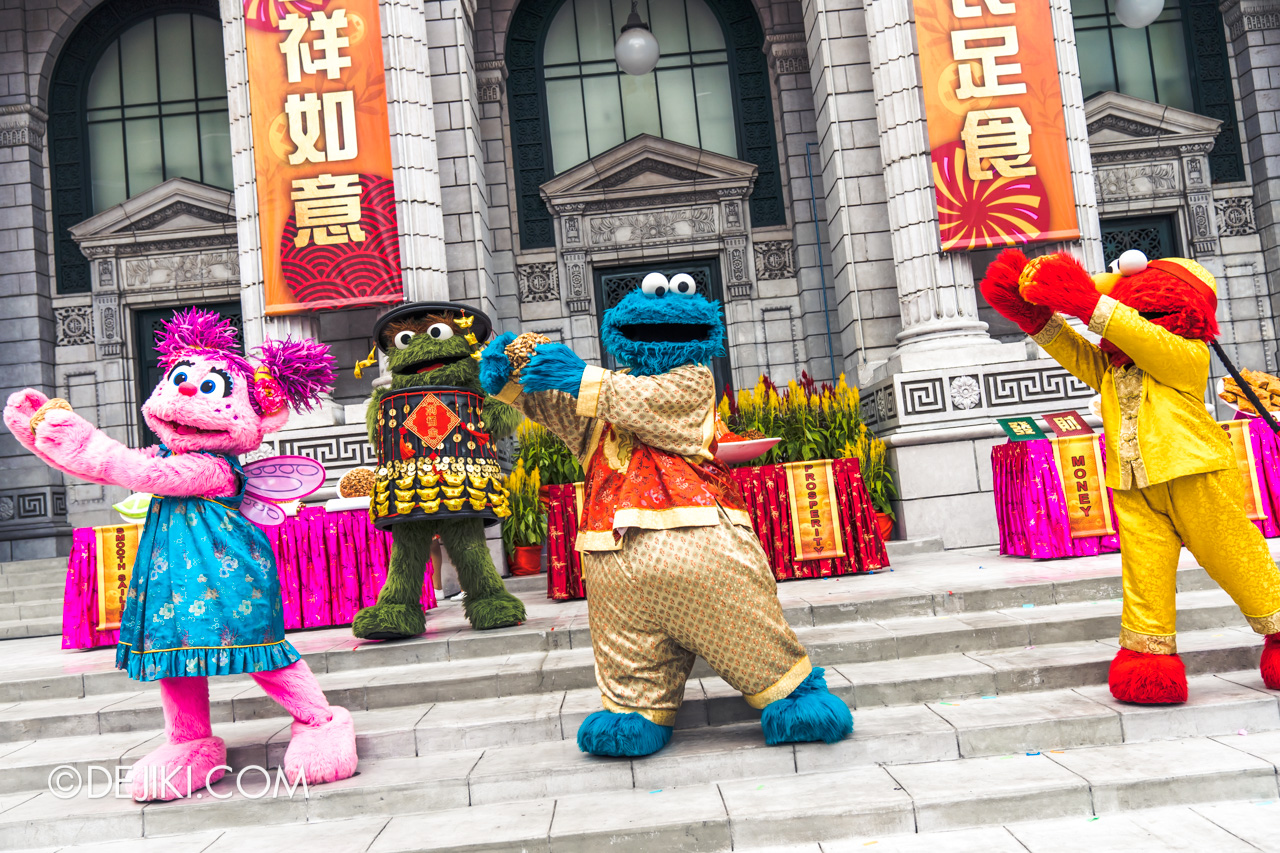 Watch as the Sesame Street gang learn all about yusheng dish (or prosperity toss) served during Chinese New Year.
Stick around for photo op with all 5 characters, and collect your lucky fortune cookie!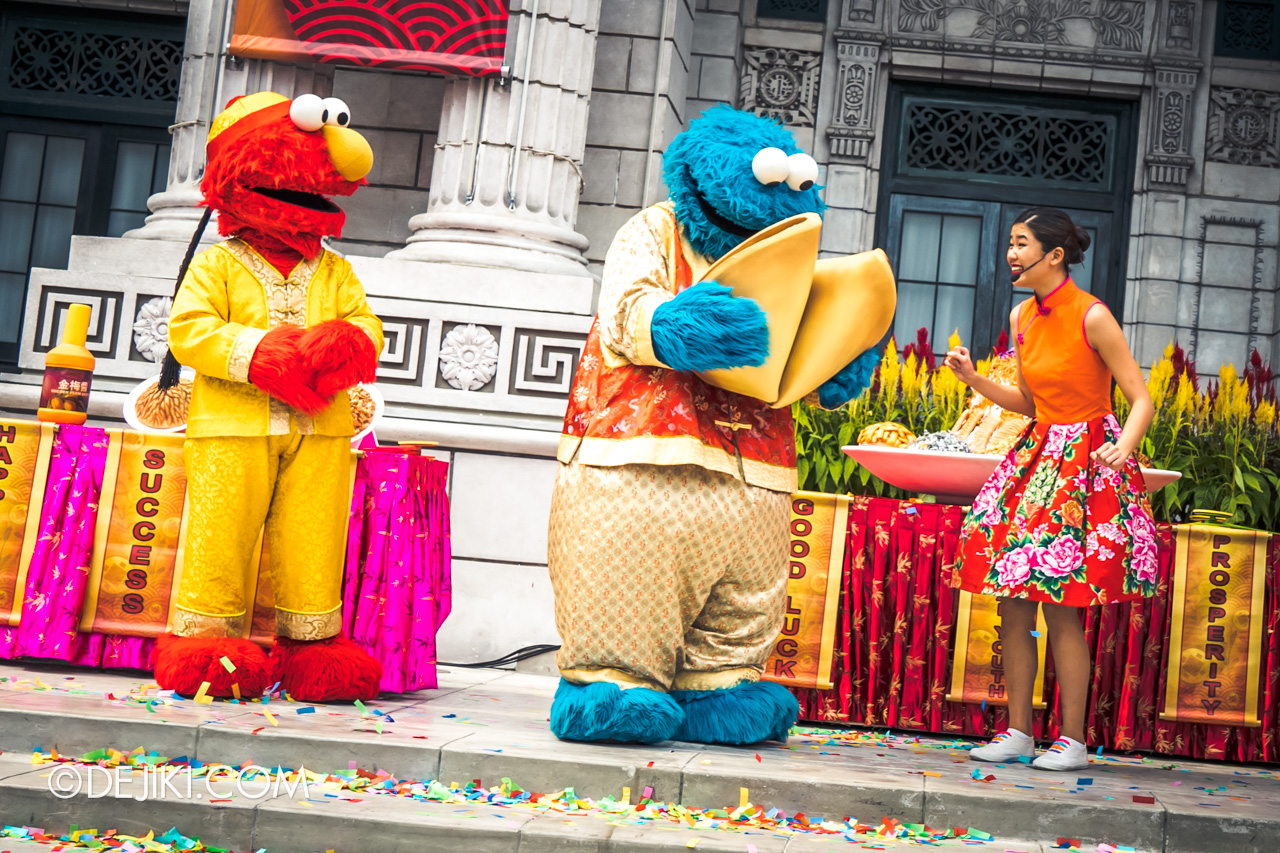 No, this belongs to Cookie Monster. You can have the smaller ones.
Catch snippets of the show here!
Auspicious Dragon Trail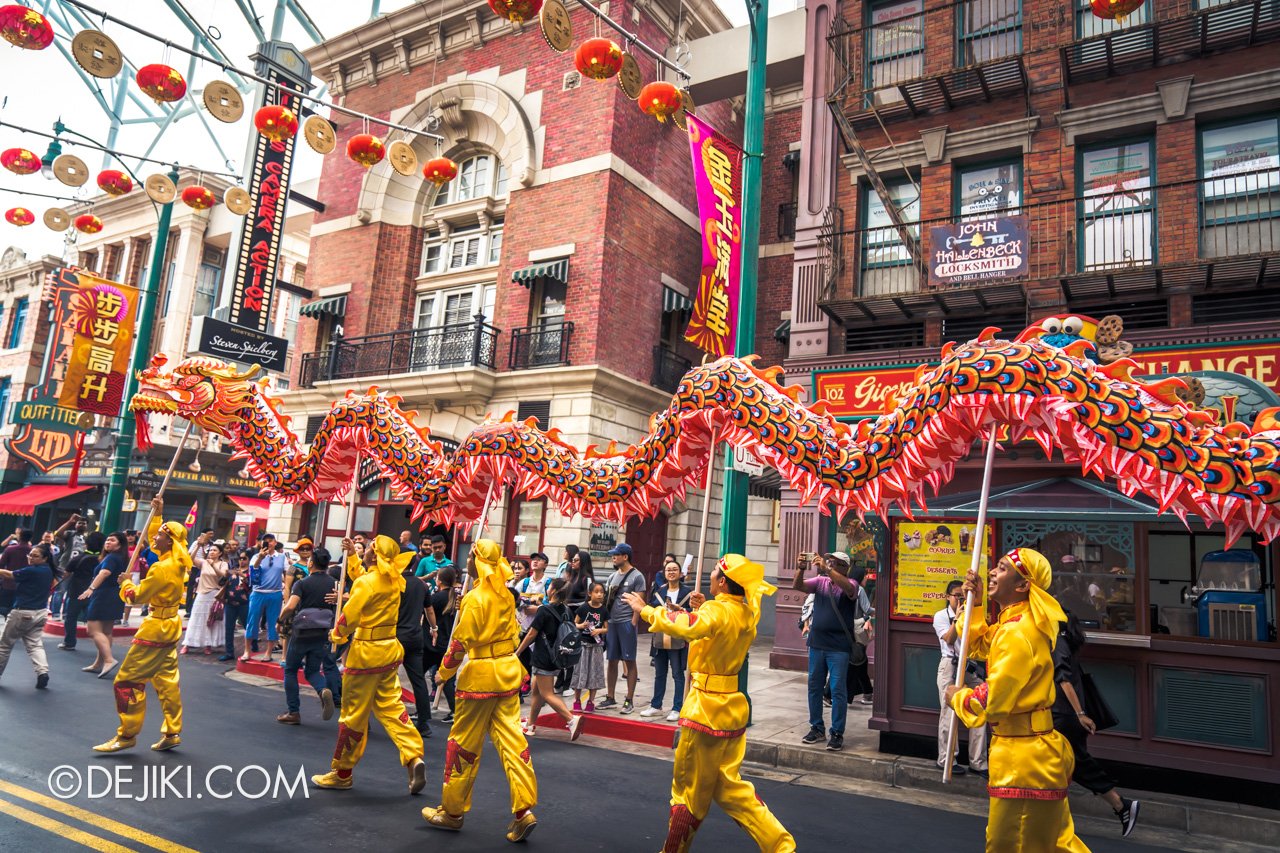 Returning this year is the Auspicious Dragon Trail show, a "dragon dance" that stops in all 7 themed areas of the park. You'll get to meet iconic characters from every zone, and for the first time, many of them are decked in festive outfits… where logically feasibly, you'll see.
The parade starts from Vine Street (beside Sesame Street Spaghetti Space Chase entrance) and the first stop is at Hollywood where you'll meet the Woodpeckers.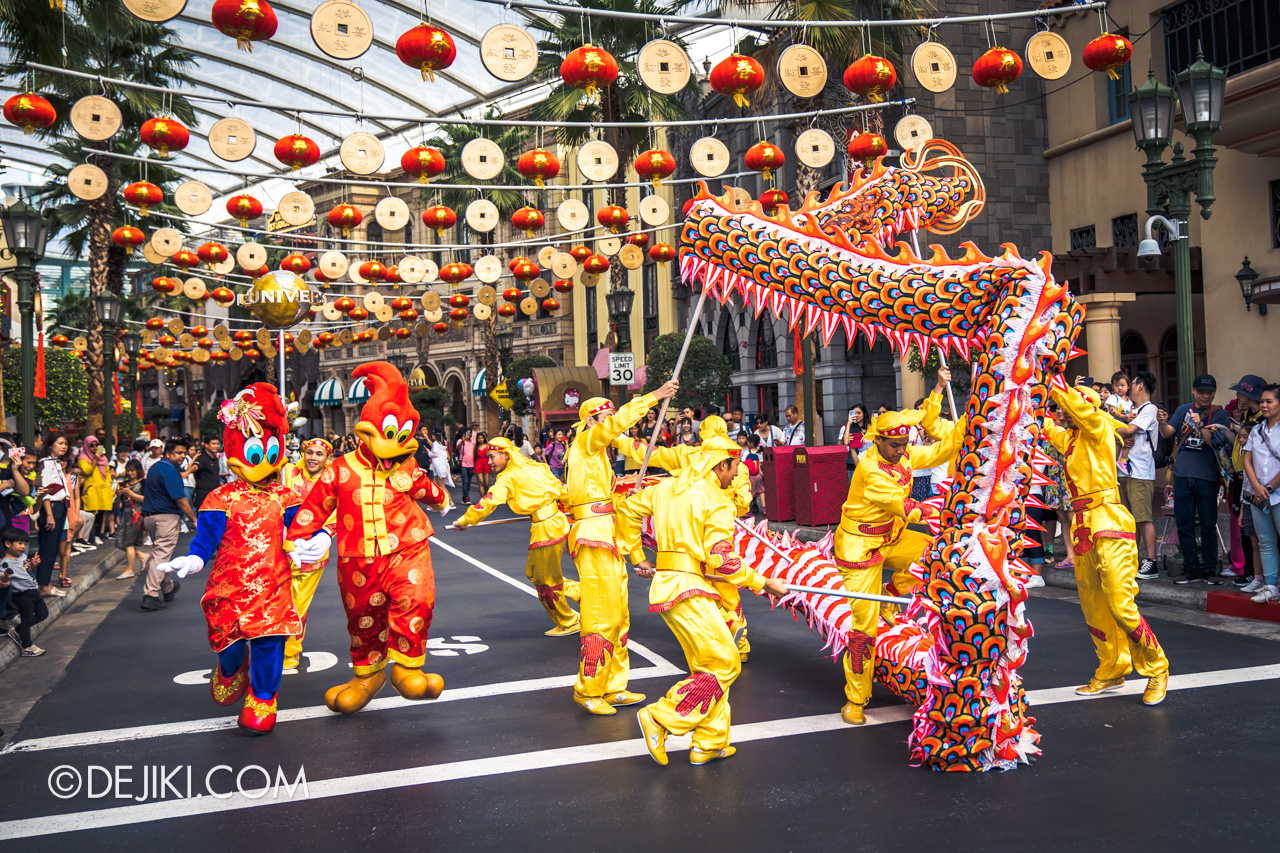 This year, the dragon will dance around the park in a clockwise direction, so the next stop is Madagascar.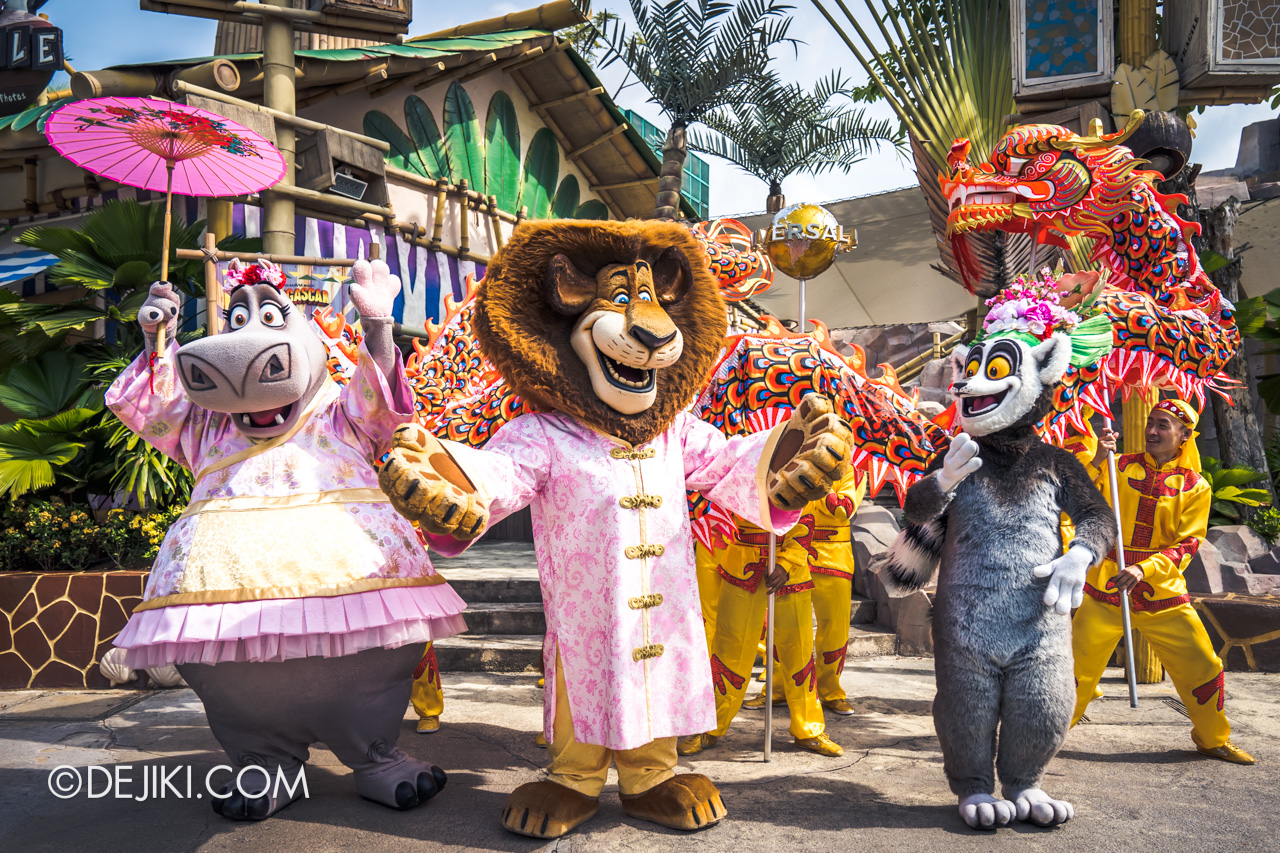 Oh my.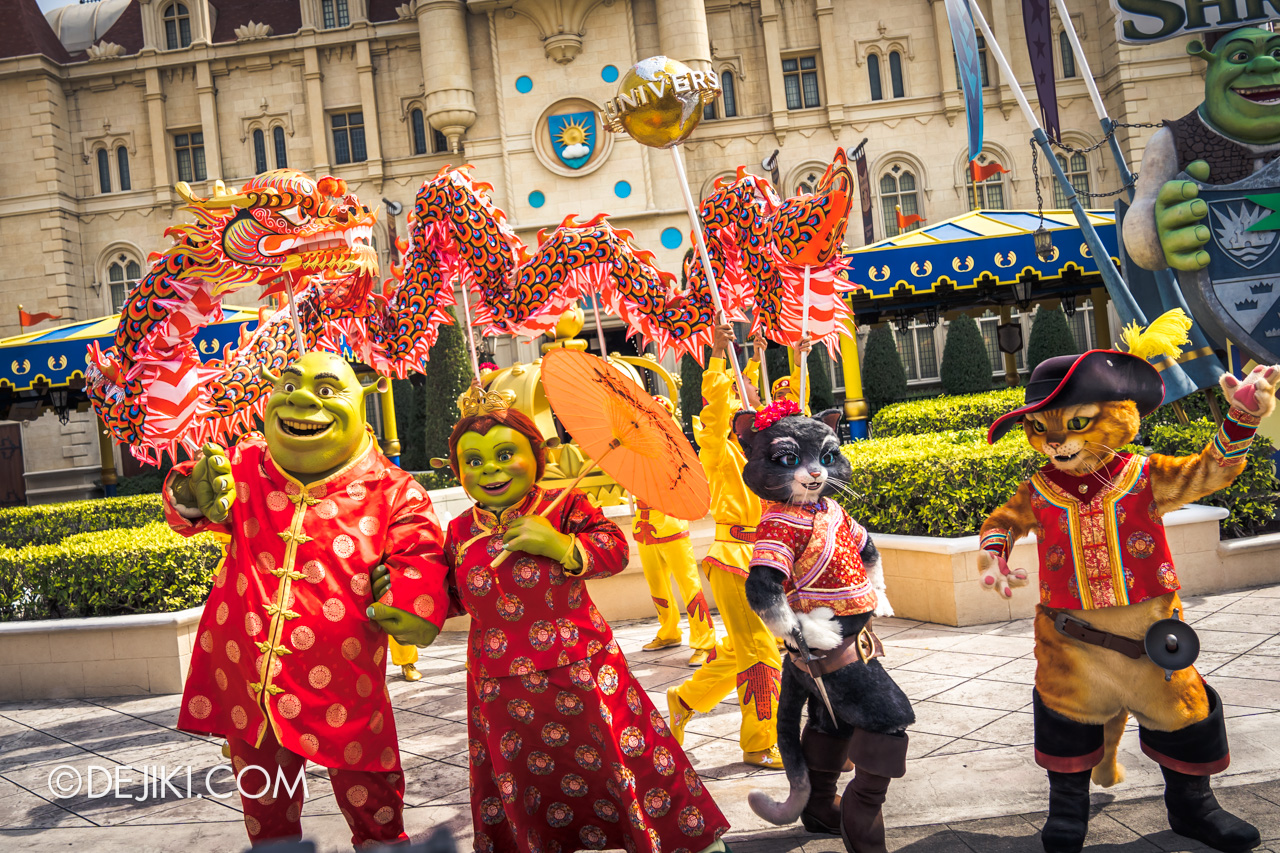 Then over at Far Far Away…
Oh. my.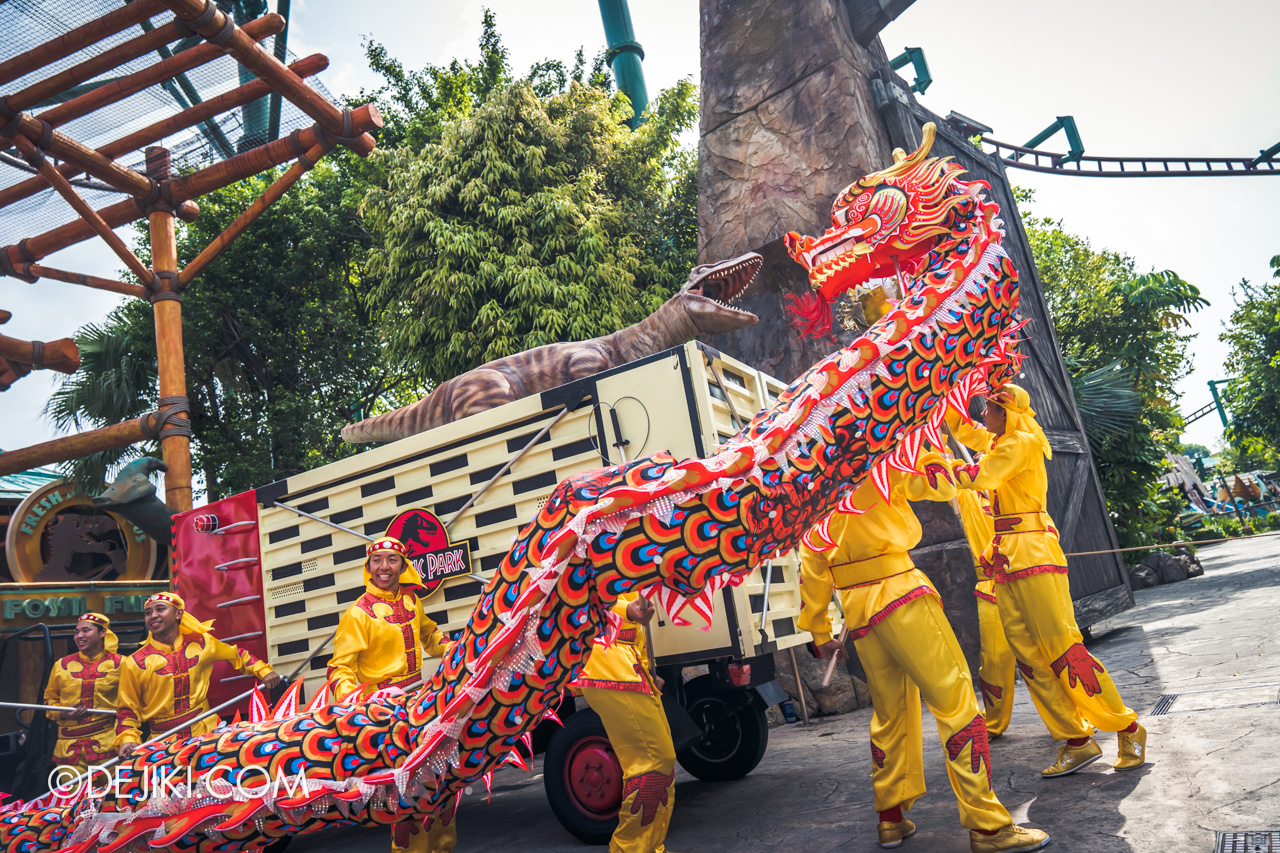 Raptor Standoff at Jurassic Park again.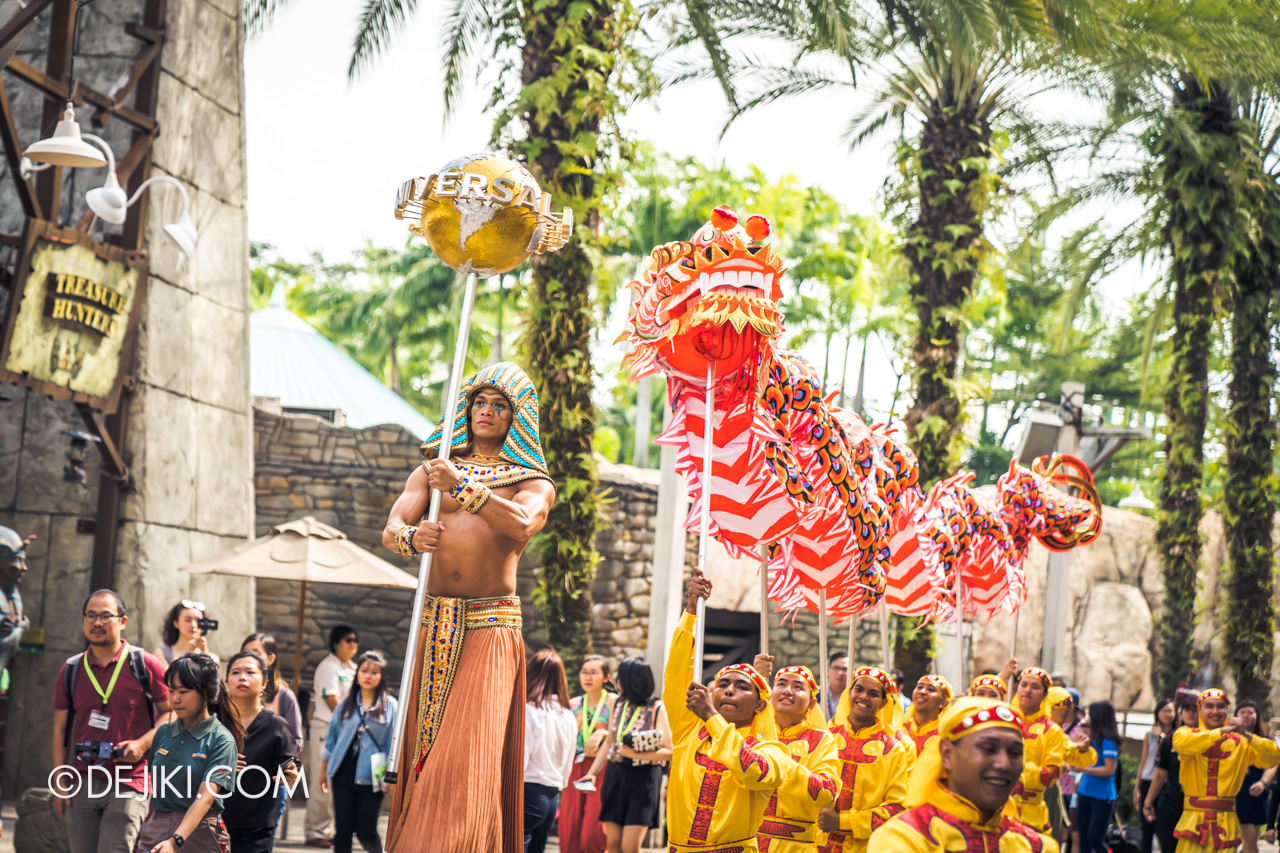 Meeting with the Royal Stiltwalkers at Ancient Egypt – an upgrade from last year's Anubis.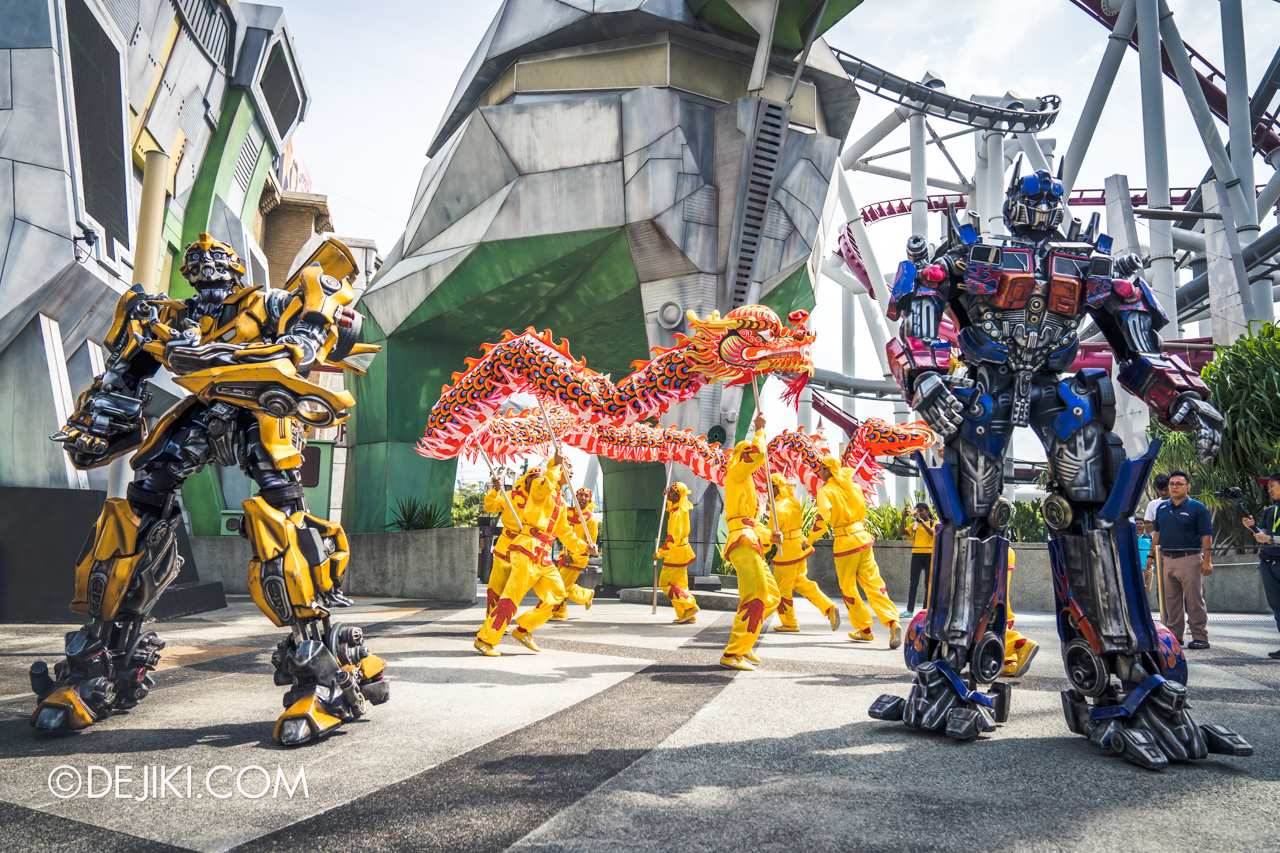 Autobots at Sci-Fi City. I guess no way to dress them up.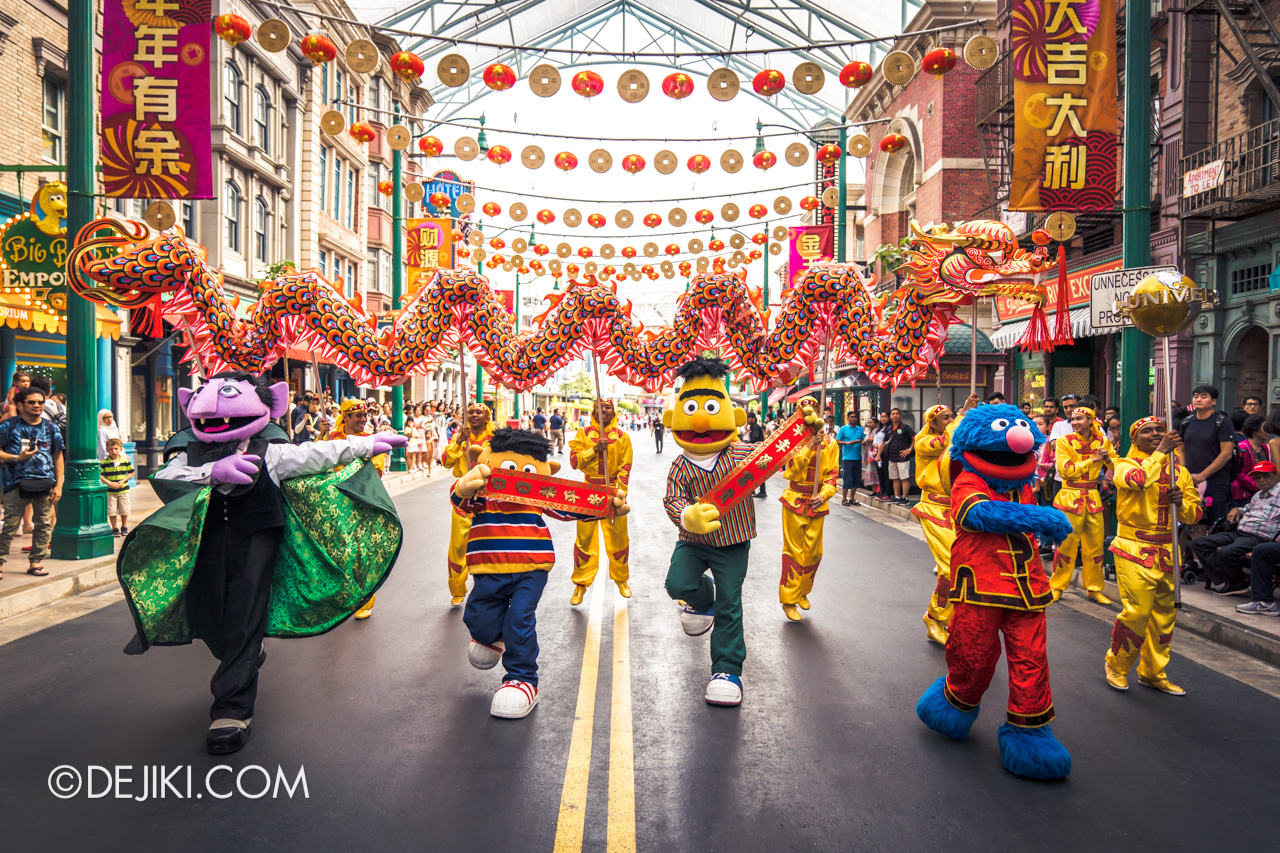 Sesame Street with Festive Grover and the others that are keeping it chill this year. Edit: The Count's cape has a pattern with gold dragons on green inside. Thanks Jeremy for spotting this!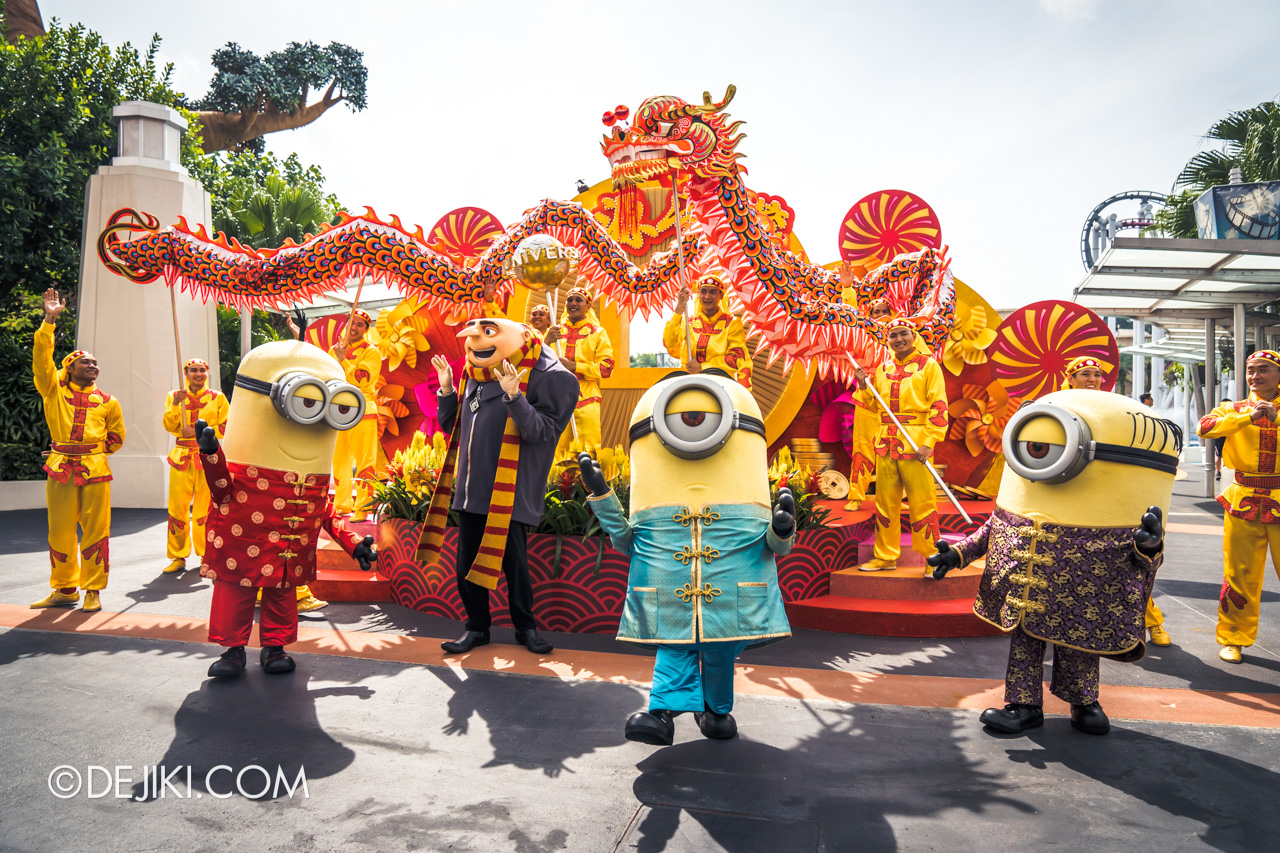 And lastly, the dragon will return to Hollywood to meet the Minions, and for the first time, Gru!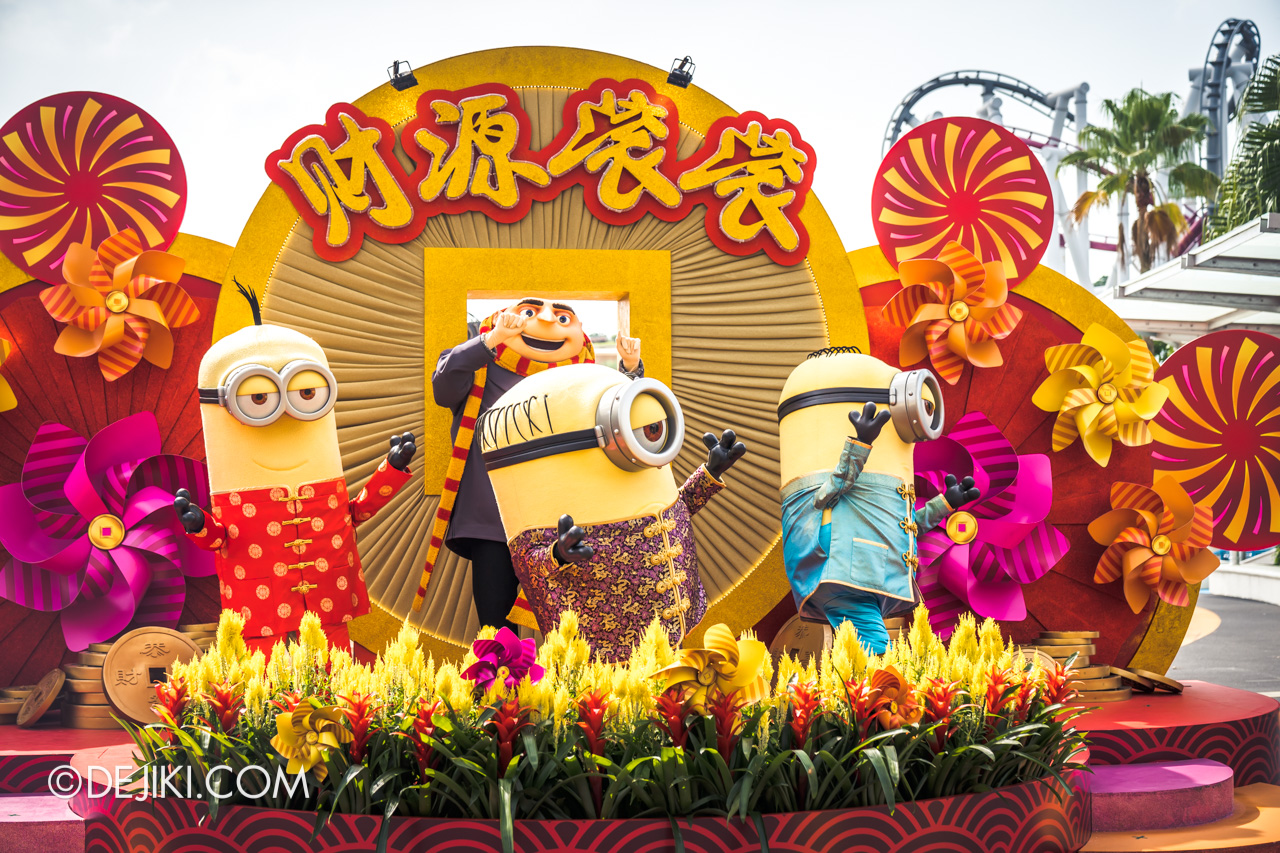 The Auspicious Dragon Trail show can get hectic at some points, due to park crowds and congestion at some areas. If you're chasing the Dragon (dance), please follow the park's instructions along the trail, for the safety of performers, crew, other park guests, and yourself!
Experience the thrilling chase of the Auspicious Dragon Trail here!
Rhythm Truck: Chinese New Year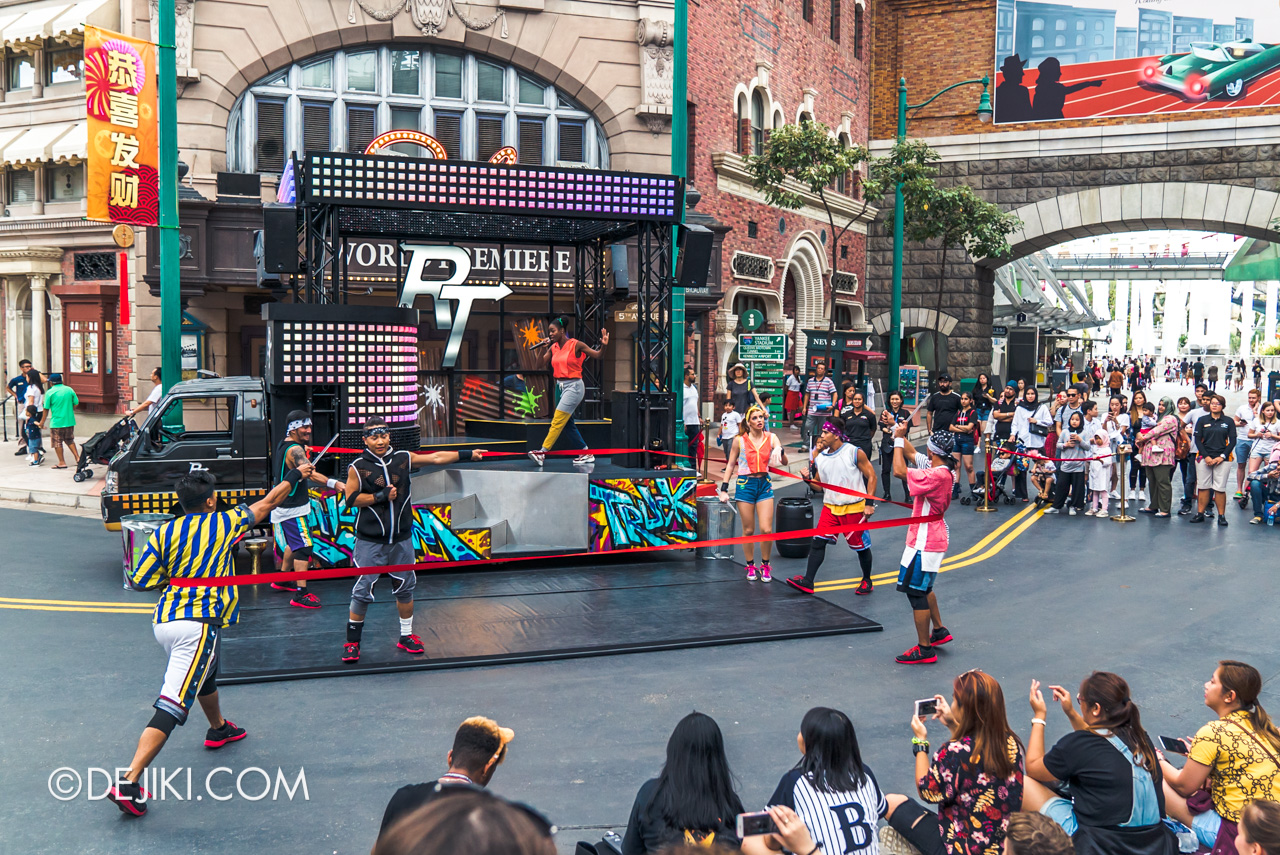 There will be a new CNY variation of Rhythm Truck during the festive event. I was wondering if the Mel's Dim Sum Dinettes would return, then I remembered the park retired the Dinettes show.
Lucky Merchandise
Hot this season: Hello Kitty red packets, and Chinese-themed Sesame Street merch.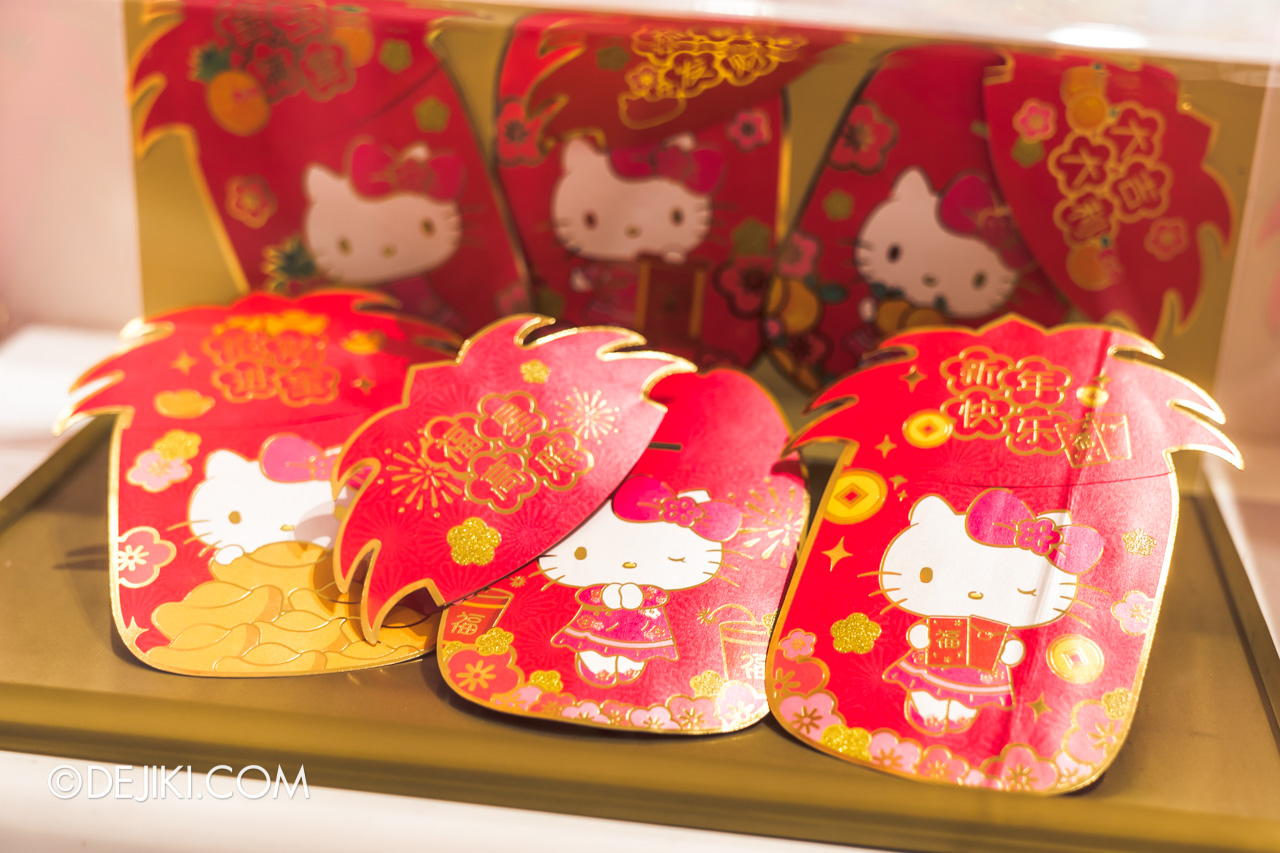 Available at Hello Kitty Studio in a set of 6.
A variety of Chinese-themed merchandise is now available at Big Bird's Emporium.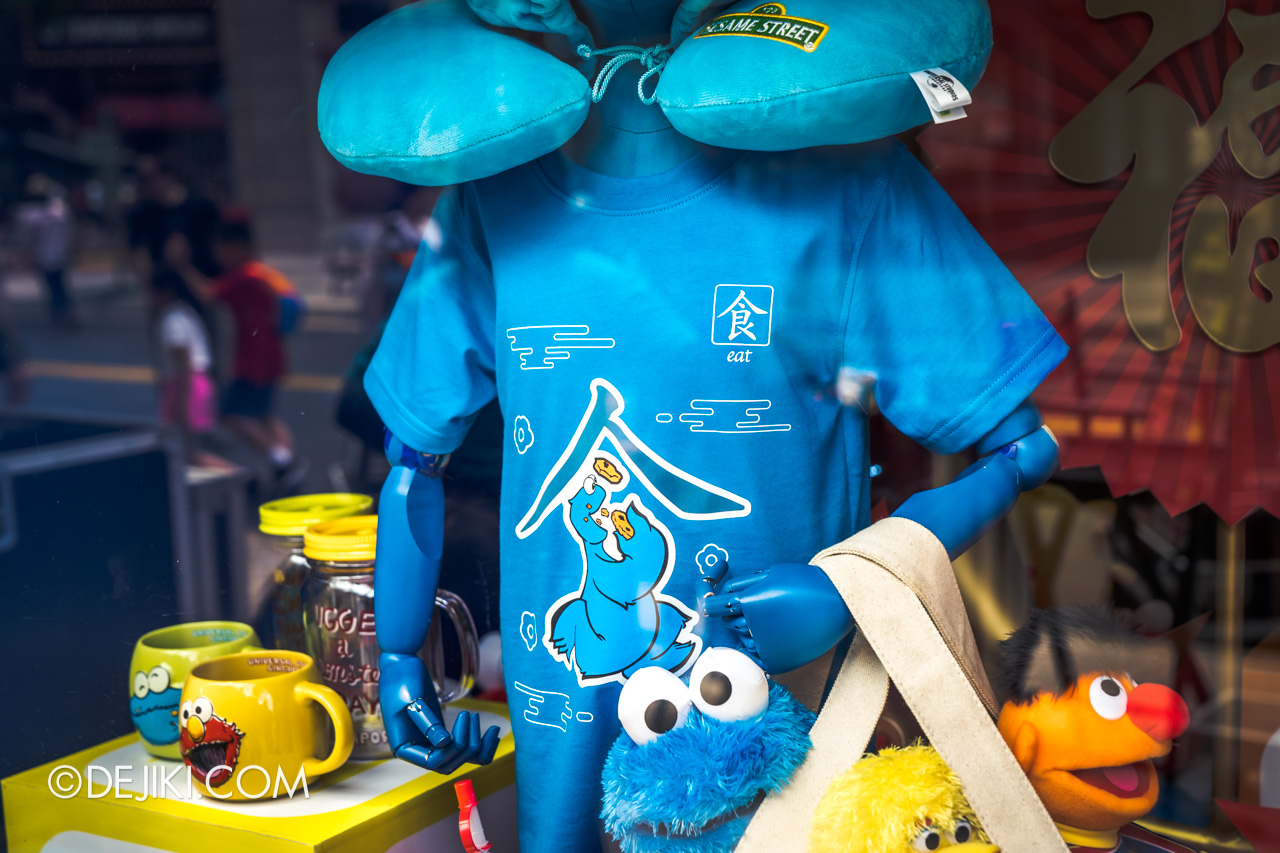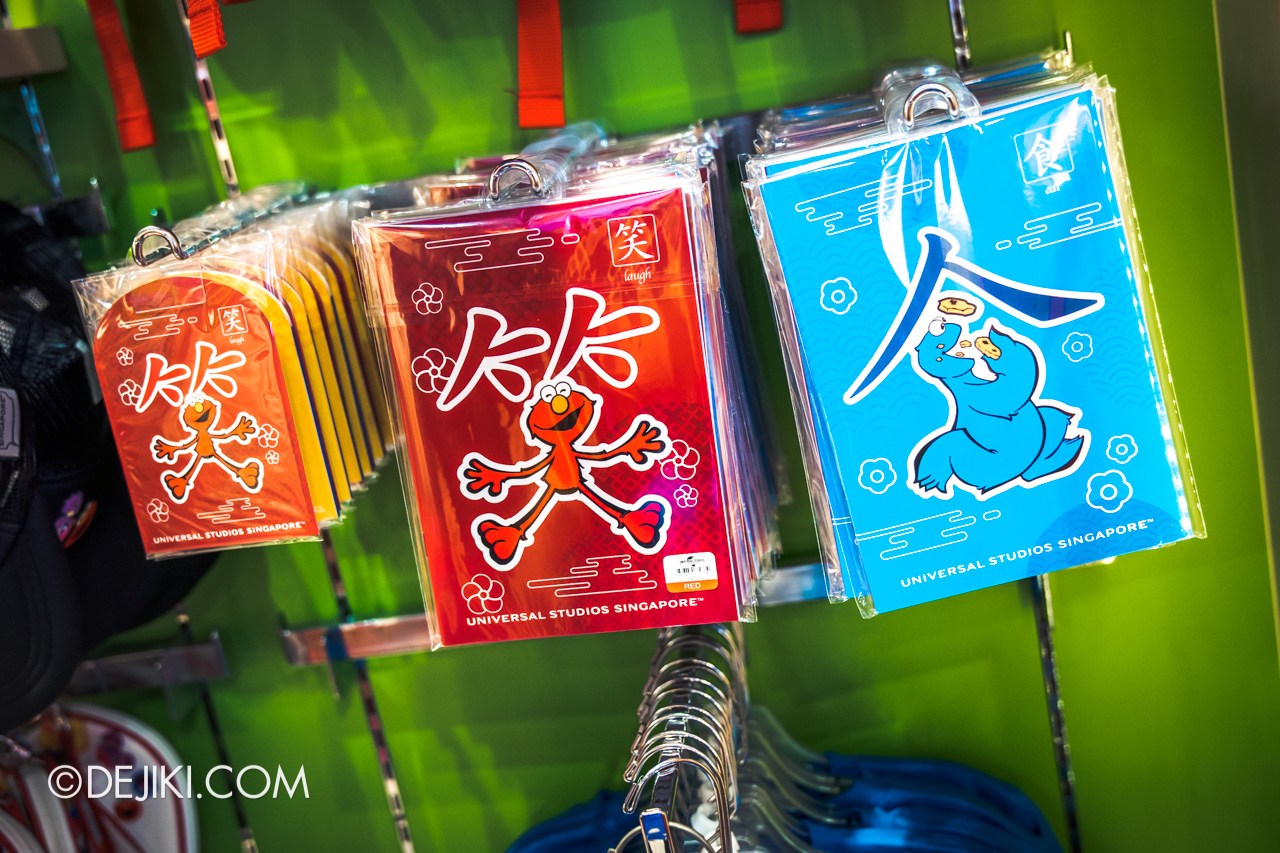 The new line include a series of designs with the Chinese characters 'laugh' (red, Elmo), 'learn' (yellow, Big Bird) and 'eat' (blue, Cookie Monster).
---
Hollywood Dreams Light-Up Parade
In case you missed it: Universal Studios Singapore has revamped its regular day parade into a "light up" parade in the evenings. See more photos and a video of the show here!
Universal After Hours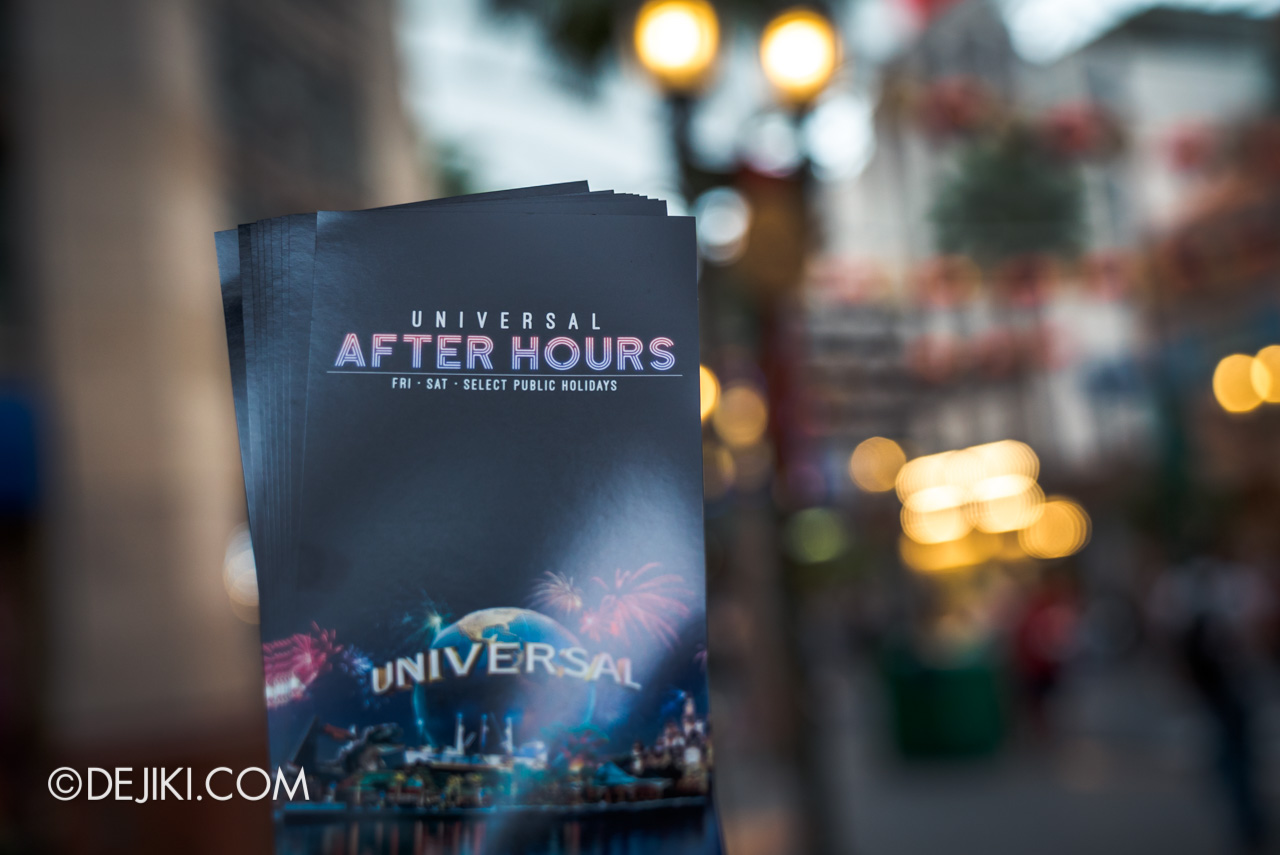 The extended park hours programme is returning again in 2019 as Universal After Hours. Happening on Fridays, Saturdays and Public Holidays, guests can enjoy the park till 10PM and experience a variety of night-time entertainment.
Starting the evening with sparkle and shine: Hollywood Dreams Light-Up Parade.
After the procession, stick around in New York for local band performances at Night Sessions. Grab some snacks from food stalls along New York.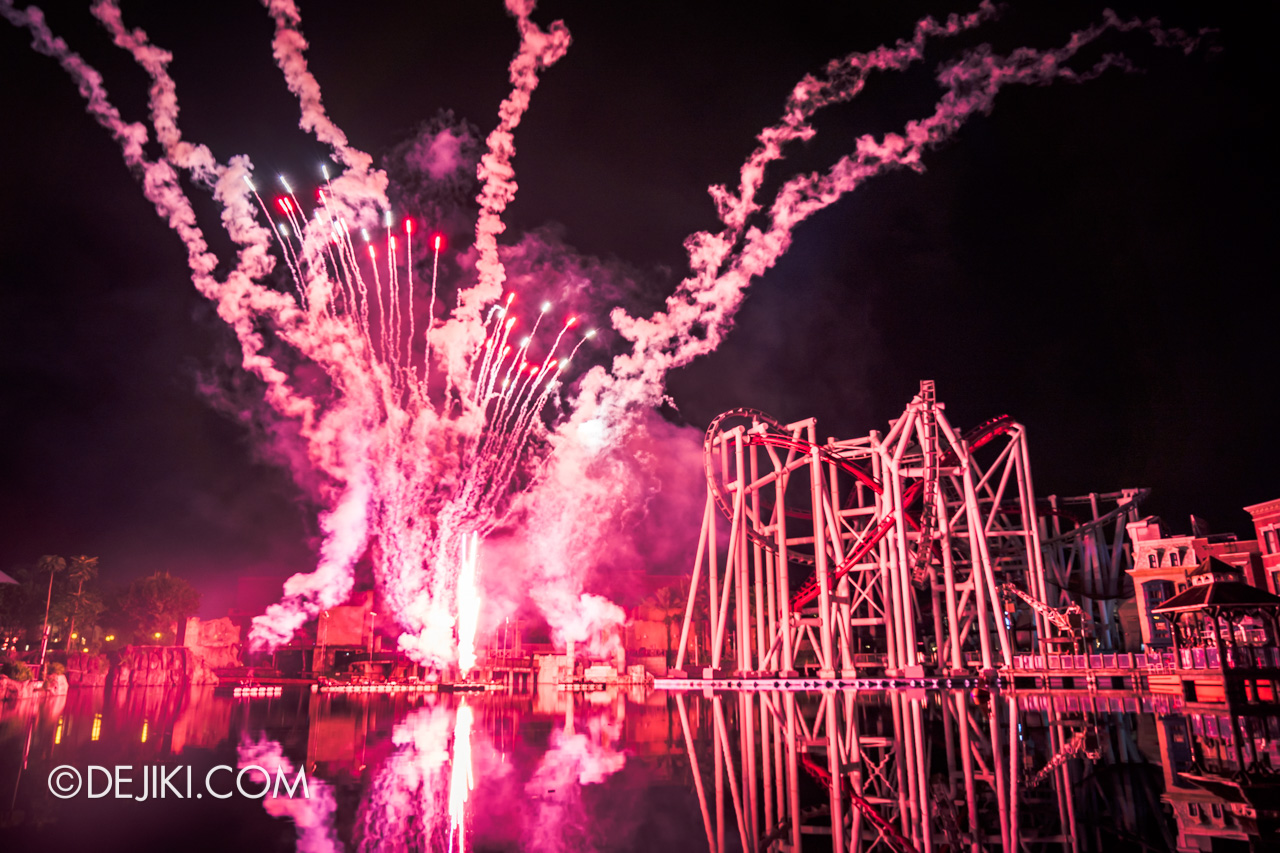 Stay at the park till late, and end your day at Universal Studios Singapore with dazzling bursts of Lake Hollywood Spectacular.
---
2019 USS Ticket Pricing updates
With effect from January 2019, Universal Studios Singapore increased its ticket prices. Local residents can enjoy lower prices by purchasing their tickets online from RWSentosa.com directly.
Annual/Season Passes rates for adults and children have also increased by $10 across the board.
Usually in the theme park industry, a price increase is effected after a theme park has added a new attraction or major refurbishment. It's been a while since the park added anything substantially new, but we can't expect costs to remain the same over the years. Hopefully we'll see a new attraction soon – although if that's not in the plans for the near future, then some upgrades at the park's aging rides would be very much welcomed.
| Ticket Type | Adult | Child | Senior |
| --- | --- | --- | --- |
| USS One-Day Ticket | $79 | $59 | $41 |
| USS SG Resident ANYTIME One-Day Ticket (RWS online Exclusive) | $75 | $56 | $41 |
| USS SG Resident Off-Peak One-Day Ticket (RWS online Exclusive) | $69 | $53 | $41 |
For Singapore Resident Tickets, the promotion is only valid for Singapore Residents with Singapore issued ID, which will be verified at park gates. Guests that do not qualify will have to pay the standard rates.
Off-Peak Tickets are valid Sundays to Thursdays, excluding gazetted public holidays and for all days in June and December.
USS Season and Annual Pass
From now till 19 Feb 2019, there is an promotion for USS Annual Passes and it is valid for:
– New sign-ups of USS Annual Pass at the park
– Online at www.rwsentosa.com
– Upgrades upon presenting a normal One-Day ticket inside USS on the same date of visit
| Membership Pass (Valid for 12 or 6 months) | Adult | Child/ Senior |
| --- | --- | --- |
| Universal Studios Singapore Annual Pass (12 months) FESTIVE DEAL (till 19 Feb 2019) | $178 | $151 |
| Universal Studios Singapore Annual Pass (12 months) | $198 | $168 |
| Universal Studios Singapore Season Pass (6 months) | $108 | $98 |
The USS Student Season Pass is also available at $98 – this is applicable for Singapore students only.
---
Will you be visiting the park to join in the festivities this season?
Get your tickets at Universal Studios Singapore park entrance or via Klook online
(Purchases made via Klook will help support Dejiki.com at no extra cost to you)
Subscribe to dejiki.com or Like my Facebook page for notifications of updates:
---