Celebrate the Year of the Tiger with a spectacular evening at Universal Studios Singapore's IT'S SHOWTIME! Premium Experience – Lunar New Year Edition!
What is IT'S SHOWTIME! Premium Auspicious Experience?
This is the Lunar New Year-themed edition of the S$248 Premium Experience package. Similar to 2021 Christmas Premium Experience, IT'S SHOWTIME includes a thematic dining journey at three park restaurants, with shows along the way and a very different, boisterous finale – after all it's Chinese New Year.
IT'S SHOWTIME includes daytime park admission (from 10AM) with Universal Express Unlimited, so Premium Experience guests can enjoy the park's usual entertainment and attraction offerings, before the exclusive evening programme.
Book your IT'S SHOWTIME Premium Experience via Klook.
---
IT'S SHOWTIME! Premium Experience (Lunar New Year Edition) Review
After a successful run of its Christmas Edition, the Premium Experience is back to celebrate a new major holiday – Chinese New Year. It has all the good stuff the park can offer (given the current restrictions) and is a treat for theme park fans who want the full experience of Universal Studios Singapore's 2022 Lunar New Year entertainment – all the way from 10AM to 9PM. VIP treatment from 5PM, with a guide that will manage your time and bring you to the right places. Again, all you have to do is pick your seat and the park will handle the rest.
The Zodiac-themed opening act and Universal Lo-Hei show reminded me of the park before the pandemic. Shows with a big cast, lots of action choreography and complex blocking – It's just great to see the stage filled again. The food is still delicious, especially the dessert, but portion sizes seem to have shrunk – Gone in a few bites, it felt like there was too much waiting time between dining segments.
Some operational aspects appear tweaked to make it a smoother experience: less seating to reconfigure; reducing slowdowns caused by guests stopping for whatever reasons; streamlining of some procedures – even SafeEntry check-ins at the three restaurants are now completed before performances, saving time for guests.
Last year's Christmas Edition, with its magical snowfall, remarkable mini parade and full fireworks show, is a tough act to follow. While the Lunar New Year Edition's finale is still a spectacle (and an amplified one), there was just something about an exclusive showing of the park's fireworks at the lagoon. Perhaps it would return for other editions of this premium experience. But for anyone who wants the most complete seasonal entertainment experience at Universal Studios Singapore, IT'S SHOWTIME is the way to see it all.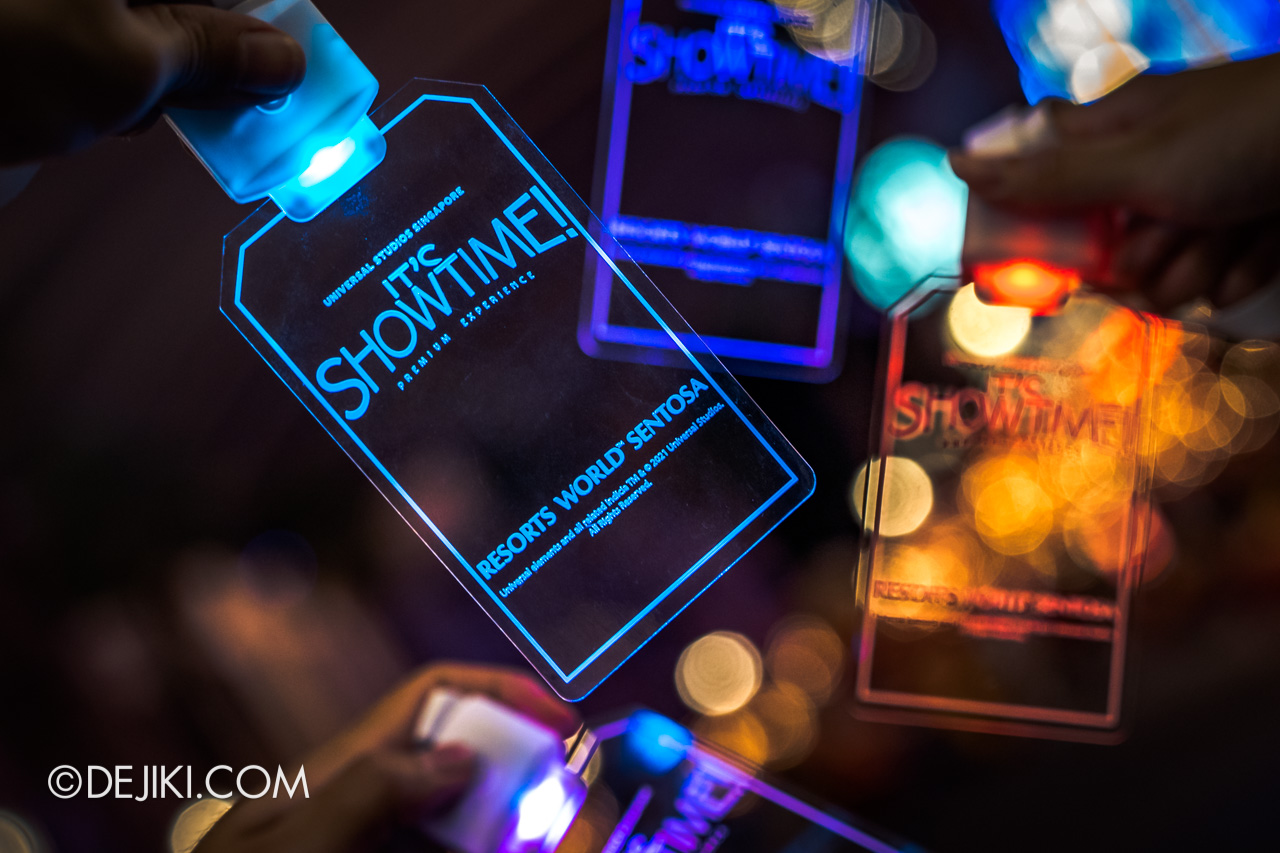 IT'S SHOWTIME! guests will receive a special light-up lanyard, which was first made available in the middle of the 2021 Christmas Edition.
Note: I was invited to cover this experience, but all opinions are my own.
As before, please enjoy this PREMIUM ARTICLE!
---
IT'S SHOWTIME! Premium Experience (Lunar New Year Edition) Highlights
Start your day with early admission to the park from 10AM via the VIP red carpet entrance with your IT'S SHOWTIME ticket! Here you will also receive your Universal Express Unlimited wristband: Skip the long queues at participating attractions until 5PM. All for you to have fun at the park's attractions and seasonal Meet and Greets during the day.
Pre-Event Programme
From 5PM onwards, head to New York zone which will be open only for IT'S SHOWTIME guests. You can start enjoying free-flow drinks from the SHOWTIME bar.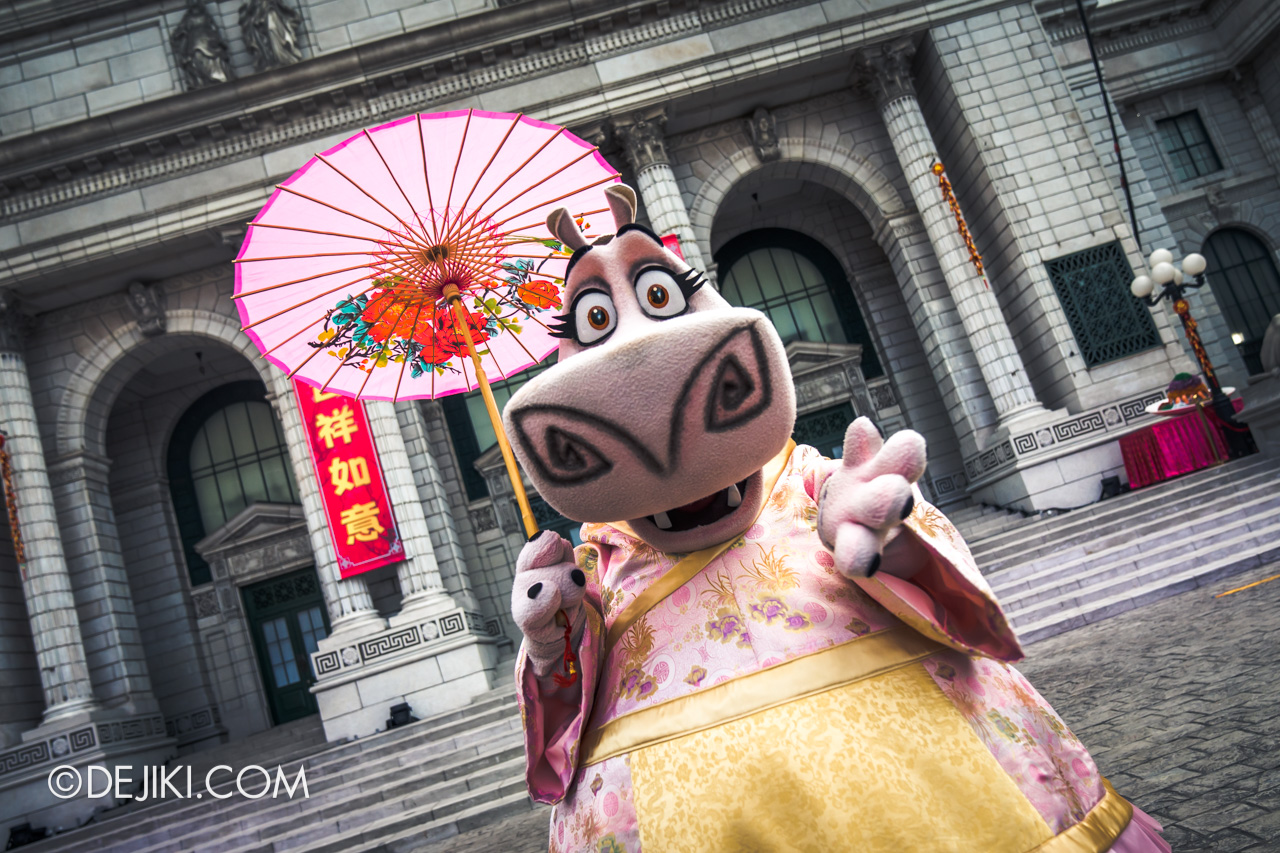 Here you will also get additional Meet and Greet opportunities with the park's stars – without long queues!
And look who's back? Mel's Dim Sum Dinettes!
An Auspicious Opening
IT'S SHOWTIME! Dancers, each representing an animal of the Chinese Zodiac, kick off the festivities with an elaborate performance.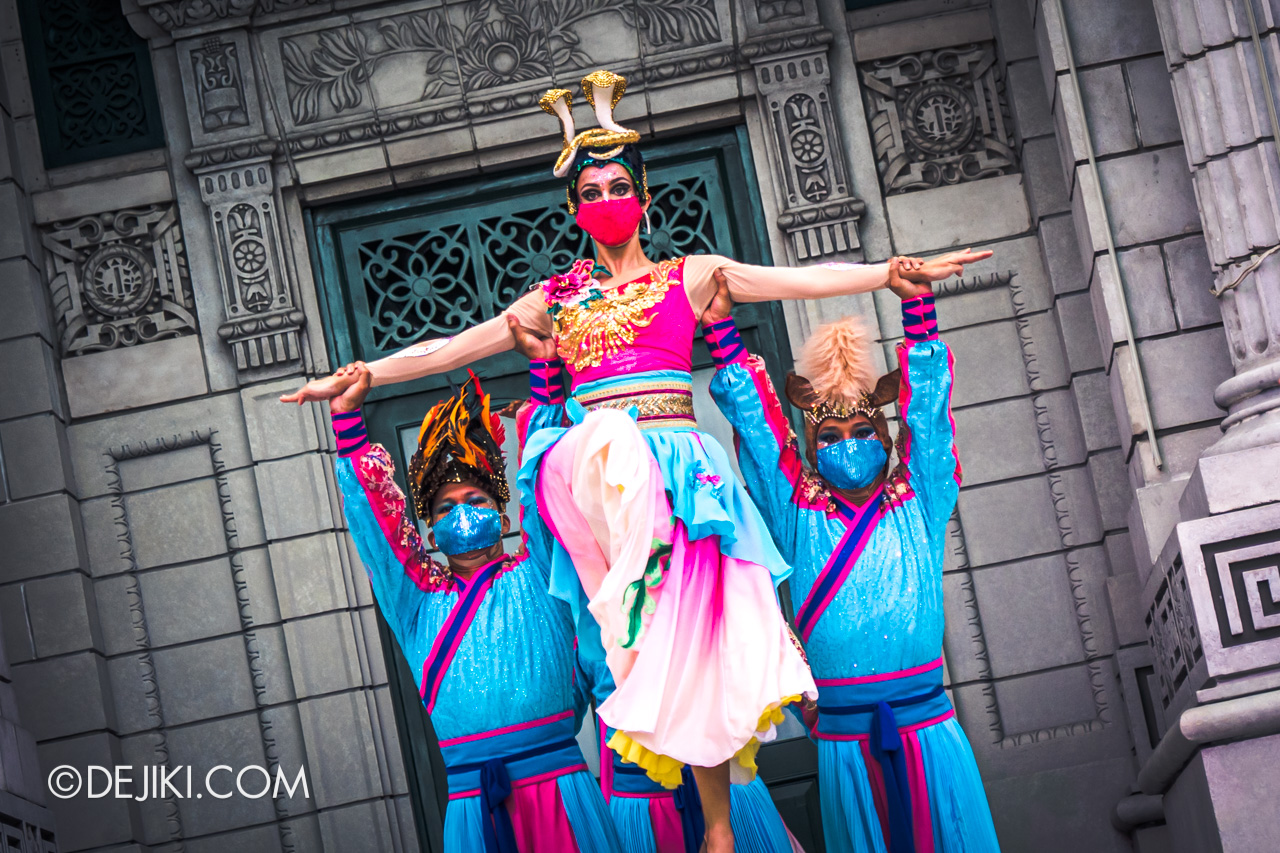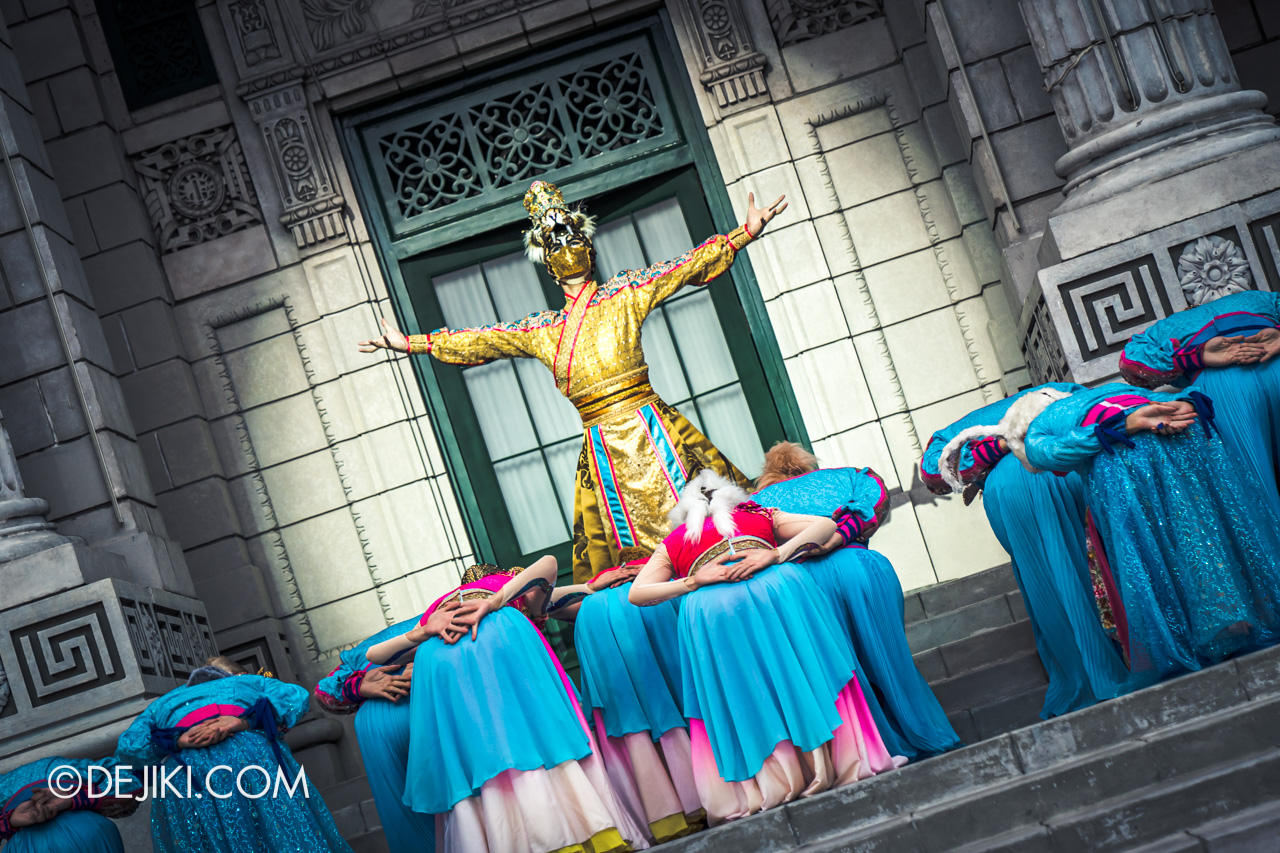 Soon, the Tiger Zodiac Dancer, with his golden robes and crown, arrive to join the celebration.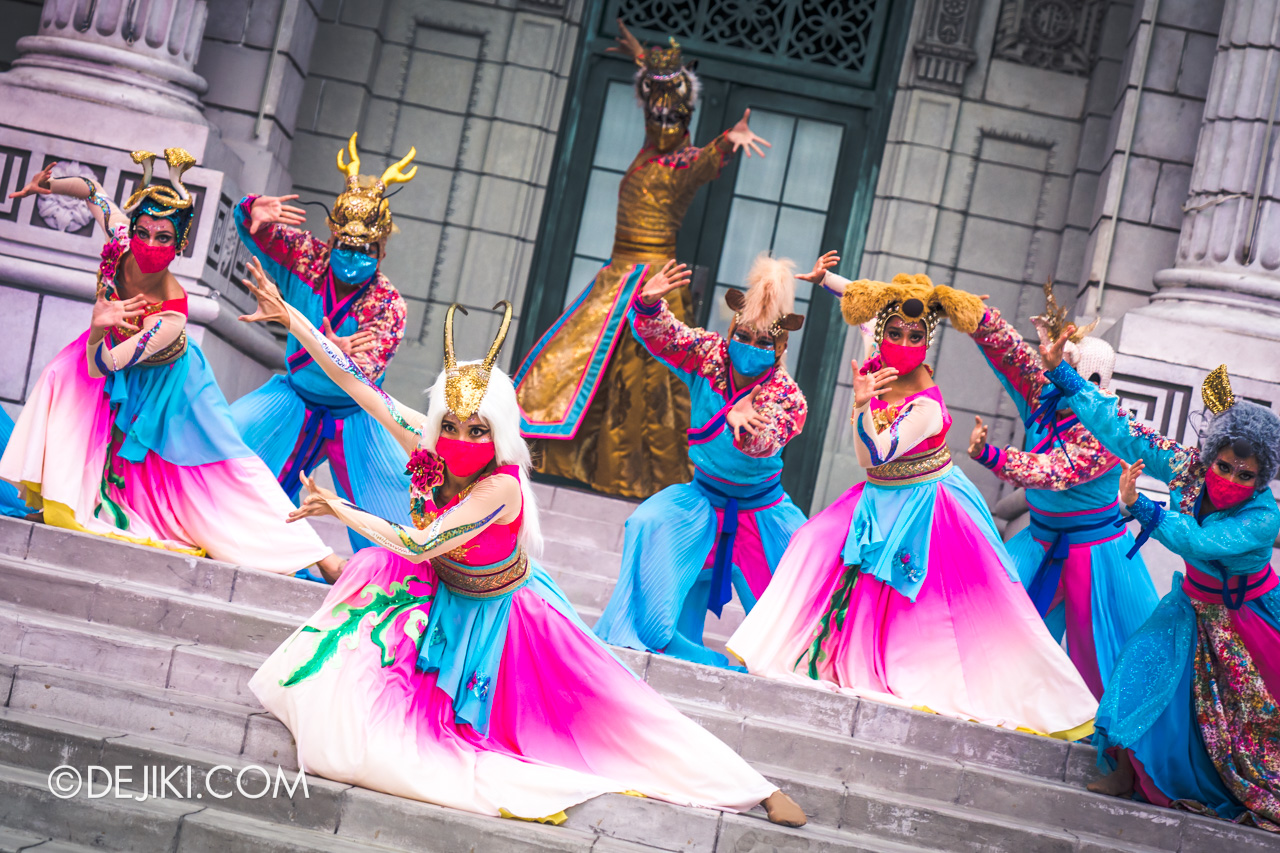 Universal Lo-Hei
It's not Lunar New Year without Lo-Hei, and for IT'S SHOWTIME: The Universal Lo-Hei show! This is like an upgraded Monster Lo-Hei. Our host for the evening was troubled with an incomplete Yusheng dish. The (unseen but present) God of Fortune offers help, and rallies park's stars to save the show.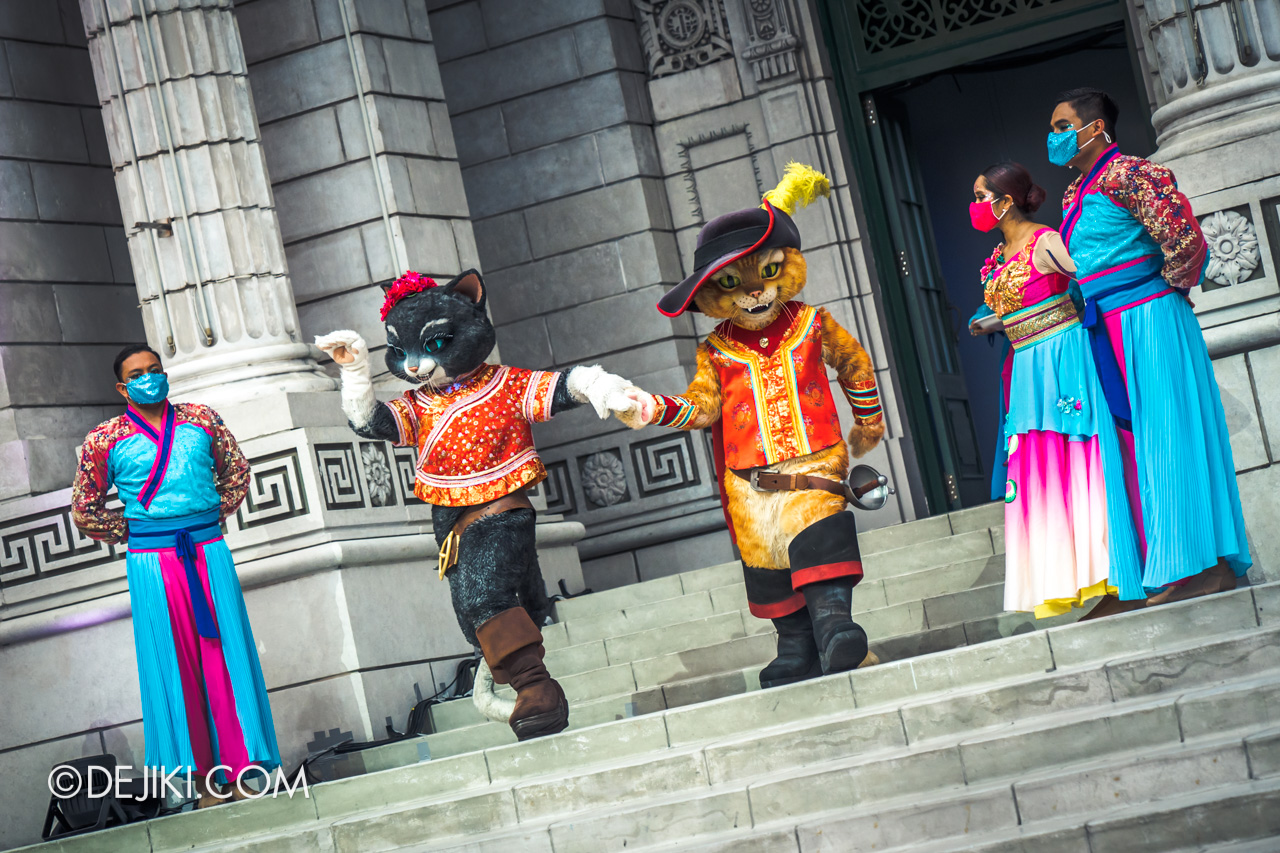 Special guests include Puss In Boots and Kitty Softpaws (Shrek series).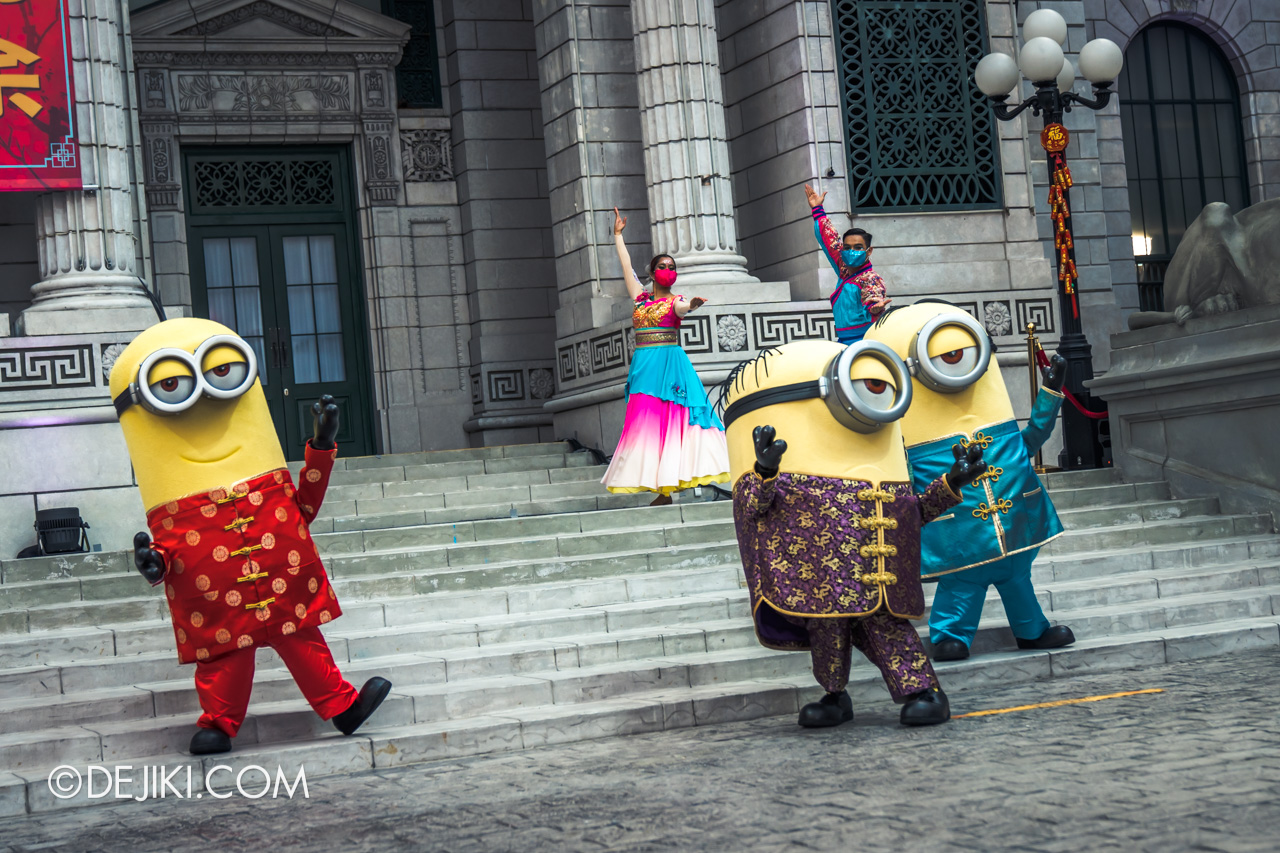 Gru, the Minions, and Sesame Street friends: Cookie Monster, Oscar, Abby Cadabby, and Elmo.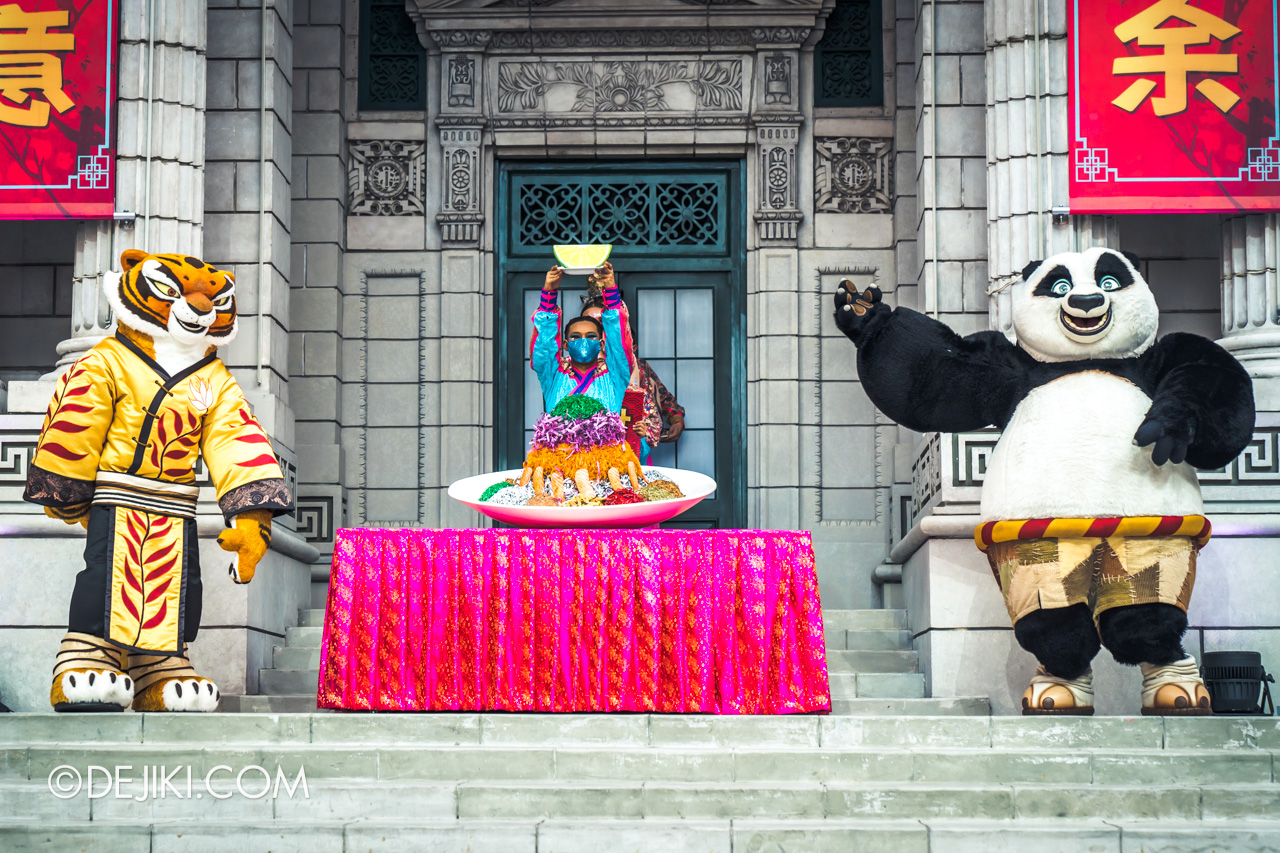 And lastly, making her debut at Universal Studios Singapore: Master Tigress and Po (Kung Fu Panda series).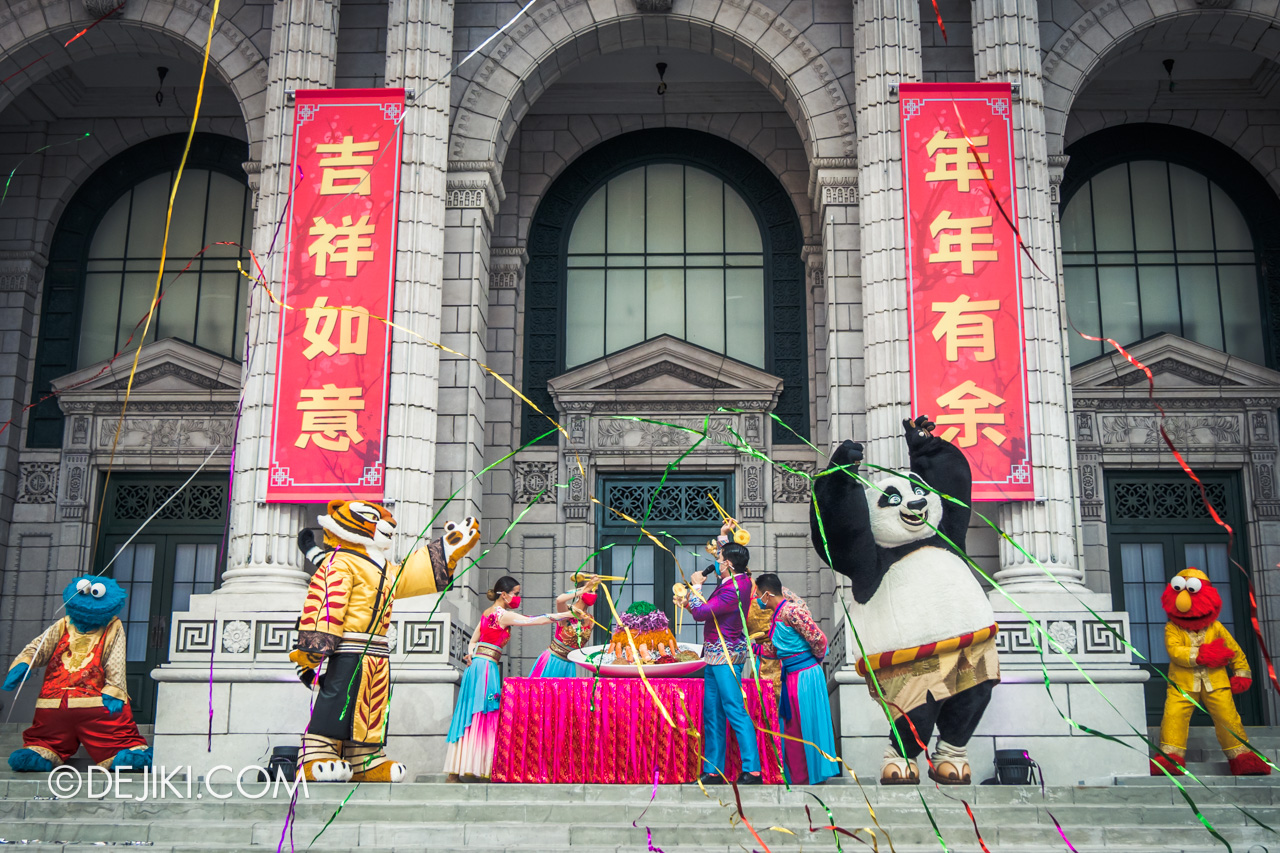 And with the prosperous tossing of auspicious ingredients, the dining experience begins!
---
IT'S SHOWTIME! Abundant Dining Experience
Note: The order of shows and restaurant venues vary depending on tour group, but Premium Experience guests will enjoy all entertainment and dining experiences by the end of the programme.
Loui's NY Pizza Parlor
Before you feast, another show begins! The Kung Fu Crew presents to you an adrenaline-packed sequence, right out of an action flick.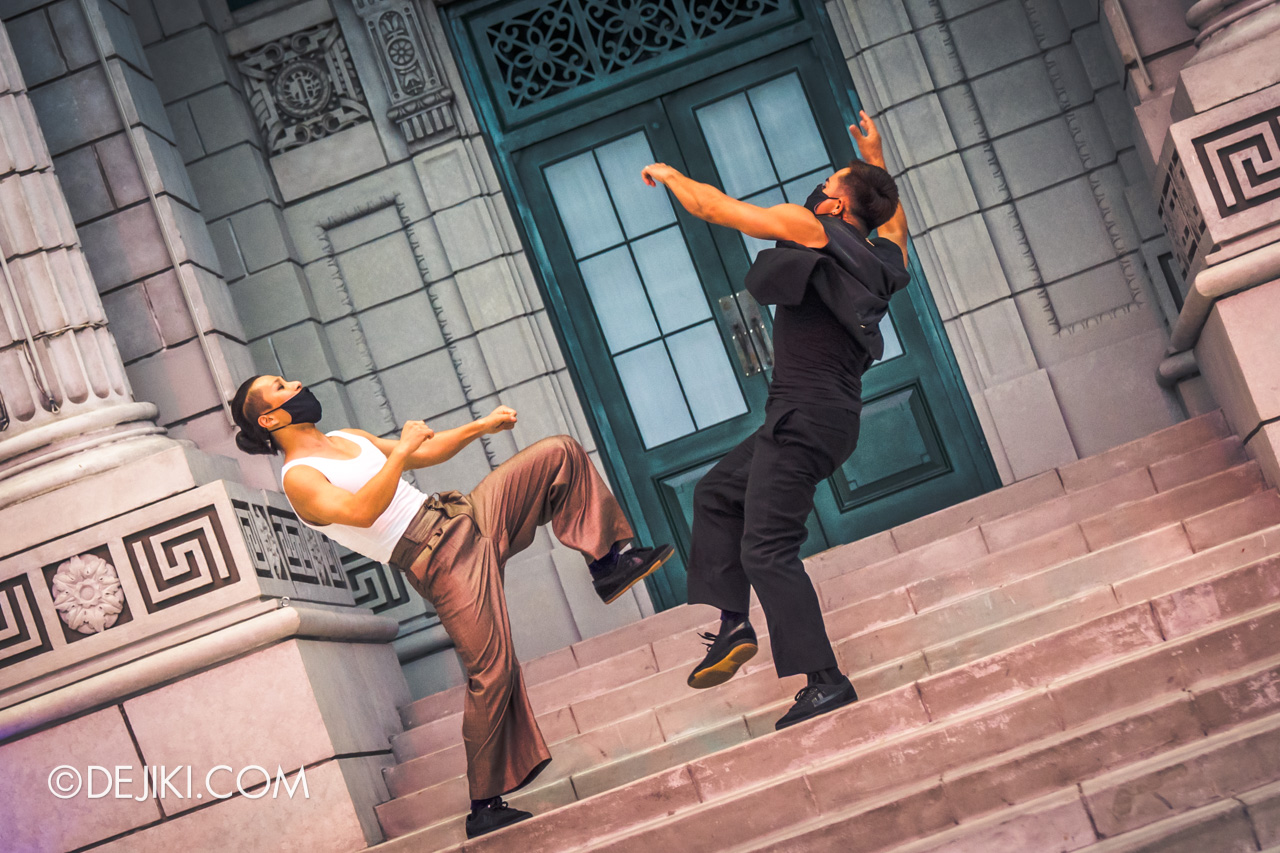 They'll show you quick fight demos to explain how some physical stunts are executed, before ending with an energetic Kung Fu showdown. It's Universal Studios after all!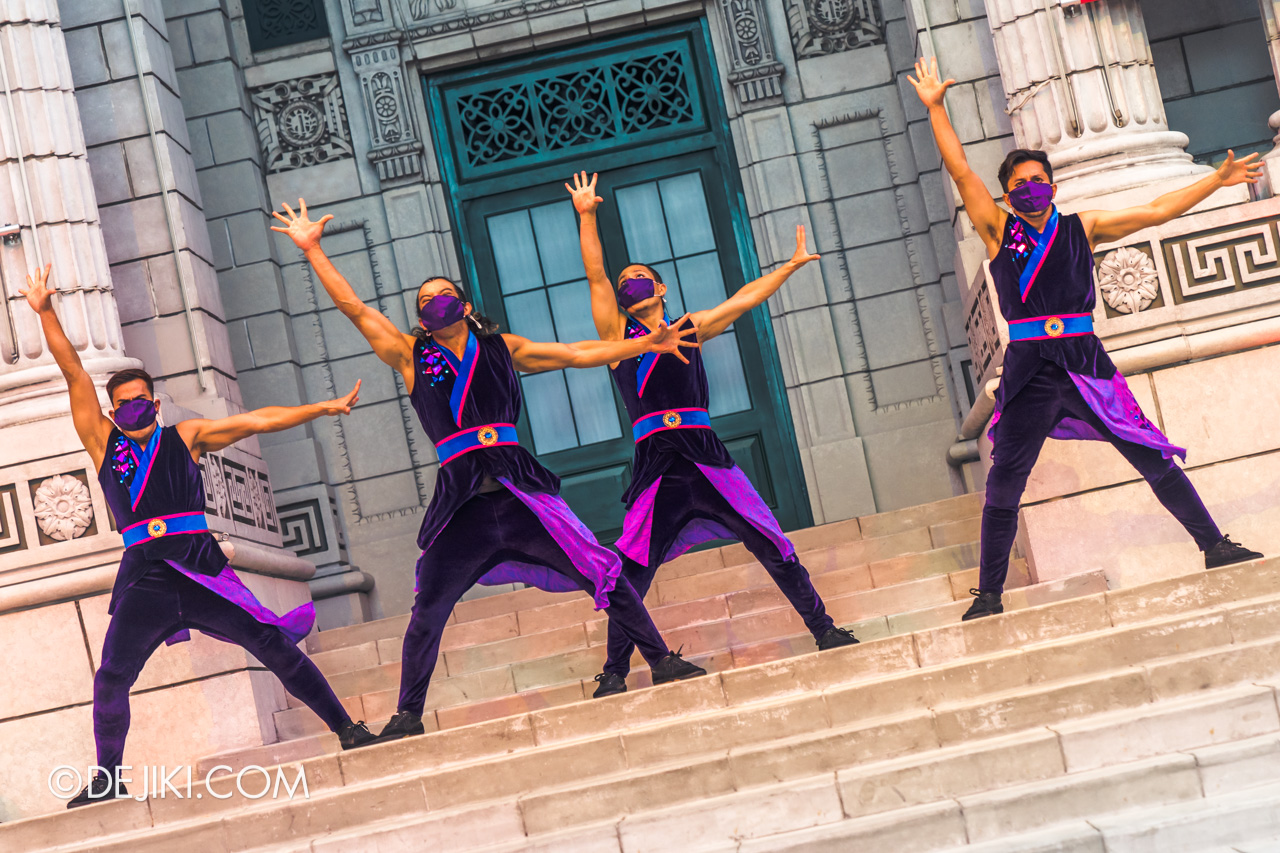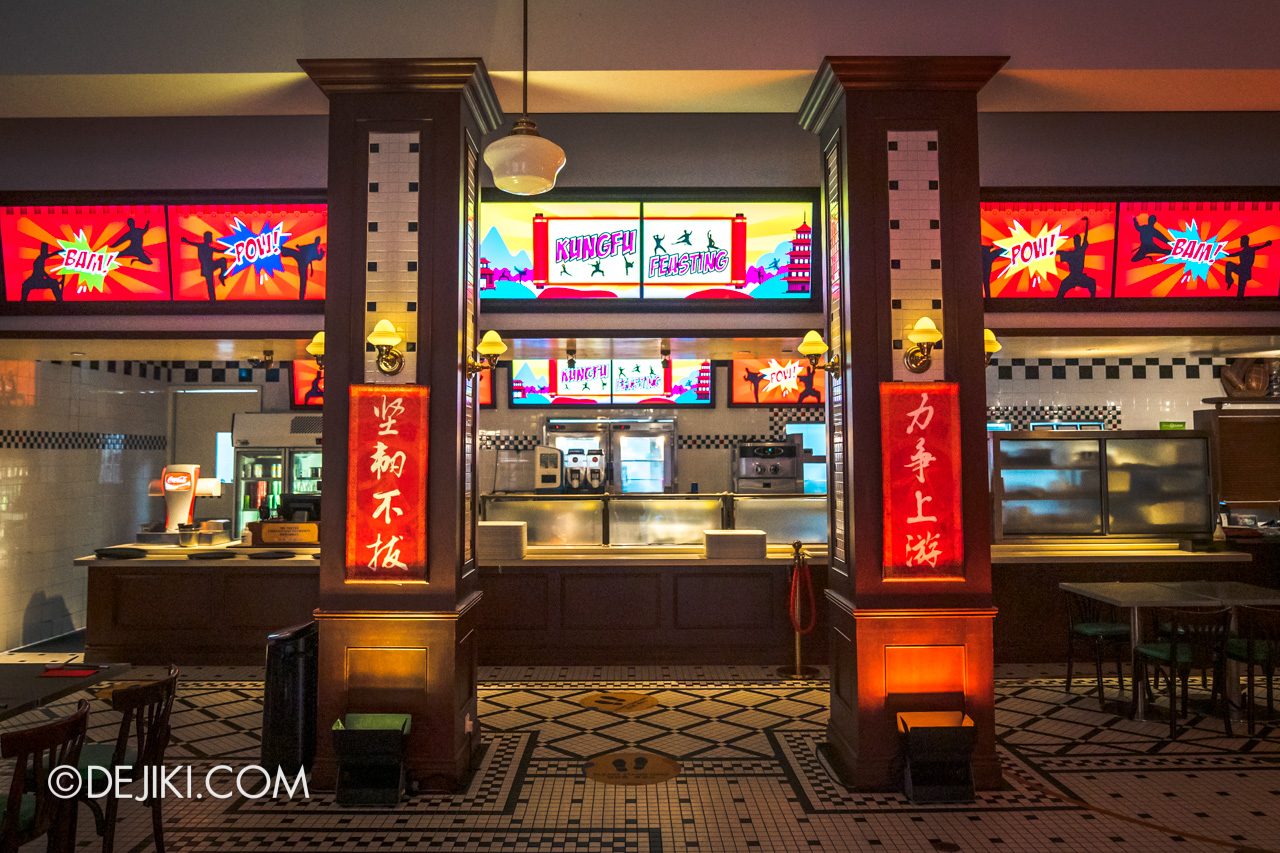 It's time to enter Kung Fu Feasting, now open at Loui's NY Pizza Parlor.
Here you'll enjoy Lap Mei Fan (Preserved Meats Claypot Rice) – Japanese pearl rice mixed with sausages, mushrooms and chestnuts.
Mel's Drive-In
Reuniting for this special occasion, the gorgeous and fun Mel's Dim Sum Dinettes put on a show for you at the iconic Mel's Stage.
After a medley of festive tunes, the Dinettes welcome everyone to head inside Mel's Drive-In for some dim sum delights.
Dim Sum course: Black garlic seafood dumpling, 'mushroom' truffle bao, 'tangerine' scallop, sesame tang yuan, on a bed of puffed rice and goji berries. Served with rose tea with red dates and wolfberries.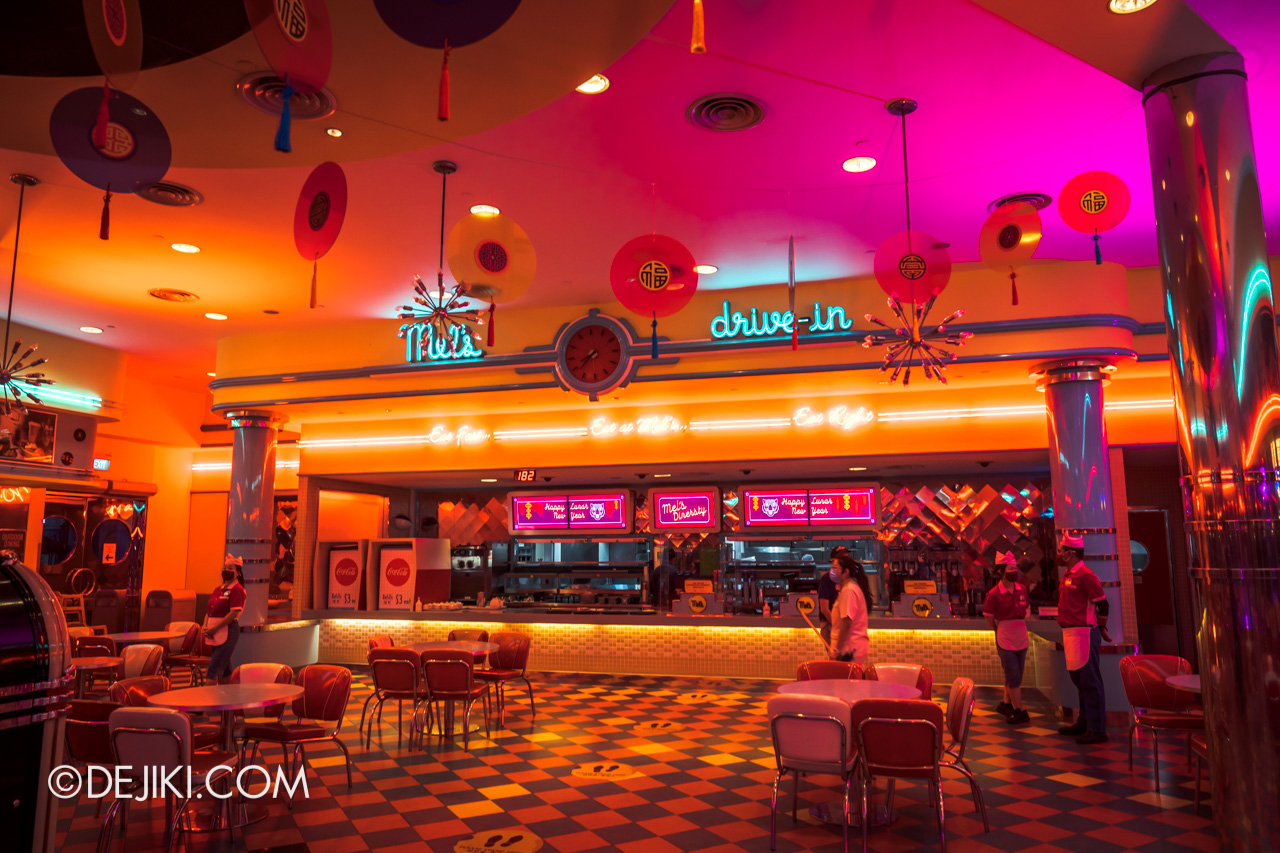 For Lunar New Year, Mel's sports new hanging decor that combines records with Chinese lanterns; this retheme is also aptly named Mel's Dinersty.
KT's Grill
Step inside KT's Grill, where you will meet The Celestials – Fu, Lu and Shou, three stellar gods that bring fortune, prosperity, and longevity.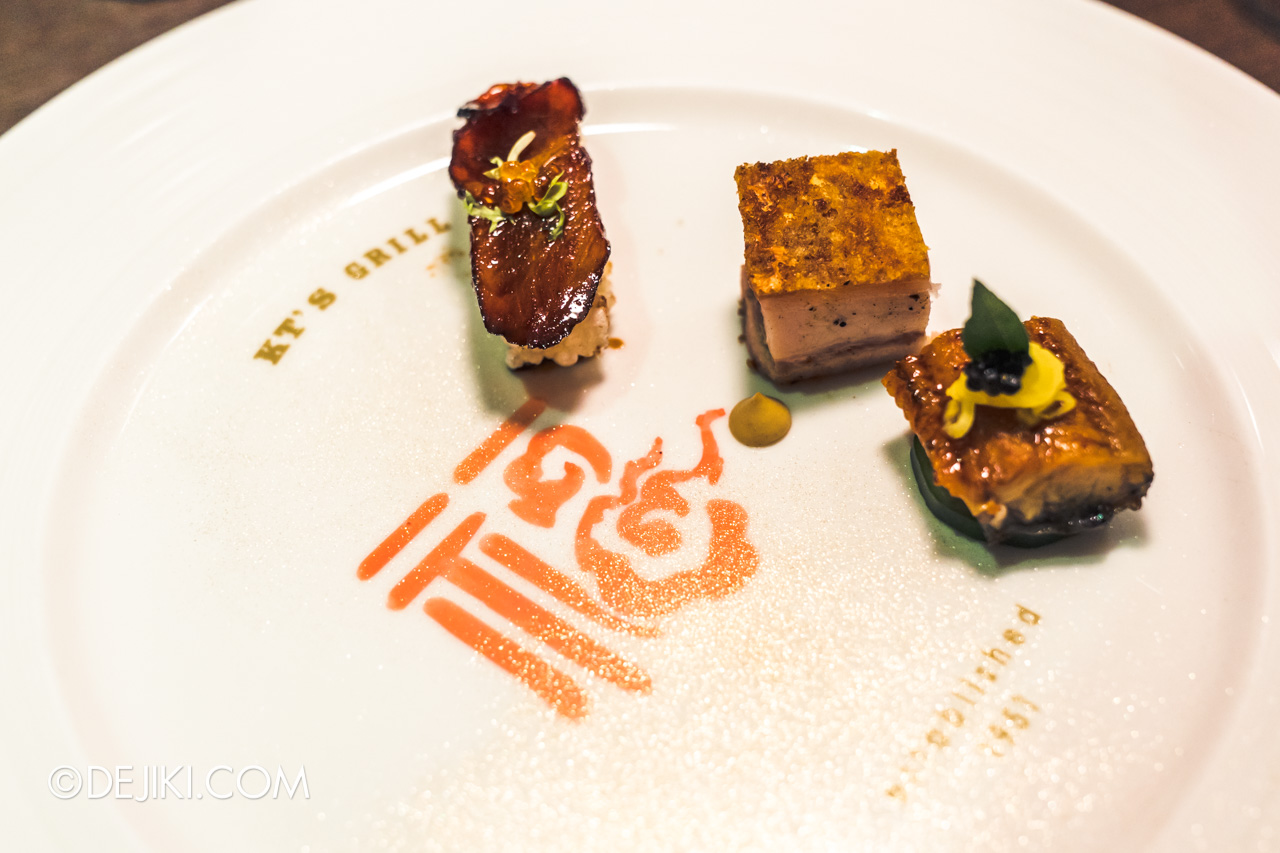 At your table in KT's Grill, you'll savour some Shao Rou (Roasted Meats), such as slices of crackling roasted pork belly and char siew (barbeque pork) and grilled eel. This course is accompanied with Gin & Tonic with Monin mandarin orange syrup, garnished with kumquat.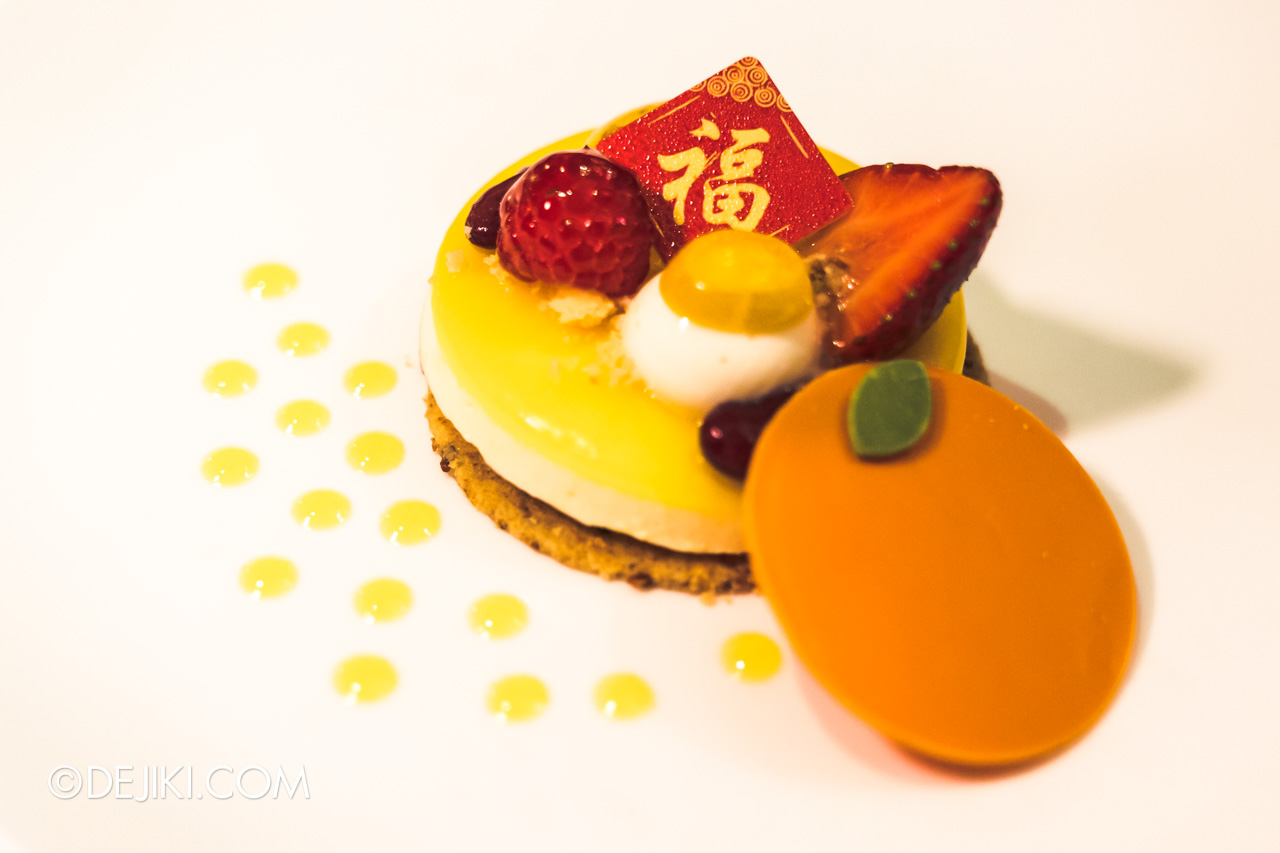 Dessert course: Gingered mandarin orange, vanilla almond curd and golden yuzu crystal jelly. This will be served at your third dining venue.
After dessert, you can head out to New York for more drinks from the Showtime Bar, take more photos along the street, and then pick your favourite seat for the next show.
---
IT'S SHOWTIME! The Grand Finale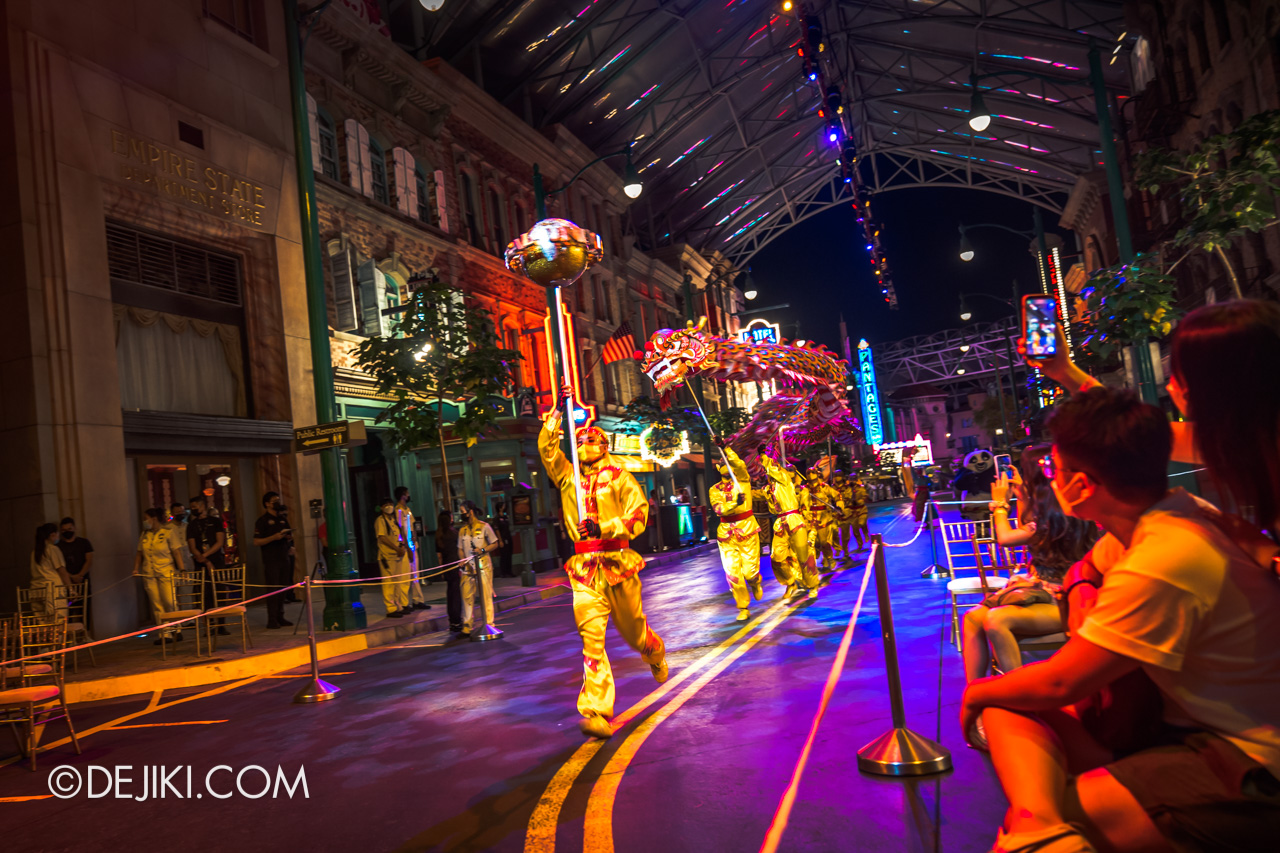 It's time for the grand finale, A Majestic Celebration! Dragon dancers race along the street as the park anticipates the arrival of the God of Fortune!
As the large cast of characters join the celebration on stage, the God of Fortune offers an auspicious message to all.
The show literally bursts with excitement, as a 48-metre long chain of balloons pop and crackle – resembling the rowdy bangs from firecrackers.
Meet and Greets (again!)
As you make your way out of the park, take more photos with the park's stars, such as Master Tigress. This may be only opportunity for night-time photos with her throughout the park's 2022 Lunar New Year event, with the park closing at 7PM on other days.
Gru and the Minions, and Sesame Street friends are also here to say goodbye!
Collect your lucky souvenir tote bag, now in Tiffany Blue!
---
IT'S SHOWTIME! Premium Experience (Lunar New Year Edition) Video
Go on a tour of IT'S SHOWTIME with me as I show you clips of the shows and overall experience in this video!
---
IT'S SHOWTIME! Premium Experience (Lunar New Year Edition) Ticket Info
IT'S SHOWTIME Premium Experience is recommended for guests above the age of 18.
Category
Price
Universal Studios Singapore Premium Experience


IT'S SHOWTIME! Premium Auspicious Experience


Available on 23, 30 Jan and 6, 13 Feb 2022. Next available date: 6 Feb 2022
+ Park Admission from 10AM
+ Universal Express Unlimited access to attractions from 10AM to 5PM
+ Exclusive Park access from 5:30PM
+ 3-course dining experience and special entertainment
$248


More info/ Book now »
(Purchases made via Klook links will help support Dejiki.com at no extra cost to you)
---
Subscribe to Dejiki.com or Like my Facebook page for notifications of updates.
---