Universal Studios Singapore is closing the Madagascar zone to prepare for Minion Land! Also check out the Leap Into Fun Lunar New Year event at the park!
Universal Studios Singapore expansion: Madagascar zone is finally closing
On 18 February 2022, Resorts World Sentosa has announced that the Madagascar zone will be closing soon, with a finale event – One Last Boogie – taking place from 10 to 27 March. Apart from taking last rides on Madagascar: A Crate Adventure and King Julien's Beach Party-Go-Round, there will be special Meet and Greet experiences with park characters from this Dreamwork's Franchise, including the return of the parade floats which feature Melman and Marty.
You can read all about this event in this new article!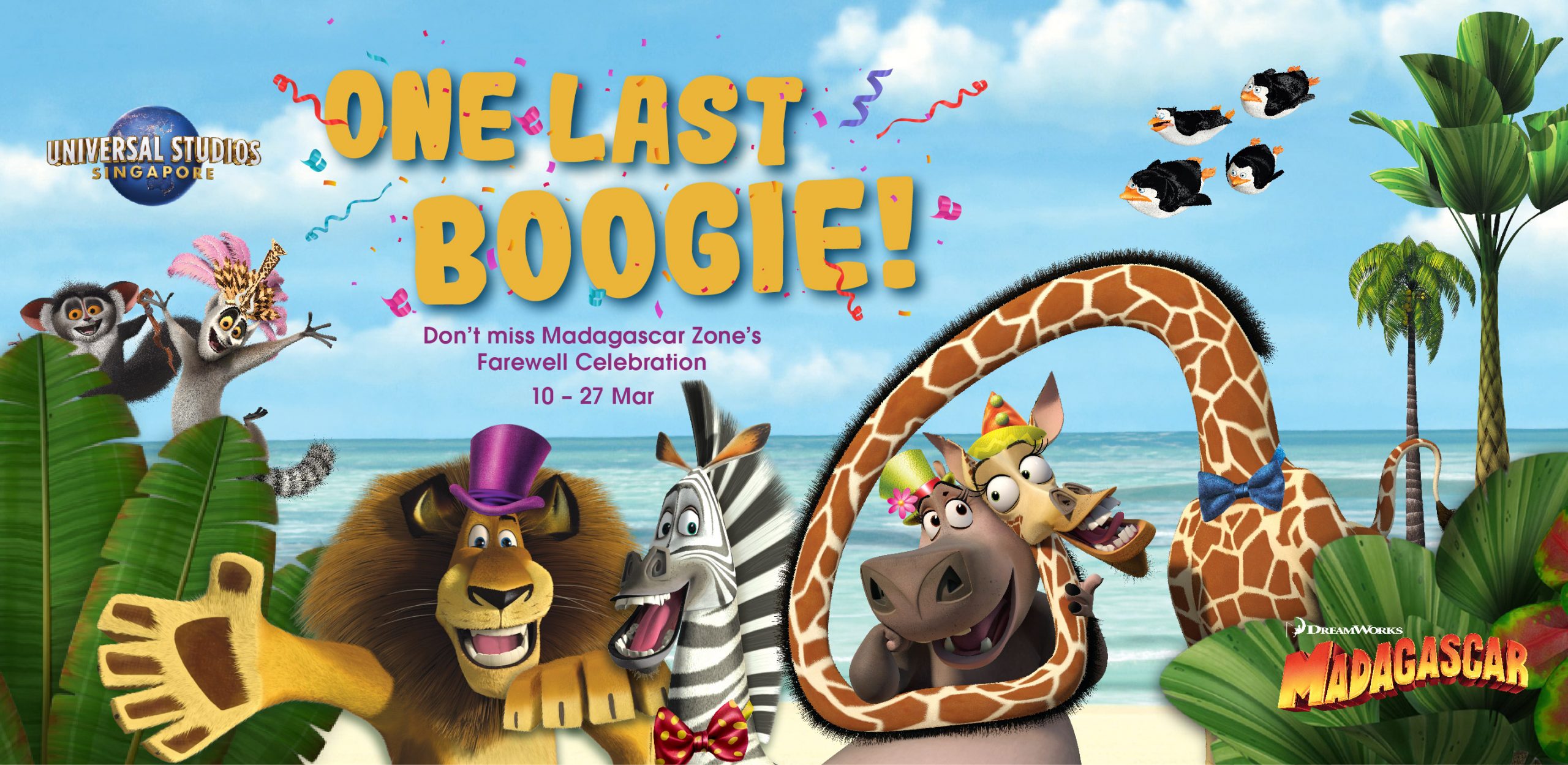 It is unclear if the Madagascar characters (Alex, Gloria, Rico, Skipper, Private and Kowalski) will be retired permanently, or become "zone-less" characters like Kung-Fu Panda and Minions, and still appear for MNG and shows at the park.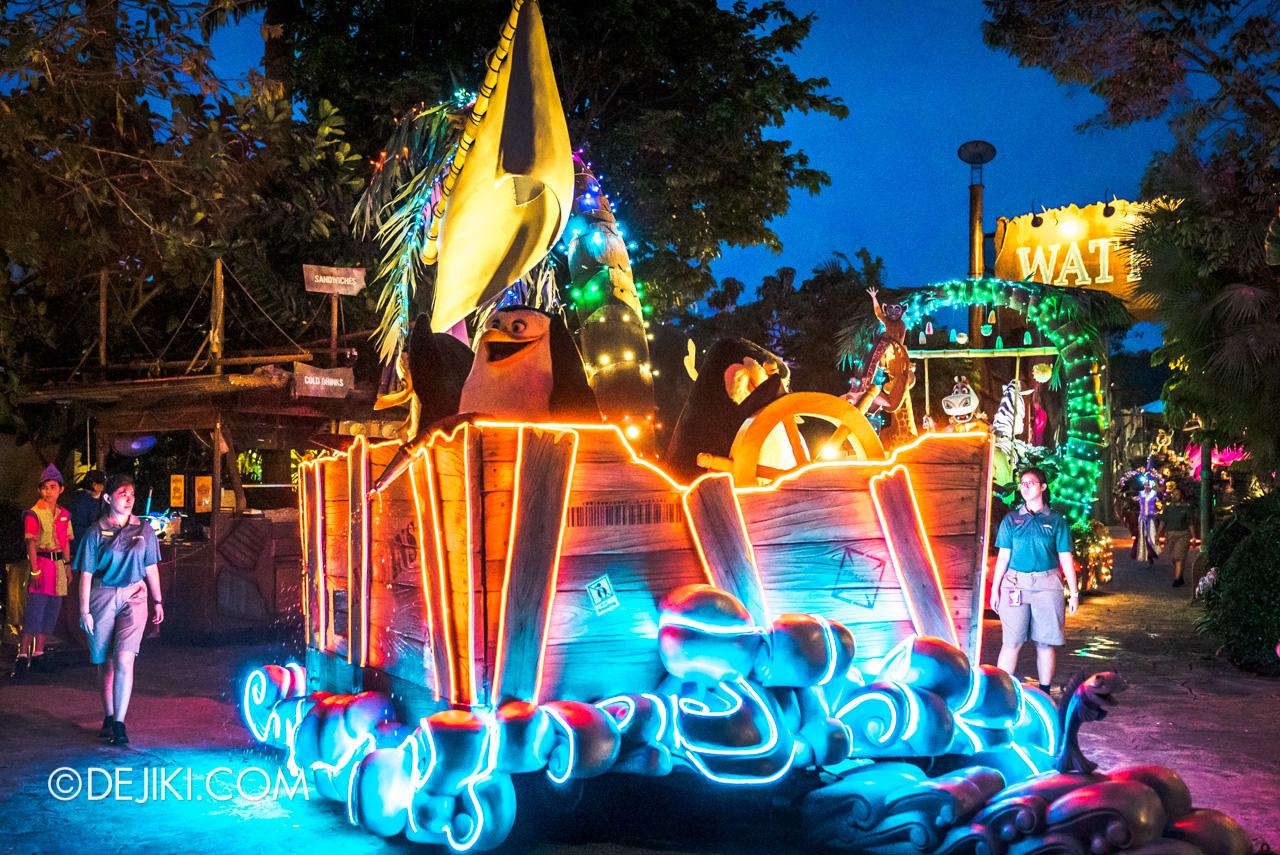 After the closure of the Madagascar zone (likely as soon as 28 March), preparations will begin to transform the area into Minion Land. This was previously announced as Minion Park, but perhaps USS has decided to adopt the same name as the Beijing park, and also some design ideas from that park. It makes more sense as Beijing's version is built along a pier, integrated with its park lagoon, which is the same environment here. Singapore's zone will have "multiple rides": the main one being Despicable Me: Minion Mayhem, a motion-simulator theatre, while another is "a world's first original ride exclusive to Universal Studios Singapore".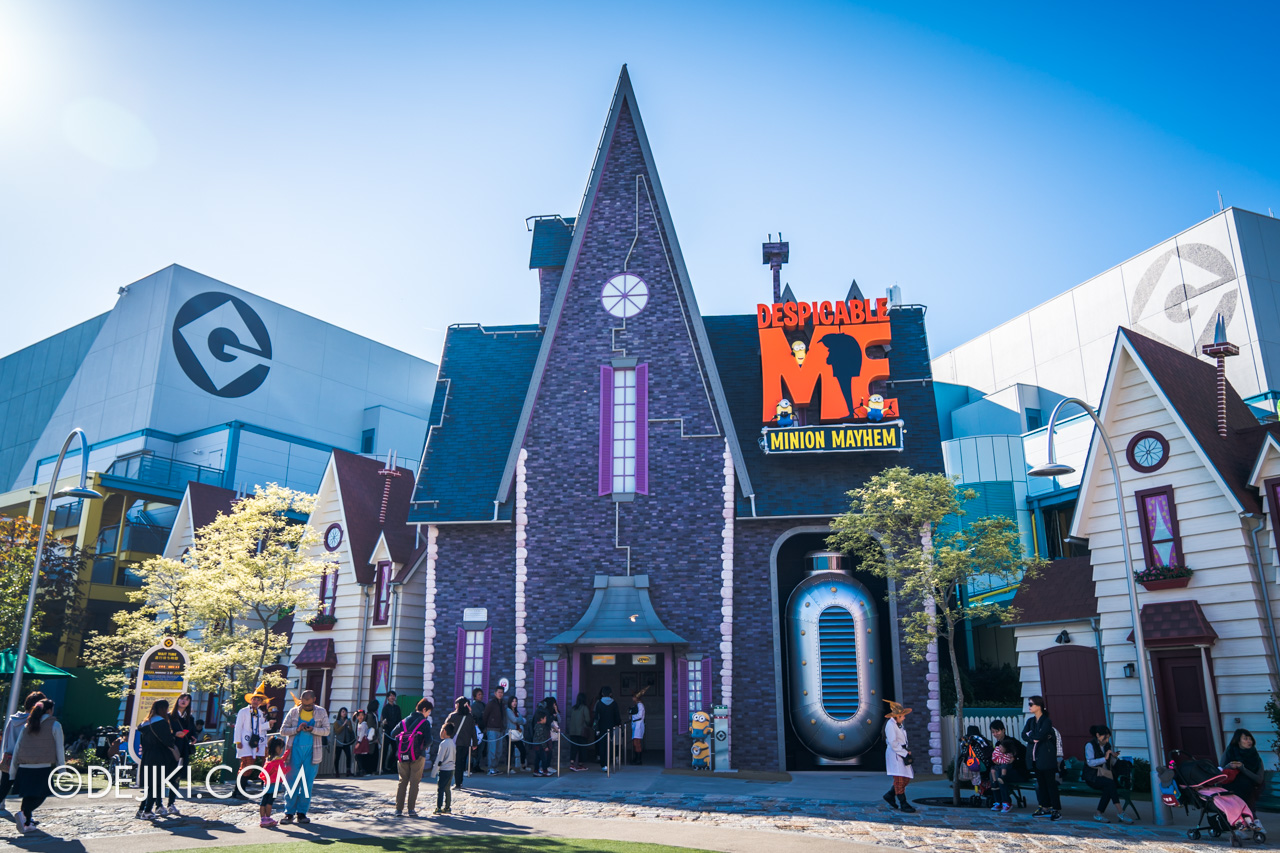 Despicable Me: Minion Mayhem in Japan
The second attraction is unlikely to be a "major attraction" like Minion Mayhem. From what I have heard, it is very likely a rethemed version of the existing carousel in Madagascar, as the park would need a replacement for an attraction of that kind. There is no official Minion-themed merry-go-round attraction in the world yet. If Singapore does adopt some of Beijing's design, then there should be some smaller 'family-friendly' carnival rides or simple playground elements as part of a 'Super Silly Fun Land'-styled area built on a pier. This would then nicely mirror the New York Harbour area on the other side of the lagoon.
Minion Land (Super Silly Fun Land section) at Universal Studios Beijing
Most of Singapore's Minion Land will take over the existing outdoor areas and street in Madagascar, which comprises the queue for Madagascar: A Crate Adventure, the carousel attraction King Julien's Beach Party-Go-Round, and the large baobab tree facing the park's lagoon and Hollywood zone. The show building for A Crate Adventure, will become part of Super Nintendo World. Construction of this second themed zone will take place in the later phase of the RWS 2.0 expansion, unless RWS has changed its course.
Madagascar: One Last Boogie visual © Resorts World at Sentosa
Minion Land (Universal Studios Beijing) visual © Universal Parks & Resorts
---
Leap Into Fun at Universal Studios Singapore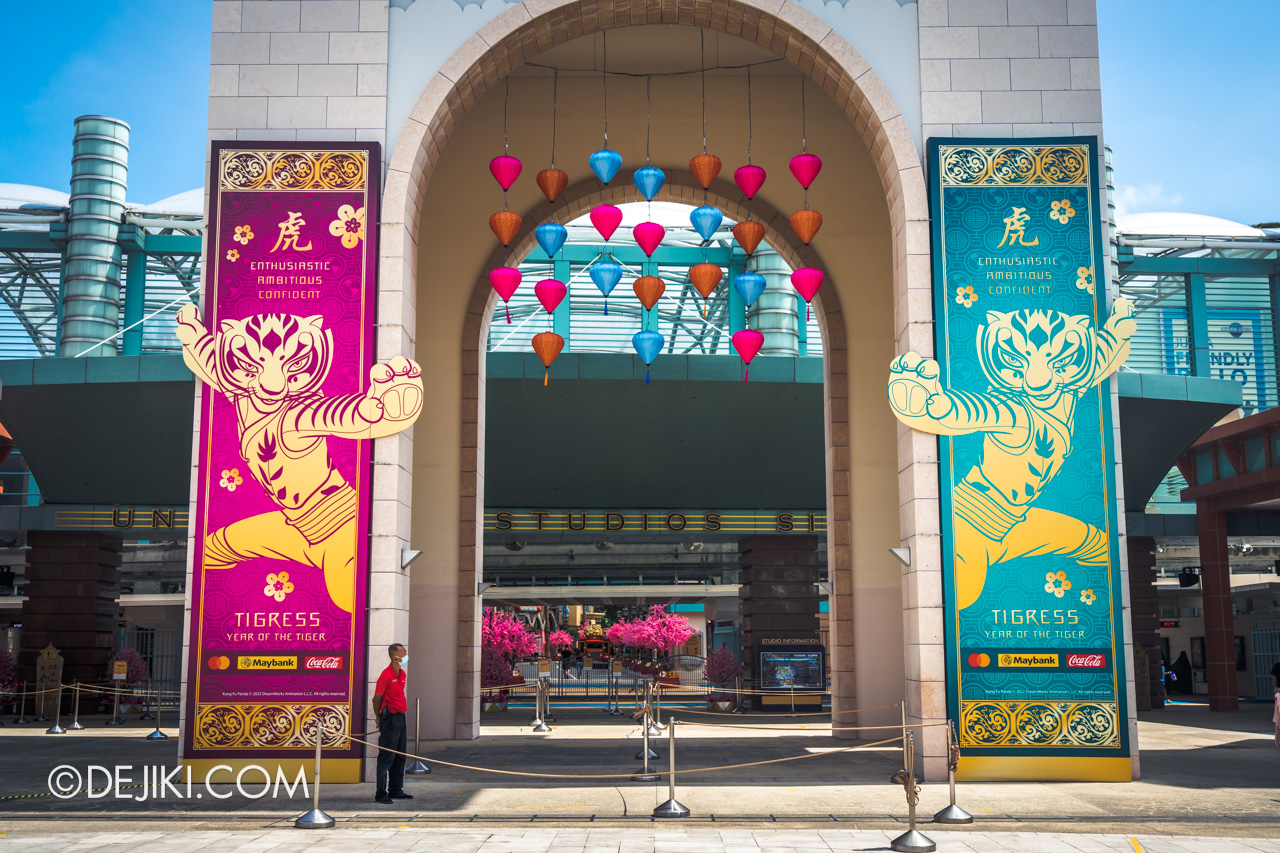 From 13 Jan to 13 Feb 2022, Universal Studios Singapore will be holding the Lunar New Year-themed Leap Into Fun event. In the first week of the Chinese New Year holiday season, the park will be open for 6 consecutive days – 1 Feb to 6 Feb.
Similar to last year's Usher In The Fun (Lunar New Year) event, it's all about Meet and Greet experiences. However, park guests can extend their time in the park with some paid add-ons, with the all-new one being Tangyuan (glutinous rice balls) workshop by Samantha Mantou that is held within the (usually closed) Starbot Cafe on select days. The S$248 IT'S SHOWTIME! Premium Experience (Lunar New Year Edition) is back for the season, and is the only option for the complete seasonal entertainment experience that the park currently offers.
With the conclusion of the SingapoRediscovers Vouchers programme in December 2021, much of the crowds at USS had subsided. Towards the end of 2021, there were some incredibly long lines just to get in, with the park operating at full capacity on several dates.
Hollywood is now filled with Wishing Trees, mainly as part of the park's Fortune Draw promotion.
Get this Draw slip at the park entrance after scanning your ticket, and select one of the Zodiac animal (each has a unique prize). Spend at least $38 using Mastercard in the park to get another Draw slip.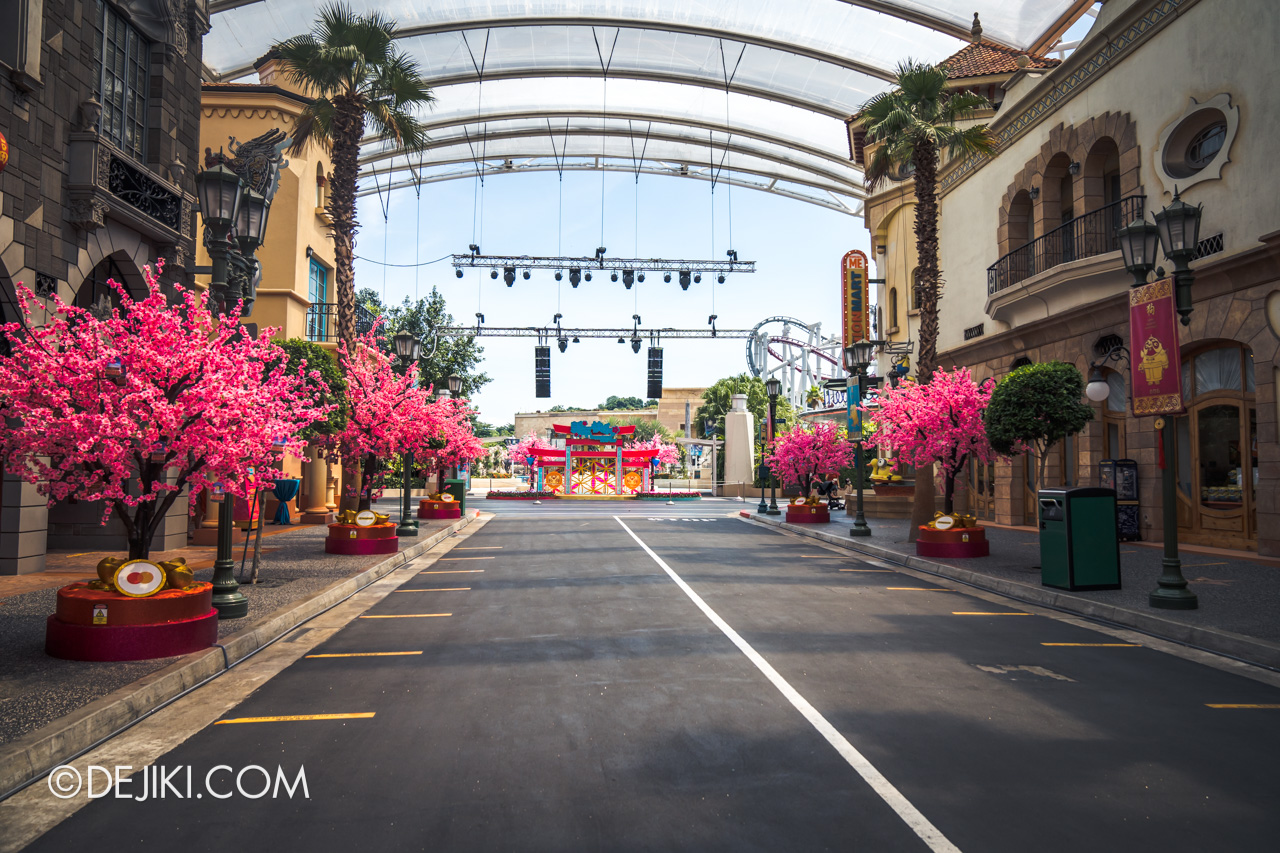 Beyond the wishing trees, the new stage at Hollywood will host several Meet and Greet experiences:
Making her debut at Universal Studios Singapore, we have Master Tigress together with Po, from Kung Fu Panda.
Madagascar characters, including Alex and King Julien, will be here too.
Lastly, Trolls (Poppy and Branch) as well as Puss in Boots characters will also make their festive appearances at the Hollywood stage.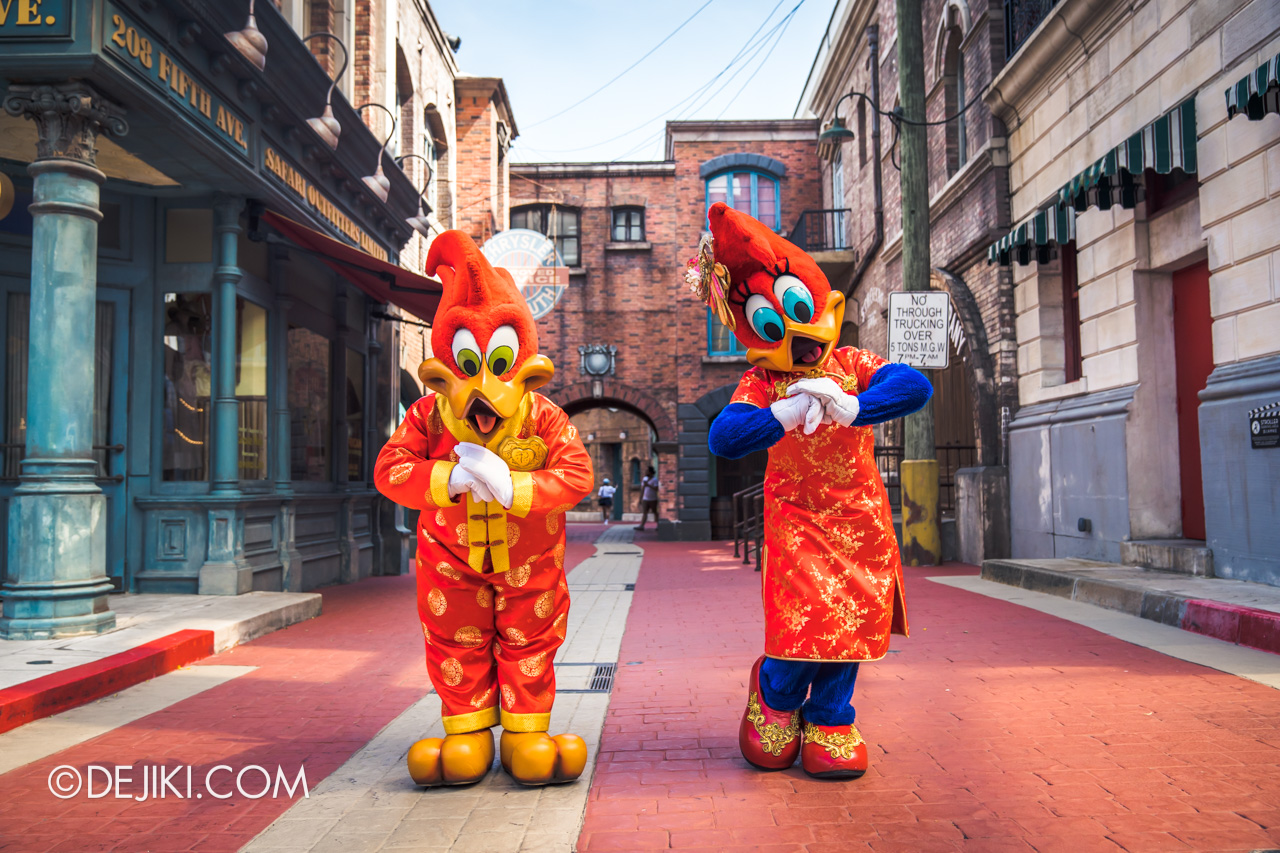 Over at New York, you can find Woody Woodpecker with Winnie at the entrance to Sting Alley. With more space (and time with shorter lines), the duo are more than happy with animated greetings.
Sesame Street characters (Abby Cadabby, Grover, Cookie Monster, Oscar) will also be in New York.
They will make the usual entrance from one side of New York to this seasonal hot set.
Gru and the Minions will also meet guests here.
Apart from those lanterns, the rest of New York remain undecorated, save for the lighting and electric firecrackers that are part of the grand finale of IT'S SHOWTIME Premium Experience.
Leap into Fun – Walkabout vlog
See the park in its 2022 Lunar New Year festivities in this short video:
---
January 2022 park updates
Is this a new store window? It isn't a Lunar New Year-themed one.
That's also because there aren't Lunar New Year merchandise with park characters to showcase. You can grab these rather generic plush and cushions from the store.
On the F&B end, it's great to see the park putting effort in their menus with seasonal novelties, such as the striped Tiger Burger (Mel's Drive-In) and Tiger Tail Roll (Fossil Fuels).
Over at Loui's NY Pizza Parlor, you can feast on the Mala Gold Ingots Pizza. Only during the Lunar New Year season.
Sometime last year, KT's Grill started this Jumbo Dessert Thrills menu, which offers towering, extra-large desserts, and high-tea sets.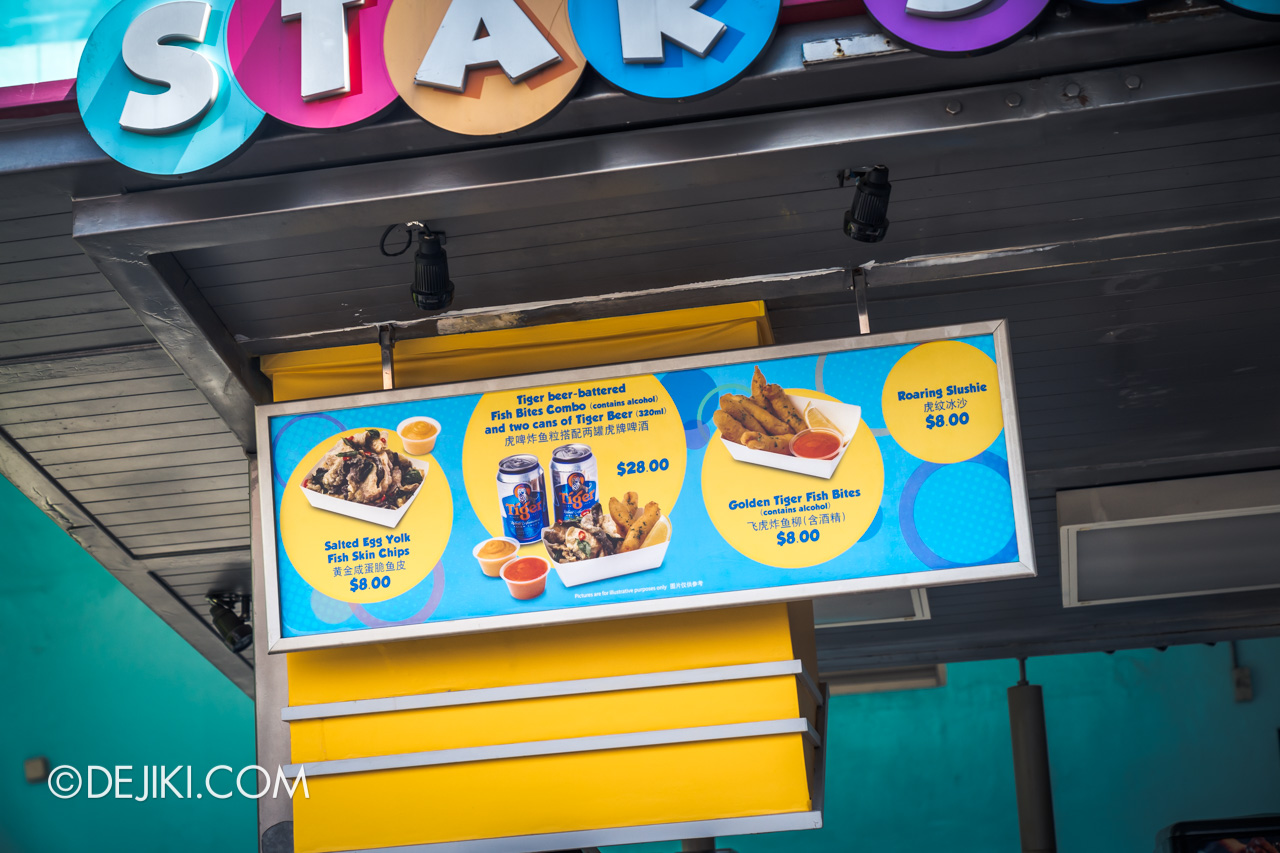 Over at Star Snacks, the Christmas-themed items are now replaced with Fried Snacks and Tiger Beer, of course.
While major works for the park's ambitious expansion have not really started, some parts of the park have received some sort of refurbishment, although it doesn't look quite right yet.
The flooring at Ancient Egypt originally featured "antique" tiled flooring at some specific zones surrounding the area's unique architecture, with some areas with faded tiles or a sandy look. Now the entire area looked painted over with a consistent but quite flat appearance. Not sure if this is the final look, or just a "reset" for the eventual worn-in look that will happen in a few months.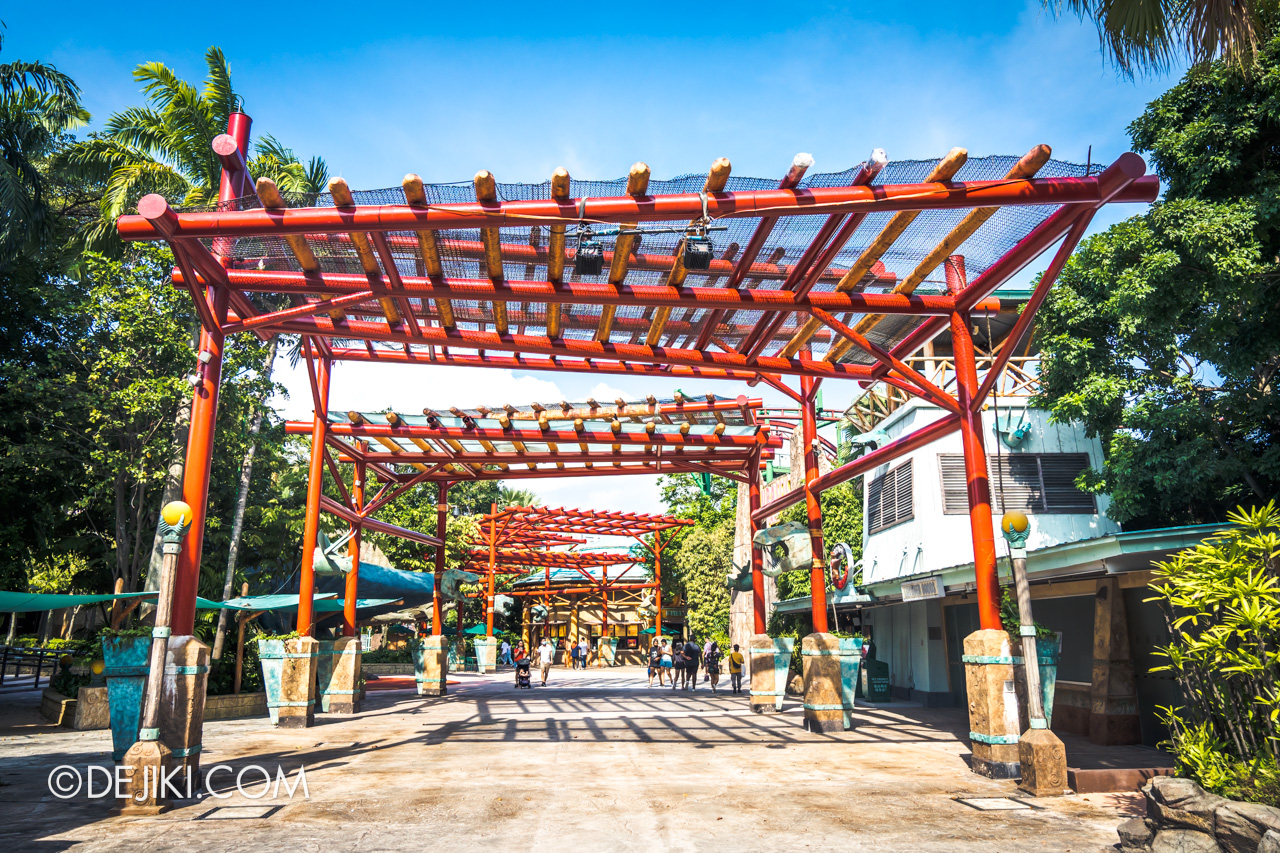 Another notable change is the new appearance of the Canopy at Jurassic Park, now without a consistent orange colour throughout.
---
Universal Studios Singapore's Chinese New Year 2022 event is happening from now till 13 February 2022. Also, check out this video on IT'S SHOWTIME! Premium Experience (Lunar New Year Edition):
---
Get your tickets at Universal Studios Singapore park entrance or via Klook online.
(Purchases made via Klook will help support Dejiki.com at no extra cost to you)
Subscribe to Dejiki.com or Like my Facebook page for notifications of updates.
---