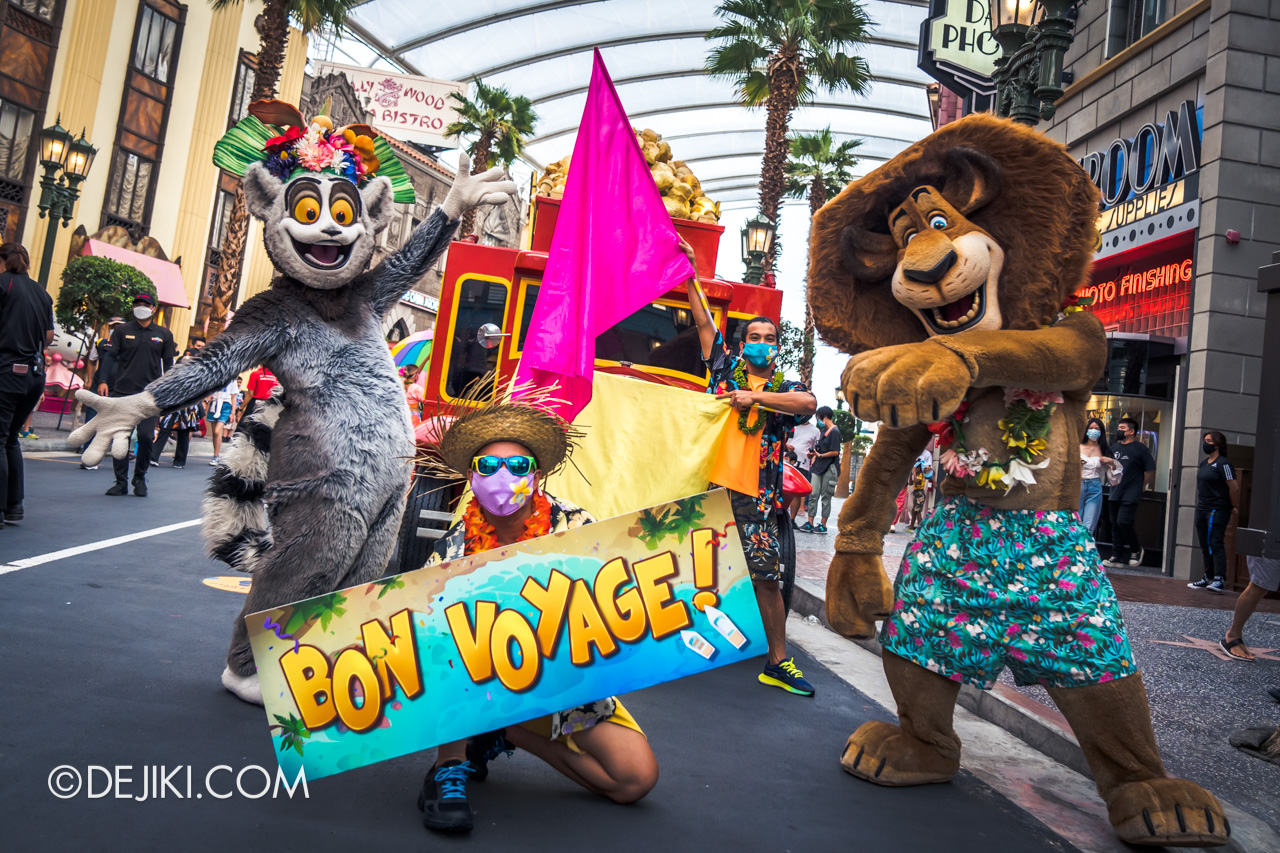 Say goodbye to the Universal Studios Singapore's Madagascar zone at the One Last Boogie event!
One Last Boogie (Madagascar zone farewell event)
Universal Studios Singapore's Madagascar: A Crate Adventure ride will be closed from 28 March 2022. The surrounding Madagascar zone will be redeveloped later, with most of the space going into Minion Land. To send off this zone filled with endearing Dreamworks Animation characters, the park is holding One Last Boogie from now till 27 March 2022, a party-like celebration filled with special entertainment, themed F&B and retail. There are also freebies given out at this event – read on to find out.
Special Ticket Bundle: 'Madagascar Farewell Special' Packages
For One Last Boogie, the park is offering special ticket packages for this event, which bundles a S$20 Retail Voucher (for Madagascar items) and S$5 or $10 F&B voucher usable at most F&B outlets in the park (except Starbucks). Both vouchers have no minimum spend. This is a great bundle that lets park guests bring home some Madagascar-themed souvenirs of their choice. See below for an overview of available items.
Category
Price
Klook – Farewell Madagascar Sale: One-Day Ticket – Adult
+ S$20 USS retail voucher for Madagascar items
+ S$10 USS F&B voucher
$78


Book now »

Klook – Farewell Madagascar Sale: One-Day Ticket – Child
+ S$20 USS retail voucher for Madagascar items
+ S$5 USS F&B voucher
$68


Book now »
(Purchases made via Klook links will help support Dejiki.com at no extra cost to you)
Move It! Move It! Meet & Greet
Come and meet Alex, King Julien, Gloria and tribal drummers in this upgraded Meet & Greet experience that starts from Hollywood…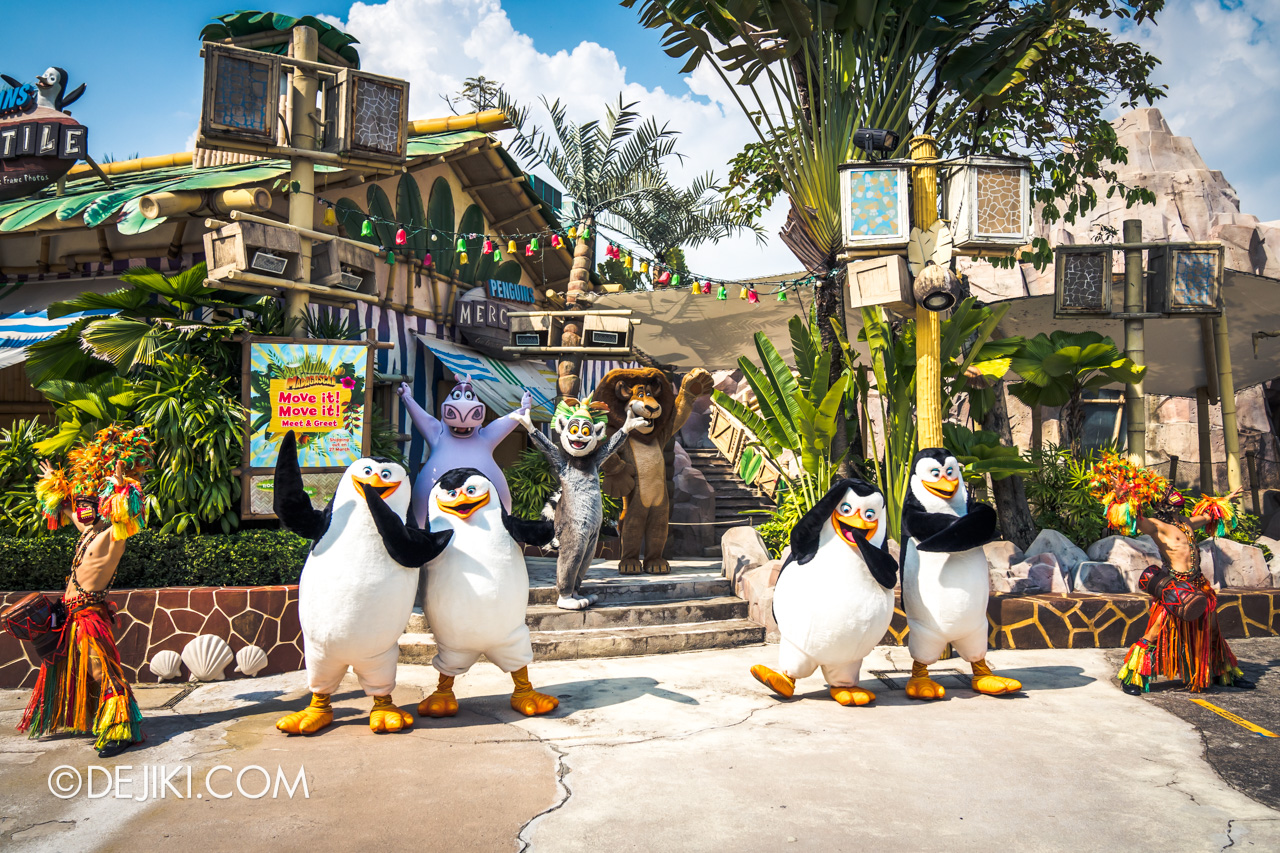 And the party continues at Madagascar, where the four penguins – Skipper, Rico, Kowalski and Private – join in!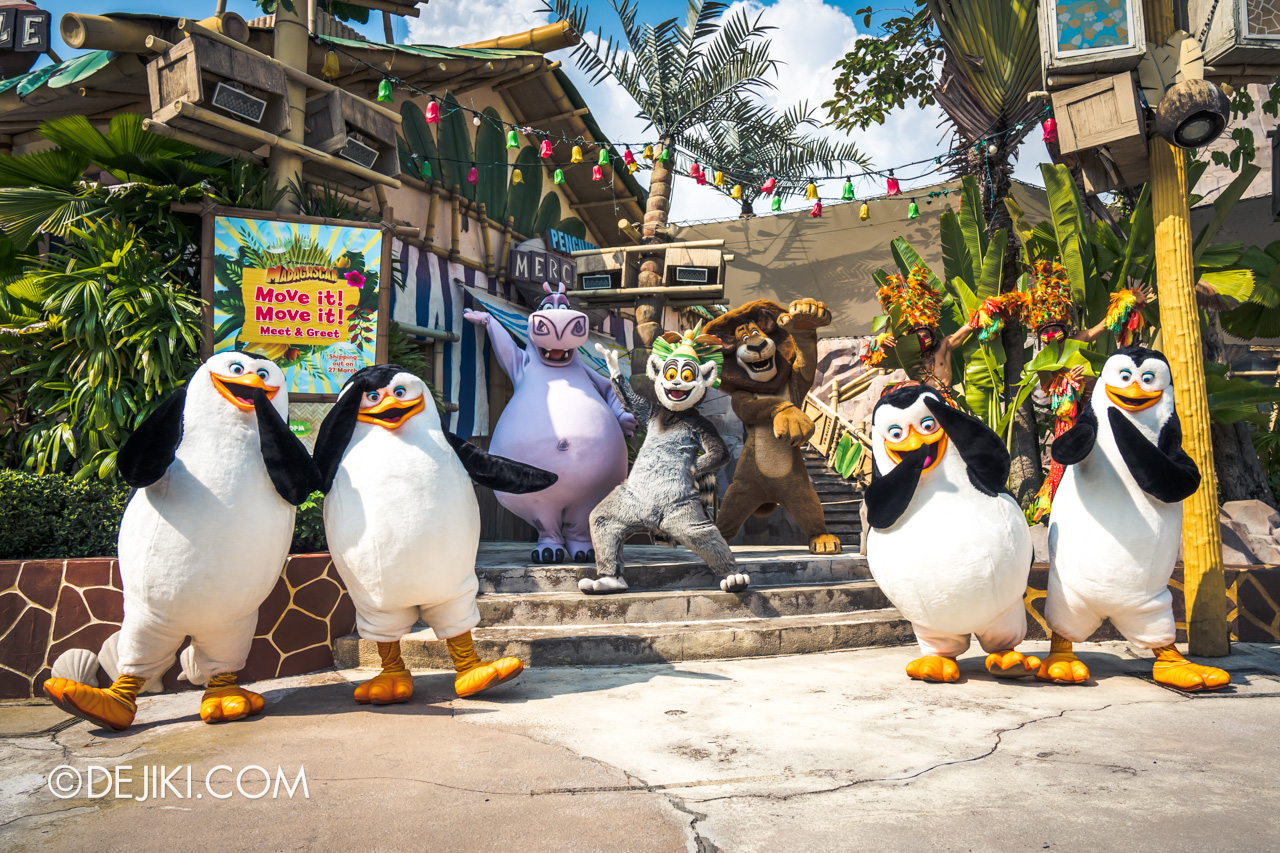 With nine characters, this is one of the largest Meet & Greet for a very long, long time.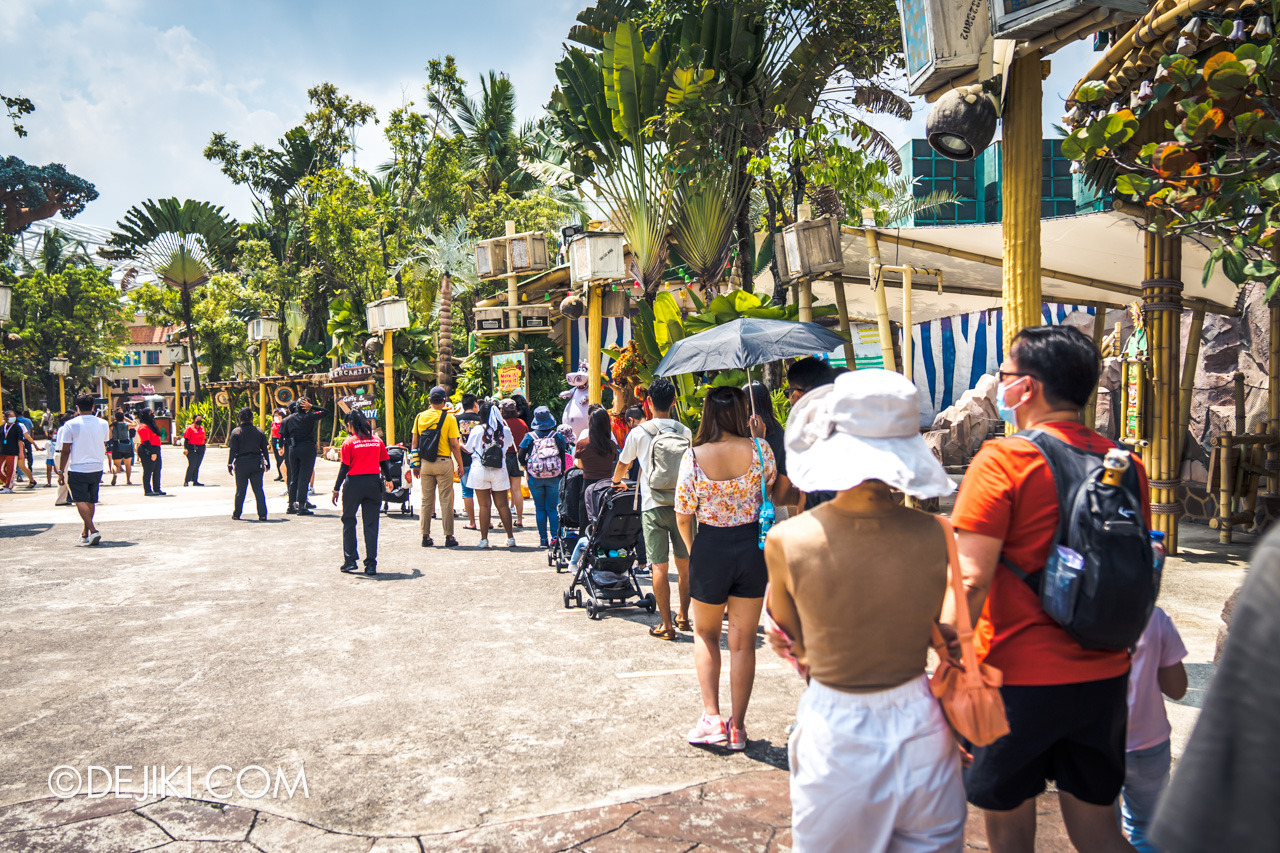 Be prepared for longer queue lines for photos during the March school holiday season.
Also, the park has adjusted the rules for Meet & Greet photography. Guests are now allowed to temporarily remove face masks when their photo is taken. Masks must be worn back immediately after photo taking. Other rules will still apply, including: standing at the yellow marker, and no assistance from the park's star guides.
Bon Voyage! Blowout!
In the evening, the Madagascar animals will ride out on their signature floats from Universal Studios Singapore's Hollywood Dreams Light-Up Parade. Together with Marty and Melman on the floats, this is the most extensive Madagascar experience and Meet & Greet to be held in the New York zone! This mini parade show is weather dependent.
Due to a very light drizzle during my visit – and it only cleared up 15 mins before showtime, this show's parade format was cancelled. The alternate format was a reduced Meet & Greet in Hollywood zone – with the complete absence of floats and all penguins.
For the alternate format, all characters will appear from Hollywood itself, and two Meet & Greet lines will quickly form: One with Alex and King Julien, the other with just Gloria. To add on to the atmosphere, dancers in beach outfits will also be there!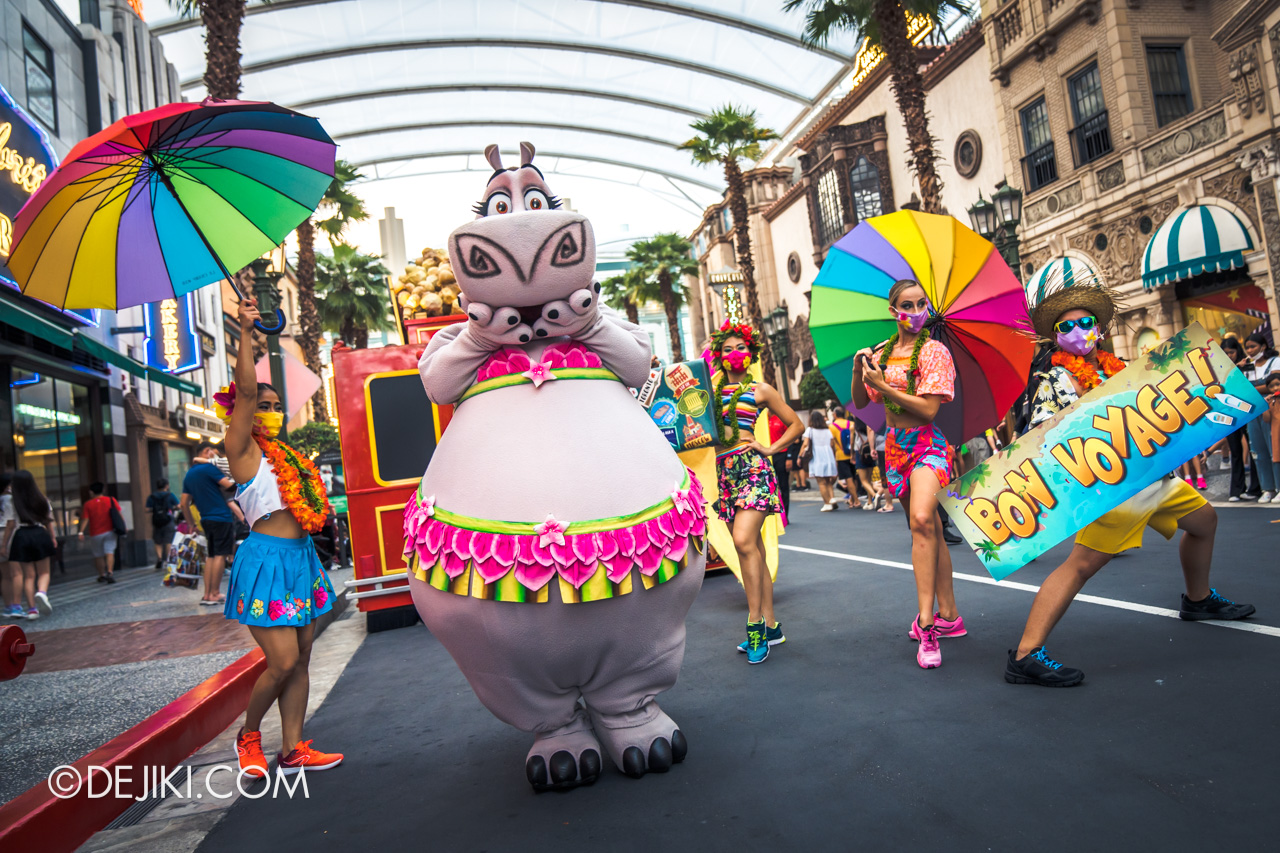 If the weather's fine, then the Madagascar floats will go on a mini parade through New York. Here's some photos taken in 2019 showing how the float units look like (Hollywood Dreams Light-Up Parade version).
These photos do not reflect the actual presentation of the 'Bon Voyage! Blowout!' parade show, which takes place earlier in the day.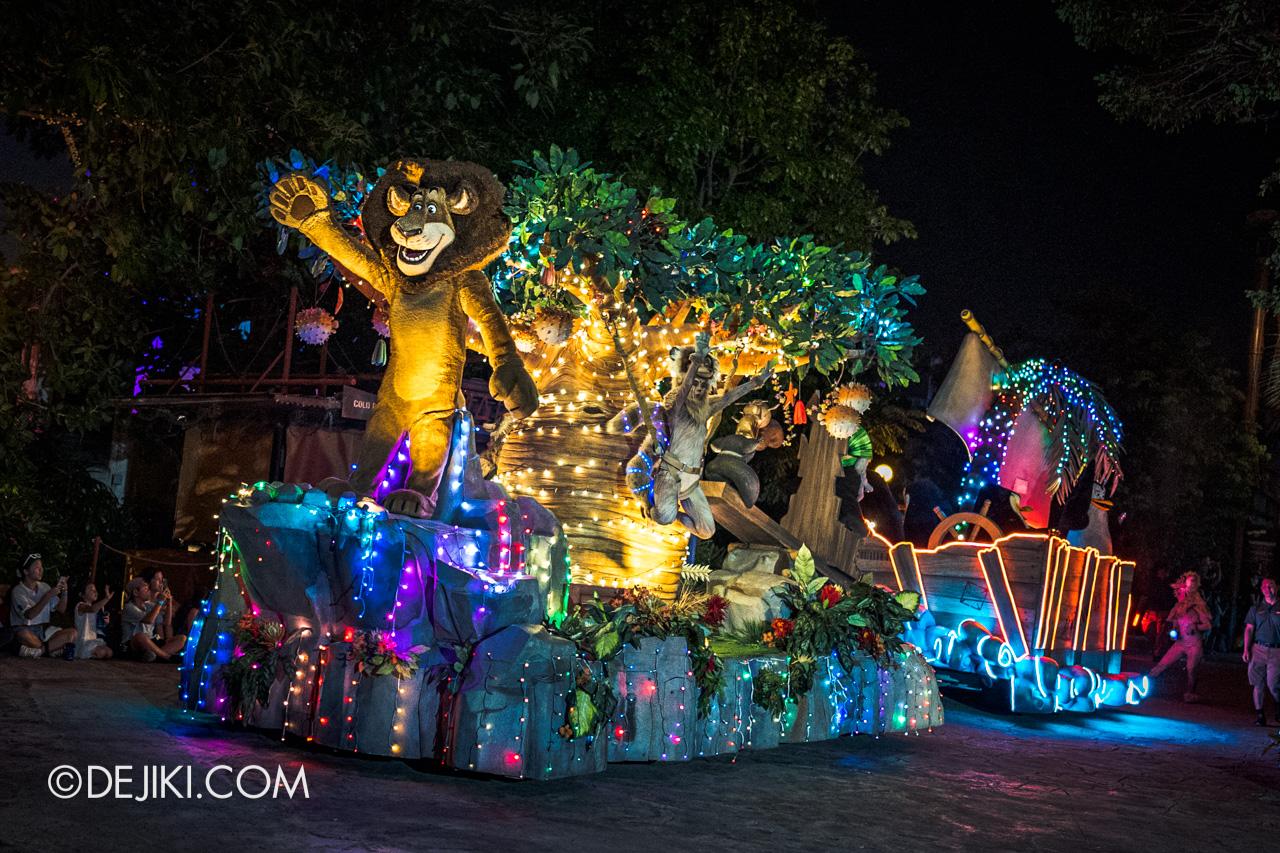 The first pair of (linked) floats, which will have Alex (in board shorts costume) and the four Penguins (wearing various accessories). There will be no lemurs on the float.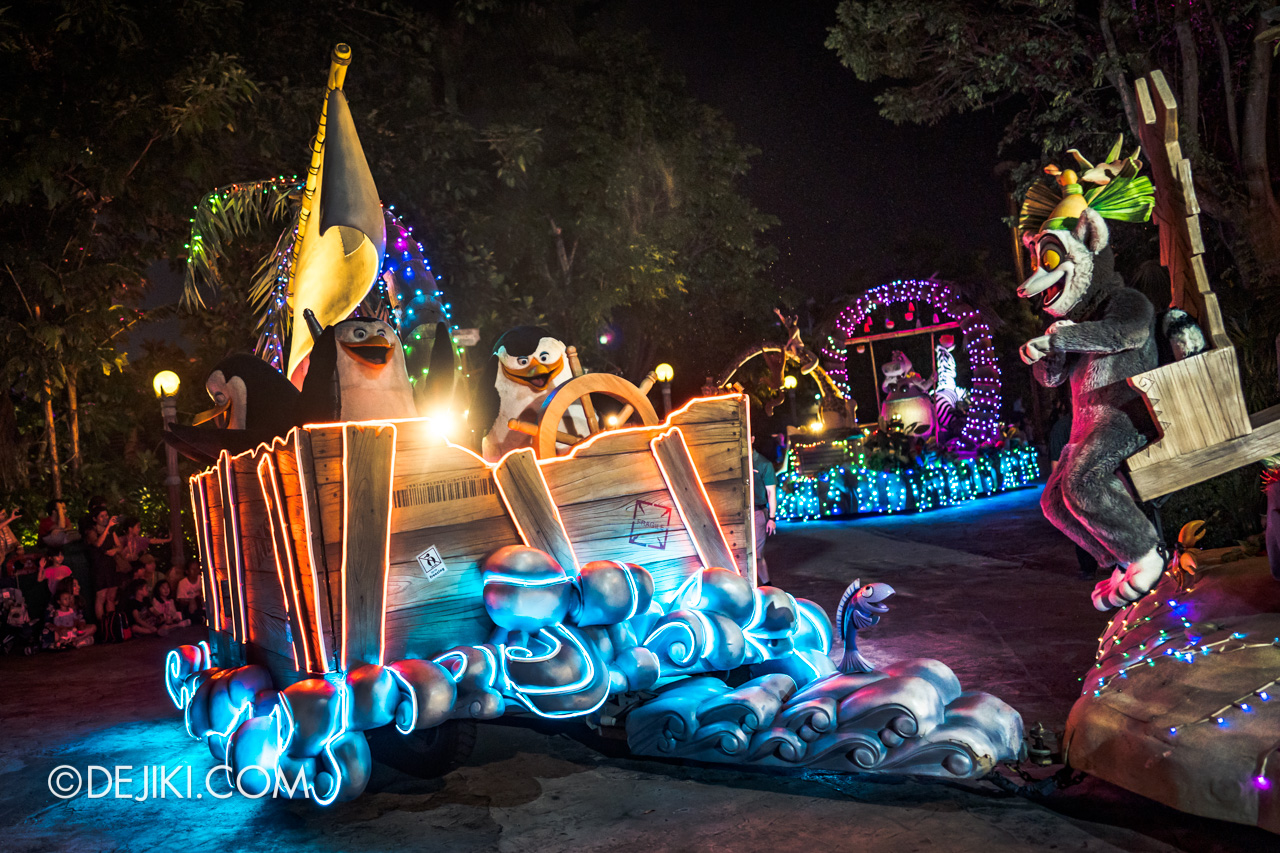 King Julien will not be seated on the float. Instead he will be moving around the next float, which has Gloria (in bikini costume) on her swing. Guests can take photos with both Gloria and King Julien.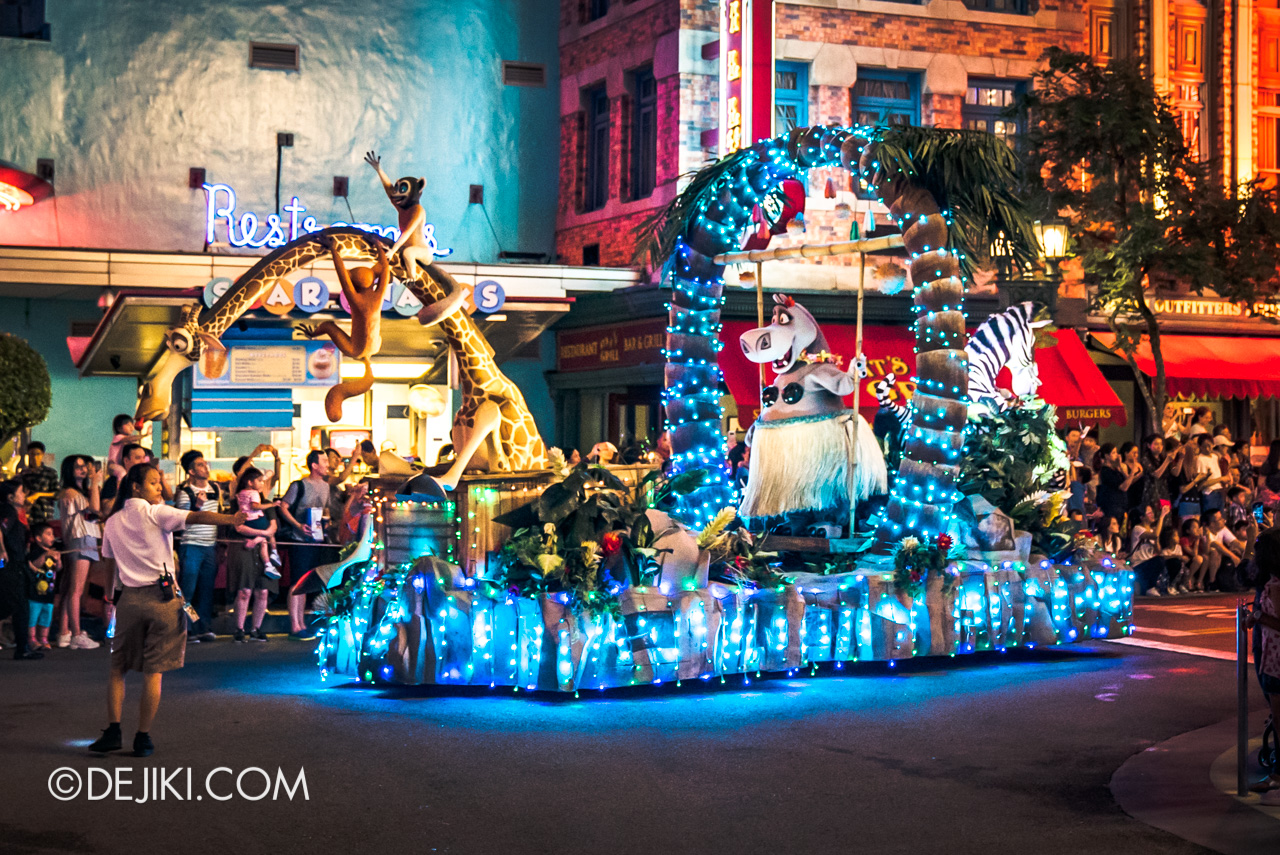 ---
Now we can talk about this event's freebies and other highlights.
#madamoments Tiktok Dance Challenge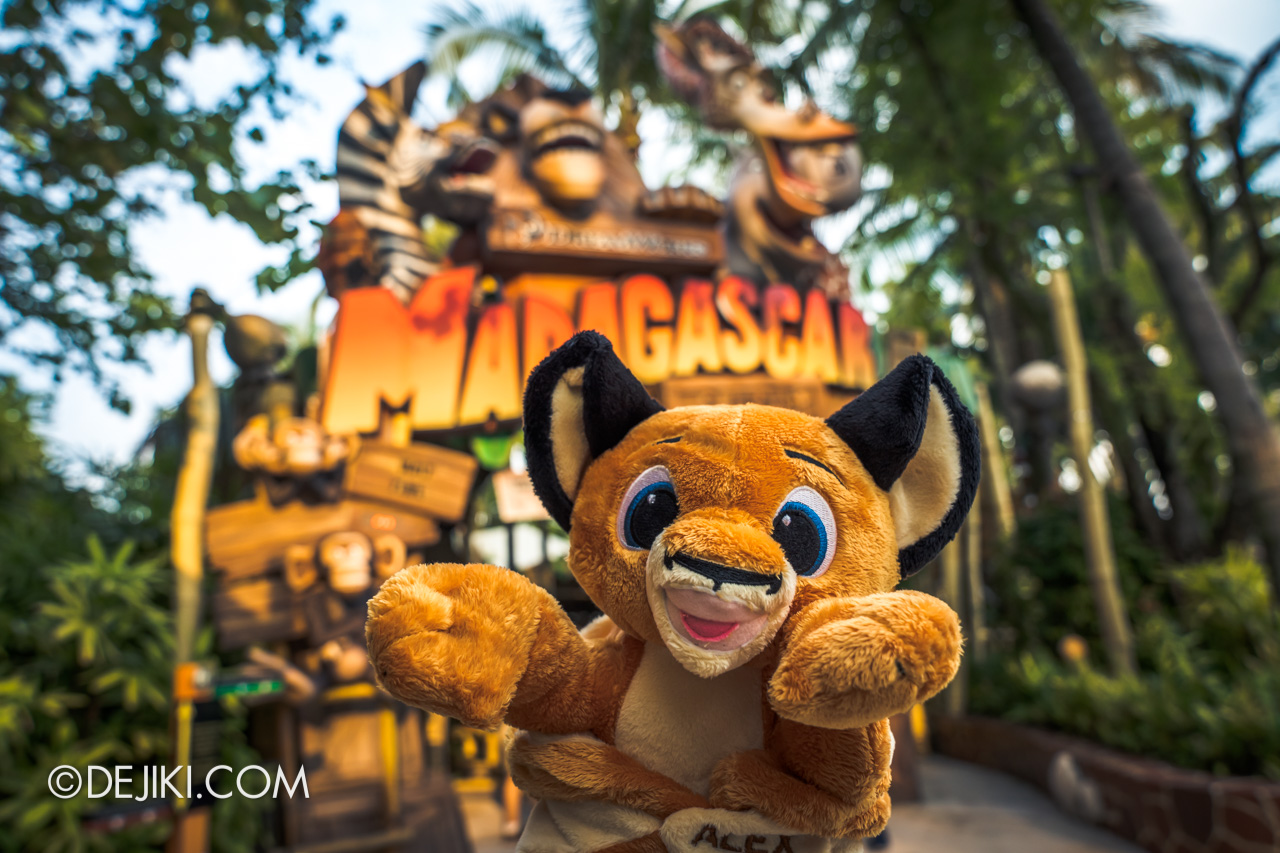 The first freebie I'm featuring is the best of the lot: The adorable Baby Alex Plush (worth S$30). You can get this by taking part in the #madamoments dance challenge. Watch the example video here, along with T&Cs. You do not need to dance with park characters and there is no need to stress over the tricks demonstrated in the video.
Record yourself in the park following the basic dance choreography in the example video. Post your video on Tiktok with the hashtag #madamoments. Then go to Guest Services (near park entrance), show them your Tiktok video and you'll get your souvenir!
Madagascar Farewell event stickers
Next freebie, for those who love printed collectibles: There are numerous sticker designs for the Madagascar Farewell event, and they are given for free at the event.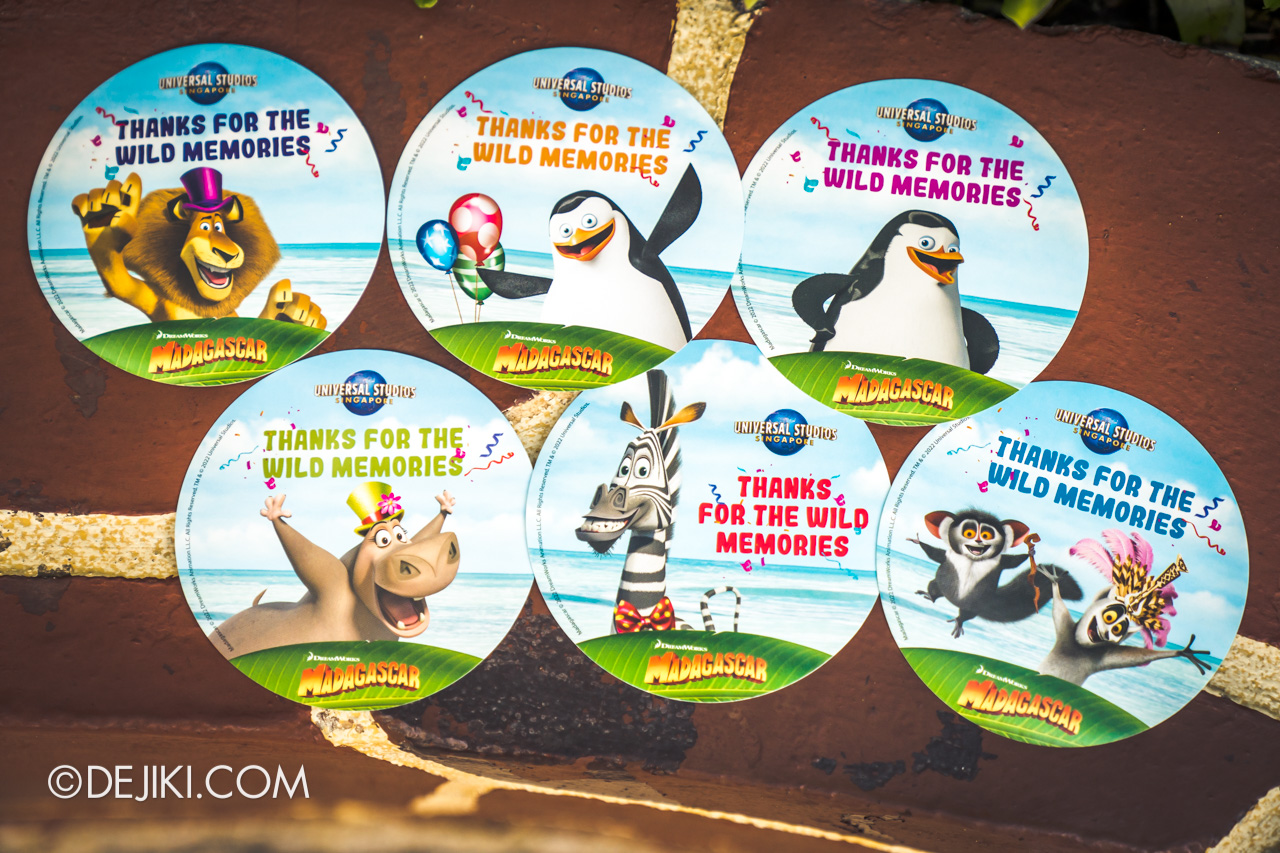 Eventually, my collection expanded to these six designs, and there could be more to collect. You just need to ask around, and it's easy to find crew members with stickers in Hollywood zone, especially during Meet & Greet sessions. You may also find it at the park exit.
Madagascar merchandise at Universal Studios Singapore
Last call! Bring home souvenirs featuring your favourite Madagascar characters. You can find a few shelves of goods at the Universal Studios Store – a far cry from the selection in Penguins Mercantile (the heavily themed store in Madagascar), but still there are many choices to use your S$20 retail voucher on. There is also a promotion: 20% off with two or more Madagascar items.
Note: This list is not exhaustive. Product inventory, prices and promotions may change.
Baby Alex Plush – S$30
Alex Plush – S$25
Mort Plush – S$25
Alex Face Shape Cushion – S$20
Mort Tote Bag – S$29.90
Mort Fun Backpack – S$20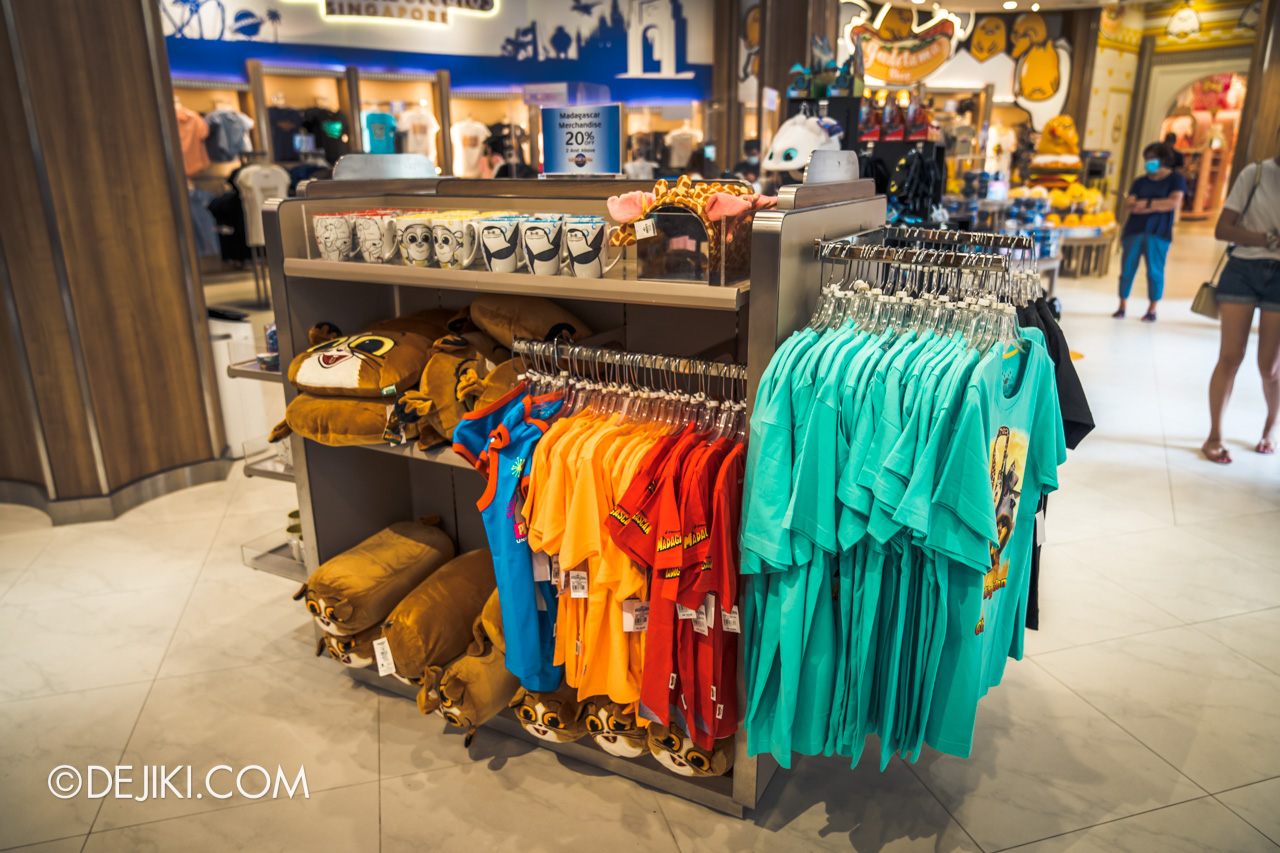 Mort Face Shape Cushion – S$25
Alex Super Soft Mini Bolster – S$13
Fun Bolster (Various characters) – S$25
Mug (various designs) – S$15
Madagascar T-Shirt (Kids) – S$25
Madagascar T-Shirt (Adult) – S$30
Small accessories (colour-coded) – From S$7 per item.
'Classic' Universal Globe Magnets (Red Tag) – S$9 each.
Tropical Treats at Gloria's Snack Shack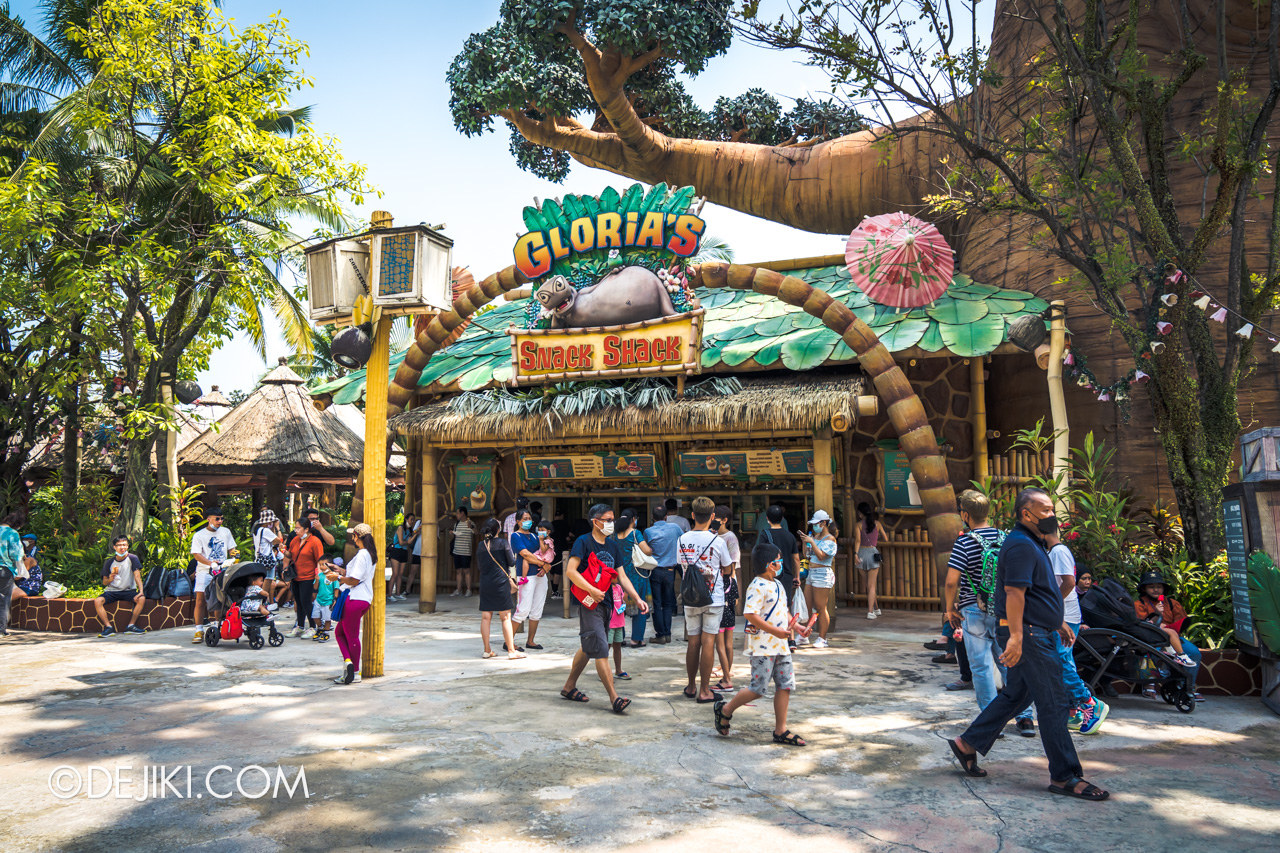 It's not a celebration without the right food and drinks! All guests will get a free treat. Right after you scan tickets at the turnstiles, you should receive a voucher for this freebie. Please remember to collect it.
During my visit, the free treat was the Strawberry-flavoured Paddle Pop Big Rocket Jelly.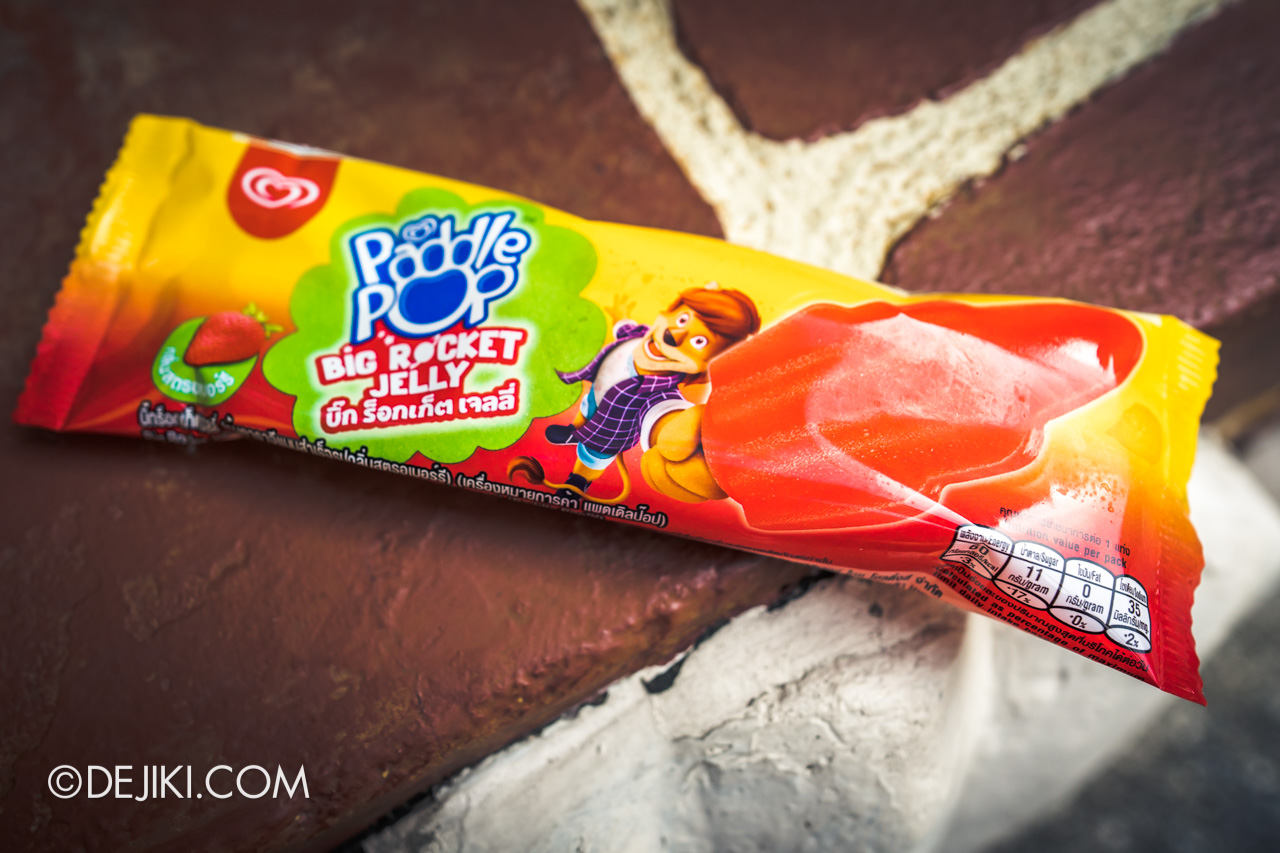 Gloria's Snack Shack will also be serving popular coconut shakes and "mada husks" during this event: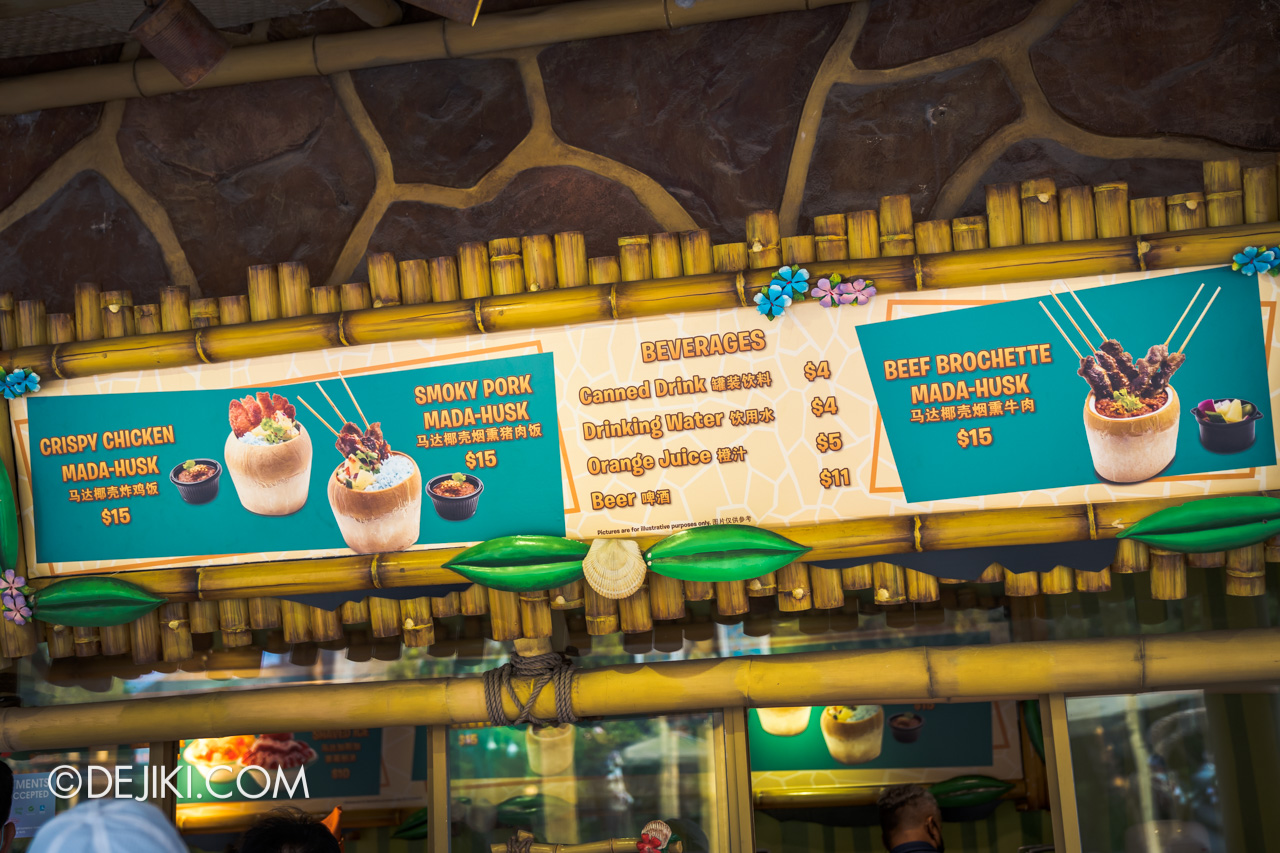 One Last Boogie! (Madagascar Farewell event) walkabout vlog
Catch highlights from the One Last Boogie! Meet & Greets, and a walkabout around Madagascar zone here:
Thanks to Resorts World Sentosa for the invitation to One Last Boogie.
---
One Last Boogie! Playlist
Can't get enough of it all? Add this playlist to your Spotify collection and hear the tunes from this park event, the Madagascar zone, and the Madagascar: A Crate Adventure ride soundtrack!
Madagascar: A Crate Adventure – May 2011 ~ March 2022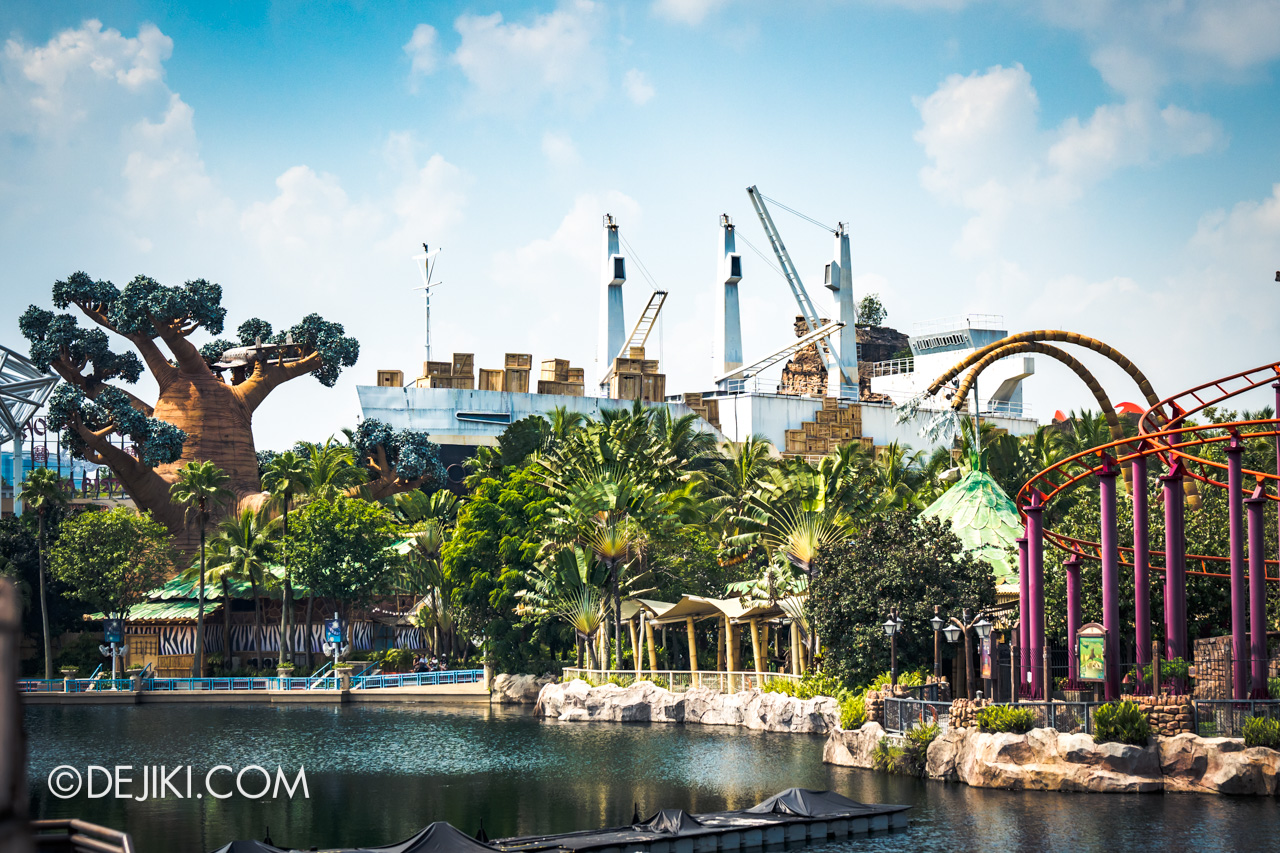 Of course, the biggest thing that will be leaving the park would be its signature attraction, Madagascar: A Crate Adventure. While the ride isn't particularly exciting, I'm sure that some guests are fond of it. At Universal Studios Singapore, A Crate Adventure is one of the few gentle ride where families can enjoy some relaxing, peaceful time together. The voyage offered 7 minutes and half of air-conditioned respite from the typically harsh Singapore tropics.
Now, over a decade later, the freighter ship and its unique crate-like ride vehicles will be sailing away for good.
---
Madagascar Memories: March 2010 ~ March 2022
COMING SOON: A tribute photo editorial to the Madagascar: A Crate Adventure attraction and the Madagascar zone will be published after it closes.
---
Get your tickets at Universal Studios Singapore park entrance or via Klook online.
(Purchases made via Klook will help support Dejiki.com at no extra cost to you)
Subscribe to Dejiki.com or Like my Facebook page for notifications of updates.
---