It's a holiday dining experience like no other at Universal Studios Singapore! Find out what IT'S SHOWTIME! Premium Christmas Experience is all about.
What is IT'S SHOWTIME! Premium Christmas Experience?
Universal Studios Singapore is offering a new S$248 Premium Experience package called IT'S SHOWTIME. This is themed "dinner-tainment" held in the park, with the immersive dining journey taking place at three park restaurants. The experience ends off with a finale parade show and fireworks spectacular. This Christmas edition of IT'S SHOWTIME includes daytime park admission (from 10AM) with Universal Express Unlimited, meaning Premium Experience guests can use the Express Pass lane for participating attractions as many times as they wish until 5PM.
Book your IT'S SHOWTIME Premium Experience via Klook.
---
IT'S SHOWTIME! Premium Experience Review
I finally got to experience the new Premium Experience last weekend. It was a blast. The highlights from this event, which I have tried my best to document in photos and a video, can all be enjoyed in this article. This is a treat for anyone who loves themed entertainment and star treatment at every moment. The whole thing felt even more luxurious than the Universal VIP Experience, as if the park was open for a private event. The food is novel and delicious, and certainly not 'theme park food' standard. Despite how it may appear, the characters performing at each show will not enter the dining venue, so you will not be interrupted by characters during your meal.
IT'S SHOWTIME marked the return of 'true' shows at Universal Studios Singapore – but only with having strict attendance control and fixed seating. This is the only way to run shows given the current climate, which is why these productions are not offered to regular guests in the day; it's just not feasible.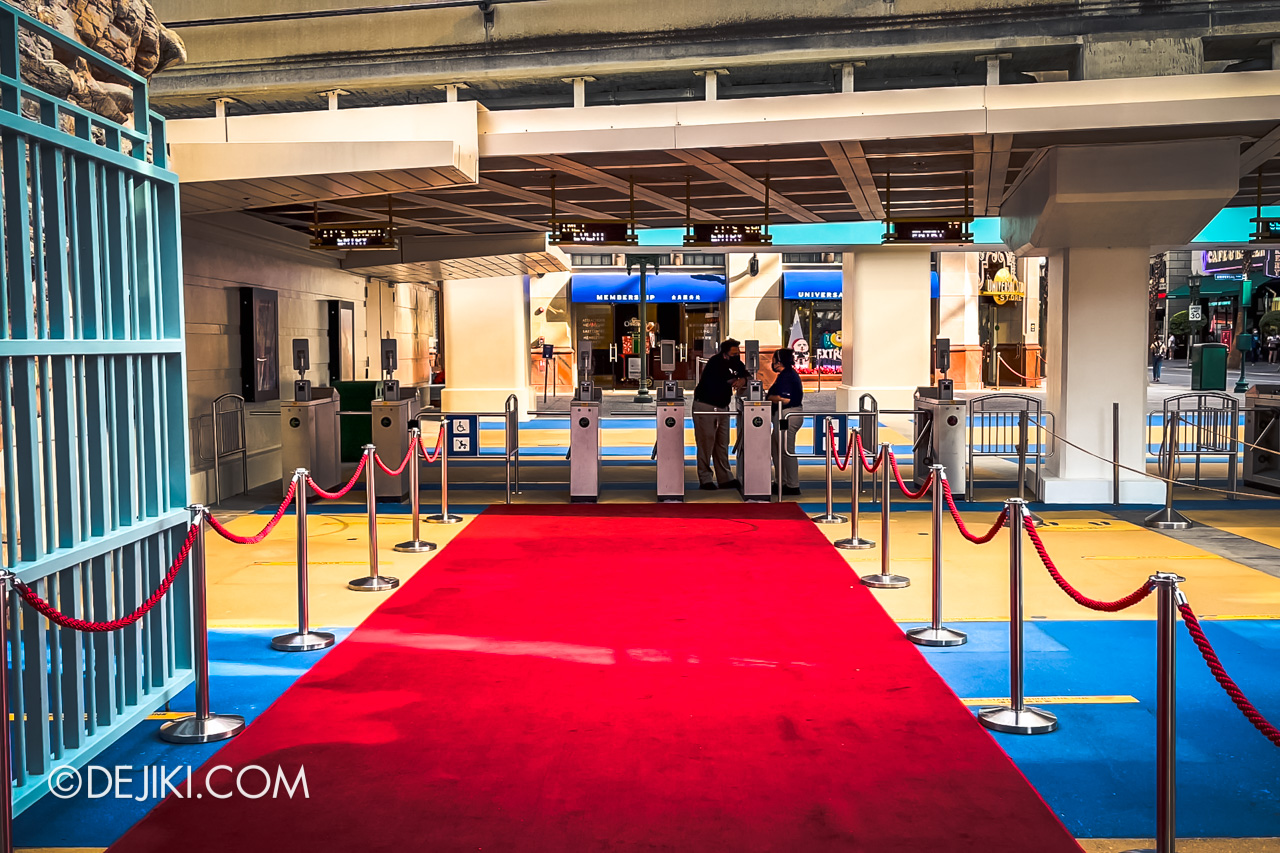 Exclusive Red Carpet Entry Lane for guests of the Premium Experience
By including the day ticket ($69) and Universal Express Unlimited (~$90), the Christmas Edition of SHOWTIME offers quite good value – almost like topping up another $89 for the evening's special programme. If you still have not touched your SingapoRediscovers Voucher, the SHOWTIME package will cost you $148 cash. It boils down to whether you would wish (and have the energy and budget) to spend a complete day at the park, and if the dining and entertainment for the evening (without attractions) is your cup of tea.
You could enter the park after lunch (say 2PM) and should have sufficient time to comfortably go on several attractions with the Universal Express Unlimited Perk. The Premium Experience itself in the evening is very easy-breezy and comfortable, with all the planning done before your arrival, and the tour programme led by the park's VIP Experience Guides. All you really have to do is pick your seat at the dining and show venues, and IT'S SHOWTIME!
Also: I was invited to cover this experience, but all opinions are my own. Plus if nobody's writing seriously and taking the right photos about this experience, then I better produce a PREMIUM ARTICLE.
---
IT'S SHOWTIME! Premium Christmas Experience Video
Get a sneak peek of IT'S SHOWTIME with snippets of the shows and overall experience in this video!
---
Highlights of IT'S SHOWTIME! Premium Christmas Experience
With your IT'S SHOWTIME ticket, your day at the park can start as early as 10AM to experience the park's regular attractions, Meet and Greet sessions, and the A Universal Christmas 2021 event. The Universal Express Unlimited wristband lets you can enjoy most attractions with shortened wait time.
Pre-Dinner Programme
At 5PM, the park's attractions will be closed and park guests will begin leaving the park. But not for you!
Make your way to New York to enjoy complimentary drinks, and take photos with park characters at exclusive Meet and Greet sessions.
The Minions Mail and Monsters Mail Meet and Greet Augmented Reality (AR) experiences are available during this pre-dinner segment. No time limit or long queues!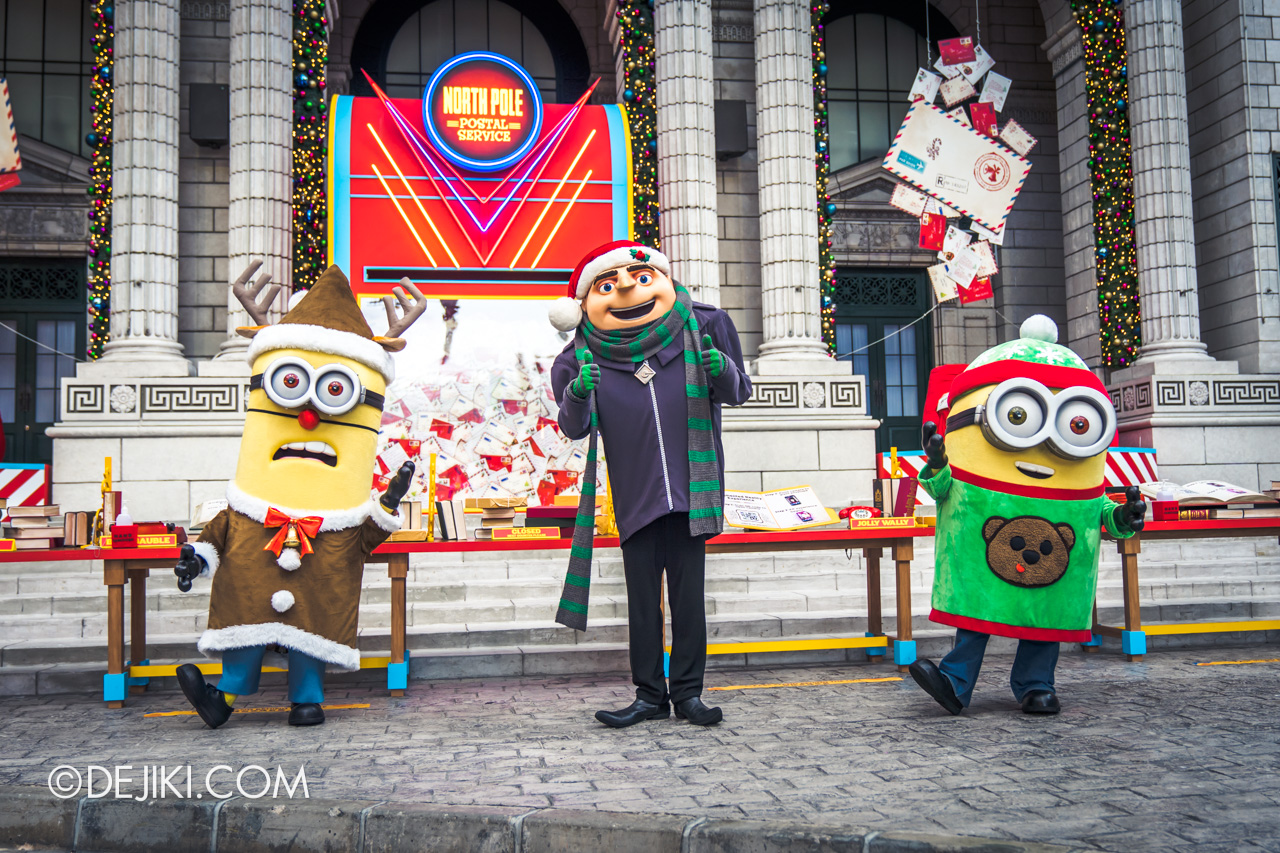 Over at the New York Library area, there is an exclusive Meet and Greet with Gru and two Minions. These Minions are exclusive to IT'S SHOWTIME and do not appear at the park's usual A Universal Christmas this year.
Seats are placed around the New York Library stage for guests, which are separated into 3 groups: Rebels without a Claus, Elves in Training, and Icy Cold Demeanours. For all shows held during IT'S SHOWTIME, everyone has to remain seated as part of prevailing government regulations. Unlike typical theme park shows where you have to stand throughout or jostle for a good view, now you get to enjoy the shows in comfort.
Ready, Set, Snow!
Brace yourself for Ready, Set, Snow! The opening act for IT'S SHOWTIME.
The viewing area for this show is much further than I expected, but at least it means everyone gets a full view of the stage.
Two dance groups – Naughty, and Nice, are in the midst of a dance duel when a special judge and surprise guests arrive to join in!
After that epic dance battle and last minute team up with the Frostyz, the dining experience begins. The entire attendance, already pre-divided into three groups, which will rotate around dining venues in the park's New York and Hollywood zones.
---
IT'S SHOWTIME! Festive Gourmet Journey Experience
Depending on your tour group assignment, the order of the restaurants may vary – however all guests will enjoy the same themed dishes (and various alternatives for guests' dietary requirements).
Jingle Mel's at Mel's Drive-In
Upon arrival at the first restaurant, Mr Christmas and the Santarinas have a welcome treat: A Very Naughty Christmas at Jingle Mel's. Yes, it's one show after another, nonstop entertainment!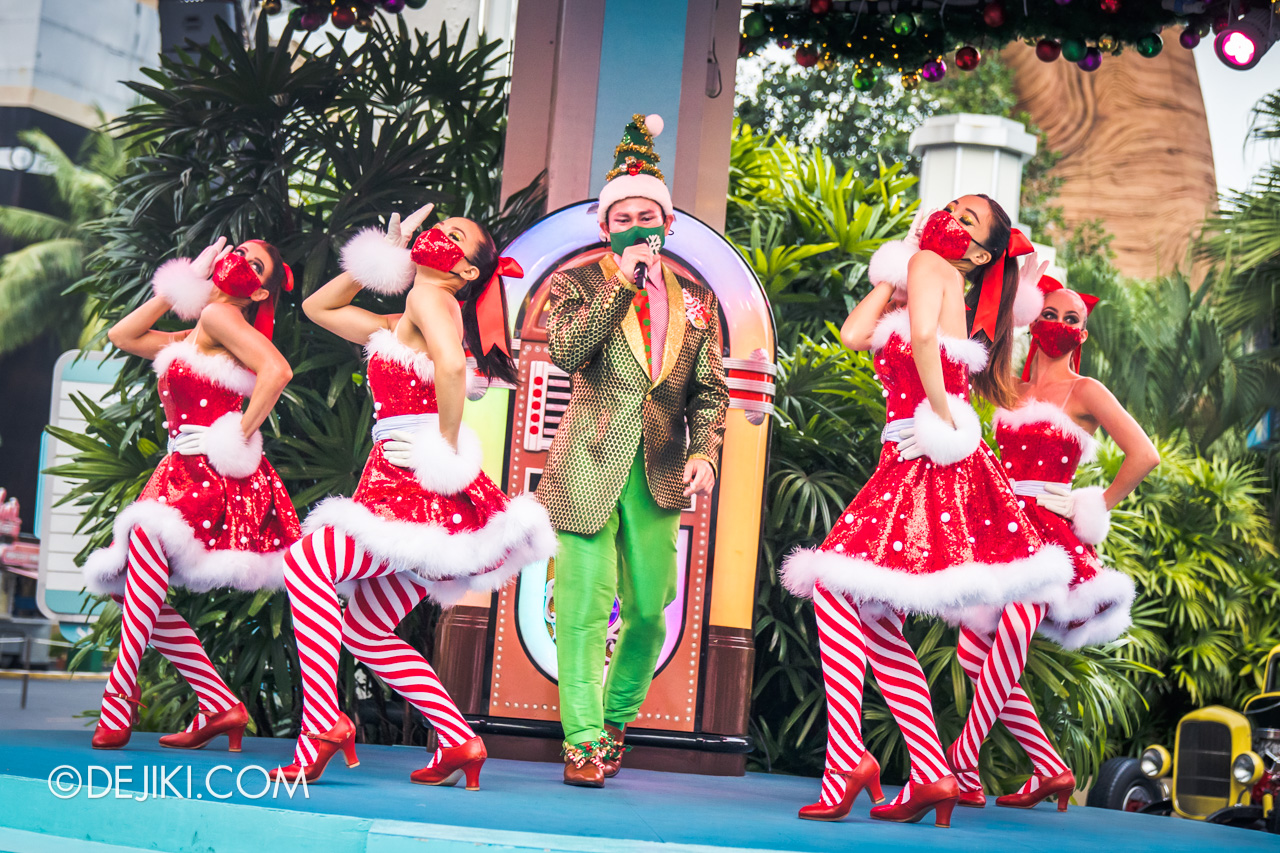 After a smashing and cheeky show that brings back good memories of Mel's Dinettes (and again you'll have to stay seated throughout the show), it's finally time to enter Jingle Mel's!
Food here is served in a gift box, and accompanied with a frosty mug of ginger ale.
The Menu: Beet-marinated salmon with herring caviar, salmon roe and basil coulis in a gift box.
You'll spend about 30 minutes at the first two dining venues, following which Santa will make a special announcement. Diners will leave as a group to the next show location. Think of it as a commercial break for the experience.
Bar Humbug at KT's Grill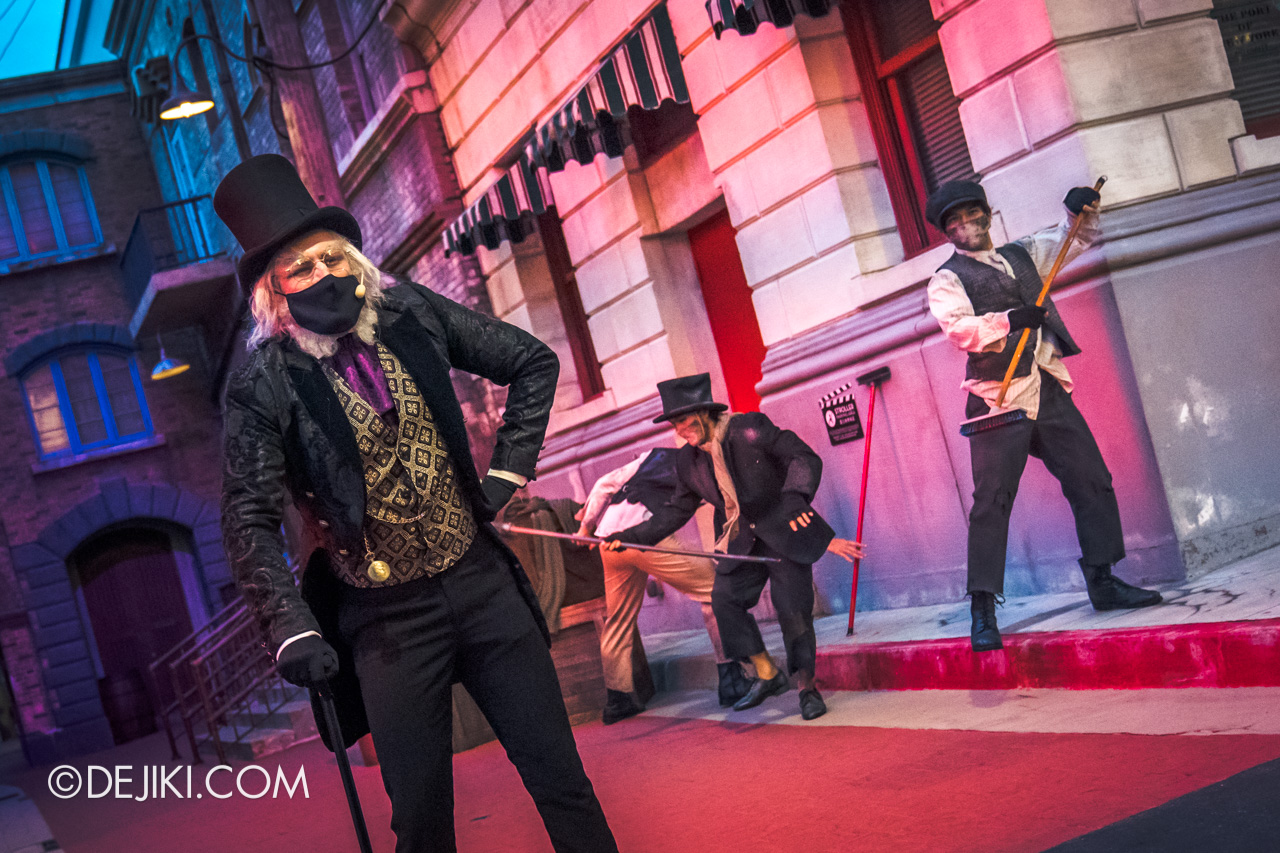 KT's Grill has been taken over by Ebenezer Scrooge. The miser now runs A Miserable Christmas at Bar Humbug.
Unfortunately (or not), three chimney sweeps have ambushed Scrooge, demanding to be paid. With slick dance moves and tricks, they attempt to recover their money.
Modest theming in KT's Grill, keeping with the Scrooge's style perhaps.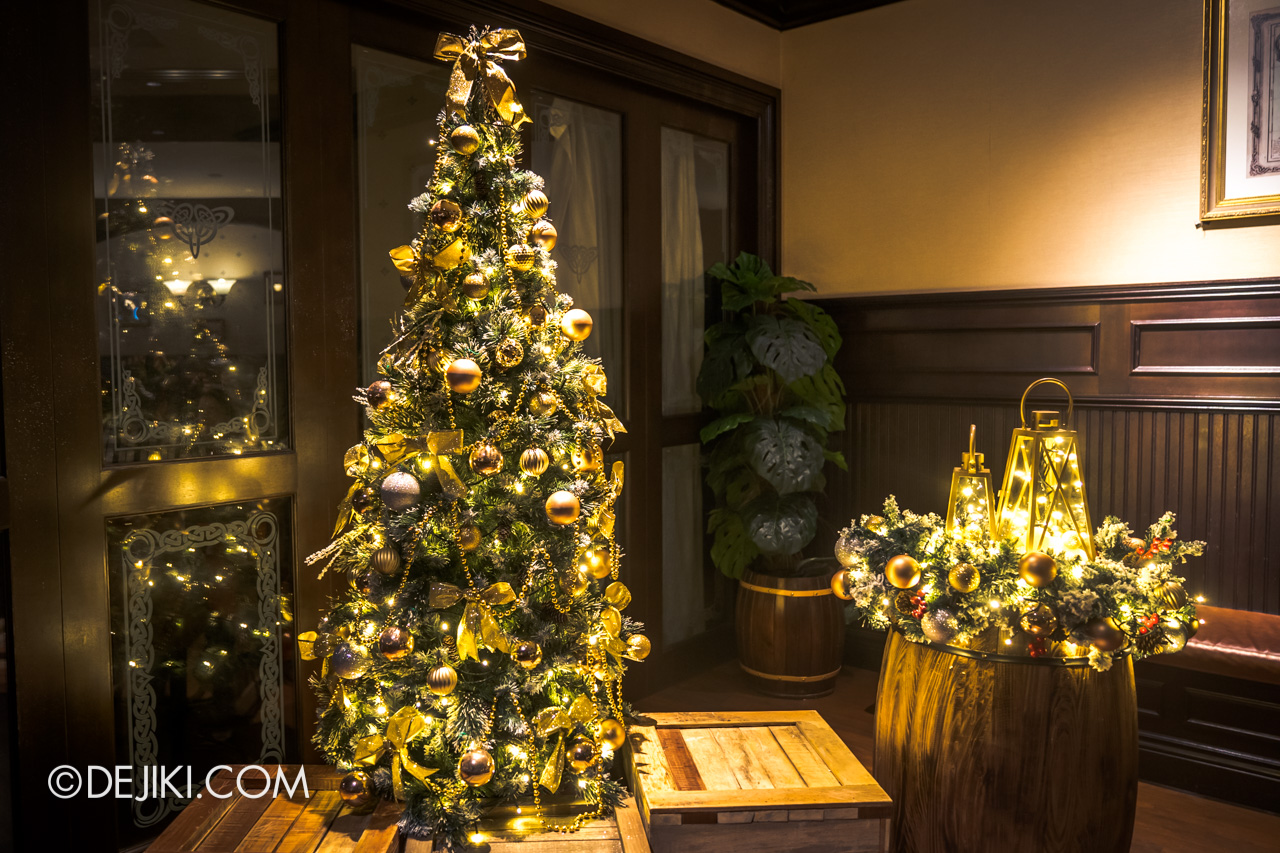 After all, it's now Bar Humbug.
The Menu: Roasted turkey Wellington with seasonal truffles, with creamy mashed potato and vegetables on a platter.
Served with white wine. By the way, drinks can be refilled at all three restaurants – just ask.
Tinsel Tavern at Loui's NY Pizza Parlor
Make your way to Tinsel Tavern, where only those on the Nice List are allowed in. Unfortunately not for these elves!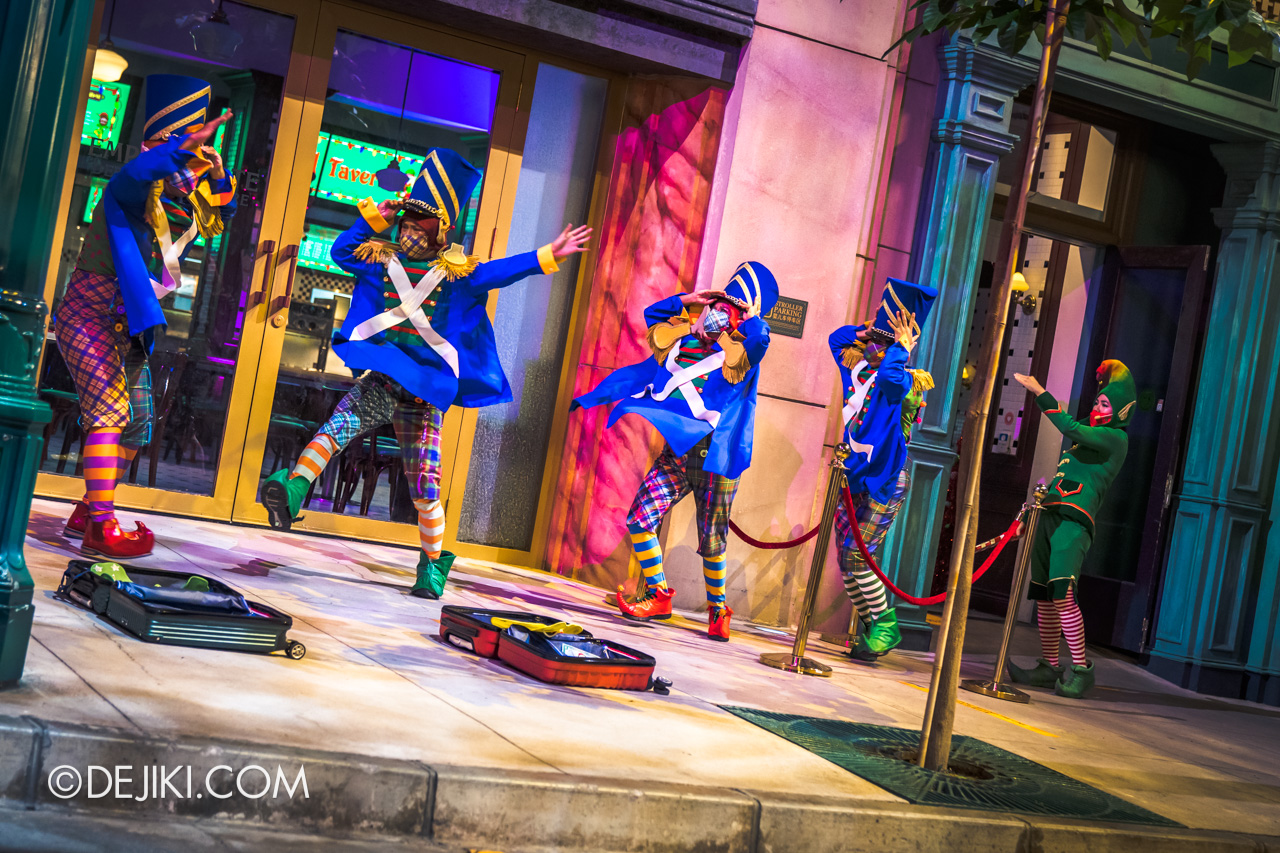 After comedic mischief and relentless attempts to get in, they finally passed the test.
This restaurant has the most vibrant Meet and Greet and the best lighting for photos, so don't miss it.
Over at Tinsel Tavern, you can also discover your Elf Name from the displays.
The Menu: Smoked duck with butternut pumpkin purée and forest mushrooms, served on leaf and stones.
The Dessert: Vanilla Igloo with Santa Claus, with the whole Insta-worthy blizzard mist effect. The same dessert will be served at other restaurants.
---
IT'S SHOWTIME! The Grand Finale
A Universal Christmas Spectacular (Parade)
After the dessert course, all guests will be invited to New York where there are two viewing areas on both side of the street. You will be treated to the most amazing and memorable part of the entire Premium Experience.
Here's why: It's the largest show of its kind for… a very long time.
Park characters, both new and old, are part of this grand spectacle. While it is called a parade, I think it is more like a parade entrance, street show, and parade stop combined into one mega production showcasing "the best at USS" all at the New York street curve – which is great because everyone has to remain seated throughout the entire show.
All the characters, after arriving, will dance and bob to holiday tunes.
With everyone seated at designated locations, it means that more characters will interact with guests at several points during the show. Rather than just passing by the guests once which is the case for regular parades.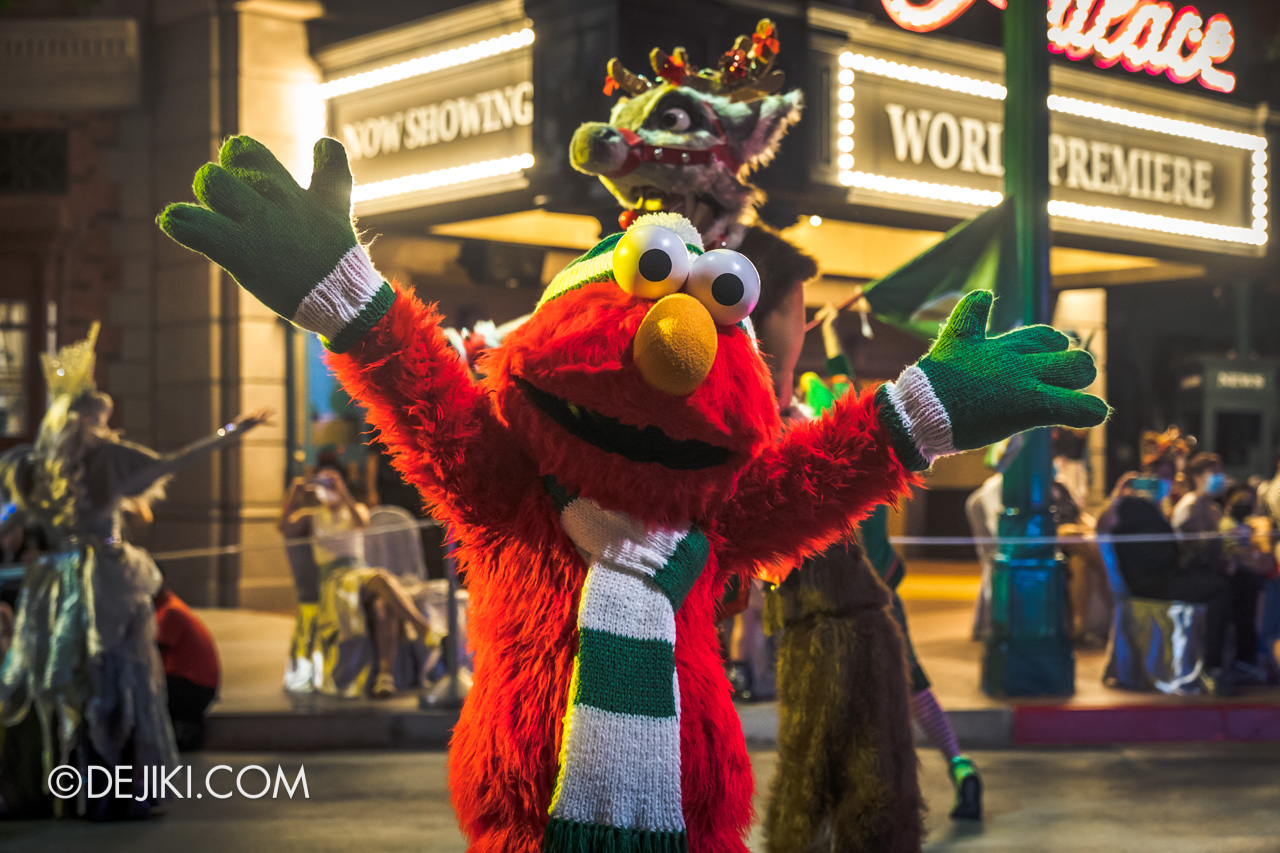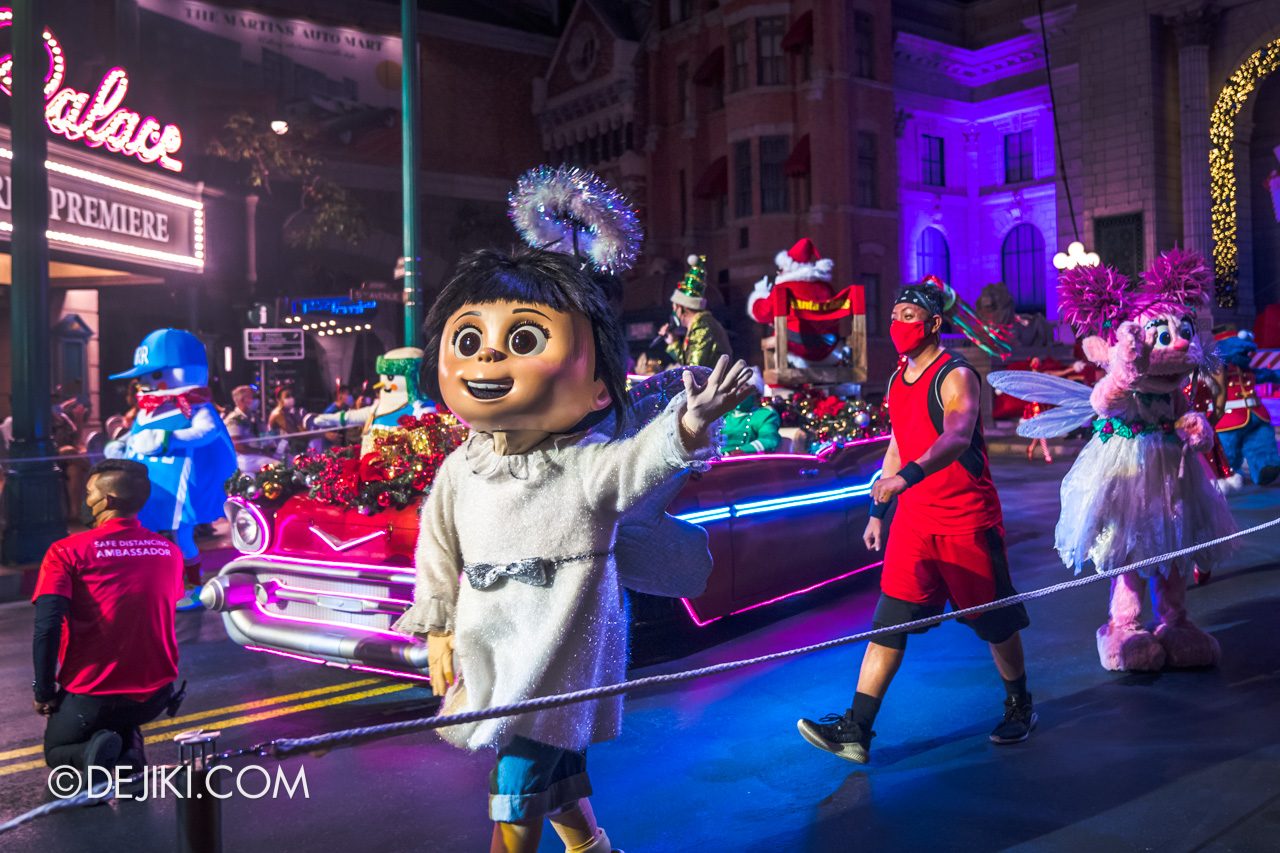 As the characters begin to leave the parade viewing area, snow starts to fall all around New York. A magical ending to this segment.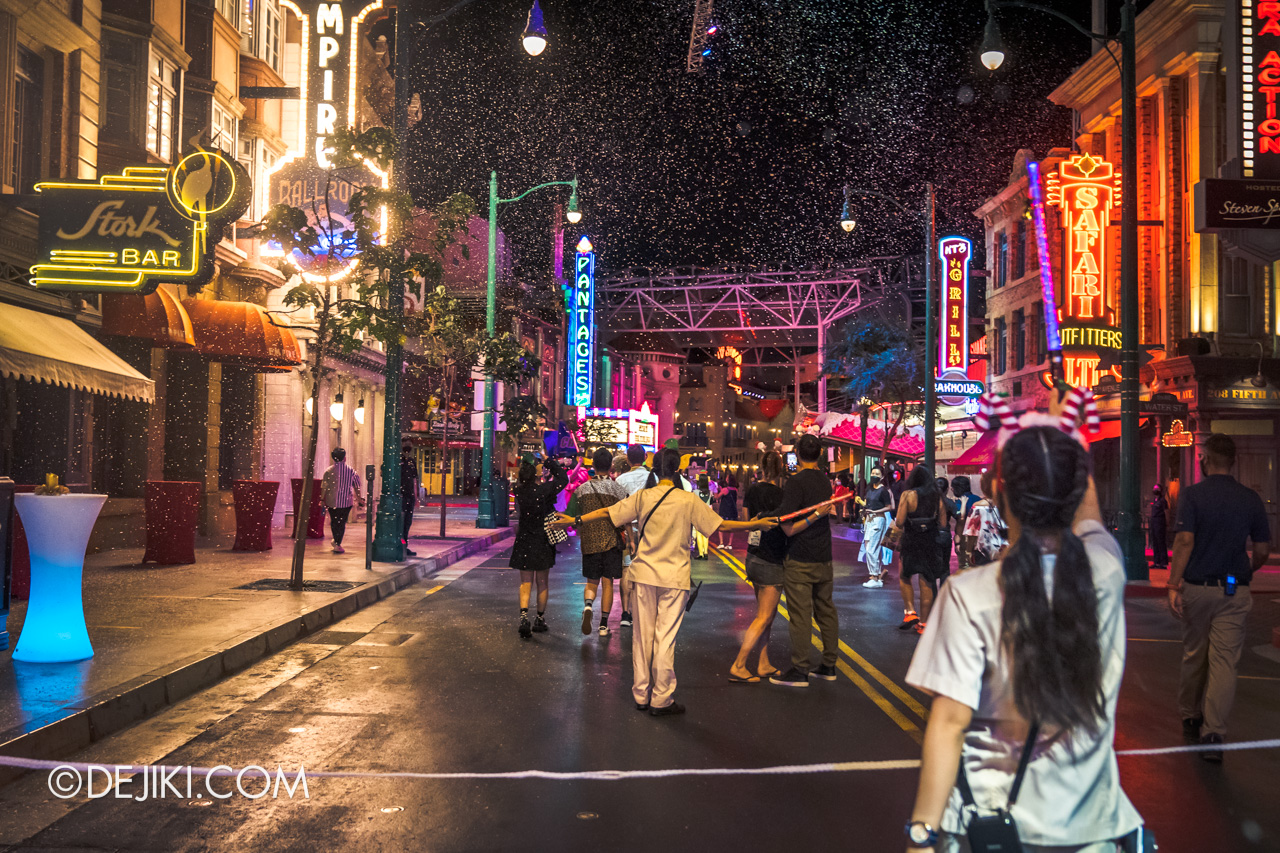 You'll get to immerse yourself in the faux snow and take photos, and even at this point the crowd is controlled in rolling zones from one area to the next.
But there's more! Parade characters are sending everyone off!
This was quite unexpected and I'm sure this segment could make many park fans delighted.
Fireworks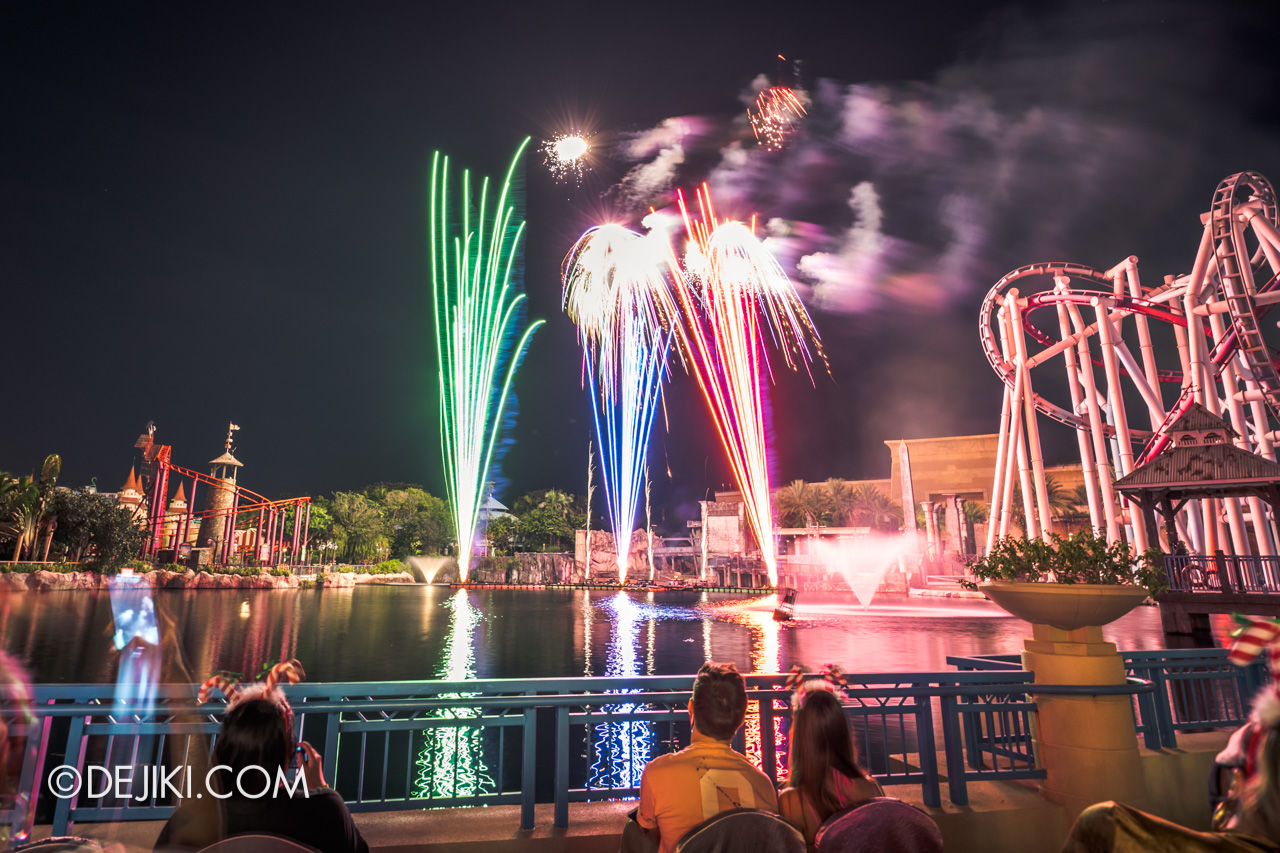 End the night with a dazzling fireworks show, presented exclusively for IT'S SHOWTIME.
This is the first time I've ever watched a Christmas Fireworks Spectacular show in comfort!
After Event Chillout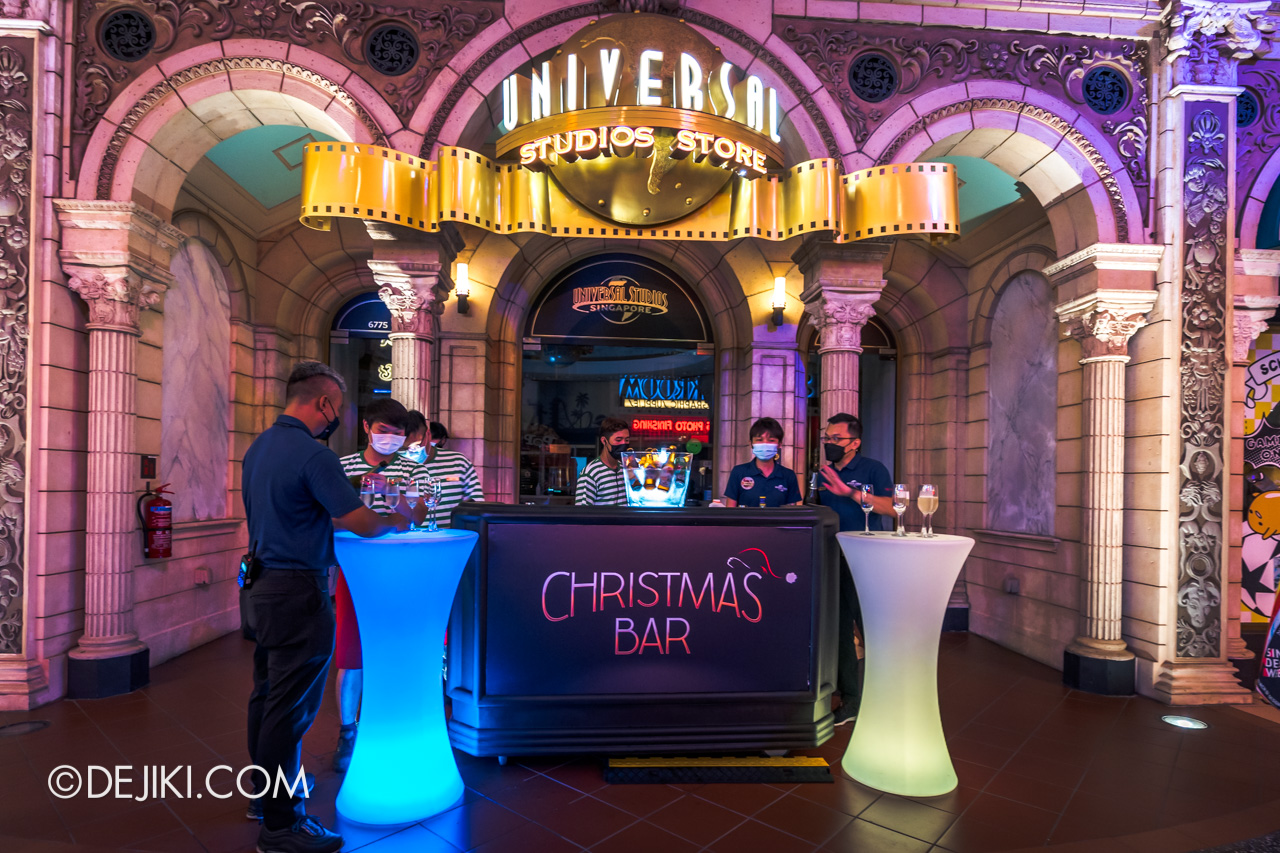 As you make your way out of the park, grab some drinks from the Christmas Bar in Hollywood!
Enjoy a superstar goodbye from the park crew, applauding you for being a star of the show!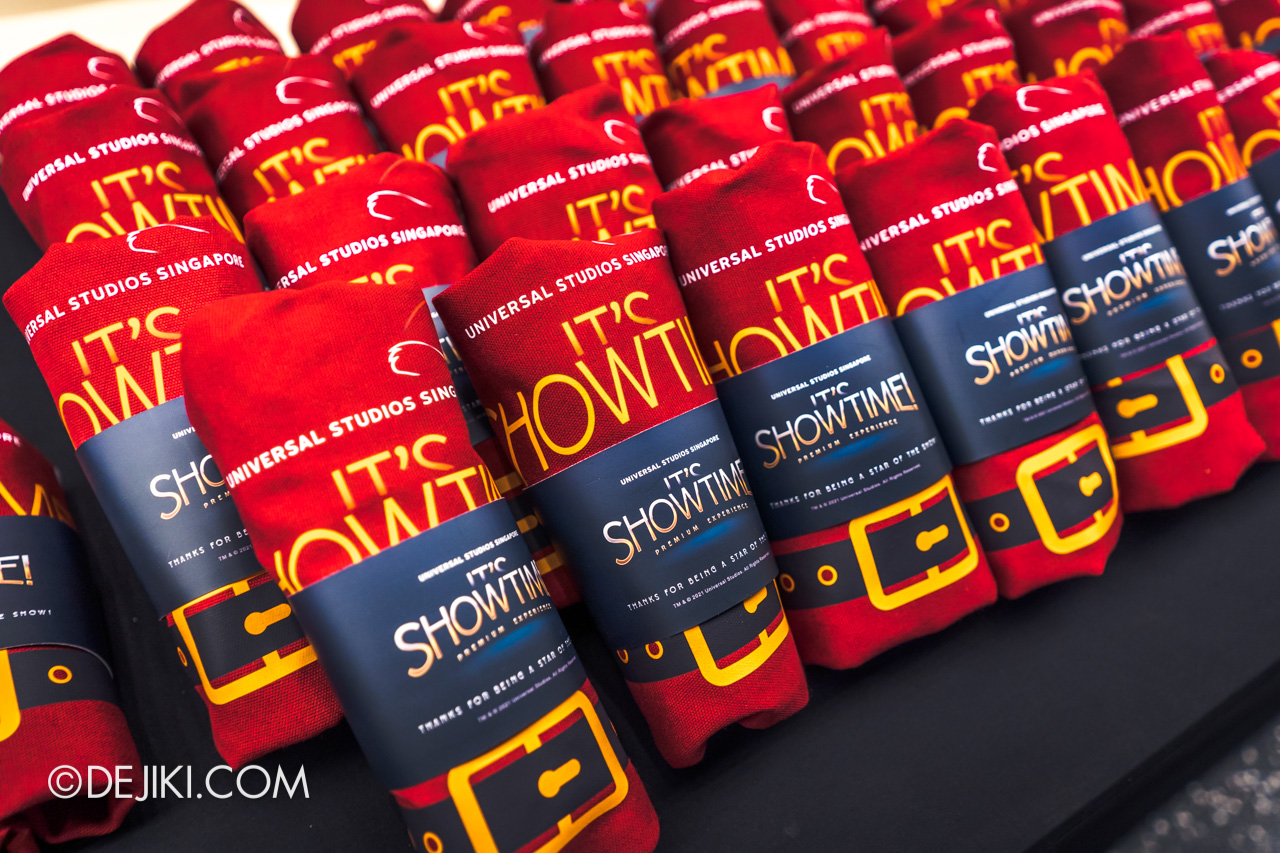 Every IT'S SHOWTIME guest will receive this parting gift: A customised souvenir totebag.
---
IT'S SHOWTIME! Premium Experience (Christmas Edition) Ticket Info
IT'S SHOWTIME Premium Experience is recommended for guests above the age of 18.
Category
Price
Universal Studios Singapore Premium Experience


IT'S SHOWTIME! Premium Christmas Experience


Available on 12 Dec, 19 Dec 2021
+ Park Admission from 10AM
+ Universal Express Unlimited access to attractions from 10AM to 5PM
+ Exclusive Park access from 5:30PM
+ 3-course dining experience and special entertainment
+ Christmas Parade and Lake Hollywood Spectacular show
$248


More info/ Book now »
(Purchases made via Klook links will help support Dejiki.com at no extra cost to you)
---
Subscribe to Dejiki.com or Like my Facebook page for notifications of updates.
---