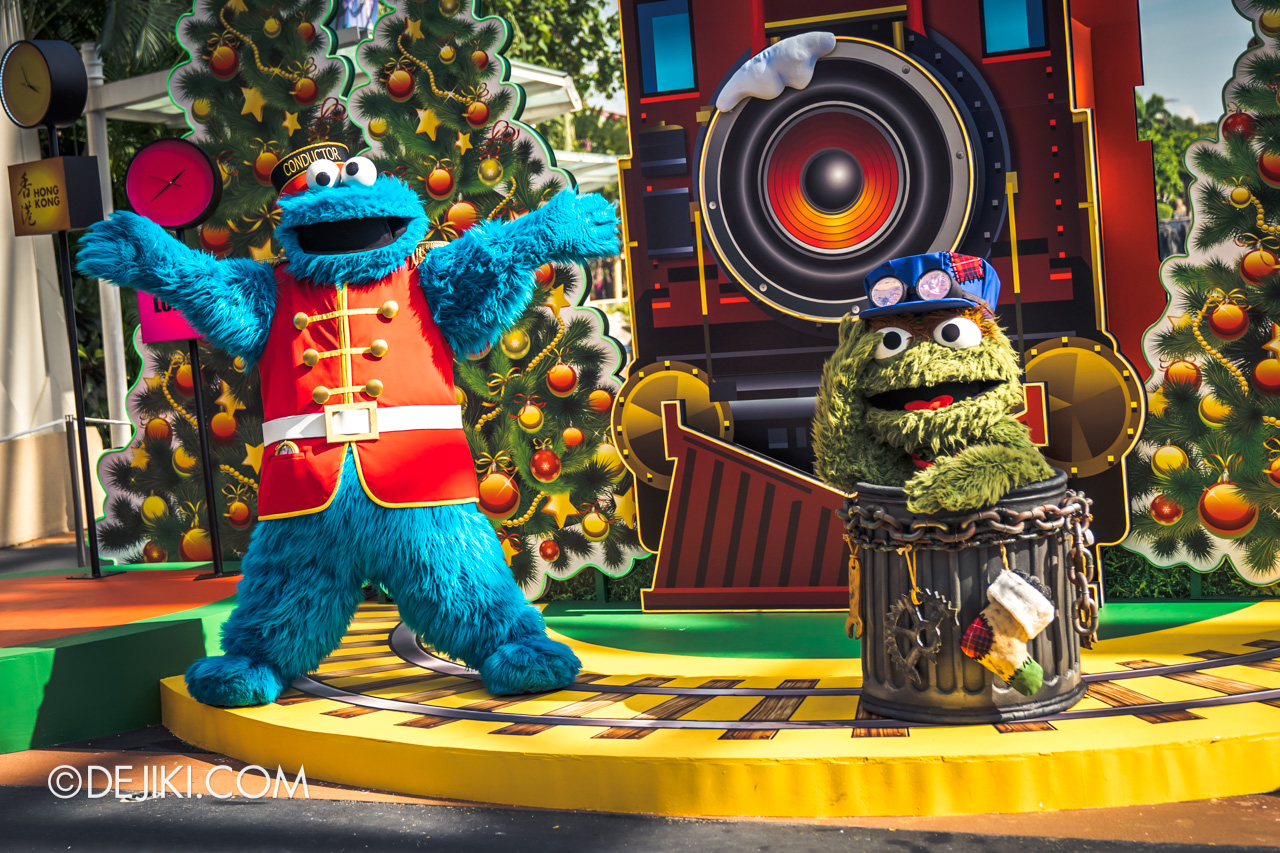 Universal Studios Singapore's festive event returns for the year-end holidays! Read on to find out more about A Universal Christmas 2021!
A Universal Christmas 2021 at Universal Studios Singapore
From 24 Nov 2021 to 2 Jan 2022, celebrate the holidays at Universal Studios Singapore's A Universal Christmas seasonal event. Guests can enjoy extended park hours, from 12PM to 9PM on most days during the event.
Following the 'revised format' of events, A Universal Christmas is heavy on Meet and Greet events, with parts of these experiences becoming slightly more 'show-like' (or 'show lite') as there are still challenges in holding the larger stage productions that usually part of USS Christmas events in the past.
A Universal Christmas 2021 event highlights
Universal Rockin' Railway Meet & Greet (Hollywood)
The 'main' Meet & Greet experiences will happen at the new Rockin' Railway stage at Hollywood.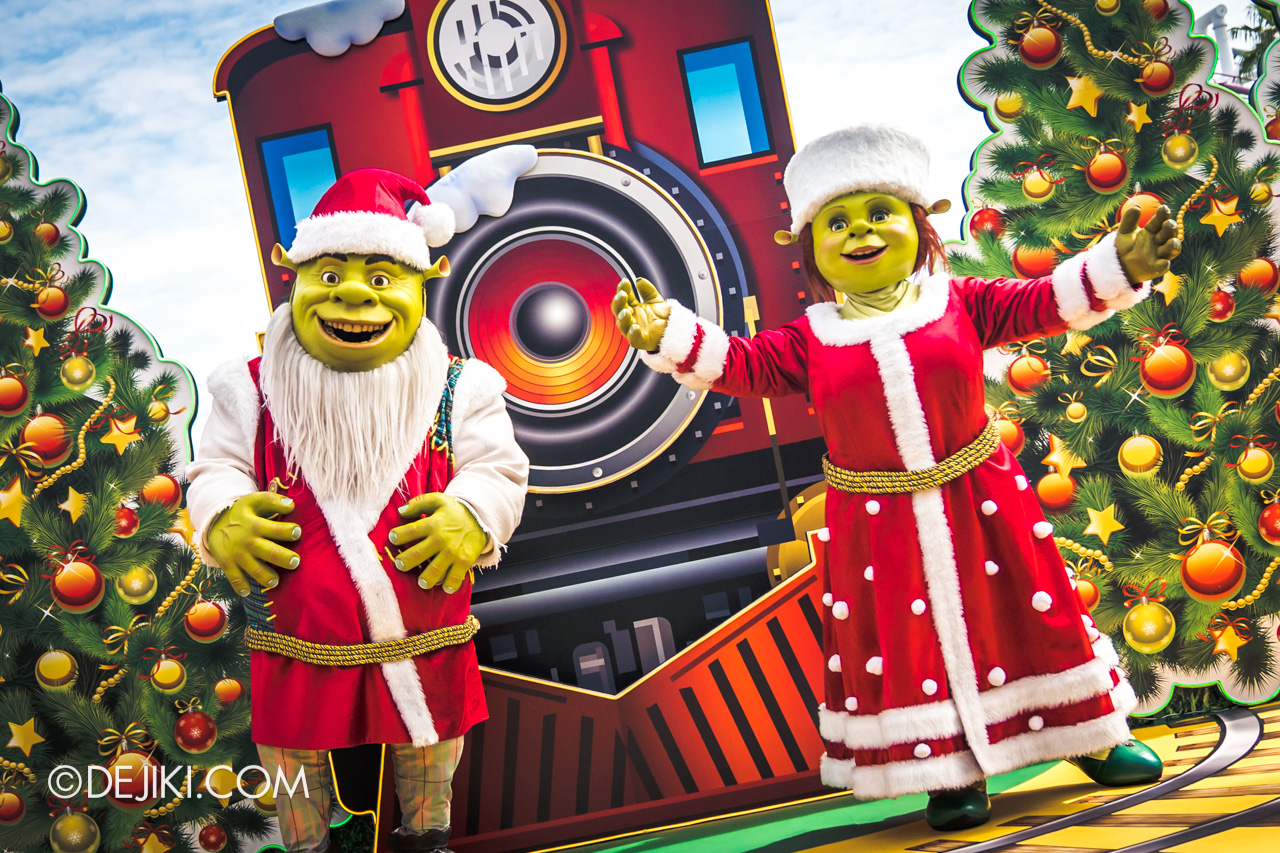 Some characters you can meet here include Shrek and Princess Fiona.
Sesame Street passengers on this festive railway: Cookie Monster and Oscar the Grouch.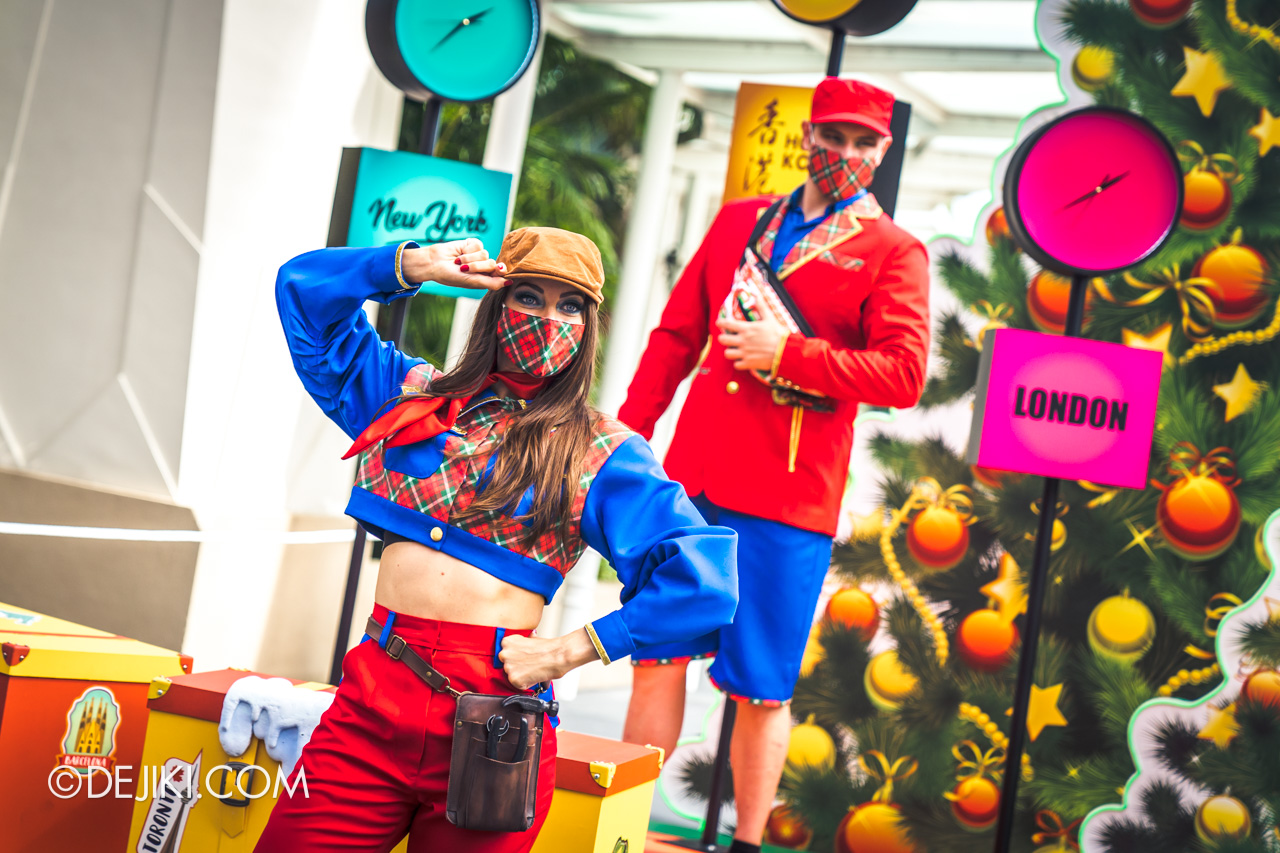 All-new atmosphere characters from the Rockin' Railway.
I will still recommend bringing along selfie sticks and tripods as the park crew will not assist with photo-taking using guests' personal devices.
The Despicable Me family (Gru, Lucy, Agnes, Edith and Margo) will also appear at the Rockin' Railway.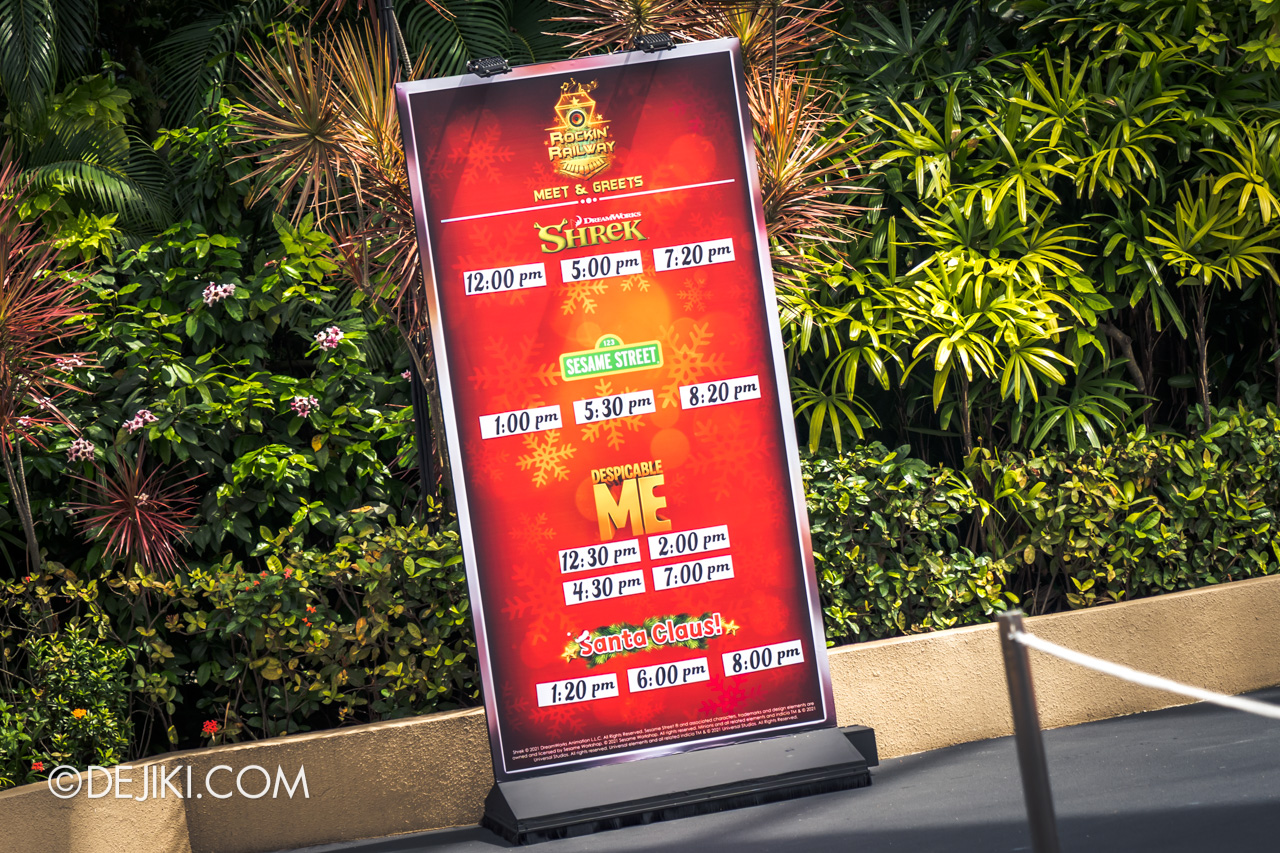 And according to the Meet & Greet Times Board, Santa Claus will be here too!
North Pole Postal Service (New York)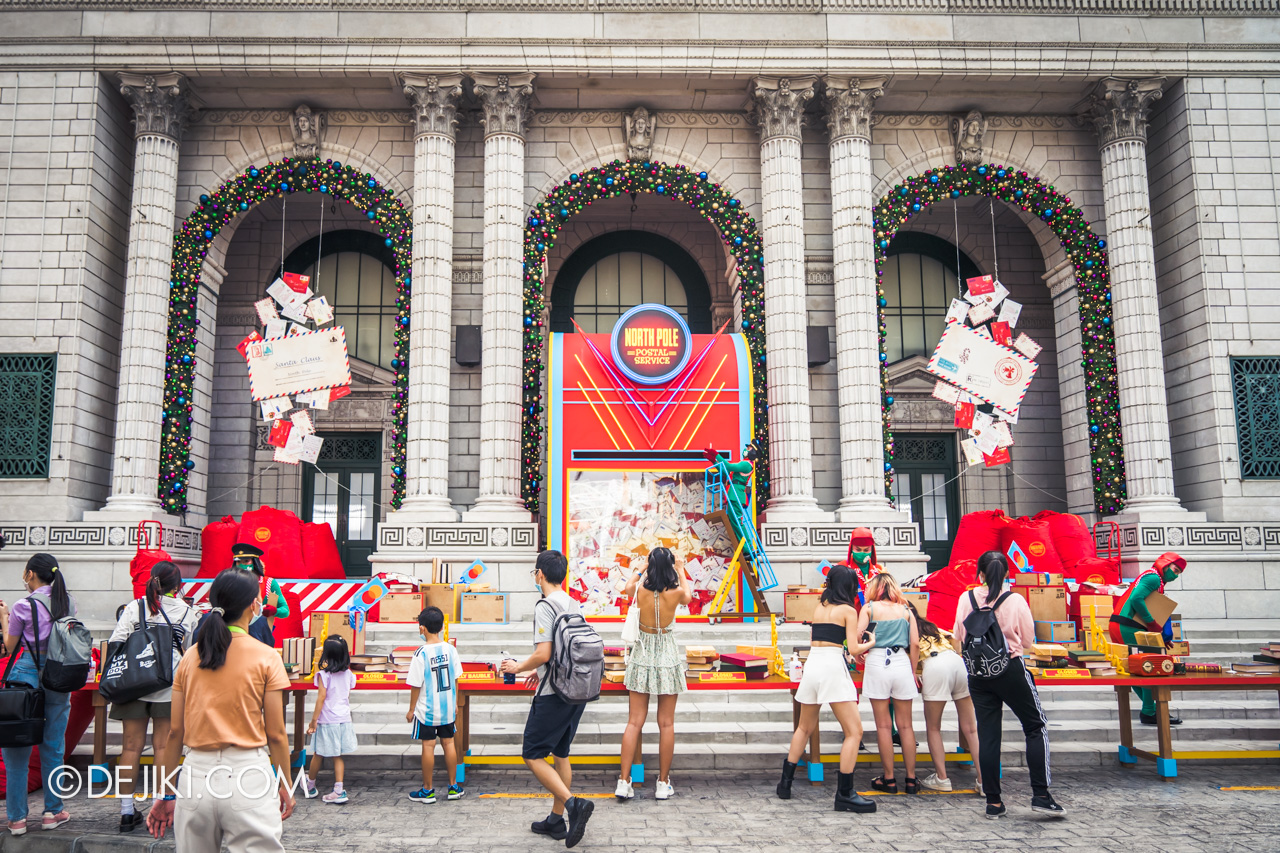 The North Pole Postal Service has set up shop at the entrance of the NY Public Library, in place of the large stage with LED background and projection effects seen in last year's setup.
The postal office, designed as an interactive experience, allows guests to write a letter to Santa.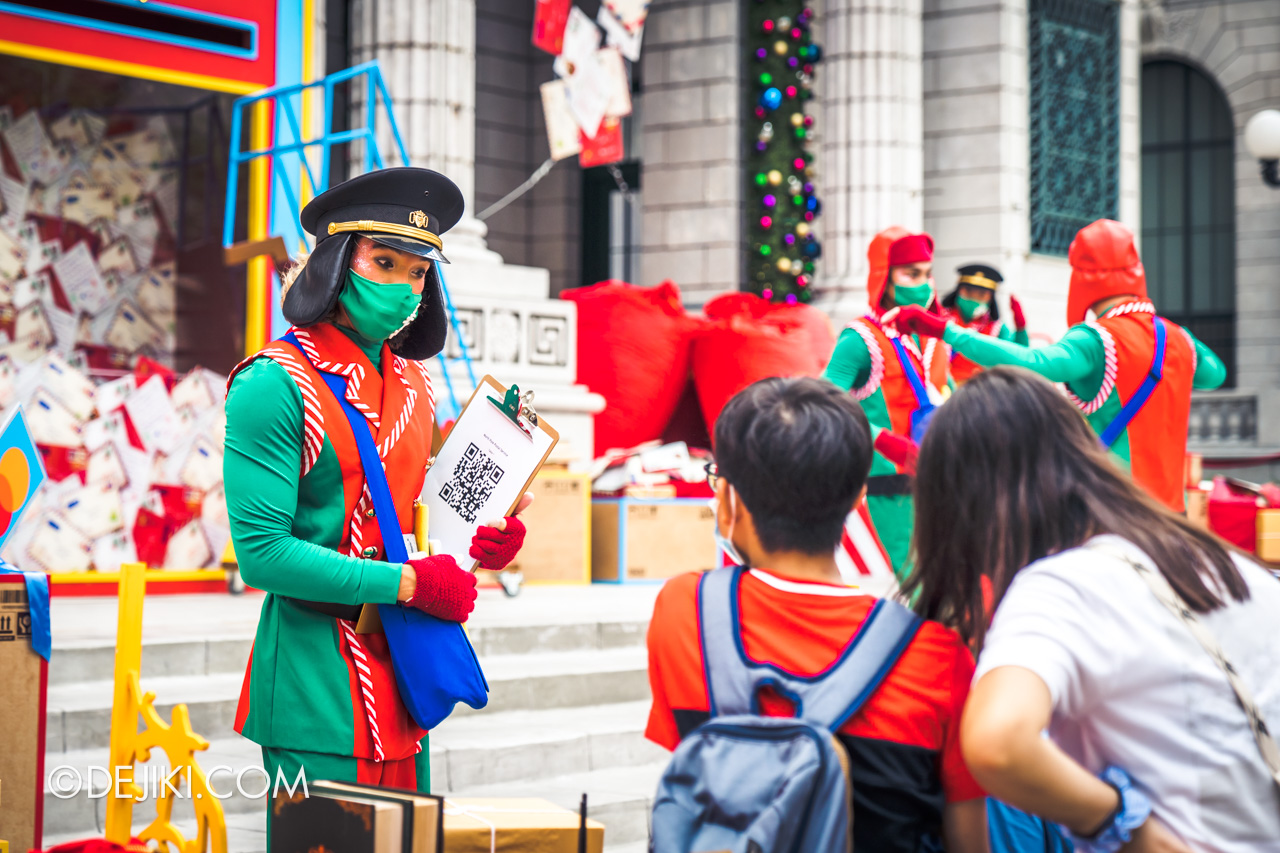 The postmaster and the elves will happily drop them into the giant mail box – where it will be sent "directly" to Santa Claus.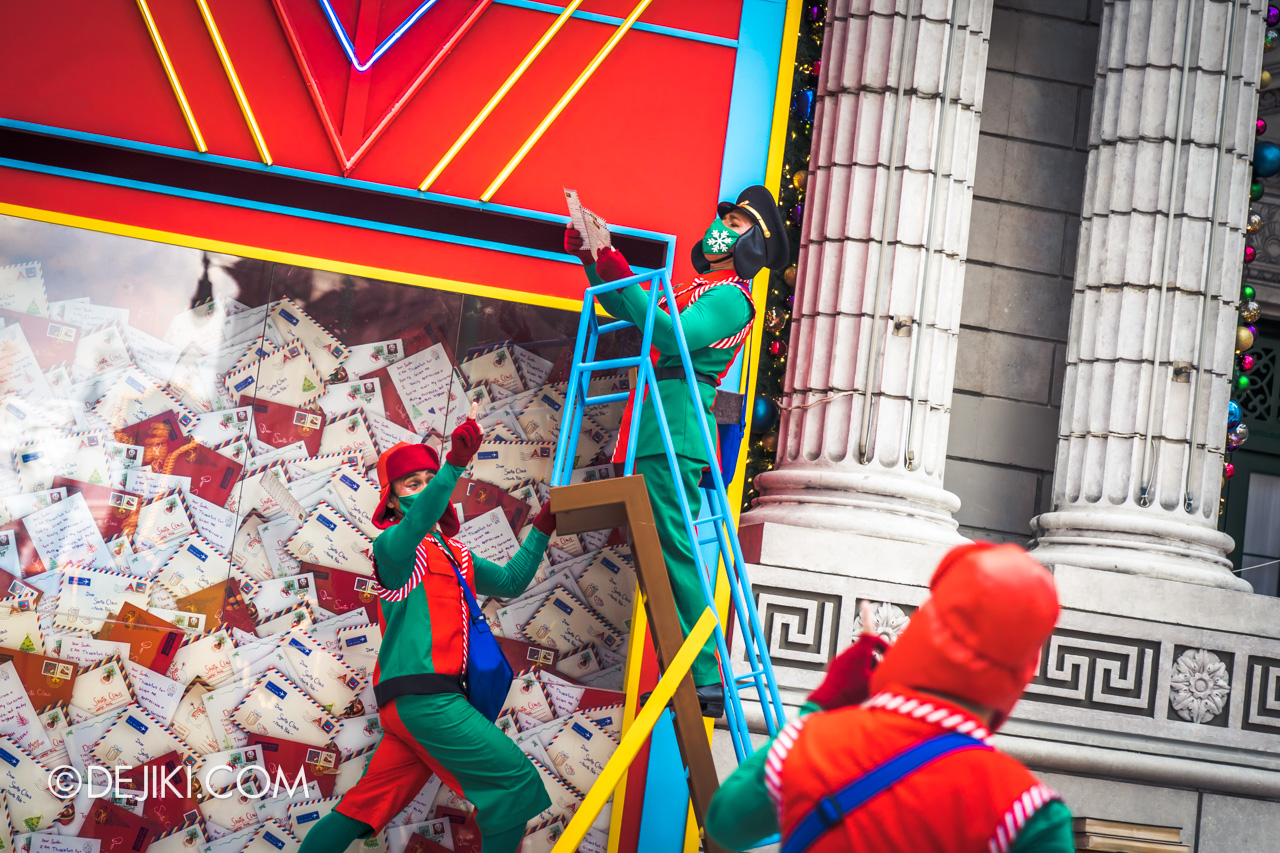 There are also Augmented Reality (AR) Instagram filters that you can play around with at this area. To see a sample, check out my YouTube video for A Universal Christmas 2021.
Minions Mail and Monsters Mail
Along New York street, there are two new hot sets, each with its unique AR filters.
Over at Minions Mail: Kevin and Stuart.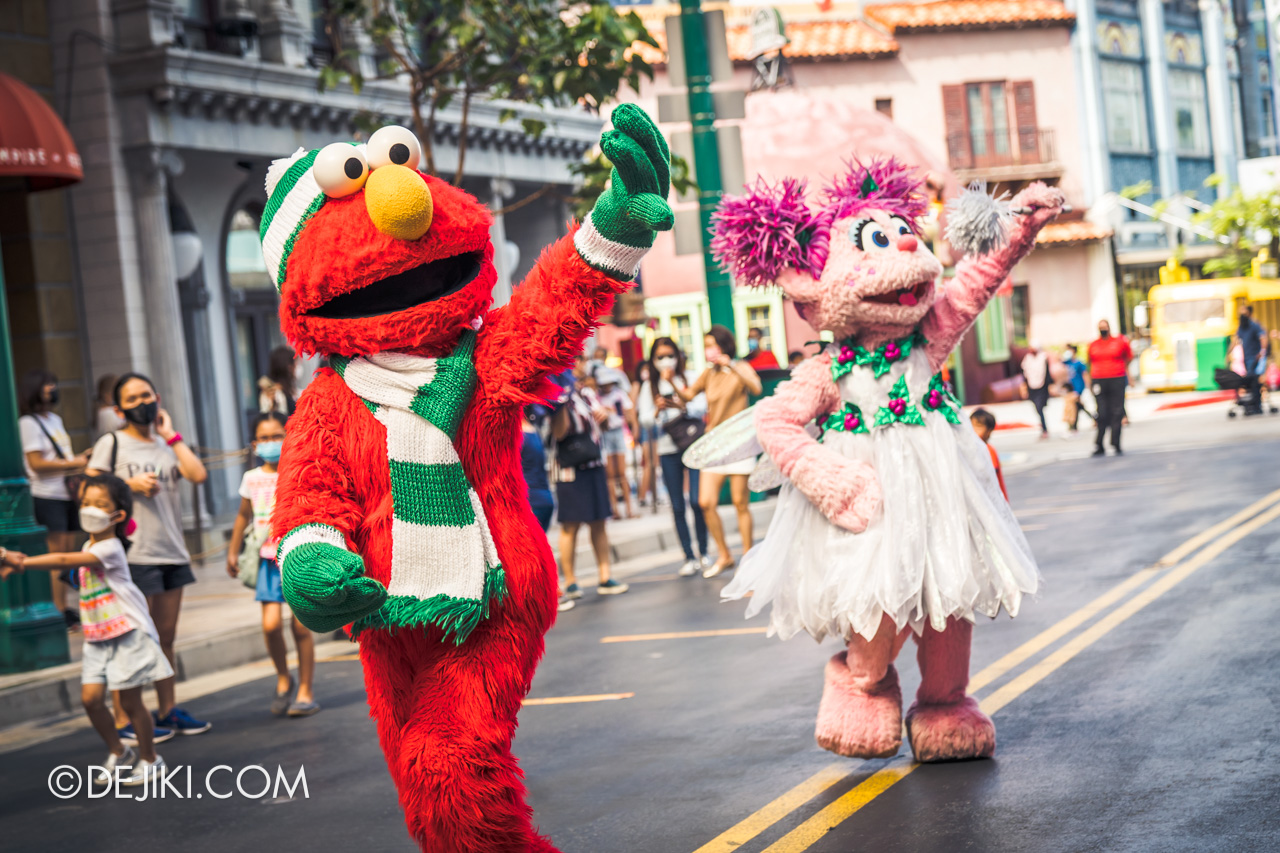 At Monsters Mail, you can meet Abby Cadabby and Elmo.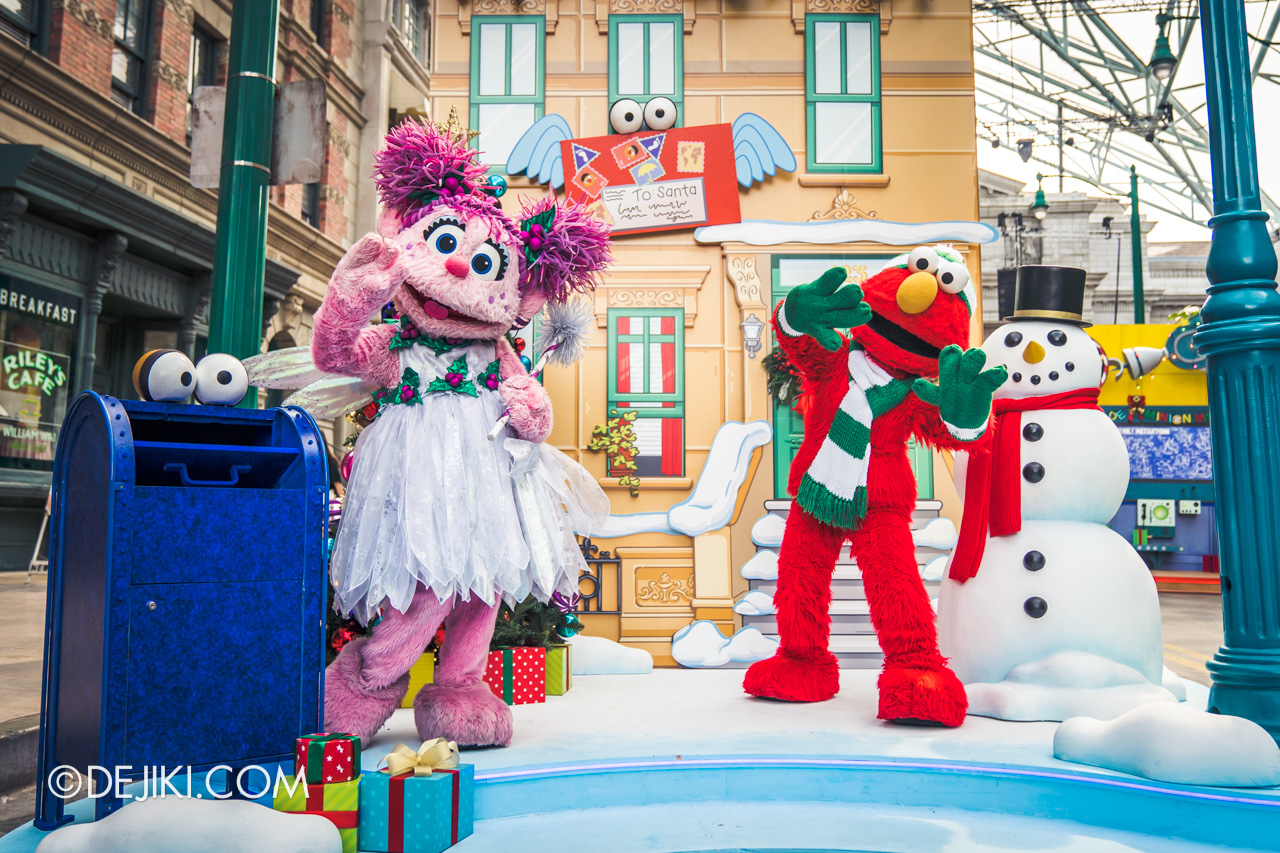 To use the AR filters, simply scan the QR code on the panel near the sets. When Minions and Monsters are not meeting, you can stand within the set – which is best for the AR effects.
Meet-and-greet with Otto the Minion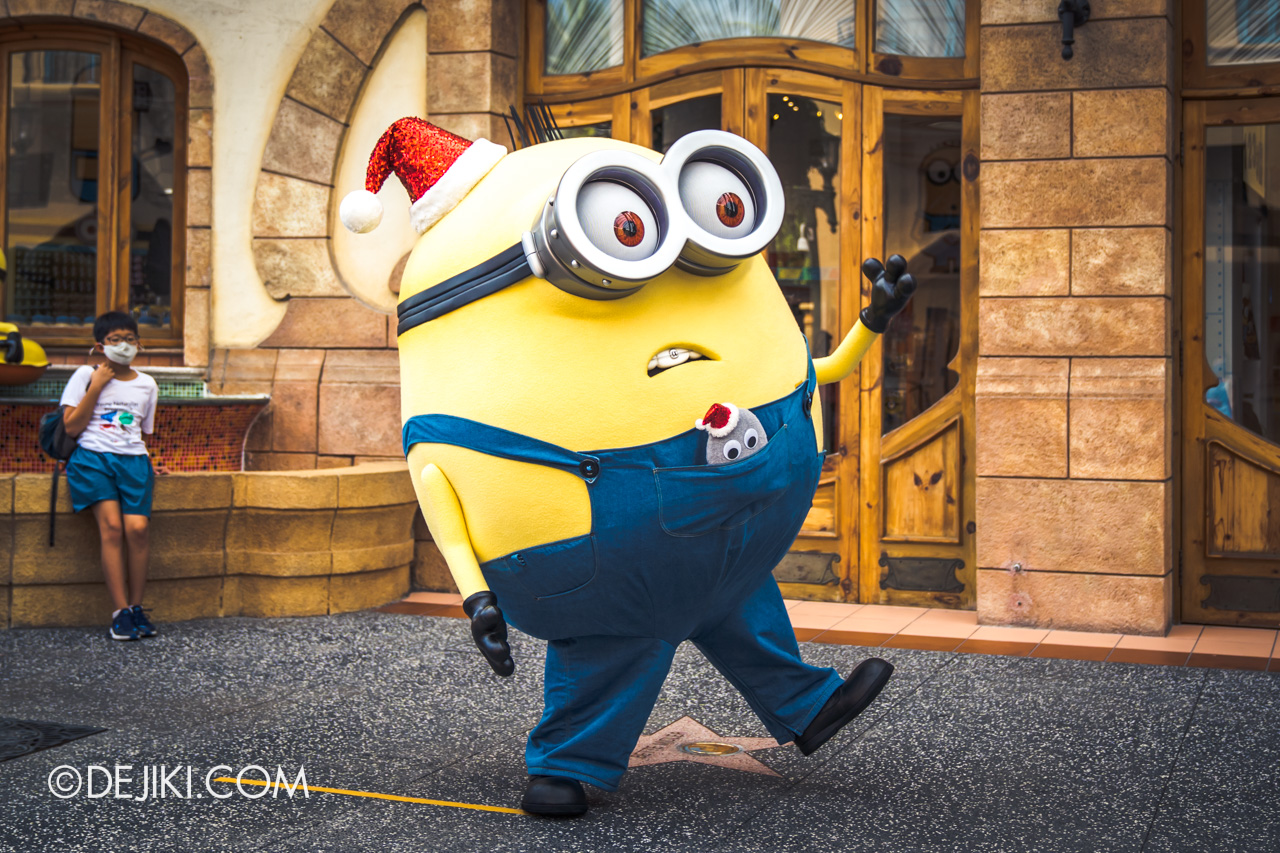 This year's Christmas event also marks the debut of Otto the Minion, a character from the upcoming Minions 2: The Rise of Gru film (Summer 2022).
---
Park Update vlog
Catch the celebrations and check out how the Universal Christmas AR filters work in this Park Update vlog!
---
Festive Park Decorations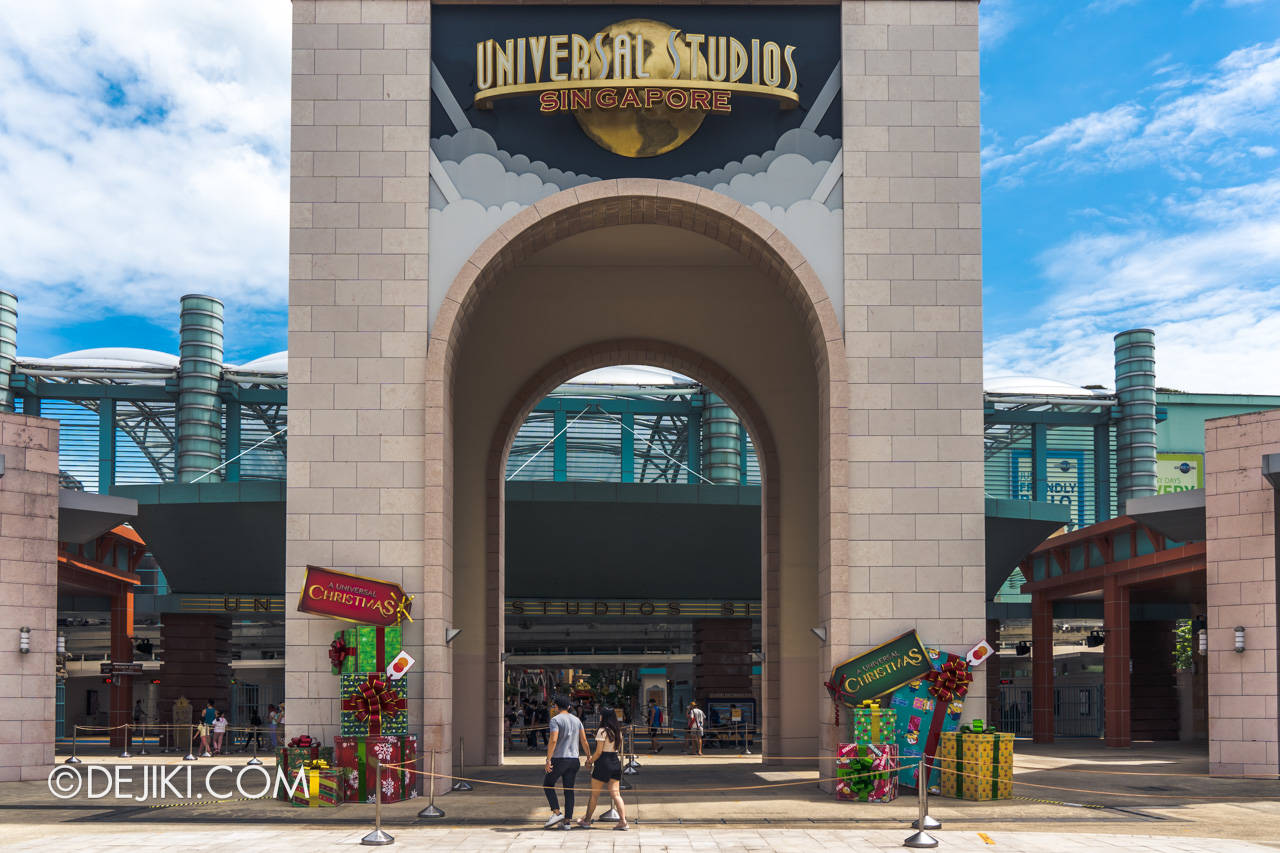 It has the look of a "light" event – with not much going on at the iconic monorail track area of the entrance – and just small presents further outside at the entrance arch.
Hollywood Boulevard looks almost non-seasonal, save for a few of these rather unique trees forming the Universal Rockin' Railway: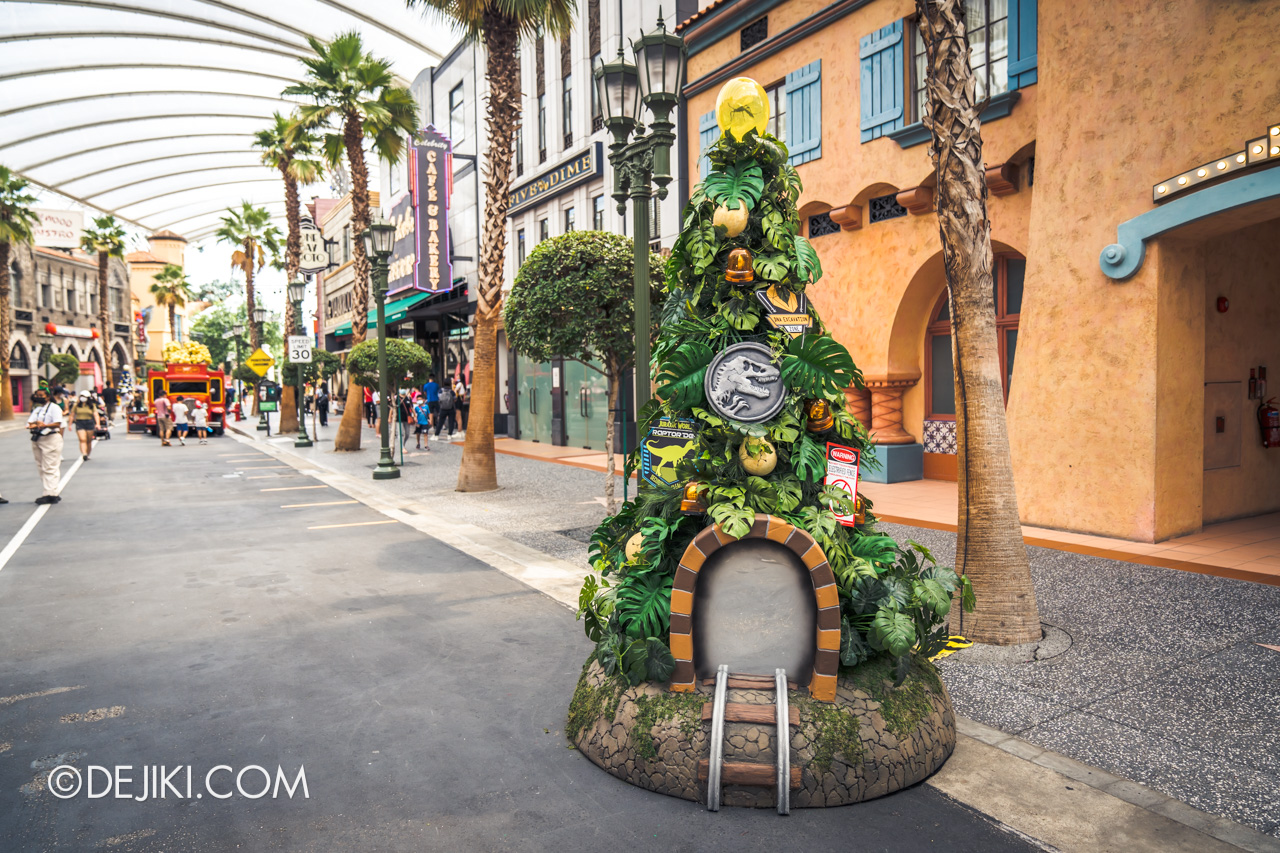 A Jurassic World/ Park-themed tree.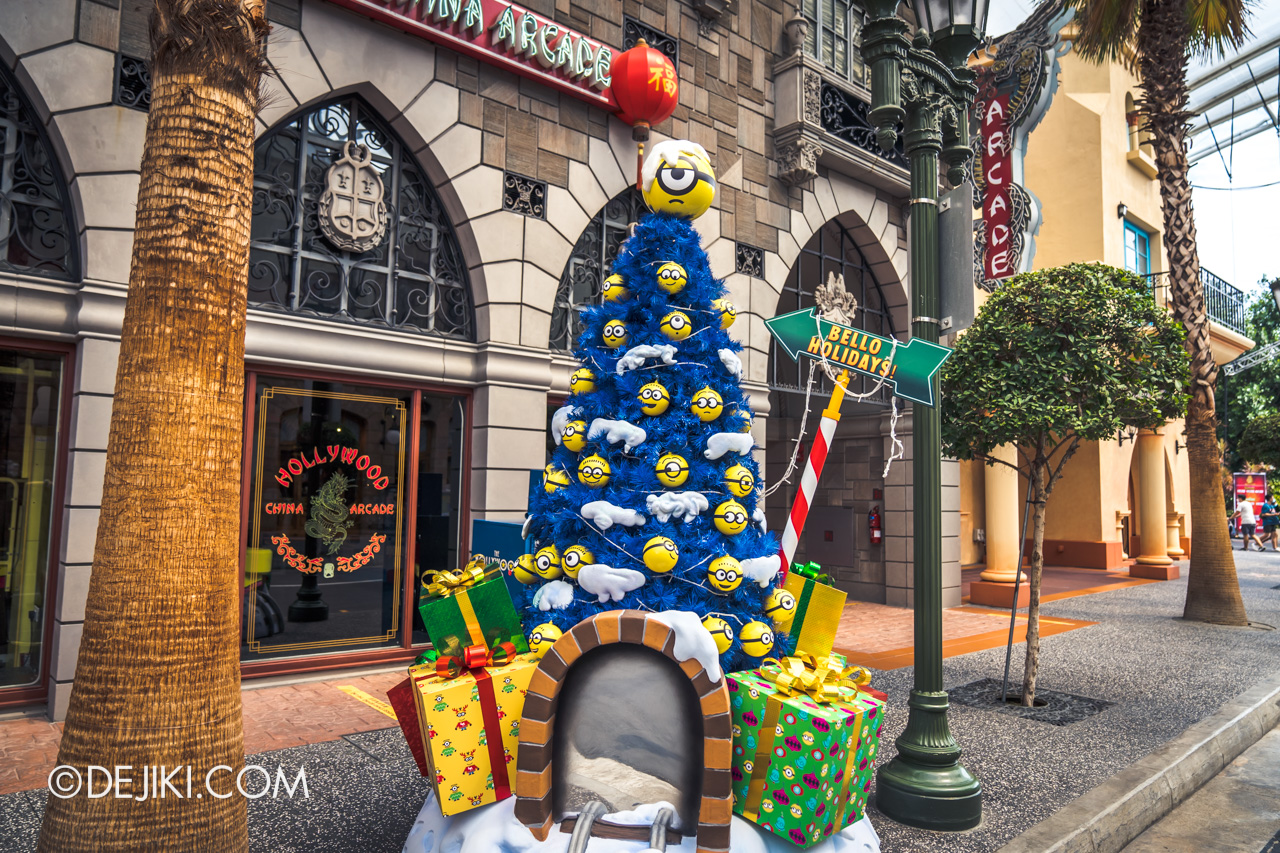 Minions baubled-out Tree.
And a Shrek-themed tree, which can be found beside the updated store window.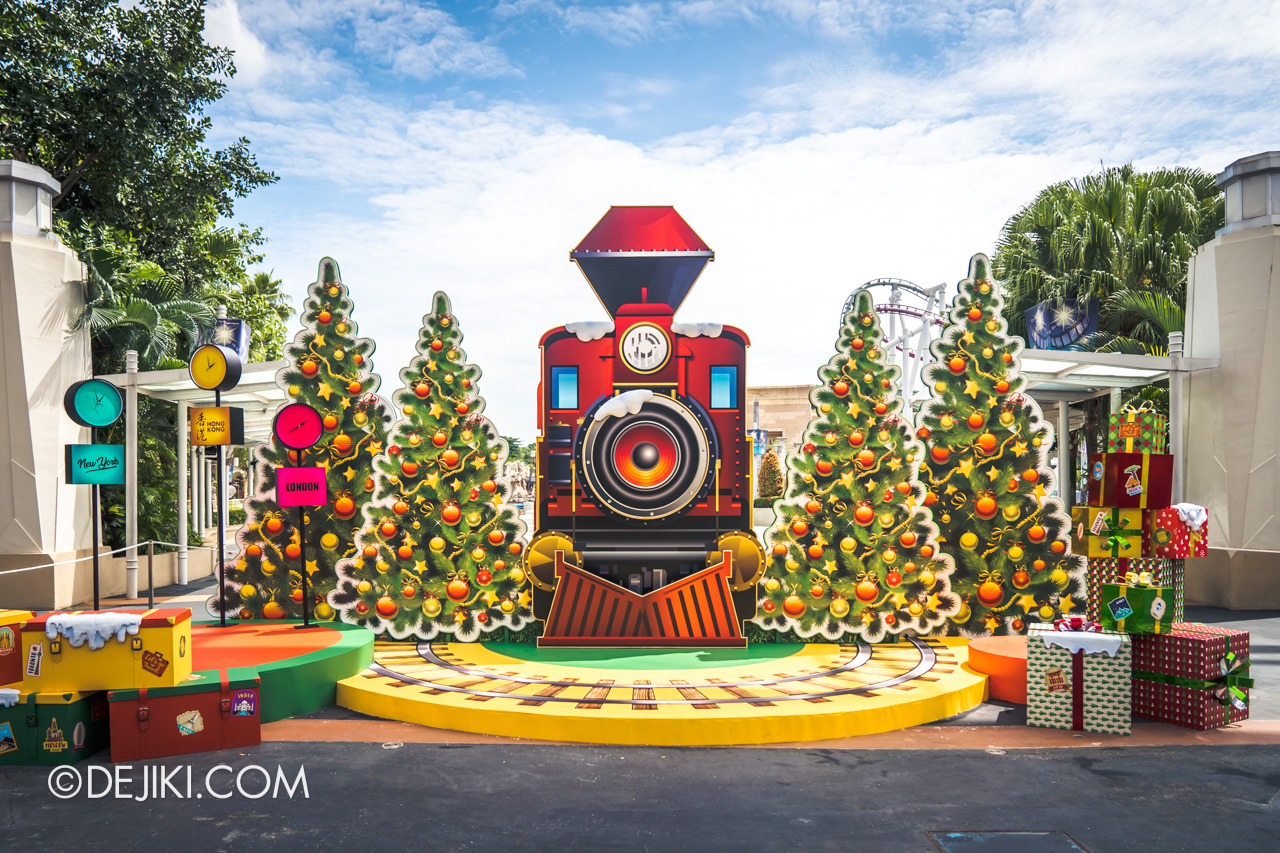 With all these detailed and unique trees, it is surprising that the trees on the Rockin' Railway stage are all… scenic flats. There also not much decor happening at New York, with just the two hot sets and New York Library.
---
Universal Studios Globe returns after refurbishments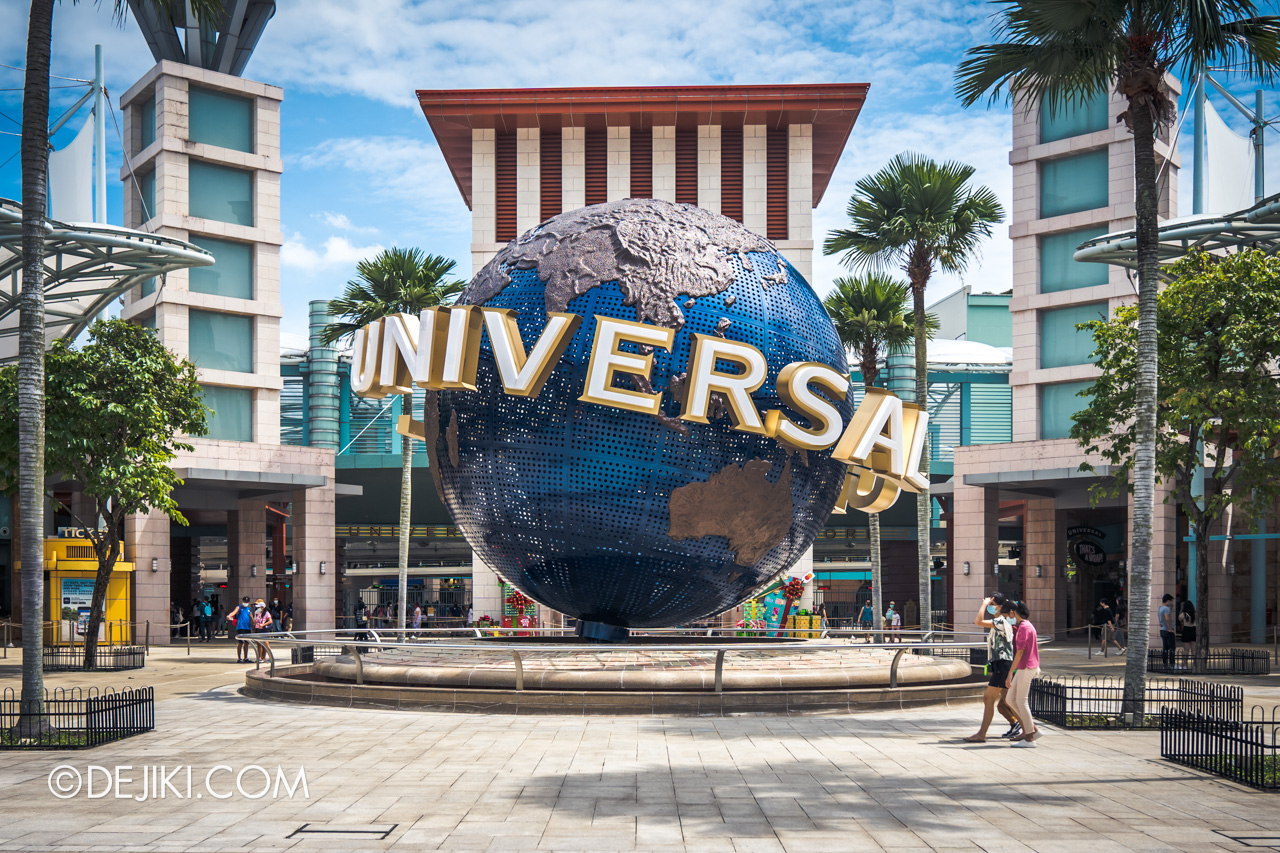 The Universal Globe has returned after closing for about a full quarter. It has been cleaned and repainted with a deeper, cobalt tone. This appears to reflect the Universal Studios 100th Anniversary appearance.
Attractions Update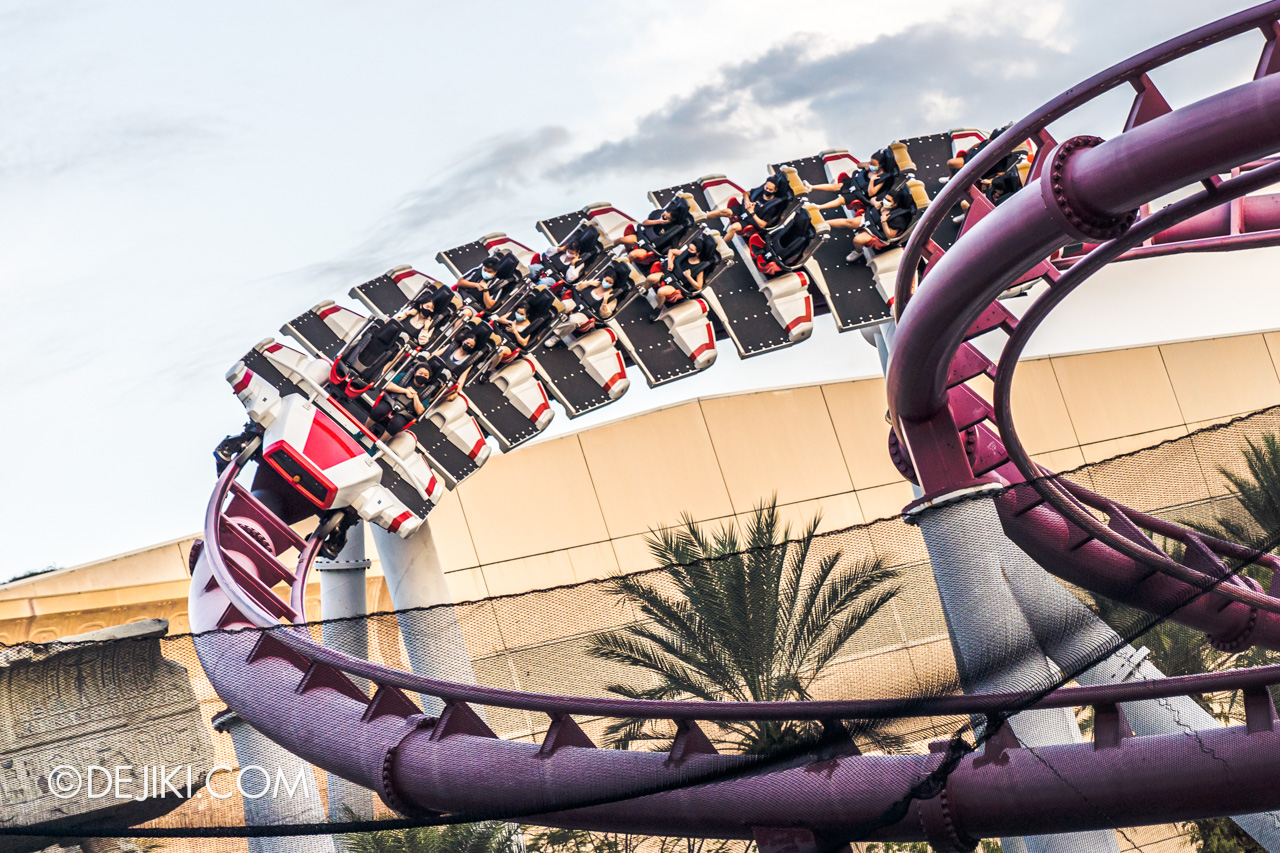 During 'A Universal Christmas' event season (24 Nov – 2 Jan 2022), the park's attractions will be operating on a full day basis, from park opening till 8PM (except 5, 12 and 19 Dec as the park will be closing earlier due to IT'S SHOWTIME Premium Christmas Experience), after running on staggered schedule for the last several months.
As this may change at any time, please refer to the latest information at the park during the day of your visit.
With the further easing of safe distancing measures, perhaps we may start to see the return of some show attractions that should already be able to open, such as Lights, Camera, Action! and Shrek 4D.
Other Photos around the Park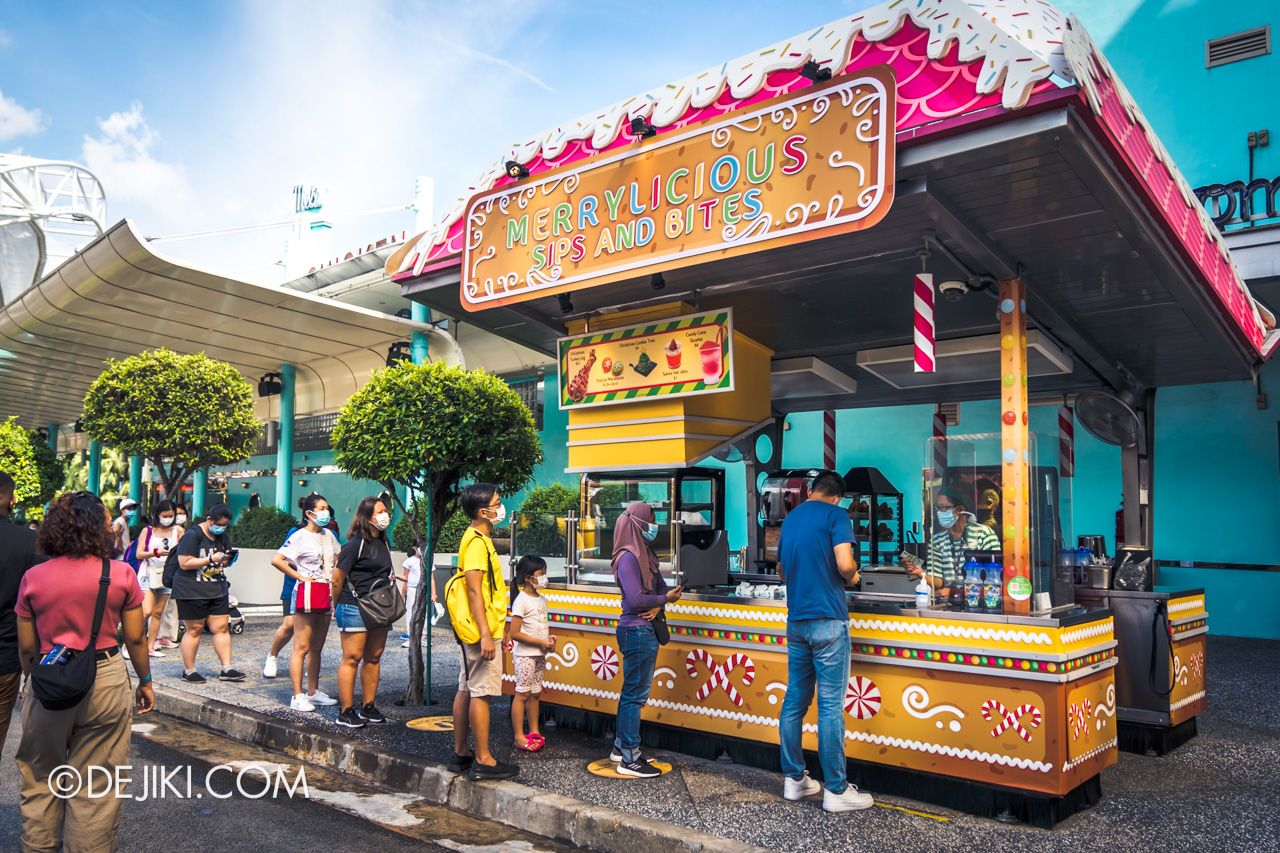 The Seasonal F&B Cart at Hollywood is now Merrylicious Sips and Bites!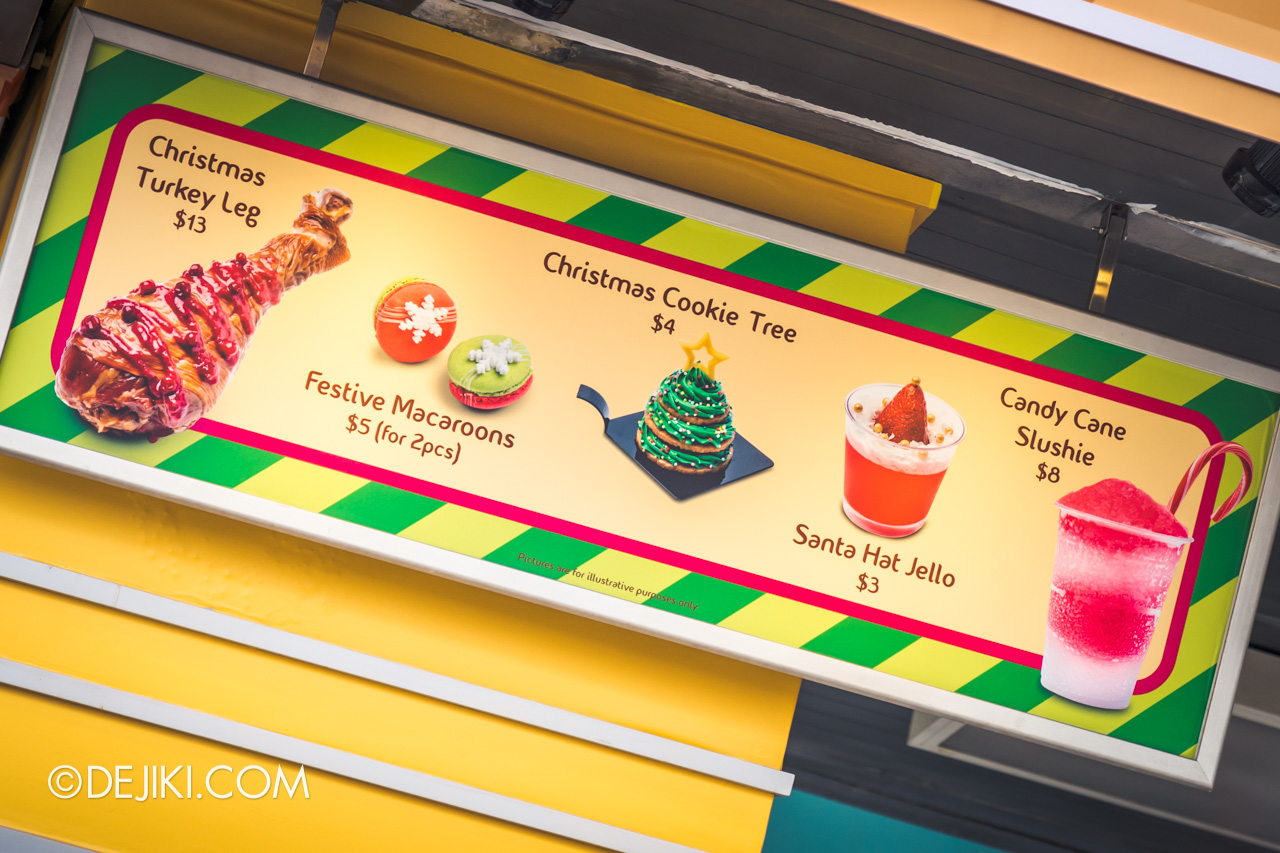 Here's the menu for Merrylicious Sips and Bites.
The Universal Studios Store's festive retail area now has a Christmas theme, along with some seemingly generic Christmas goods for sale.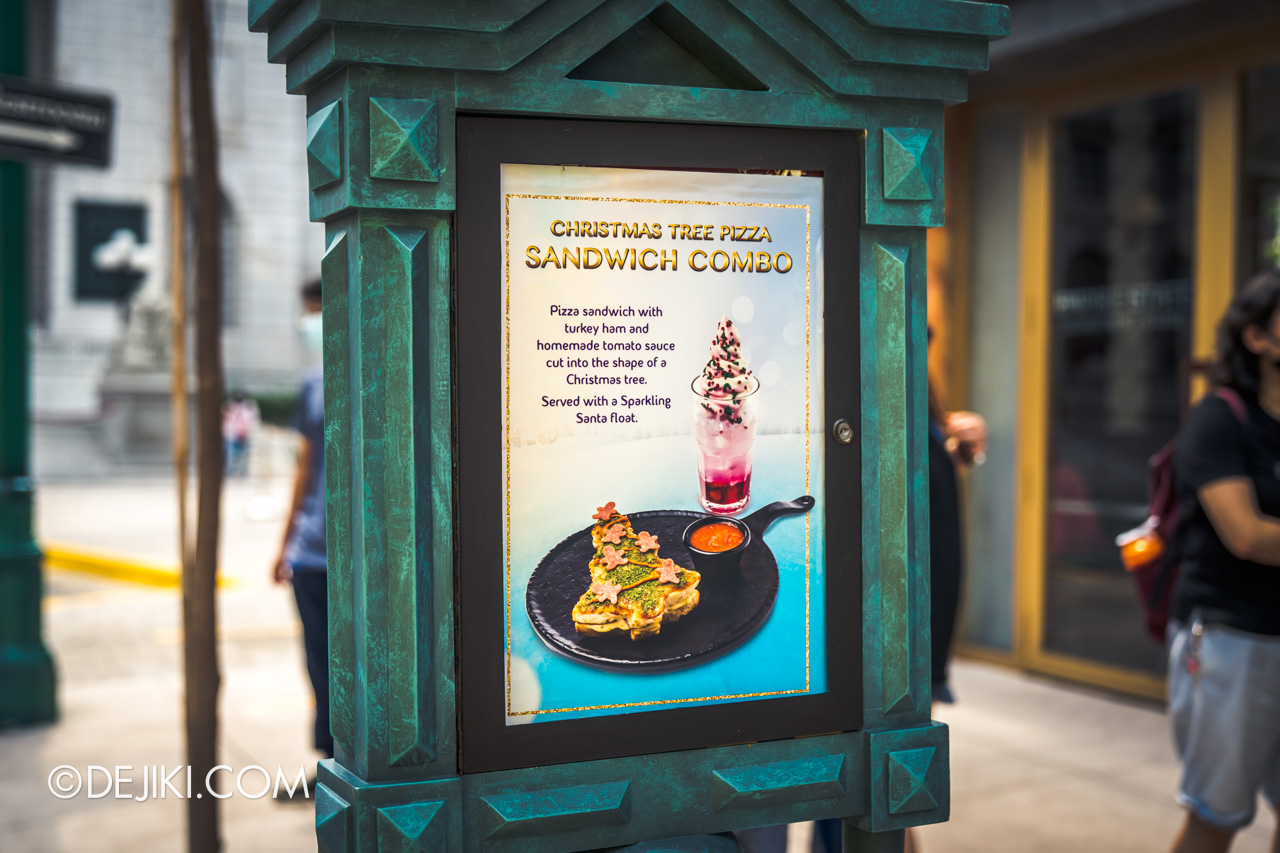 Seasonal Meals are available at 4 restaurants around the park: Fossil Fuels, Goldilocks, Mel's Drive-In or Loui's NY Pizza Parlor.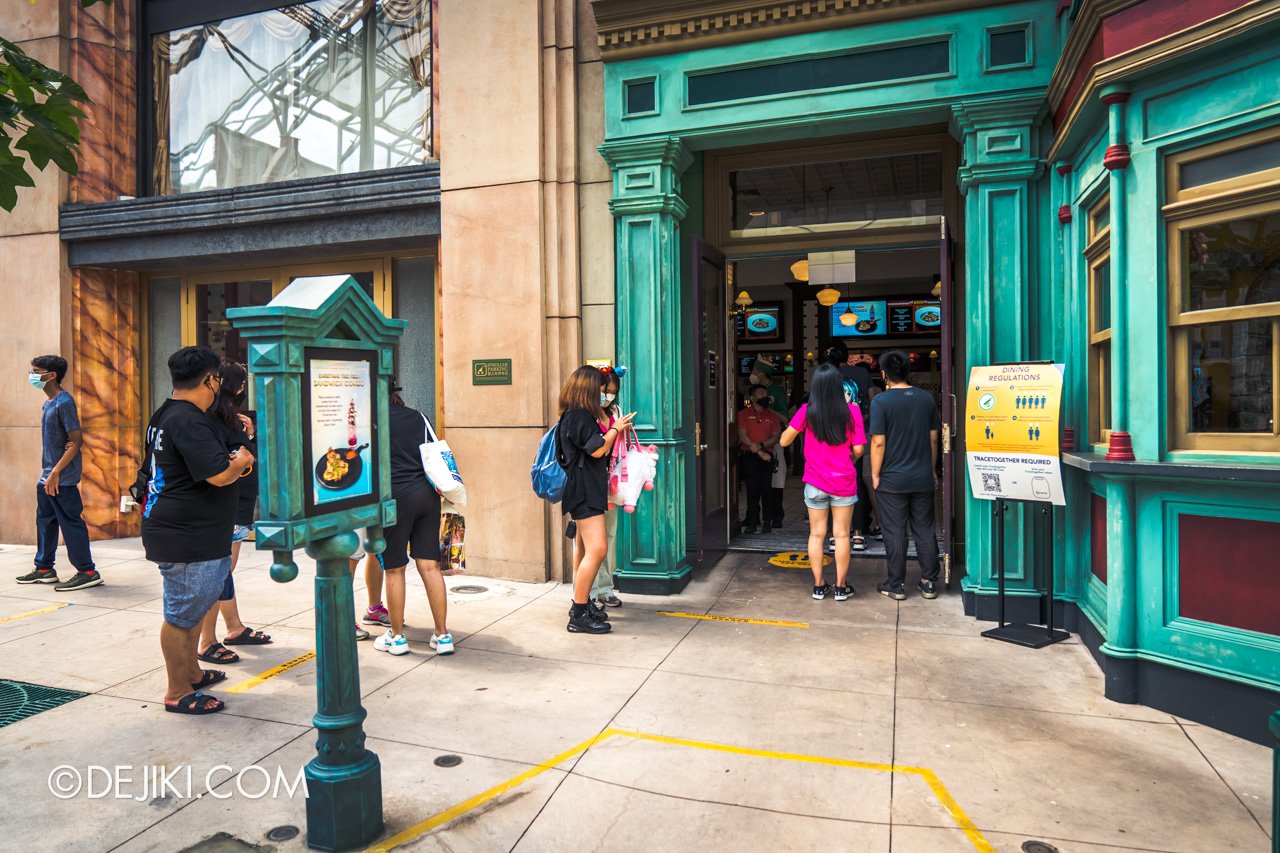 As the seating is very limited due to safe distancing requirements, do plan your meals ahead to avoid wasting too much time waiting in line. Unfortunately even buying a simple snack or drink from small F&B carts might involve quite a bit of wait, high attendance is expected on most weekends during this year-end school vacation period.
---
It's Showtime! Premium Experience (Christmas Edition) Information
The USS Premium Experience known as It's Showtime! will be returning for the festive season – this time with more dates: 5, 12 and 19 December 2021. It is like the previously reported Halloween Edition in terms of scope – but without the gore and creeps. However for this Christmas Edition, Premium Experience guests can enter the park as early as 10AM and enjoy Universal Express Unlimited during the day.
Later in the evening, the programme is quite similar to the Halloween Edition of this up-charge event: Premium Experience Guests can enjoy exclusive access to the park for a few hours, followed by a themed dining experience at the park's restaurants: Jingle Mel's (Mel's Drive-In), Bar Humbug (KT's Grill), and Tinsel Tavern (Loui's NY Pizza Parlor). The evening will be filled with complimentary drinks, special entertainment and Meet and Greet experiences, and end with an exclusive finale show – A Universal Christmas Spectacular. Also adding onto the spectacle: the park's nighttime fireworks exclusively held for Showtime Guests.
Category
Price
Universal Studios Singapore Premium Experience


IT'S SHOWTIME! Premium Christmas Experience


– Available on 5 Dec, 12 Dec, 19 Dec 2021.
– Park Admission from 10AM, with Universal Express Unlimited access to attractions.
– Exclusive Park access from 5:30PM, dining experience and special entertainment to follow.
$248


More info/ Book now »
With the inclusion of day-time admission and Universal Express Unlimited, this edition of the Premium Experience offers much more value than the inaugural Halloween Edition. However, I am not sure about spending so much time at Universal Studios Singapore in its current state – maybe for first-time visitors this would be a treat, but there are still many attractions and shows missing. However at least one of the original offerings, the fireworks show is returning, albeit only for the "premium" park guests.
---
A Universal Christmas 2021 at Universal Studios Singapore tickets
Klook is offering Tickets and Packages for Universal Studios Singapore. The listed products are all SRV Eligible, which means you can use SingapoRediscover vouchers for your purchase.
Note: Packages available while stocks last. Entitlements and pricing subject to change. Please click the links for latest rates.
Category
Price
One-Day Ticket – Adult
Includes S$5 USS retail voucher and S$5 USS F&B voucher (valid with S$25 minimum spend, exclusions may apply)
$69


Book now »

One-Day Ticket with Christmas Set Meal and 2x Express Pass
One-Day Ticket* to Universal Studios Singapore
+ Universal Express Pass (for 2 attractions)
+ Christmas-themed set meal redeemable at Fossil Fuels, Goldilocks, Mel's Drive-In or Loui's NY Pizza Parlor
+ S$30 retail voucher (no minimum spend) and S$5 Food Cart voucher

*This package is priced at S$100 regardless of guest age group

$100


Book now »

Universal Studios Singapore Premium Experience


IT'S SHOWTIME! Premium Christmas Experience


(Special Event on 5, 12, and 19 Dec 2021 only)
$248


More info/ Book now »
Klook is one of the authorised booking partners of the voucher programme, and you can easily use the website or App to redeem your voucher for attractions. Just make sure the ticket you are booking is marked [SRV Eligible].
(Purchases made via Klook links will help support Dejiki.com at no extra cost to you)
NOTE: Reservations Required for Tickets purchased from Official Partners
For all tickets purchased from official ticketing partners, making a reservation prior to visiting the park is required. Please go to the RWS Attractions Reservations website to do so.
---
Subscribe to Dejiki.com or Like my Facebook page for notifications of updates.
---