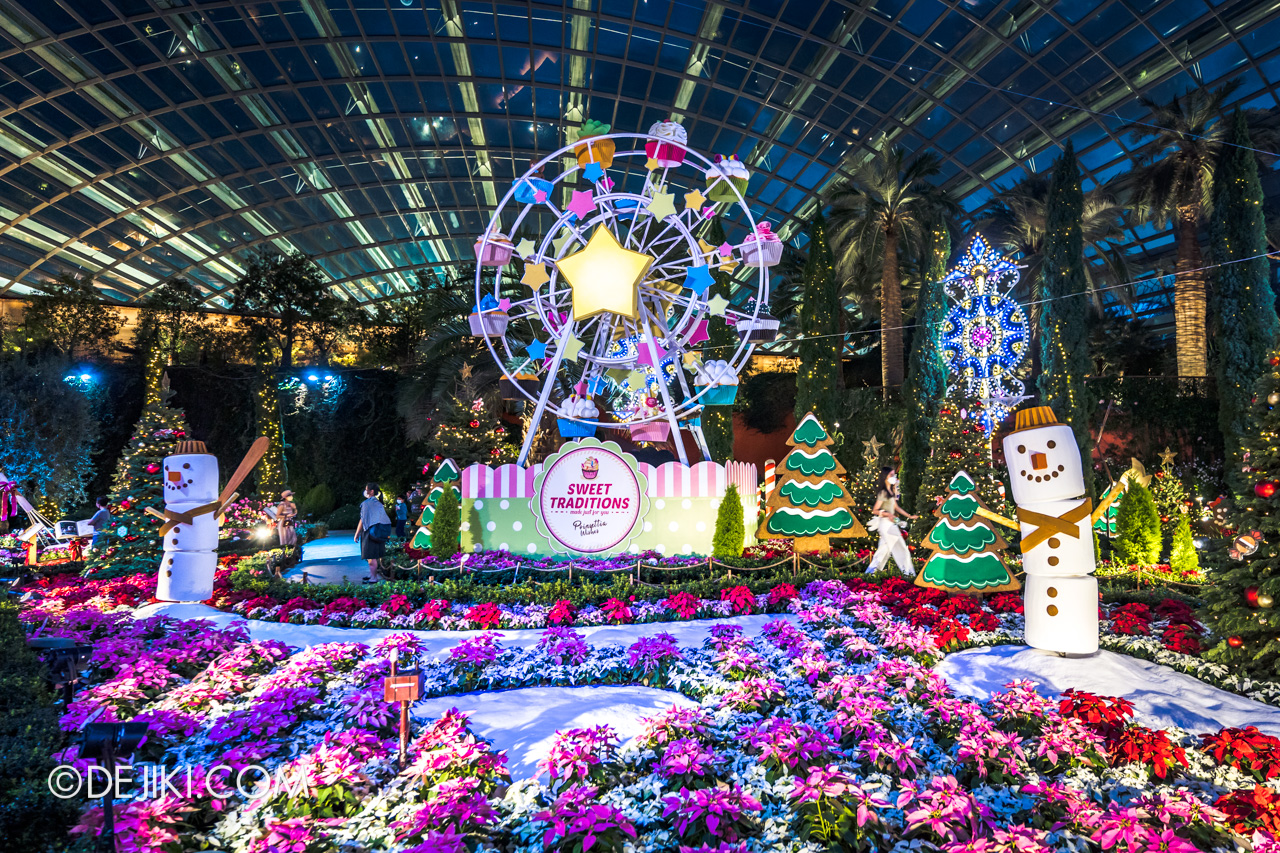 See the latest happenings at Gardens by the Bay: The 2021 Poinsettia Wishes floral display in flower dome, and Kingfisher Wetlands, a new outdoor attraction. Also, check out the setup for the upcoming Christmas Wonderland.
Poinsettia Wishes 2021 at Gardens by the Bay
Featuring larger-than-life "treats", this year's Christmas floral display features whimsical confectionary inspired by the real sweets from the Nordic countries. The candy are set among plentiful poinsettias and Christmas trees, along with other "festive plants" such as cyclamens, skimmias, violas, helleborus. The first display already features a candied apple Christmas carriage, pulled by gingerbread animals.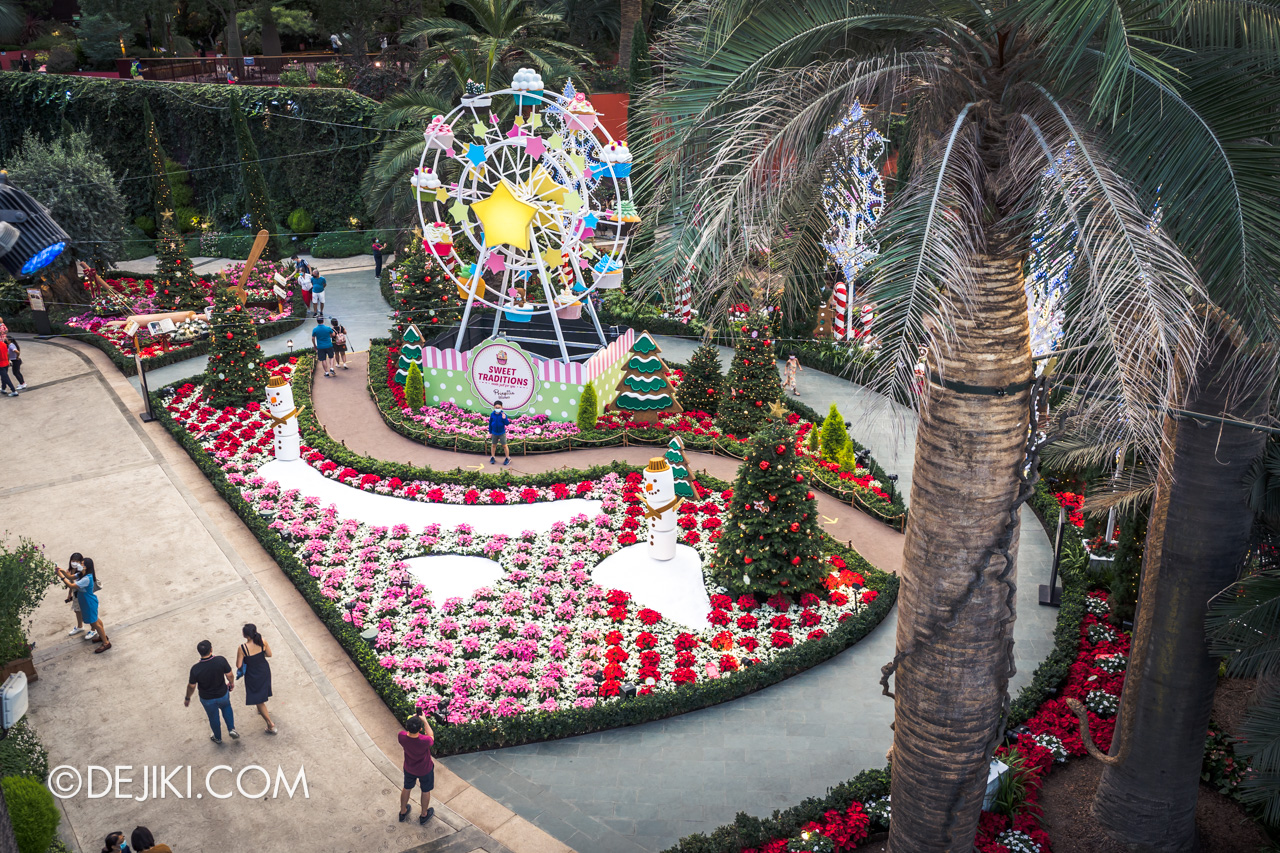 The highlight at the Flower Field is the 8m-tall cupcake ferris wheel, with a neatly arranged blooms around it.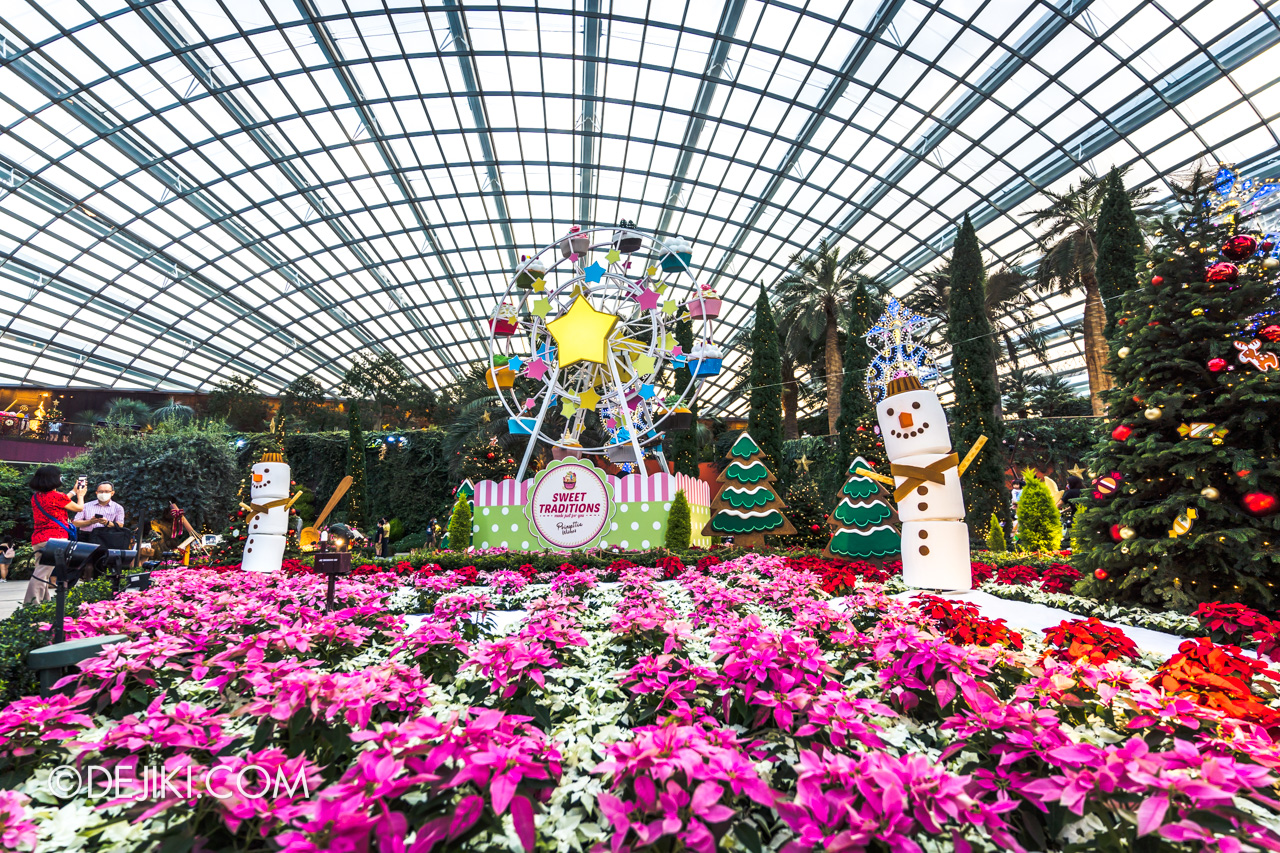 Don't miss this little corner at the side of the Flower Field: a very cozy setting with toys.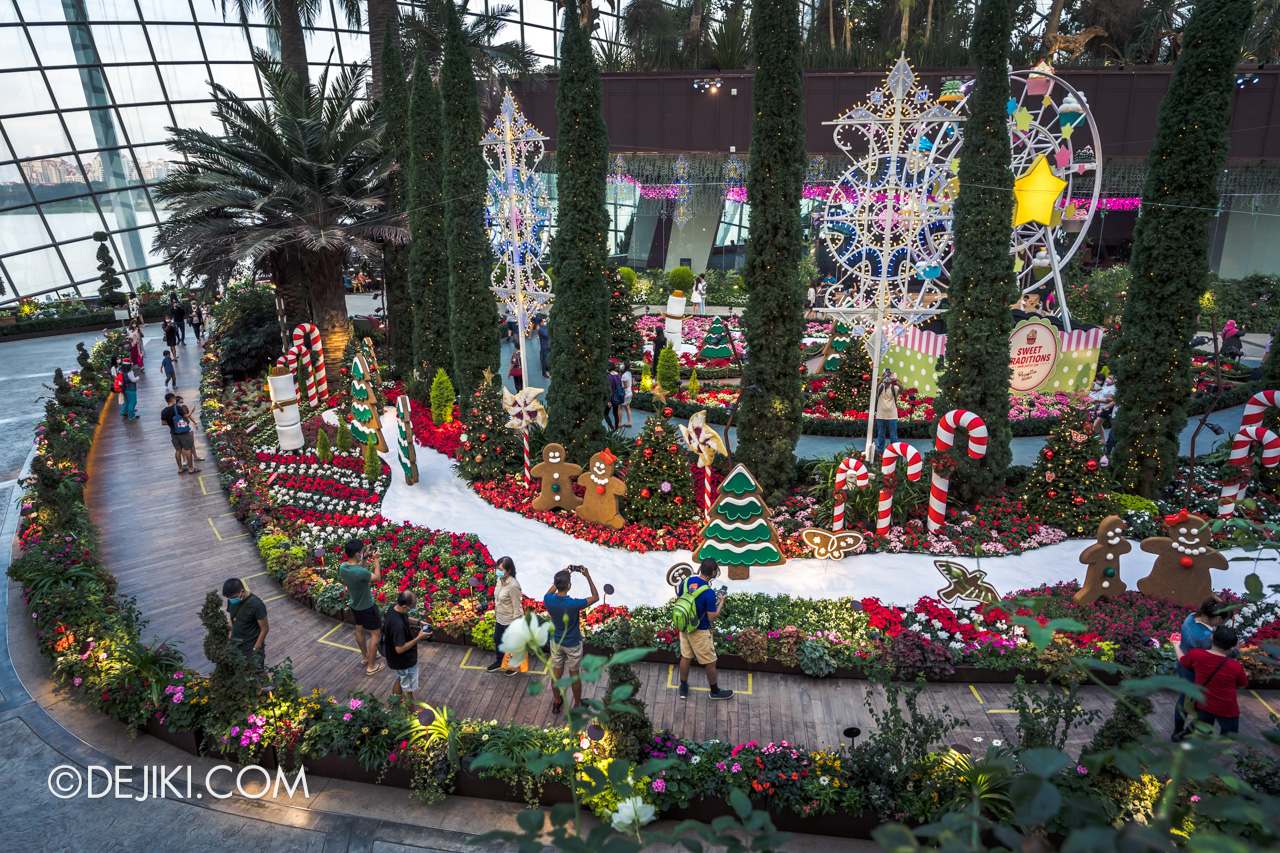 The back row, which I like to call 'Candy Cane Lane' – is a snowy path filled with adorable, "delicious" sweets.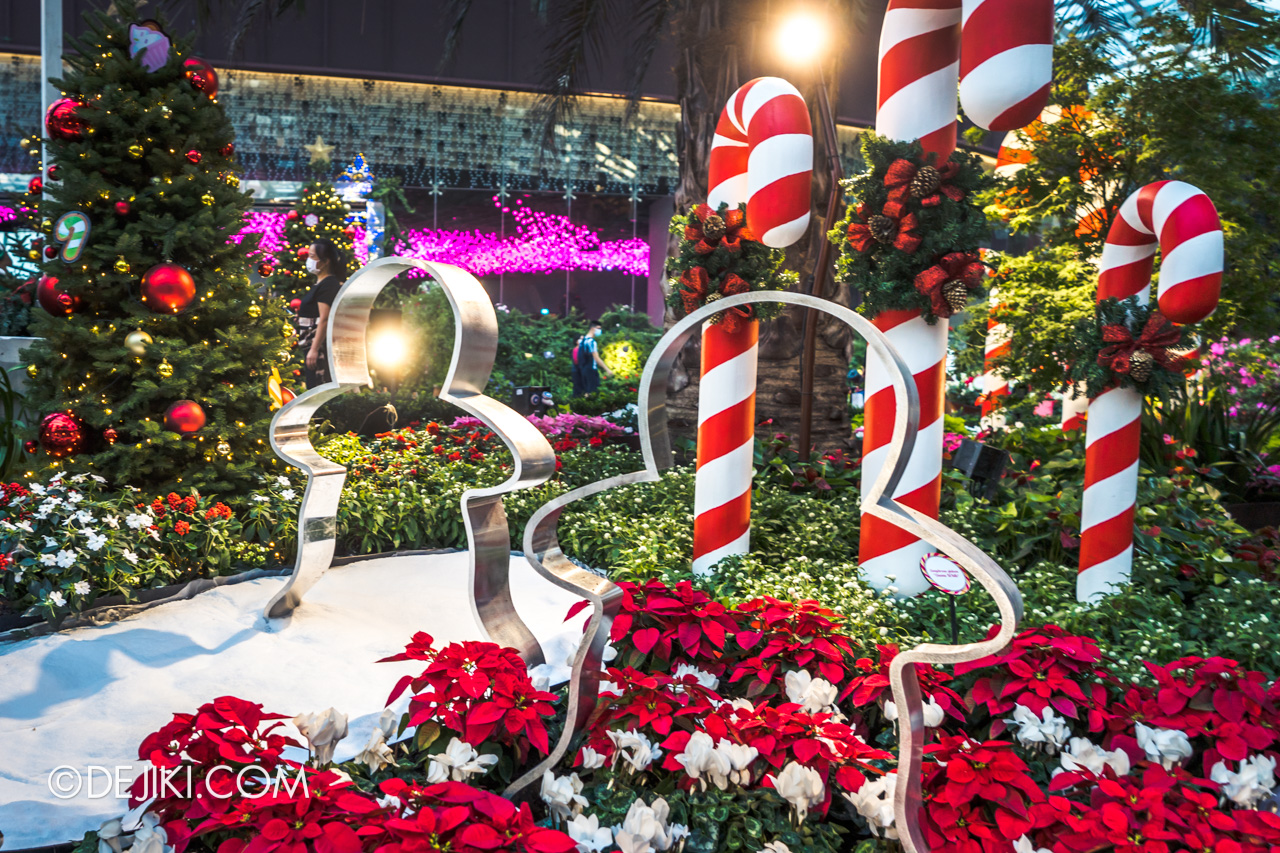 Even giant cookie cutters for the gingerbread people.
The display is beautiful at night – a more soothing experience compared to the dazzling spectacles in past years.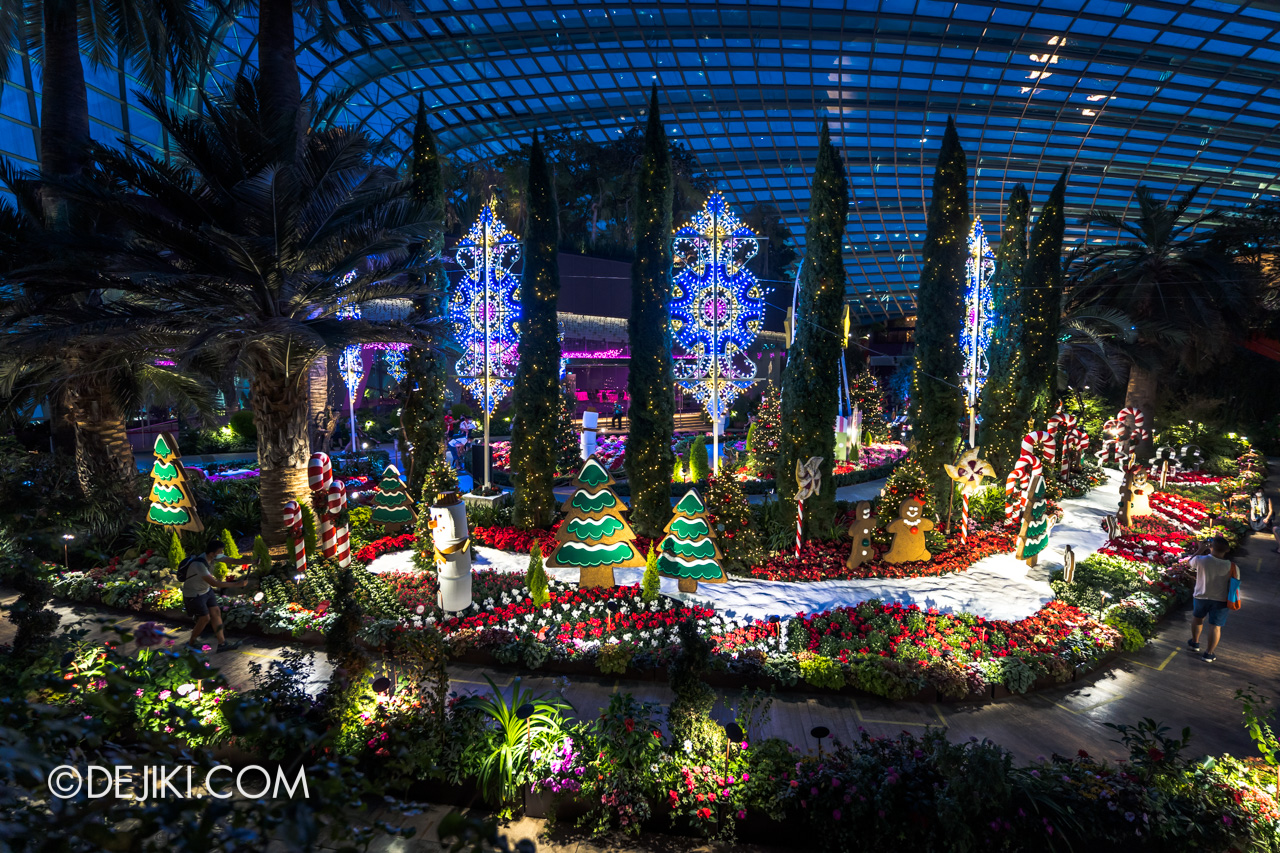 Just a subtle row of Luminarie installations lend a soft finishing touch to the nighttime landscape.
The other patch near the Ferris Wheel features Christmas recipes contributed by Nordic Ambassadors.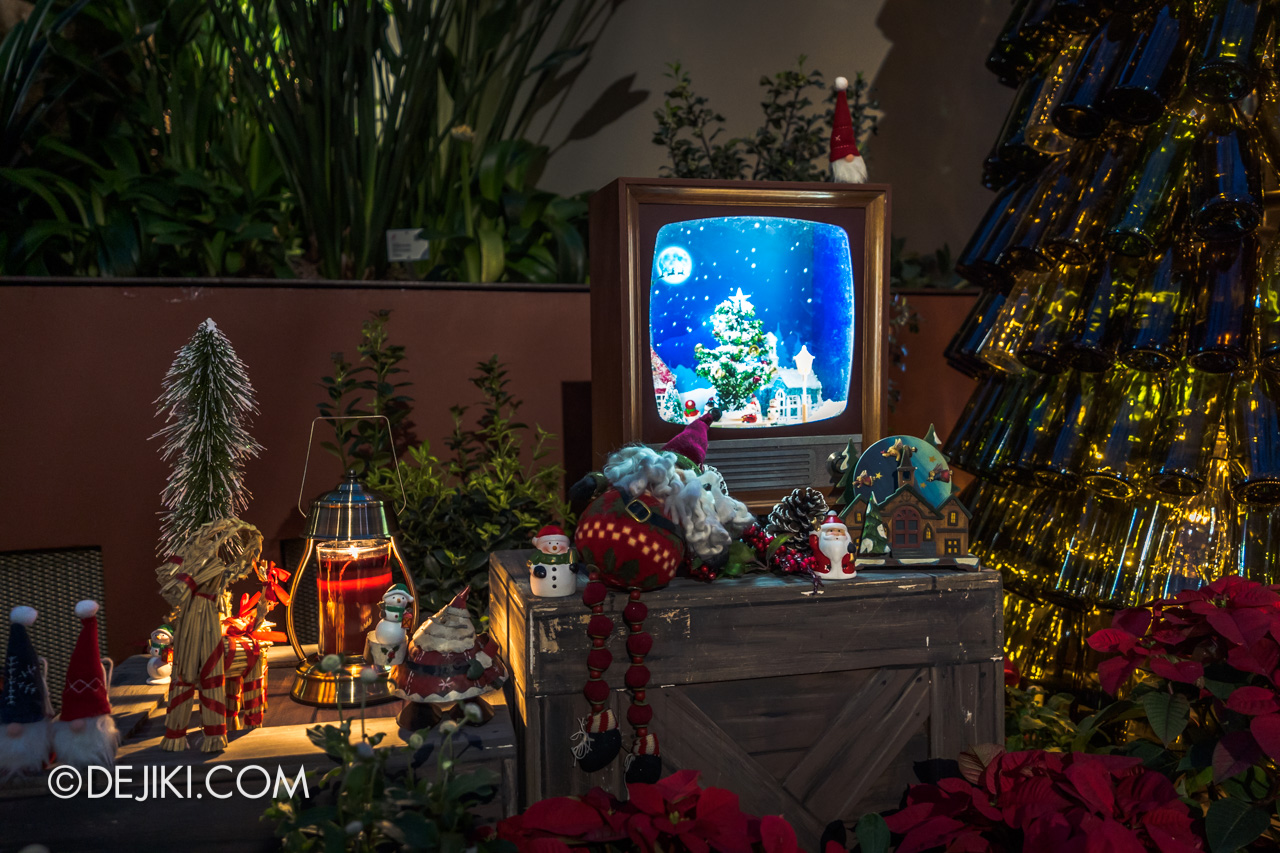 Another small independent display can be found along the way down – near South African Garden section.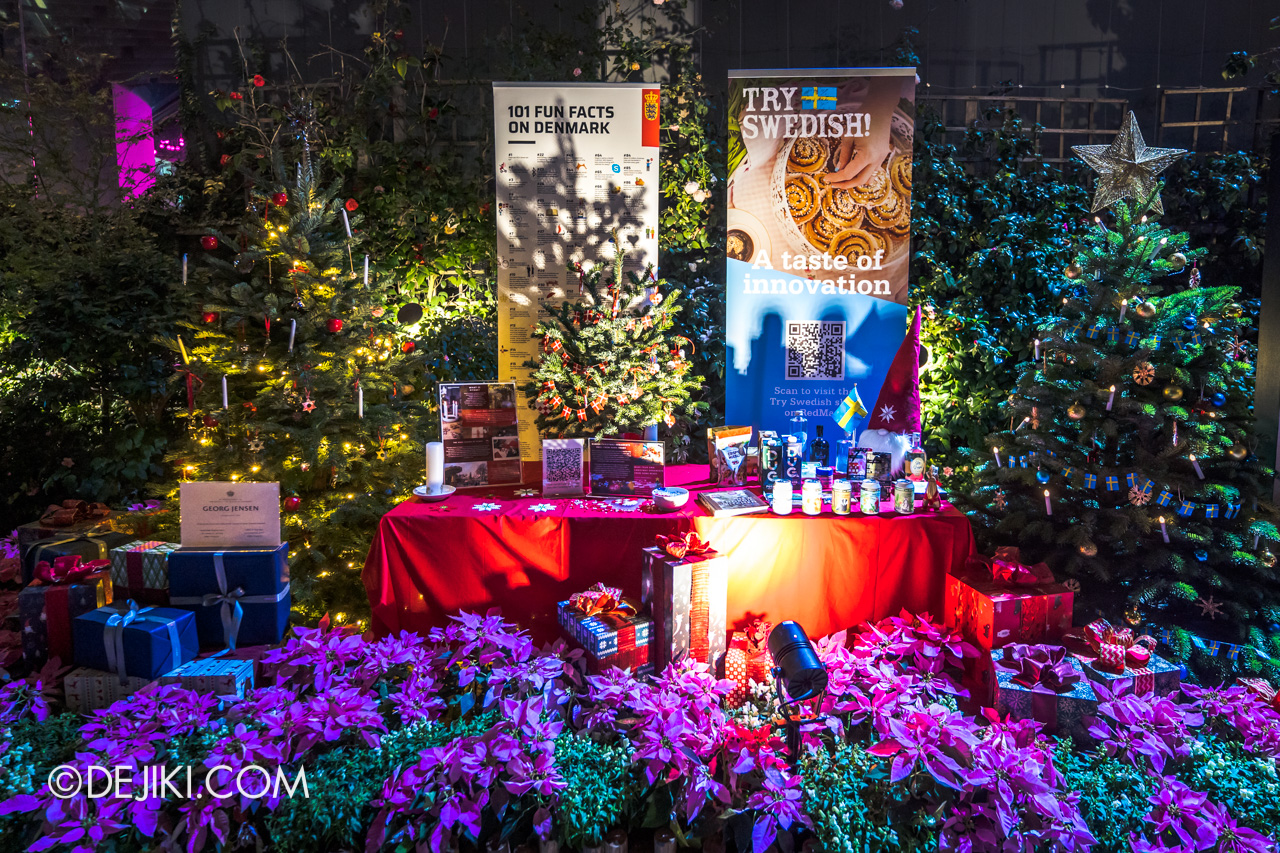 This year's display was created with the support of the four Nordic Embassies in Singapore – Royal Danish Embassy, Embassy of Finland, Royal Norwegian Embassy and Embassy of Sweden. Towards the exit of the Flower Dome, there are some small exhibits for visitors to learn more about these Nordic countries.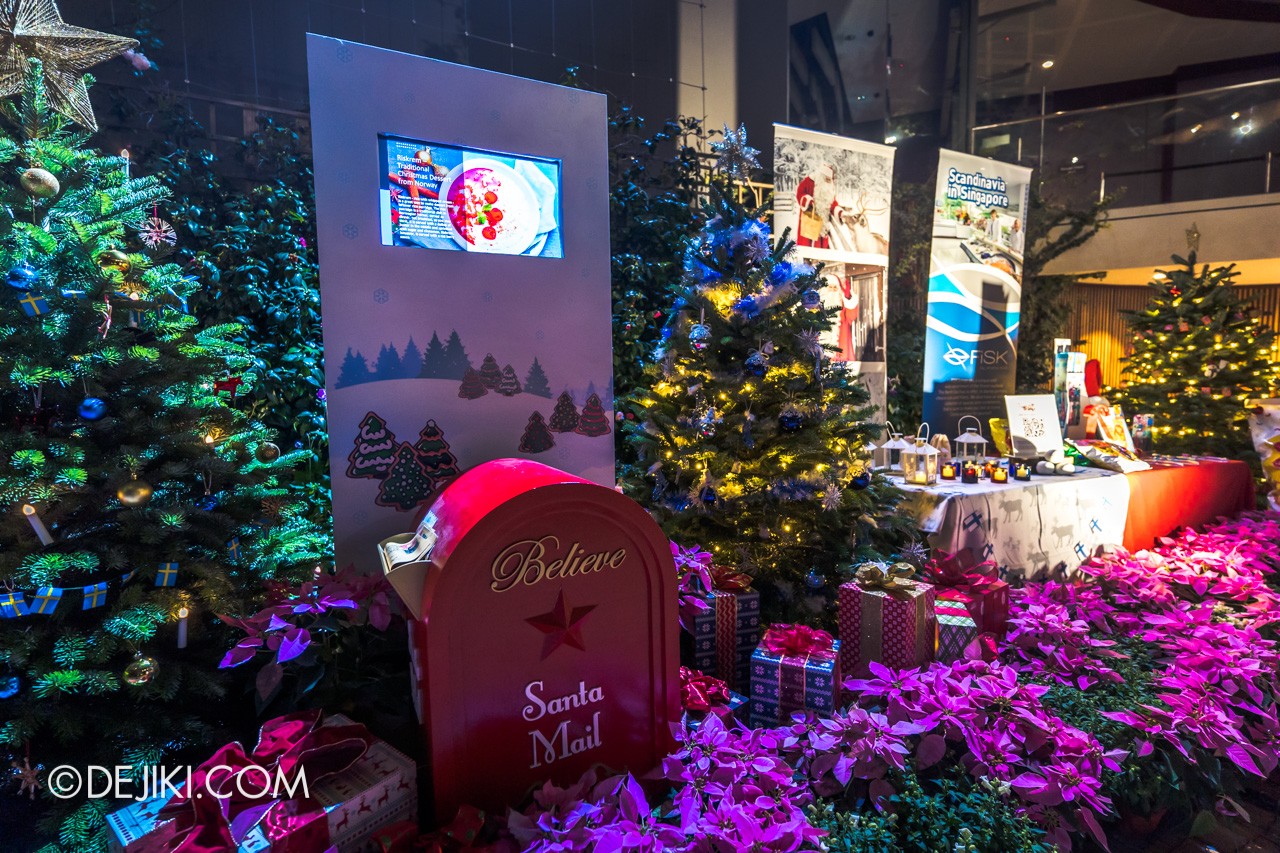 Video Tour: Poinsettia Wishes 2021
Go on a walking tour of Poinsettia Wishes 2021 in this video!
---
Christmas Wonderland
From 3 Dec to 2 Jan 2022, Christmas Wonderland will be open at Gardens by the Bay. This year, the largest yuletide event in Singapore will offer many enchanting light displays, as well as the usual carnival games, carousel, and a festive market.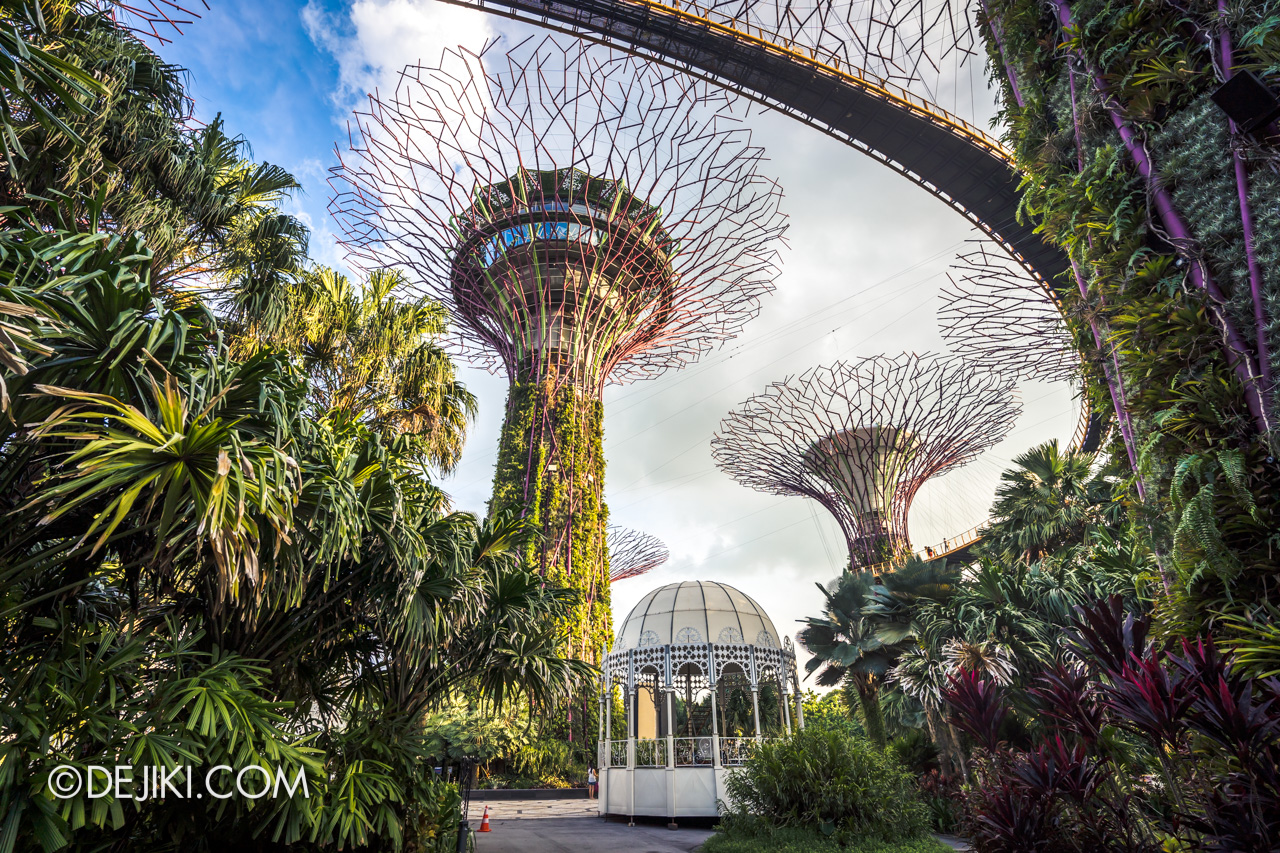 This white pavilion below the Supertrees is the La Casa di Santa Claus – a place where visitors can meet Santa.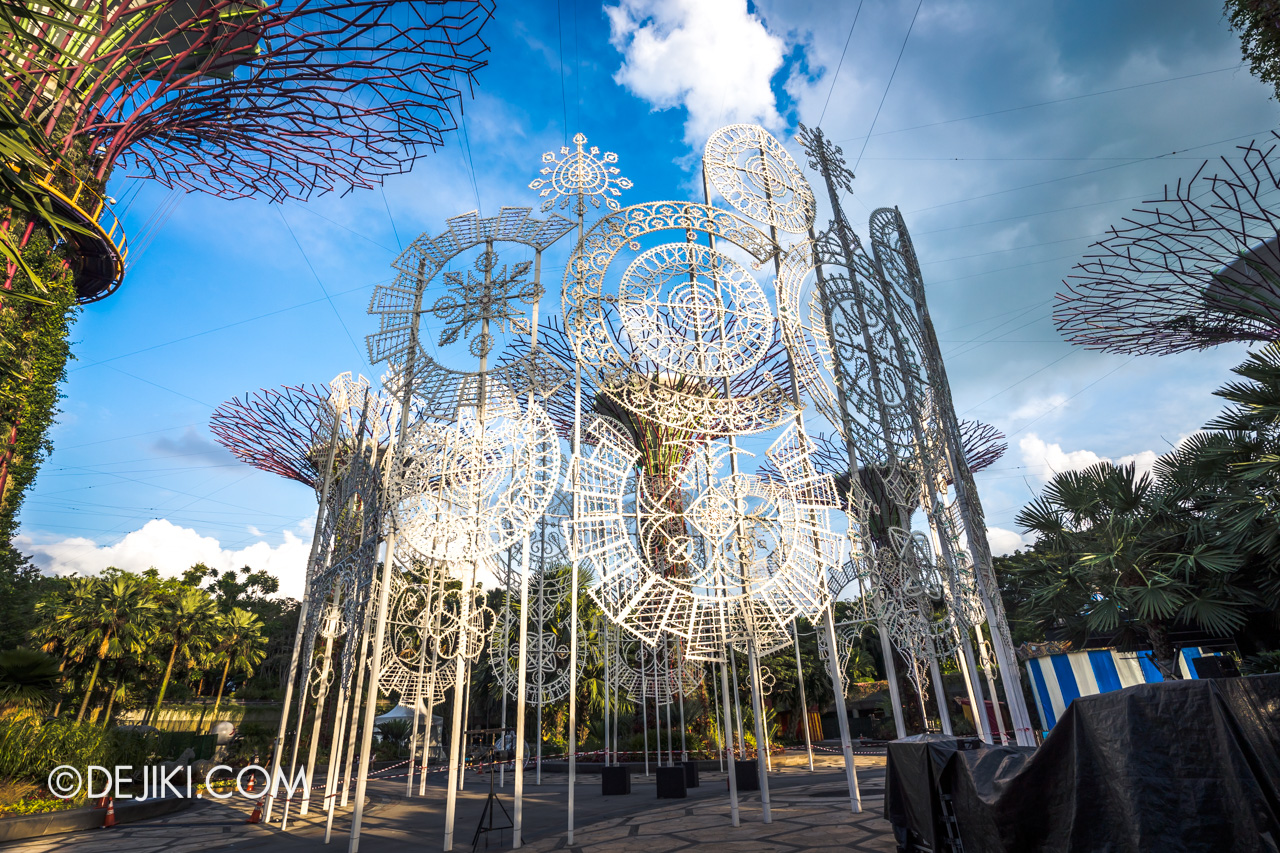 The Spalliera will be returning, with its design inspired by circular rose windows found in some of Europe's Gothic cathedrals and churches.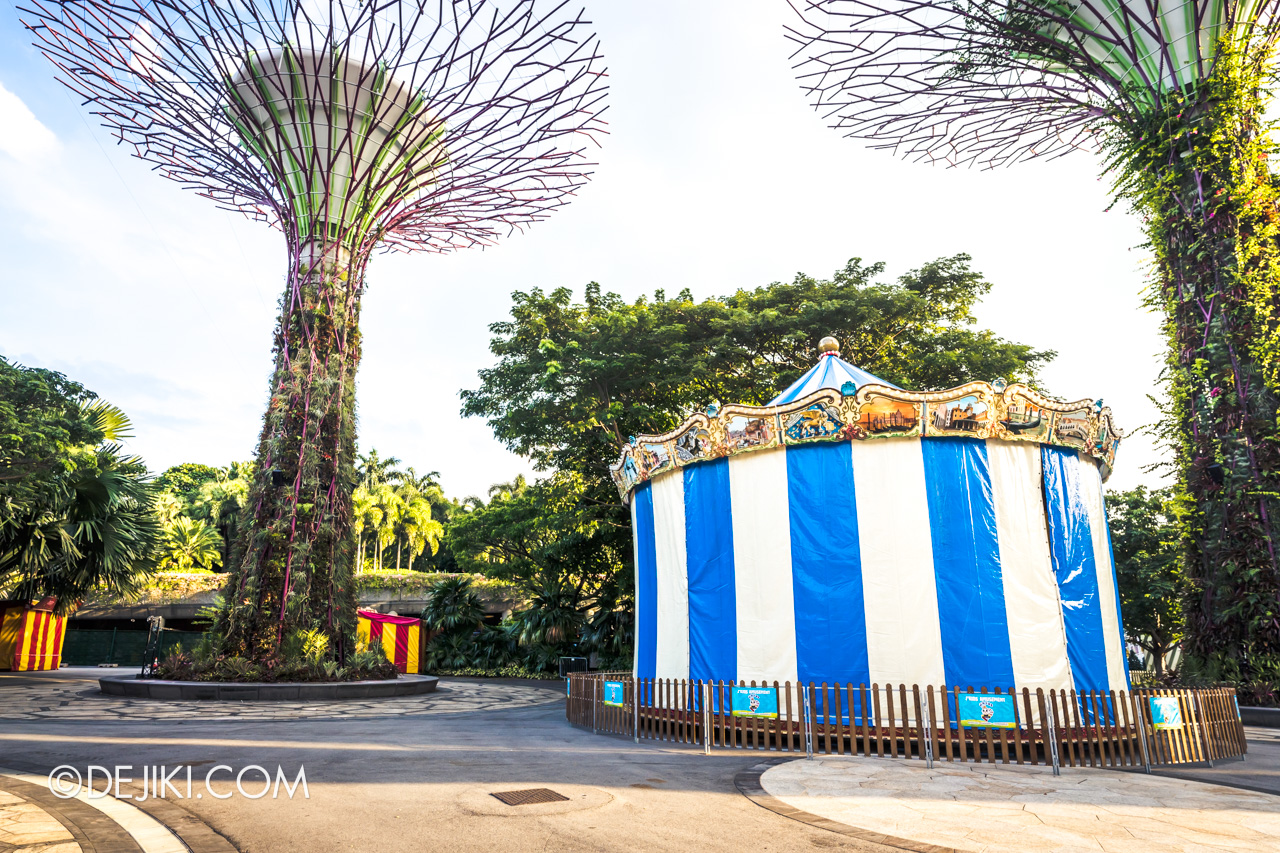 Along with carnival games, a two-storey Carousel will also be open during the event.
Another large display within the Supertrees Grove area is the Enchanted Bridge, which is 30m-long and 7.7m-tall display. Visitors in this area will be engulfed with some dazzling 100,000 lights.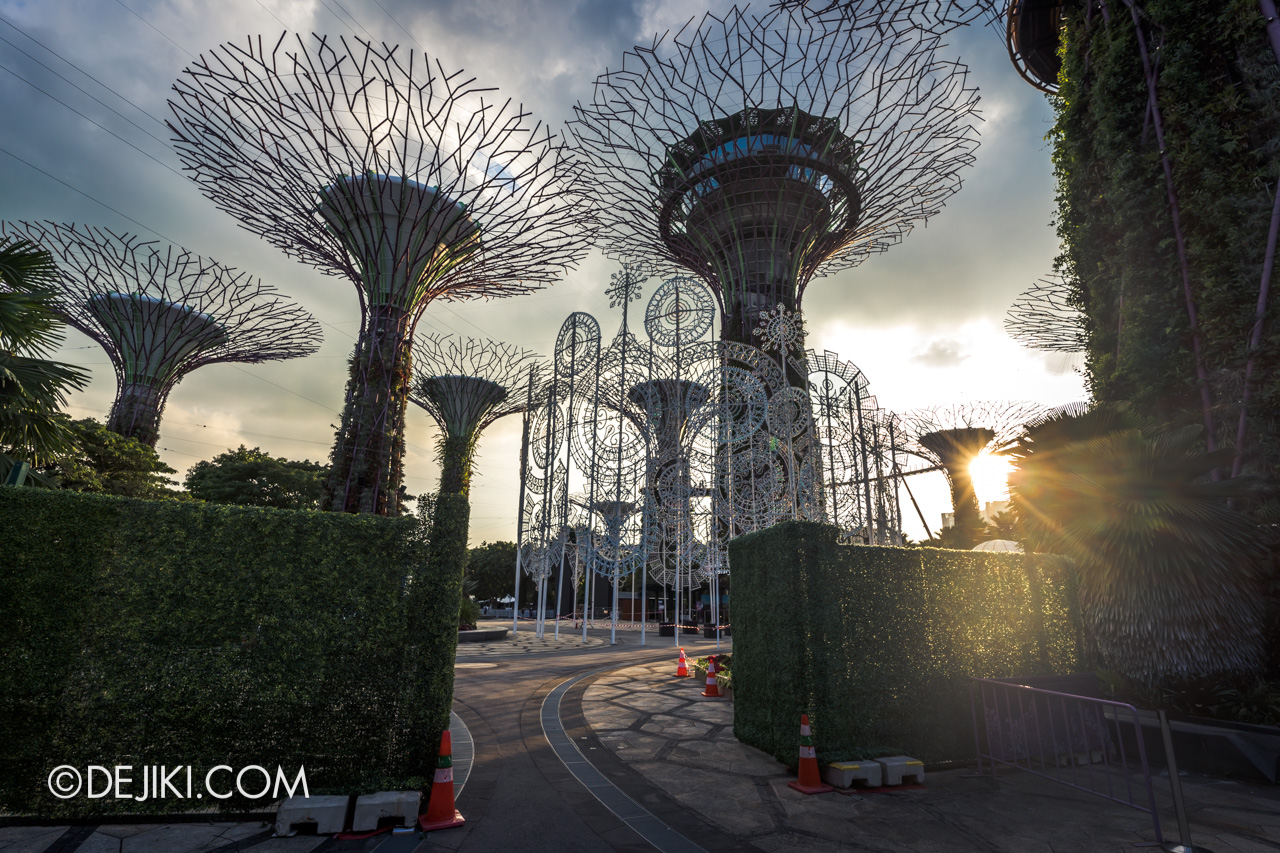 Christmas Wonderland – Ticketing Information
Christmas Wonderland is a ticketed event with timed entry, and tickets must be purchased online before heading down, and there are several rules to be complied. There are no on-site ticketing booths.
As with all attractions, attendance is strictly controlled, and visitors will be required to wear masks, use SafeEntry Check-In, and have their vaccination status verified before entering the event area.
Unvaccinated children (ages 12 and under) would need to have special tickets priced at $5, which are available at a limited quota. Parents with children below 3 years old may pre-register their child for free entry – limited to 1 pre-registration with every accompanying adult. This application needs to be done at least 5 days before planned date of visit. Information on this process can be found on the Christmas Wonderland Ticketing page.
---
Kingfisher Wetlands
Check out this Walking Tour Video of Kingfisher Wetlands, which includes segments walking from the Marina Bay Sands entrance/ Bayfront MRT Exit B.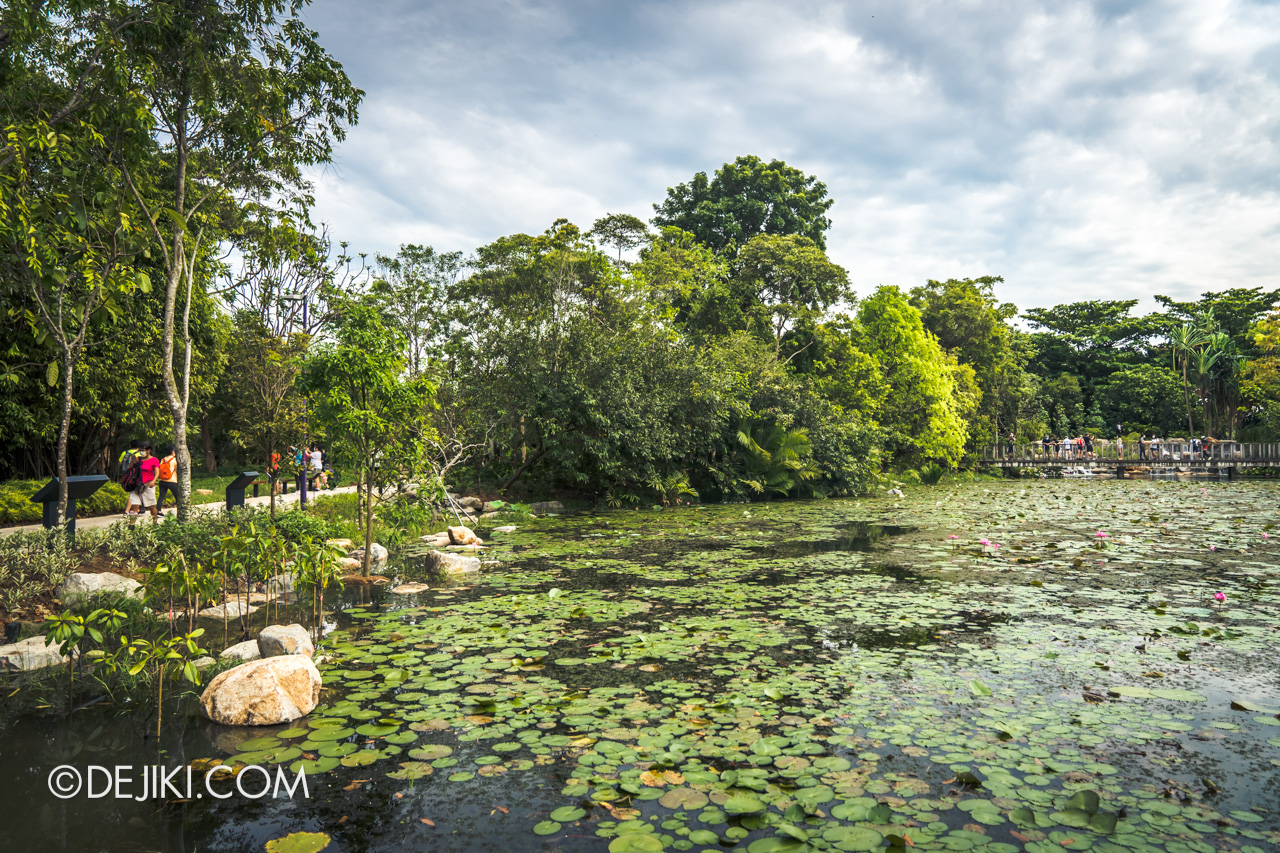 The "main" area of the new Wetlands is a redeveloped area beside Satay by the Bay.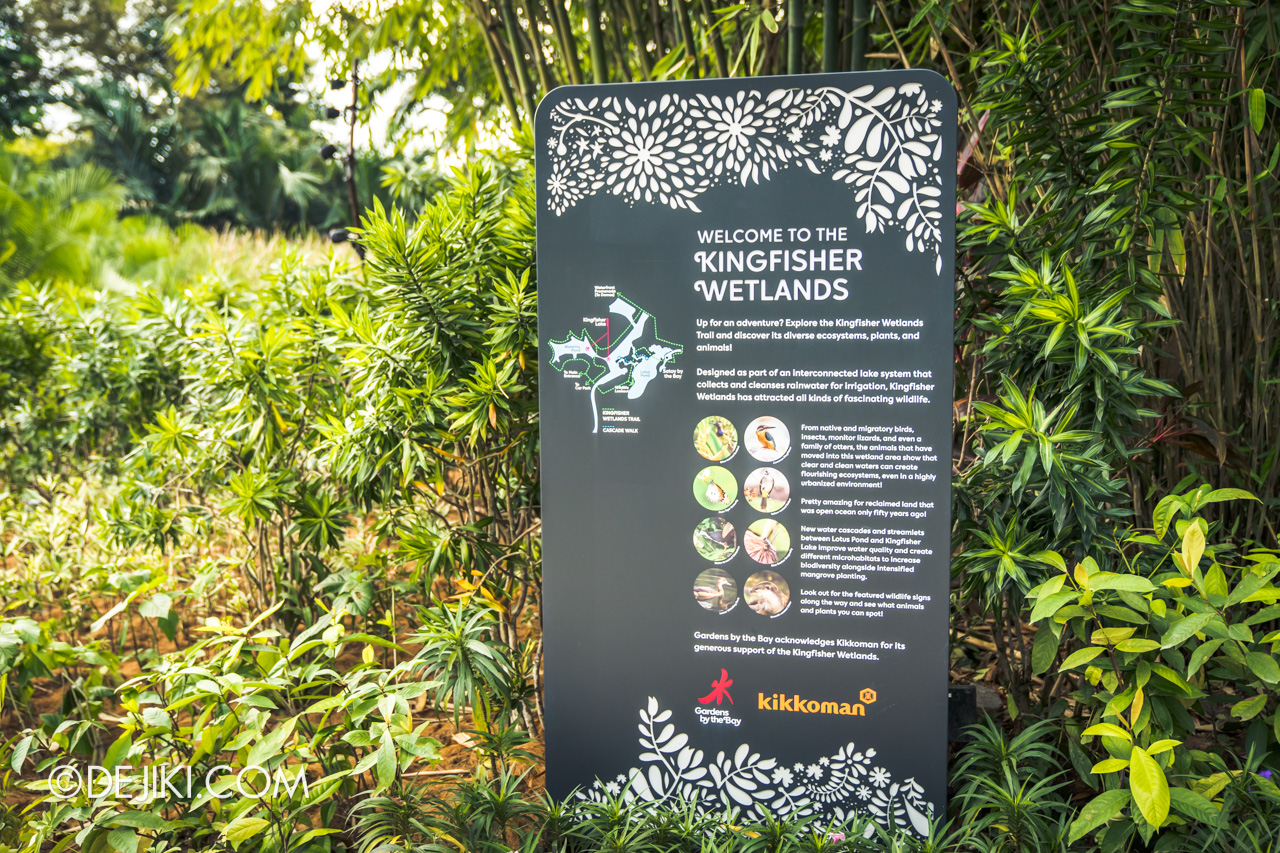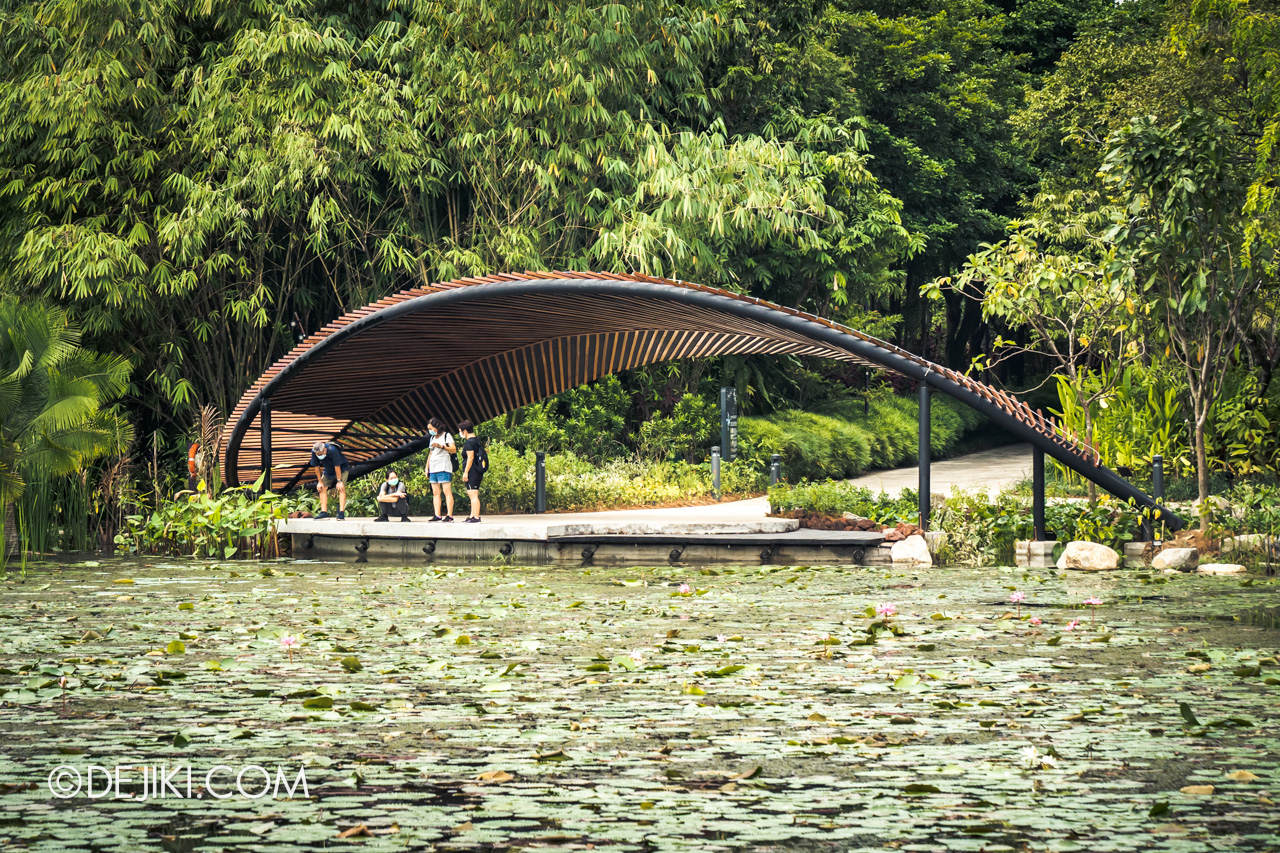 The Wildlife Lookout, which overlooks the massive Lotus Pond.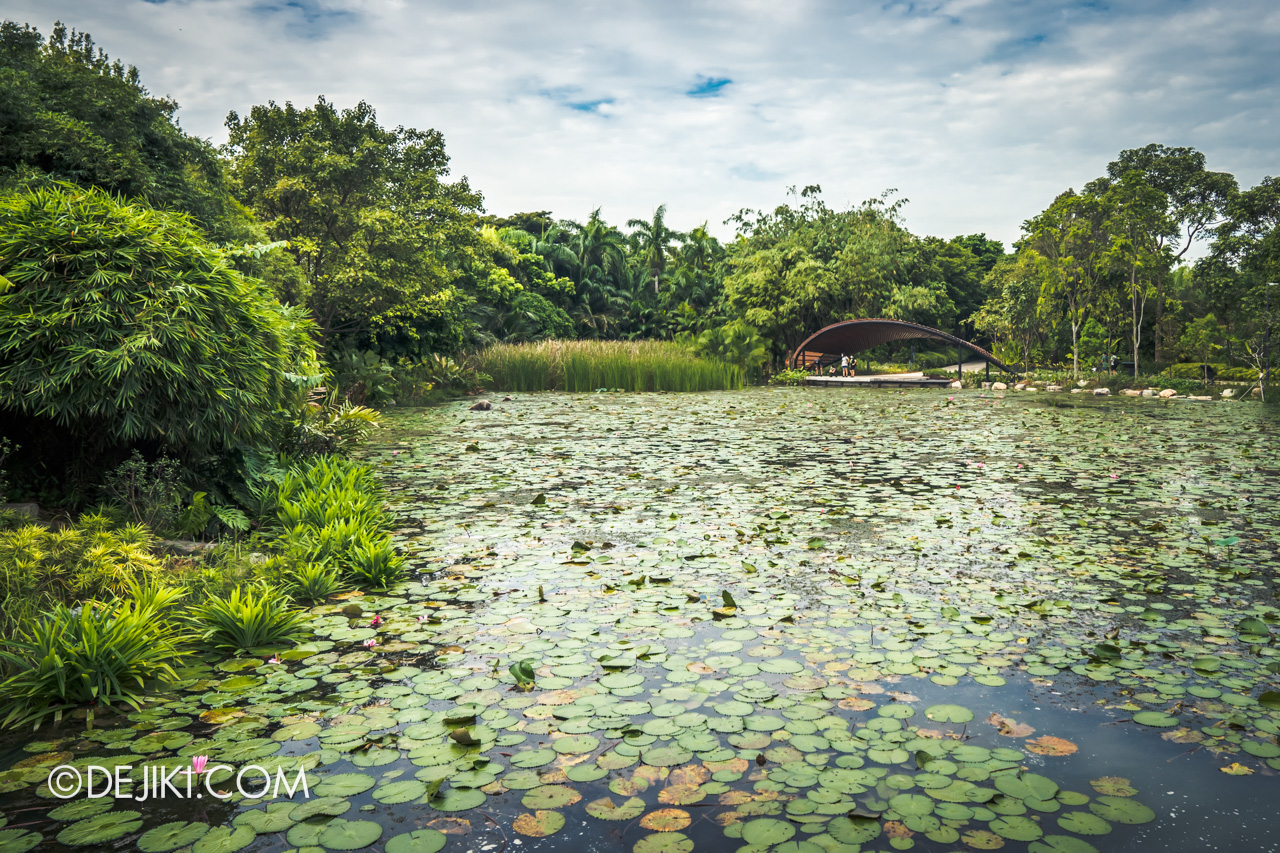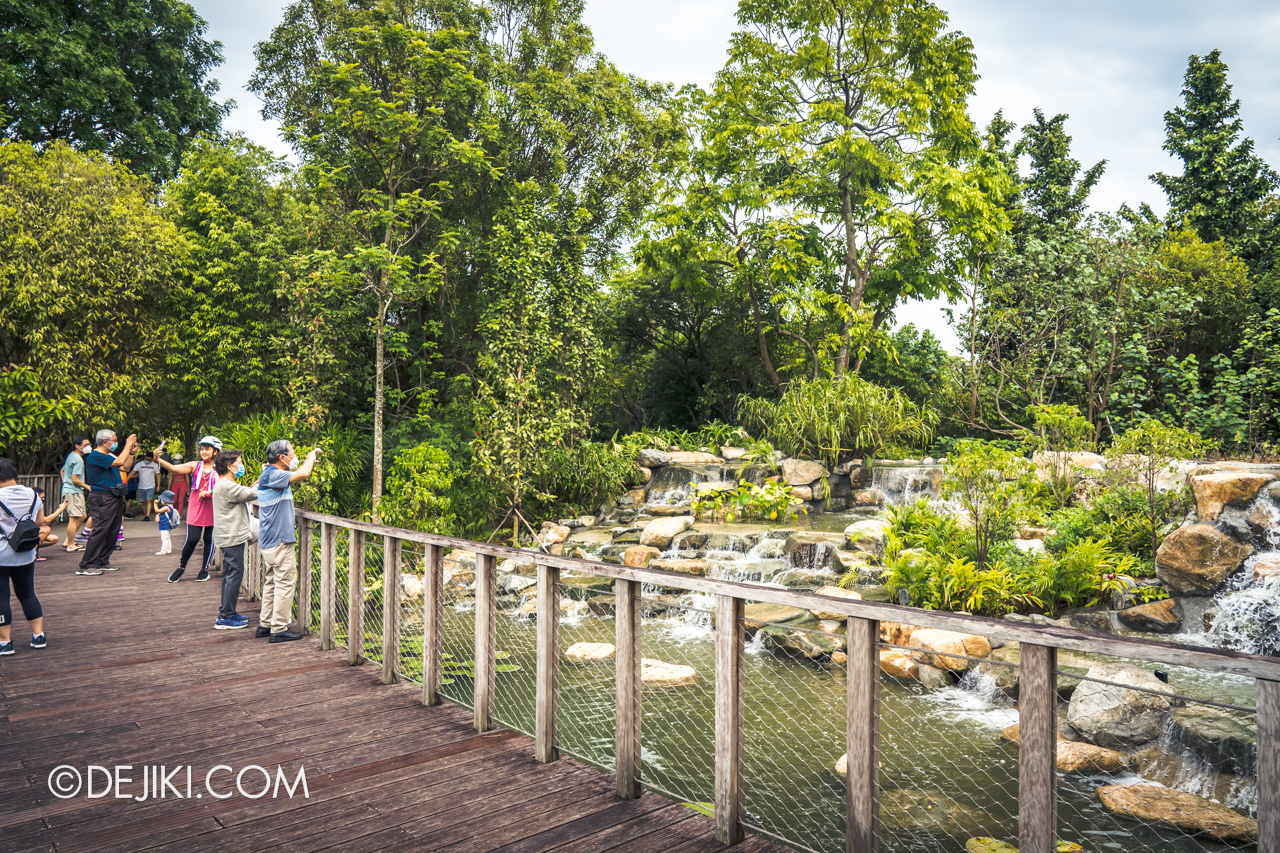 The other highlight is the rocky cascades, or "waterfalls", which are right beside Satay by the Bay.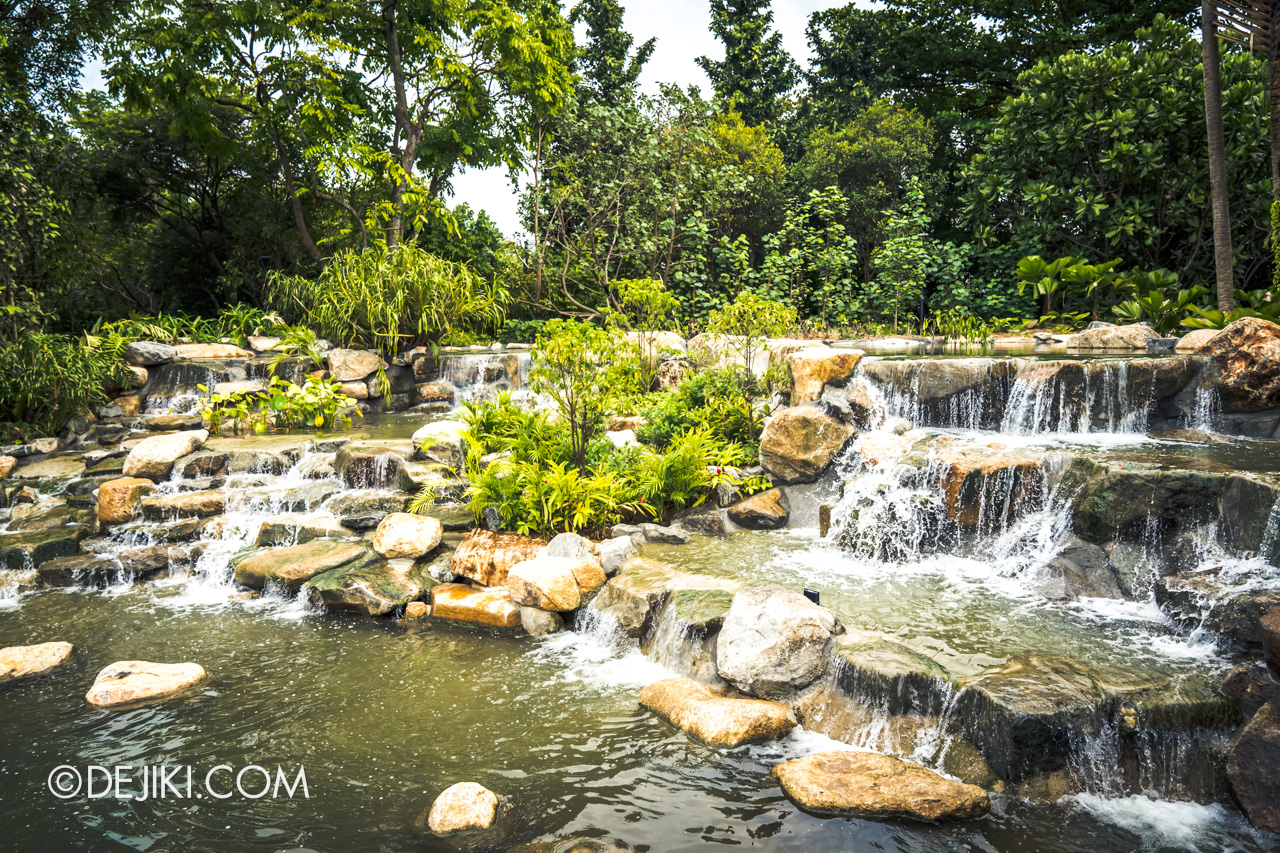 As admission is free and the environment does look quite relaxing, we can't quite complain about Kingfisher Wetlands.
It's great that Gardens by the Bay has always been expanding and redeveloping its offerings since its launch in 2012. As next year would be the 10th Anniversary of Gardens by the Bay, I wonder the future holds for this iconic Singapore attraction.
I can't say much about actual birdwatching, but during my two visits there are a lot of people with telephoto lenses and birdwatching equipment.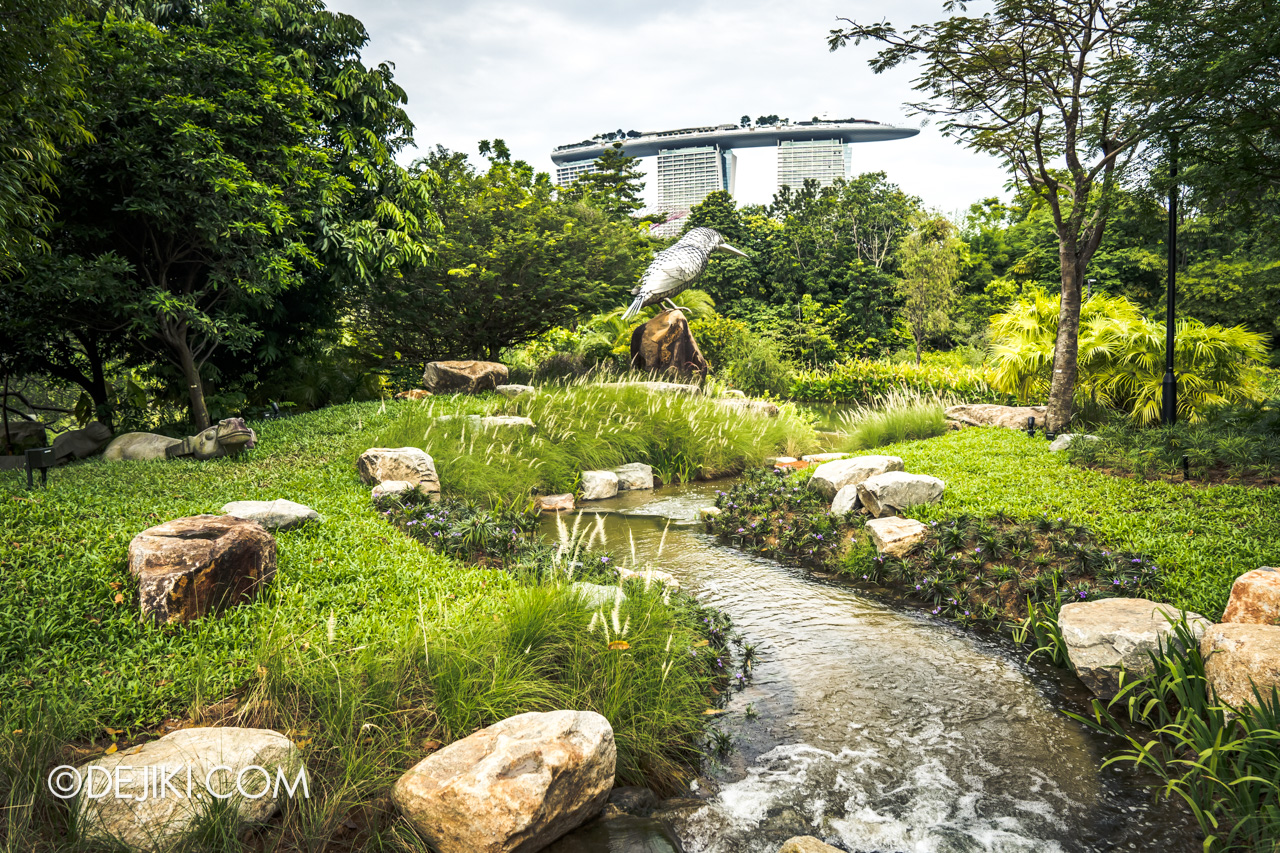 ---
Happenings at Gardens by the Bay
Poinsettia Wishes Floral Display at Flower Dome
Now till 3 Jan 2022
Admission to Flower Dome and reservation of entry timeslot are required.
In compliance with prevailing safe management measures, visitors are to wear a mask at all times, including during photo-taking.
Christmas Wonderland
3 Dec 2021 till 2 Jan 2022
For ticket prices and admission information, refer to the Christmas Wonderland Ticketing page.
Gardens by the Bay – SingapoRediscover Voucher eligible ticketing options
Category
Price
Gardens by the Bay 1-Day Ticket (Adult)
Admission to both Flower Dome and Cloud Forest
$20


Book now »

Gardens by the Bay 1-Day Ticket (Child)
Admission to both Flower Dome and Cloud Forest
For children ages 3 – 12
$12


Book now »

Gardens by the Bay 1-Day Ticket (Senior)
Admission to both Flower Dome and Cloud Forest
For seniors aged 60 and above
$17


Book now »
Klook is one of the authorised booking partners of the voucher programme, and you can easily use the website or App to redeem your voucher for attractions. Just make sure the ticket you are booking is marked [SRV Eligible].
(Purchases made via this link will help support Dejiki.com at no extra cost to you)


Subscribe to Dejiki.com or Like my Facebook page for notifications of updates.
---