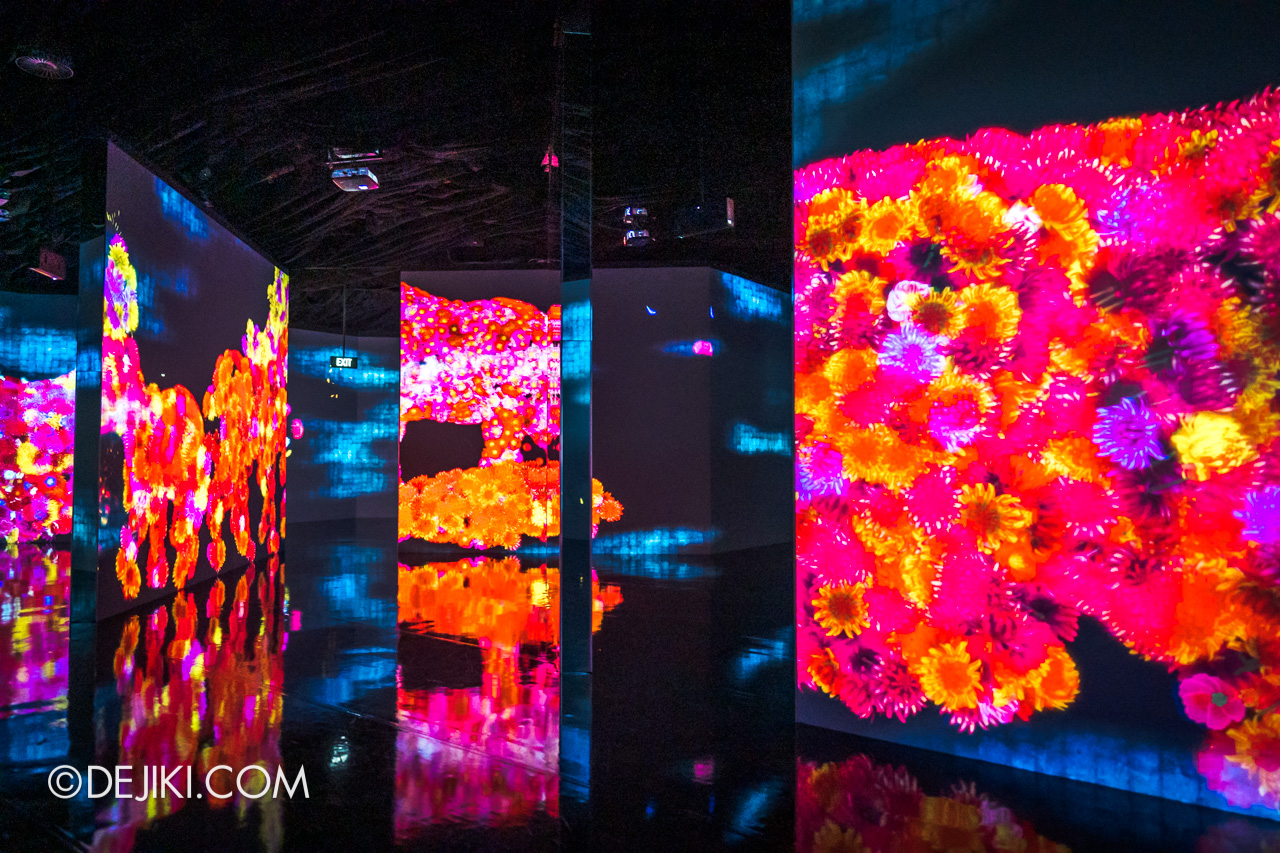 Lose yourself in the mesmerising worlds of teamLab at #FutureTogether, an immersive art installation at Gardens by the Bay.
#FutureTogether at Gardens by the Bay
Presented by Gardens by the Bay and GIC, #FutureTogether is an immersive art exhibition created by the world-famous teamLab from Japan. From now till 22 March 2020, visitors can enjoy seven digital art installations at Gardens by the Bay.
The indoor exhibits are located within the Bayfront Pavilion at Bayfront Plaza – which is a short walk from the Floral Fantasy attraction. Most of the artworks inside are similar to iconic pieces found in other teamLab venues, especially from teamLab Borderless. I've visited both Borderless and Planets in Tokyo recently, but not the Future World at ArtScience Museum… yet. This showing at Gardens by the Bay is a lot smaller, with just four pieces indoors and three outside.
Singapore residents can enjoy free admission to #FutureTogether (show your identity card at the attraction entrance), otherwise tickets go for S$10 each for non residents. Tickets can be purchased on-site at the attraction.
Animals of Flowers, Symbiotic Lives
Giant floral animals roam these mirrored spaces. Touch the walls, and see them scatter.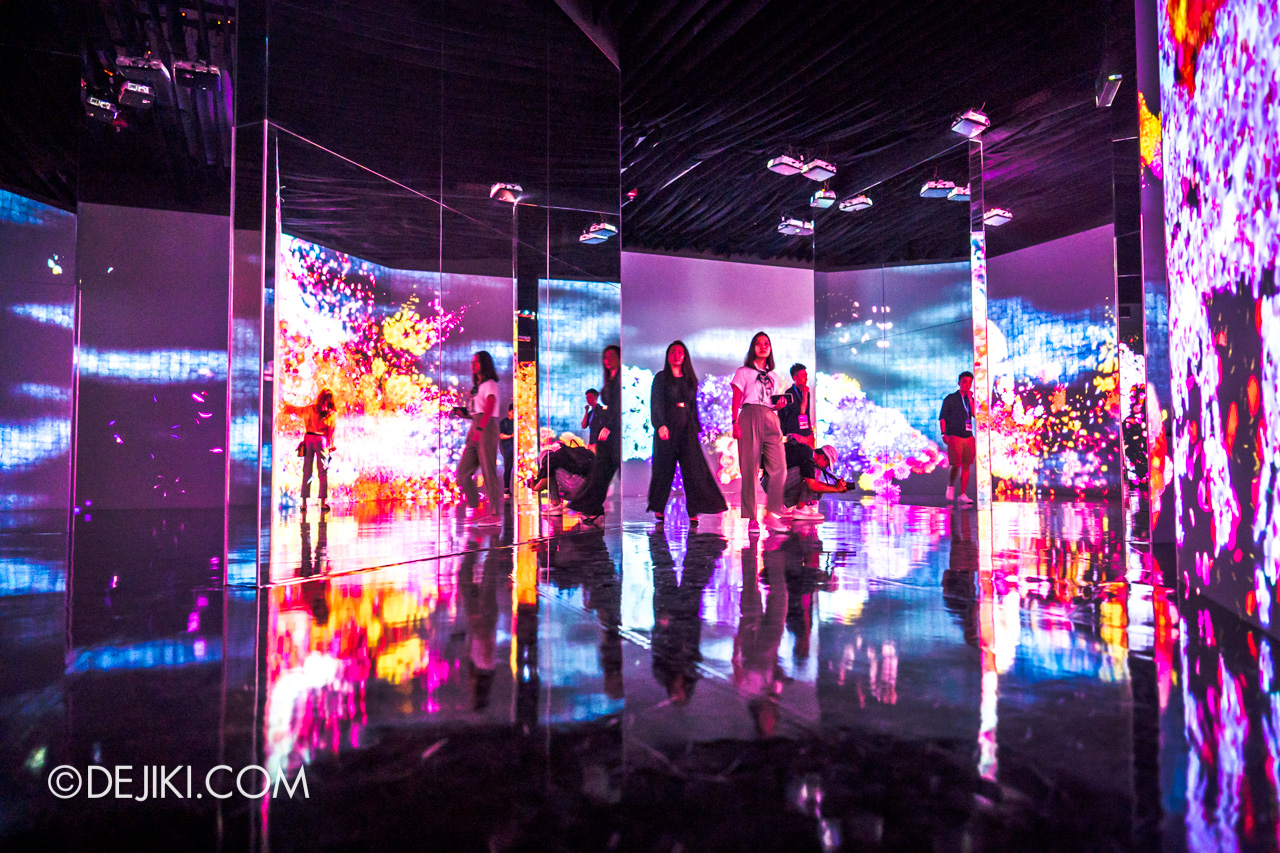 Reversible Rotation – Black in White
This surreal 'Spatial Calligraphy' wraps the hallways after.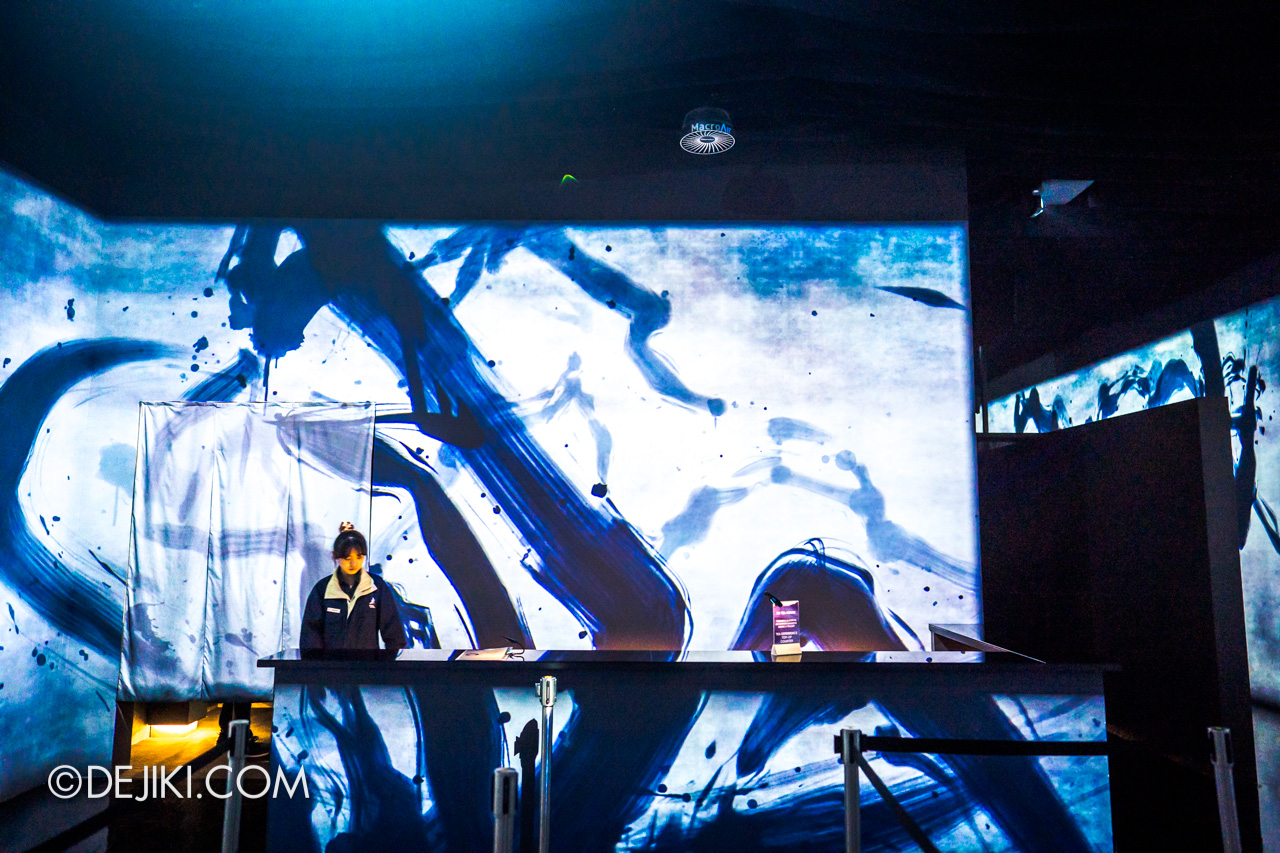 The art bleeds into the next section, the entrance of En Tea House.
Flowers Bloom in an Infinite Universe inside a Teacup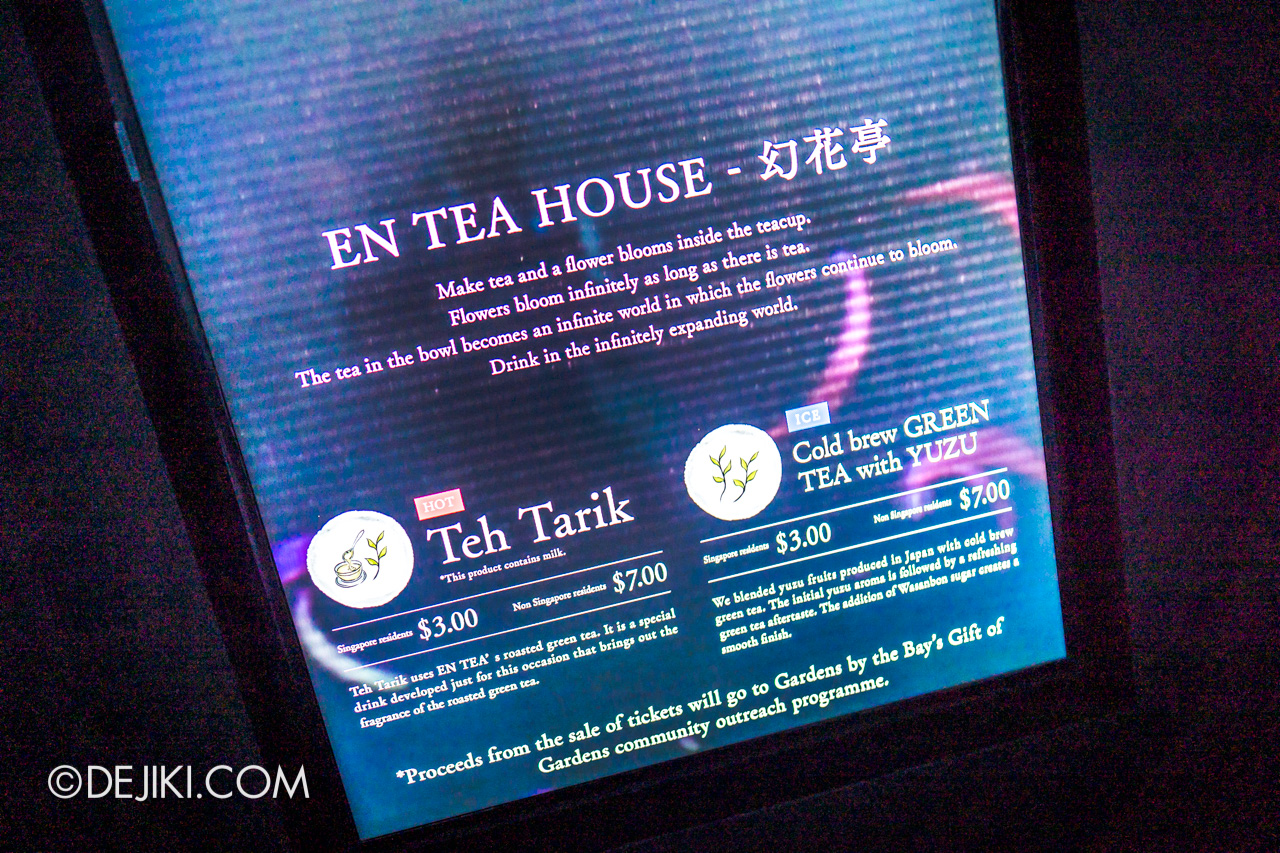 For the first time in Singapore, teamLab's En Tea House offers you a chance to 'make tea' with flowers blossoming from the tea cup.
Two kinds of tea are available, both using green tea. Hot Teh Tarik or Cold Brew Green Tea with Yuzu. This is an optional experience that is complimentary for Singapore residents (while stocks last), or S$7 for non residents.
Space is limited so you'll may have to wait to get in, and then your tea experience may have a time limit.
I've been to the original En Tea House in Japan, and the obvious difference is that Singapore's projections are much simpler, and not as immense or dazzling as the original. Singapore's tea house also lack the ice cream tea set option, which means one less projection per guest.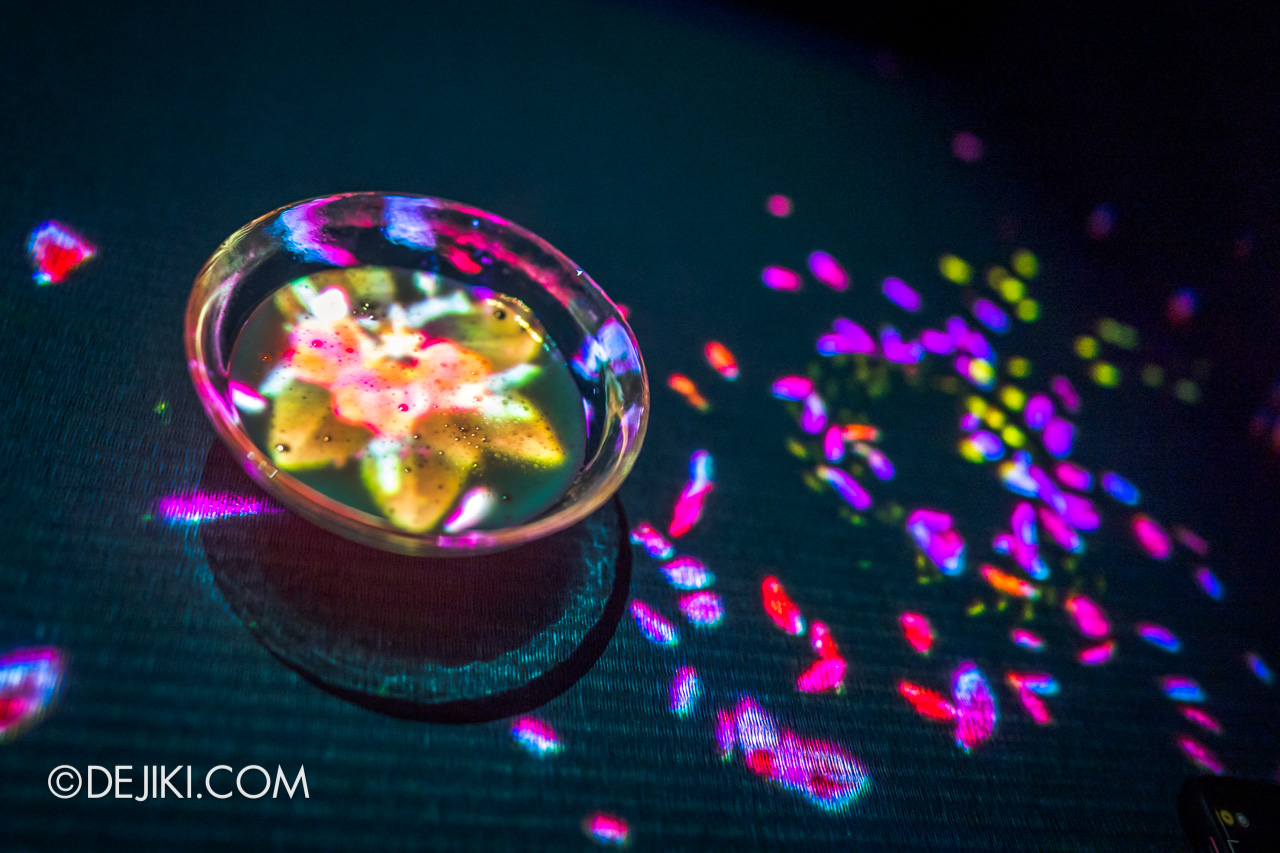 Enjoy the tea, and don't play with it too long that your hot or cold tea settles to room temperature.
Continuous Life and Death at the Now of Eternity II
Marvel at dazzling waves of suspended flowers as they slowly dissipate into nothingless.
Flowers and People – Giant Lattice Mass, a Whole Year per Hour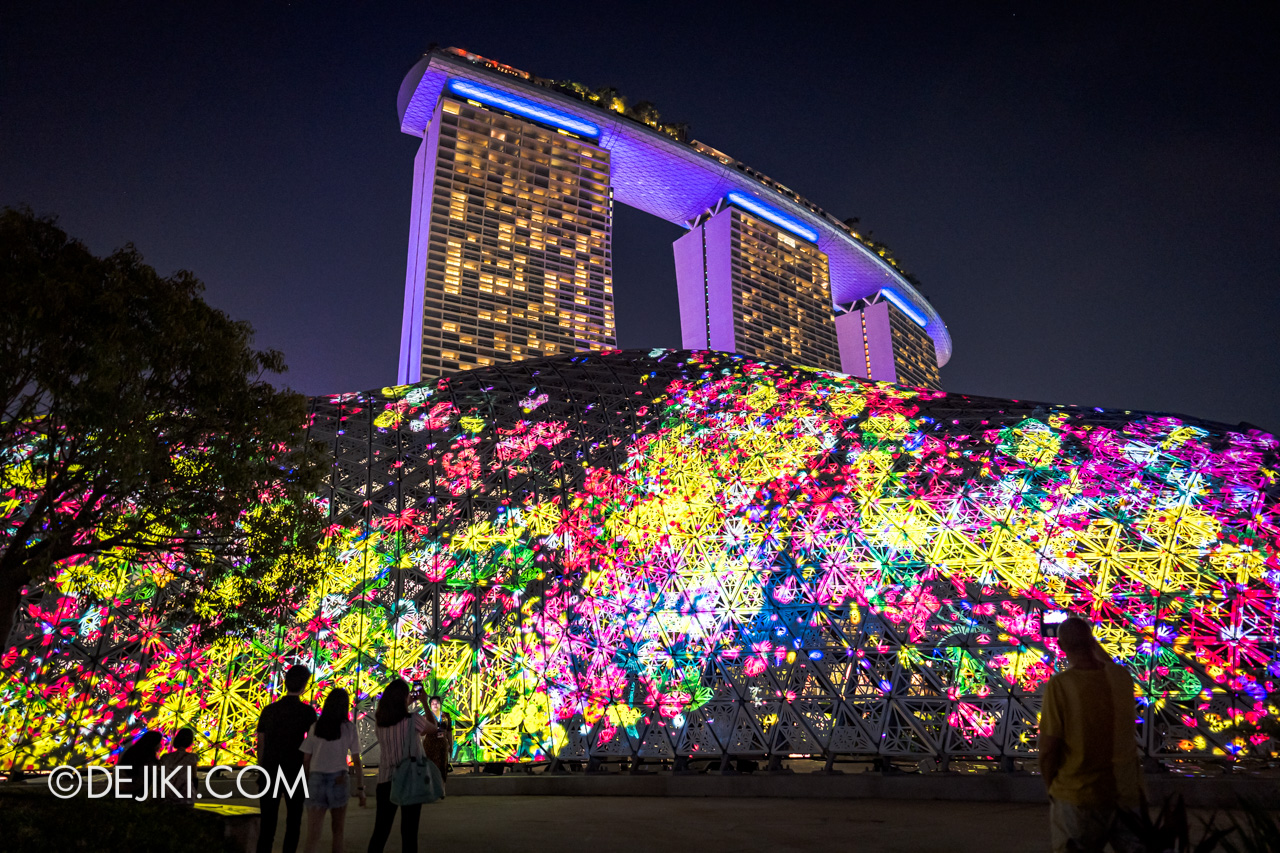 Projections transform the metallic lattice into a canvas for floating flowers.
Message Pillar – The Singapore Bicentennial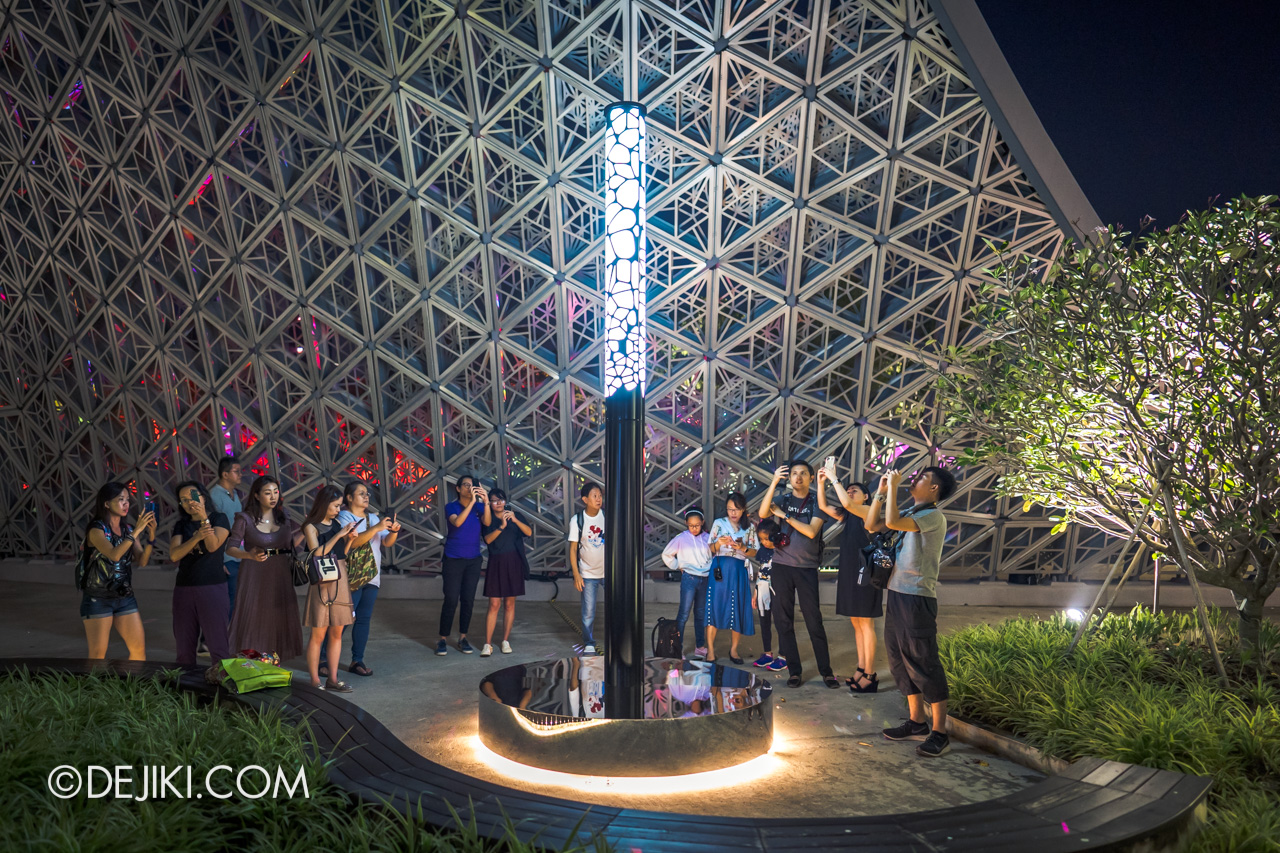 On the other side of the lattice is an augmented reality artwork. Using a smartphone app, you can see wishes and messages swirl around the pillar, and leave some of your own.
Download the Message Pillar app from App Store (iOS) or Google Play (Android).
Autonomous Resonating Life on the Water and Resonating Trees
Floating eggs float on the Gardens' Dragonfly Lake. As you stroll along the boardwalk, gently push the eggs to set off waves of colour and sound across the water.
#FutureTogether at Gardens by the Bay
16 Jan to 22 March 2020
Free Admission
For more information, visit Gardens by the Bay's official website.
You can buy tickets online for Gardens by the Bay's Flower Dome and Cloud Forest via my Klook link.

(Purchases made via Klook link will help support Dejiki.com at no extra cost to you)


Subscribe to dejiki.com or Like my Facebook page for notifications of updates:
---