Learn more about the situation at Universal Studios Singapore as the park adopts measures in response to the novel coronavirus (COVID-19).
Universal Studios Singapore – Situation Update (24 Mar)
With the new advisory from the Ministry of Health, entertainment venues and attractions in Singapore will need to close or adopt more stringent safe distancing measures with effect from 11:59PM, 26 Mar 2020. The measures include the suspension of shows within attractions (indoor and outdoor), as well as other adjustments to reduce operating capacity. Universal Studios Singapore is still open.
Suspended attractions and experiences at Universal Studios Singapore
On 25 Mar, Resorts World Sentosa has announced that the certain experiences at Universal Studios Singapore are suspended until further notice. Get all the details in my latest park update.
---
Major theme parks in Asia affected by the 2019 novel coronavirus
SITUATION UPDATE (29 FEB, 11 MAR)
As of 29 Feb, theme park operators in Japan have announced the temporary closure of Tokyo Disneyland, Tokyo DisneySea and Universal Studios Japan, from 29 Feb to 15 Mar 2020. On 11 Mar, the operators have revised their plans to reopen their parks in "early April" (Tokyo Disney Resort) and on 29 Mar 2020 (Universal Studios Japan). The evolving situation of the outbreak may further affect their plans. Numerous other smaller attractions in Japan have also temporarily closed.
For now, Universal Studios Singapore is the only major theme park in Asia that is still open for business. However, park hours are reduced (10AM – 5PM) until further notice, and it appears that any plans for the 10th Anniversary Celebration are on hold and/ or scaled down for now.
The original portion of the article is retained below.
---
Theme parks are entertainment facilities that see large numbers of visitors daily, with different degrees of transient and close contact. Inevitably, park operators will need to take preventive measures to ensure safety of park guests and staff, and mitigate the already falling attendance due to large volumes of cancelled travel plans and the aversion to visit crowded places.
Two major theme parks in Asia, Shanghai Disneyland and Hong Kong Disneyland, have closed indefinitely. The major parks in Japan (Tokyo Disneyland, Tokyo DisneySea and Universal Studios Japan) have started providing hand sanitisers within the park. Tokyo Disney Resort has also adjusted their meet and greet experiences to reduce close contact between face characters and park guests.
Universal Studio Singapore, along with the rest of Resorts World Sentosa, remains open during this period. On the RWS website, the resort said that it has "increased the frequency of disinfection across the resort, especially in areas with high traffic," and that "hand sanitisers, masks and thermometers are also available at various touchpoints". Other adjustments that could be observed by a regular park guest are documented in this entry.
Reduced park hours and suspension of parade and fireworks show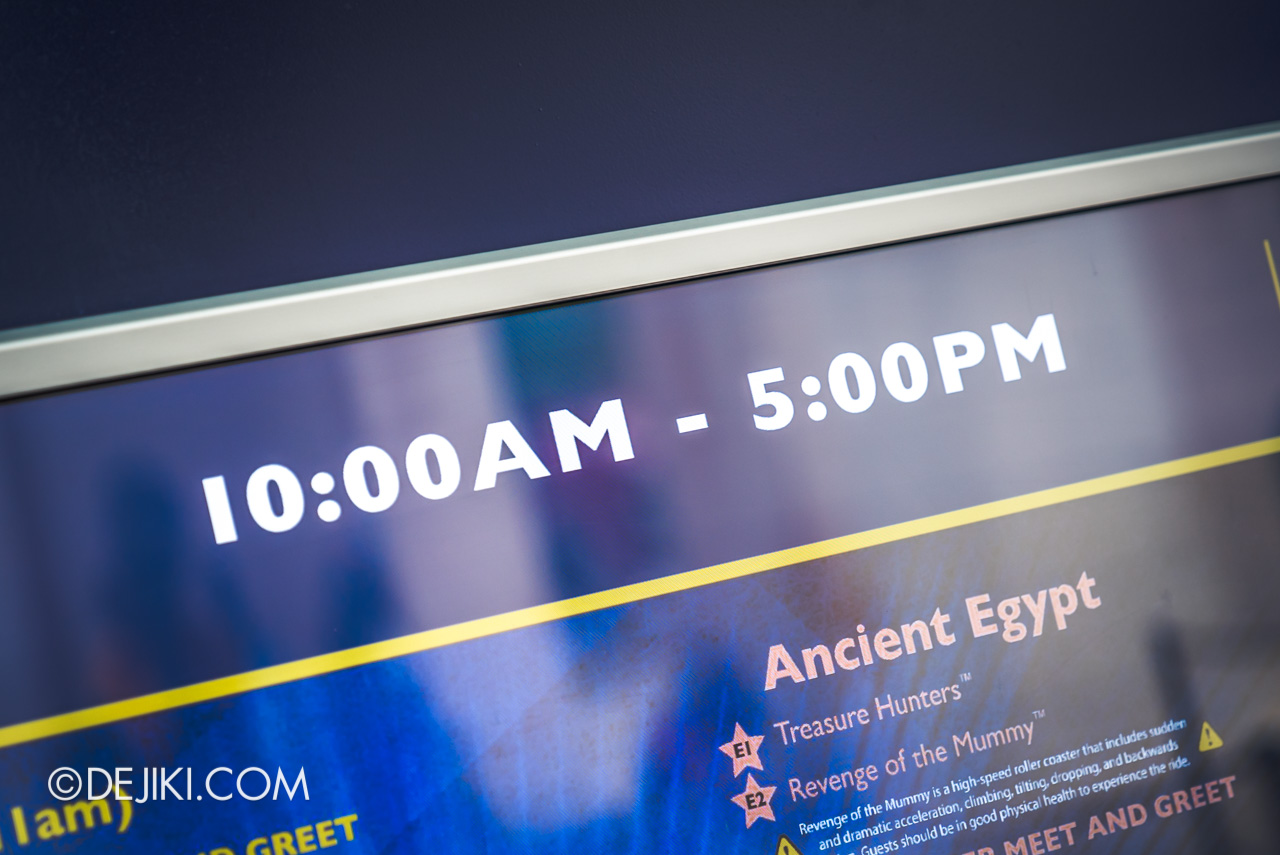 PARK HOURS UPDATE (17 FEB)
As of 17 Feb 2020, the park has changed its schedule, with reduced opening hours from now till 31 March 2020. Special shows, such as Hollywood Dreams Light-Up Parade and Lake Hollywood Spectacular, are suspended till April 2020. With the evolving COVID-19 situation, the schedule may change again in April.
With effect from 8 Feb 2020, the park will be closing at 5:00PM from now till 12 March 2020. This means that the park will only be open for 7 hours daily, until the March school holidays.
Hollywood Dreams Light-Up Parade was originally scheduled as a regular show on Saturday nights and select holidays, but is now suspended due to the reduced park hours. It is scheduled to return on 14 March 2020.
However, given the evolving novel coronavirus situation, the schedule may change again.
8 Feb 2020 – 12 Mar 2020:
10:00AM – 5:00PM
13 Mar 2020:
10:00AM – 7:00PM
14 Mar 2020:
10:00AM – 9:00PM
+ Hollywood Dreams Light-Up Parade (8PM)
+ Lake Hollywood Spectacular (9PM)
15 – 20 Mar 2020:
10:00AM – 8:00PM

Temperature screening at park entrance
The park has reorganised its entrance, with only the middle blue gates open so that temperature screening can be conducted on all guests entering the park's turnstile queues.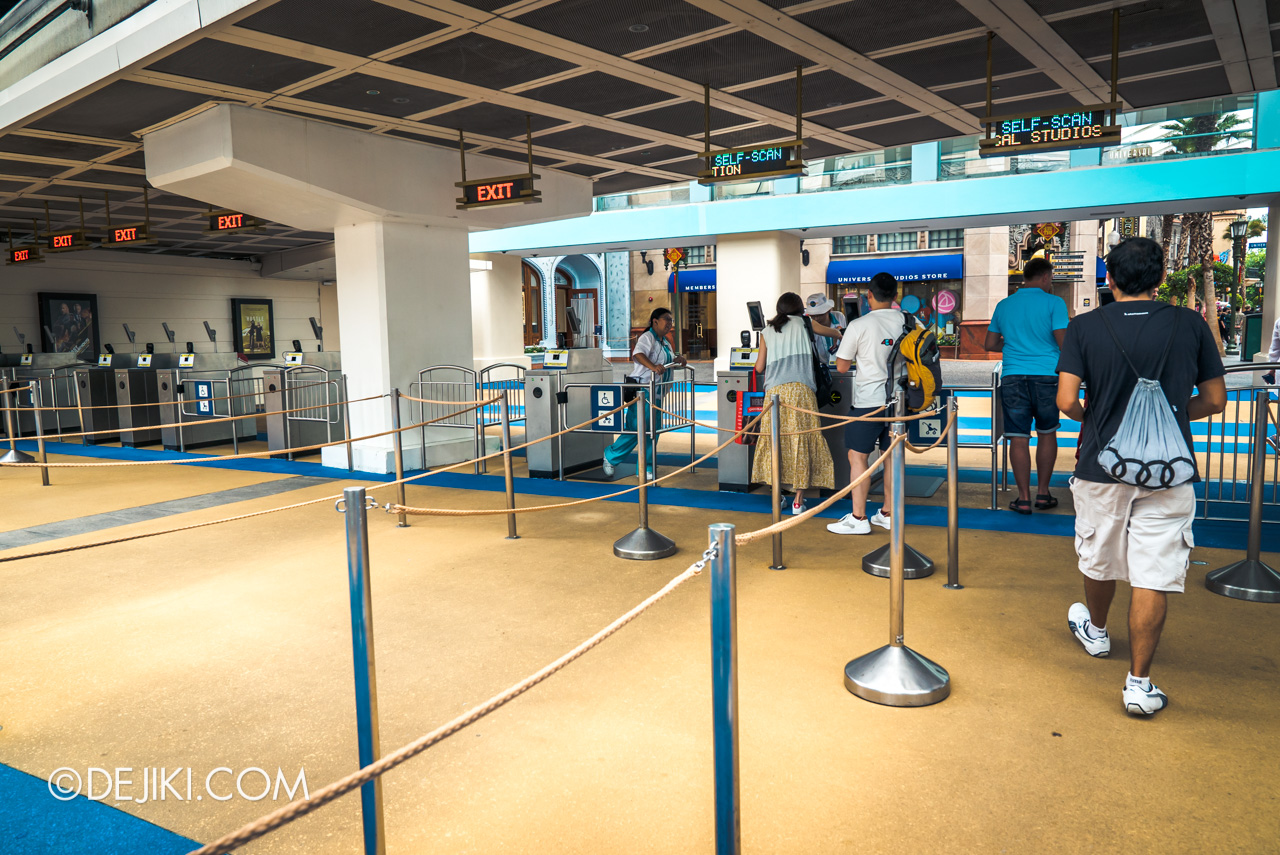 It's also a common sight to see park guests wearing masks. Crew members are also allowed to wear masks in the park, despite rumours circulating saying otherwise. However it may be a confusing sight for park guests as not all crew members are masked: Are the crew wearing masks because they are unwell, or for general hygiene, or because they may be at risk due to high interaction with tourists?
Lighter crowds during this period
Typically, the Chinese New Year holiday season is one of the park's busiest period. While travel restrictions are in effect, it's also not a total 'ghost town' situation. The drop in attendance is noticeable, and may be even more drastic on weekdays.
During my walkabout, zones that did not have any sort of "happening", such as character meet and greet or street show, were rather empty.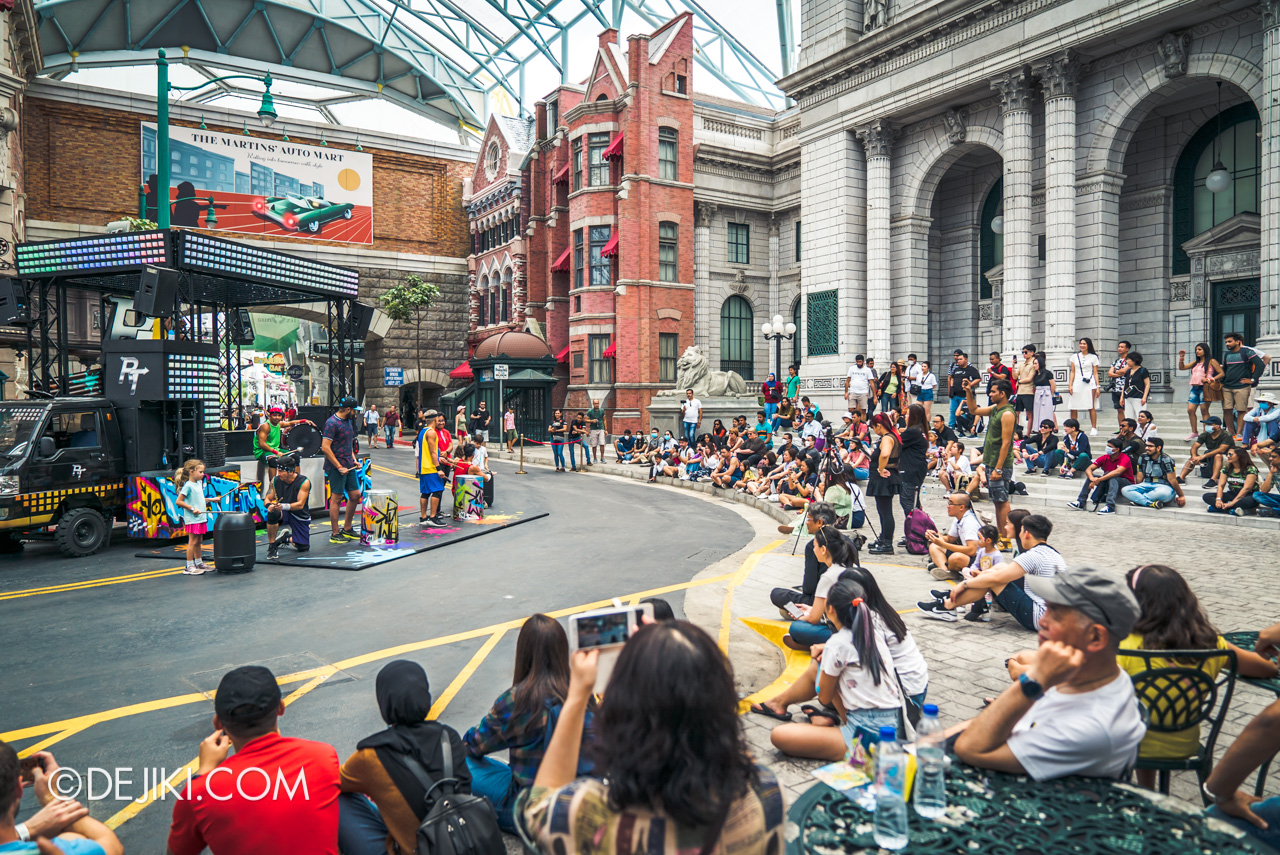 For street shows, Rhythm Truck still has the guest engagement segments, while The Turntables no longer invite guests on stage to spin the record.
I wouldn't be surprised if park hours get reduced further (e.g. later openings) or if more areas of the park or attractions adopt staggered hours, which has been done for years at the Jurassic Park zone and Lights, Camera, Action! attraction. Attractions and shows may also be adjusted further if the park has to adopt more measures in response to the coronavirus.
Shorter wait times for attractions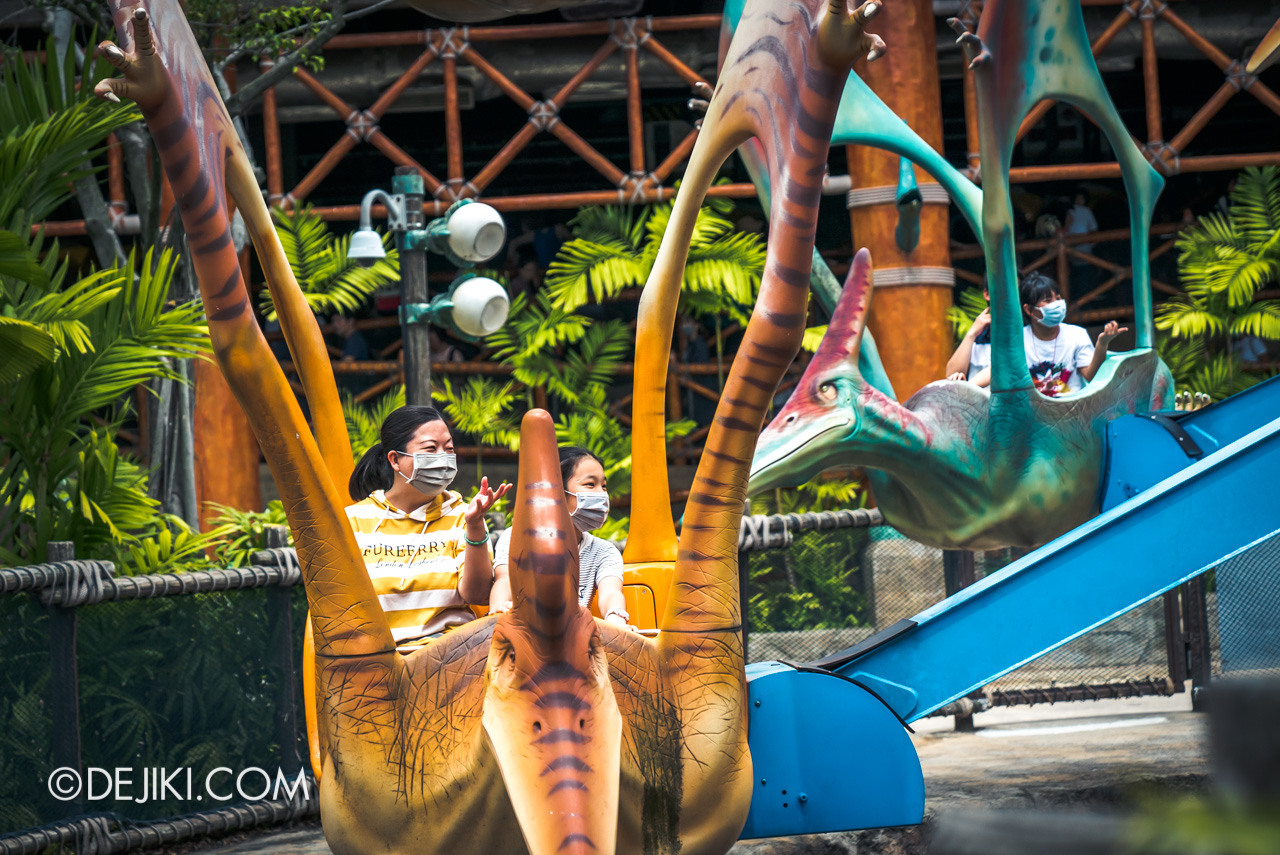 Observed on a Saturday afternoon: wait times for attractions are below an hour, with some rides, such as Transformers: The Ride, Sesame Street Spaghetti Space Chase, and Madagascar: A Crate Adventure, having 5 minutes or no wait time.
Guests were spotted wearing facial masks in the attractions, and it appears to be allowed on all slow moving rides.
Jurassic Park Rapids Adventure had the longest wait time of 55 minutes.
Wait time for Transformers: The Ride was 5 minutes for most of the time, with its queue empty.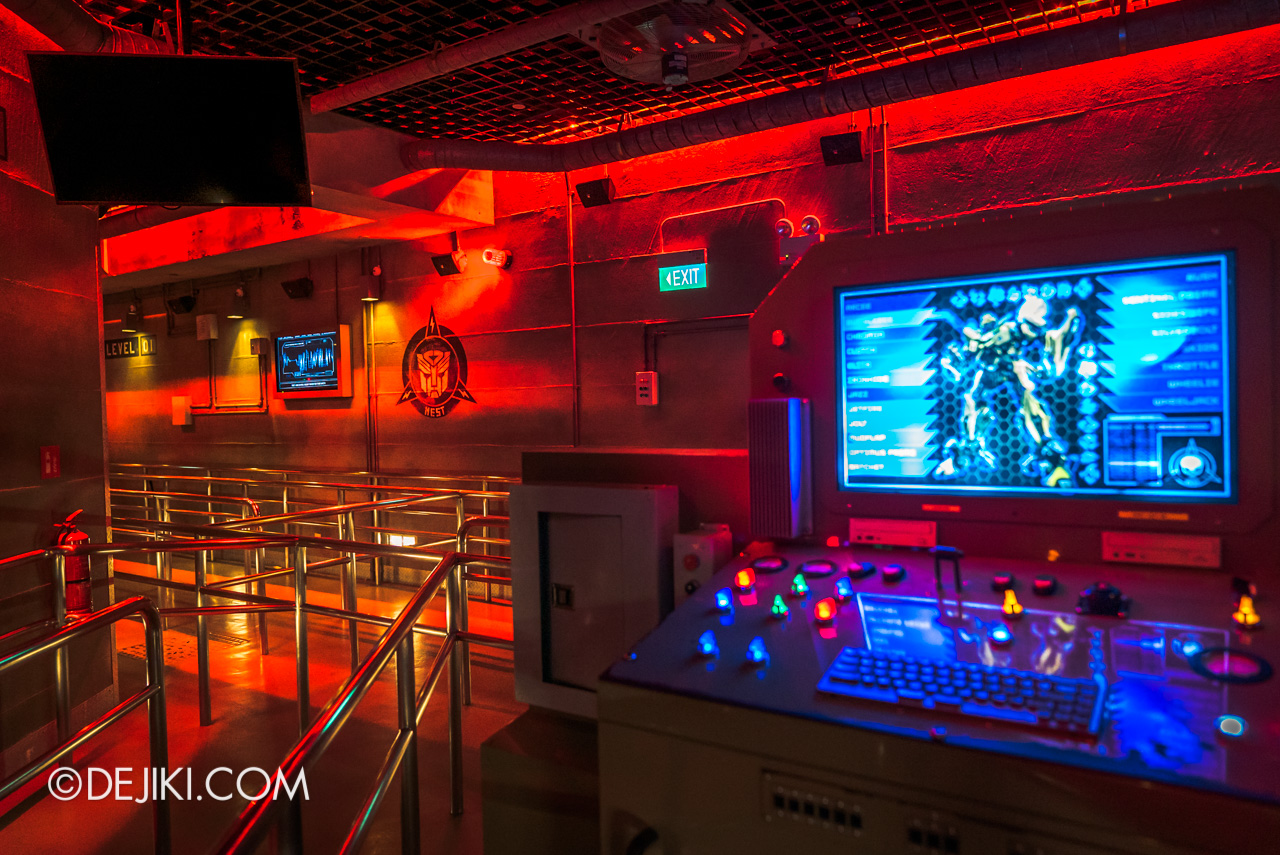 I noticed that despite the resort's best efforts to disinfect its attractions, some aspects may be challenging to operationalise. Just think of the ride vehicles: guests are in close contact with surfaces such as the ride seats, and will likely touch lapbars and restraints. It is not feasible to disinfect the entire ride vehicle after every ride cycle.
There are also "usable items" like 3D glasses for Transformers: The Ride (and Shrek 4D), while they are cleaned after every use, the glasses are left exposed and 'unwatched' in the open trays within the queue. Anyone could've coughed or sneezed on them.
My advice is to avoid touching anything in the queues, and wash your hands after exiting the attractions. Use the hand sanitisers provided around the park.
Meet and Greet at the park
Meet and Greet session with the park's face and mascot characters are still available, with less sets due to the reduced park hours.
You can still interact with the park characters and take photos with them. I've seen guests hugging Sesame Street characters.
Ancient Egypt zone refurbishment update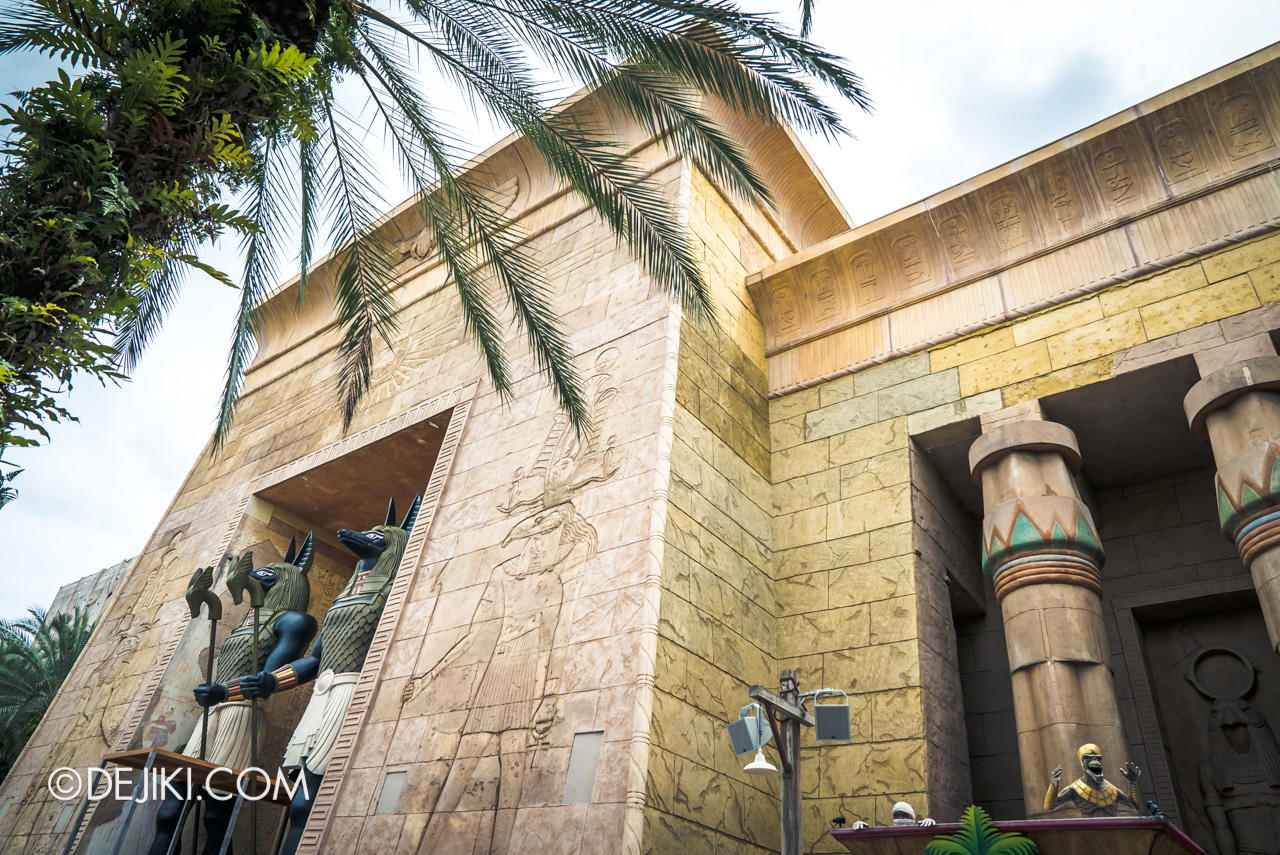 Refurbishment works at the Revenge of the Mummy building (aka the Temple) are still ongoing.
The scaffolds were shifted around, now covering the two "wings" of the Temple.
The covers on the east-facing side of the Temple are finally removed, revealing that some of the rectangular panels were rebuilt, and generally the upper portion of the facade looks a bit cleaner.
In other news, Ancient Egypt now feels a little more spacious because more than half of the barricades in the area were removed. The unsightly fence was installed last year, and now only the sections that surround the Revenge of the Mummy temple facade remain.
The strange looking shelter at Oasis Spice Cafe was also removed.
There used to be benches here to prevent guests from crowding at the base of the walls.
Universal Studios Singapore 10th Anniversary event?
The park's 10th anniversary is about five weeks away, and with the coronavirus situation, any form of celebration is likely to be a scaled down affair. There are no new attractions to launch, and it's probably not a good time to remind people about the park's expansion plans, which could be affected by uncertainties in the months ahead.
I'm betting on smaller projects such as street/ stage show updates, new meet and greet characters (or just costumes), and quite certainly some shopping promotion which has become a staple in this theme park. And perhaps some celebratory decor around Hollywood zone to brighten everyone's spirits.
The resort has announced that its Crane Dance and the Maritime Experiential Museum are on their sunset days, and will be closed from 2nd March 2020. Madagascar: A Crate Adventure is expected to close later this year to prepare for the construction of Minion Park and Super Nintendo World.
---
Get your tickets at Universal Studios Singapore park entrance or via Klook online.
(Purchases made via Klook will help support Dejiki.com at no extra cost to you)
Subscribe to Dejiki.com or Like my Facebook page for notifications of updates.
---