Learn more about the suspended attractions and experiences at Universal Studios Singapore, as well as additional precautionary measures in response to the COVID-19 pandemic.
BREAKING NEWS (MAY 2020): EXTENDED CLOSURE till further notice
According to the announcement from the Singapore Government on 19 May 2020, Singapore will be going through a 3-phase Safe Reopening approach to exit from the 'Circuit Breaker'. Universal Studios Singapore, along with other attractions, will remain closed till further notice.
When will USS reopen?
The earliest date Universal Studios Singapore may reopen is after the first Phase of Safe Reopening, which is about 4-6 weeks from 2 June 2020, or sometime in July 2020. As of 26 May 2020, the park has stopped tickets sales for the month of June.
However, given the evolving situation and cautious easing of safe distancing measures, theme parks and attractions in Singapore may only be allowed to reopen in the third phase of Safe Reopening, which is only expected to start 1-3 months after the second phase. This puts a reopening sometime in August to October.
Will there be Halloween Horror Nights 10 (HHN10) this year?
At this moment, RWS has not officially announced if Universal Studios Singapore will proceed the 10th edition of Halloween Horror Nights (HHN10) this year. Given the measures that will need to be complied during and after the safe reopening phases, it is unlikely that the event can be held in the same format as past years.
My personal opinion: Given the bleak economic climate, global travel restrictions and capacity limitations, it might not be viable to hold major events like HHN. A much lowered attendance would be expected across the industry and operators may not recover from the investment of building elaborate events.
---
Previous Update: Circuit Breaker closure period starting 7 April
From 7 April 2020, all attractions, theme parks, museums and casinos in Singapore will be closed. The earliest date Universal Studios Singapore may open is 2 June 2020.
Attractions may adjust their operations to close earlier, or reduce capacity further, before 7 April. Tickets to Universal Studios Singapore from 6 April (Monday) to 1 June (Monday) are no longer available for purchase online, suggesting that the park would shift their last day of operations to 5 April (Sunday).
The original article below documented the changes from late March 2020.
---
The escalating COVID-19 situation affecting the world has led to prolonged closures of major theme parks around the globe. Universal Studios Singapore remains open daily from 10AM – 5PM while other Universal Studios theme parks in Hollywood, Florida and Japan have announced that they are extending their closures.
While the park remains open, the Singapore Government has announced more stringent measures to slow down the spread of the coronavirus. It includes suspension of all indoor and outdoor shows, reducing capacity of attractions, and implementing safe distancing (also known as social distancing) measures.
Suspended attractions and experiences at Universal Studios Singapore
During my visit to the park over the weekend, I have confirmed that these attractions and experiences will not be available until further notice:
Attractions
Elmo's TV Time (Pantages Hollywood Theater)
Donkey LIVE
WaterWorld
Lights, Camera, Action! Hosted by Steven Spielberg
Shrek 4-D Adventure
Amber Rock Climb
Street Shows
Turntables
Rhythm Truck
Madagascar Boogie!
The Dance for the Magic Beans
Meet and Greet
Hollywood Walk of Fame (Hollywood)
Minions from Despicable Me (Hollywood)
Sesame Street Meet and Greet (New York)
AUTOBOTs, Roll Out! (Sci-Fi City)
Meet the Egyptian Royalty (Ancient Egypt)
Hatched! Featuring Dr. Rodney (Jurassic Park)
Raptor Encounter (Jurassic Park)
Happily Ever After (Far Far Away)
Other Experiences
Universal Studios Singapore VIP Experience
Sesame Street Character Breakfast
Hollywood China Arcade
Due to the suspension of all indoor and outdoor shows, the various boards displaying show times are empty or taken away. The park show schedule leaflets were also removed.
---
Remaining attractions open at Universal Studios Singapore
These 14 attractions are available at the park for now, with Jurassic Park Rapids Adventure returning to the lineup after 9 Apr 2020.
Sesame Street Spaghetti Space Chase
Transformers: The Ride 3D
Accelerator
Battlestar Galactica: CYLON
Battlestar Galactica: HUMAN
Revenge of The Mummy
Treasure Hunters
Jurassic Park Rapids Adventure (reopens after 9 Apr 2020)
Canopy Flyer
Dino-Soarin'
Puss in Boot's Giant Journey
Magic Potion Spin
Enchanted Airways
King Julien's Beach Party-Go-Round
Madagascar: A Crate Adventure
---
Mandatory Health and Travel Declaration at USS Park Entrance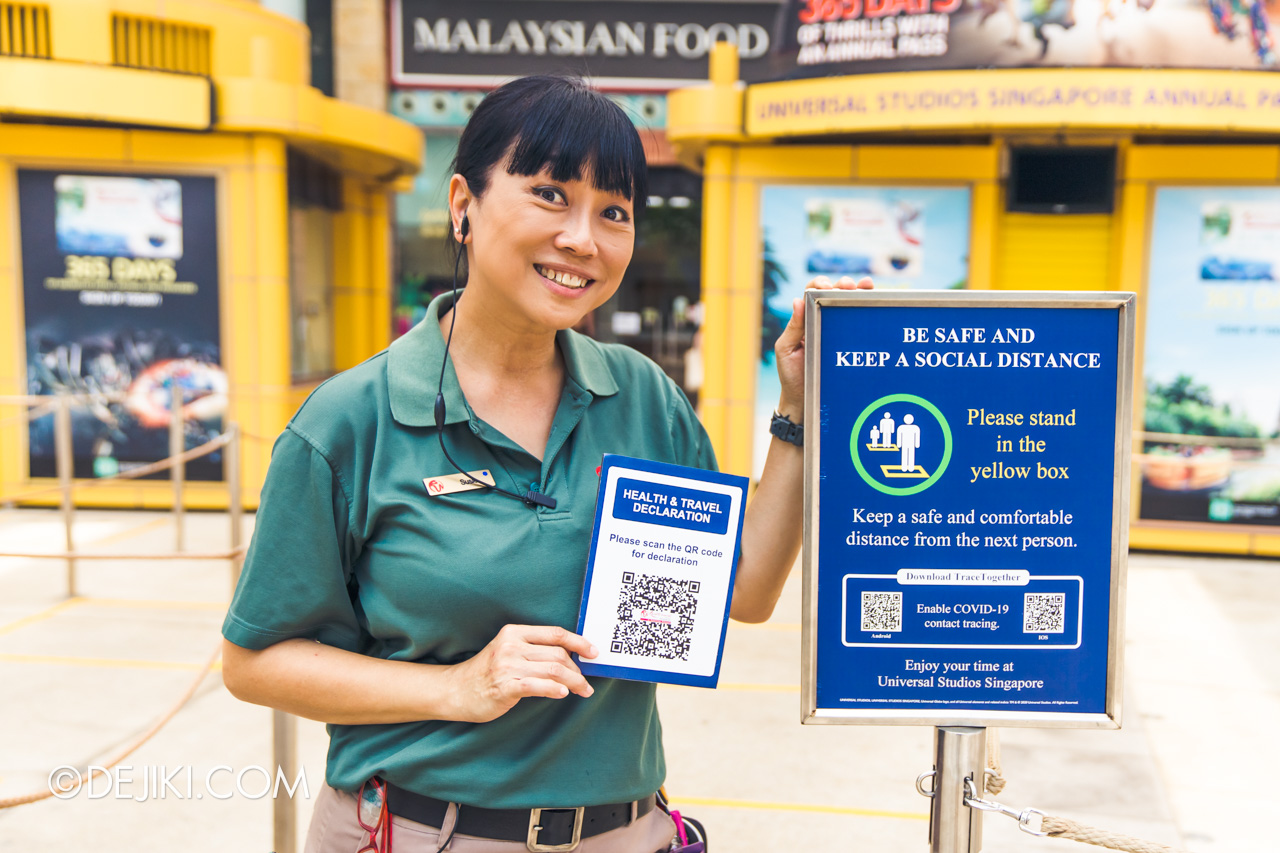 From now on, all guests visiting Universal Studios Singapore will need to fill up a Health and Travel Declaration form before they are allowed into the next queue area leading to the turnstiles. The park is using a digital visitor registration system developed by the Singapore's Government Technology Agency (GovTech). The form is also integrated with SingPass Mobile app – it will use the service to retrieve your name in NRIC, and contact number.
Guests without SingPass Mobile app can fill up the details in the digital form manually. And those without smartphones will be provided with hardcopy forms.
Note: As the QR code may change, please do not use the codes shown in the photos.
Simply scan the provided QR code on your smartphone and you will be brought to digital form. If you have the SingPass Mobile app enabled on your smartphone, the whole process takes mere seconds.
After successful submission, you will get a thank you screen which has your name and the timestamp. As the declaration is valid for the day, the park crew has advised to take a screenshot of this 'Thank you' screen with the details, so that you don't have to fill the form again when entering, or re-entering the park. You can just show the screenshot. This is certainly helpful for those bringing the young and the old to the Studios, or if you are visiting other places like SEA Aquarium and Dolphin Island.
To speed up the process and reduce bottlenecks at the park entrance checkpoint, numerous posters and roaming crew members will help park guests with the process around the Universal Globe, ticketing counters and park entrance.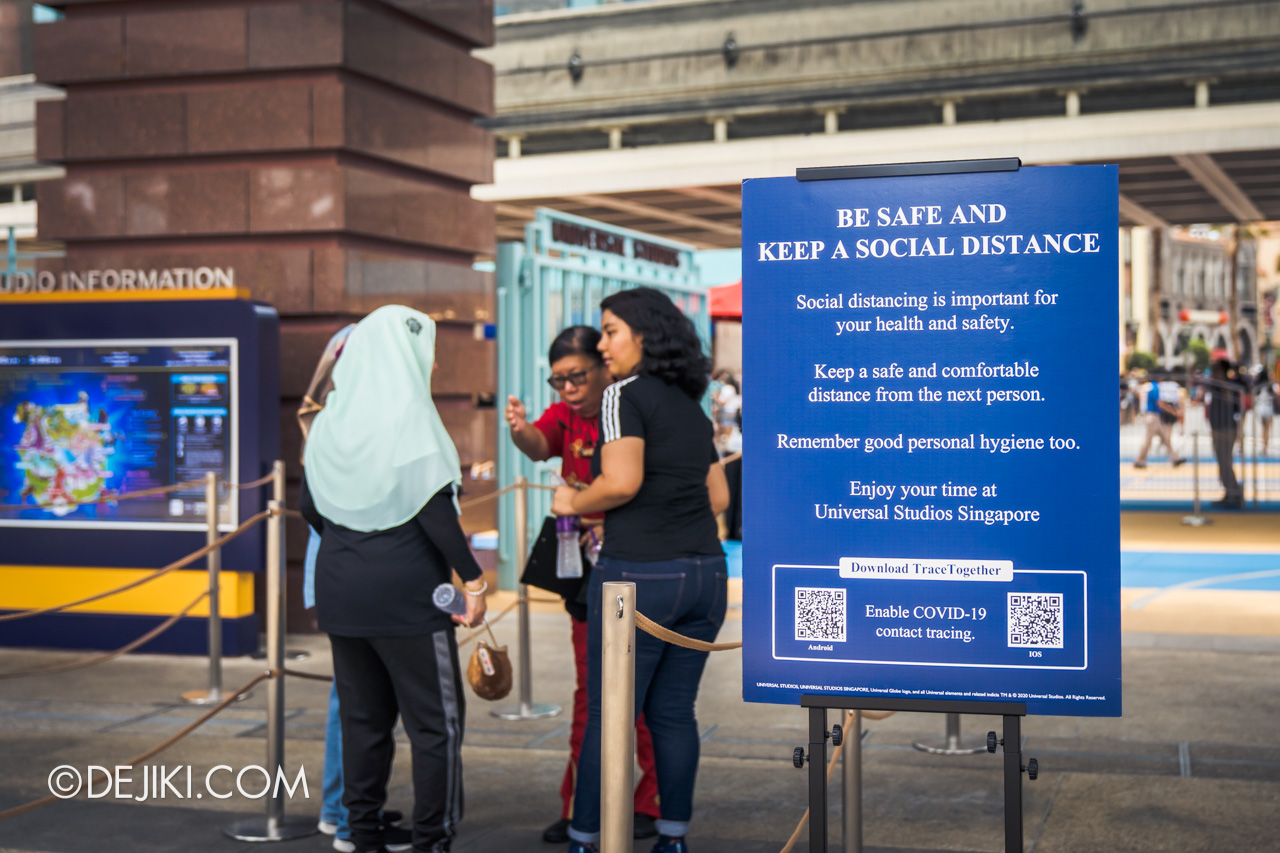 You can also download the TraceTogether smartphone app to facilitate COVID-19 contact tracing during your visit to the park. iPhone users will need to keep the app running in the foreground for the app to work. There is a power saver mode for that.
Other implemented measures are still in effect, such as temperature screening at the park entrance, increased cleaning frequency, and provision of hand sanitisers around the park.
---
Photos from around the park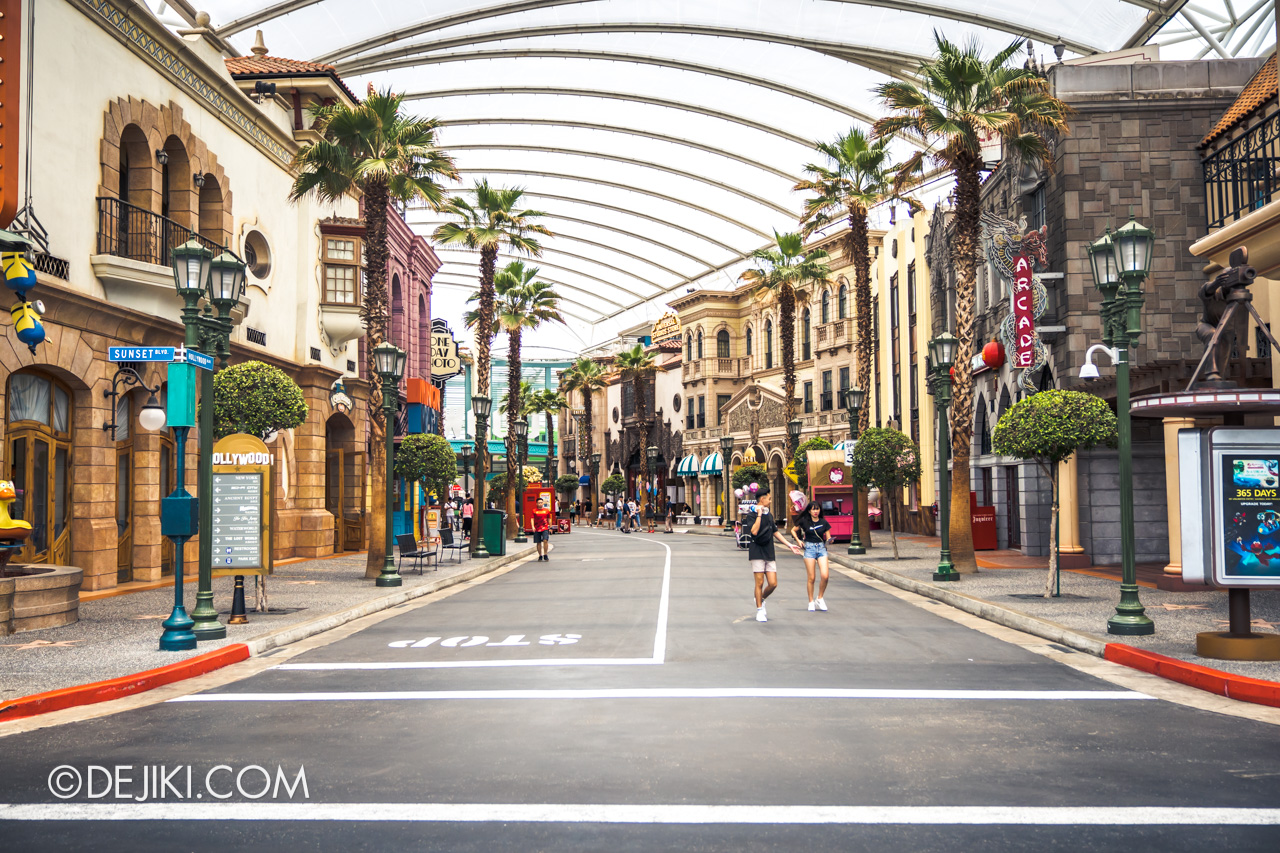 The park was quiet on a weekend, and might be empty on weekdays. Given the current situation with all the travel restrictions, it's mostly locals visiting the park nowadays.
Social distancing measures were all around the park. You can find yellow boxes and lines all over the streets and in the queues for attractions.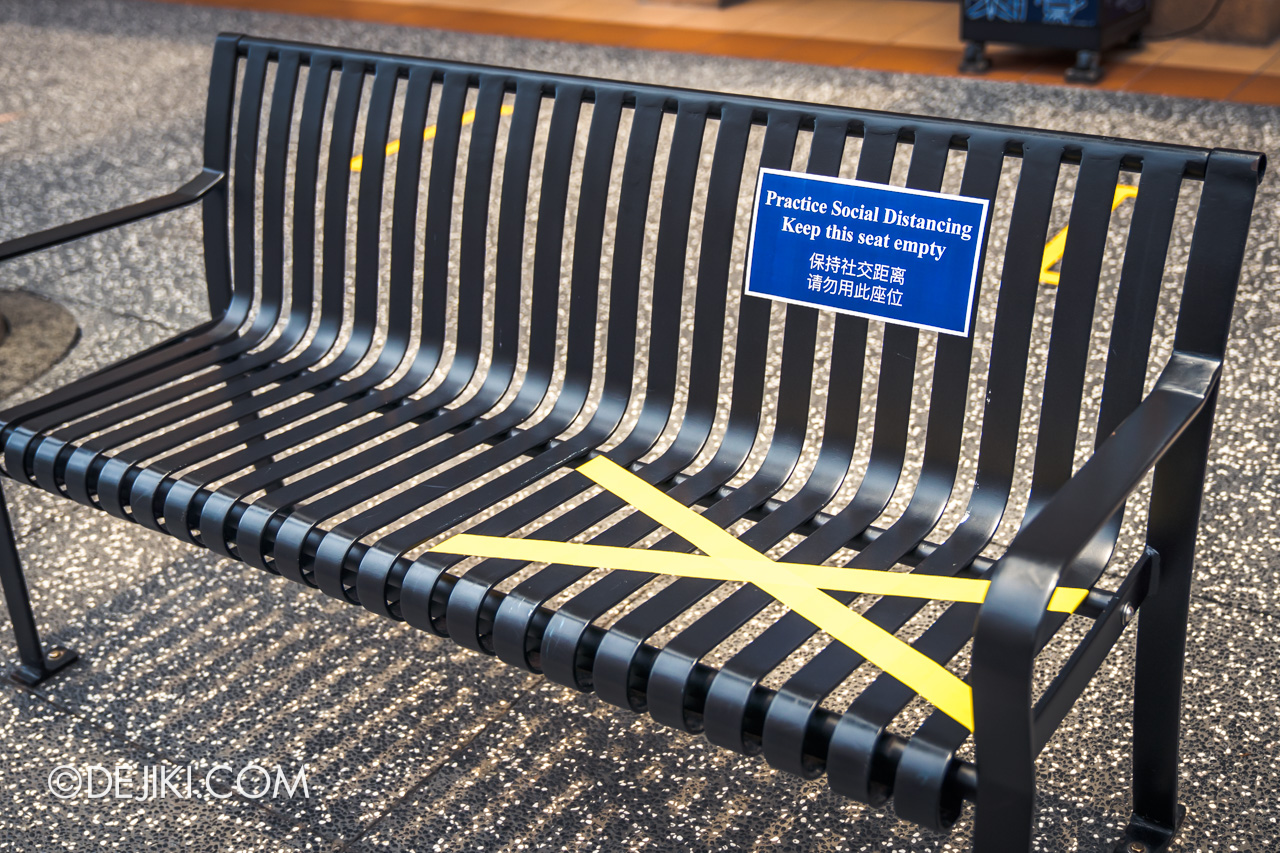 Benches encouraging guests to practise social distancing. Since this is within Hollywood I guess that spelling is acceptable (?)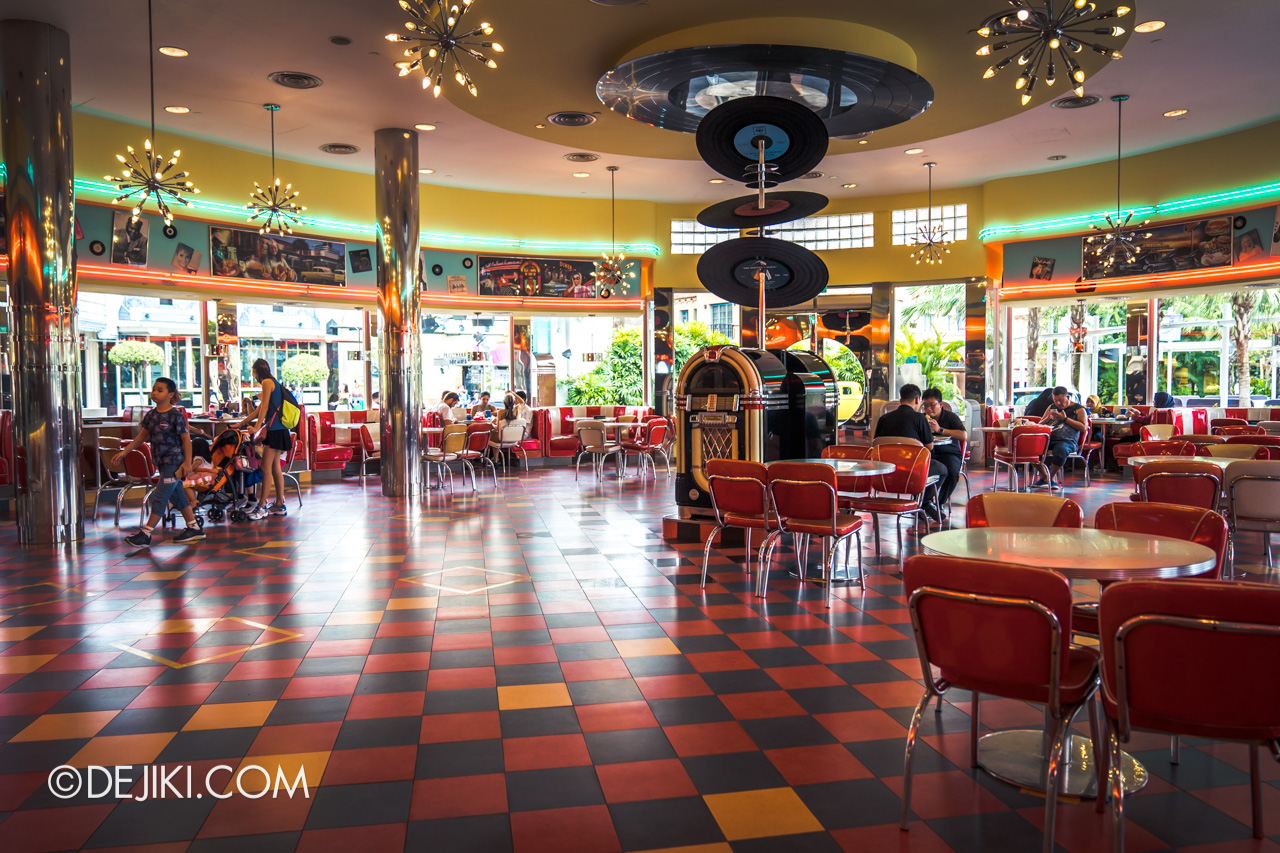 USS has reduced capacity at their restaurants, with furniture removed and queues spaced out so that there is a safe distance between guests lining up.
Social distancing is also practised at ride queues, with staff sometimes deployed for enforcement.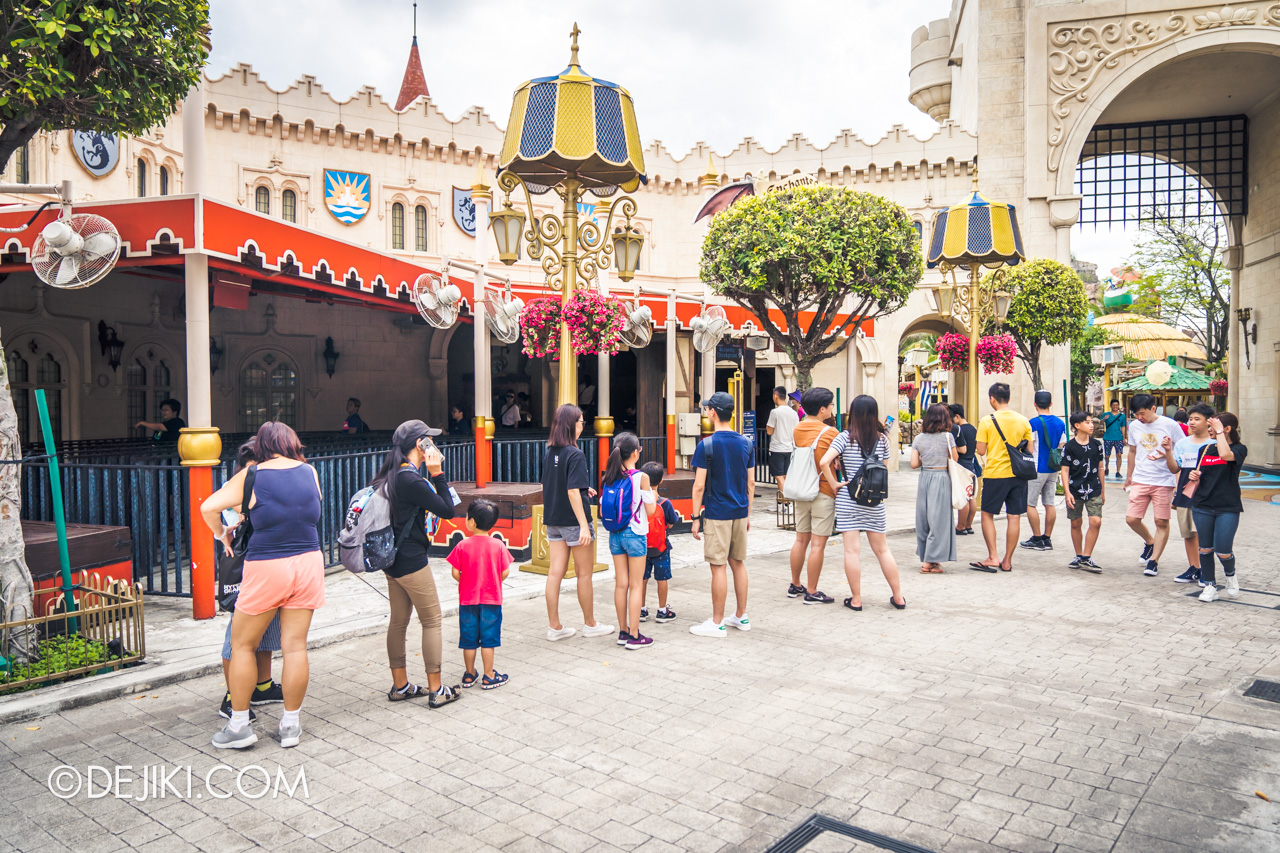 The queues for rides may also appear longer, that's because of the additional 1-metre gap between guests that has become a requirement.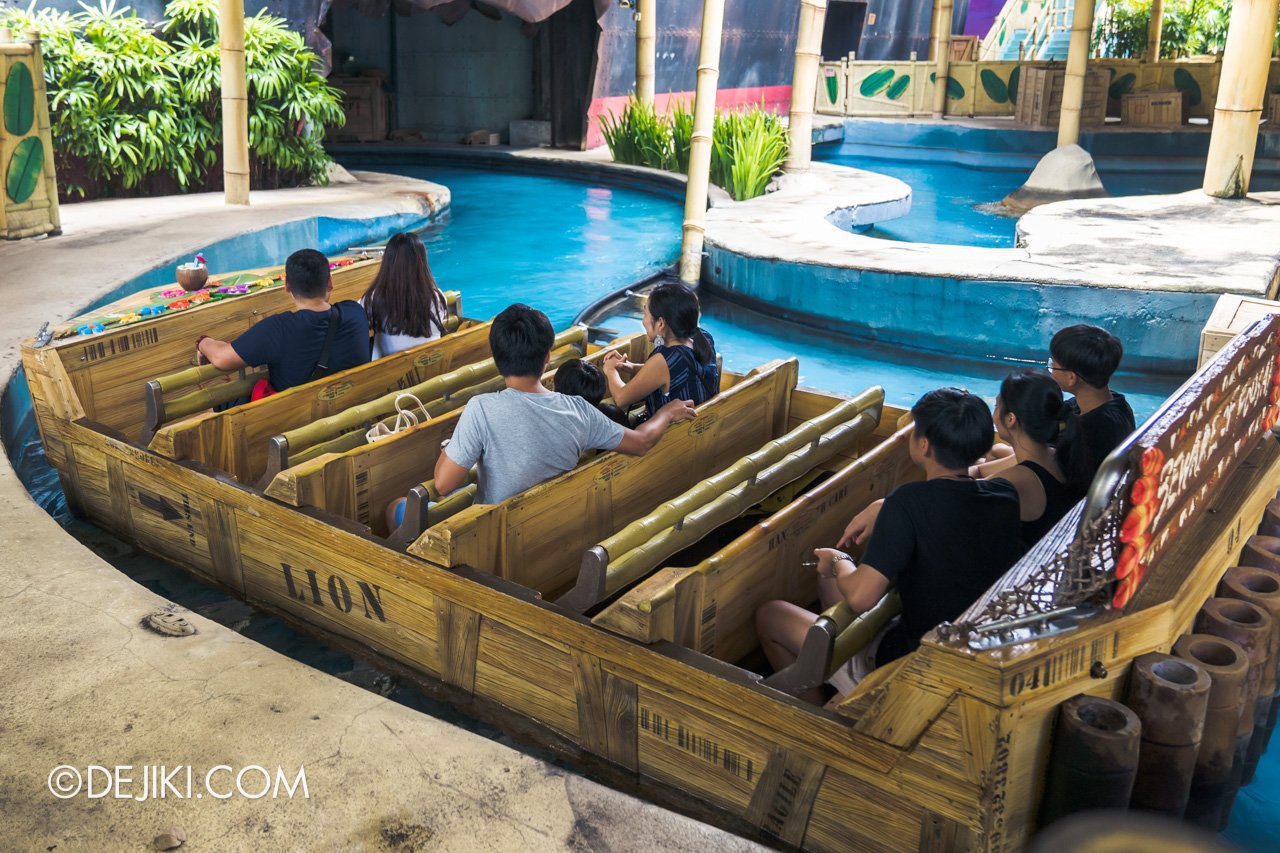 Similarly, capacity at most rides is also reduced – as you can see here: only alternate rows are used at Madagascar: A Crate Adventure.
At some attractions, the ride vehicle seats are also disinfected after every cycle, and this will lead to some additional wait as the rides will not be operating at their usual capacity.
Jurassic Park Rapids Adventure is closed for scheduled maintenance from 23 Mar till 9 April 2020.
No word on whether this is just a routine maintenance of the ride on the overall, or if we can expect to see some enhancements. It's very unlikely to be a major upgrade like the Jurassic World attraction at Universal Studios Hollywood.
Lights, Camera, Action! Hosted by Steven Spielberg was supposed to be closed for scheduled maintenance between 27 Feb – 18 Mar 2020, and 8 – 21 May 2020. The new regulation disallows any form of indoor shows within the theme park, thus this show will not be available until the situation improves.
If you're one of those who bought a "1 Day Ticket with Free 6-months Season Pass", the queue for membership processing is still rather long.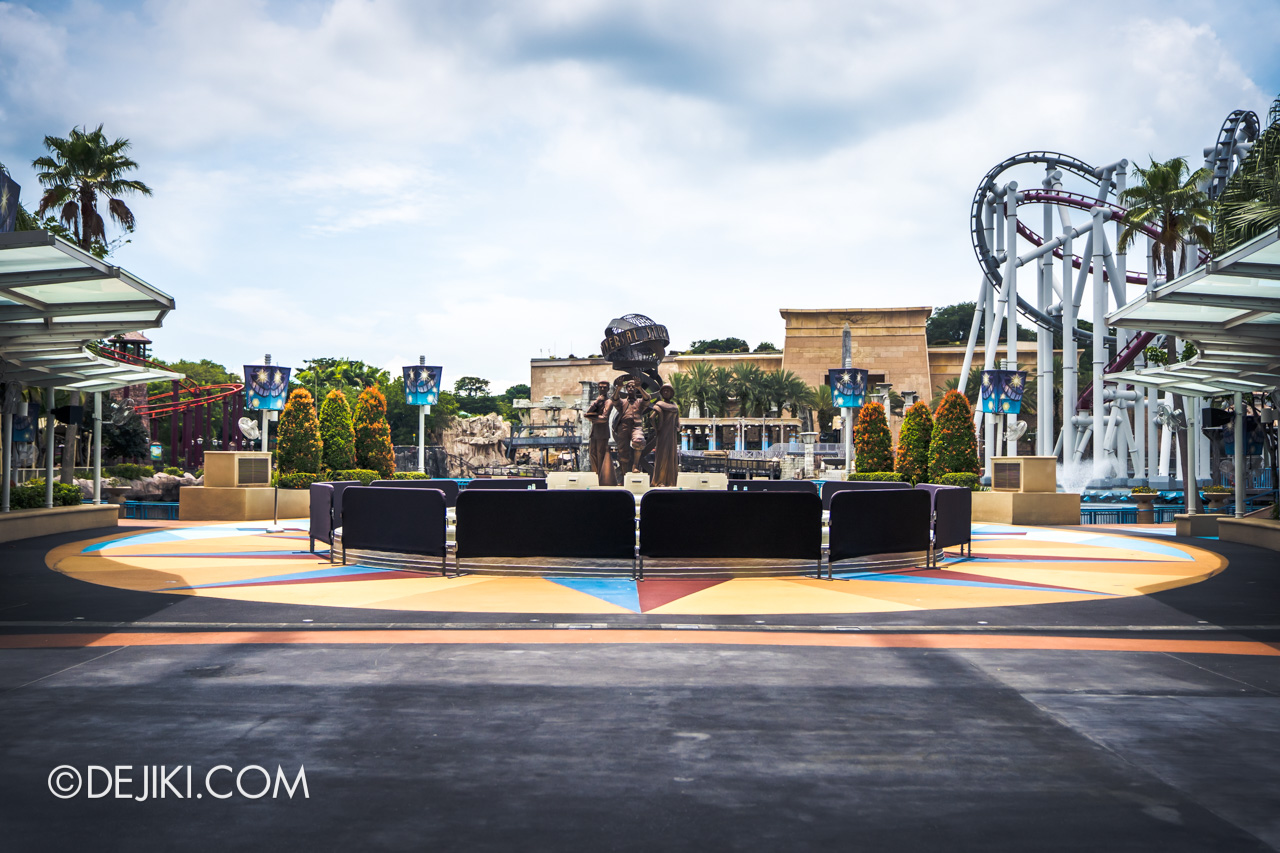 Two of the park's large fountains are also closed and cordoned off. This one at Hollywood Lagoon, and the other at Jurassic Park. The mist at the park's globe is also switched off.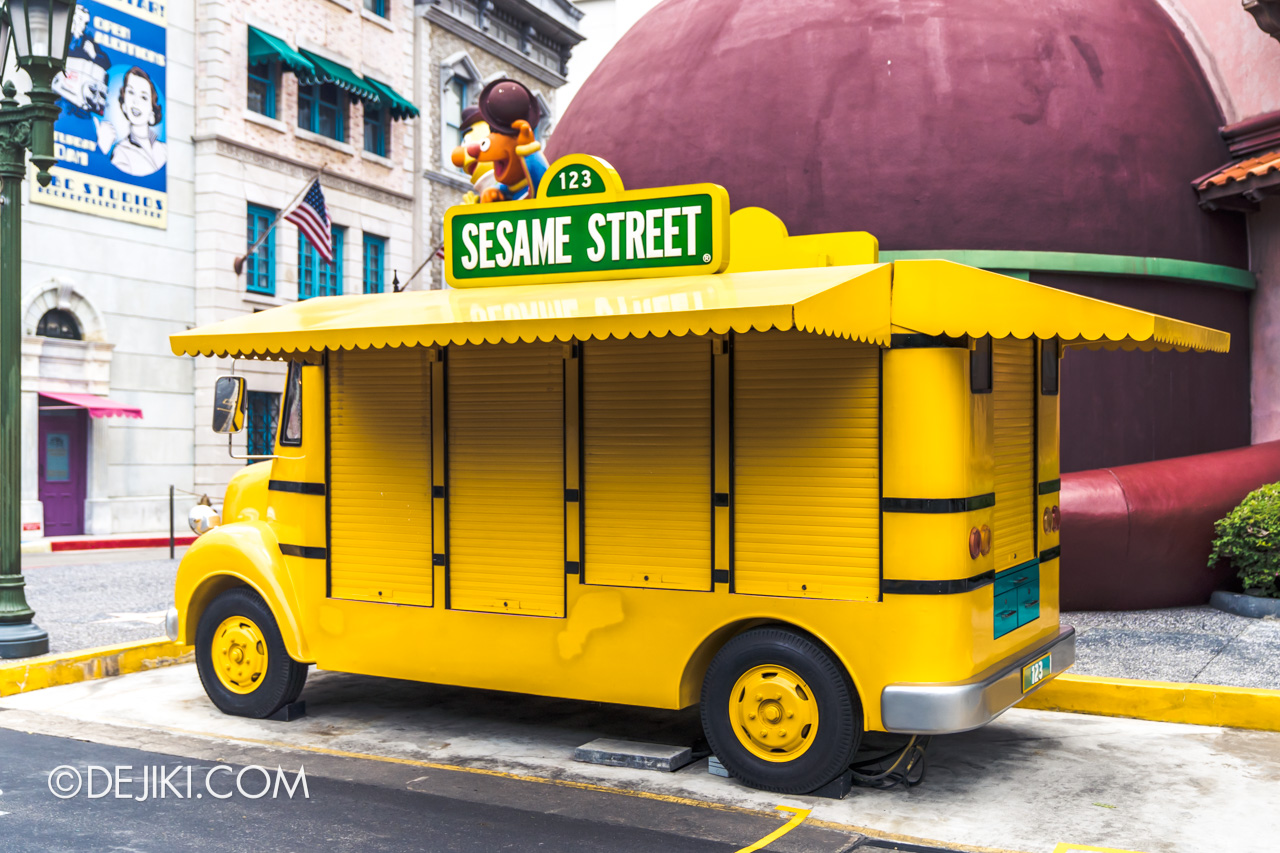 A few of the park's F&B and retail carts are shuttered.
Hollywood China Arcade is also closed – aligning with the islandwide closures of similar game arcades such as Timezone, Virtualand and Cow Play Cow Moo.
It's quite sad to see so many things closed at the park, and the streets devoid of 'live entertainment happenings' like character appearances. The pandemic has also leeched the joy out of the park – I think the photo at the very top (guests at Madagascar: A Crate Adventure) is quite reflective of the gloomy sentiments.
While it is important for the park to remain open for many reasons (being an employer, for one), I wonder how long it could continue in this state. Some readers have questioned why Universal Studios Singapore has not closed, as the travel restrictions would mean the park would be operating at a loss in an already difficult time. Others argued against visiting USS at all given the current circumstances, and the Government has encouraged people to stay home; though there was a call to support local attractions before the situation worsened.
The longer this pandemic drags on, the less likely would plans for any new things and enhancements be realised at the park. We can't expect everything to carry on as they usually did. Even the postponement of Halloween Horror Nights 10 is a possibility at this point.
---
Subscribe to Dejiki.com or Like my Facebook page for notifications of updates.
---