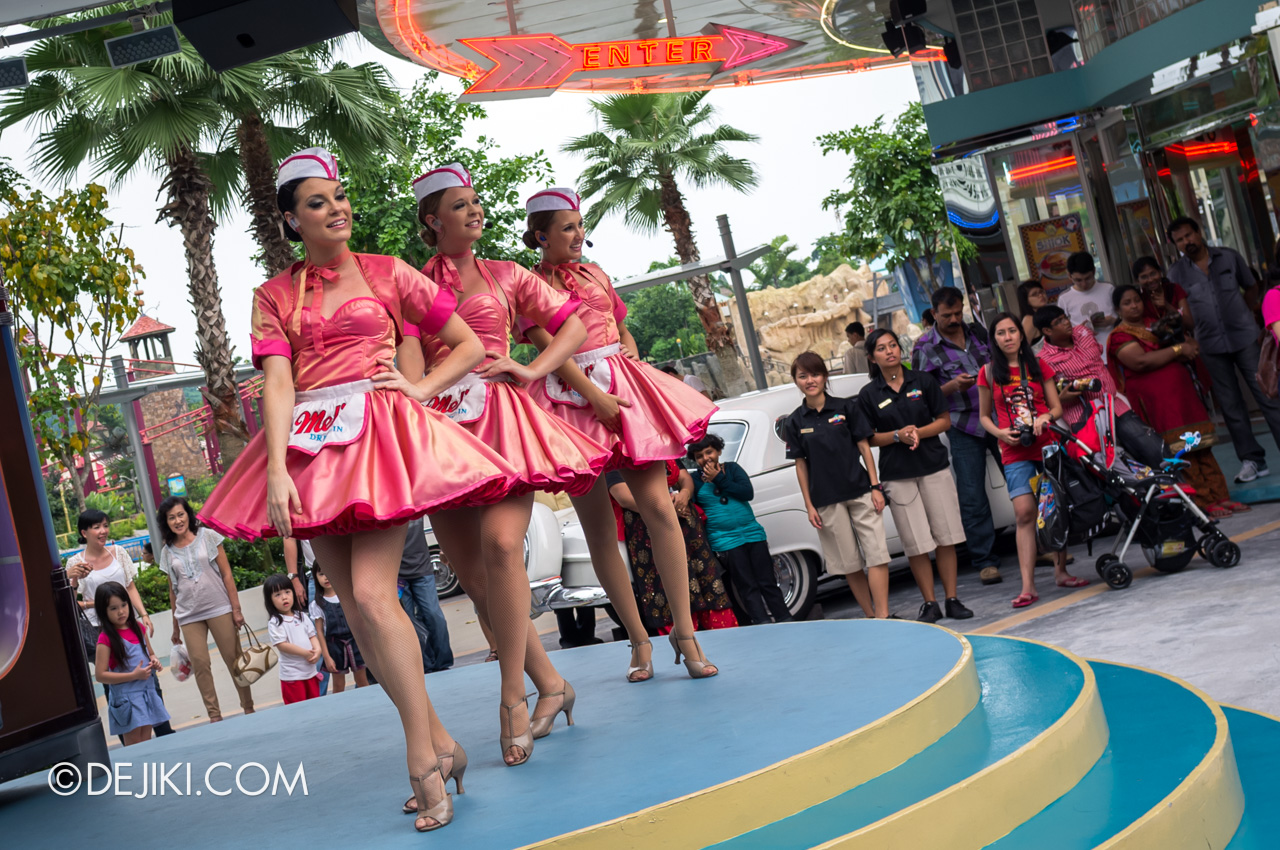 Relive moments and sights from the past as we look back at Universal Studios Singapore's early years, in celebration of the park's 10th anniversary!
Universal Studios Singapore – 10th Anniversary
As of today, Universal Studios Singapore is the only Universal Studios theme park that is still open. In light of the current Covid-19 situation, the park's 10th anniversary programming is likely scaled down.
I've been documenting happenings at the park since March 2010, long before USS grew into the eminent theme park of the region. This article will feature many unpublished photos, fun facts on the park's development, and stories on the difficulties USS had to overcome. It is also, in some ways, reflective of my personal journey from being a park fan to a 'themed entertainment' journalist (or historian of sorts).
---
There was that $1098 Annual Pass
With the current "Buy a day for $81, get a Season Pass for free" promotion (till 22 March 2020, or while stocks last), it might be hard for many to believe that Universal Studios Singapore's Annual Passes used to cost $1098 (Superstar Pass) and $318 (Fun Pass).
The 'Superstar Pass' offered a year of unlimited access to the park in the day, and included "superstar" perks such as unlimited Universal Express access, a free ticket to Halloween Horror Nights, and big discount privileges for spending in the resort. The price was slashed to $618 in July 2011. The 'Fun Pass' had black-out dates even though it was going for $318; and had a modest price cut to $298 in 2011. As part of that revamp, the park added a mid-tier called the 'Action Pass' at $488 with no blackout dates.
The annual pass programme was revamped again in 2012 – this time to just a simple 'Annual Pass' for $188, with Universal Express as a $100 add-on. Then from 2013, the entire resort revamped their various attractions memberships into the 'RWS Attractions Pass' programme, and also a 6-month Season Pass became available.
Few may remember how the $318 'Fun Pass' was just a generic paper ticket back in early 2010! Ah, the memories (of furious passholders!)
---
A real rollercoaster ride: Story of Battlestar Galactica: HUMAN vs CYLON
It's hard to avoid talking about Battlestar Galactica: HUMAN vs CYLON when it comes to USS – it's the most iconic thing next to the park's globe. You'd belong to the group that's running right in, or staying far away from it. Or going "oh… it's that BSG show. Erm, what is it about?"
Being a first-of-its-kind (and eventually one-of-a-kind) creation by Vekoma, this ride had its turbulent beginnings – it was closed after opening for a week in March 2010, due to fatigue cracks in a welded component on seat-post supports on a particular HUMAN train. The coasters reopened in February 2011 after a lengthy investigation and re-engineering of ride train components.
In March 2012, the HUMAN trains were quietly updated with U-shaped over-the-shoulder restraints after running in its apparently "too open" and "not designed for comfort" lap bars-only restraints.
Did you know that the Battlestar Galactica signage had two rings of coloured bulbs, giving it an amusement park aesthetic? The lights slowly diminished, and the bulbs were eventually replaced with simple backlit red panels.
The rides' original entrances were more recessed, and lack the giant LED displays (eventually replaced with printed signs today). Sheltered extensions were also installed. Don't miss the 'classic' colour scheme for the ride safety signage!
Both attractions had distinctive queue experiences based on the TV series, which I was extremely fortunate to be able to document in an exclusive editorial back in 2015 for the ride's reopening.
The shop at the rides' exit, Galactica PX, used to sell a variety of unique themed merchandise. See photos in this Park Update. It is no longer a shop today.
Both roller coasters used to be launched simultaneously for an aerial dueling experience, and each train had a maximum capacity of 32 riders, with 4 riders per row.
In July 2013, an incident caused the roller coaster to be closed for technical review. Sci-Fi City went quiet for nearly two years. The park eventually reopened the ride in May 2015 with redesigned vehicles that cut capacity in half. Various portions of the ride track were also modified – possibly to reduce vibrations and improve the ride experience.
From September 2016, the tracks slowly took on a new look: from bright red and blue to magenta and grey.
---
When the Globe became 2D
Sometime in October 2010, the iconic Universal Globe stopped turning. It made taking photos with the words much easier, but not so much to bring movement and life to the park's entrance – especially in its first year. Eventually hoardings sealed off the Globe for several weeks, and park visitors could take photos with its 2D sister from Orlando.
The Globe was repaired in time for the park's grand opening and has been rotating smoothly ever since. Though sometimes strong winds turn it in the opposite direction!
---
Move-it along: A Crate Adventure
This might surprise you: The Madagascar: A Crate Adventure ride in the park is actually a redesigned version. The original version took place on two levels, and included more thrilling elements like lifts and drops. Unfortunately that design didn't work out, and the final drop caused unwanted water damage all over the scenic props. There were other difficulties that led to its prolonged development and eventual redesign. It was also rumoured that the show building caught fire during construction.
The redesign kept most of the story and scenes, although it was nowhere as exciting as the original plans. Despite its detailed sets and characters, the ride never quite matched the standards of similar dark rides around the world.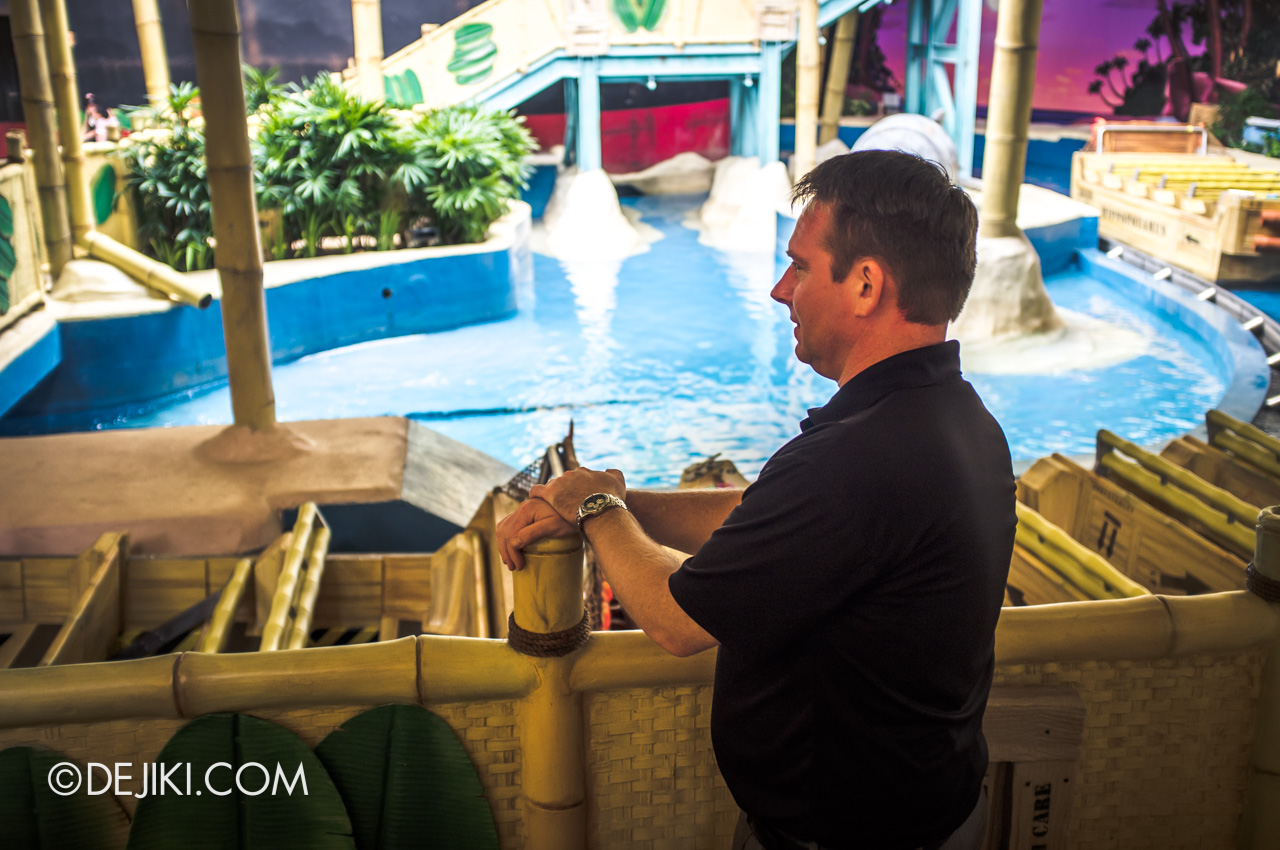 Even though it was the first and only Madagascar ride of its kind, the ride sailed on and slowly aged as other attractions and events were given the spotlight. Today, many of the effects no longer work as they did in 2015, and several scenes have animations missing their timings. These floating crates are on its last legs and will depart for their last voyage soon.
---
The Grand Opening of Universal Studios Singapore
After a lengthy soft opening phase, it was finally time for the park's Grand Opening on 28 May 2011. The park held a Gala the night before, and during the day there was quite elaborate celebration which included a stunt show and grand procession.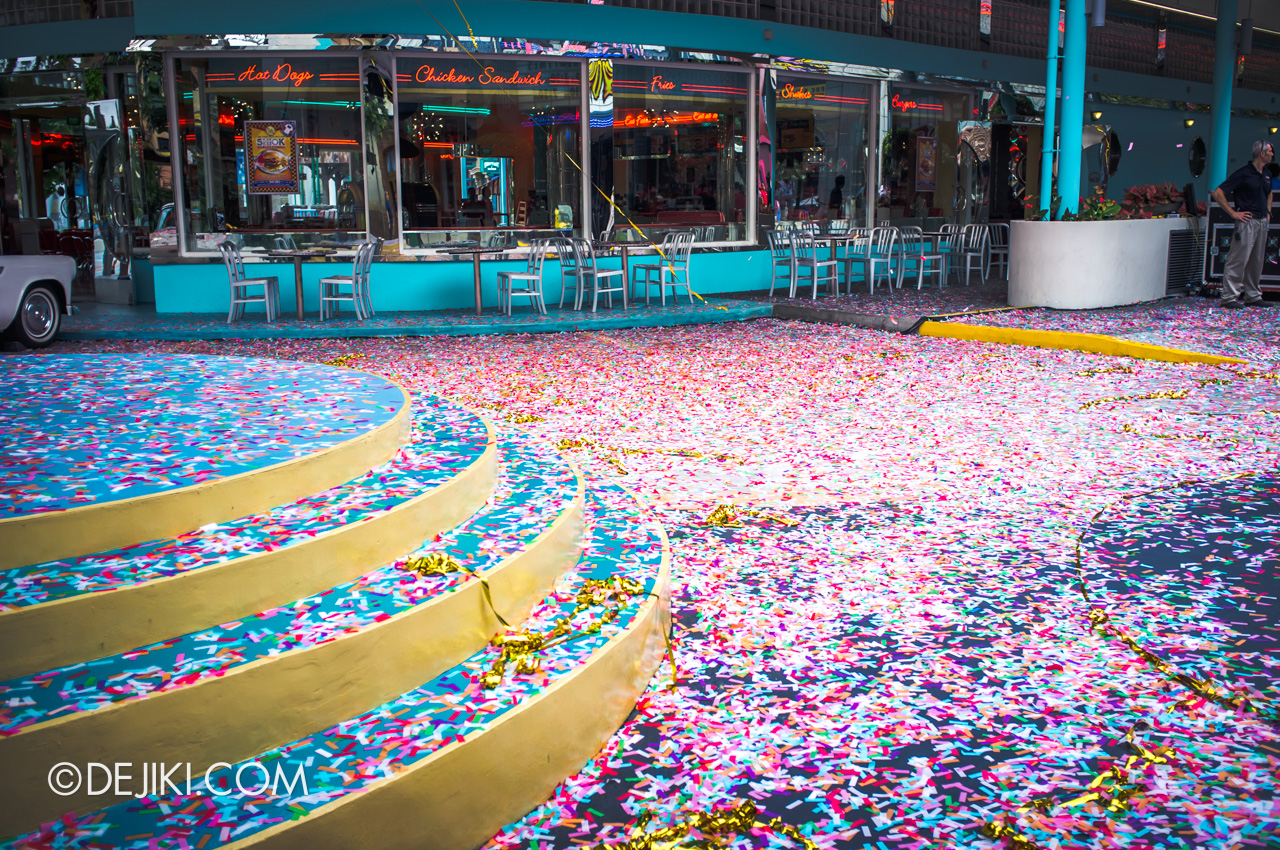 Hollywood and New York zones were covered in rainbow confetti.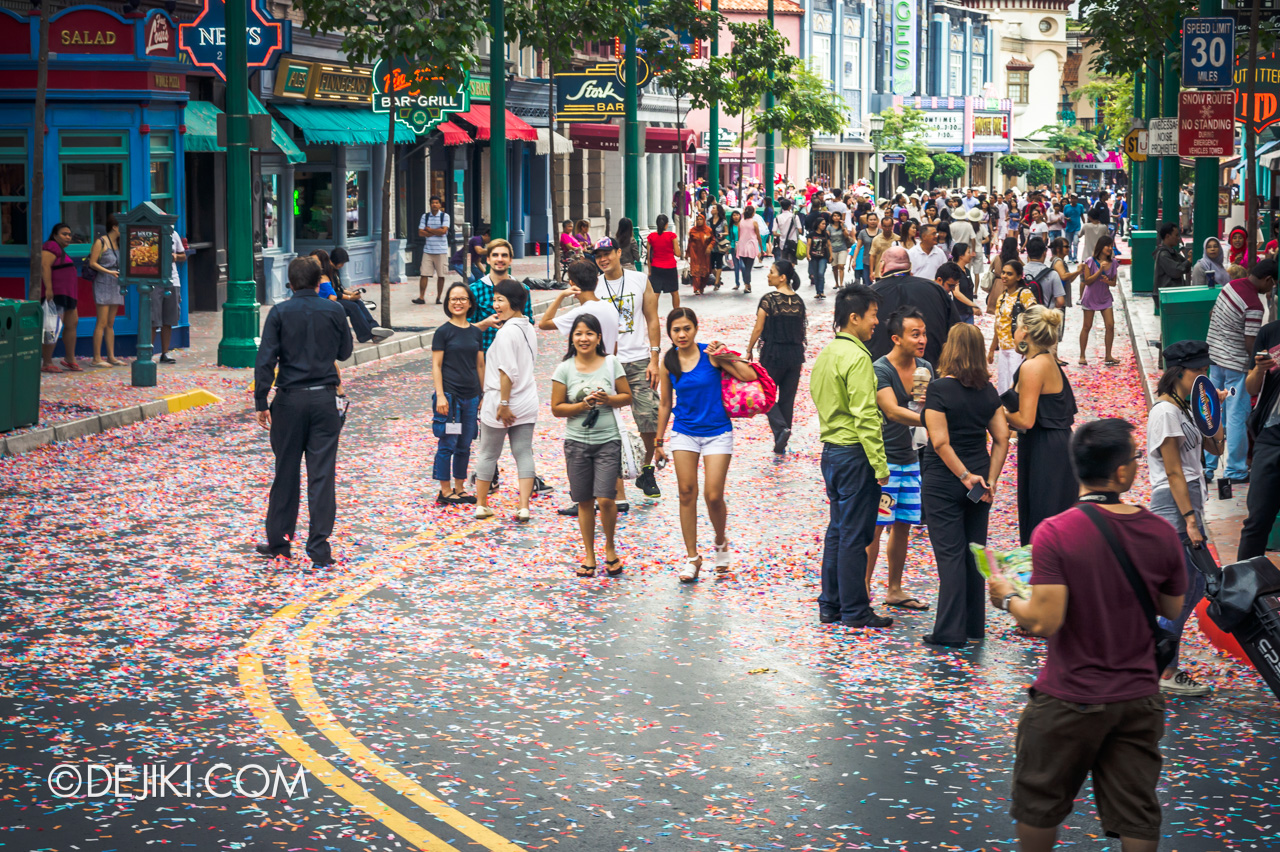 The 2011 marked a tremendous milestone year for Universal Studios Singapore: The park reopened Battlestar Galactica and introduced Madagascar: A Crate Adventure, Transformers: The Ride 3D, and the Hollywood Dreams Parade. It also launched Halloween Horror Nights in Singapore – but more on that later – I mean, next.
---
Humble beginnings: Halloween Horror Nights in Singapore
Singapore's Halloween Horror Nights became the park's signature event (and some say the region, some even: the best in the world!). Very few people, in fact, perhaps only the park's pioneer passholders are aware of an event called A Night in the Netherworld, best described as 'HHN Ultra Light'. Held for two nights in October 2010, it was a very small affair that had a mini scare zone in New York.
The first official Halloween Horror Nights (2011) ran for 7 nights and featured a few "first and only" things, such as: fire stunts in the middle of Hollywood like it's totally normal. No Opening Scaremony and lengthy waits for rope drop. Incredibly high budget SFX make-up for all scare actors. Dense fog effects.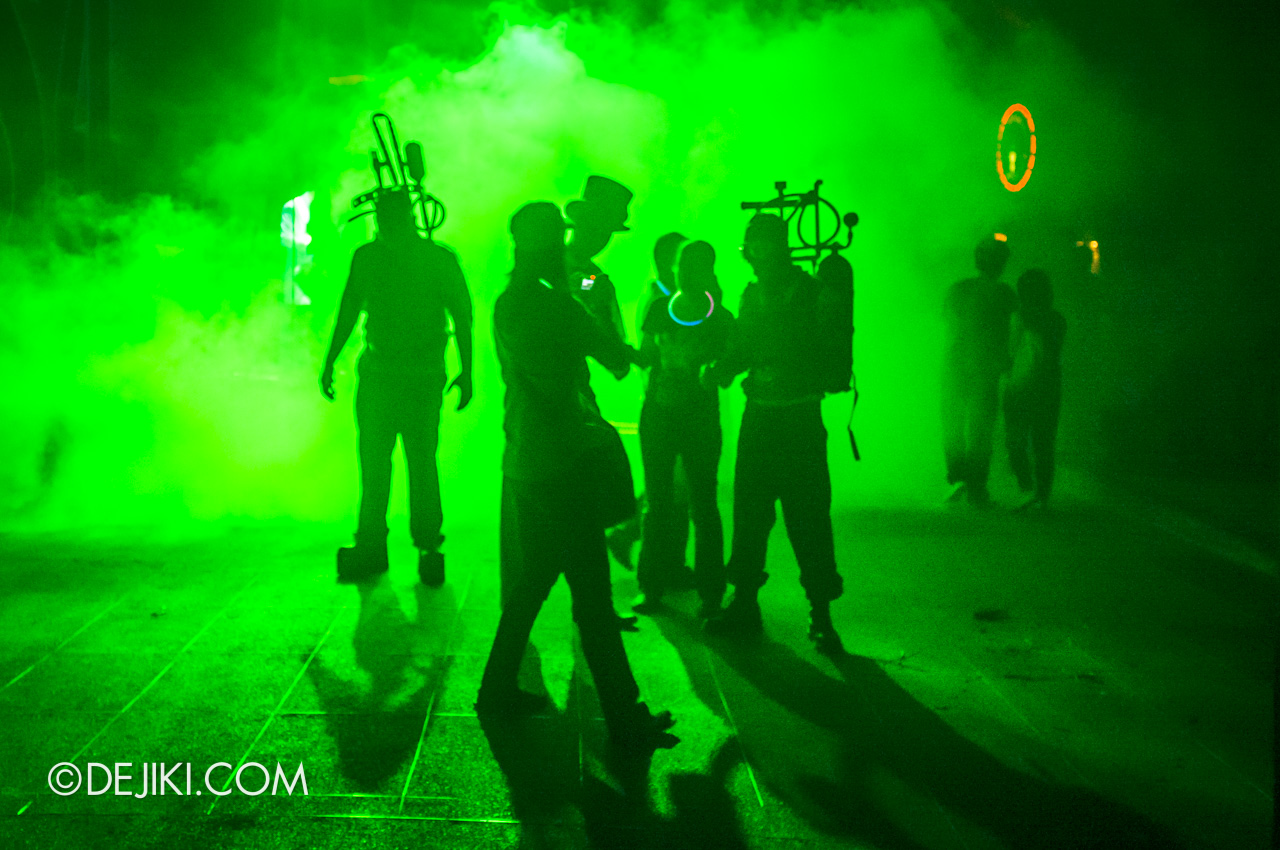 There was a scare zone at Sci-Fi City called The Void. And a whole slew of "never seen again" effects in the Vengeance of the Matriarch haunted house, such as the infamous wardrobe scene and the airwell bungee (repeated in later years, but never quite the same).
Halloween Horror Nights 4 marked a major turning point in Singapore's themed entertainment history – it was the year that slaughtered the competition, and paved the way for more unique horror attractions and collaborations. We can only hope that Halloween Horror Nights 10 would bring back some fan favourites and fresh themes.
---
The Furious Dino River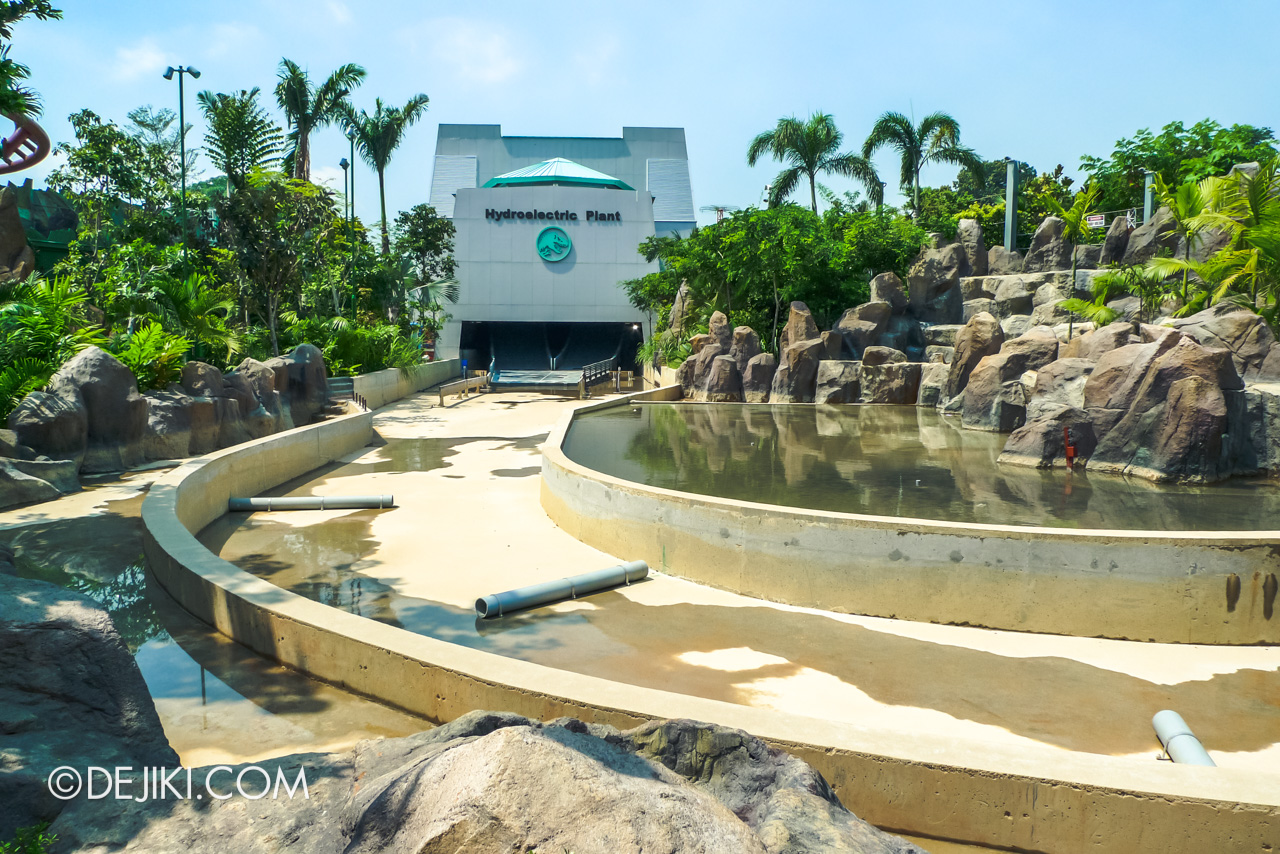 Fun fact: These pipes generate the "rapids" along the river.
The world's first and only Jurassic Park Rapids Adventure went for an extensive refurbishment in late 2011, where it was closed for about five months. It reopened in January 2012 and had most of its ride reliability issues fixed – tweaks to prevent the boats from getting stuck and actually having the other lift working. Several effects in the dark section of the ride were also adjusted, and the splashdown became a little subdued.
There was one effect that could be found in every ride vehicle – a beacon in the middle, which gives off a pulsing red light in the dark section of the ride. Originally that would be the only light source in the dark tunnel, and it sets up the T-Rex jump scare quite well. It was eventually replaced with lights in the show sets itself.
Also in early 2012, the splash cannons were installed at the section after the splashdown, offering guests with an extra activity that is also found at another rapids ride at Universal's Island of Adventure. It was removed eventually.
---
Monster Rock: Letting it go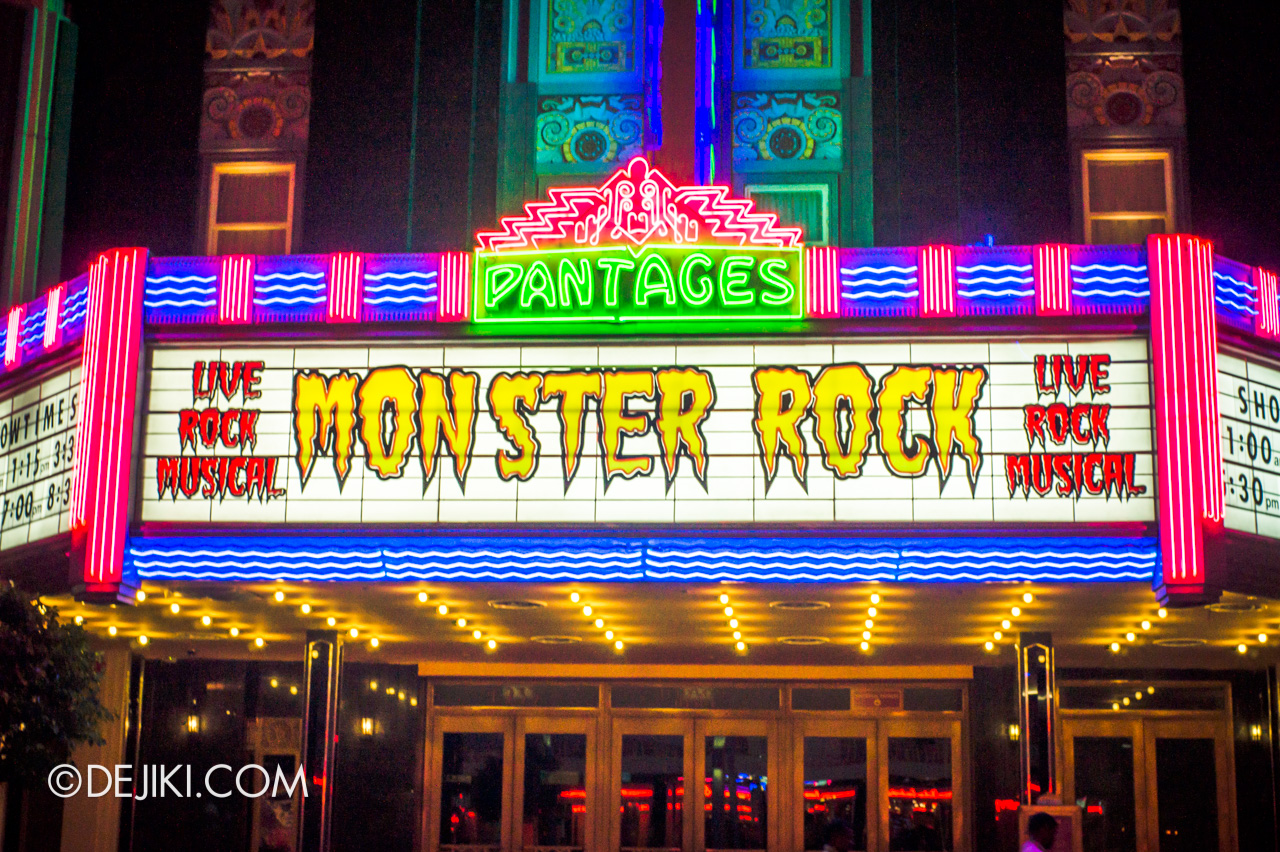 Monster Rock was a live musical show at Pantages Hollywood Theater. If you take a closer look at the windows outside Pantages today, you can still see posters and life-sized figures of the Universal Monsters.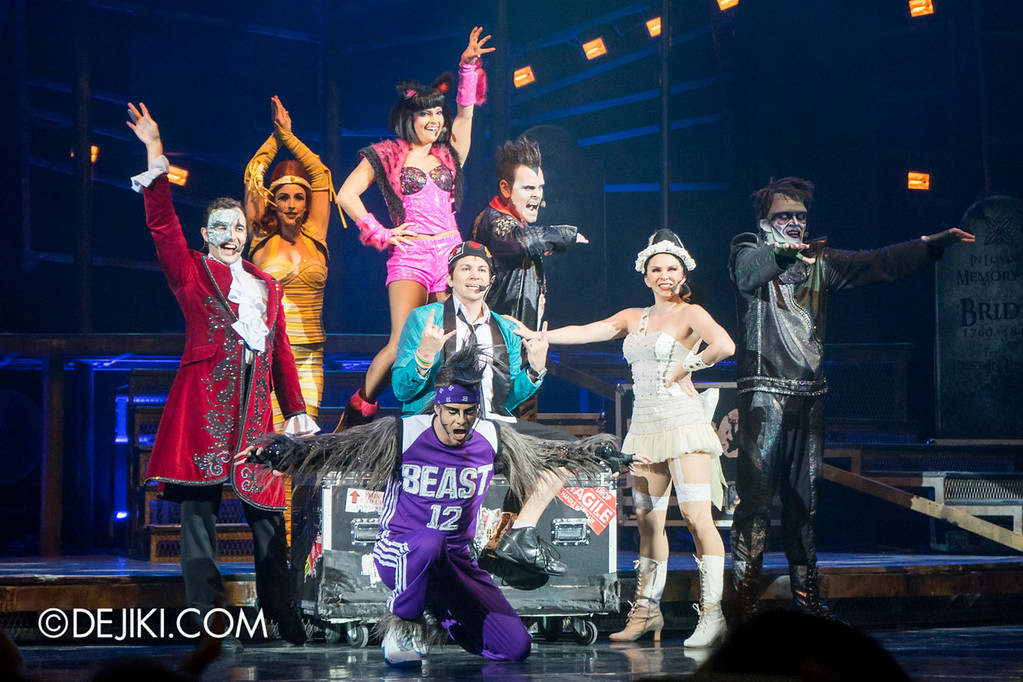 The show offered a modern take on these classic stars, and an original character called Henry Preston Jekyll III who brought the monsters from screen to stage – as new rock stars.
Throughout its run, the show's setlist, stage and cast outfits were given a refresh, but it wasn't enough to keep guests coming in. The show even had a Halloween Edition for HHN3, with Beetlejuice replacing Henry. Yes, it was part of Halloween Horror Nights.
After its last show on 31 August 2014, the Universal Monsters said goodbye to a tearful audience. Soon, an entirely different species of monsters took over Pantages.
---
Sights from the past: A quick history tour of Universal Studios Singapore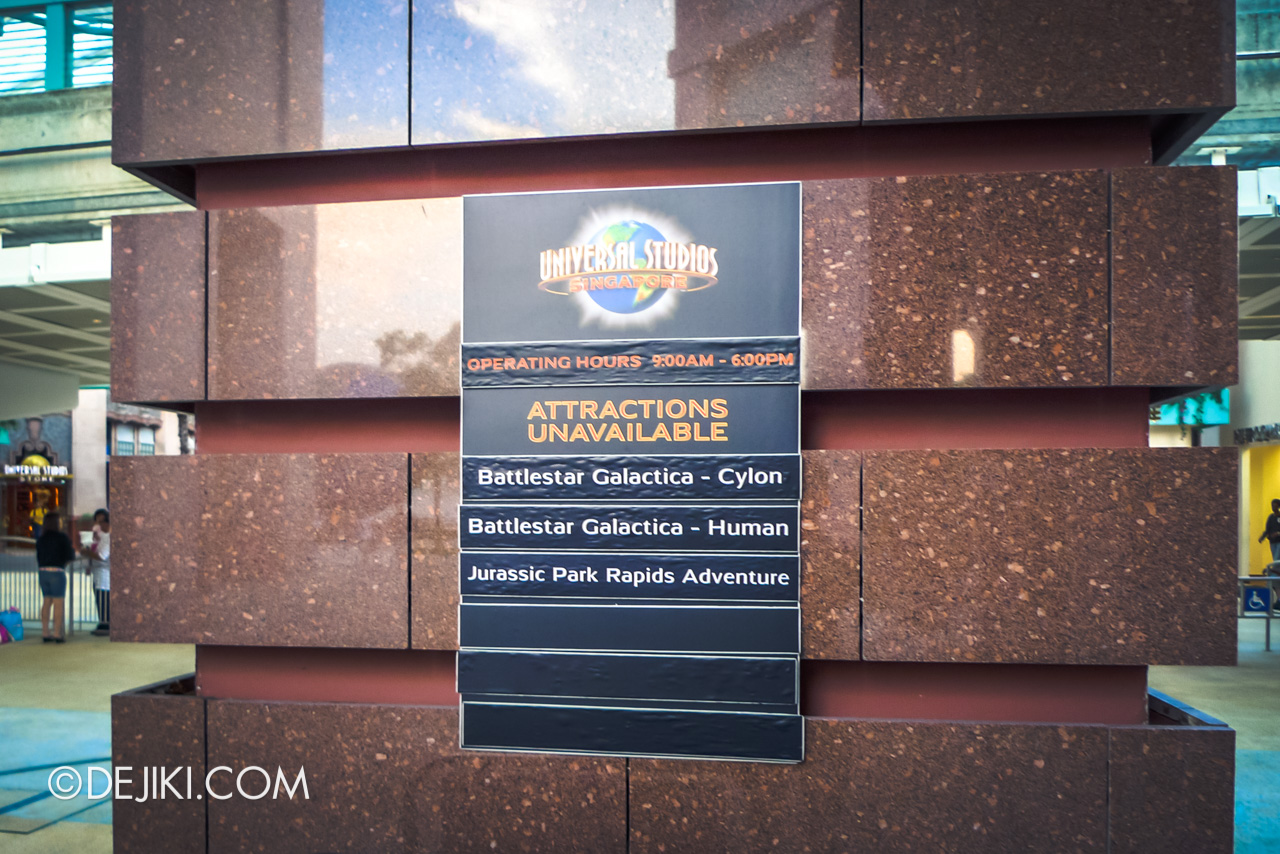 A possibly traumatic sight for visitors and team members during the park's soft opening phase: Three of the park's best attractions are down, leaving Revenge of The Mummy as the only 'star' attraction available.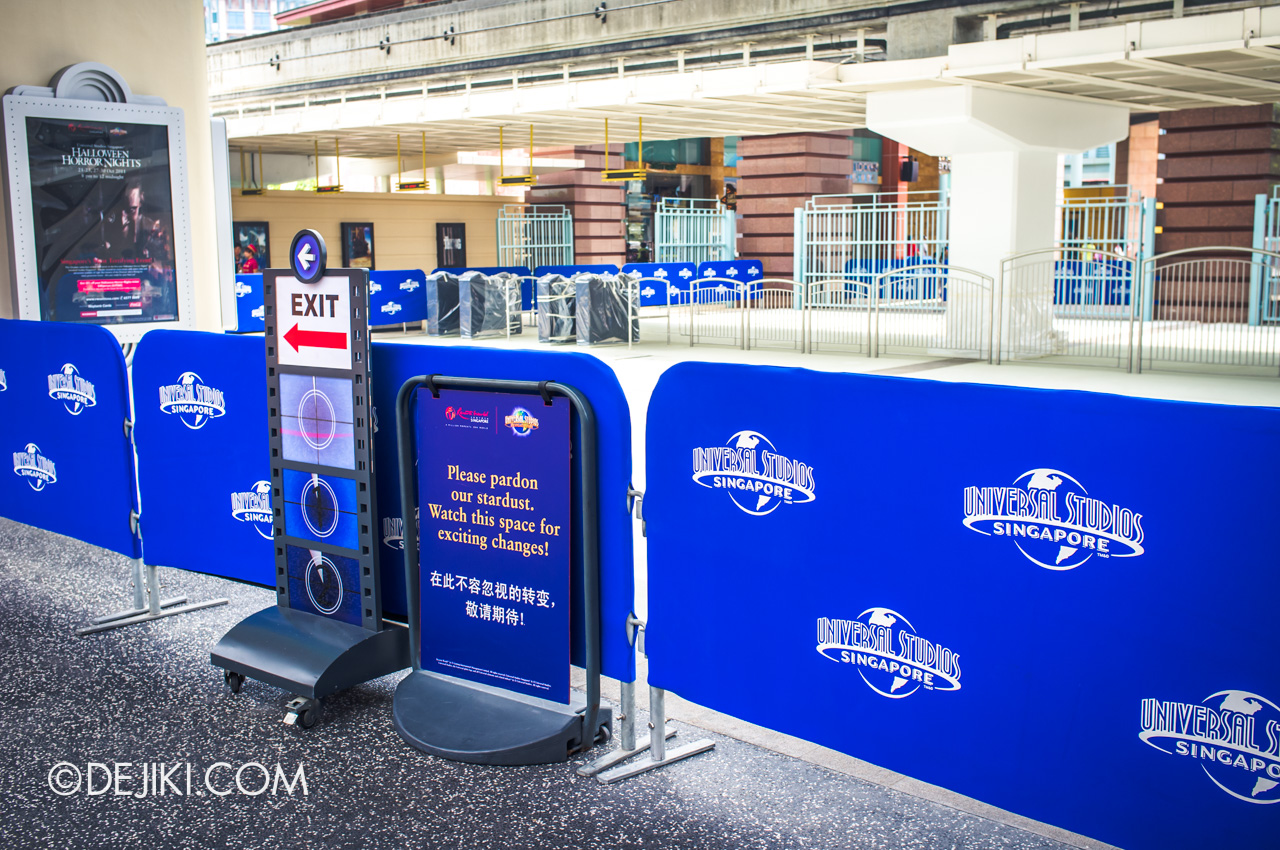 The park's entrance used to have very simple grey and beige flooring, and in 2011, works began to beautify this space with more welcoming blue and yellow.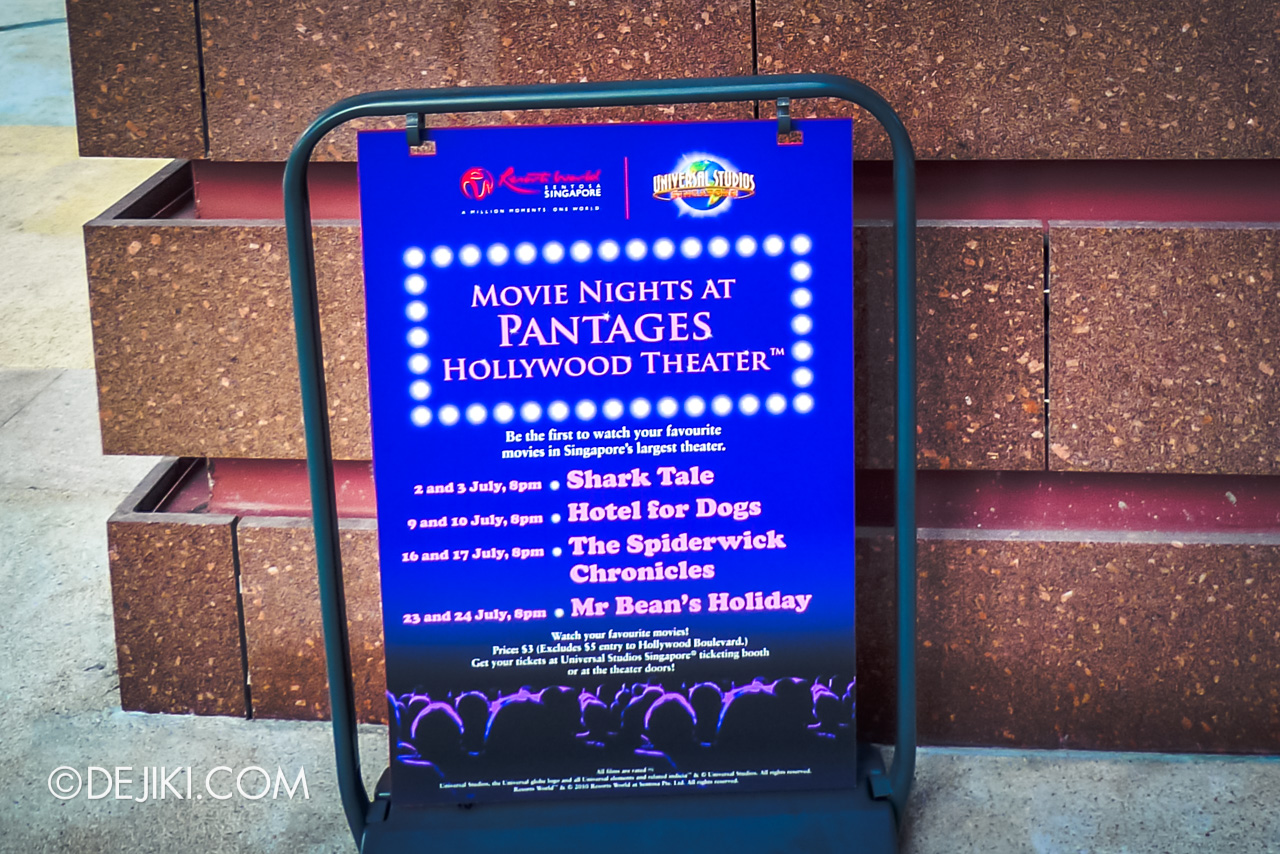 For a period of time, the park kept the Hollywood zone and Pantages Hollywood Theater open for movie screenings in the evening. While this did not continue past the soft opening phase, the park frequently brought back seasonal 'After Hours' events.
I've had the honour to be invited by Resorts World Sentosa to cover the park's major events and attractions – but most of my park updates were self-initiated. 30 May 2014 was the last free weekday before starting my first full-time job the following week. I decided to visit the park. By chance, Shinzo Abe, the President of Japan, and his entourage was in Singapore to tour the Integrated Resorts. I happened to be there just in time to catch the whole "parade" of VIP trams zipping through Hollywood.
Studio Guides are now easier to collect at the park entrance, but it's never the same as grabbing your "maps to the stars" from these iconic hard cases.
The Silver Screen Store used to be Star Characters, stocking all your favourite officially licensed Shrek and Madagascar character merchandise. Yeah.
Before Starbucks, the Celebrity Cafe and Bakery served jumbo slices of cakes and seriously awesome mileshakes. But cafe's nicest feature, which regrettably I do not have good photos of, was actually its tiled ceiling and overall interior.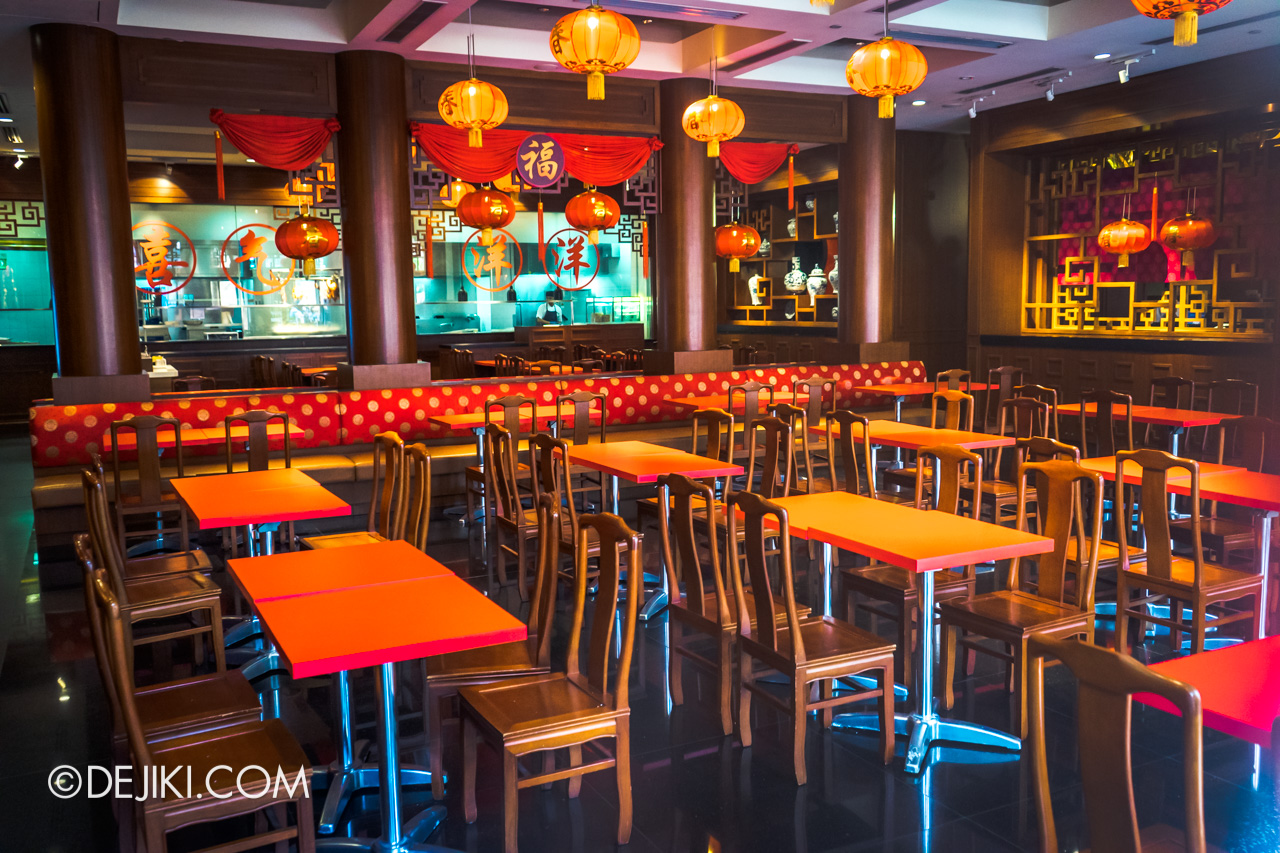 Other parts of the Hollywood Retail and Dining stretch received renovations and facelifts over the years, with Minion Mart taking over Superstar Candies, and the opulent Hollywood China Bistro restaurant scaling down to quick service, and eventually transforming into the Hollywood China Arcade and Hello Kitty Studio.
The Hollywood fountain plaza area used to have an F&B cart called Studio Snacks – the go-to place to grab churros, pies and giant pretzels. The green truck was eventually renamed Hollywood Churro.
We welcomed The Turntables to Mel's Stage in 2018 and they've been performing there ever since.
But I'm sure many people still remember the Mel's Dinettes in their iconic iridescent peach dresses (and various outfits for Easter and Christmas). Well, before that they wore pink. This PINK.
Their counterparts, The Cruisers were actually Daddy-Os. But let's not forget the original show that debuted here…
It's Kowabunga Kove! This show was basically a throwback to Hairspray. It was only around in the park's early months and had a wacky cast of six performers.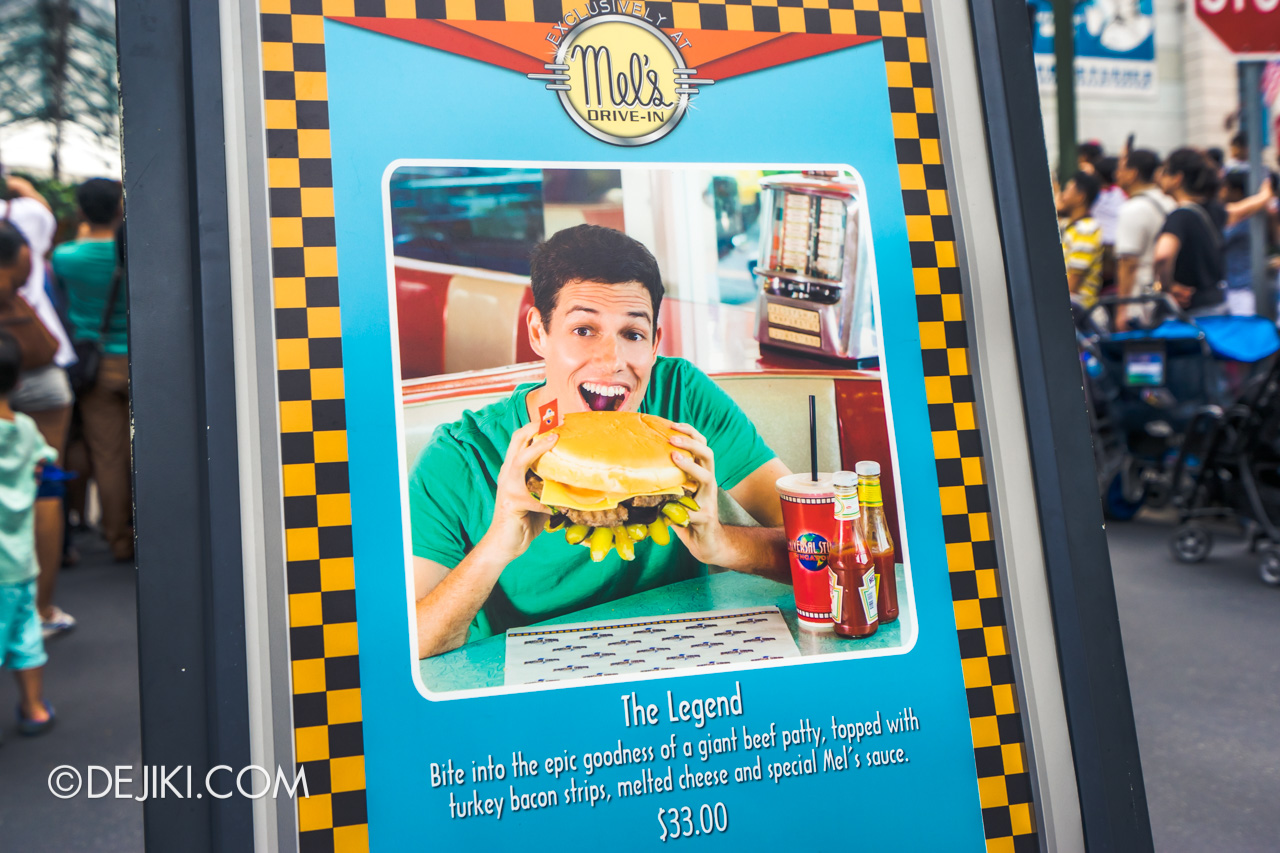 Gluttons would've loved this $33 "The Legend" burger at Mel's Drive-In. It's stacked with an eating challenge. Finish it within 15 minutes and your bill's free.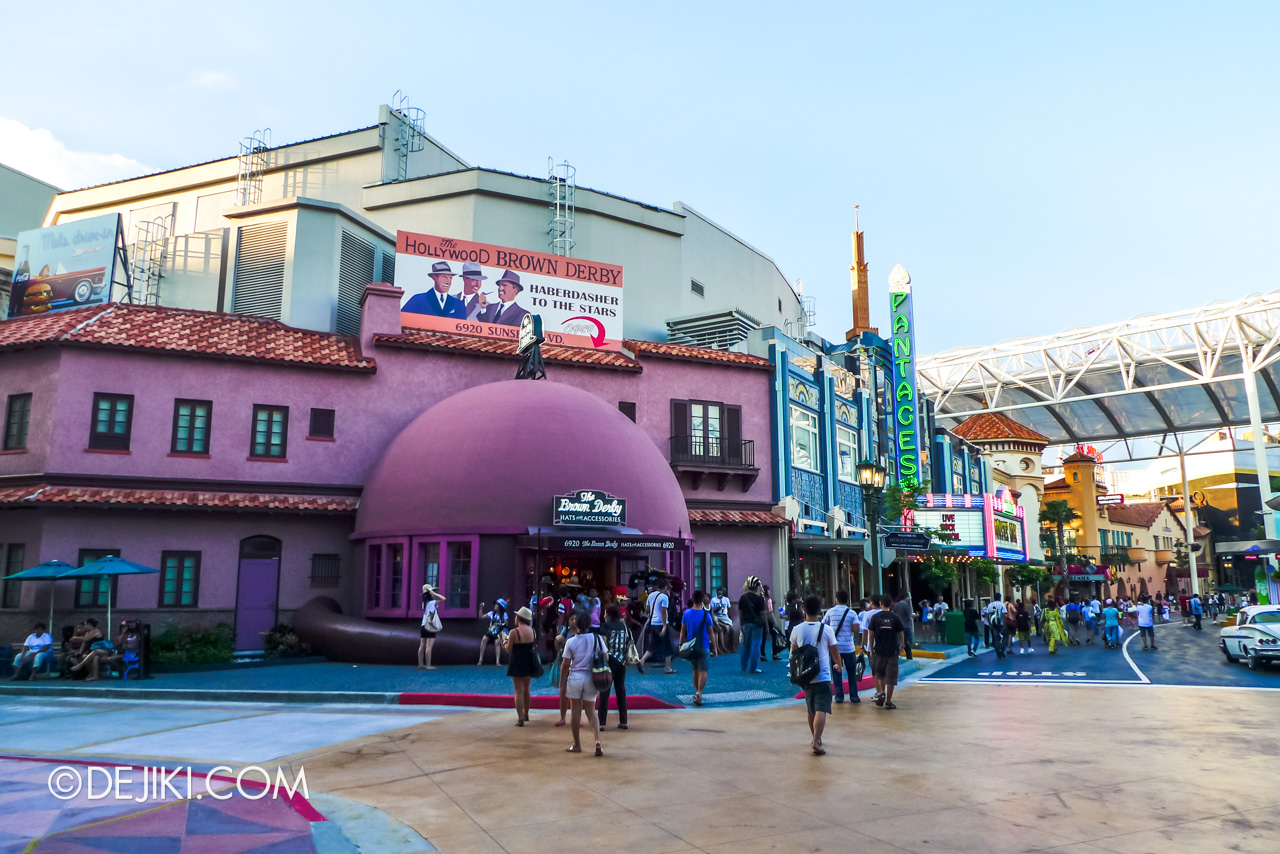 Here's The Brown Derby, a shop that sold novelty hats, in its original purple look. It was repainted brown eventually. What's also interesting is the different floor finish at this street intersection, before everything became black.
Another USS Fun Fact™: The park originally planned for a redesigned E.T. Adventure ride here. It was to be called E.T.: The Flight Home and would use a similar suspended ride system as Sesame Street Spaghetti Space Chase.
Beside it, Stage 28 was supposed to be an interactive attraction around a live studio setting, but eventually became a flexible event venue – most famously used for flagship haunted houses at Halloween Horror Nights.
Streets of New York, 2010.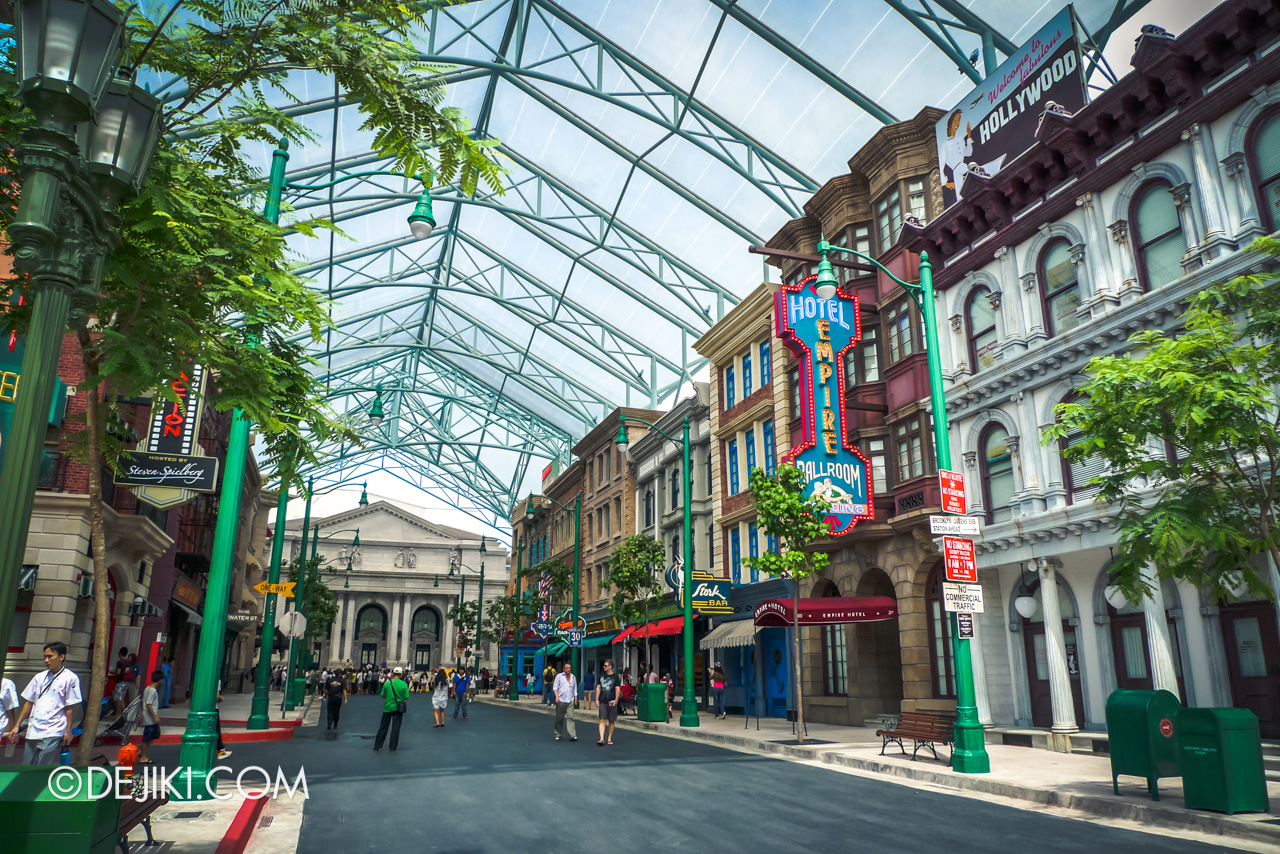 This is an even earlier photo, showing the facades' original colours. Even the road lacked the yellow lines and markings back then.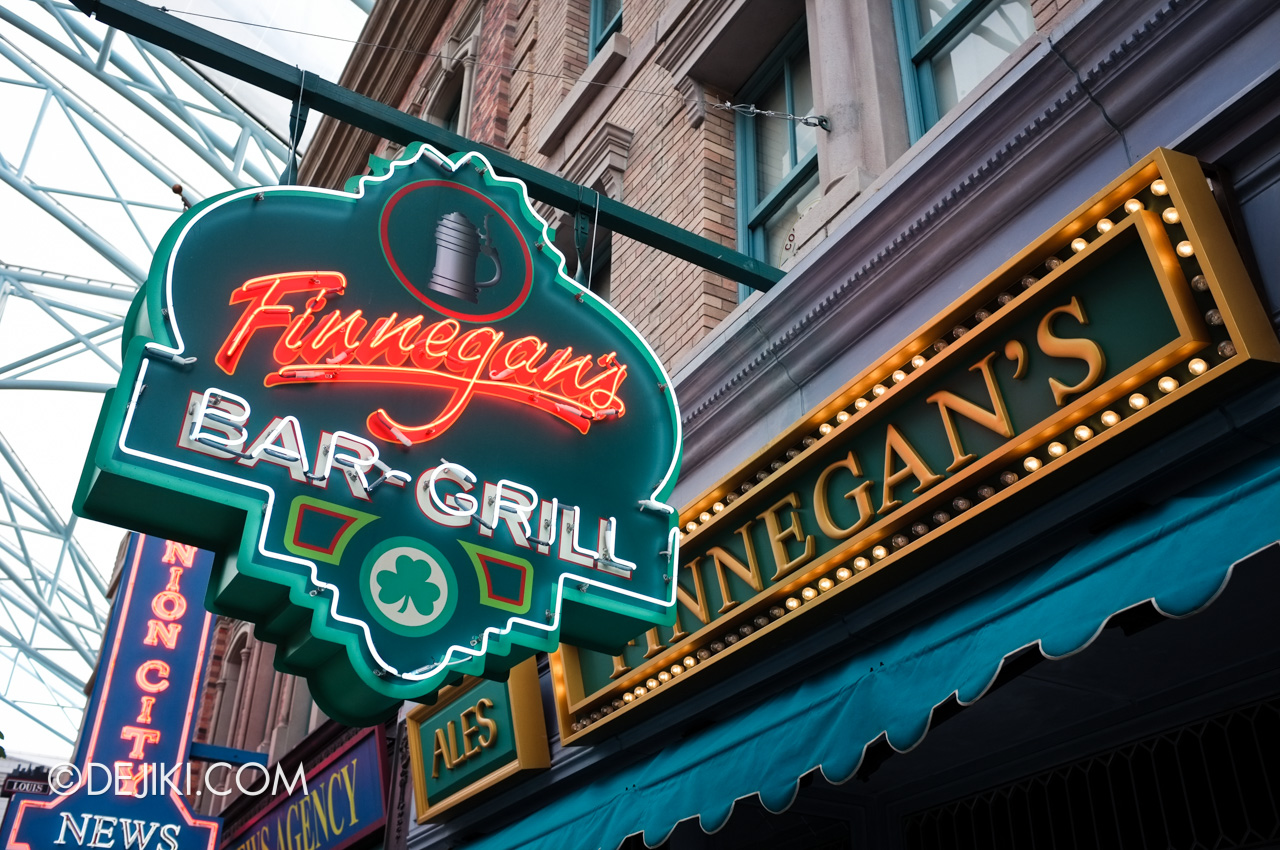 Yes, there used to be a Finnegan's bar facade here, before Big Bird Emporium moved in.
Over the years, unique seasonal shows were staged at the New York zone. The park even had an entire universe of kooky characters for its Easter events, which began with the arrival of the Egg Lord in 2014. There was even a show that started from New York street and had characters running into Stage 28. Wild.
Do you remember the Rockafellas?
There were many other characters that park guest could meet and greet at New York (and other places around the park): Charlie Chaplin, Mae West, Po (Kung Fu Panda), Beetlejuice, Betty Boop, Aliens and Space People of Sci-Fi City, Evelyn O'Connor and Rick O'Connor, The Scorpion King, Human Princess Fiona, Fairy Godmother… and who else did I miss?
If you feel like you've got what it takes, sign up for the 2020 USS Online Auditions. This is not a sponsored message.
Before Transformers: The Ride 3D opened in Singapore, the covered area of Sci-Fi City was quite… plain. There used to be a fancy light and sound show here about Sci-Fi City's various attractions.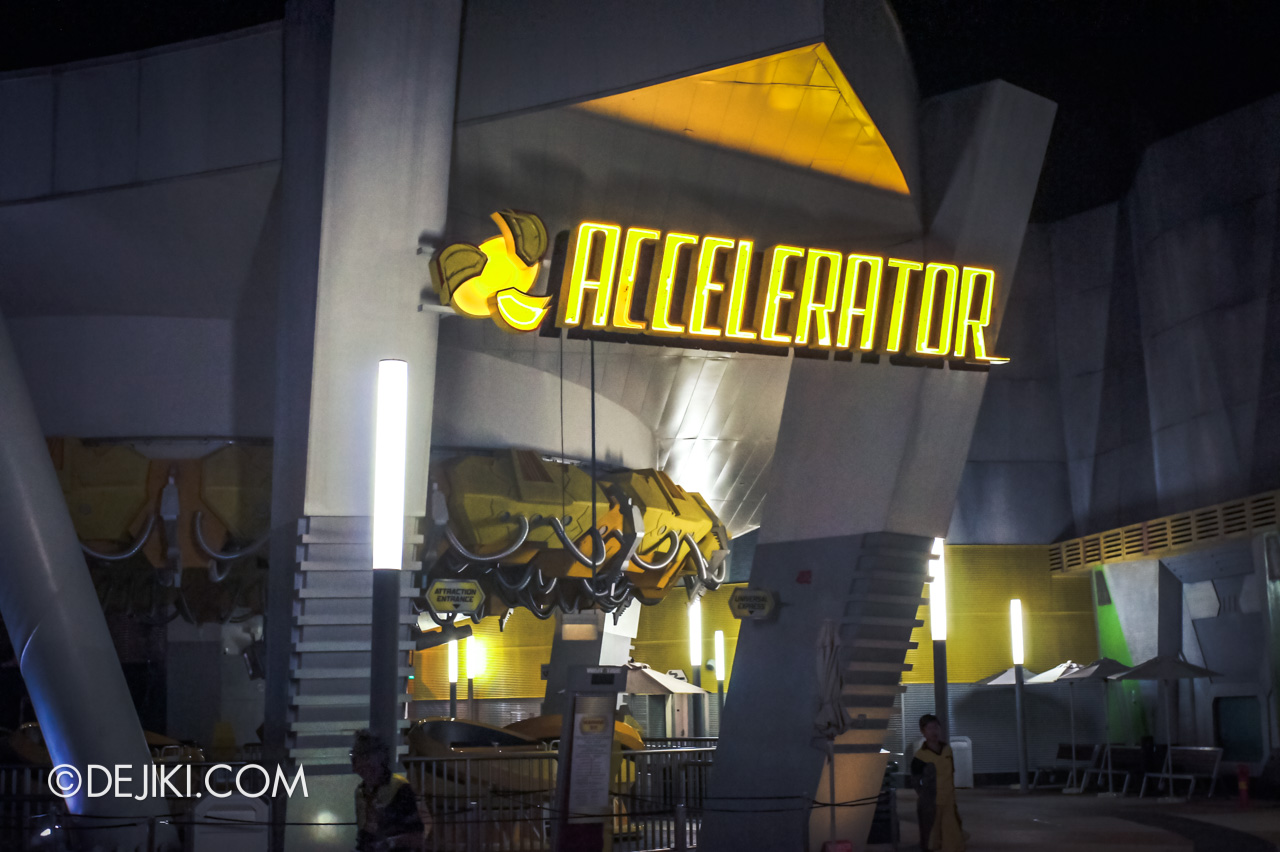 Did you know that the Accelerator building was in shades of grey?
Or that the stage at Sci-Fi City wasn't just a parking lot for the Bumblebee Camaro. The park trialed two shows here: On Location with Sci-Fly, and Dance with Captain Starbucks.
Neither show passed the test and were scrapped.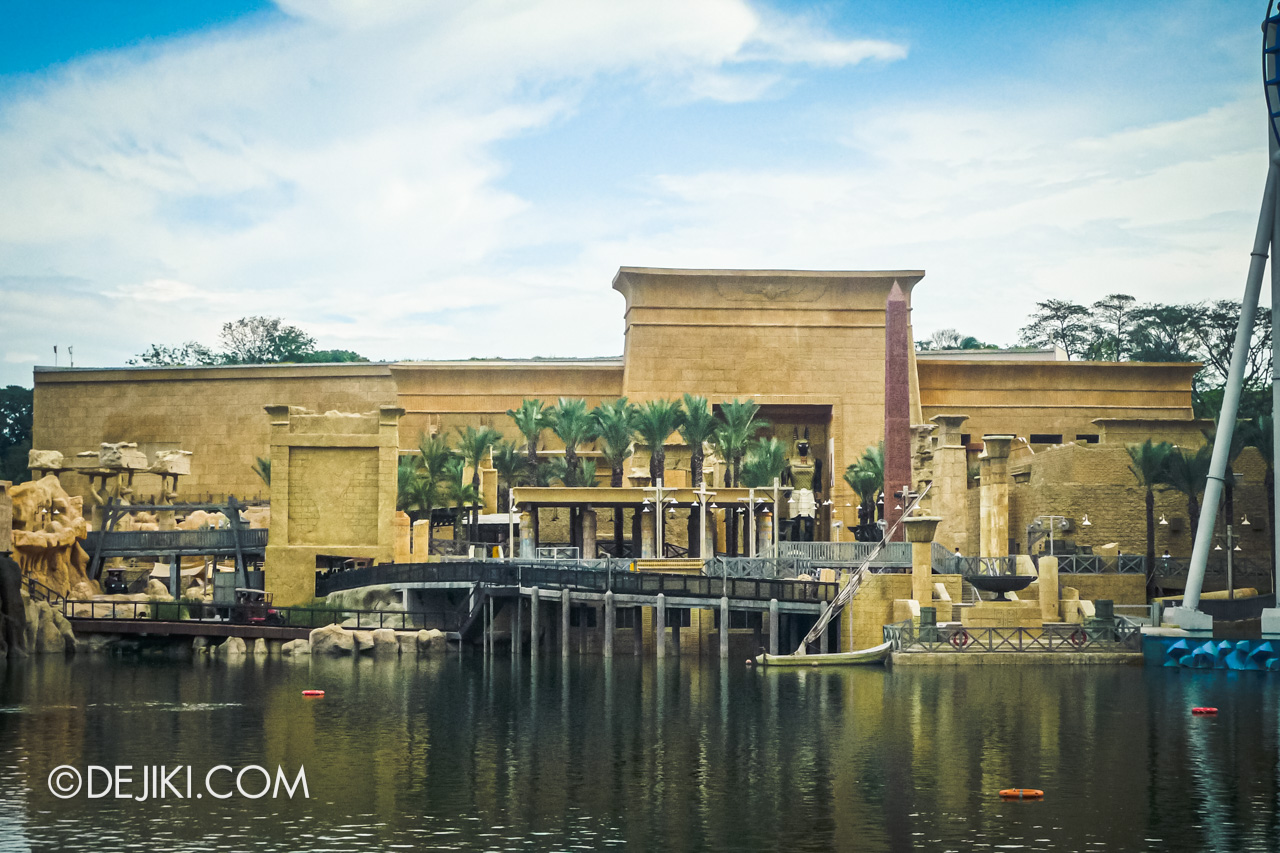 Marvel at the united colours of Ancient Egypt.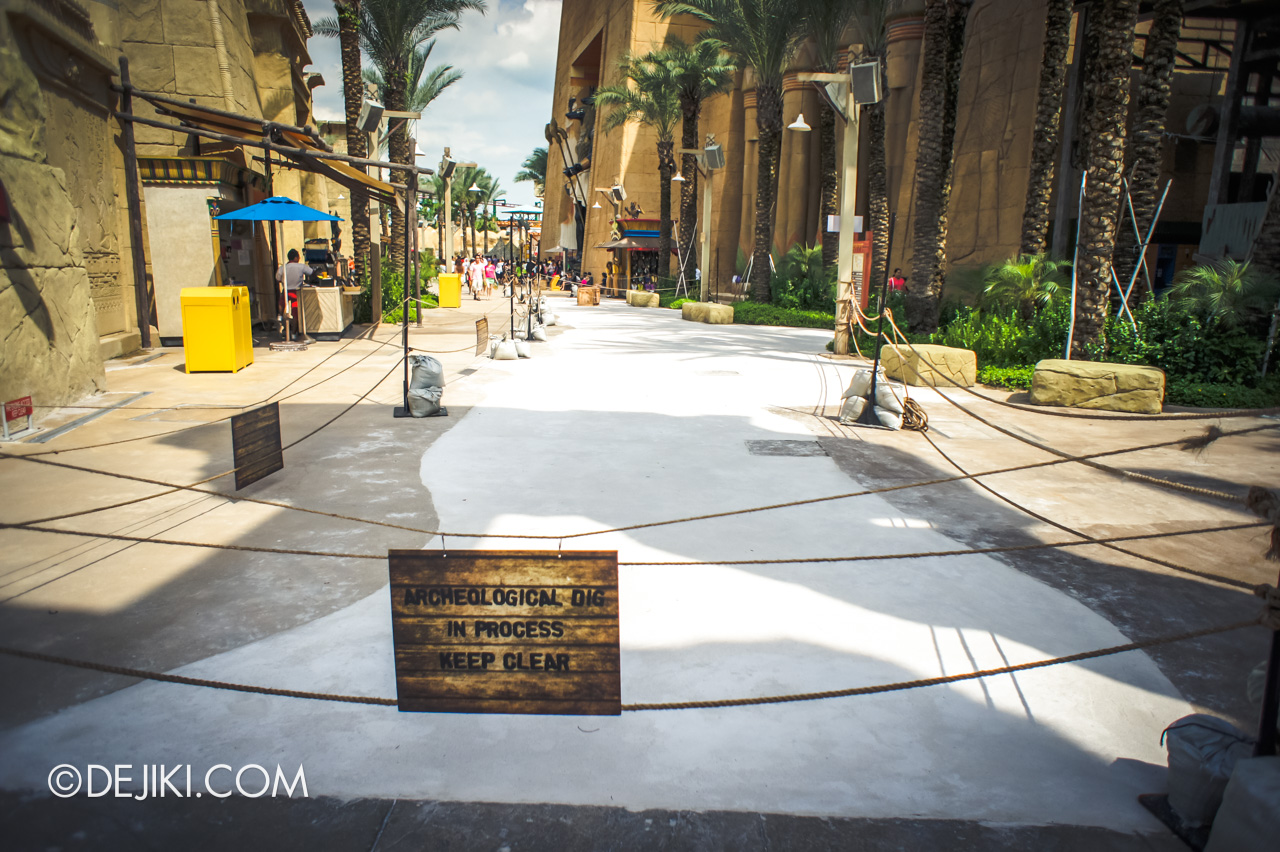 Few would remember the great archaeological dig of 2010: large parts of the street were closed for reflooring works.
Before Ancient Egypt received bewildering fences and metal canopies in May 2019 – it looked this good. This was back in March 2010.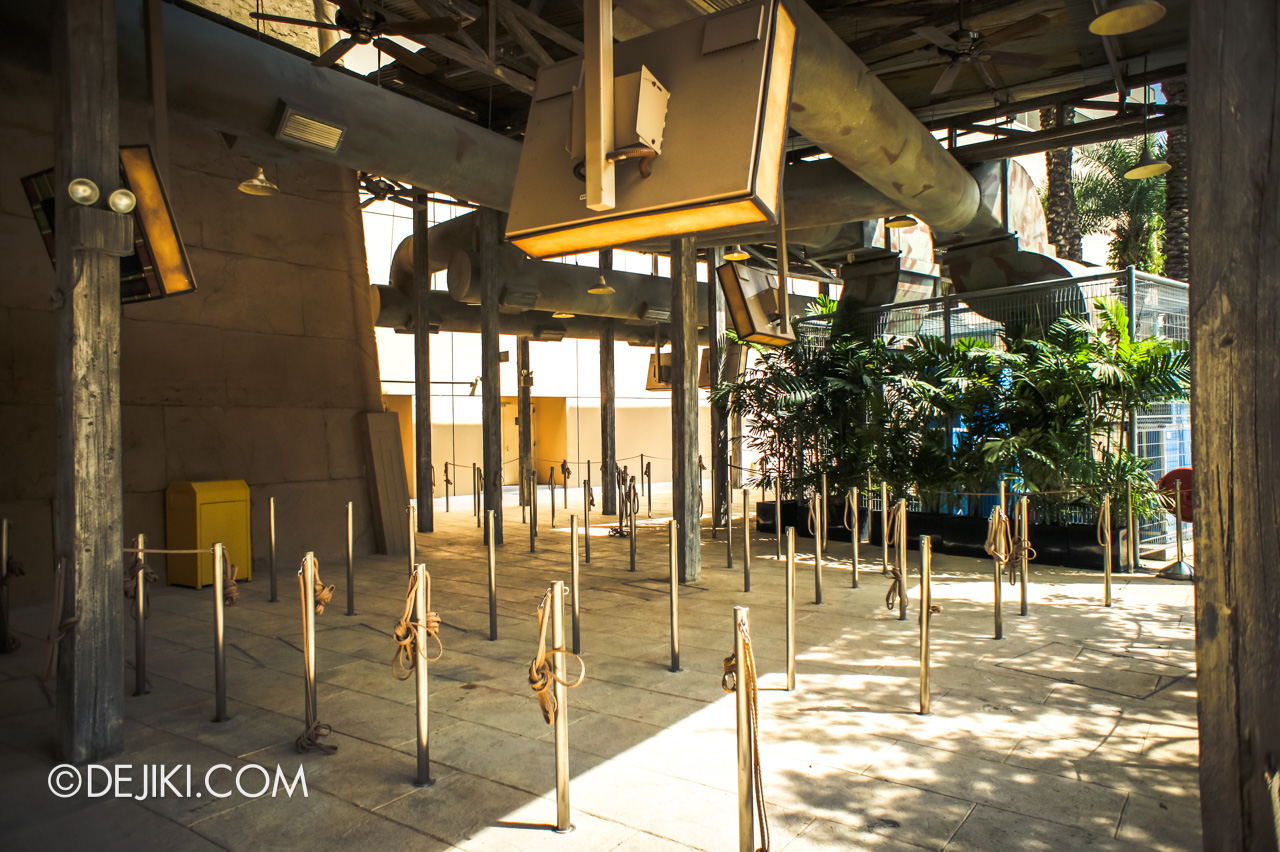 Rarely, or never used: The outdoor extended queue for Revenge of the Mummy. There were even screens back then to show ride safety videos. This whole area is kept clear for haunted houses during Halloween Horror Nights.
Here's a rare look at the original Carter's Curiosities shop front.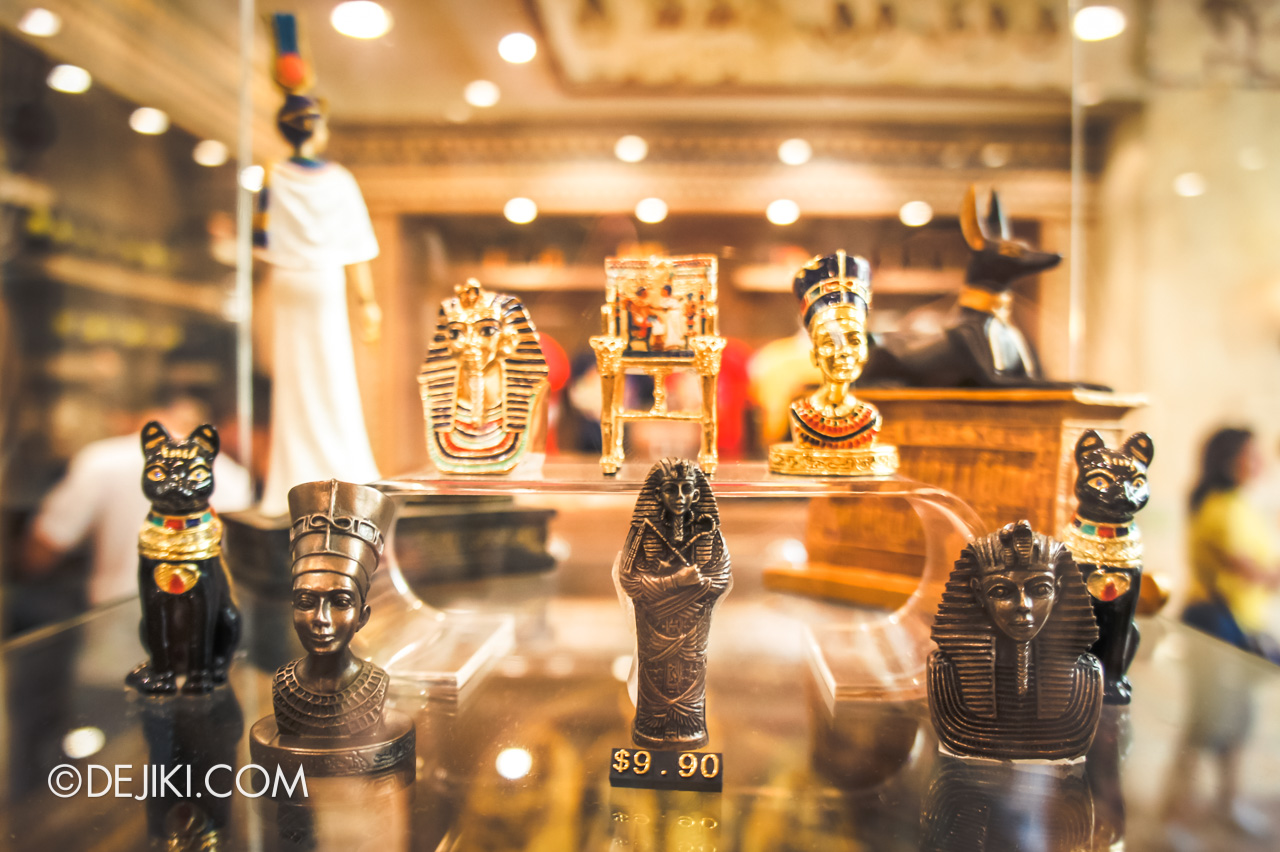 Back in the days, the shop had Egyptian themed trinkets and curios for sale.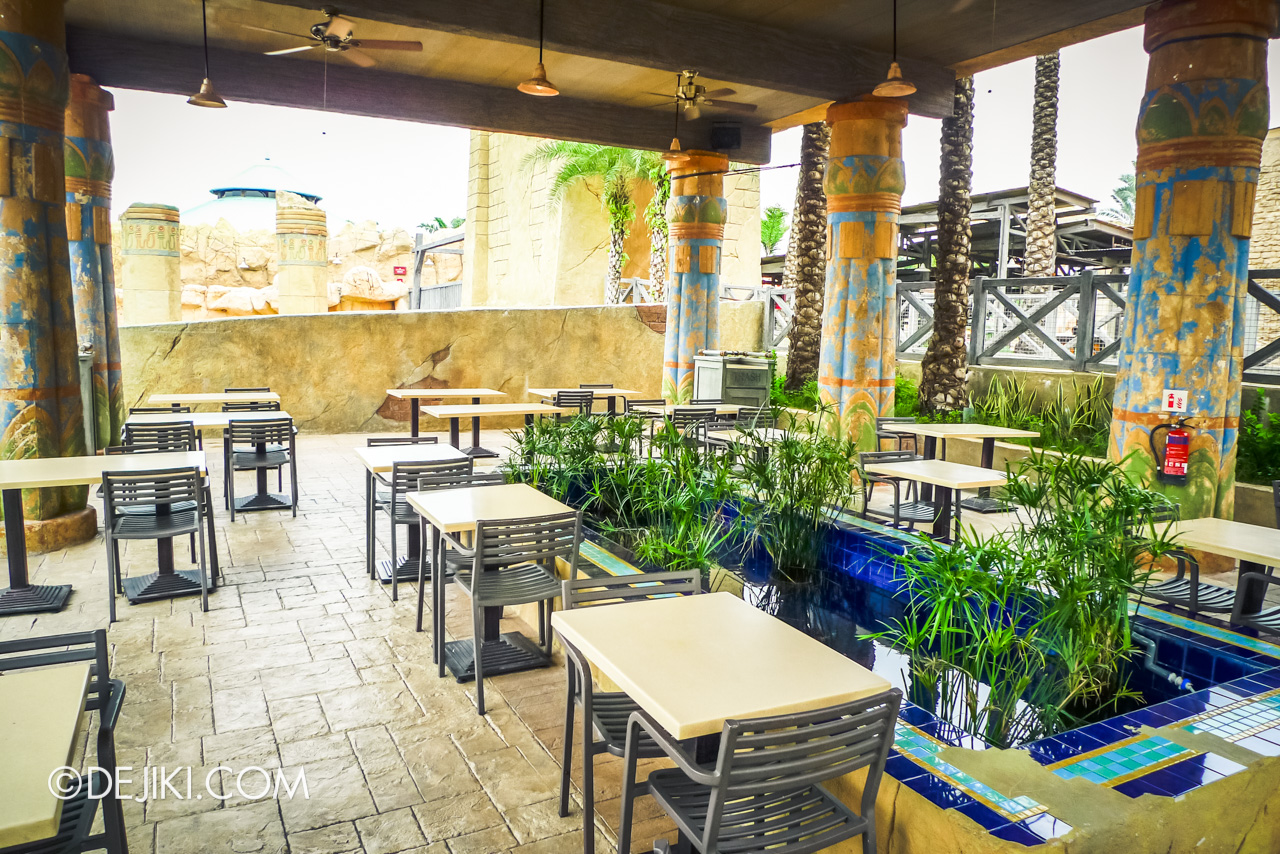 The terrace across from Oasis Spice Cafe used to be a beautiful place to escape from the theme park madness.
Here's the original home of the Popcornasaurus cart. Where has this cart gone now?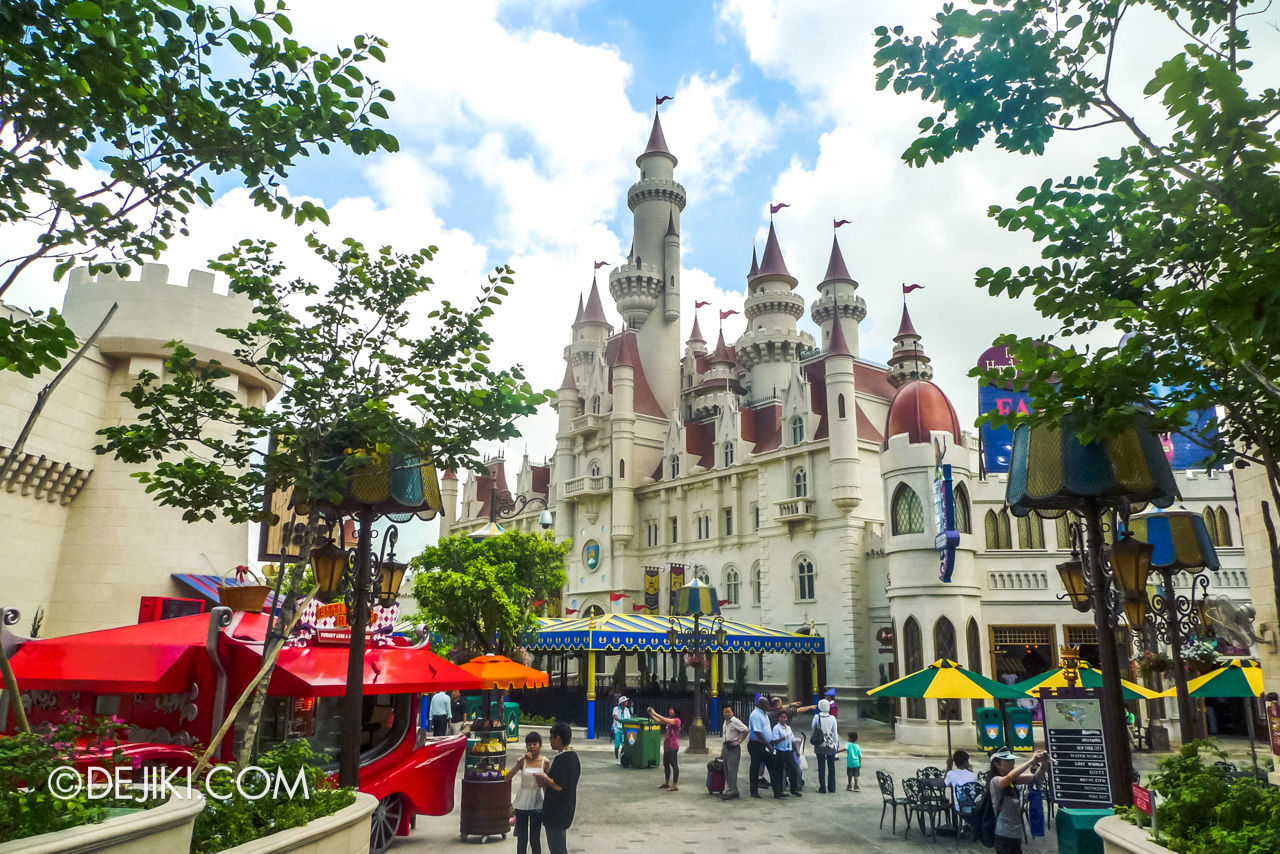 At last we've arrived at Far Far Away – home to the world's first and only Far Far Away castle.
I almost forgot about this Little Red's Ride food cart, which was the original cart selling Turkey Legs – way before Marilyn's opened at Hollywood!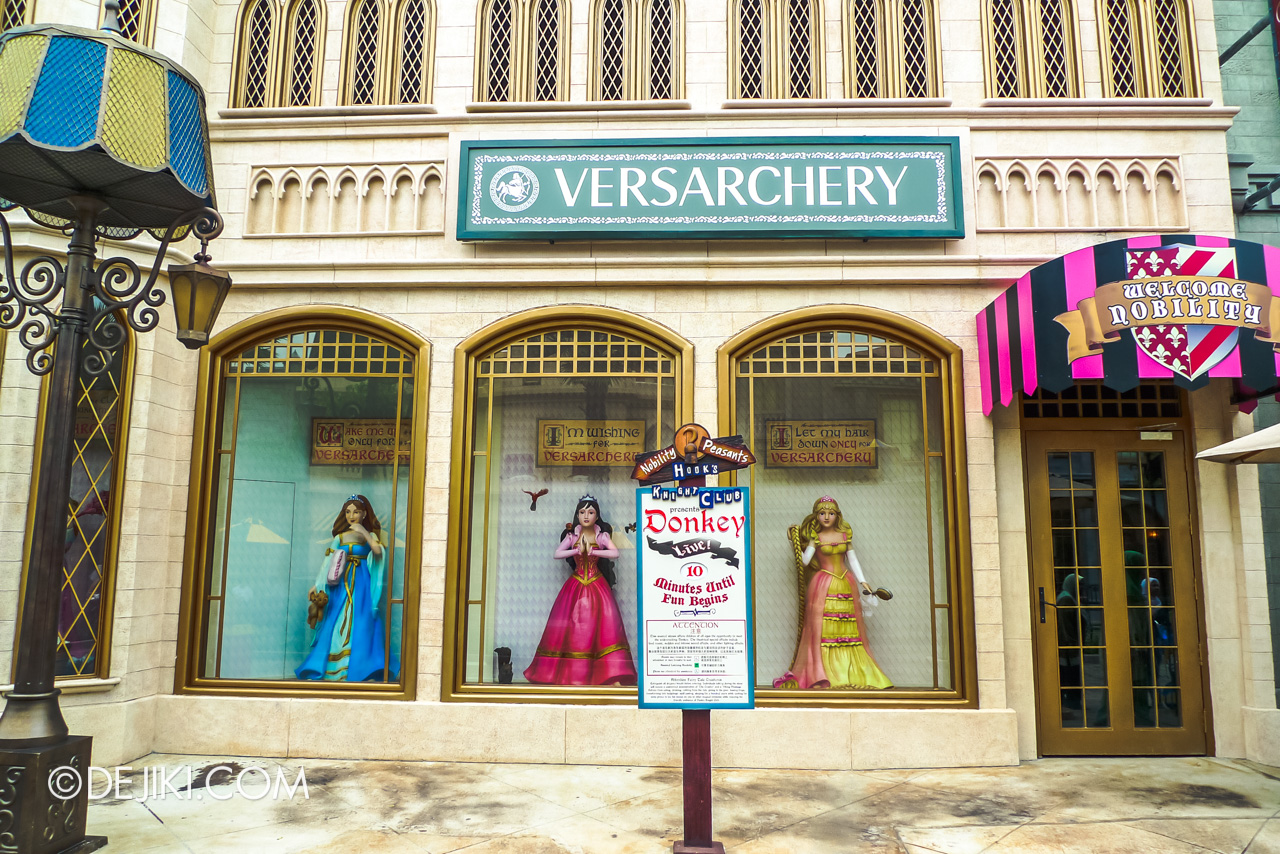 Bringing the Shrek film series to life, Far Far Away had many cheeky parodies all over the zone's props and set design. The Versarchery store windows, for one. Shame it had to make way for The Milk Bar, as part of the area's expansion for Puss in Boot's Giant Journey ride.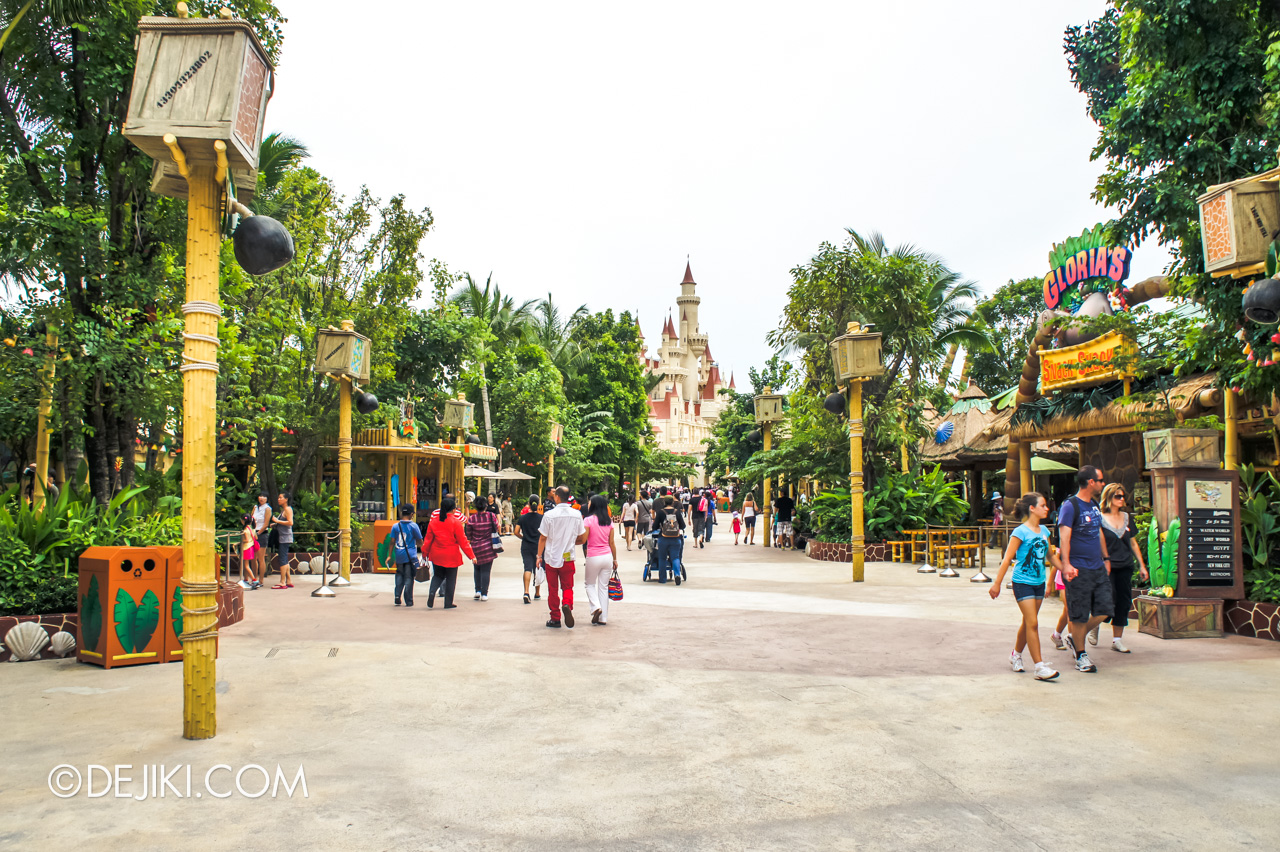 And finally, we are back at Madagascar – a zone that received minor tweaks over the years, and surprisingly only had one attraction: King Julien's Beach Party-Go-Round, in the park's first year.
Going Forward
Universal Studios Singapore has come a long way since March 2010. The park operators definitely had more challenges that are unseen by the public. While the current situation spells uncertainty for the rest of 2020, the park's future chapter will certainly be exciting with Minion Park and Super Nintendo World arriving in a few years, plus other new additions around the resort as part of the RWS2.0 expansion project.
I hope you enjoyed this retrospective photo article. Hopefully I will still be able to write about the park's future milestones! I would also like to thank everyone, from park regulars, fans who always 'like' and reshare posts, to the team members at Universal Studios Singapore and Resorts World Sentosa, all who have supported my journey in documenting the various attractions and events. We've all come a long way.
Subscribe to Dejiki.com or Like my Facebook page for notifications of updates.
---