Go Behind the Thrills at Transformers: The Ride and unlock more fun at Universal Studios Singapore with the Triple Thrills Pass!
Triple Thrills Pass – Multi-Admission Ticket with exclusive experiences
Universal Studios Singapore's Triple Thrills Pass is a new ticket option that offers guests with 3 days of park admission throughout the season (now till 30 Sept 2022), with special benefits during each visit.
Right at the park gates, you can bypass long lines and get into the park via the Priority Access lane. You will also have 3 Express Passes for each visit to shorten the wait for any participating attractions of your choice. But that's not all – to make each visit one to remember, you can pick from a list of Special Experiences which are exclusive to passholders.
If you're a fan of the park and already intend to visit anyway for the ongoing Groovy Summer event (till 14 Aug), then this pass may be of great value. You can use one pass to see both the Groovy Summer event and upcoming Daytime Halloween event (starting 7 Sept) on separate days with a Triple Thrills Pass, plus enjoy a Special Experience during each visit.
Special Thanks to Resorts World Sentosa for arranging Triple Thrills Pass special experiences to be covered in one visit.
---
Triple Thrills Pass – Special Experiences
Transformers: The Ride 3D – Behind The Thrills experience
The most 'premium' experience of them all is Be Inspired – Behind the Thrills, an exclusive 2-hour tour of Transformers: The Ride 3D. This tour will bring you behind the scenes to learn how physics and various technologies help create effects in this popular attraction.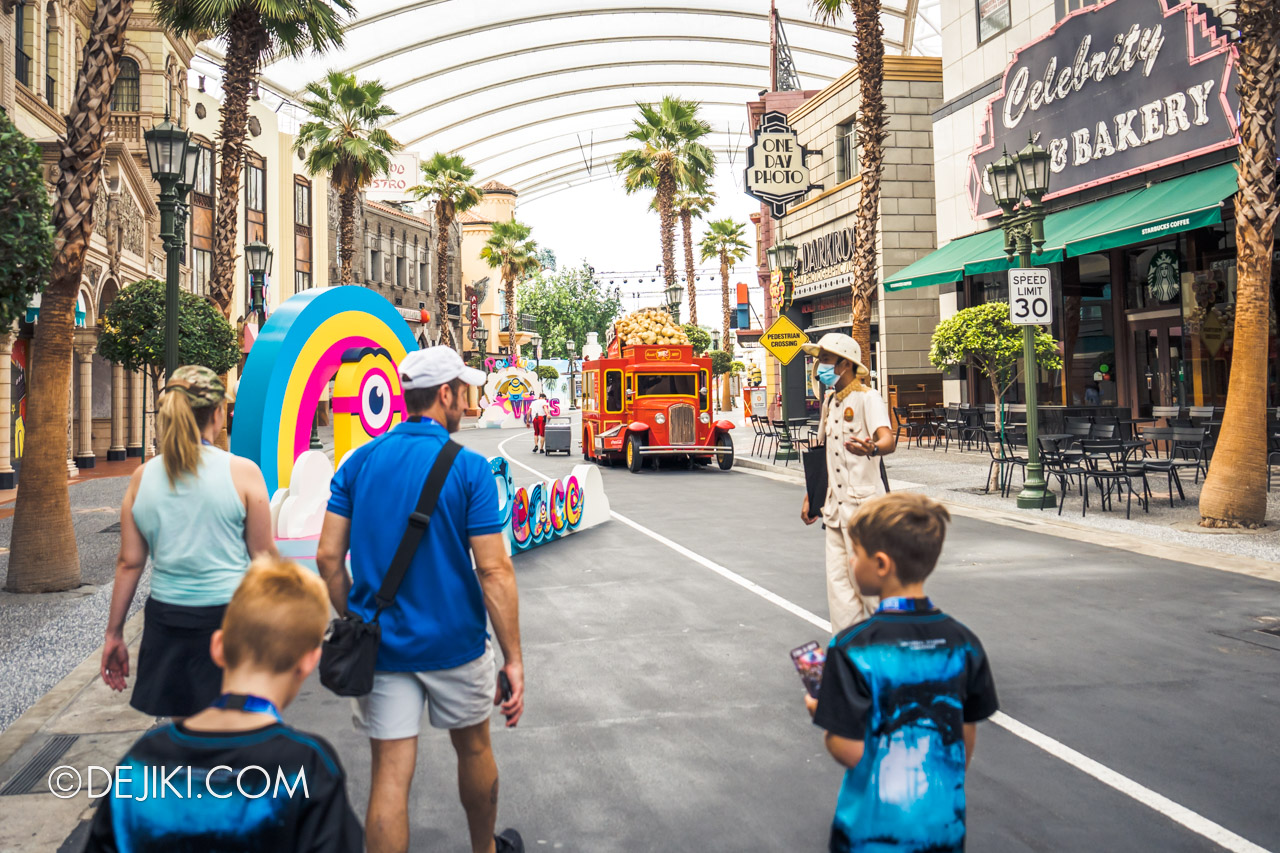 The tour takes place before the park is open, so you will also get a rare opportunity to walk around with no crowds!
Our tour guide, Thomas, was sharing fun facts about the park while offering to take photos along the way.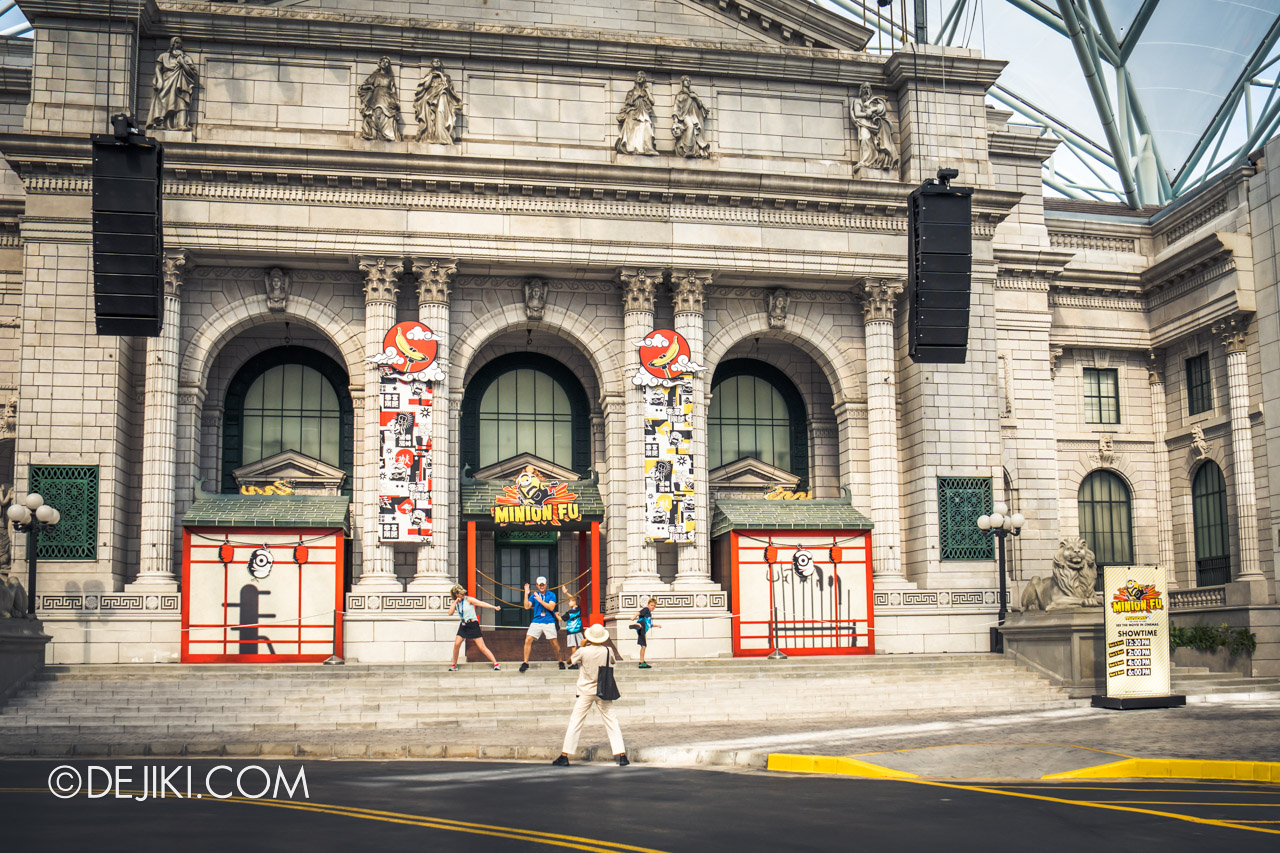 Meet Dr Velocity, a 'new' character that you will meet on the tour, who will introduce some physics concepts that you will see in action later.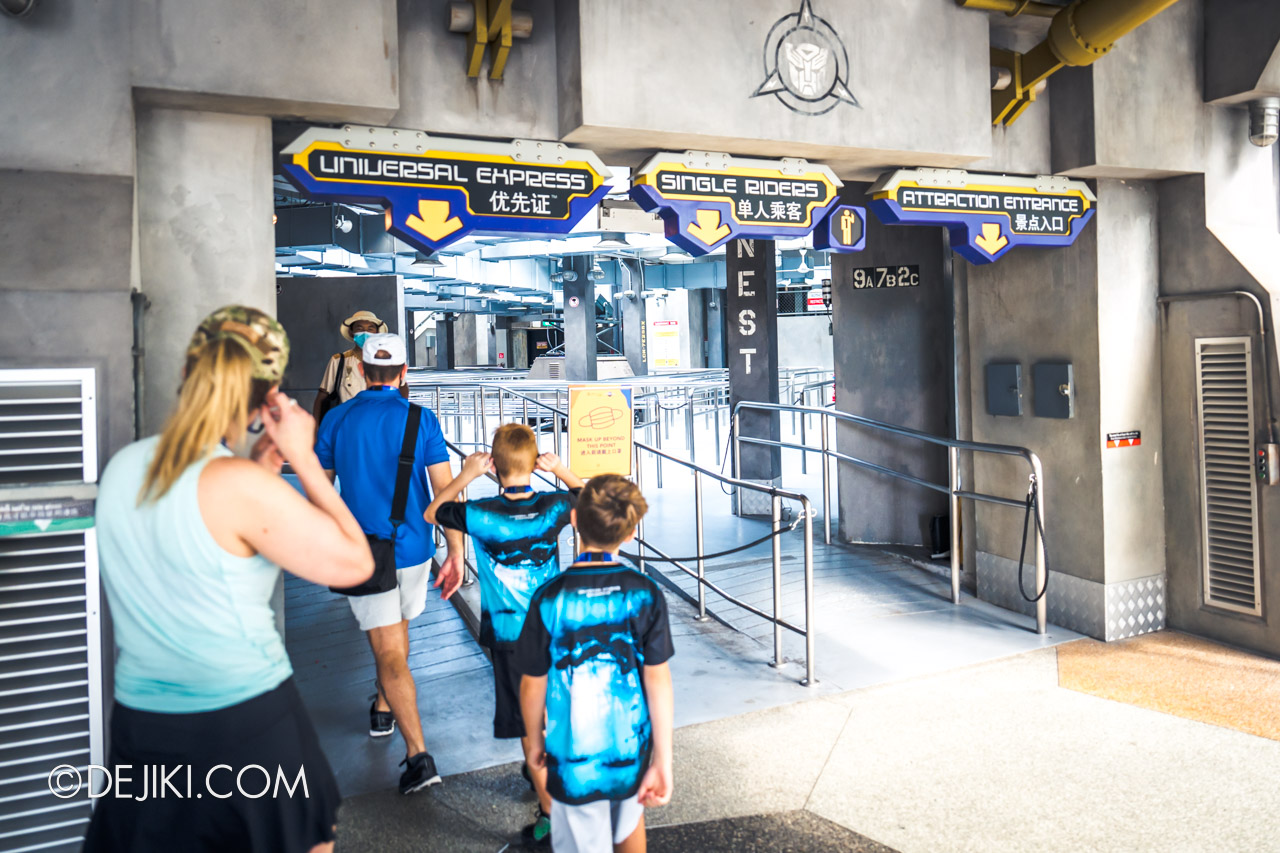 And then you'll be on your way into the show building of Transformers: The Ride 3D.
To facilitate the tour, the ride system will be powered down, and so will all the pre-show scenes and effects. Obviously, it'll be best if you go on this tour after you've been on the ride at least once!
As part of the tour, you'll do the Lock Out Tag Out (LOTO) procedure, by taking one of these locks and locking this red box which holds the key to start the main ride system. All to ensure that the ride can't be powered on as the tour proceeds backstage. During the journey into the backstage areas, you'll be holding on to a precious key to one of these important locks.
Photography isn't allowed in the backstage areas, so for the tour itself I can share that: We got to walk onto one major scene in the ride to check out how the projectors are set up, and see the physical sets with work lights on. My group also spent a bit of time at the maintenance bay to learn how the 3D glasses for this ride works, and the 6 movements that the ride vehicles are capable of.
And of course, we saw several ride vehicles up close – they are actually a lot larger than they appear, with a massive motion base. Other interesting things seen and explained: various elements of the ride track, how the track switches and locks work, how the ride vehicles are powered and tracked along the entire 600m+ of track and how the central system detects vehicles and manages projections at each scene. While these are things theme park geeks would be familiar with, typical guests should be able to appreciate the complexity that has gone into building the ride experience.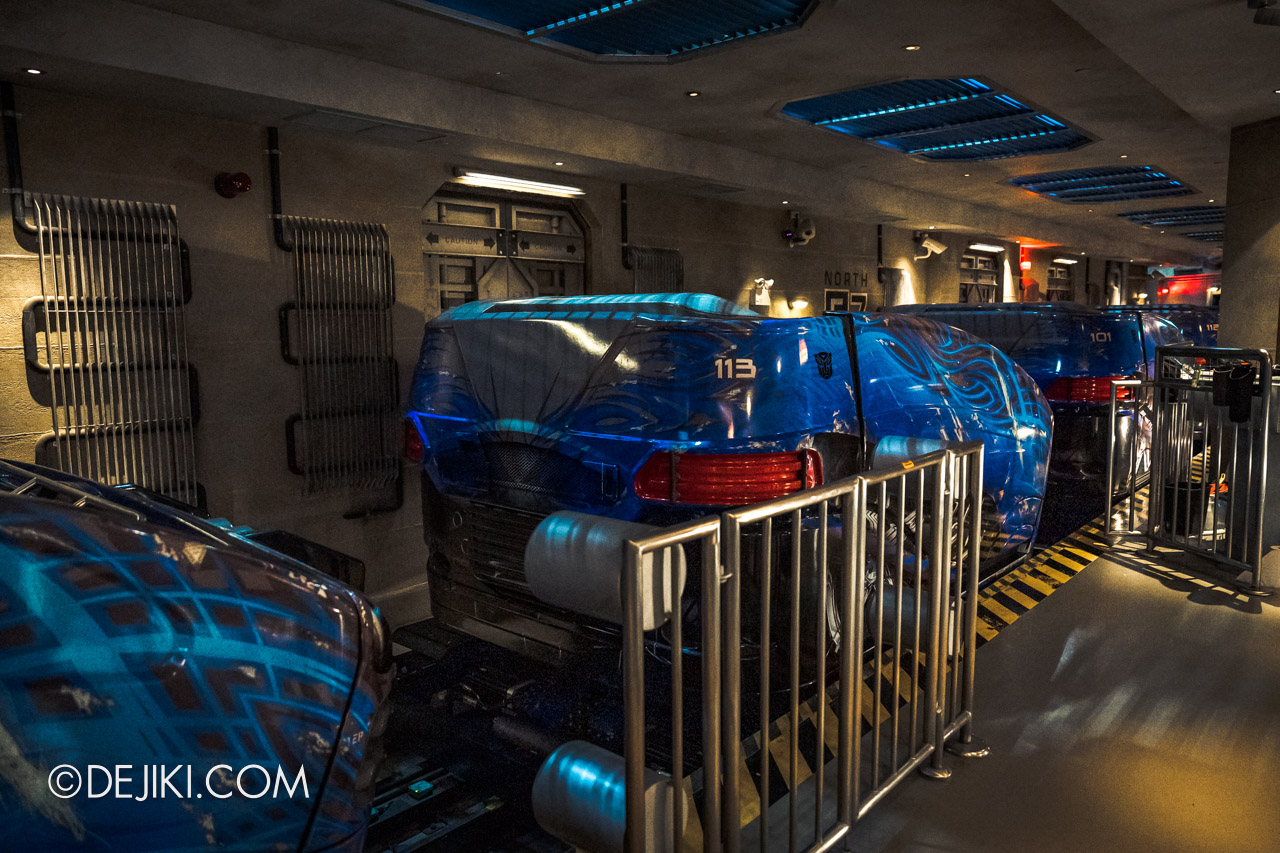 The tour also goes beyond walking around backstage in the show building – besides using fun ways to explain the ride's technologies, it even includes a private Transformers Meet and Greet, and possibly even exclusive ride time before the ride is open to public.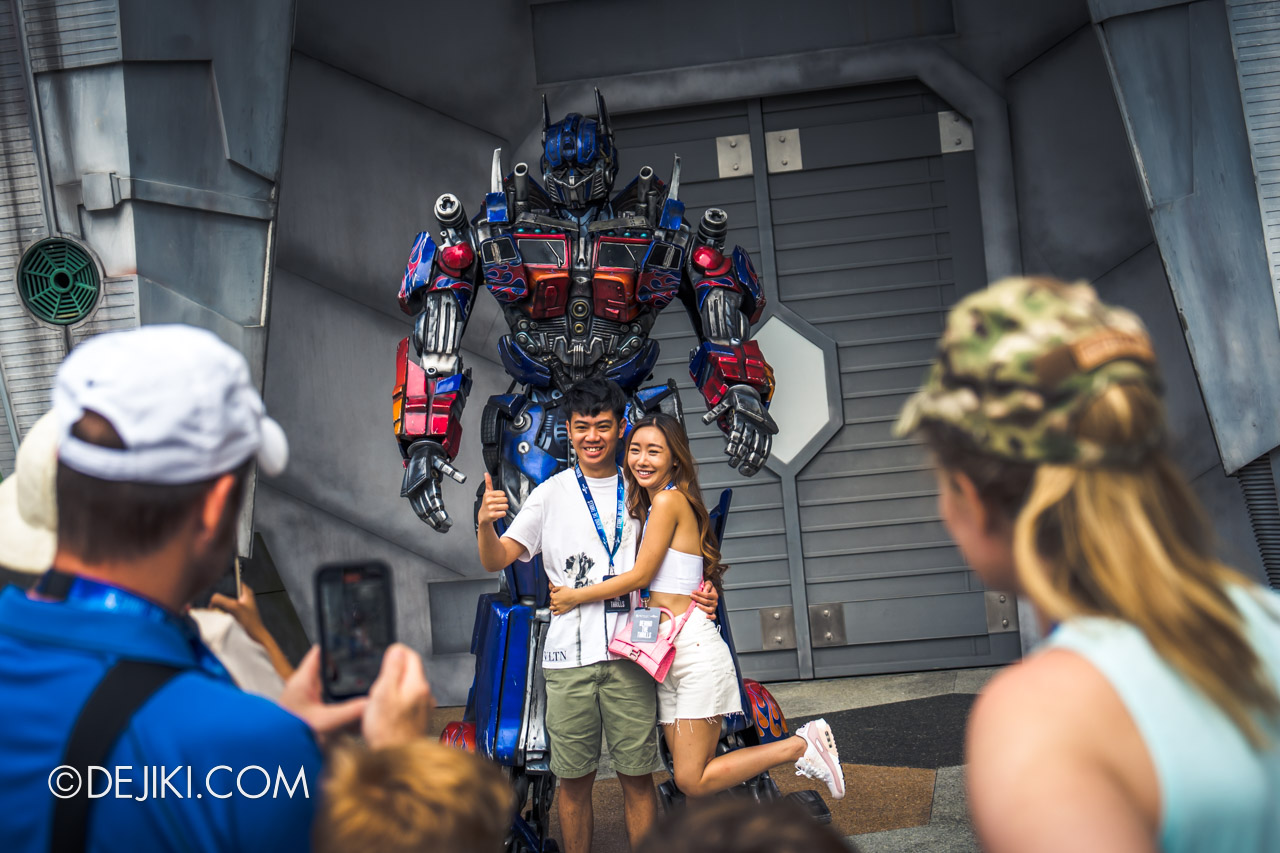 Which Tranformers character will you get to meet?
We offered some light refreshments during the tour, and it ended off with a certificate presentation by Dr Velocity. It's certainly one of the best tour programmes at the park.
Note: The 'Be Inspired – Behind The Thrills' (Transformers: The Ride 3D backstage tour) special experience is only available on Saturdays, 10AM to 12PM. There are very limited slots, so book fast!
I was among the first lot of guests that went on the Transformers attraction back in 2011 when it soft-opened in Singapore, and after going on it countless times for over a decade… I have somewhat extensive understanding of how the ride's effects work from the riders' perspective, but never with a back-of-house view. Even seeing the full ride vehicle, sets and tracks up-close from the ground provided new insights – there's literally a lot of parts coming together to make this ride work, and this tour offers a reasonable explanation on the basics, without getting too long.
I'd love to see the dual elevators and specific screens in action but perhaps those were not feasible to see, with the ride powered down and other obvious safety considerations.
---
Star Lounge at KT's Grill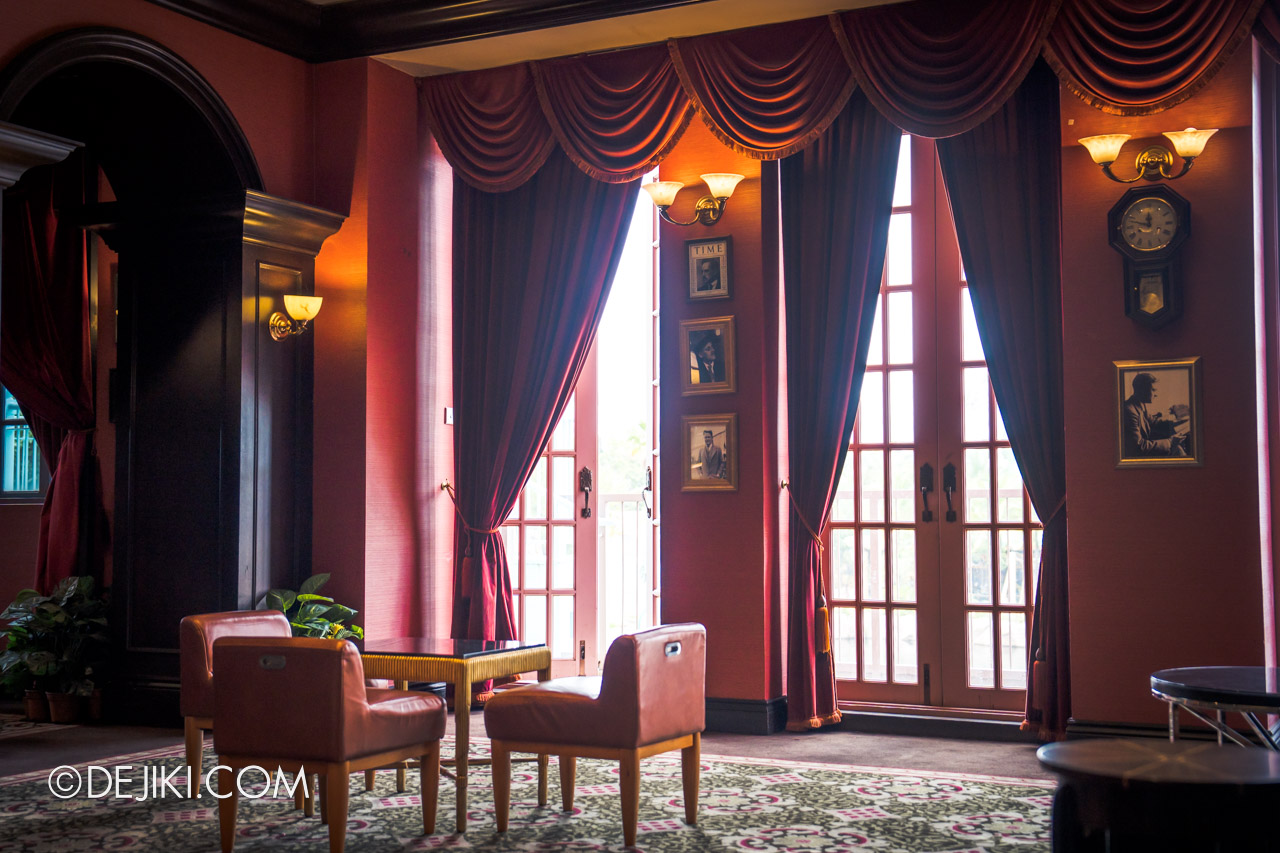 The private dining room at KT's Grill is now the Star Lounge! Visiting USS, especially now with tourists back in full force, can be hectic with crowds and heat outdoors – so this special experience offers all-day access to an exclusive lounge at the park.
With free-flow canapés and drinks (including alcoholic options, soft drinks and juices), chilling out here after a few rides is a welcome respite from the adrenaline rush and sunny weather.
You might also be able to step outside to the balcony and enjoy a rare view of the park from there.
I literally parked myself in the lounge for a few hours to relax after going on 3 rides, and to work on this article.
---
A Trolls-tastic Celebration Show and Meet & Greet
Queen Poppy, Guy Diamond and Branch are putting on a new show at the park, and you're invited to catch it at Pantages Hollywood Theater! This is the Celebrity Snapshots Special Experience.
Your Triple Thrills Pass will get you access to a very exclusive and private performance – with seating! You'll also bring home a complimentary 6R souvenir photo of your meeting with the Trolls and friends.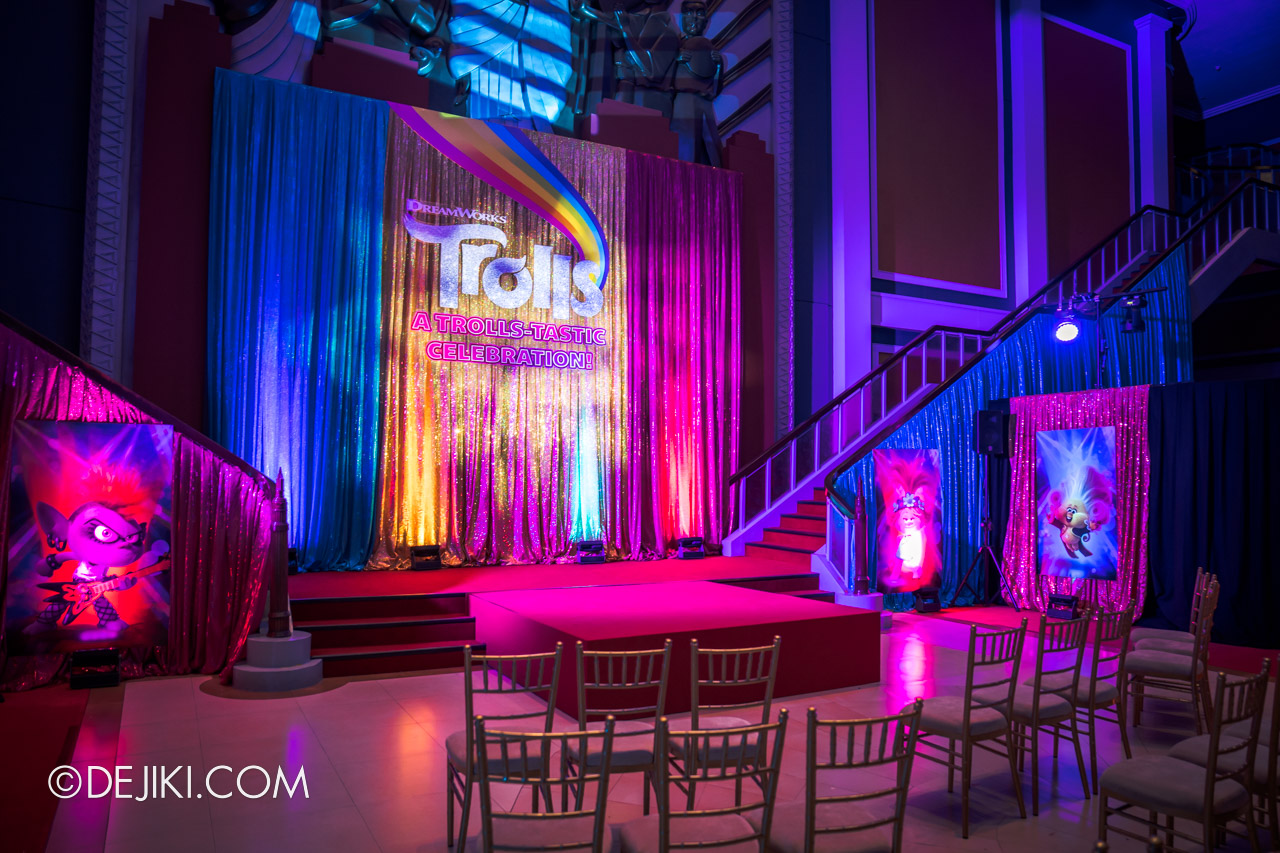 This just left me speechless when I entered the Theater foyer. It's basically Premium Experience-tier entertainment, and there were very few guests who selected this option that day, making it a very private and exclusive performance. I may not be crazy about the Trolls, but this is an unusually elaborate setup that deserves recognition.
---
Supersized Treats
Jumbo Thrills Menu from earlier this year
If you love large-scale treats, then this special experience will let you have a taste of Universal Studios Singapore's oversized desserts and snack platters. Passholders can select a set from the park's high tea and jumbo dessert menu at KT's Grill.
---
Despicably Delicious
Savour Minions-themed treats at KT's Grill during your visit, from now till 14 Aug 2022! Passholders can select from the set menu, and also enjoy a free upgrade to Wagyu beef if they order the Minions Surf & Turf.
---
Triple Thrills Pass at Universal Studios Singapore
The Triple Thrills Pass is available for purchase from now till 30 July 2022. You have to use all 3 visits by 30 Sept 2022. The pass entitlements and special experience benefits are non-transferrable.
Reservations for Park Admission and Special Experiences are required, and bookings must be made online via this website. Special Experiences' availability and entitlements may subject to change.
Category
Price
Universal Studios Singapore

Triple Thrills Pass


Valid for 3 visits till 30 Sep 2022, with these benefits during each visit:
1. Priority entry at USS park entrance
2. Universal Express access for 3 attractions
3. One special experience chosen from a list, which includes:
– Chill Out: Access to 'Star Lounge' at KT's Grill, with complimentary refreshments
– Be Inspired: Behind The Thrills Tour – Transformers: The Ride 3D
– Celebrity Snapshots: A Trolls-tastic Celebration (Private Show and Meet and Greet session)
– Supersized Treats: Jumbo Thrills desserts and tapas platters at KT's Grill
– Despicably Delicious: Exclusive Minion-themed dining experience
$388


More info/ Book now »

Universal Studios Singapore

Triple Thrills Pass


Mastercard Exclusive

Guests with Mastercard can enjoy significant savings for the Triple Thrills Pass. Purchases must be made via Mastercard.

$288


More info/ Book now »