Go on a full-day adventure at Universal Studios Singapore and feast with dinosaurs with the Jurassic World Dominion Dining Adventure package!
What is Jurassic World Dominion Dining Adventure?
This is the latest Premium Experience at Universal Studios Singapore, a special package that includes daytime park admission, Universal Express Unlimited access, and an exclusive dining experience in the evening at the Discovery Food Court.
Category
Price
Universal Studios Singapore Premium Experience


Jurassic World Dominion Dining Adventure


Available on select Sundays from May till August 2022
+ Daytime Park Admission from 10AM
+ Universal Express Unlimited access to select attractions
+ 4-course dining experience at Discovery Food Court
+ Meet and Greet experiences at Jurassic Park zone
$248/ $188
(Adult/ Child)
More info/ Book now »
Jurassic World Dominion Dining Adventure Review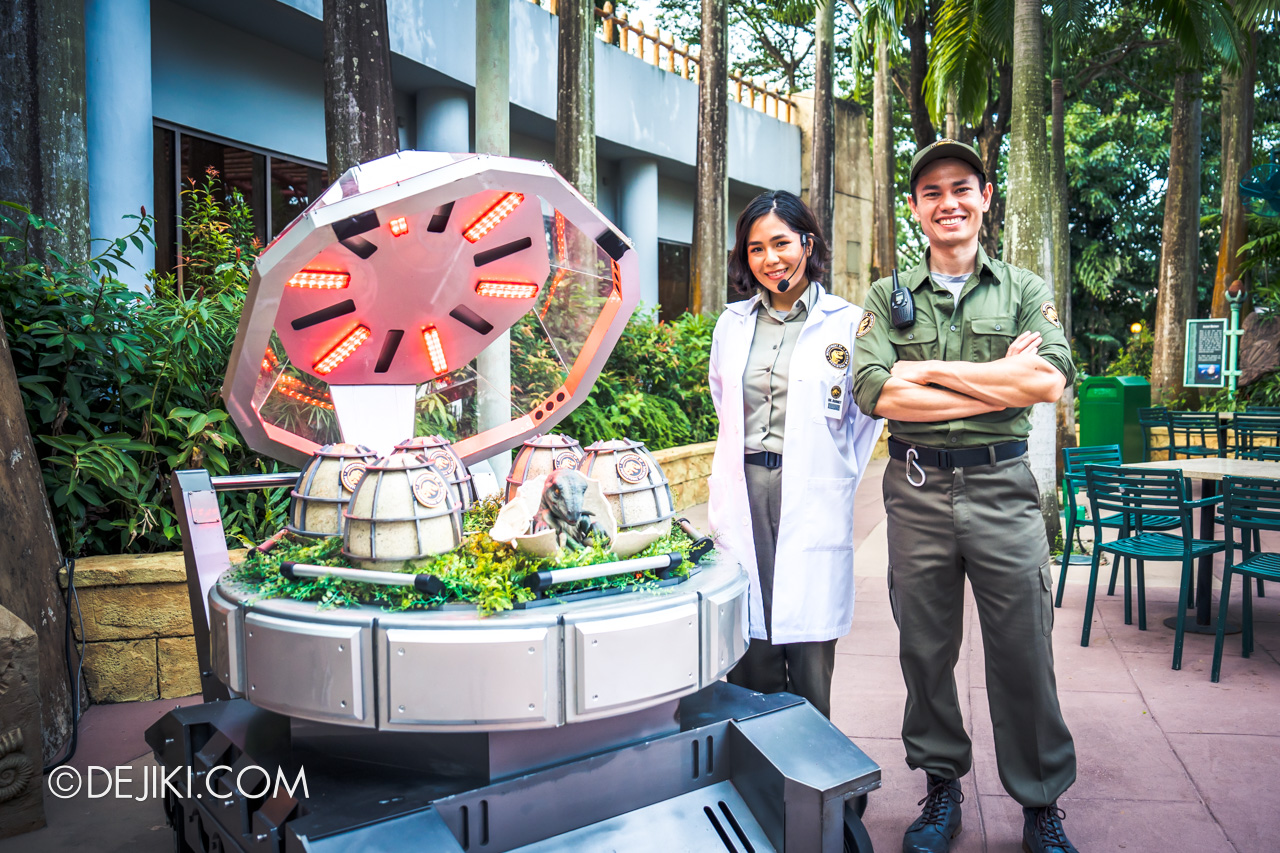 Dinosaur fascination is an enduring one, and this year being more intense with several themed events happening concurrently all over Singapore to cash in on the hype surrounding the new Jurassic World Dominion movie. And of course, Universal does it best.
Among all the Premium Experiences, this is probably the most immersive – it is a dinosaur-themed event set in Jurassic Park itself. In place of moving around (lightly themed) restaurants, this dining experience breaks SHOWTIME format: using just one dining venue to bring guests deeper into the Jurassic universe. With smart touches of themed entertainment, set design and special effects, the venue also upgraded from a "Hammond-era" Jurassic Park to the modern Jurassic World.
Given the wide appeal of dinosaurs, there were also many children who attended the experience during my visit. It's heartening to see them captivated by the entire event setup and entertainment – meeting "real" characters and dinosaurs from the Jurassic universe. The cast also put on a good show as officers in the Jurassic World universe, adding to the immersion.
The food is great (for meat lovers) with generous portions, and there are alternate vegetarian and children's menus available on request. Despite not having to move around dining venues, I felt that the pacing was rushed and sometimes chaotic – dinner started at around 7PM, and each course had an interval of between 15-20 minutes. As it was a crowded night, some guests had to wait long for their food to arrive. Sometimes, after the delays, the 'edutainment' segments may already be long over. Throw in some thematic show elements during the dinner, and overenthusiastic kids – and you'll know it's not a walk in the park managing the flow of the dinner.
Throughout the night, I enjoyed the 'in-universe' videos that were beautifully produced and prominently shown all over the restaurant. But just like dining at any restaurant – where you're seated could greatly impact your experience. My table was at the central atrium, facing the T-Rex skeleton. While it was very dark (for dining), it offered a great view for all the themed entertainment and special effects. I can't say about the other section that is more enclosed.
With the trend towards premium experience offerings, we can look forward to more during seasonal events at Universal Studios Singapore, such as Halloween.
Note: RWS provided tickets for this Dining Adventure, but all opinions are my own.
---
Jurassic World Dominion Dining Adventure Highlights
From as early as 10AM, you can start your day at Universal Studios Singapore and enjoy the latest Groovy Summer event and the park's available attractions. With your Universal Express Unlimited wristband, you won't need to wait too long before you get on the rides!
Shortly before 6PM, park-wide announcements will be made inviting you to the Jurassic Park zone – or more specifically these holding areas leading to Jurassic Park. (The zone and its attractions would be closed earlier at 5PM.)
The Discovery Food Court is now open, just for this Premium Experience!
Officers from the Park's Department of Prehistoric Wildlife (DPW) are on the lookout.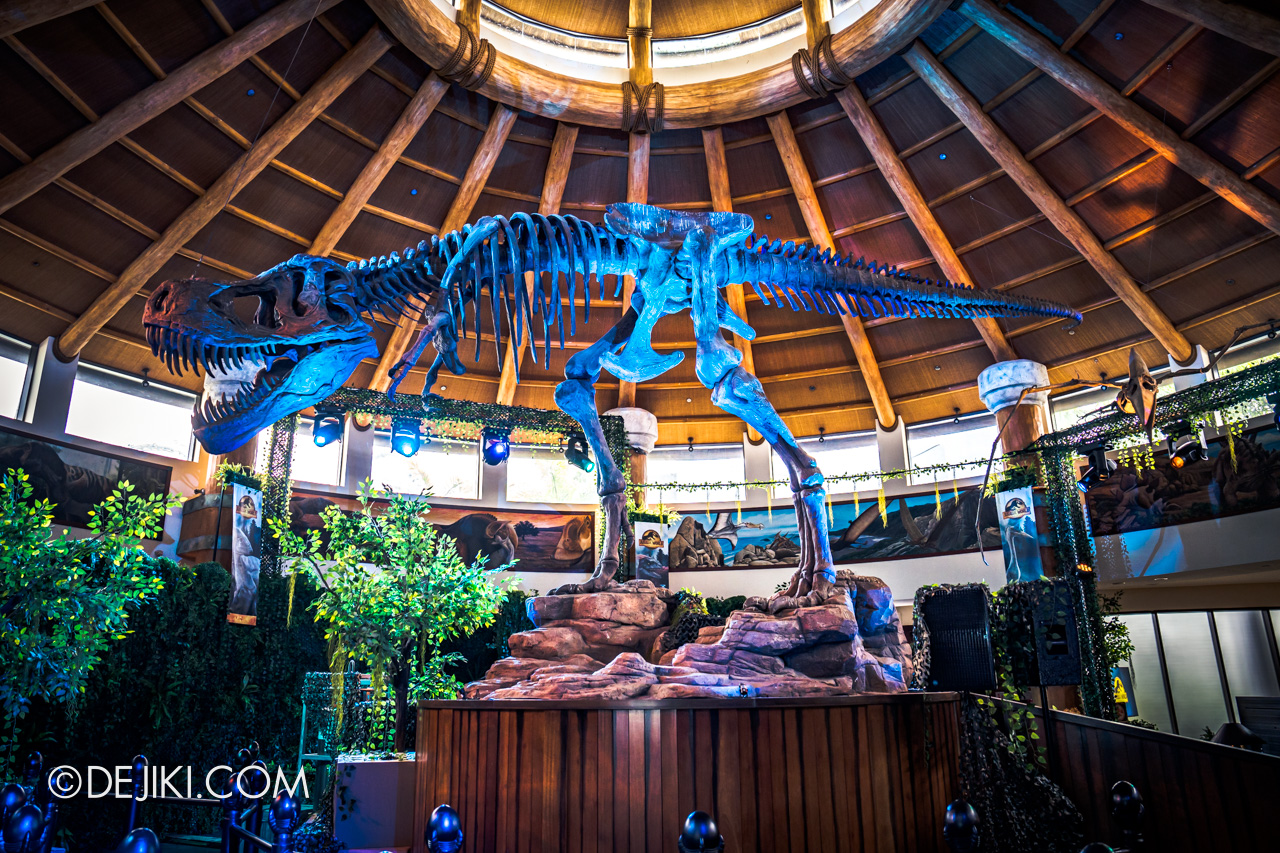 Step inside the Discovery Food Court, which is now embellished with new decorations and lighting effects for the Dining Adventure.
Some modest table setting to further 'dress up' the food court.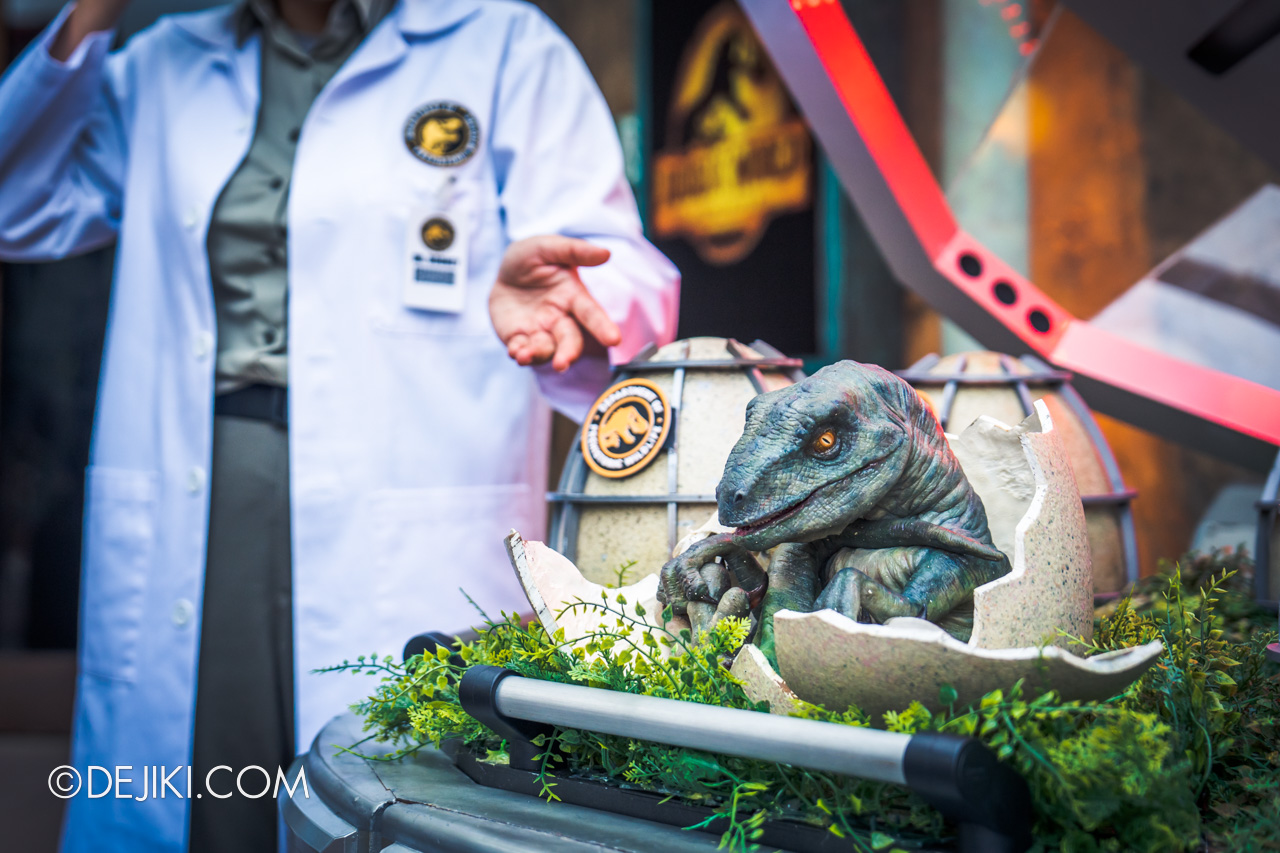 Shortly after settling down, you hear an announcement! Dr Rodney has arrived, and along with her, some rescued Velociraptor eggs!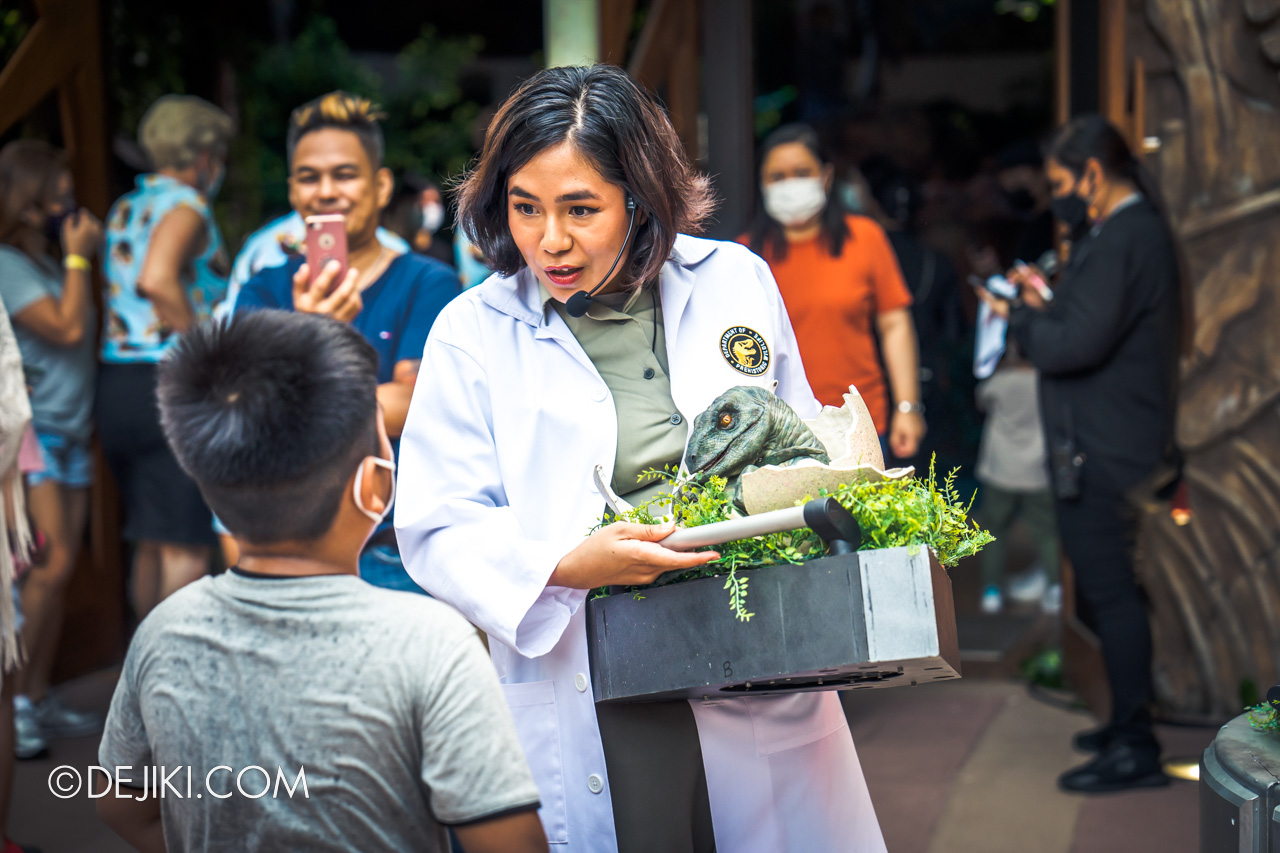 While Dr Rodney presents the baby Velociraptor, other Officers from the DPW are also around to answer any dinosaur-related questions. And of course you'll get a chance to meet Blue too.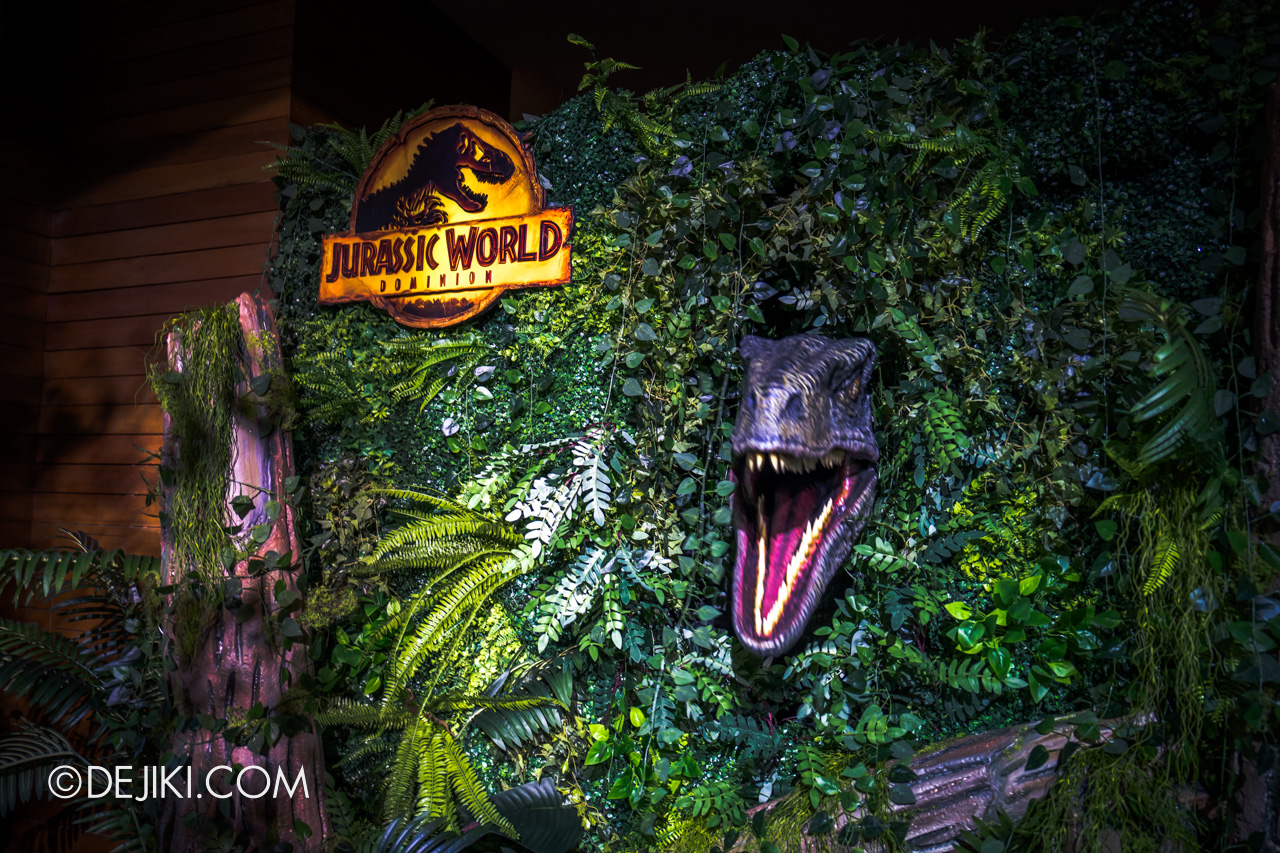 ---
Dining in Discovery Food Court
At around 7PM, everyone is to be seated as the dinner show begins – cue dramatic lighting effects, and the iconic musical motif from the first Jurassic Park movie. Displays around the Discovery Food Court introduce the various courses for the night, each inspired by a type of dinosaur: Herbivore, Omnivore, and Carnivore.
For the first course, Herbivore, you will get a salad jar. Just add the sauce in and shake.
Jurassic Jar
A colourful mix of fresh baby arugula, chervil, oak leaf lettuce, frisée, endive, baby spinach, roasted corn kernels and cherry tomatoes tossed with flavourful champagne vinaigrette dressing.
Served with thirst-quenching young Thai coconut water.
DPW officers will continue to make their rounds, bringing some (small) dinosaurs to meet diners.
As you dine, you'll learn more about dinosaurs, especially the popular ones that appeared in the film series. The 'Omnivore' course came on a platter, but with an interesting presentation…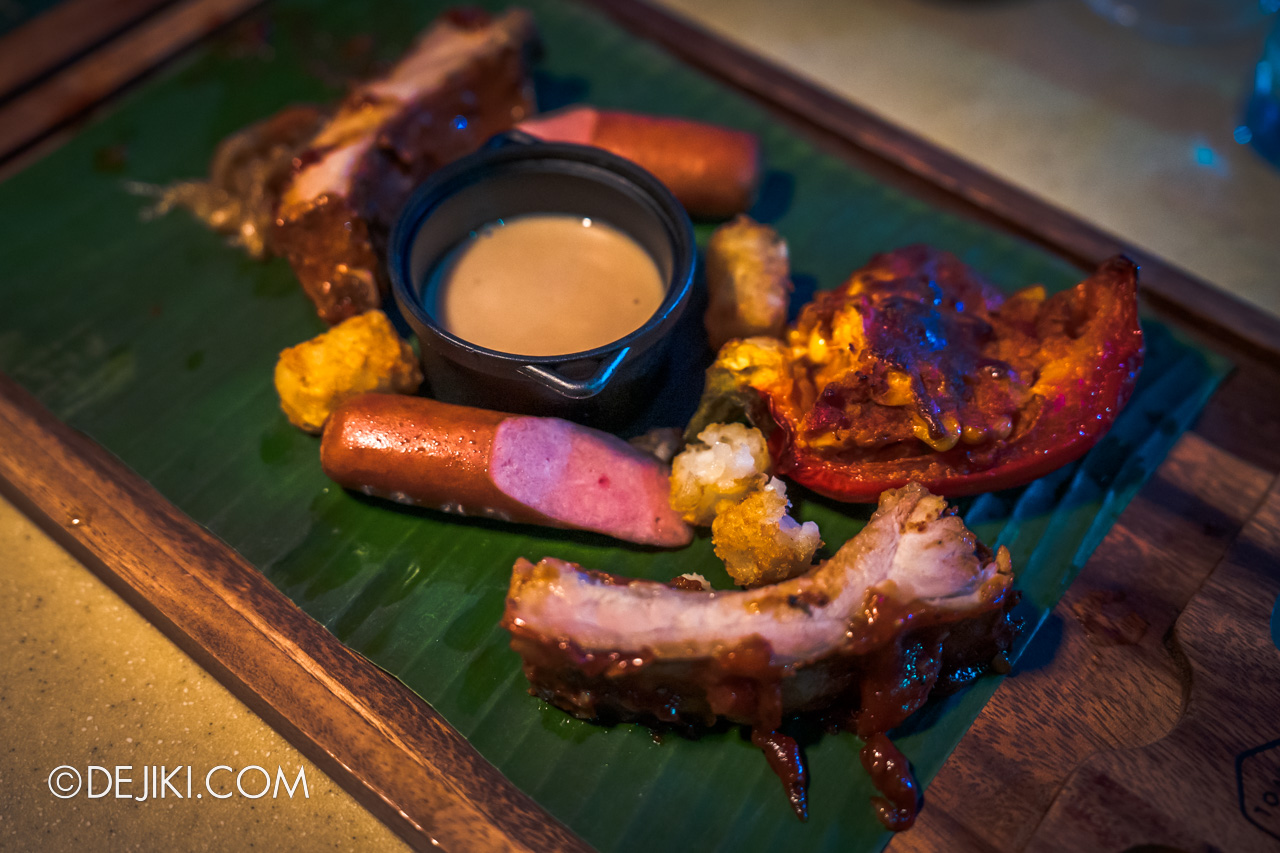 Omnivore Combo
A mouthwatering platter of three irresistible mains: grilled fall-off-the-bone Jurassic BBQ Pork Ribs and smoky Boerewors Pork Sausage, with caramelised onions and honey mustard sauce. Plus, Baked Stuffed Peppers with onions, tomatoes, kidney beans, corn kernels, baby spinach and couscous topped with melted Mozzarella.
Paired with a glass of chilled red sangria.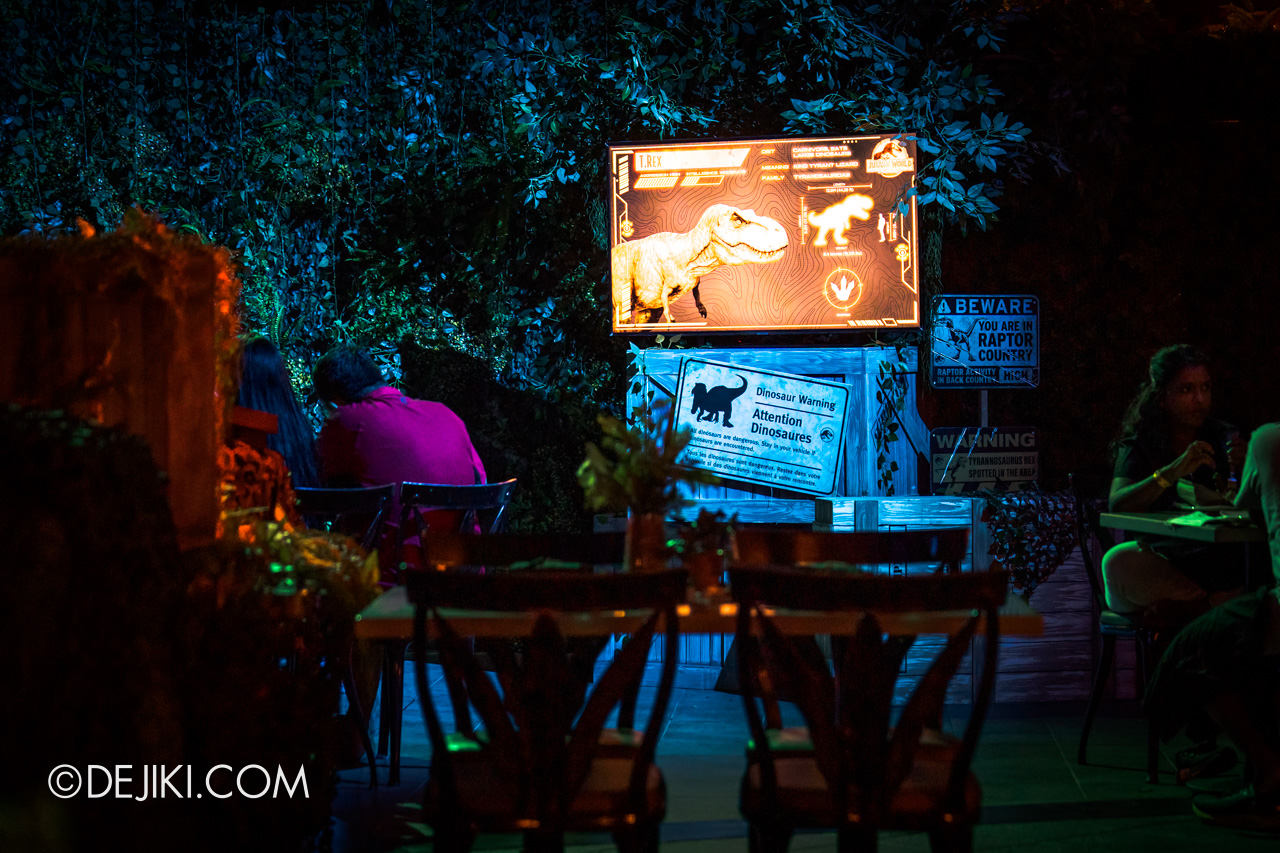 The restaurant matched the menacing presence of the Tyrannosaurus rex with its sound and special lighting effects, as the 'Carnivore' course was served.
BBQ Beef Skewer
Juicy and tender marinated beef pieces served with a medley of red onions, green and yellow zucchinis with sweet potatoes. Accompanied with hickory BBQ sauce and hot sauce.
Accompanied with a refreshing sugarcane mojito cocktail.
Dr Rodney returned bearing good news – another rescued raptor egg has hatched, mirroring the dessert: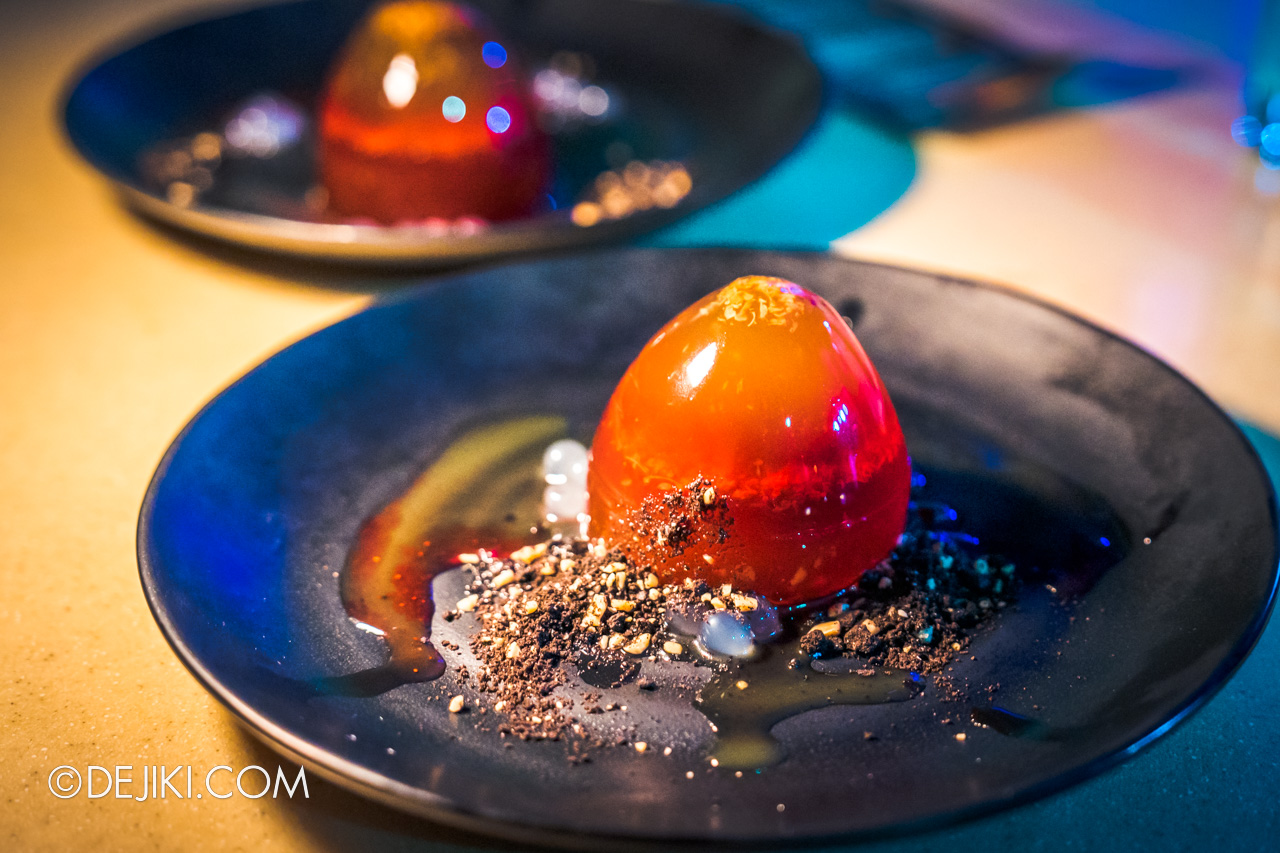 Jurassic World Jelly
An irresistible treat made from lemongrass osmanthus jelly, decorated with cookie crumbs, crushed peanuts and lychee bobas. Served with a side of lemon syrup.
---
Farewell Presentation
After dessert, you'll be invited out for a special farewell presentations on – you guessed it, more dinosaurs!
Unfortunately the power abruptly cuts off midway, and it seems to have take down the security fences…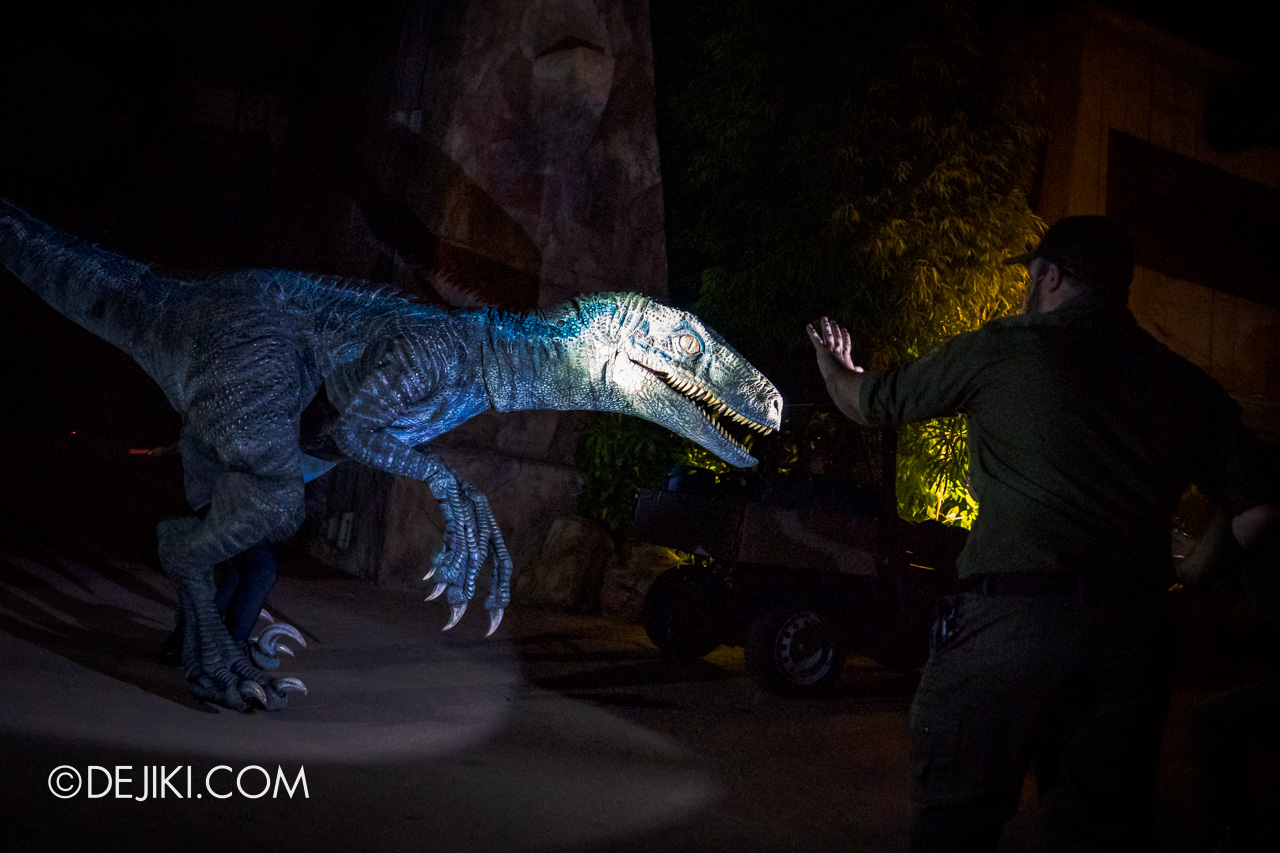 Blue manages to escape, and while park officers try to contain her, she runs away.
With a distinctive roar and approaching thunderous footsteps, it can only mean one thing…
The Tyrannosaurus rex finally makes its grand entrance, roaring at the gates of Jurassic Park!
---
Final Meet & Greet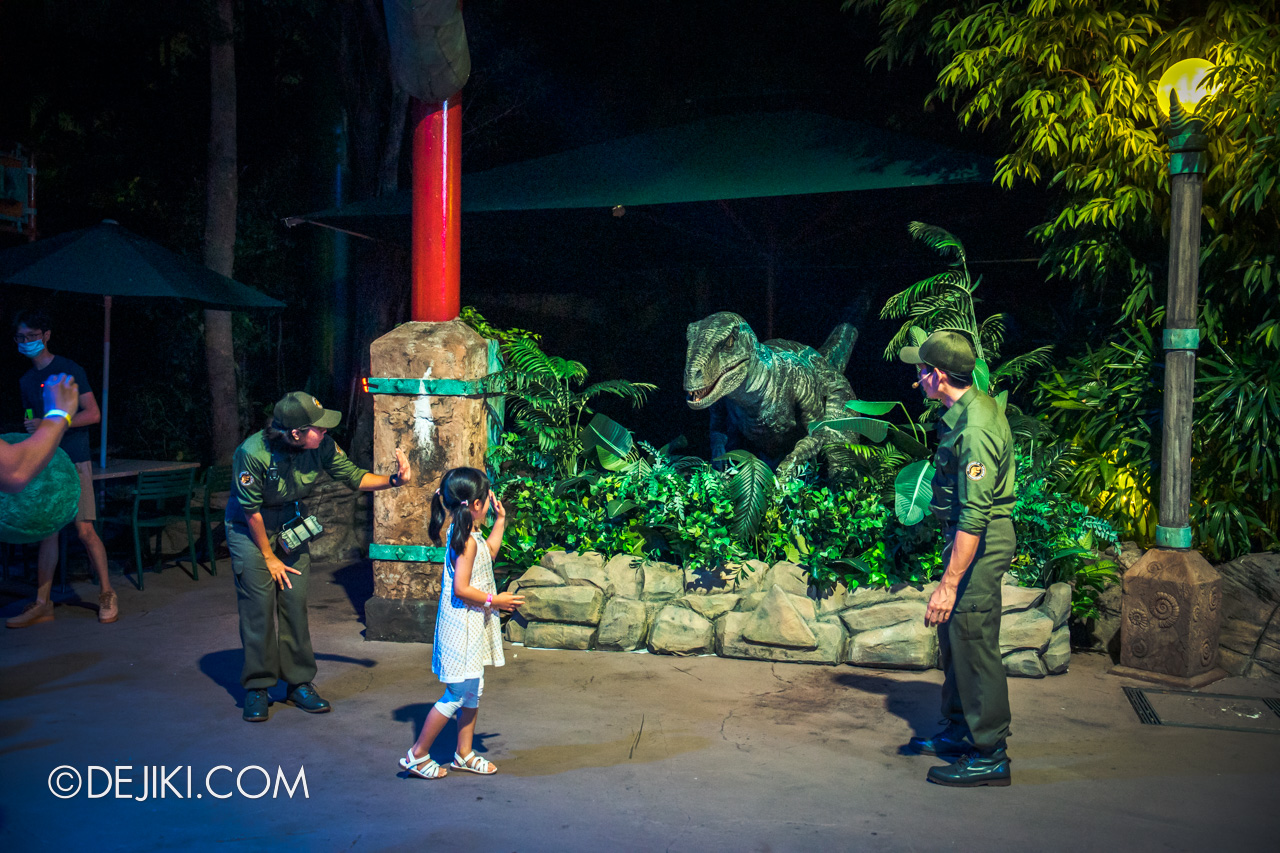 With both dinosaurs secured, it's now safe for your prehistoric photo opportunities.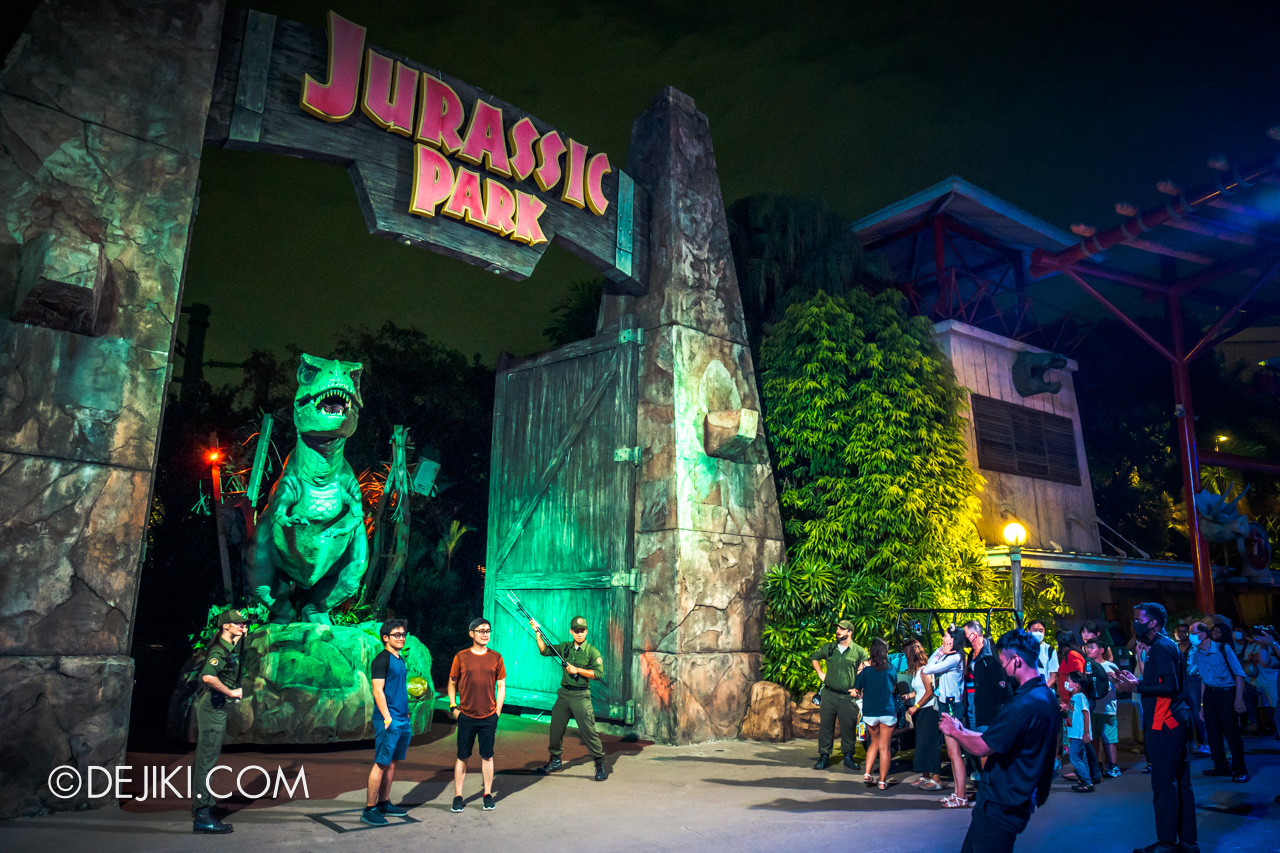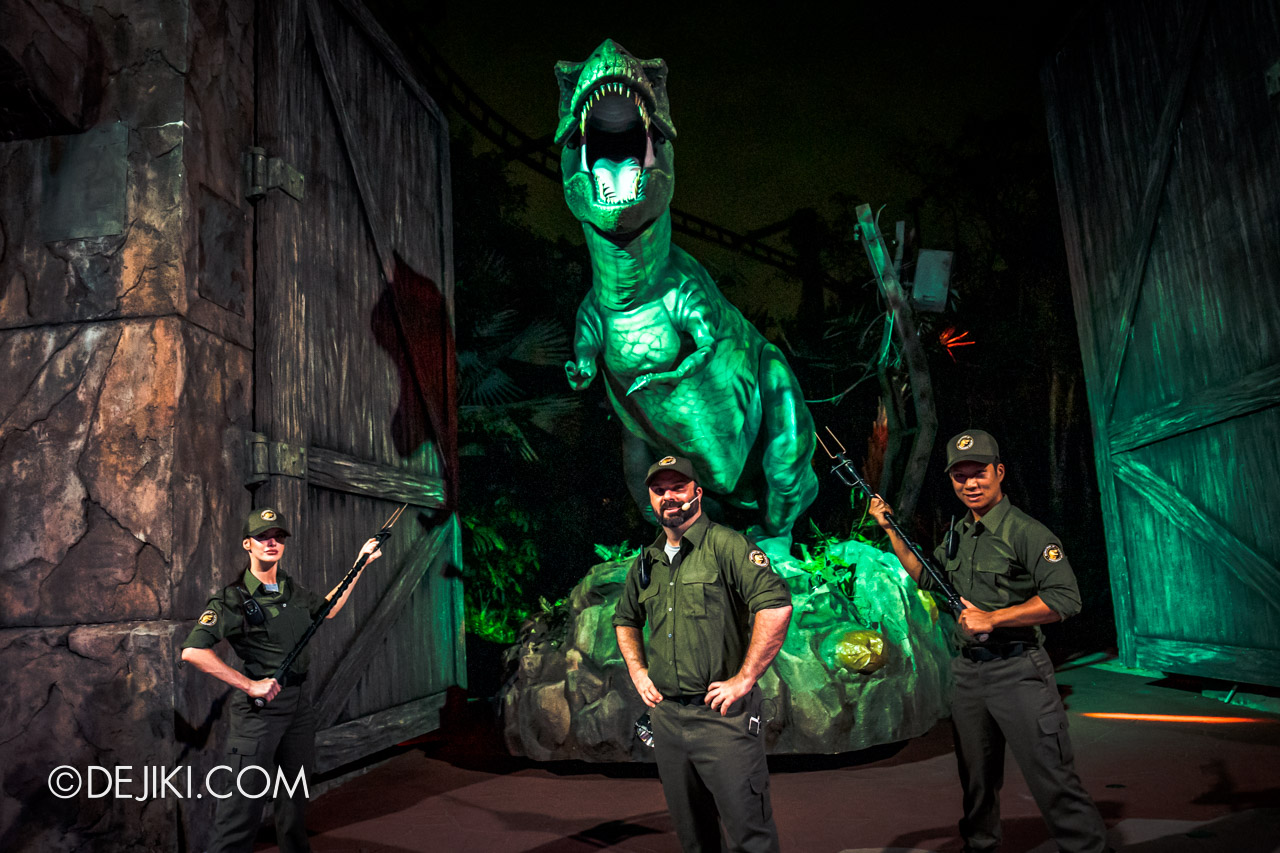 After saying goodbye to the dinosaurs and DPW officers, it's time to conclude your dining adventure.
You'll get this Jurassic World Dominion souvenir tumbler at the park exit to commemorate this experience!
---
Jurassic World Dominion Dining Adventure Video
Come along on this dining adventure of epic proportions in this video!