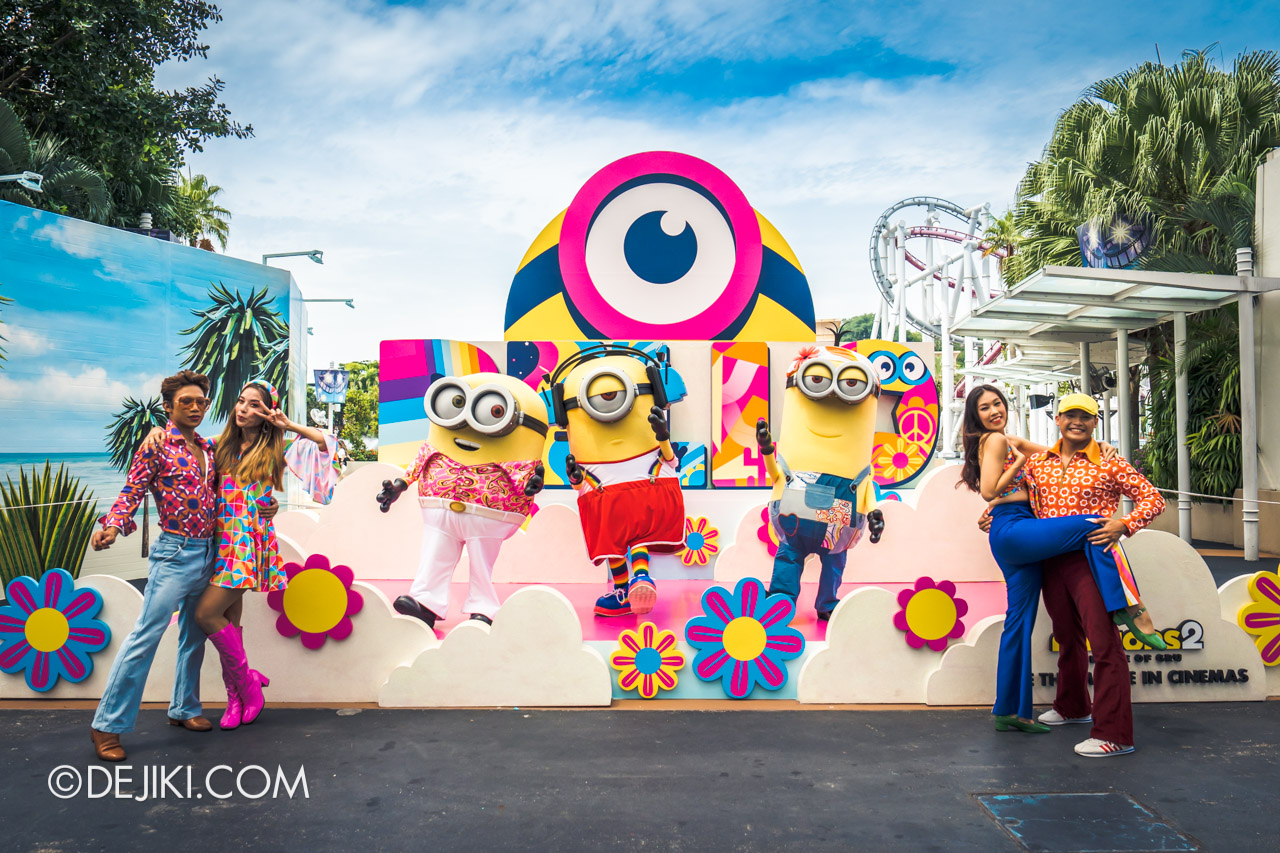 Join in the latest extravaganza of fun at Universal Studios Singapore's Groovy Summer event! Also, get the scoop on Halloween Horror Nights 10 (HHN10) and Minion Land expansion in this article.
---
Halloween Horror Nights 10 news

Halloween Horror Nights 10 (© Resorts World Sentosa)
Halloween Horror Nights 10 is returning to haunt Universal Studios Singapore this year. The 2022 event will run on select dates from 30 Sept to 5 Nov 2022. For more information, check out the new Halloween Horror Nights 10 Event Guide article here for everything about HHN10.
---
Groovy Summer 2022 event at Universal Studios Singapore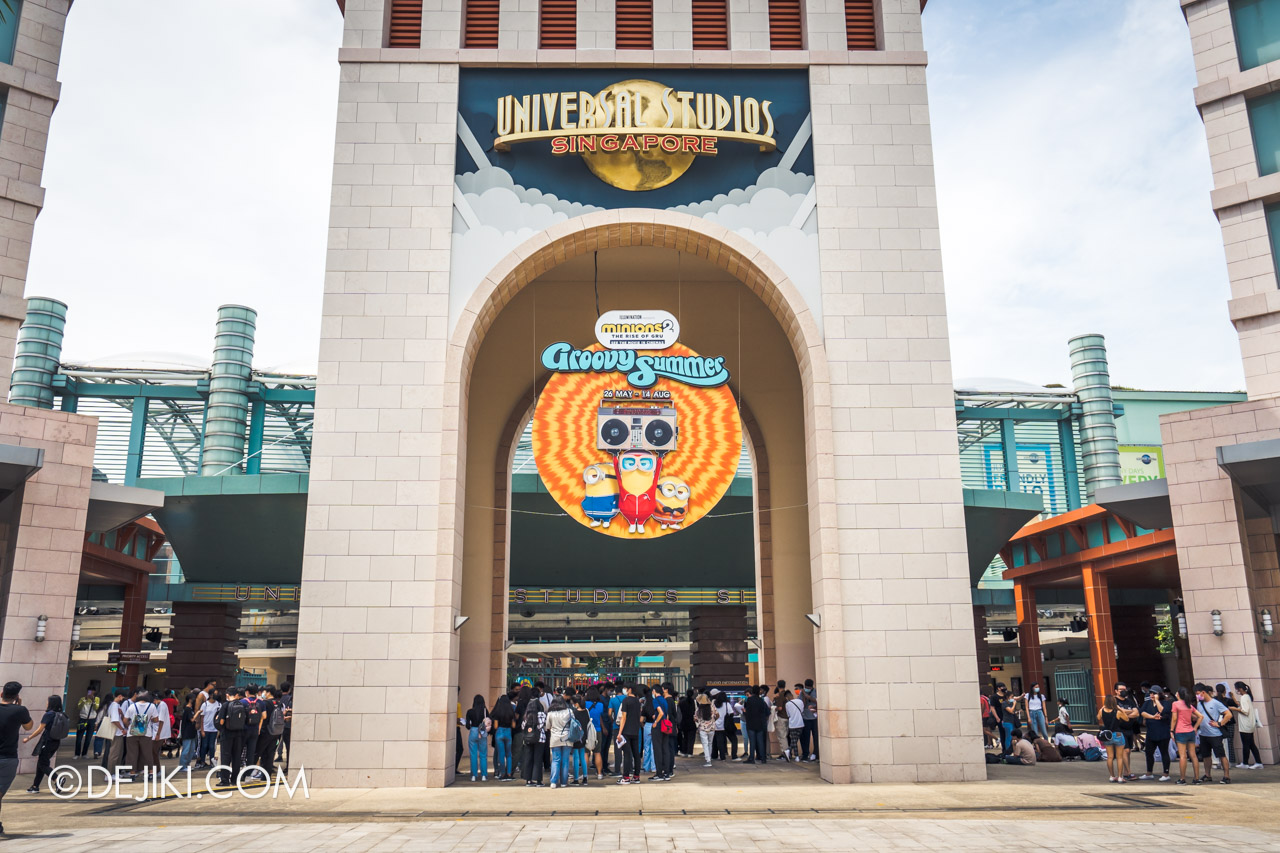 From 26 May to 14 August 2022, Universal Studios Singapore will have a Minion-themed Groovy Summer event to celebrate the release of the new Minions 2: The Rise of Gru movie in June 2022. The 70s-themed Groovy Summer offers new Meet and Greets, a new street show, and a variety of add-ons for special experiences.
Groovy Minions Meet-and-Greet at Hollywood Lagoon stage
Move and groove your troubles away with dancers as they boogie along 70s hits together with the Minions!
The Minions for this show are Kevin, Stuart and Bob, decked out in 70s outfits for this event.
It's great to see face characters performing without face masks at the park!
Also for this event, Otto (standard Minion costume) Meet & Greet will return, but at the Hollywood stage instead of the street.
Minion Fu show at New York Public Library stage
Learn Kung Fu – Minions style, at the all-new Minion Fu Show!
This is probably the first 2022 show (and feels like IT'S SHOWTIME-tier) as a regular park show, and it is followed with a Meet and Greet session.
---
Minion-themed food and drinks
For this event, guests can enjoy Groovy-licious Dining, a very extensive F&B dining experience at KT's Grill restaurant.
This is almost like Minion Cafe, but within Universal Studios Singapore.
Almost every part of the restaurant received a Groovy Summer/ Minion touch. It's a very extensive visual overlay – perhaps we may see more of such themed dining experiences in the park in the future.
The menu may not be as novel as Minion Cafe, but it does offer some very sumptuous mains, it's KT's Grill after all.
Here's what I got to try: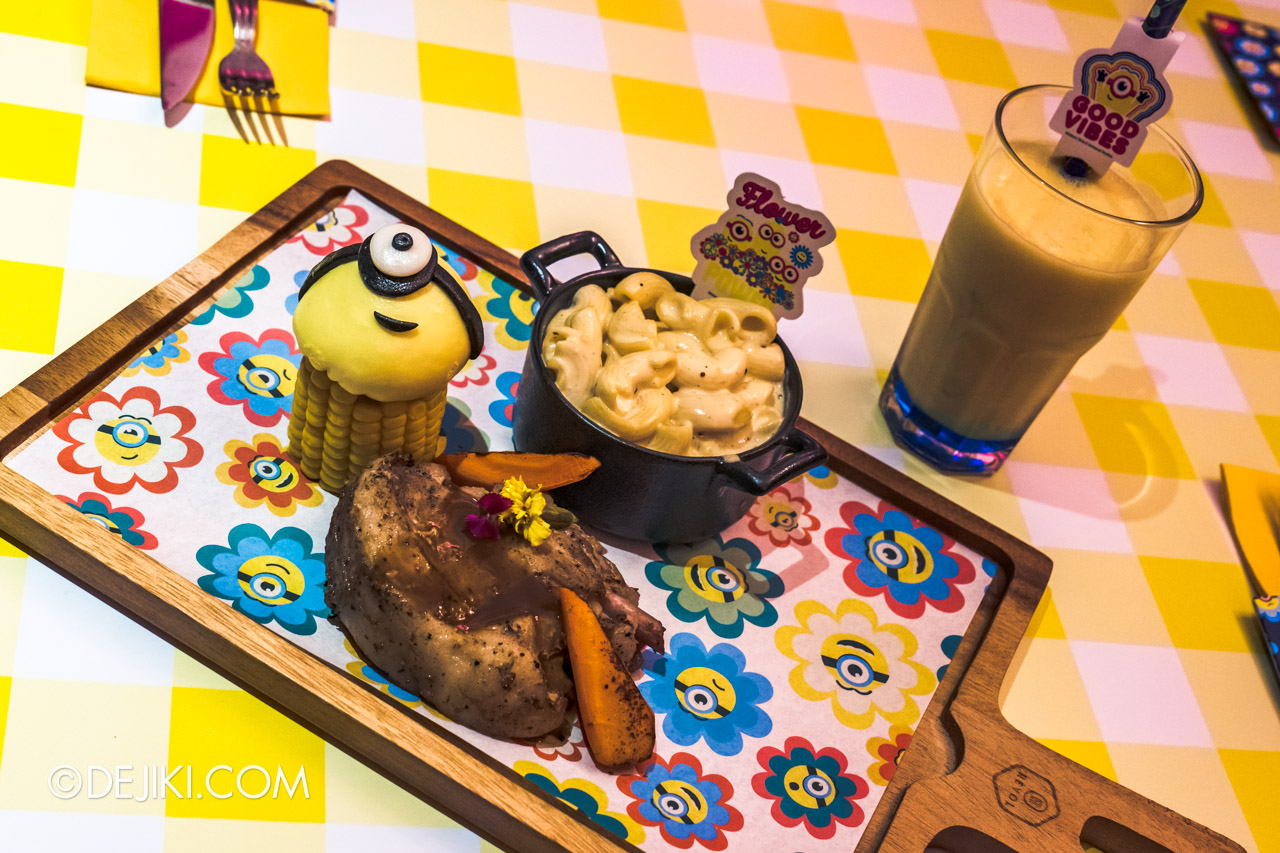 Cheeky Chop ($35) – Pork chop served with grilled carrots and corn on the cob, Mac and Cheese, and a char siew Minion Bun.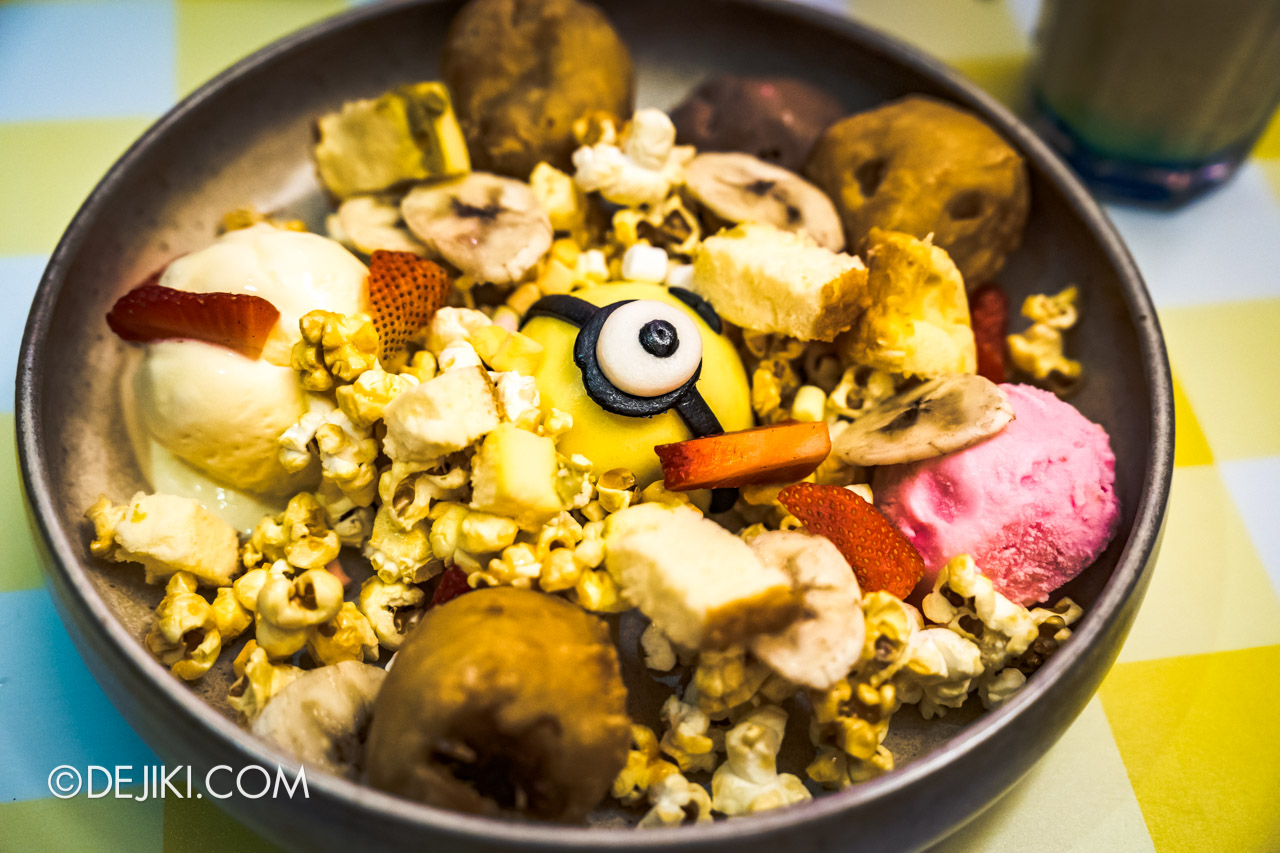 Sweet Mischief Bowl ($18) – Fried bananas, ice cream, cheesecake and chocolate Minion Bun.
The Star Snacks F&B cart is now Groovy Delights, serving new event-exclusive snacks.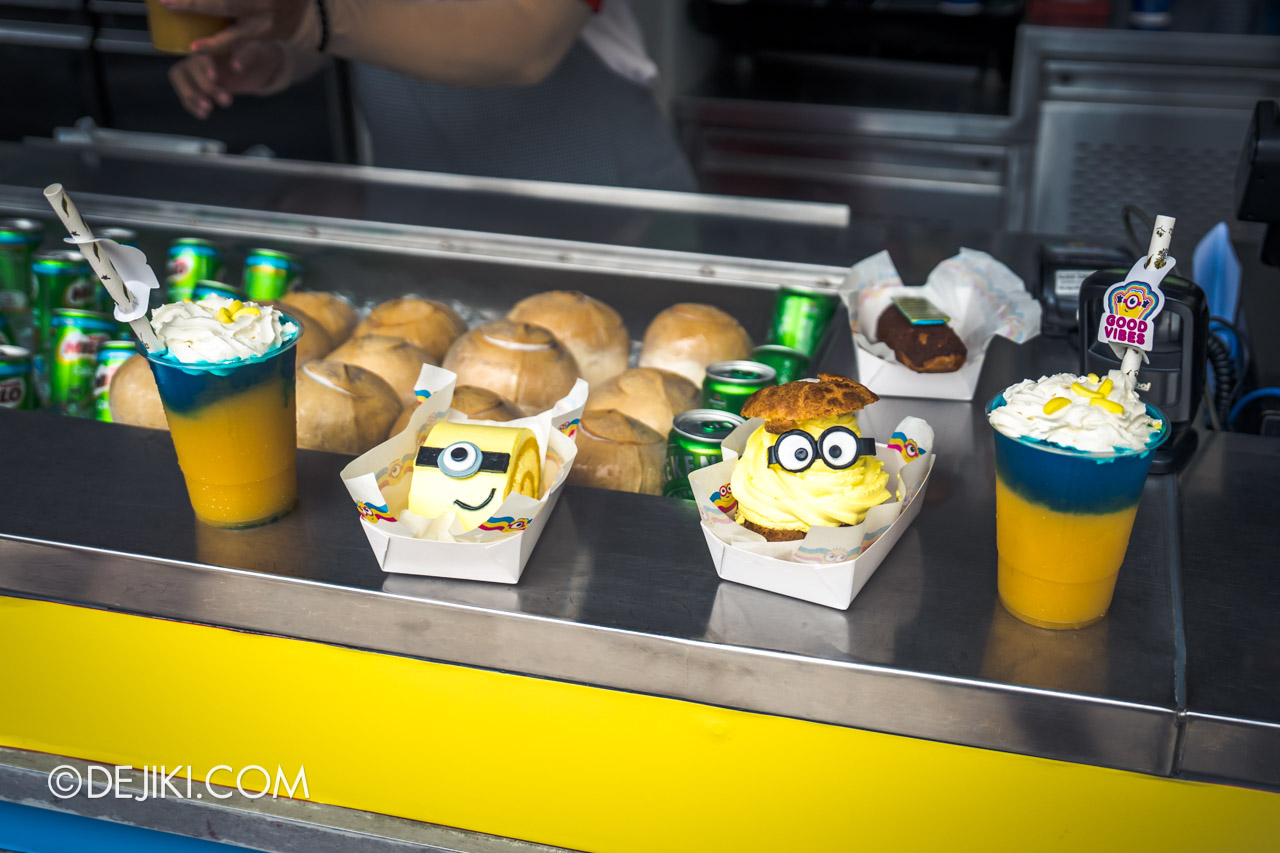 The park is on the way to Universal Studios Japan tier of themed snacks. I am waiting for the Hello Kitty Chucky Steamed Bun.
Mel's Drive-In also received a Groovy Summer overlay, with themed displays as safe distancing markers.
Photo backdrops at Hollywood zone
For the shutterbugs, you can enjoy new backdrops at Hollywood for a complete Groovy Summer Instagram experience.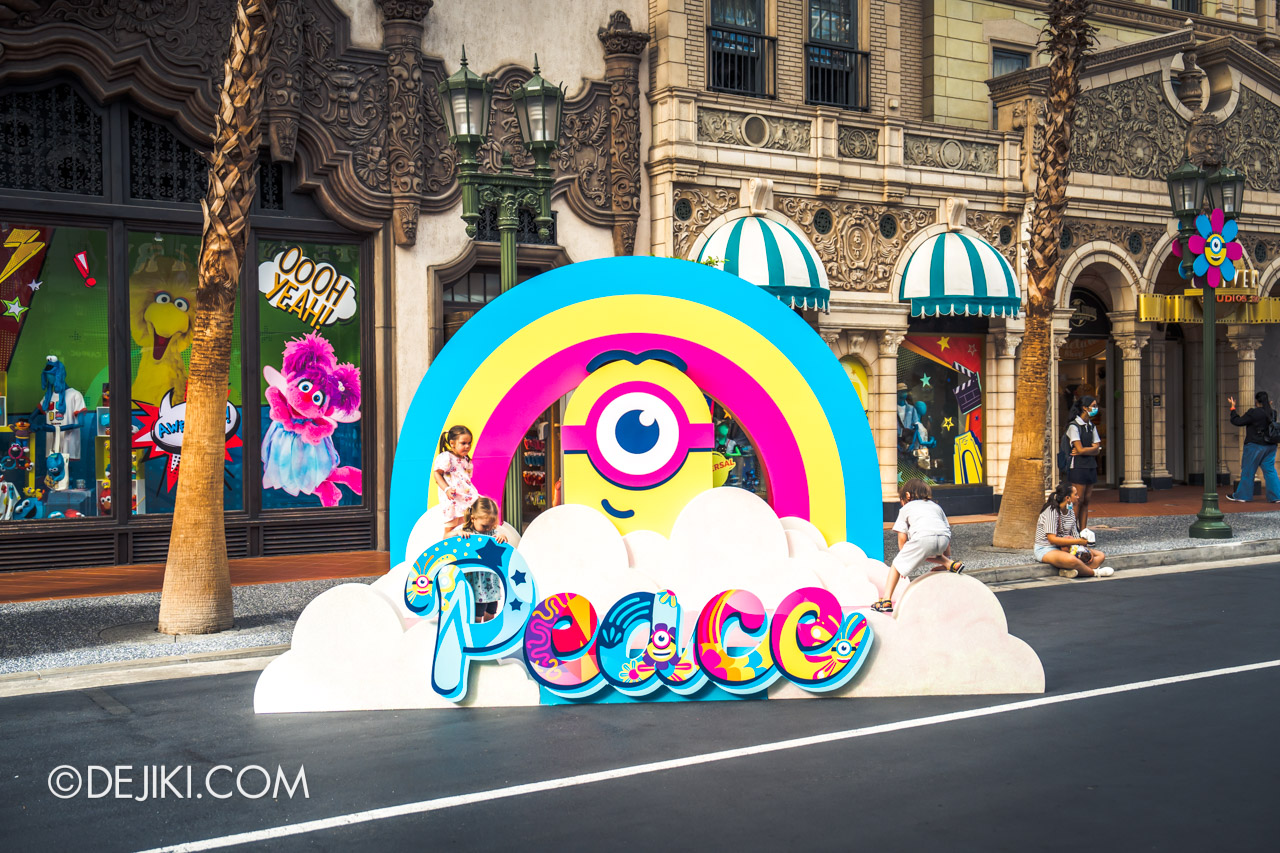 Groovy Summer Park vlog
Catch highlights from the Groovy Summer Meet & Greets, Groovy-Licious Dining at KT's Grill, and a walkabout the Minion Land construction site boundary here:
---
Jurassic World Dominion Southeast Asia Premiere
On 3 June 2022, the park held a one-off exclusive regional premiere of Jurassic World Dominion.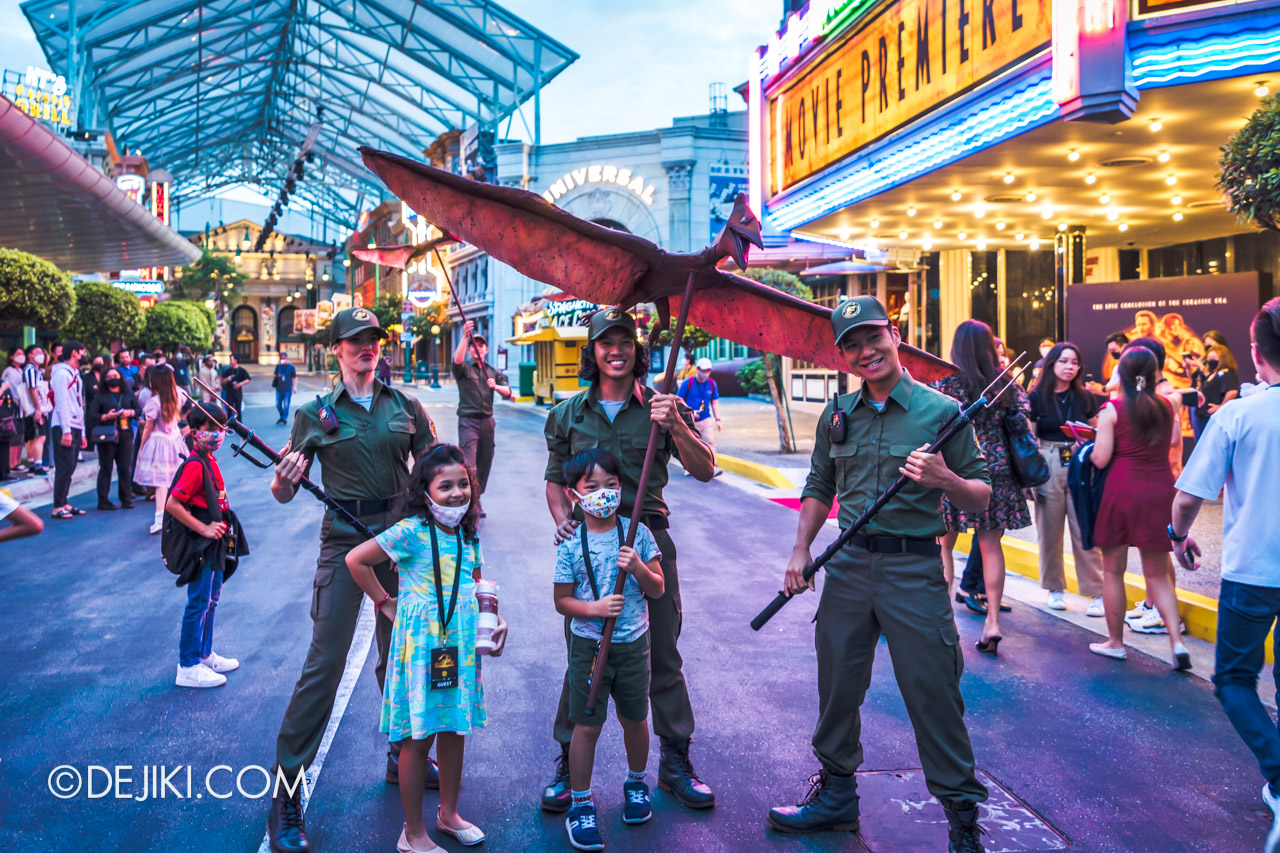 It's been a long time since the park hosted a movie premiere – the most high-profile one being the gala premiere of 'Snow White and the Huntsman' back in 2016.
Guests invited to this premiere of the Jurassic World trilogy finale were treated to a unique in-park experience, which of course included Meet and Greets and the harrowing experience of Blue the Velociraptor escaping – even within Pantages Hollywood Theater.
---
Jurassic World Dominion Dining Adventure
After three editions of IT'S SHOWTIME! Premium Experience, the next up-charge event at Universal Studios Singapore comes with revised format and prehistoric touch to tie in with the upcoming Jurassic World movie. The Jurassic World Dominion Dining Adventure, held on select Sundays from May till August 2022, includes day-time park admission with Universal Express Unlimited. In the evening, the exclusive dining experience takes place inside Discovery Food Court.
Unlike past editions of IT'S SHOWTIME, guests do not need to move between dining venues for each course. Everything will be served at Discovery Food Court. There will be Meet and Greet experiences throughout (featuring the existing dinosaurs in the park), and Blue the Raptor. In the finale, the T-Rex Parade Float will make an appearance at Jurassic Park gates, similar to how it was used for the 2018 Jurassic World: Explore & Roar event.
Category
Price
Universal Studios Singapore Premium Experience


Jurassic World Dominion Dining Adventure


Available on select Sundays from May till August 2022
+ Daytime Park Admission from 10AM
+ Universal Express Unlimited access to select attractions
+ 4-course dining experience at Discovery Food Court
+ Meet and Greet experiences at Jurassic Park zone
$248/ $188
(Adult/ Child)
More info/ Book now »
Jurassic World Dominion Dining Adventure visual © Resorts World Sentosa
---
Universal Studios Singapore expansion: Minion Land news
USS has finally broke ground on its expansion project, following the closure of Madagascar zone and the Madagascar: A Crate Adventure attraction several weeks ago. Construction for Universal Studios Singapore's Minion Land is expected to go into full swing later this year, and the zone should open by end 2024.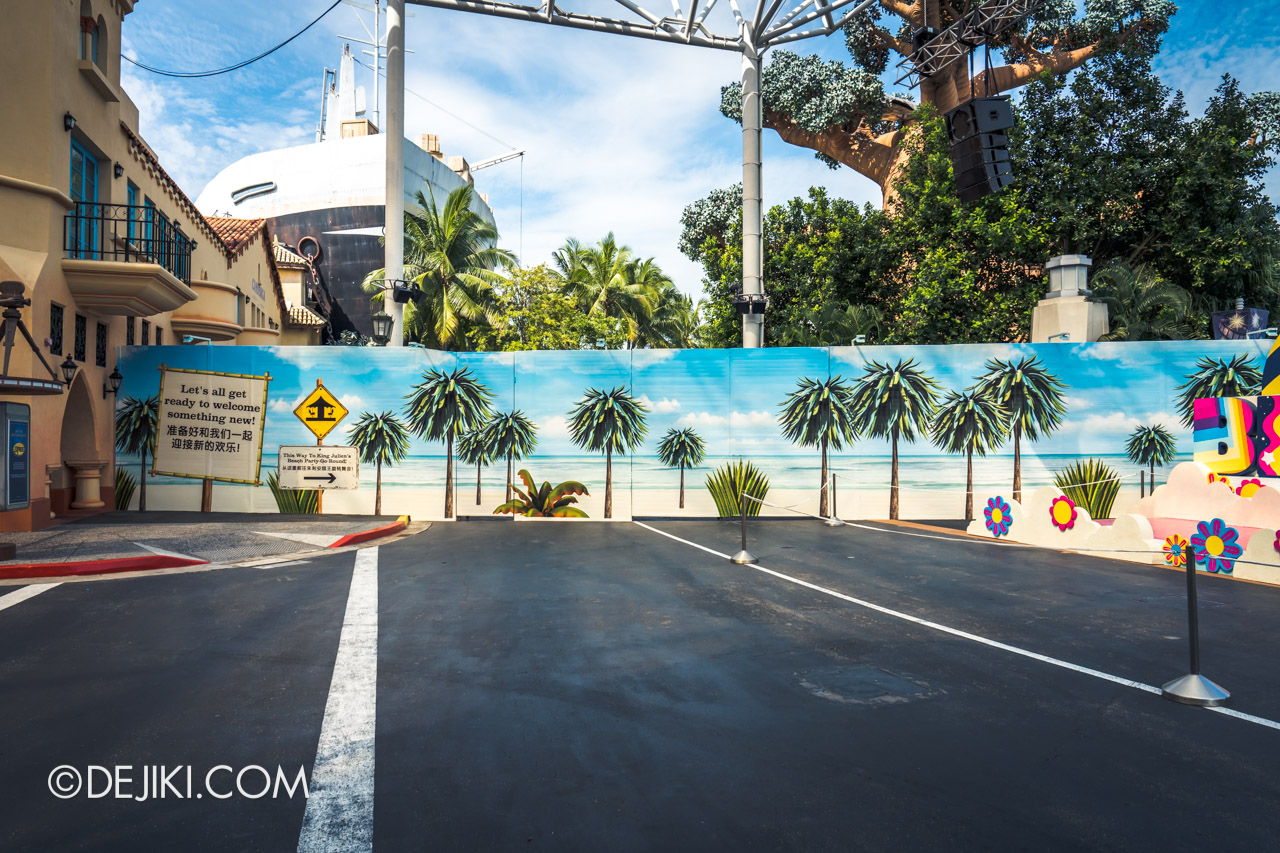 Since the closure, the main pathway between Madagascar and Hollywood zones has been blocked off with these hoardings. King Julien's Beach Party-Go-Round (carousel ride) and Far Far Away zone are still accessible via the path beside the lagoon.
The flooring around the Lagoon's fountain appears to be redone again.
A recently modified area in Madagascar zone to widen the pathway.
The 'Dead End' at Far Far Away.
Due to the park layout, Shrek's Tree Stump is no longer accessible as it is outside the 'Kingdom' area of Far Far Away.
As I've reported earlier this year, the Minion Land expansion will have 3 attractions in USS, with the confirmed one being Despicable Me: Minion Mayhem (indoor motion theatre with preshow). The other two are very likely to be amusement park rides: A new Spinner ride (possibly Balloon Race), and a Minions Carousel.
Unless there is a last minute and drastic change of plans, the Carousel will be a retheme of the existing one, and the Balloon Race ride will take design cues from 'Super Silly Fun Land' in Beijing and Hollywood Universal parks. There is no space for other types of attractions, plus the park needs to have a mix of family-friendly rides.
The zone's design vision should align with Universal Studios Beijing's version given that Singapore's will also be built along the lagoon, and it will feature whacky scenic design elements from 'Super Silly Fun Land' on the side facing the lagoon. The other side will have rows of shops facades and suburban homes beside Gru's House, as seen in other Universal parks.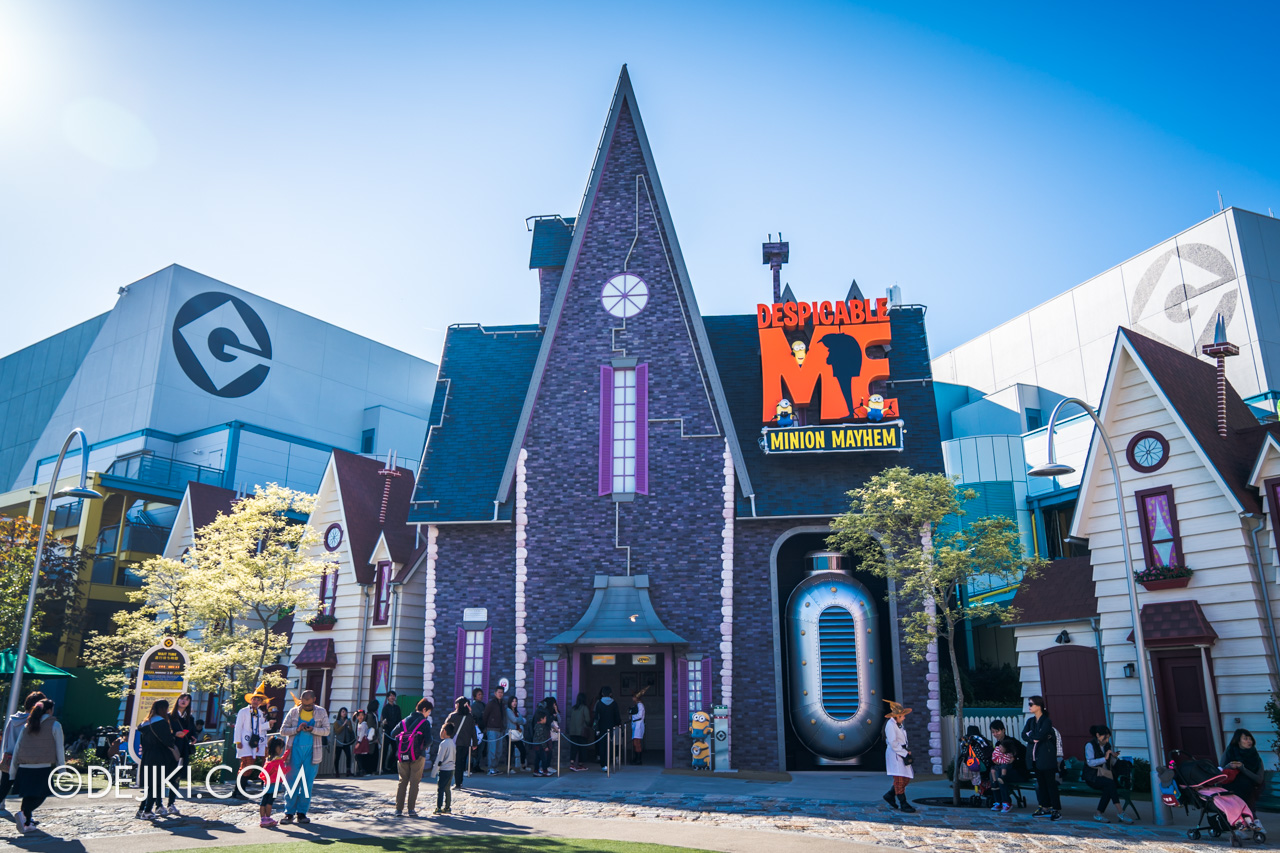 Despicable Me: Minion Mayhem attraction (Japan version pictured) will be built in USS
Super Nintendo World is still part of USS's long-term plans, but I don't expect major updates until Minion Land is nearing completion.
---
USS Triple Thrills Pass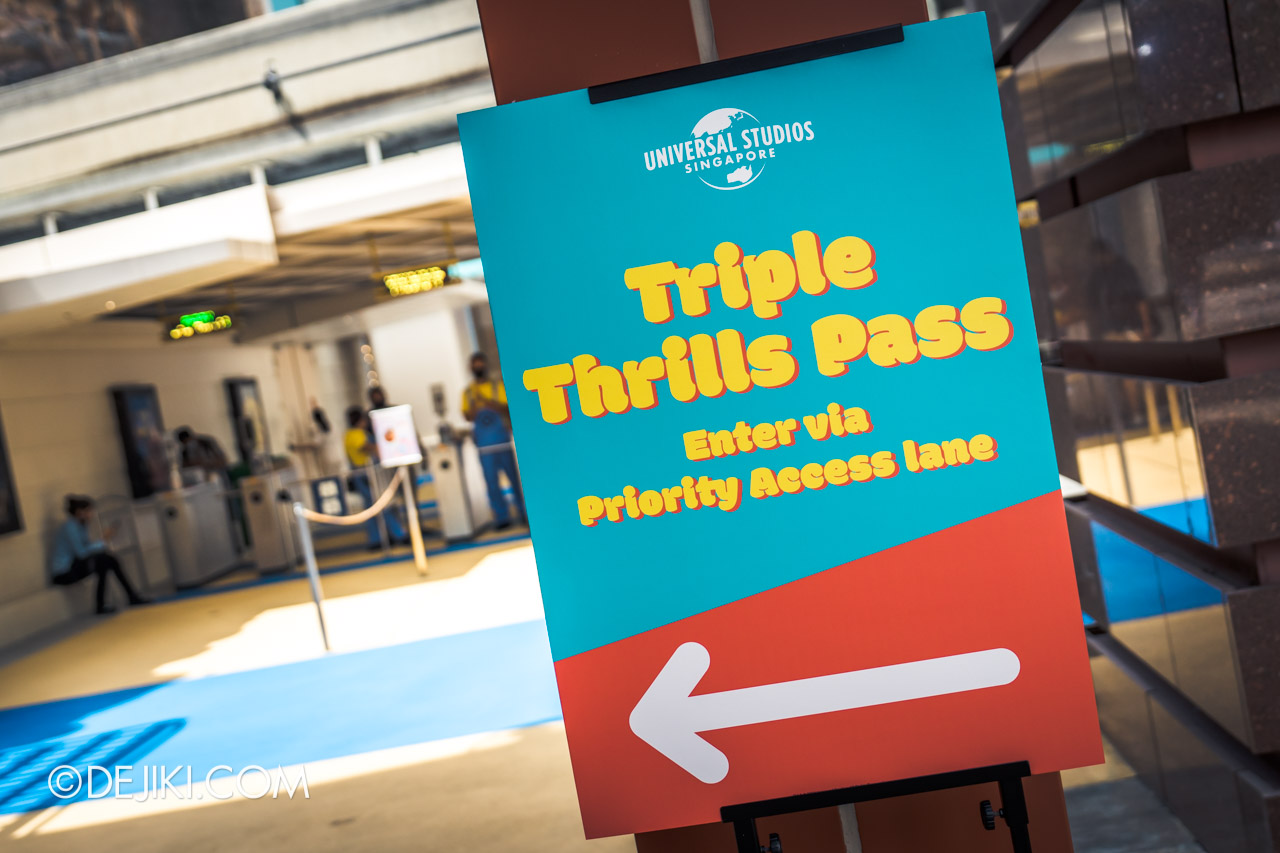 Guests who prefer a multi-day ticket to USS can now take advantage of the new $388 Triple Thrills Pass (TTP), which offers 3 visits per ticket (valid from 1 May – 30 Sep 2022) and exclusive benefits:
Category
Price
Universal Studios Singapore

Triple Thrills Pass


Valid for 3 visits till 30 Sep 2022, with these benefits during each visit:
1. Priority entry at USS park entrance
2. Universal Express access for 3 attractions
3. One special experience chosen from a list, which includes:
– Chill Out: Access to 'Star Lounge' at KT's Grill, with complimentary refreshments
– Be Inspired: Behind The Thrills Tour – Transformers: The Ride 3D
– Celebrity Snapshots: A Trolls-tastic Celebration (Private Show and Meet and Greet session)
– Supersized Treats: Jumbo Thrills desserts and tapas platters at KT's Grill
– Despicably Delicious: Exclusive Minion-themed dining experience
$388


More info/ Book now »
Guests with Mastercard can enjoy significant savings with a discounted rate of $288 for the Triple Thrills Pass. Purchase it here via RWSentosa website.
---
On top of all these, there was an additional exclusive Meet and Greet session held on 26 May for the first 100 guests who bought the TTP.
The TTP is available for sale from 1 April to 31 July 2022, and you can buy it online from Klook or the RWS website. Universal Studios Singapore's longstanding Annual and Season Pass (USS AP/ SP) membership programme is still suspended since the park's closure in 2020.
Star Lounge at KT's Grill, which is a section of the restaurant that is usually closed off.

Refreshments at Star Lounge

A Trolls-tastic Celebration – Private Performance and Meet and Greet session
---
Attractions availability update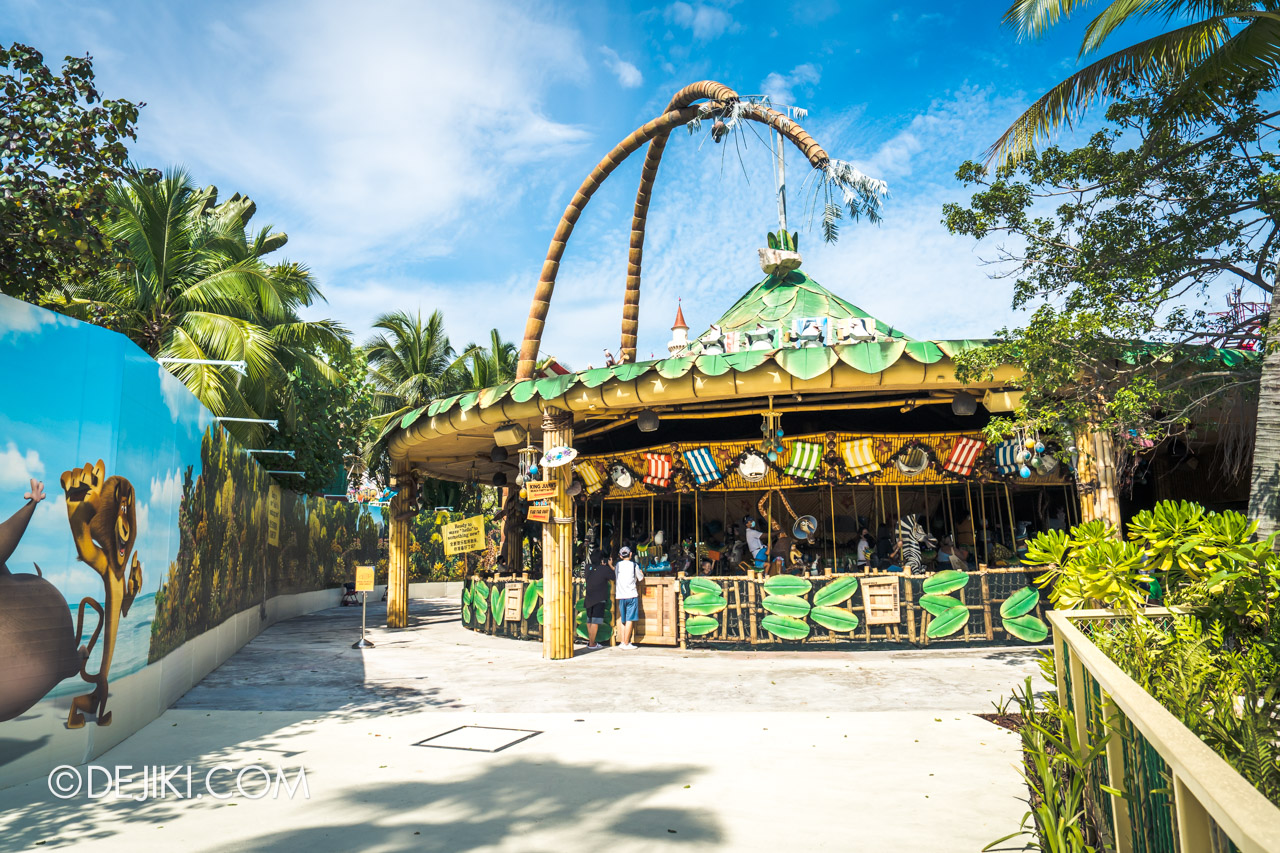 While Madagascar zone (and its signature ride) has closed, King Julien's Beach Party-Go-Round (carousel) is still available.
The Sesame Street goes Bollywood show at Ancient Egypt zone has ended its limited run. In its place is the resumption of the regular Dance For the Magic Beans show across the park at Far Far Away zone, operating in the same street show format with no seated, safe distancing or mask-on requirements.
Shrek 4-D Adventure has returned to the park's line-up of attractions, and it is the first sit-down show to resume.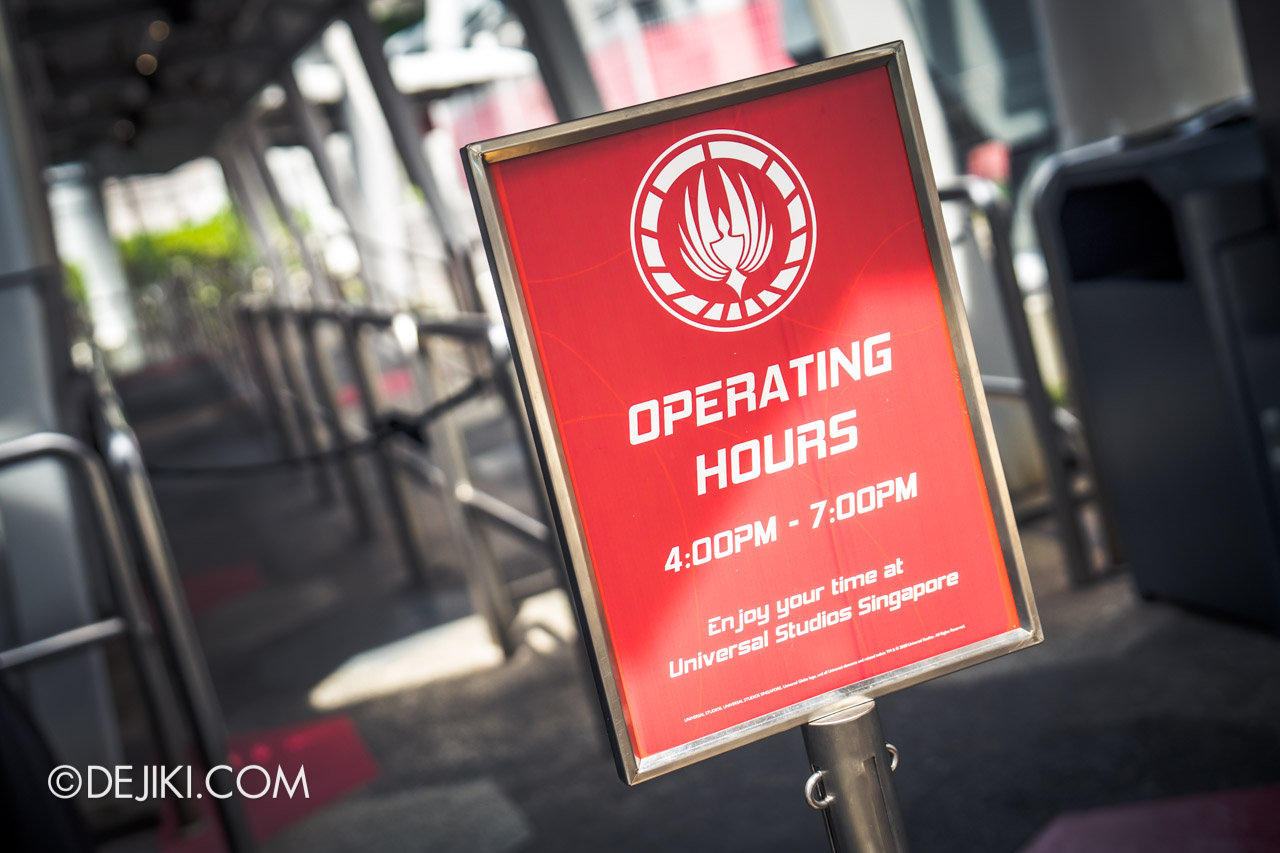 Battlestar Galactica: HUMAN vs CYLON is now operating more consistently, but with a major change: only one track will be operating, due to the new staggered ride times system introduced in April 2022.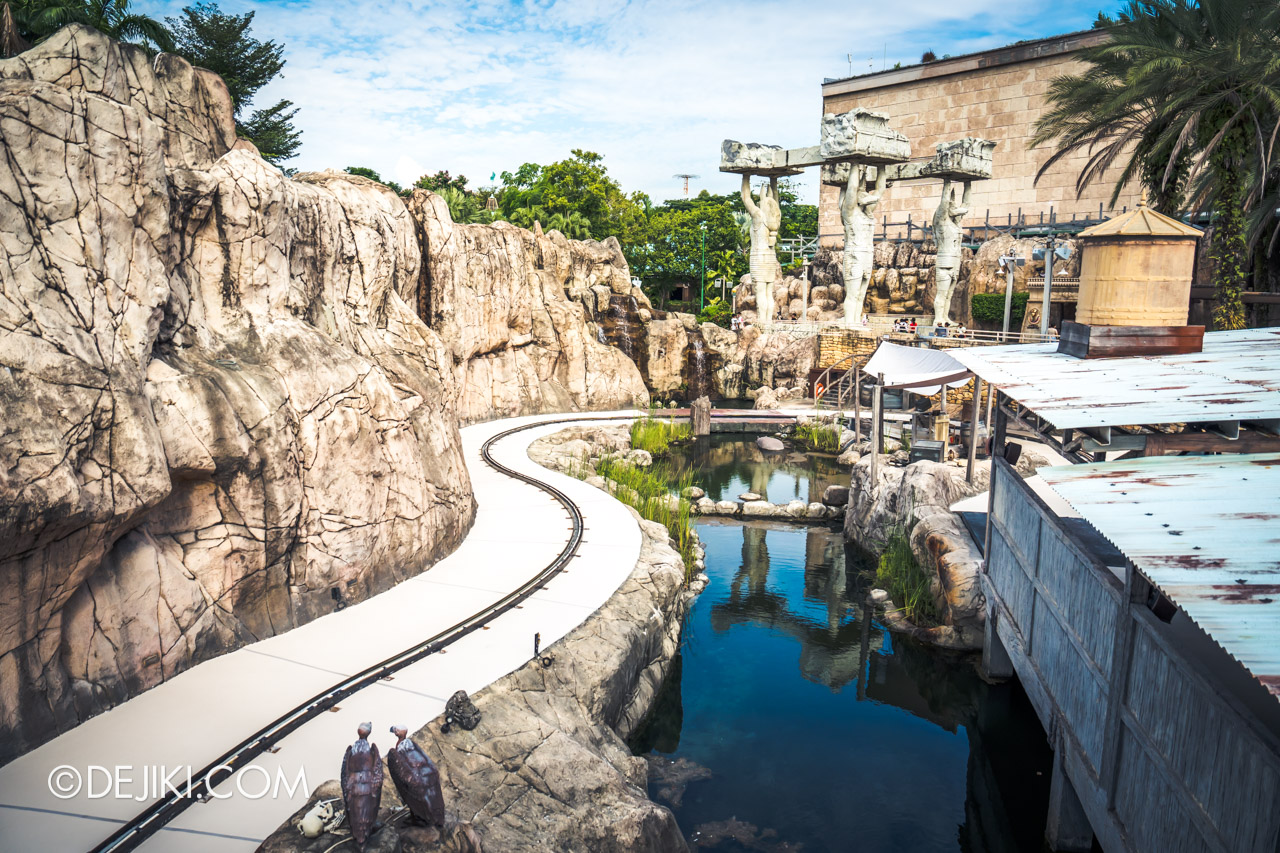 Treasure Hunters is closed for maintenance, and it looks like an extensive repaving project along the entire ride track. Amber Rock Climb is still unavailable.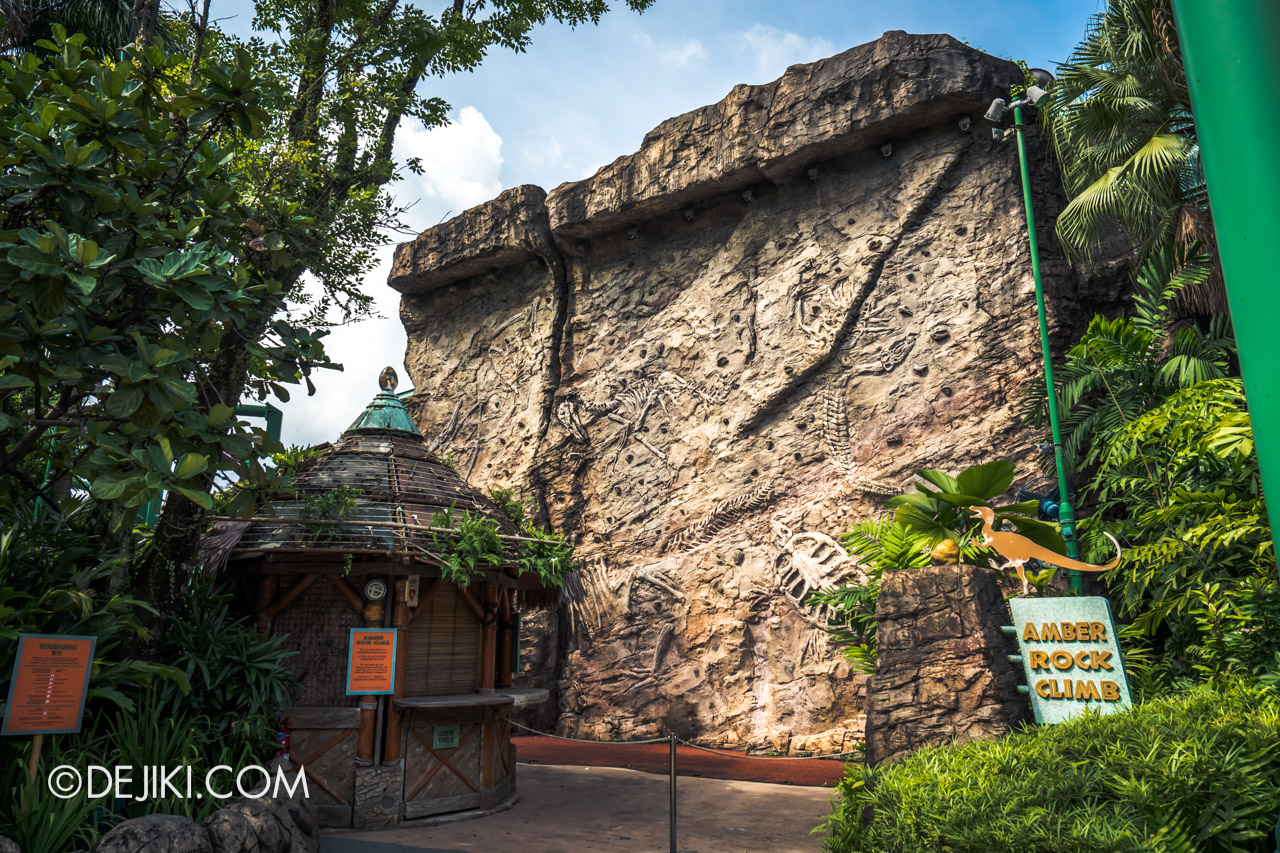 The following attractions and shows are still unavailable since the suspension in early 2020:
Attractions
Lights, Camera, Action (may become available/ on irregular schedule)
Treasure Hunters
WATERWORLD
Amber Rock Climb
Magic Potion Spin
Shows
Elmo's TV Time
Turntables
Rhythm Truck
Donkey Live
Along with this, most face character Meet & Greet experiences are also not available. This includes the 'Egyptian Royalty' at Ancient Egypt, as well as 'Celebrities' at New York and Hollywood.
Staggered Ride Times
As of May 2022, the staggered timings for days with 12PM – 7PM park opening hours are compiled in the table below:
Time
Attractions Available
12PM-3PM
Battlestar Galactica: CYLON
12PM-5PM
Puss in Boots' Giant Journey
King Julien's Beach Party-Go-Round
Shrek 4-D Adventure
1PM-6PM
Enchanted Airways
Jurassic Park Rapids Adventure
Canopy Flyer
Dino-Soarin'
2PM-7PM
Sesame Street Spaghetti Space Chase
Accelerator
TRANSFORMERS: The Ride 3D
Revenge of The Mummy
4PM-7PM
Battlestar Galactica: HUMAN
Note: Attractions' operating hours may be subject to changes without prior notice.
---
Get your tickets at Universal Studios Singapore park entrance or via Klook online.
(Purchases made via Klook will help support Dejiki.com at no extra cost to you)
Subscribe to Dejiki.com or Like my Facebook page for notifications of updates.
---