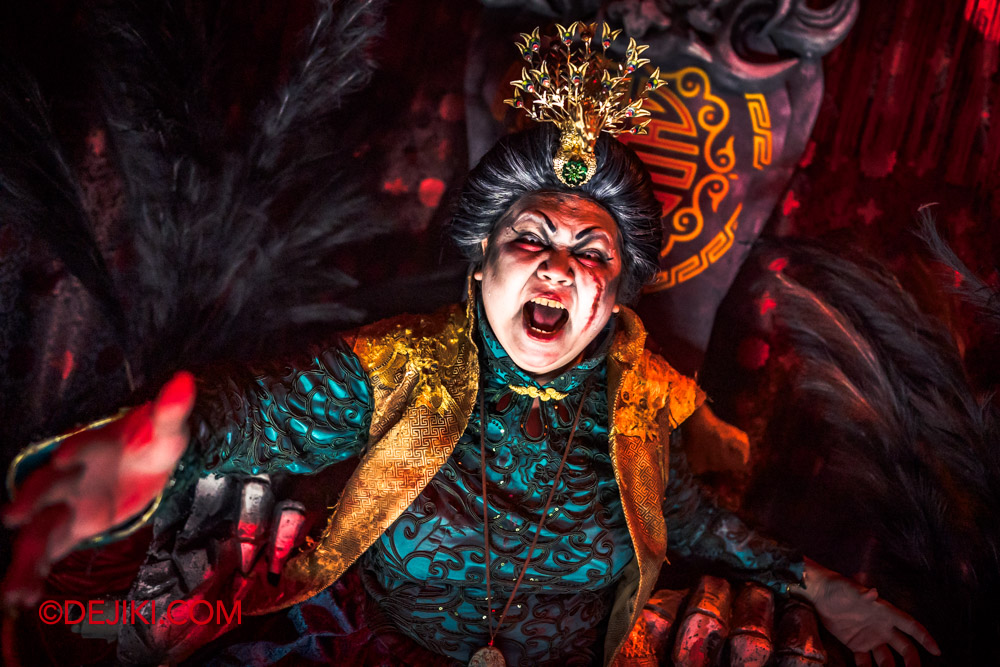 Tempt fate as you encounter ruthless pirates and shady characters of Dead Man's Wharf – a scare zone at Universal Studios Singapore's Halloween Horror Nights 11.
---
WARNING
Photos of a scare zone at Halloween Horror Nights 11 are featured in this article as a special showcase. This article contains spoilers.
Copyright Note: All content on this website, including Halloween Horror Nights photos and writeups cannot be reuploaded onto other websites without my permission.
---
Overview and Thoughts
It's exciting that the New York Harbor and Sting Alley are transformed into a scare zone again. Apart from Zombie Laser Tag (and last year's Escape The Breakout special experience), some might recall ConTERMINATED as the last 'full' scare zone staged here.
Starting from the Sci-Fi City side of the park, Dead Man's Wharf general flow is similar to some of the earliest outdoor HHN "houses": The Pestilence (2011), and Death Alley (2012). Some might say it's like a spiritual successor to the Chinese-themed Death Alley. Even one of the Qilin statue prop has returned from that year. Your journey begins at a dangerous night market, and things quickly take a turn, causing you to run into a sleazy back alley. Then, you encounter the fearsome pirate queen, Madame Dragon. Throughout the whole experience, the women rule the place, leaving the men as either victims or slaves.
Going with pirate theme might be a way for USS to reuse props and costumes originally created for RWSentosa's theater dining experience, Once A Pirate, which would have been a unique attraction as part of the RWS2.0 resort expansion. Remnants of the canceled attraction still linger at the RWS Theatre, which has been converted to an event space for special touring exhibitions, including the upcoming Singapore stop for Harry Potter: The Exhibition.
---
Dead Man's Wharf – Scare Zone Photo Tour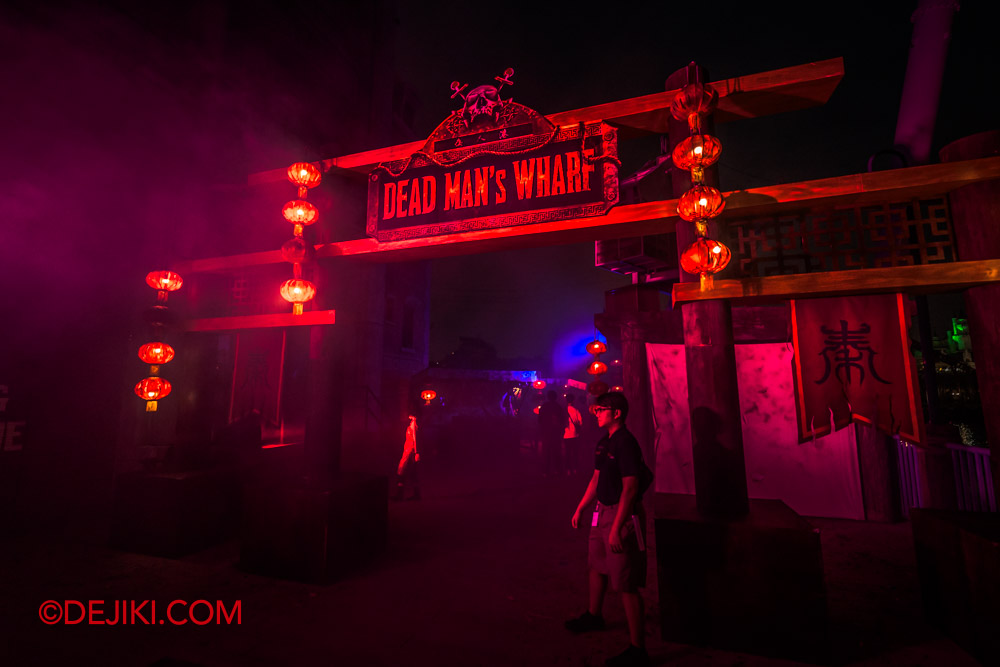 Welcome to Dead Man's Wharf – a territory dominated by Pirate Queen Madame Dragon and her terrible crew.
Come get your fortune told, if you could stomach the dire fate that awaits you.
Or trade in the black market, if you have acceptable modes of payment – silver or gold… and organs, bodies – part or whole.
The merchants aren't pleased that you're just window shopping. They chase you out of their stalls.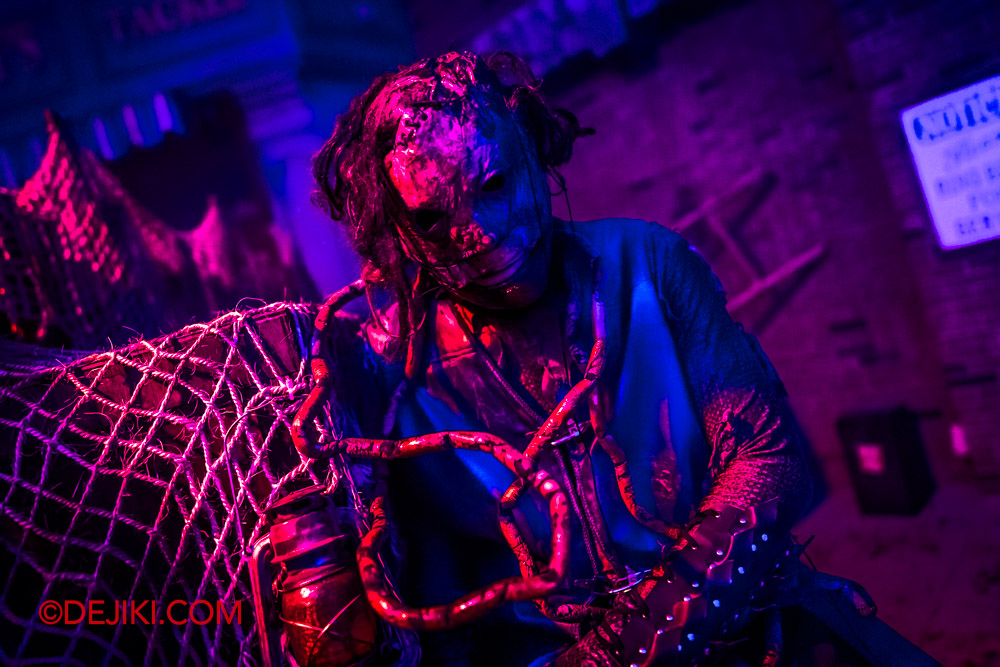 You end up at an abandoned area of the harbor – filled with victims and slaves.
Some cry for help, while others try to rob you.
Leaving the perilous pier, you find a way back into the town. The inhabitants, however, are not happy to meet you.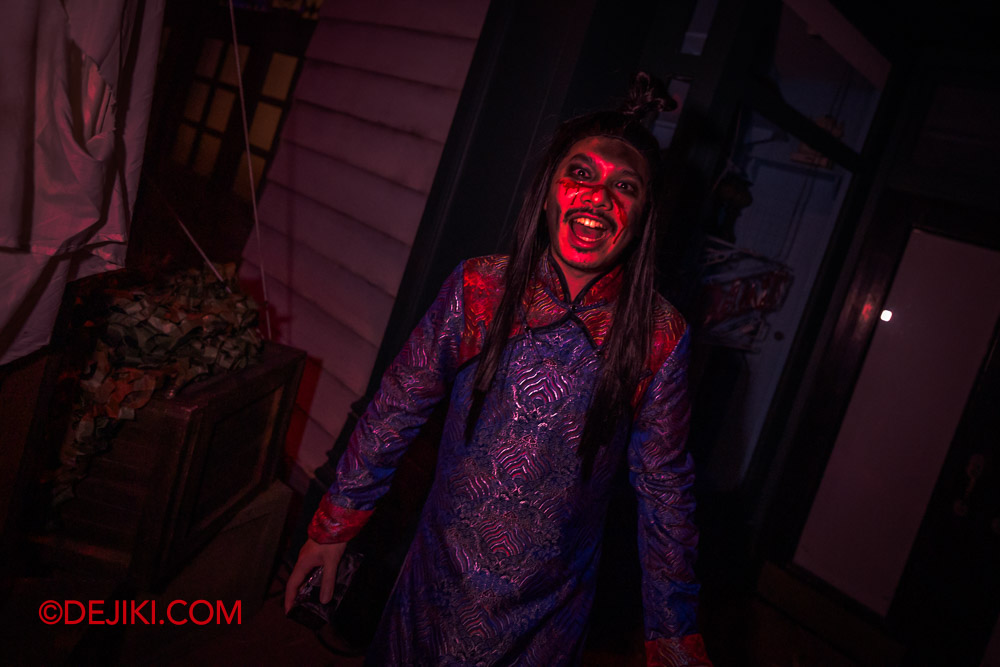 Through a seedy alley, you are tempted by promises of quick riches, and glimpses of beauty.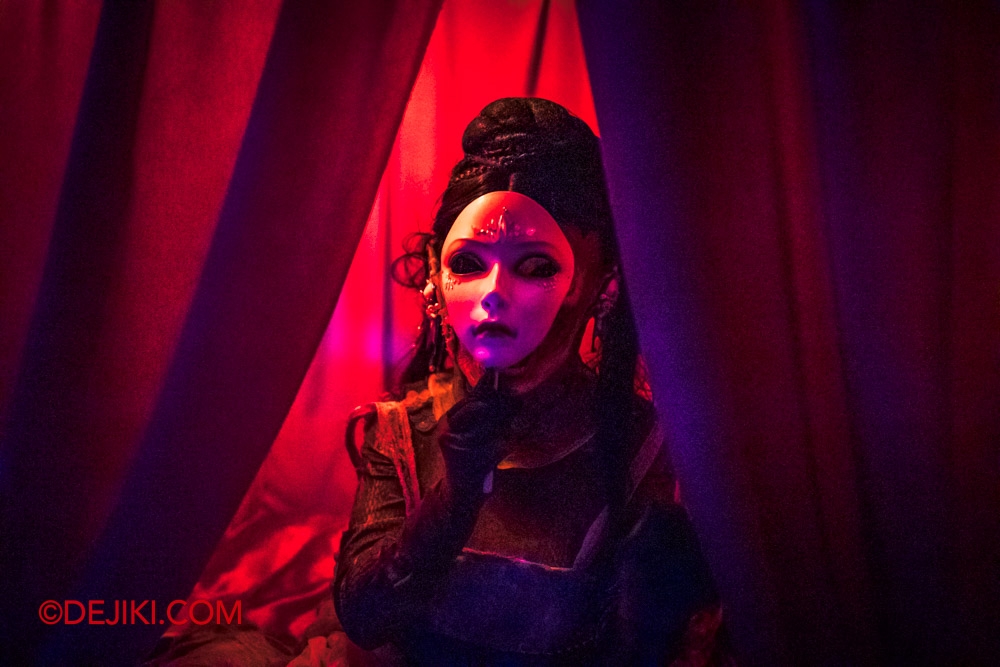 But of course, it is just an illusion – all to lure you deeper into her den.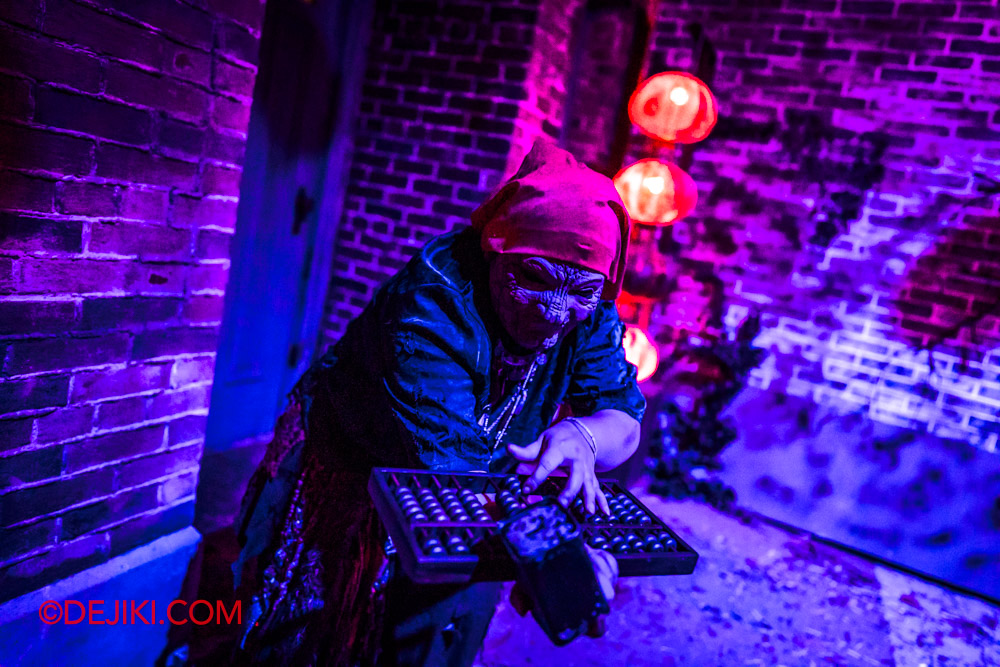 Madame Dragon has been watching. You have been summoned to meet her.
At her throne room, she offers to grant your darkest wishes. What would you ask for?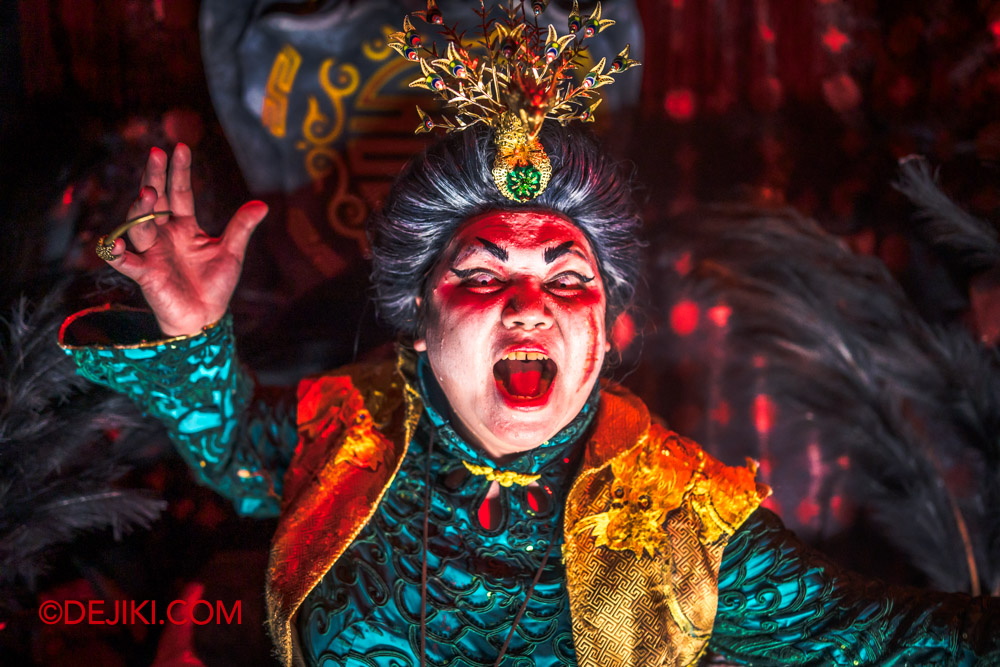 But it's all a trick, and you will have to pay the ultimate price. There's no escape.
She commands her Captain to throw you overboard, sealing your fate at Dead Man's Wharf.
---
Halloween Horror Nights 11: Select Nights 29 Sep – 4 Nov
Halloween Horror Nights 11 MEGA Review by DEJIKI
Read my full review and see photos from this year's haunted houses, scare zones, the Opening Scaremony show, and DIE-ning in Hell special experience.
Halloween Horror Nights 11 EVENT GUIDE
Stay prepared. Get essential info in my Halloween Horror Nights 11 Event Guide, including event calendar, tickets and add-ons prices, plus Tips & Tricks.
Get more HHN updates
More photos from this year's HHN attractions will be published on my Instagram (@dejiki), Tiktok and on this website as special features. Follow me on Facebook for updates.

---
Halloween Horror Nights 11 (2023)
HHN11 REVEALED: Ticket and Event Guide
Sneak Preview: DIYU: Descent Into Hell, Rebirth of the Matriarch, Icons and more
Halloween Horror Nights 11 MEGA Review: Photos of all Haunted Houses and Scare Zones
HHN11 RIP TOUR (VIP Tour) Review

Features on Haunted Houses, Scare Zones and Experiences
Grimm Encounters | The Weeknd: After Hours Til Dawn Nightmare
Judgement Day (Opening Scaremony) | Netflix's All of Us Are Dead
DIYU: Descent Into Hell | Rebirth of the Matriarch
Dead Man's Wharf | The Cursed Kiramam
The Hacker + The Hacker: GAME OVER

Universal Studios Japan (USJ) 2023
Halloween Horror Nights 2023/ HAHAHA! Halloween Party! Event Guide


Halloween Horror Nights – The Archives


Click to Expand and see all posts from past Halloween Horror Nights