Check out highlights of Nights of Fright 7, Sunway Lagoon Malaysia's Halloween event, in this review!
Sunway Lagoon's Halloween event is the largest horror event in Malaysia and probably the second largest in the region. Taking place in the Scream Park section, the event features 8 haunted houses, 2 zones, a theatre show, and 11 amusement park rides.
My friends, Tong Ming and Sin Ngee (aka TMxSN), managed to visit Nights of Fright last weekend and we've put together a review of the event. Here it is, enjoy!
CLARIFICATION
It was brought to my attention that Sunway Lagoon has quoted this article on their Instagram account in a post, which also stated that my site has rated the event with 5 stars. Please note that this event is not officially reviewed by me. This review does not reflect my opinion of the event, as I have not personally visited this event. Furthermore, my friends who have contributed this article have also not given a 5-star rating to the event.
Nights of Fright 7 haunted houses review
House of Voodoo
Set in New Orleans, daring guests will explore this Voodoo museum filled with collections of talismans, totems, and other sinister items.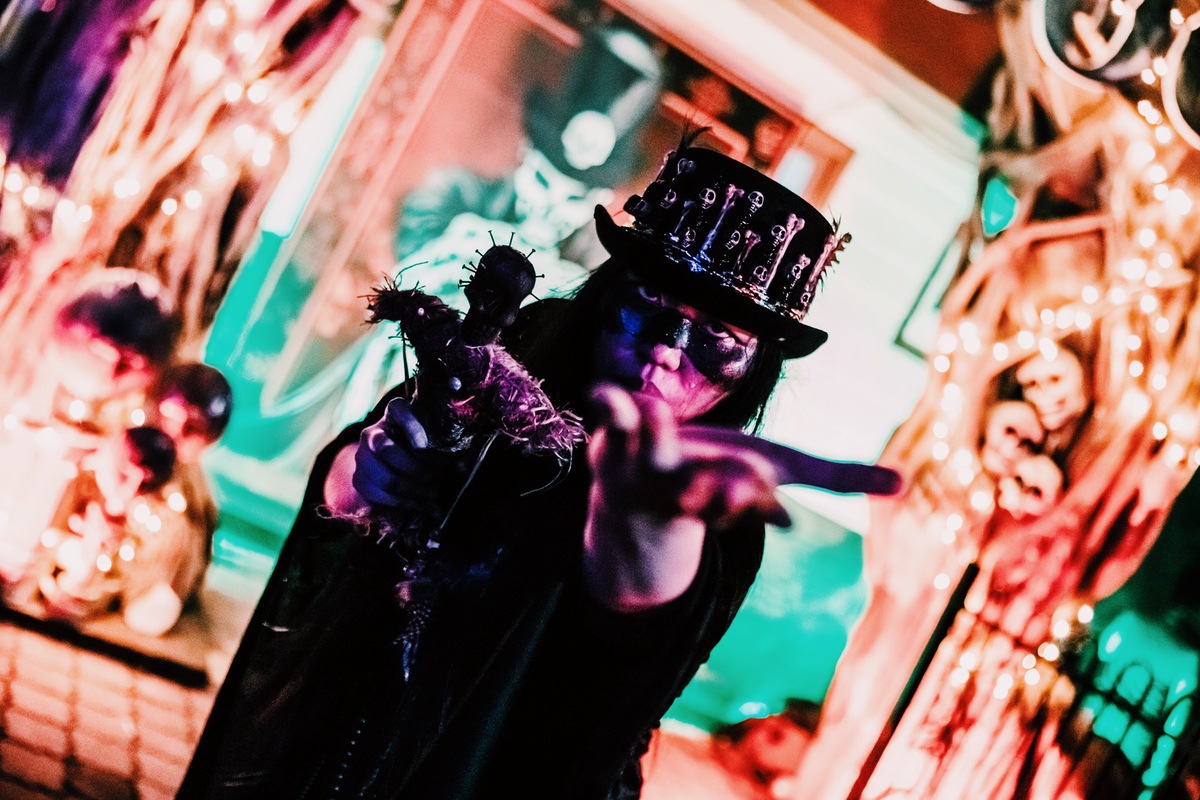 TM: This haunted house that definitely exceeded my expectations in terms of set design and overall attention to detail. Beware of what's coming around you!
Presentation: ★★★★★★
Horror: ★★★★★
The Plague
In this haunted house, discover how plague doctors (wearing their iconic bird-like masks) manipulate a village into thinking that the plague has returned.
TM: We were required to hold onto a rope (and never let go of it) as we walk together as a group inside. The house was also relatively long with 3 separate buildings to walk through. One of the houses is a long smokey hallway – it was just brilliantly set up for scares.
Presentation: ★★★★
Horror: ★★★★★
BLOOD. SHED.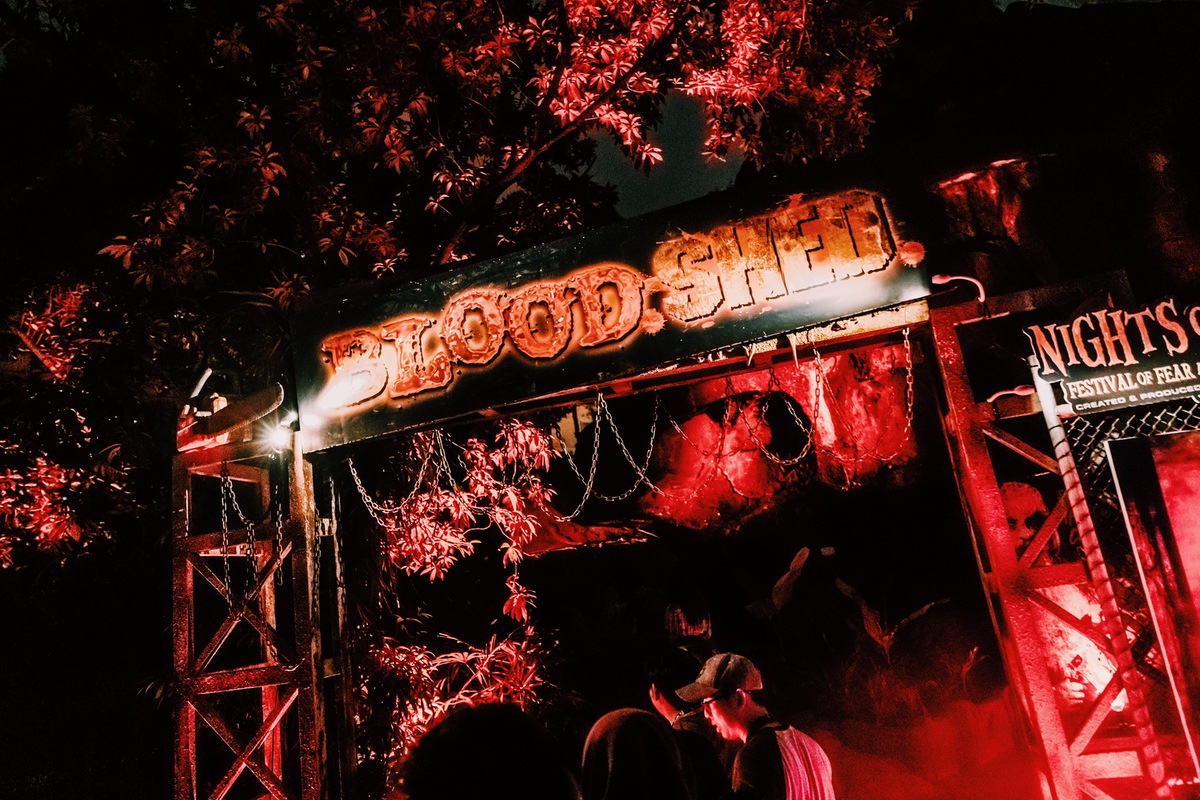 Inspired by horror movies SAW, and Wolf Creek, you can only hope to survive their walk through an abandoned cluster of sheds, where tourists were said to be captured and tortured.
TM: We had to also hold onto something in this house, this time: a metal chain. BLOOD.SHED. was also quite a long experience with many new sort of scares I have never experienced before. One highlight was a scare actor swinging a (quite real) chainsaw around and then there was ANOTHER scare actor with ANOTHER chainsaw suddenly appearing while I'm distracted by the first chainsaw. It was right in front of me!
Presentation: ★★★★★
Horror: ★★★★★★
Horrorjuku in UV3D
At Tokyo's Harajuku fashion district, models that wore Italian designer Giorgio Angoscia's gothic-style clothes slowly disappeared. Now is your chance to step inside and uncover the mystery – if you can escape from the haunting mannequins and other frightful scenes in this fashion house.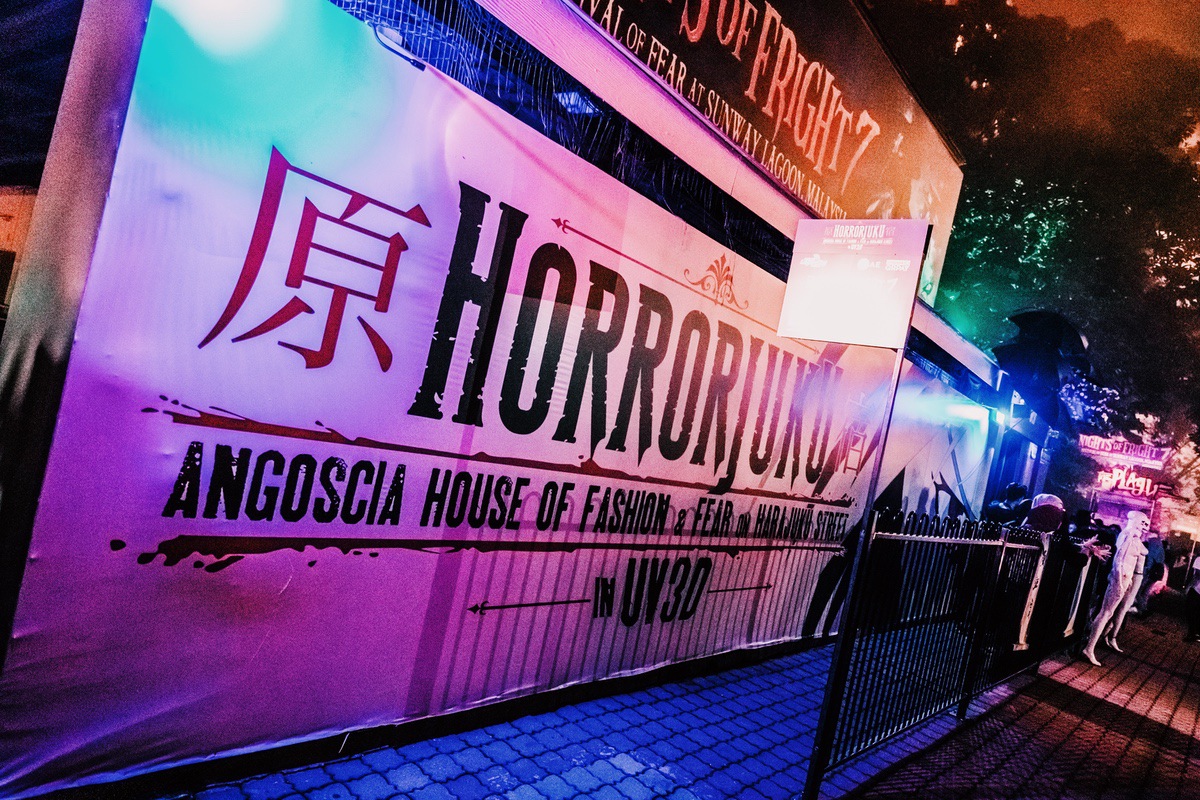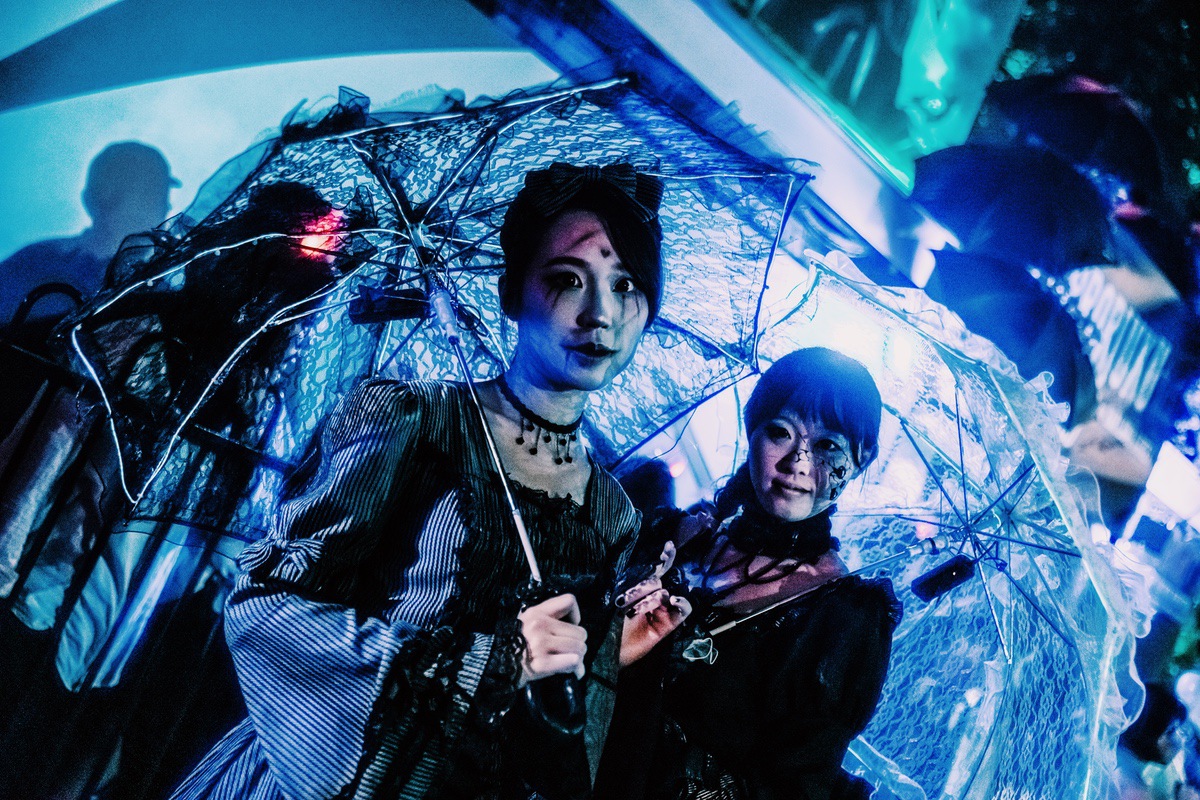 TM: A UV3D experience house! While not every wall has the UV3D effect, the ones that were painted were very detailed. You may even see some recognisable characters! The 3D glasses that makes it very difficult to tell the scare actors from props apart!
Presentation: ★★★
Horror: ★★★
The Hotel dEVILle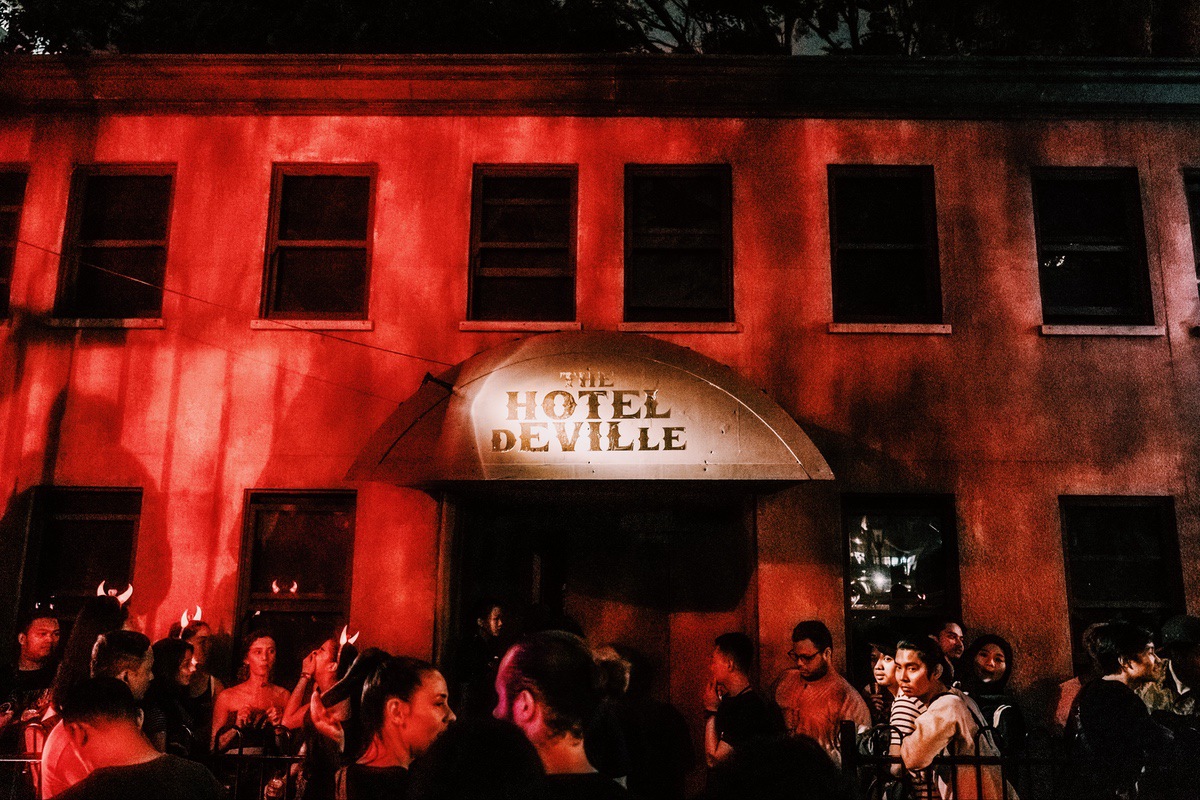 This haunted hotel is said to be a slaughterhouse of evil, with several evil guests that have overstayed their welcome. Don't forget to check out!
TM: This is another house with incredible set design – everything that you expect to see in a hotel has gone wrong! There were quite a few remarkable scenes such as the check-in desk and the actual wardrobe with uniform bags going round and round on overhead rails. Look closely and you may spot something more sinister than just uniform bags.
Presentation: ★★★★★
Horror: ★★★★
Sharknado
Step into the craziest horror/ comedy movies ever made in the world's first Sharknado attraction.
TM: As this is a permanent attraction in Sunway Lagoon's Scream Park, it is definitely less scary as compared to the ones built for the event. With three pre-show rooms before the actual walkthrough segment, it was certainly a long experience with many scares along the way.
Presentation: ★★★★
Horror: ★★★
Horrorwood Studios and Animalium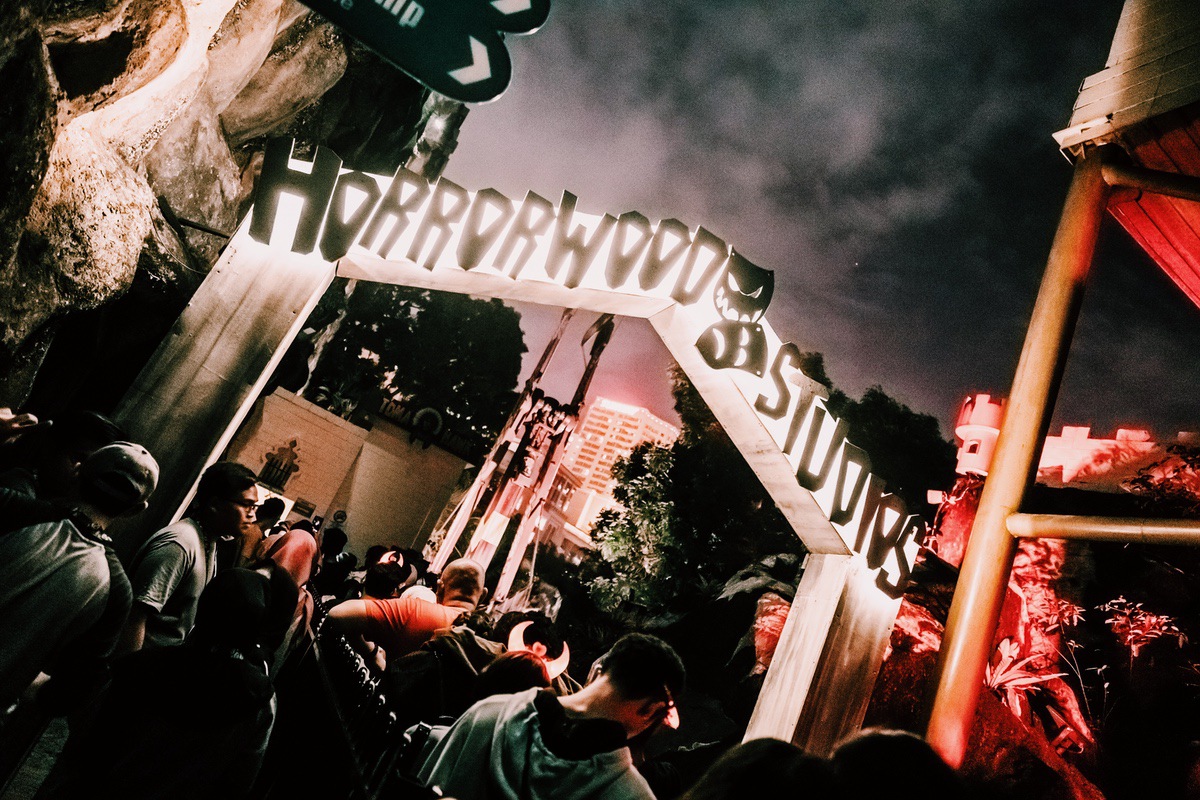 In this double-bill, you'll get to relive some terrifying memories of horror flicks within the Horrorwood Studios, and then be ensnared in a nightmare of being hunted by zombified animals.
TM: To our surprise, this house is actually a combination of both Horrorwood Studios and Animalium into one long house! You will first experience Horrorwood Studios followed by Animalium immediately after. Horrorwood Studios has many recognisable IP characters. Animalium has what seemed like zombified animals attempting to hunt you down for their next meal.
Presentation: ★★★
Horror: ★★★
Nights of Fright 7 scare zones and other haunted attractions
Slasher's Street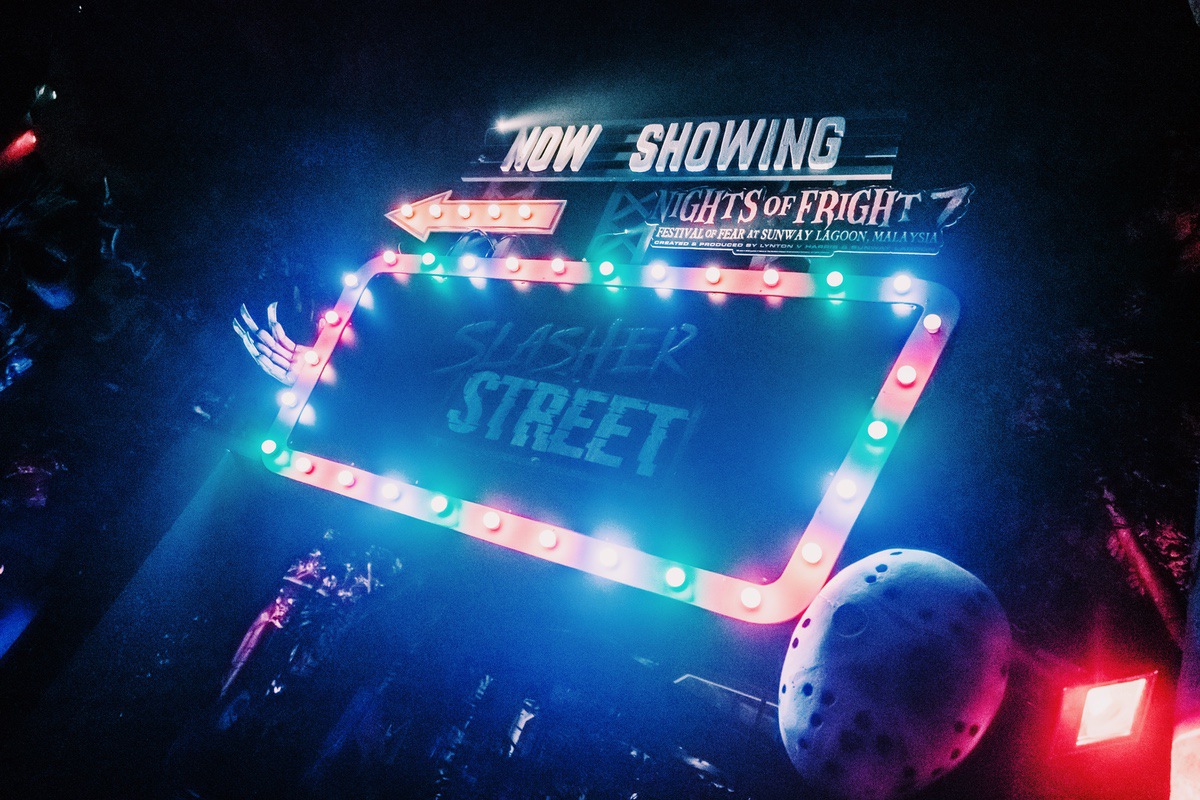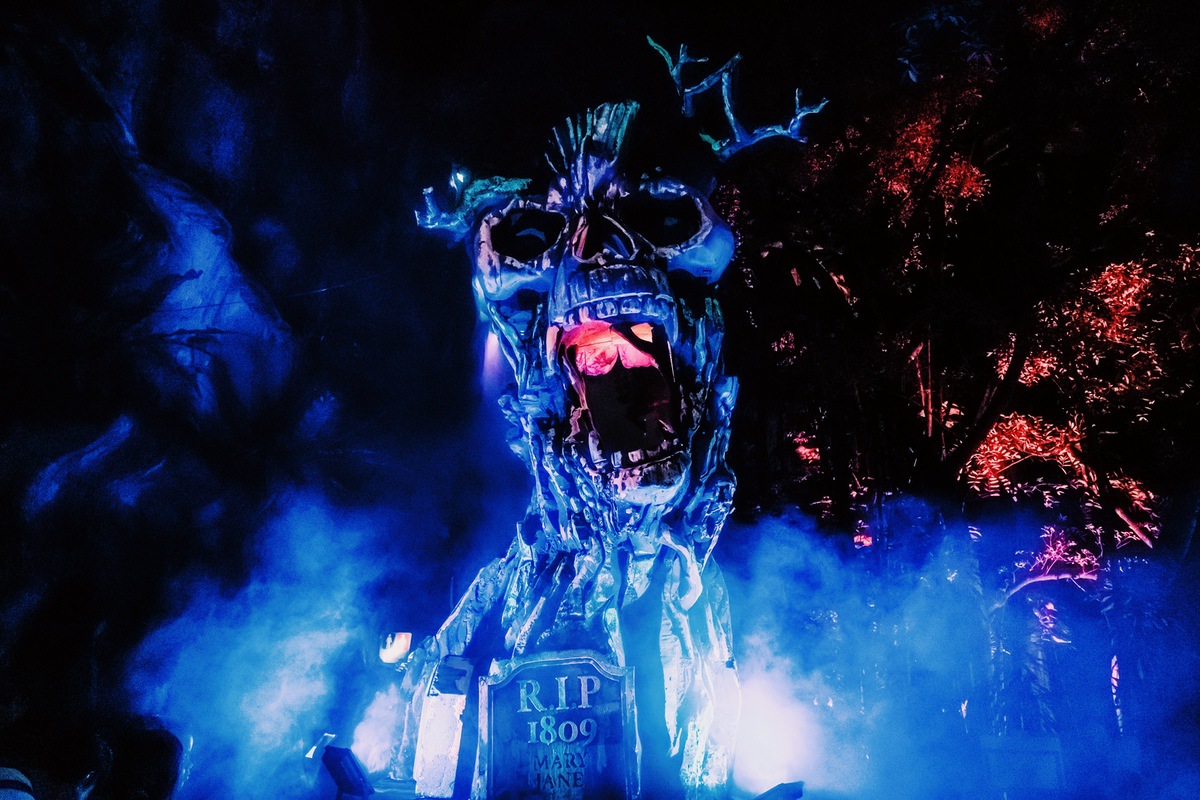 TM: Located right outside the Horrorwood Studios house lies Slasher's Street. There are some characters from Horrorwood Studios on the loose, so beware – you will not be safe!
Presentation: ★★
Horror: ★★★
Siren's Cove
TM: Siren's Cove is just beside the park's Pirate's Revenge ride (360-degree pirate ship), which fits the area's theme perfectly. Don't let the beauties lure you to the pirate zombies here!
Presentation: ★★★
Horror: ★★
BOMOH at Scarytales Haunted Theatre
TM: This was an interesting first time experience for the both of us, a theatre that starts off with everyone watching a 'normal' film, and then scares start coming from every possible direction!
Presentation: ★★★★
Horror: ★★★★★
Themed Photo Op Areas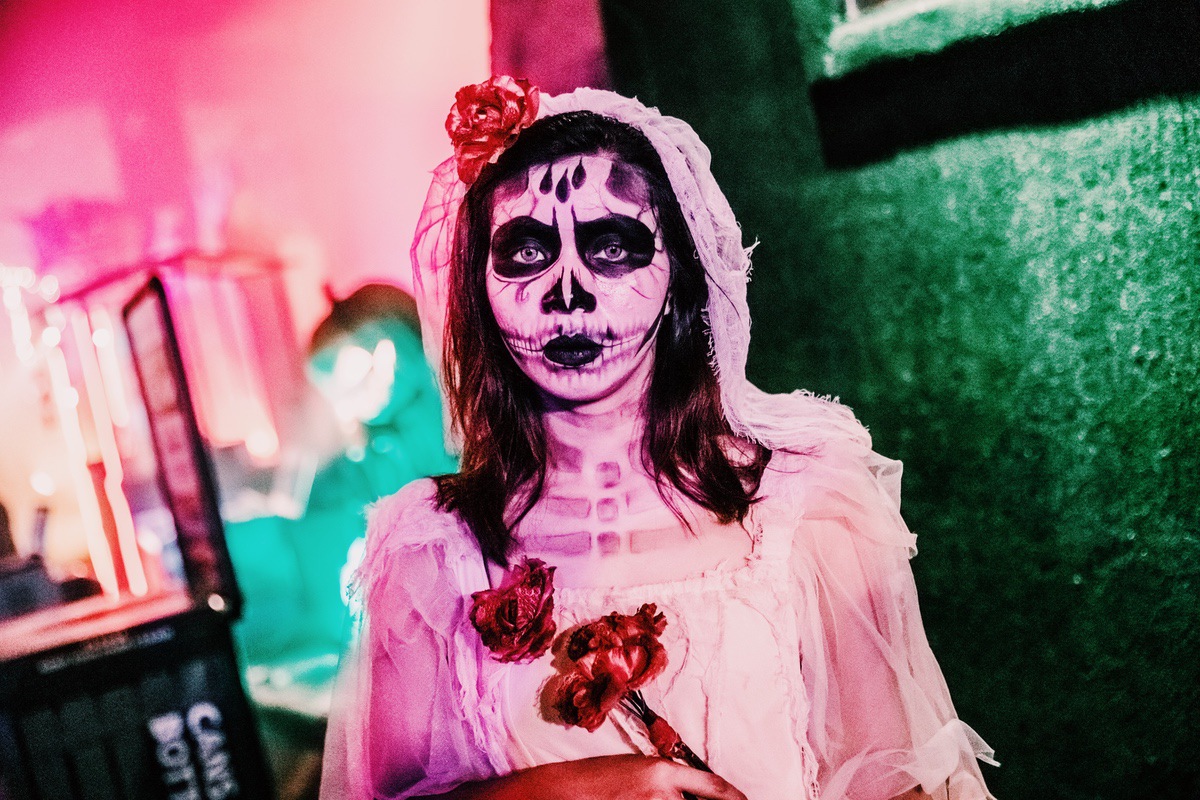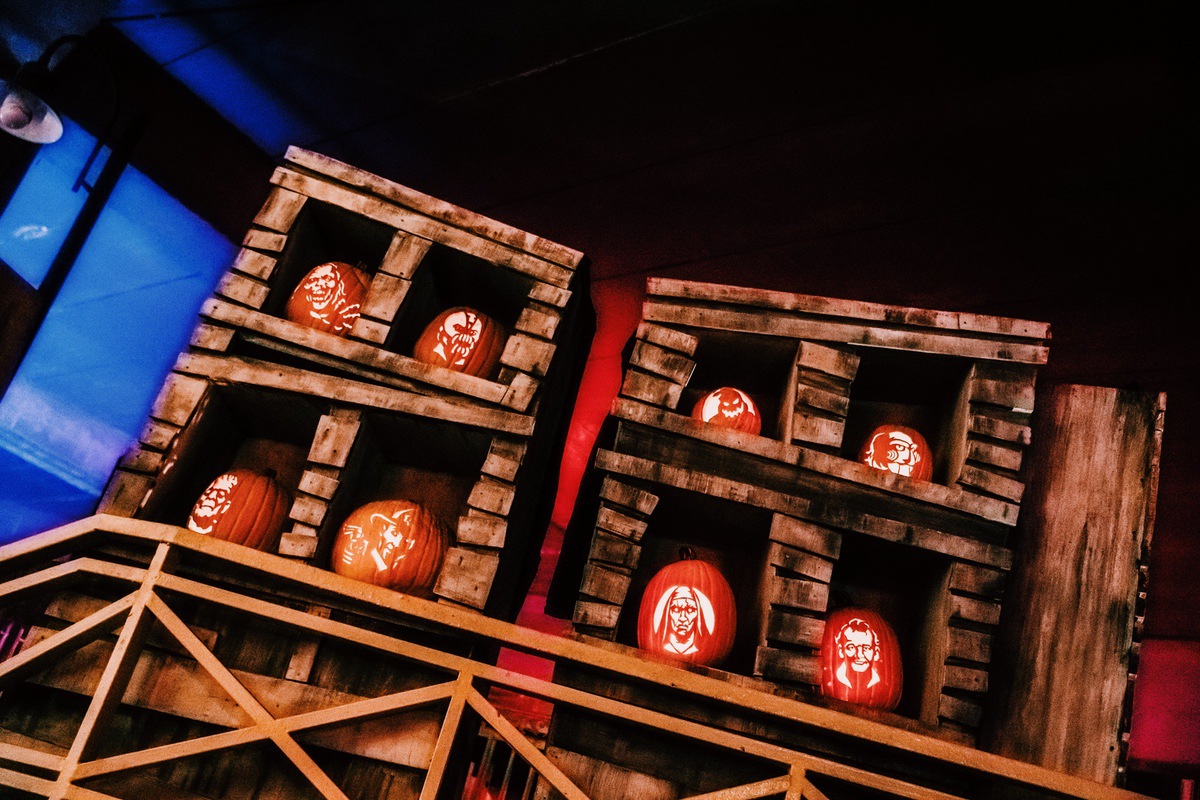 TM: There are also photo spots around the park themed to Village of the Dead, Jack's Box of Monsters, Dia De Los Muertos, Death Row. This is for anyone interested in meeting 'scare actors' for photos, but without the SCARES.
Stage Shows
TM: With shows running all the night at two stages, there's always something to see even if you do not plan on hitting the houses.
---
Nights of Fright 7 Trip Report
Now that you've seen all the attractions that Sunway Lagoon has to offer at their fright fest, here is TMxSN's trip of their overall experience:
Nights of Fright 7 Trip Report and Tips
TM: We got ourselves the Express Combo for RM158 (~S$52) which included our admission ticket, an unlimited express wristband, a souvenir lanyard with the express credentials, and a choice of either Blood Bag or the Devil's Horn. Take note that you have to redeem the express credentials before entering the park! As for the Blood Bag or Devil's Horn, you can only redeem it inside the park from 7:30pm to 10:30pm!
I can't stress this enough but if you do not purchase the NOF7 Express pass, you WILL NOT be able to complete all the haunted attractions. Furthermore nothing feels better than cutting the lines for houses that are typically over 2 hours long.
TIP: Arrive early to redeem your tickets and express package, as the event is only open from 7:30pm to 11:30pm. If you have purchased tickets that includes the Blood Bag or Devil's Horn, we suggest you not to collect them when the park just open as there would be a long line! Instead, you should head to one side of the park first and collect them once you are done with one side and crossing over to the other. The queue should have subsided by then.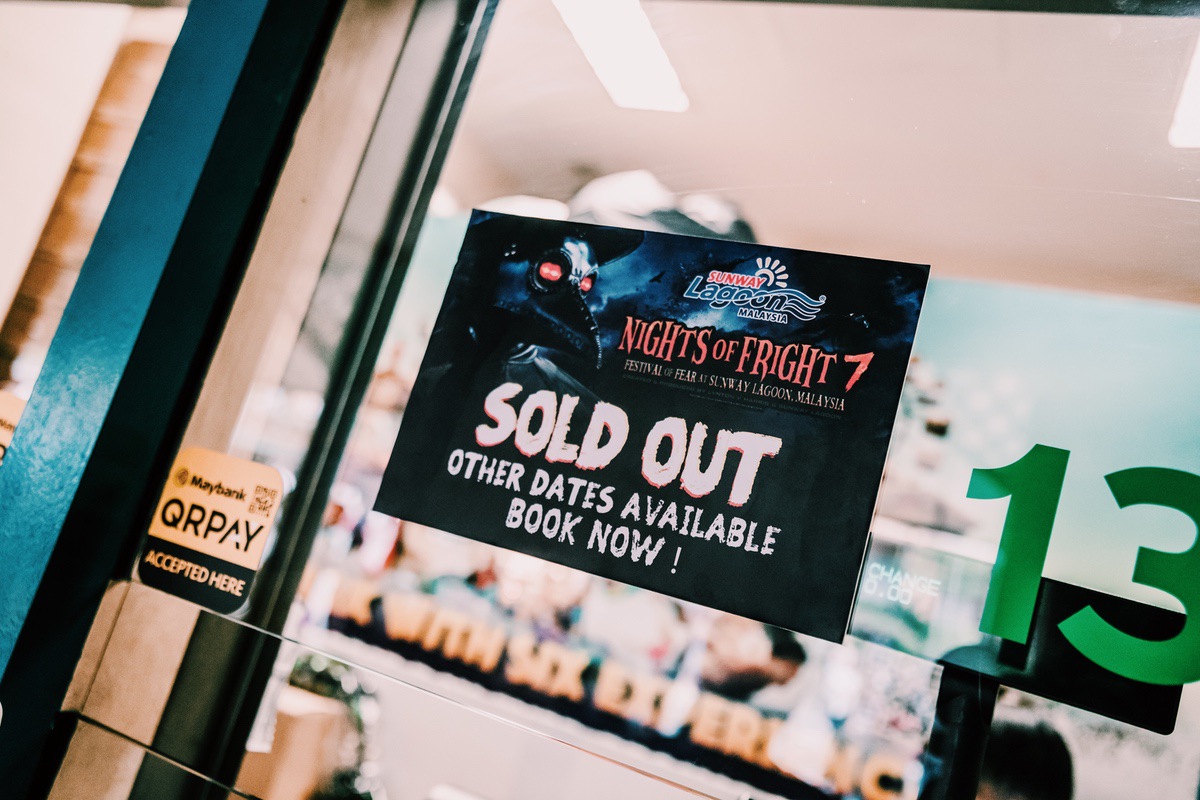 Luckily for us, we bought our tickets in advance via their online website as when we arrived we saw that tickets for the event has completely sold out for that night.
Nights of Fright 7 Merchandise
We still had some time after redeeming our express credentials so we checked out their merchandise for the event.
TIP: Grab your souvenirs early, so that you can have more time to experience the houses!
The KILLER queues to get in
The queue for the event started to form so we decided to join the line! We were quite confused as we saw that there was an express lane for entry but the staff told us there wouldn't be for now. (which we assumed that it would be opened after the opening rush?)
The OPENING moment
Two characters emerged from behind the curtain to hype everyone up before the park opens for NOF7.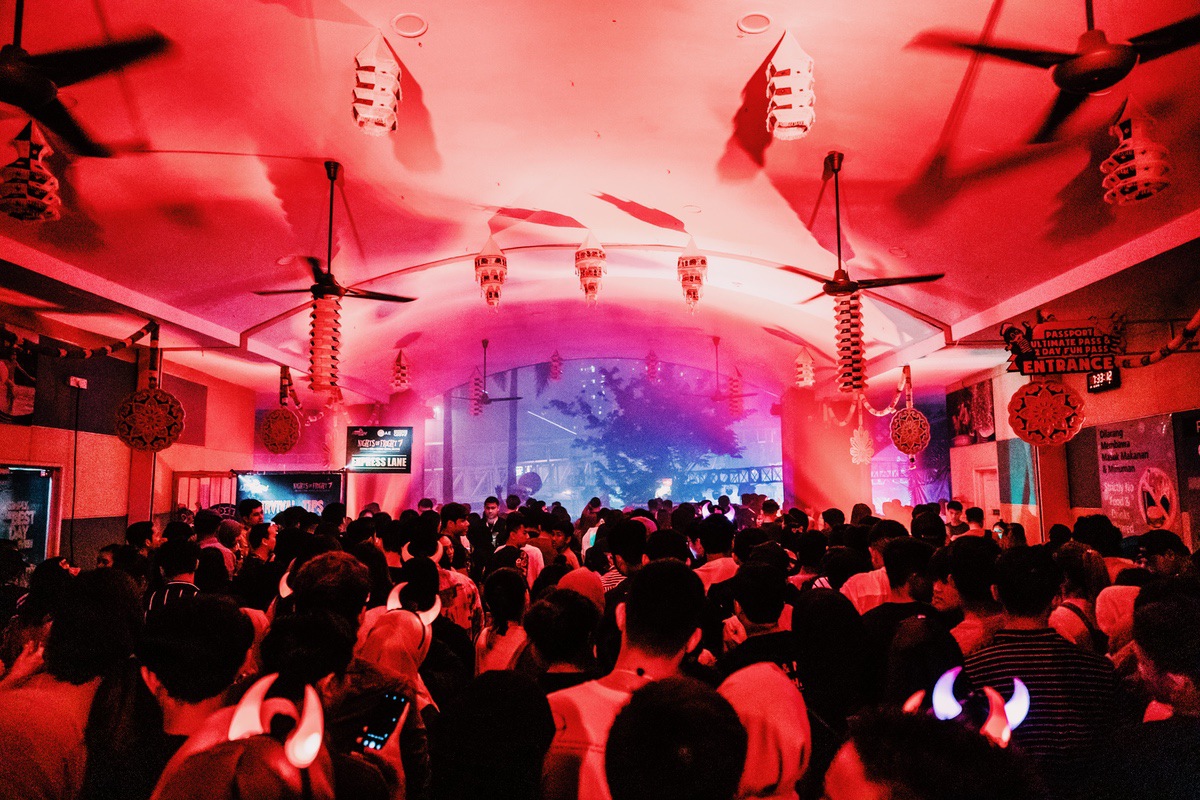 The SPLIT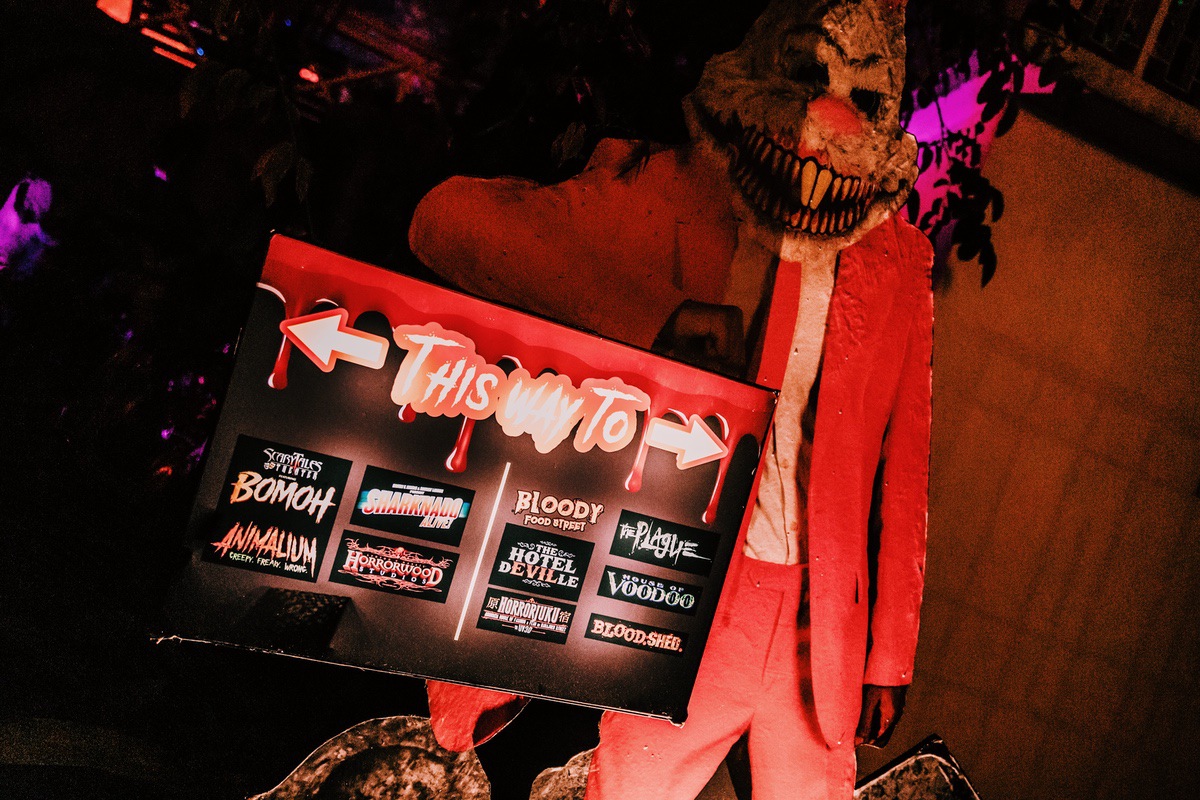 Once the park opens, it's a mad squeeze to get in. After getting in, you'll see that the park is generally split into two sections. With 8 houses to go to, you need to plan wisely!
If you have been to the park's permanent houses before, or have a tight budget, I'd suggest skipping the permanent attractions and rides. Head straight to the 5 houses that are made specially for this event!
TIP: Head to the houses on the right once you enter as those are the ones that are built for the event!
The icons for Nights of Fright 7 frequently appear at the main stage, along with other iconic characters from some of the houses – seemingly to direct people to visit their respective houses.
There's bloody FOOD STREETS
Be spoilt by the various food choices here to quell your hunger pangs between visiting houses!
Final Thoughts on Sunway Lagoon's Nights of Fright 7
TM: This is definitely an amazing experience considering the low pricing of RM79 (~S$26) for standard admission and RM158 (~S$52) for the Express combo that entitles you to UNLIMITED express access, plus the option of either a free Blood Bag or Devil's Horn.
The event's bumper lineup of 8 houses, 2 zones, a couple of shows, photo-op areas and even some amusement park rides makes it feel like every part of the park has something exciting happening. It would be great if the park hours were longer as there's so much to do and four Hours is not enough time to clear all haunted attractions without Express pass. But even with the Express passs, we only managed to clear everything with only 45mins to spare before the park closes!
One thing very different at Sunway that brings the scare factor up a notch is how they manage guests entering their houses. We are all dispatched in small groups of up to 15 guest at a time. This made the scares much more effective, as you won't be able to see the scares coming! The gap between groups makes it feel as though you are walking alone in the house… especially if you are leading your group.
Will I return next year? Most definitely! I can't wait to see what new ideas would be in store for Nights of Fright 8! The event has extended for a final weekend left next week, so it's not too late to experience it for yourself!
Special Thanks to Tong Ming and Sin Ngee for contributing photos and thoughts for this article!
---
Nights of Fright 7 at Sunway Lagoon Malaysia
Event Season: Every Friday, Saturday and Sunday from 4 Oct – 9 Nov 2019
Remaining Event Dates: 1, 2, 3, 8, 9 Nov 2019
Event Hours: 7:30PM to 11:30PM
Category
Price
Nights of Fright 7

Admission Ticket


Redeem a complimentary blood bag drink or devil horn headband at the park, while stocks last
RM79 (~S$26)
Nights of Fright 7

Admission + Express Combo


Redeem a complimentary blood bag drink or devil horn headband at the park, while stocks last
RM158 (~S$52)
More information available at the Nights of Fright 7 official website.
---
Subscribe to Dejiki.com or Like my Facebook page for notifications of updates.
---