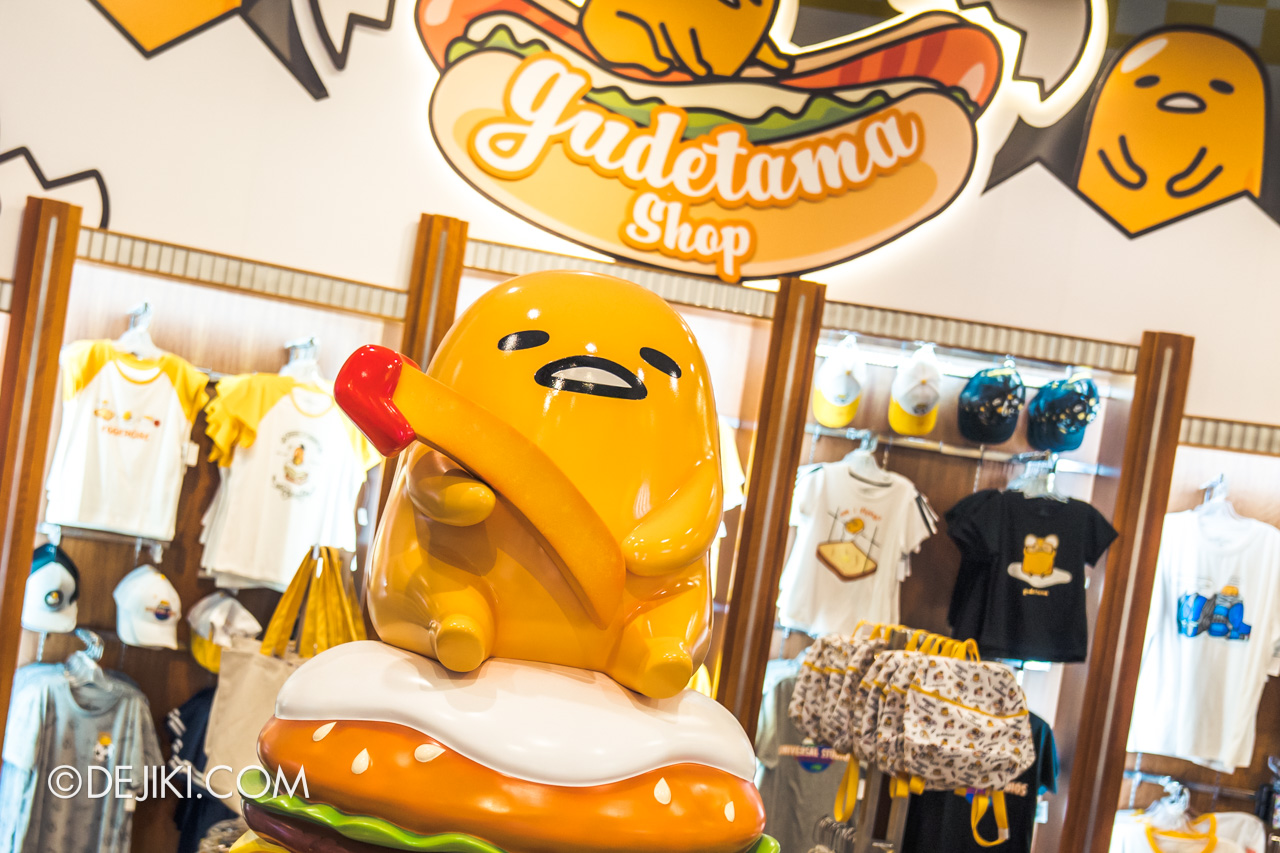 Check out photos of changes and enhancements at the park as Universal Studios Singapore gears up for its Universal Christmas event.
A Universal Christmas 2019
The park's A Universal Christmas event will be back this year, from 2 Dec 2019 till 1 Jan 2020. There'll also be a Countdown event on 31st Dec 2019, with opening hours extended till 12AM as the park rings in the new year.
Universal Christmas 2019 lineup includes seasonal shows, Meet and Greet experiences, and festive decor around the park. Past event photos included below for illustration purposes:
NEW! Photos of 2019 Christmas EVENT!
Check out this new article for photos from the 2019 Event!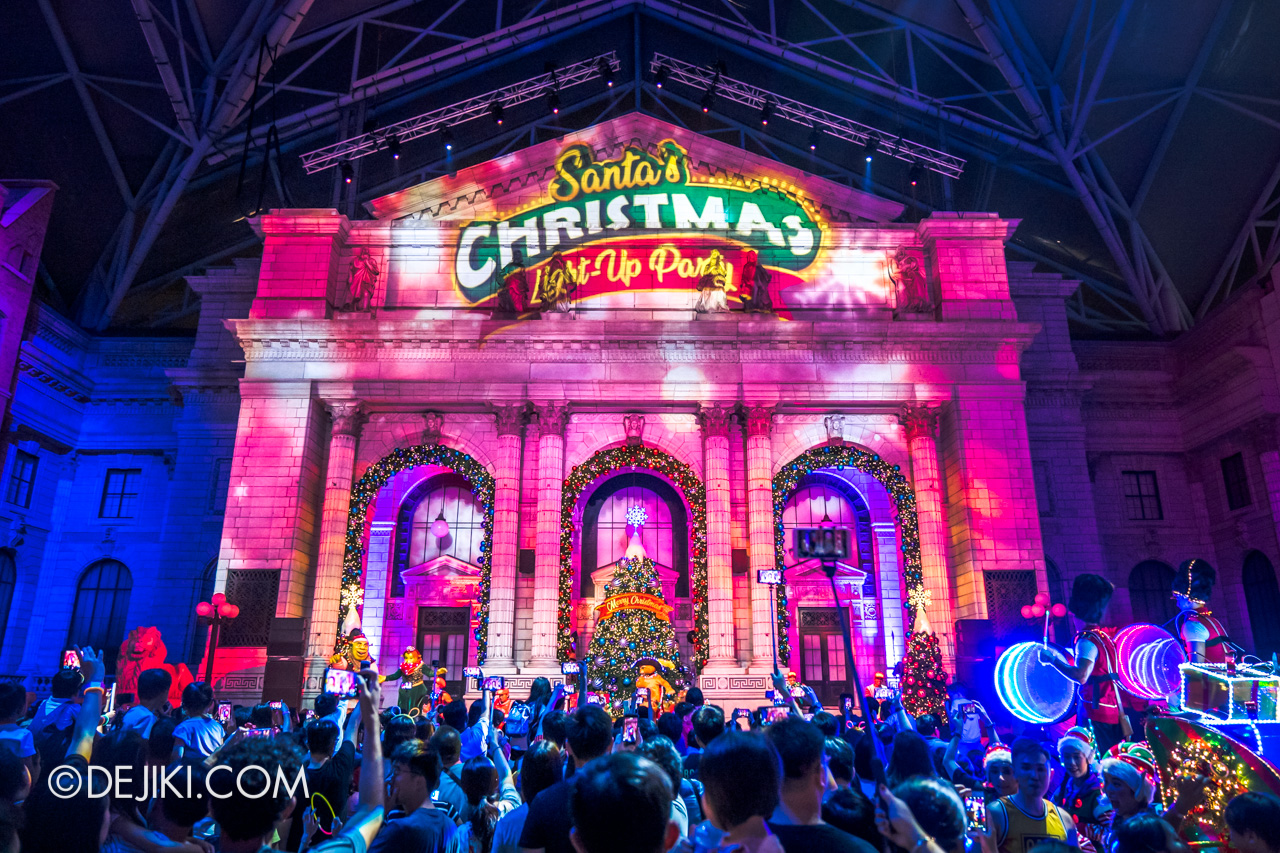 Santa's Christmas Light-Up Party in 2018
Come to the New York zone to catch The Great Christmas Invention, a projection show at the NY Library facade, which ends off with a joyous snowfall and appearances of iconic park characters.

PRESENTation Day show in 2018
There'll also be Santa's Hot Set, which mashes up filmmaking with the holidays. Probably this year's version of the Elf Town experience zone at Hollywood, although this might take place in New York too. I'm not sure if there's a stage show like last year's PRESENTation Day.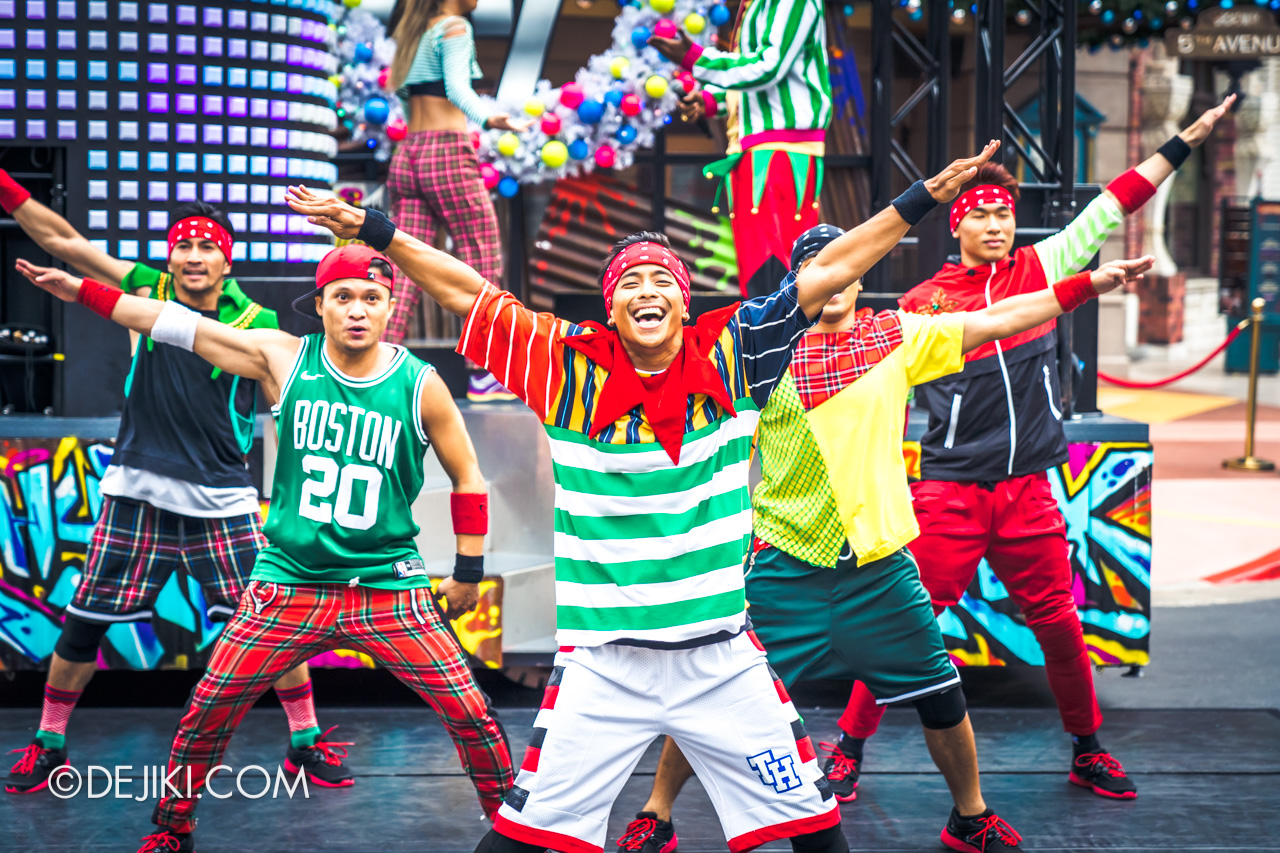 Rhythm Truck Christmas Edition
Street shows at the park will receive festive makeovers. Don't miss Rhythm Truck Christmas Edition, Dance for the Magic Christmas Beans, and Christmas Turntables.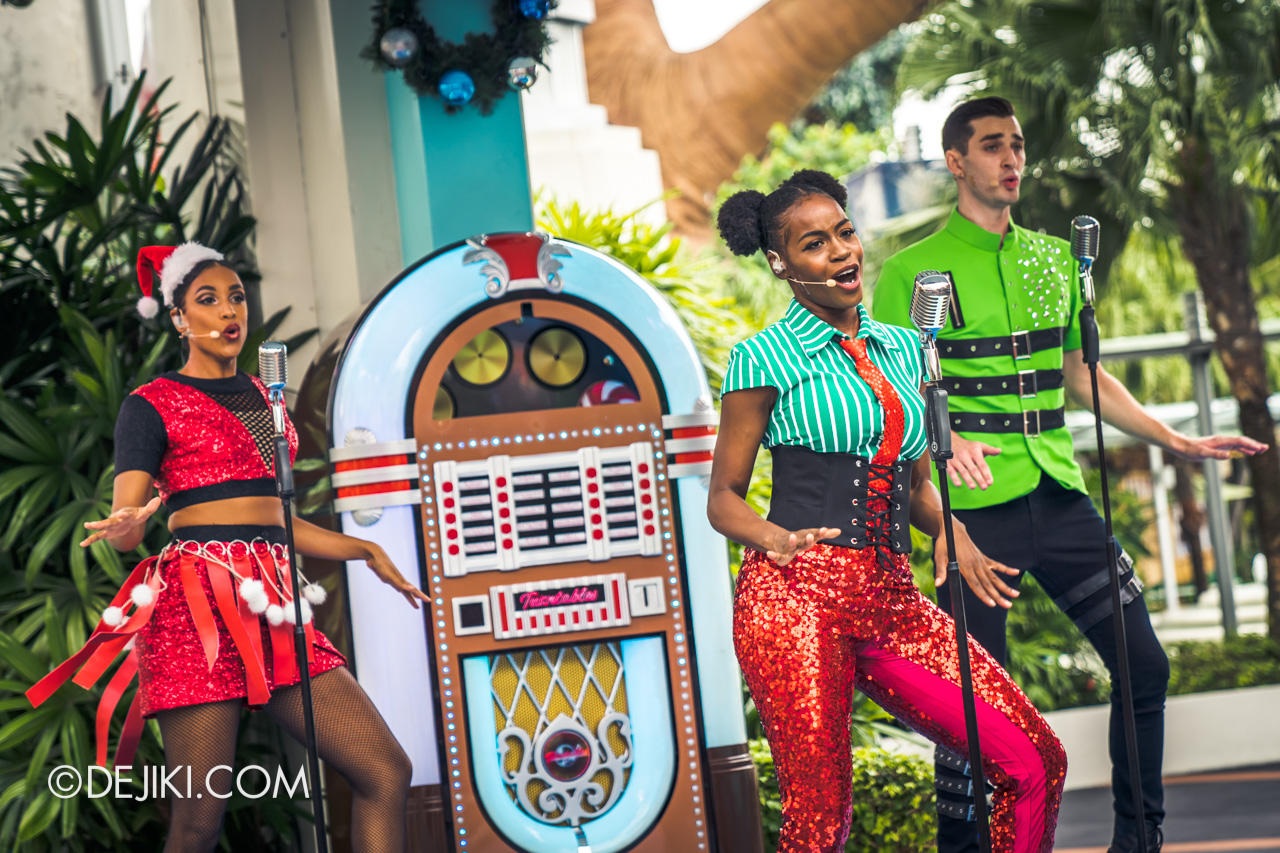 Christmas Turntables

Santa's Snowy Sleigh Ride night parade in 2018
Last year's Santa's Snowy Sleigh Ride parade will not be returning, but guests can still look forward to numerous Meet and Greet opportunities around the park.
A Despicable Family Christmas is this season's signature Meet and Greet experience. Four characters from the series will appear at Universal Studios Singapore for the first time: Lucy and the three girls – Margo, Edith and Agnes. Along with Gru and the Minions, you'll be really meeting the whole family!
There'll also be Meet and Greet with the park's usual characters, happening around the usual hot sets, and also as part of the show at New York Library.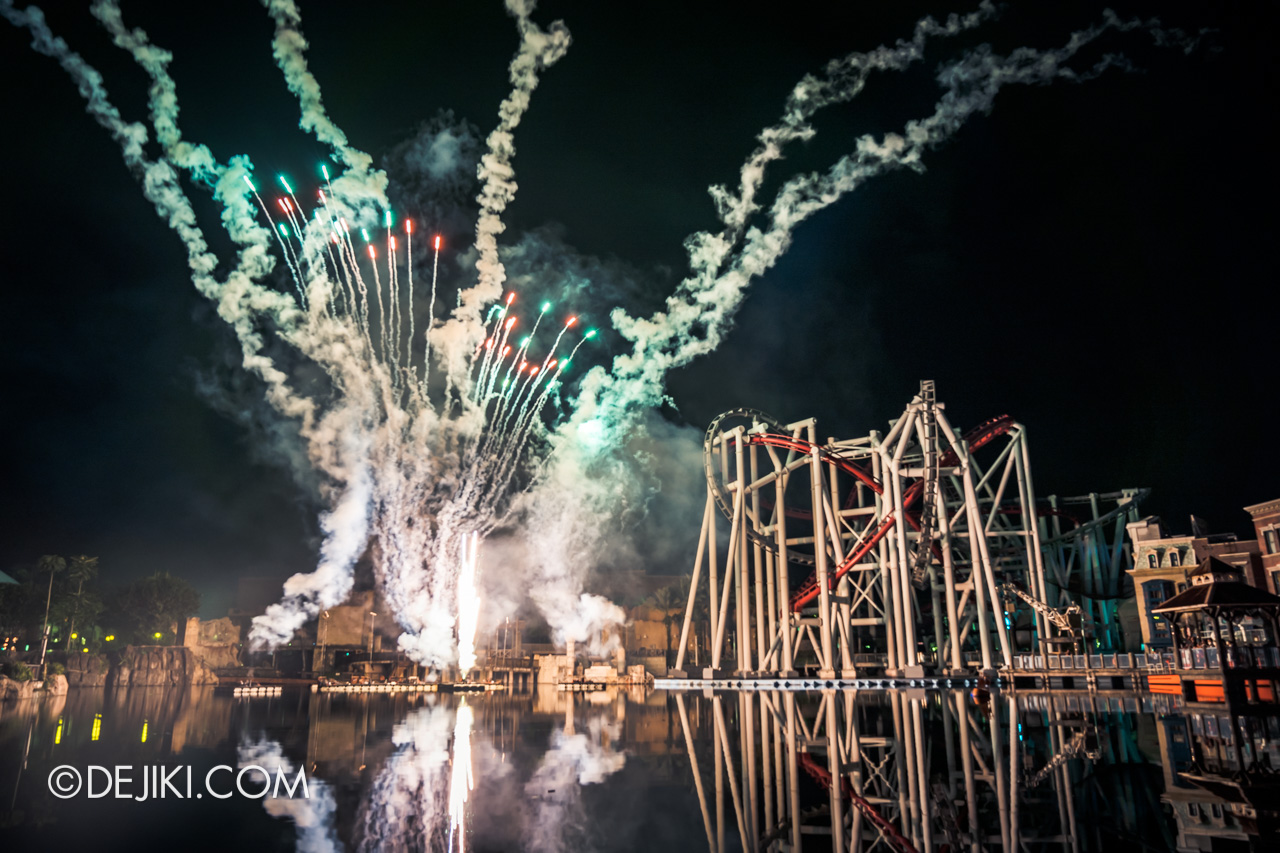 Christmas Fireworks Spectacular
End your day at Universal Studios Singapore with some sparkle and joy as you catch the Christmas Fireworks Spectacular show. Available on select nights in December, this year's show is said to have an all-new soundtrack and programming.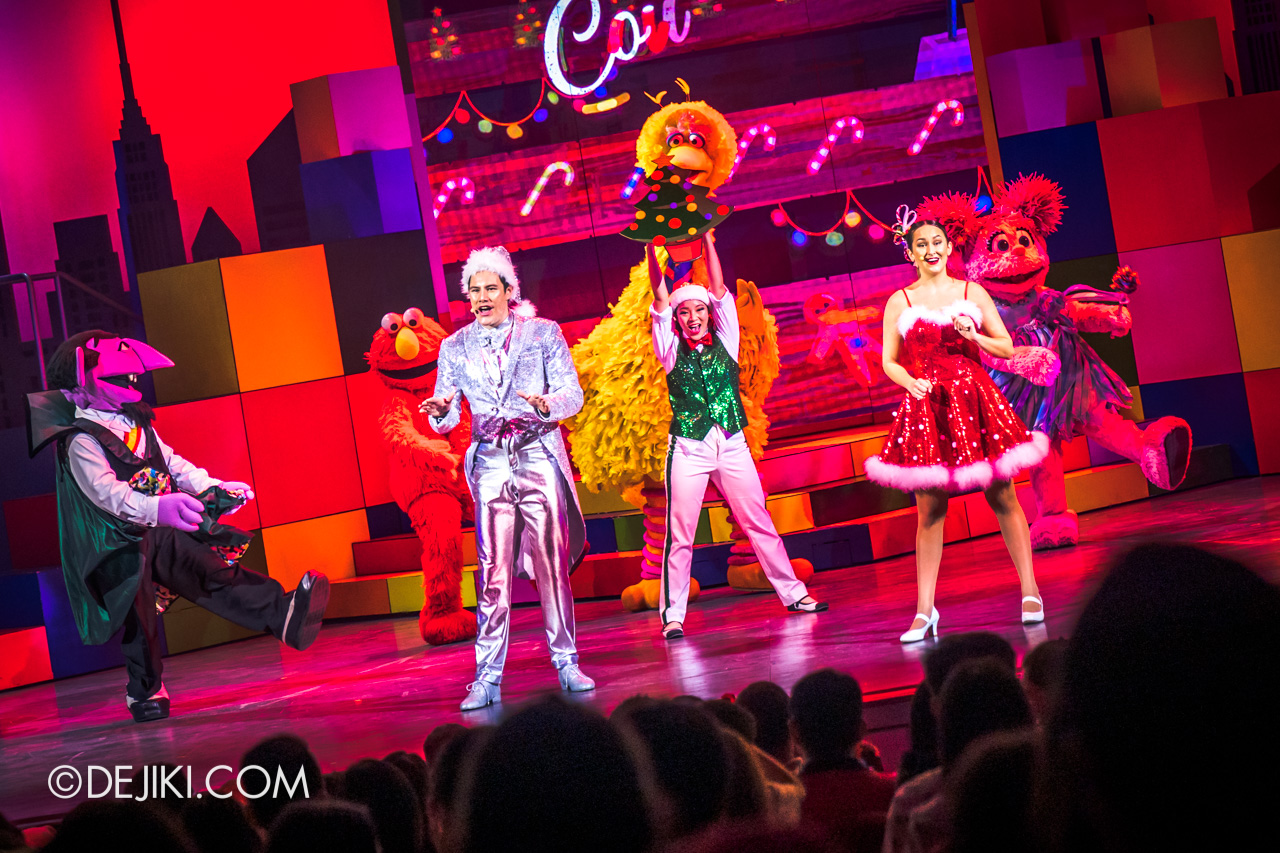 The regular show at Pantages Hollywood Theater, Elmo's TV Time, also received a small Christmas tweak.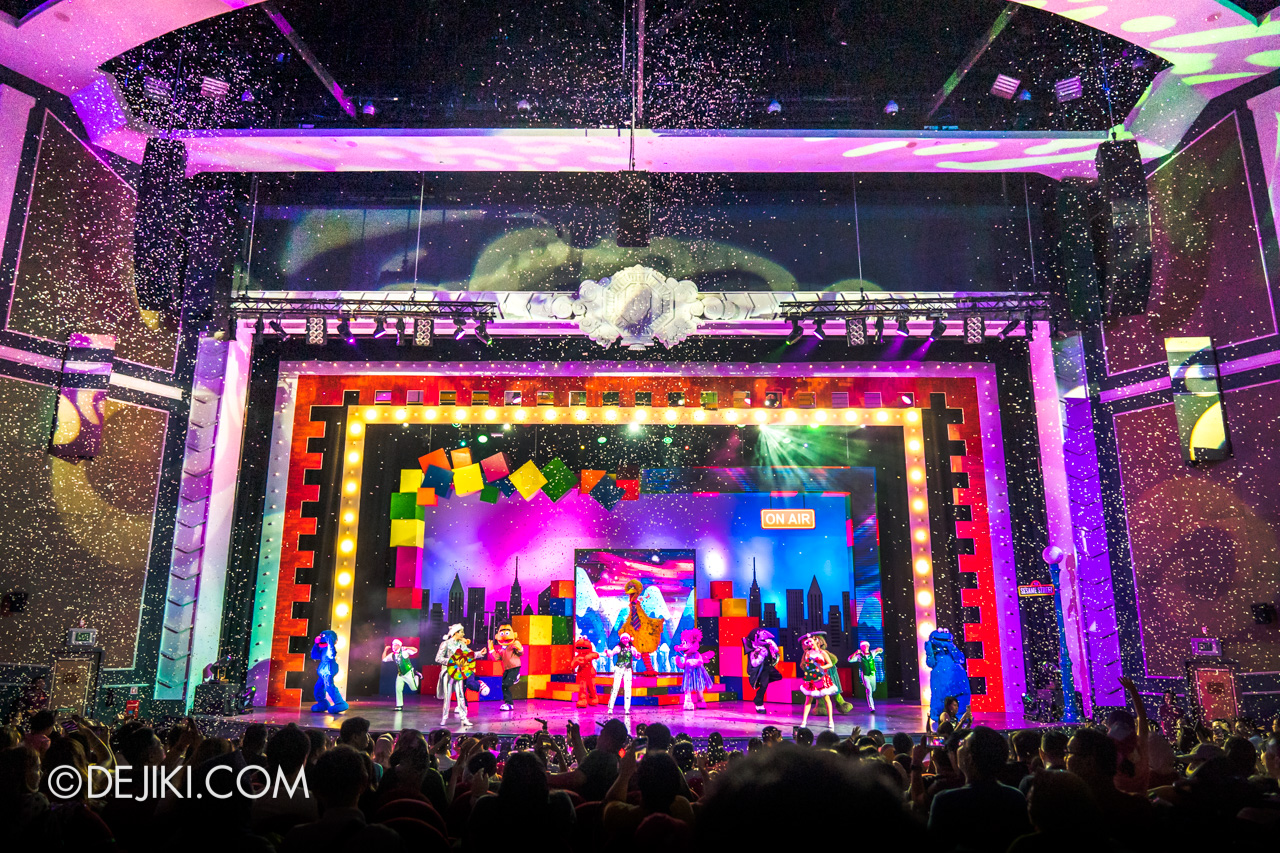 It's called Elmo's TV Time Christmas Edition now, but the show is largely the same, with only a few Christmas songs for the finale. I'm not surprised given that the park's lavish Christmas shows in the theater have scaled down over the years (among a lot of other things), and Elmo's show is least likely to buck the trend.
---
Preparations for Universal Christmas 2019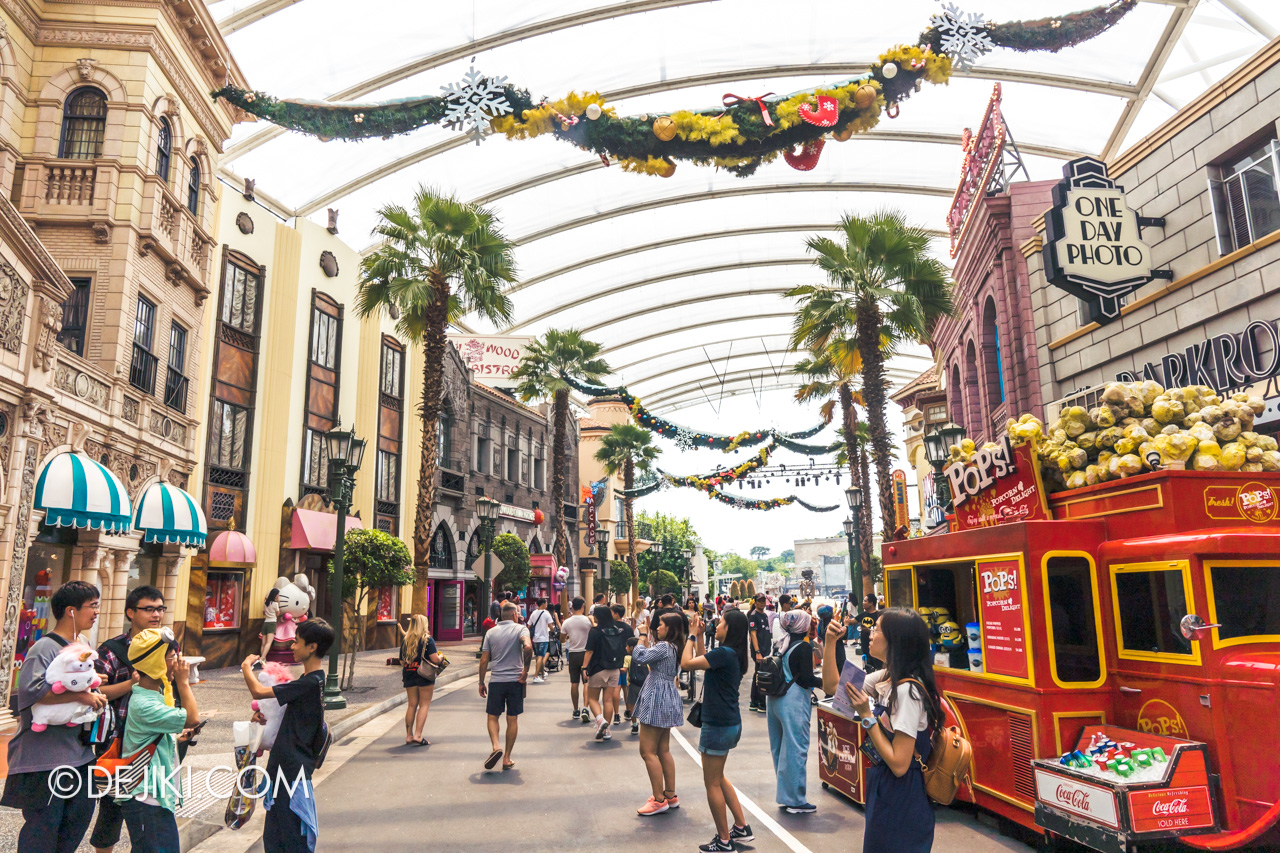 It's still very early but some festive decorations went up at Hollywood last week – and if you look closer you can see the 'Minion Made' buntings.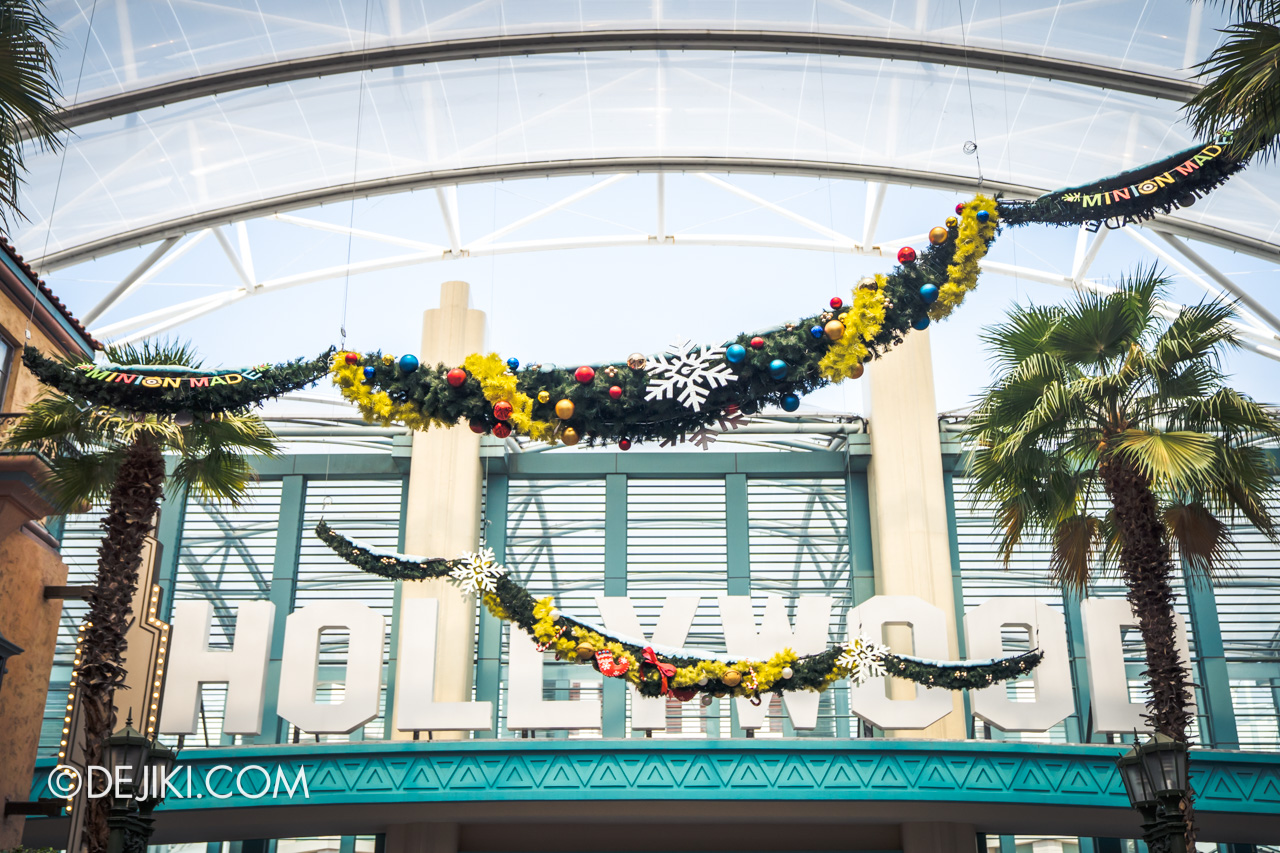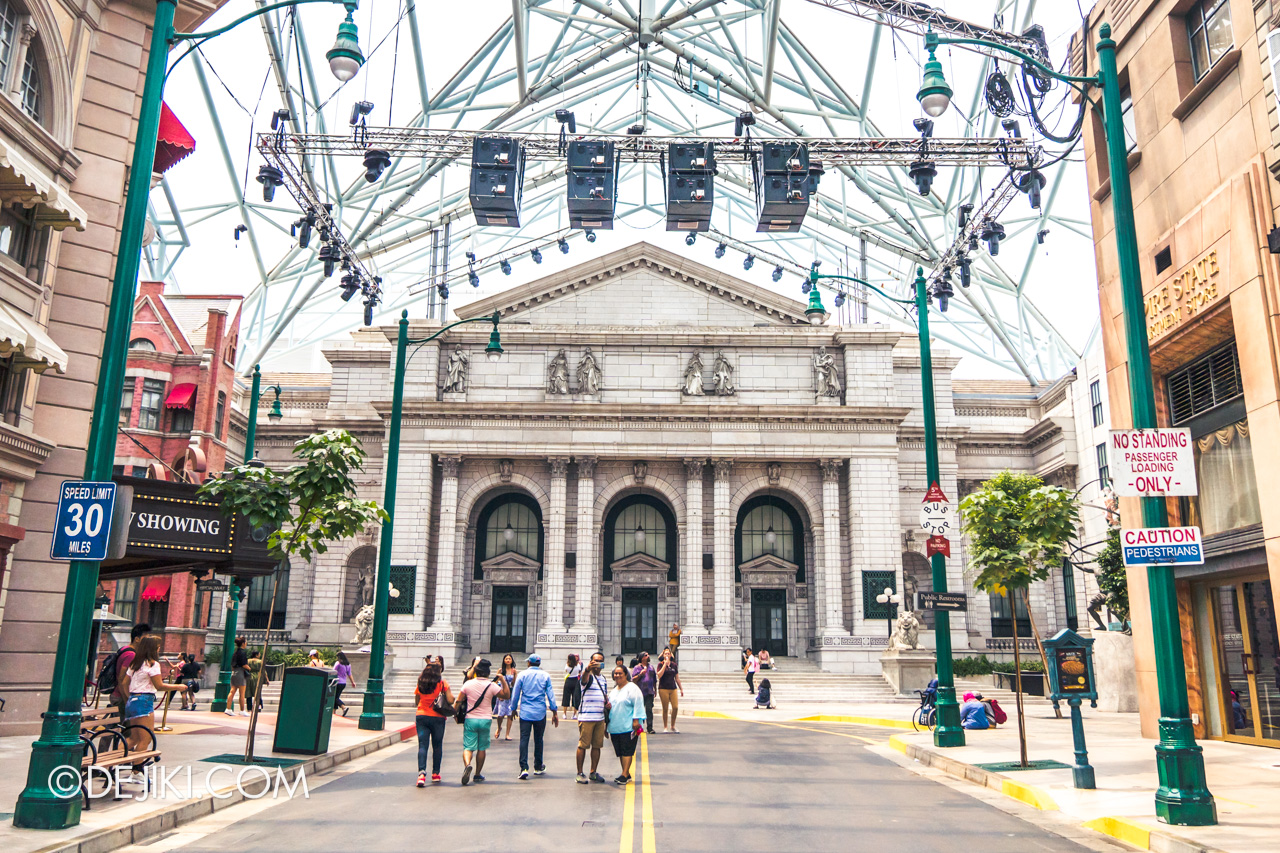 The extensive lighting setup at New York zone for Death Fest was cleaned up – and now there's an array projectors for the new show at the New York Library.
---
Facial recognition technology for park admission
You might need to smile to enter the park soon. Facial recognition technology is currently being trialed at the park gates. For now, only Annual and Season Passholders are participating in the pilot testing.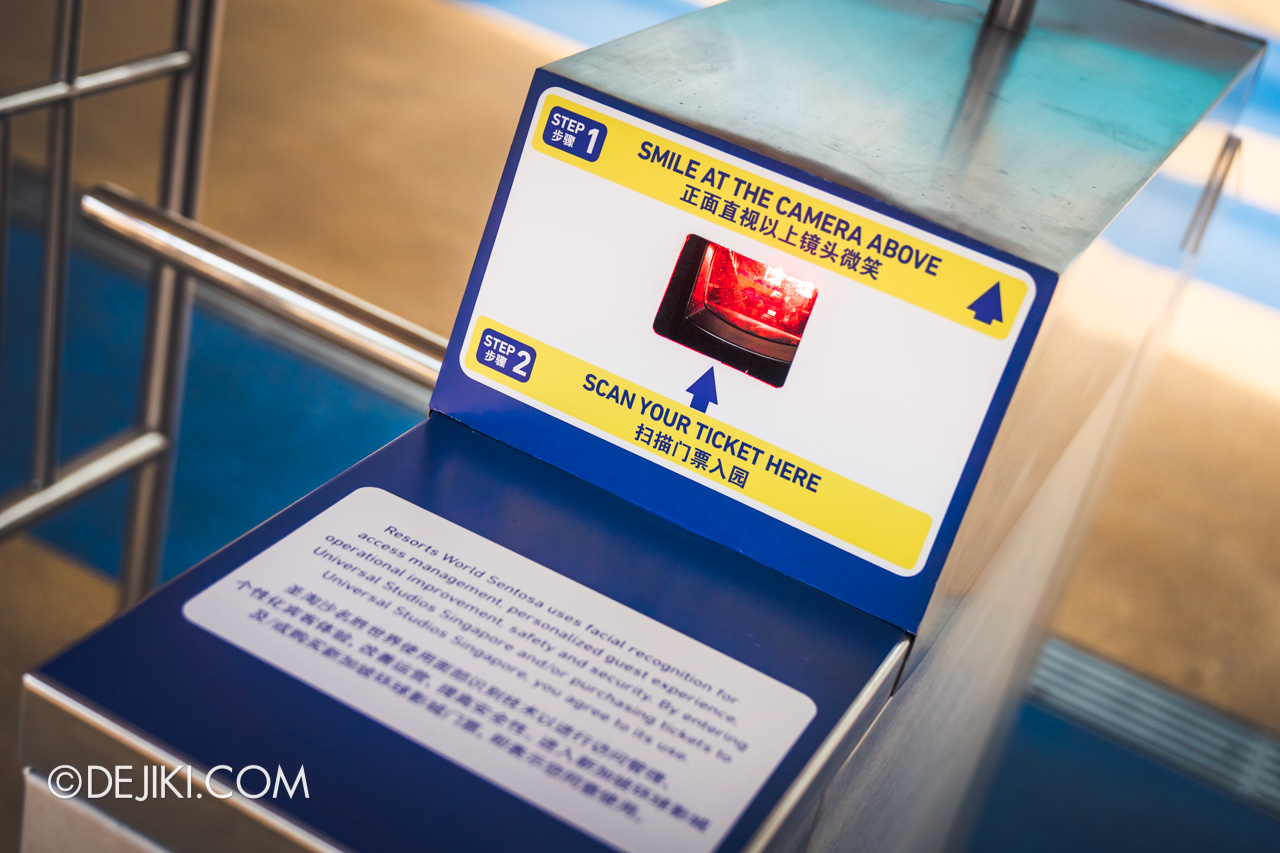 According to the notice, the use of facial recognition at USS is for access management, personalised guest experience, operational improvement, safety and security. You agree to the use of the system by entering the park and/or purchasing USS tickets.
Many theme parks around the region have already started some form of guests' face data registration. Most use it as a security measure and for their entrance operations, such as verifying guests re-entering the park. At some newer parks like Shanghai Disneyland, guests' face data is tagged to every ticket to ensure that their Park Admission, Fastpass and Premier Access systems are not abused. Universal Studios Japan has a face recognition system for its annual passholders. The upcoming Universal Studios Beijing will use a facial recognition system developed by Alibaba for park entry, payments, and even the use of lockers.
For a few years now, USS passholders have their identity verified manually by the park crew at the park entrance and at some attractions (for Passholders with Express access). I guess now this will help automate the process and reduce errors, and enforce the 'non-transferrable' aspect of park tickets and memberships. For those who have been gaming the system – your time is almost up.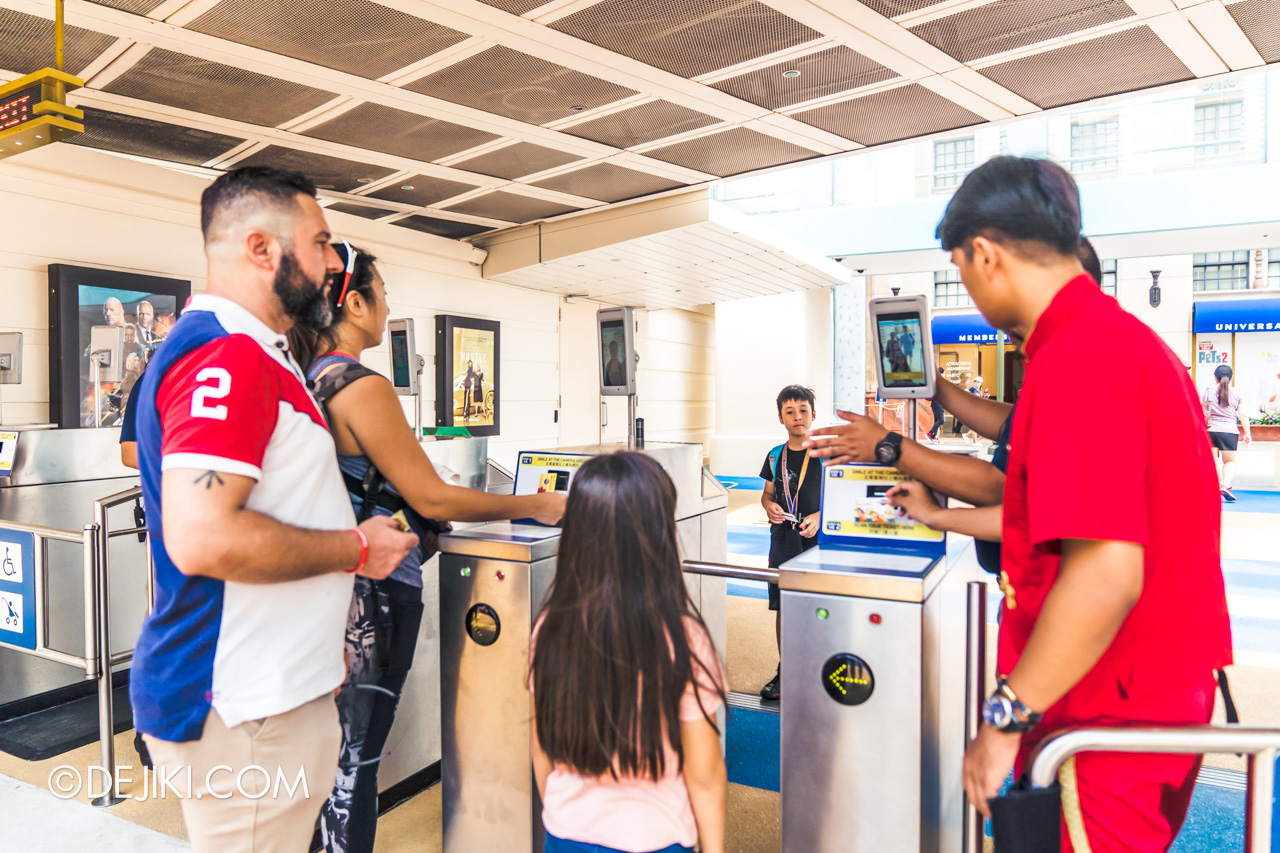 When I tried the system a few days after the trial opened – it was a bit slower than usual, because the camera is quite wide and can detect multiple faces. I guess it'll be some time before this is rolled out to all park guests.
---
Gudetama Shop at Universal Studios Singapore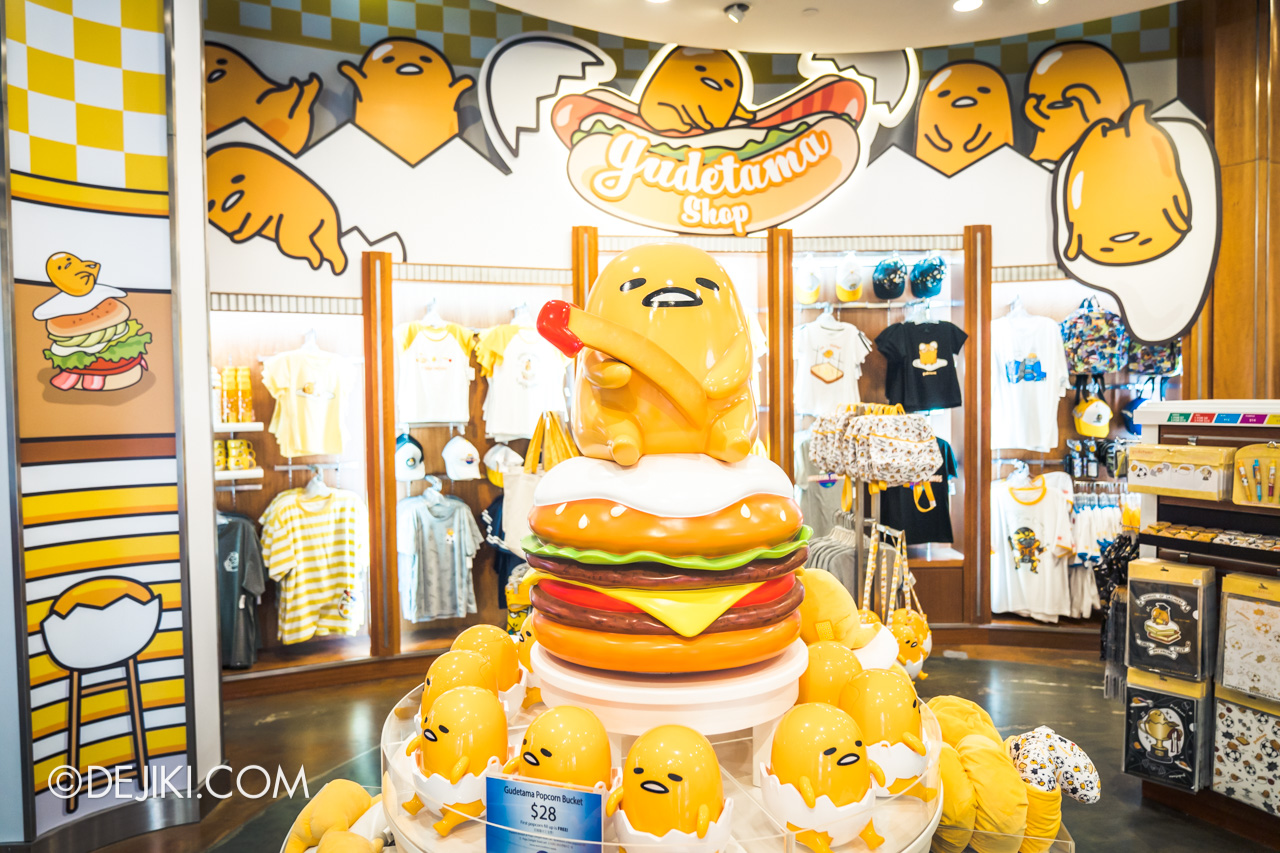 The lazy egg Gudetama has landed at Universal Studios Singapore a few months ago, with USS-branded merchandise available at the Universal Studios Store (Hollywood zone), right beside the Hello Kitty Studio. This is part of an extended collaboration with Sanrio, which has increased retail presence of Sanrio characters at Universal Parks worldwide. Recently, the shop in Singapore has been spruced up with a new Gudetama figurine.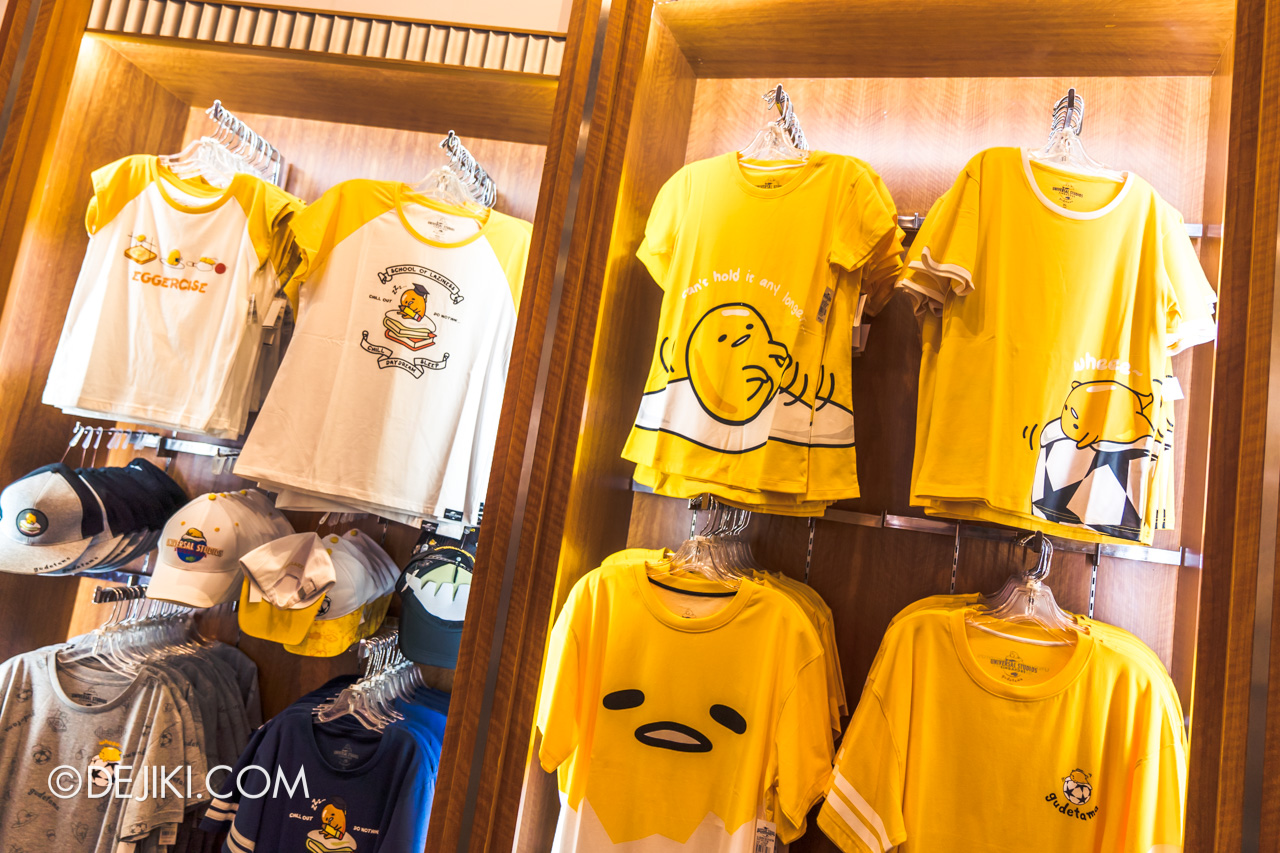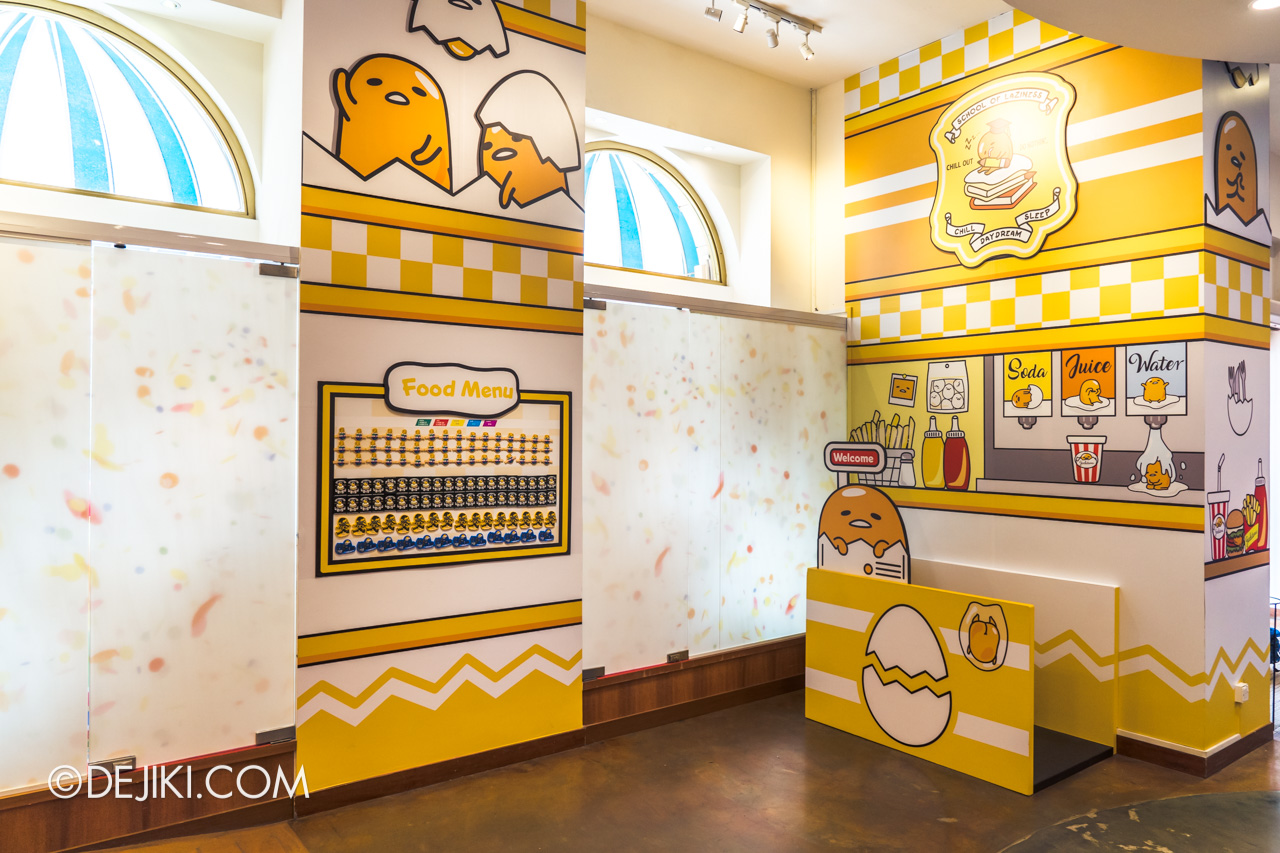 On the other side of the retail area is a photo wall.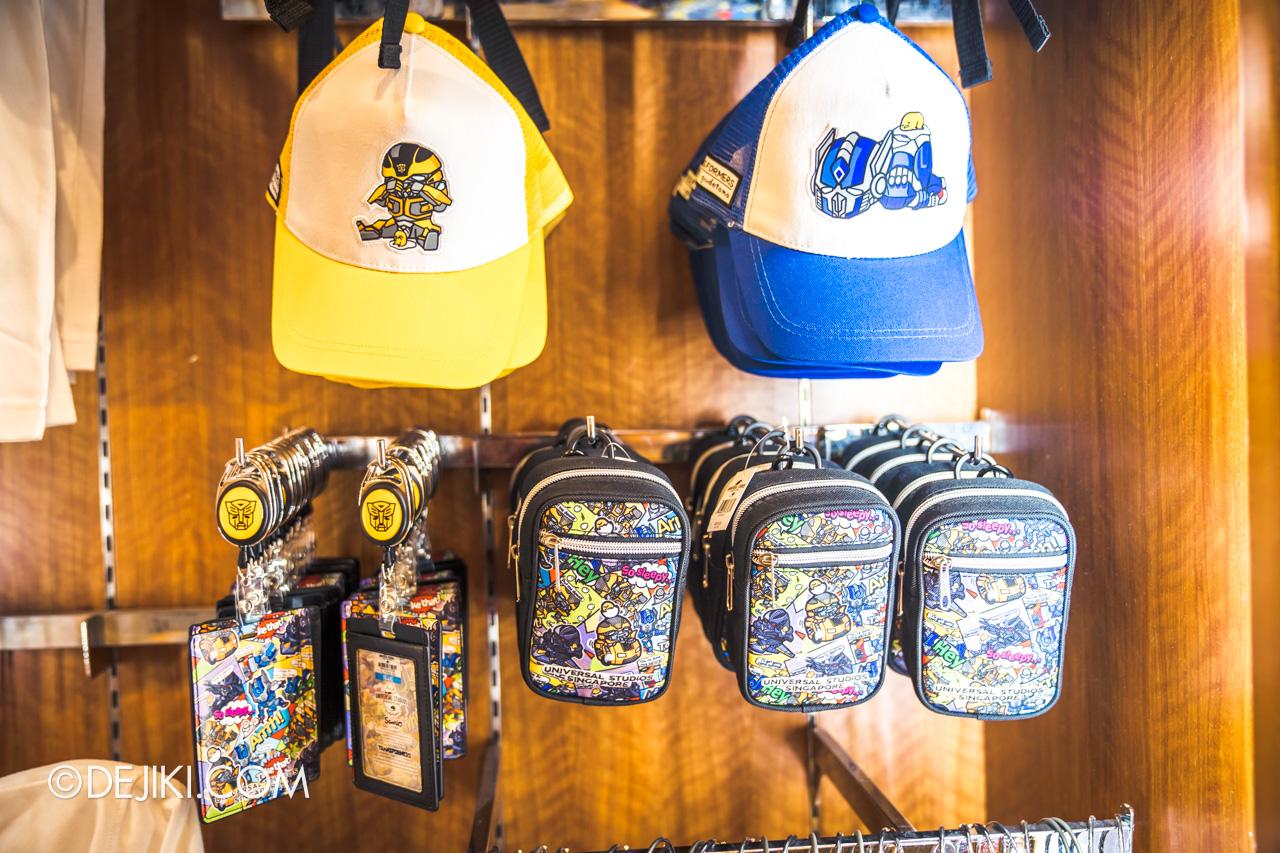 Sometime last month, the Gudetama Transformers collection arrived. The designs appear derived from earlier artwork that debuted in 2017, but now with English text. Fun fact: The Gudetama products are also available in Universal Studios Japan, but the collab line features Jaws and Woody Woodpecker.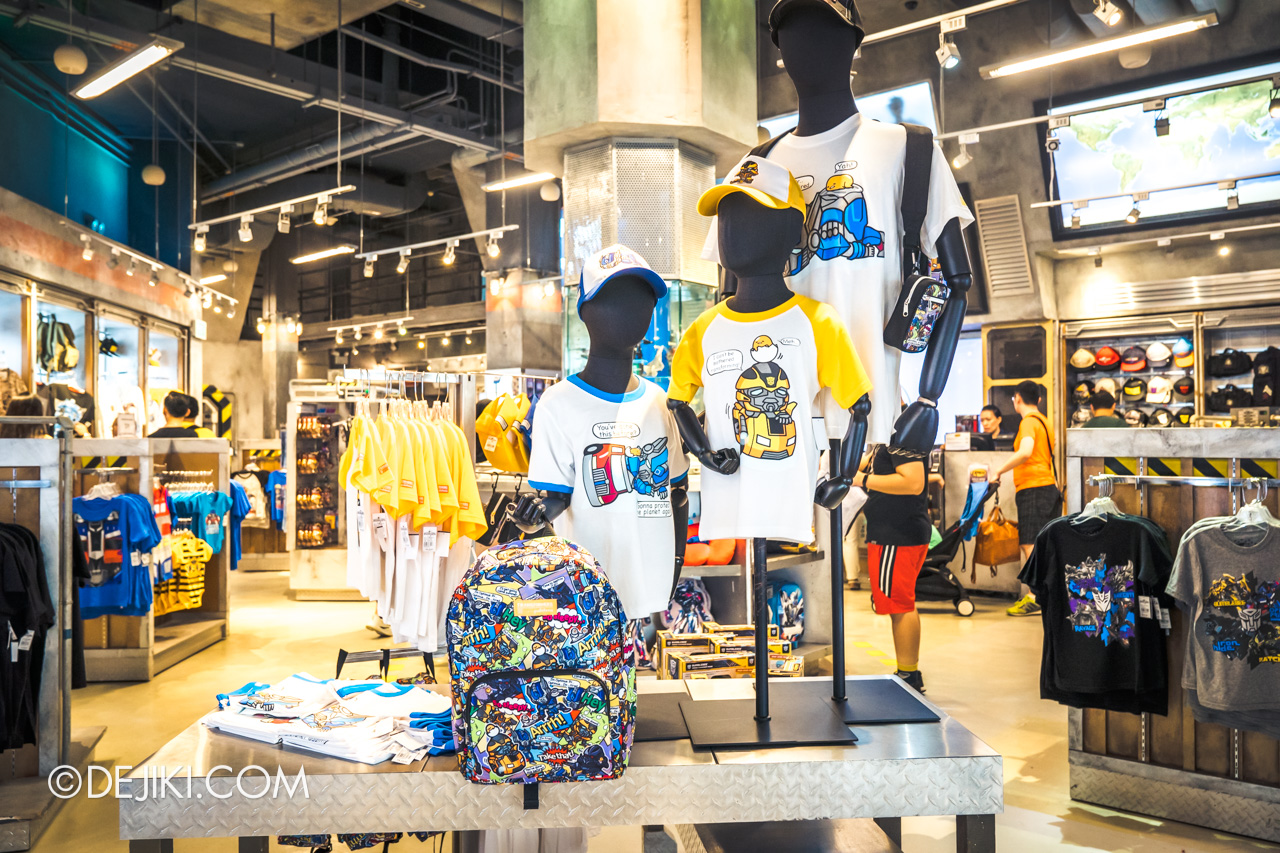 Gudetama Transformers merchandise is also available at the Transformers Supply Vault.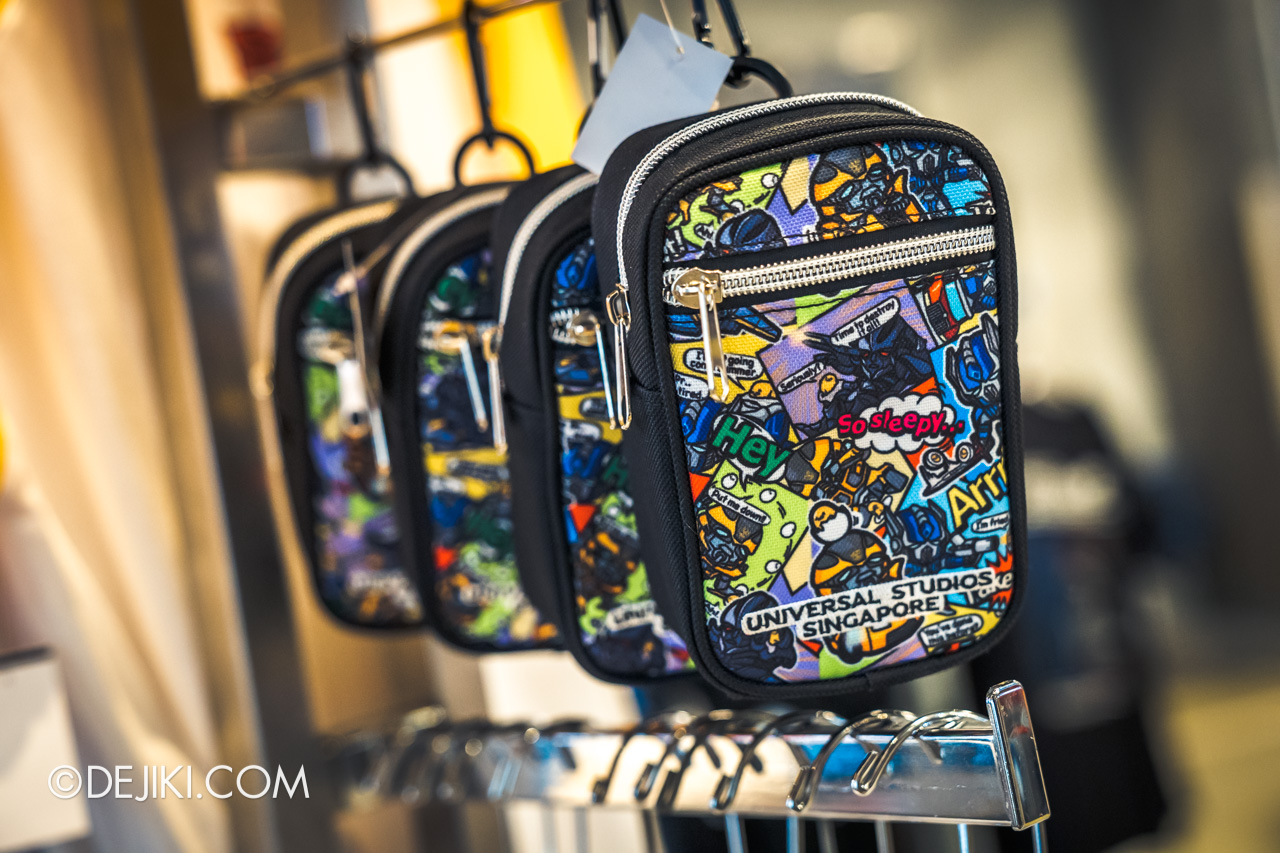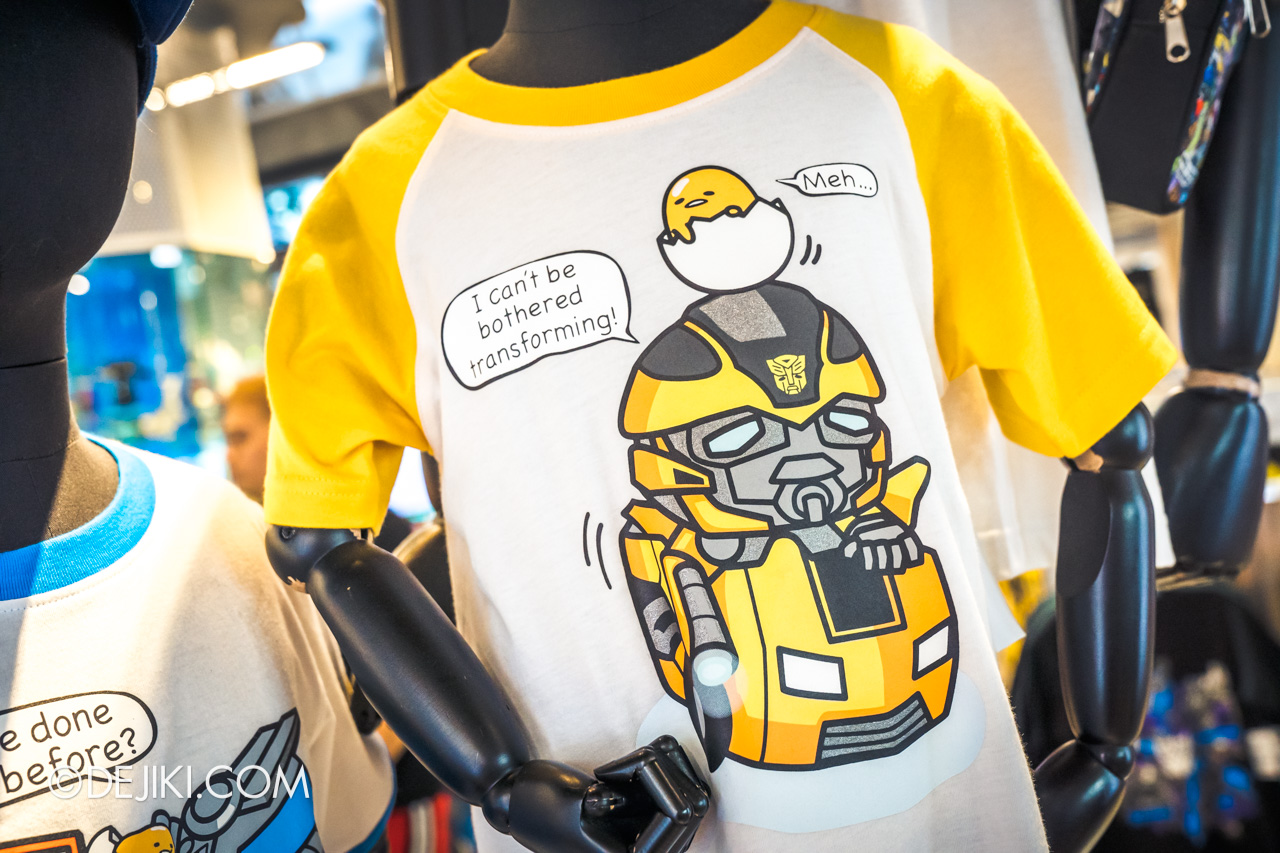 Cute huh.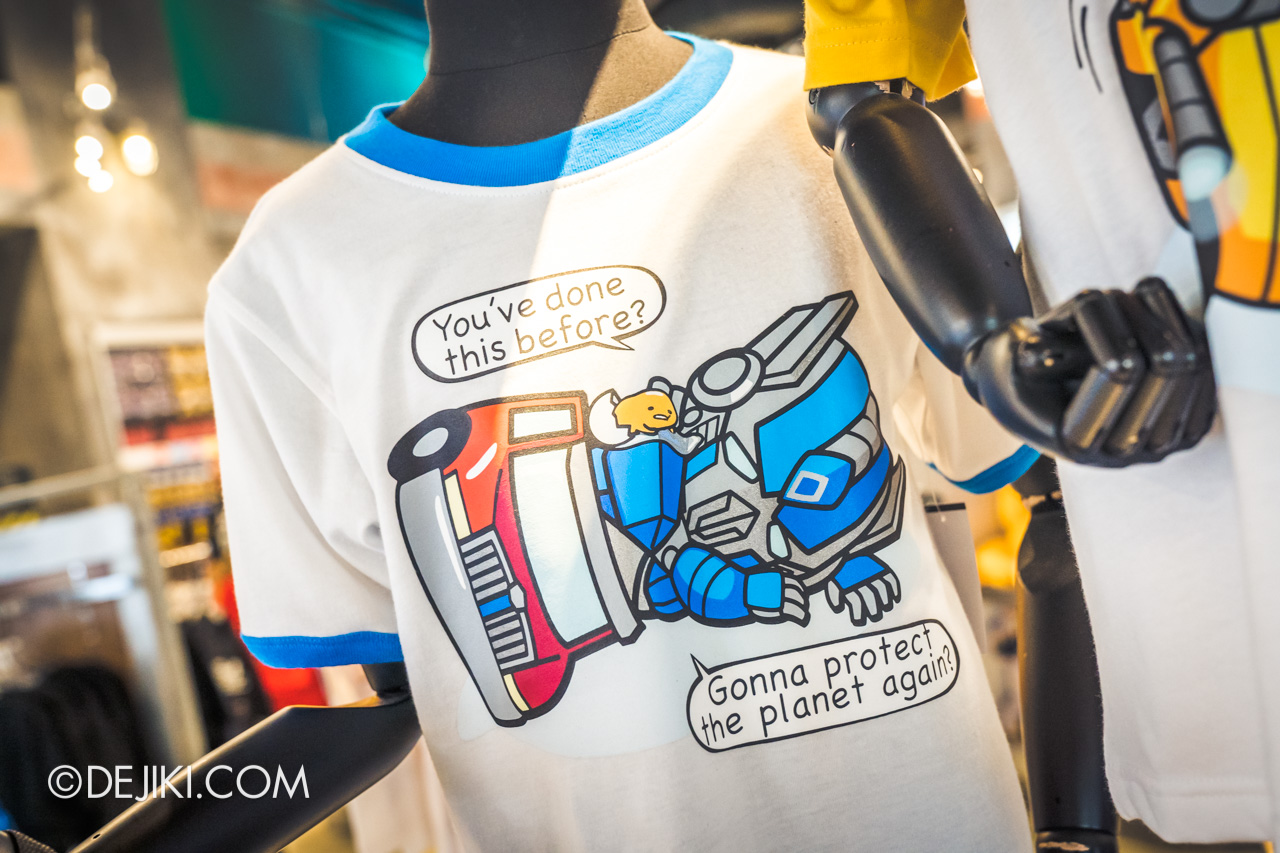 Hello Kitty 45th Anniversary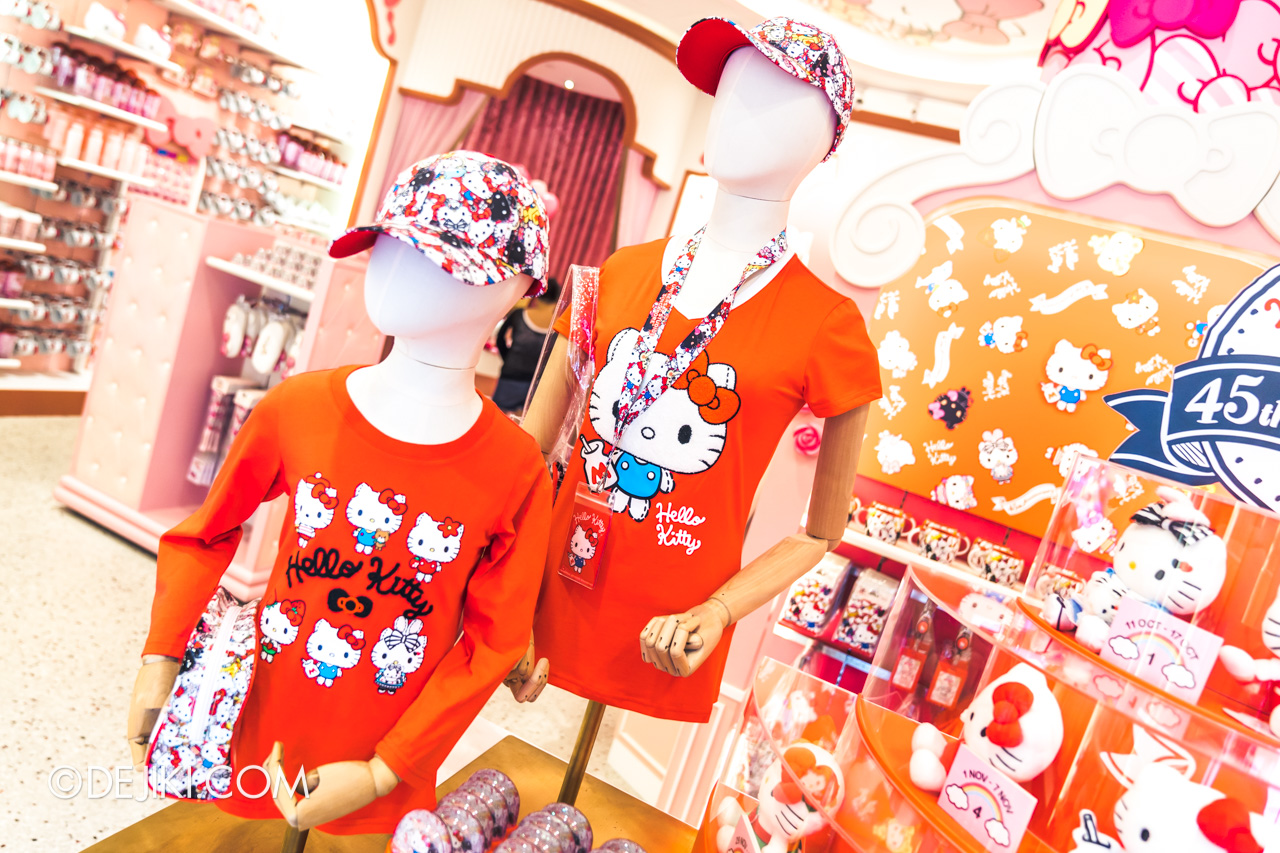 For avid collectors of Hello Kitty, you can now expand your collection with this new line of souvenirs and more collectible toys at the Hello Kitty Studio store.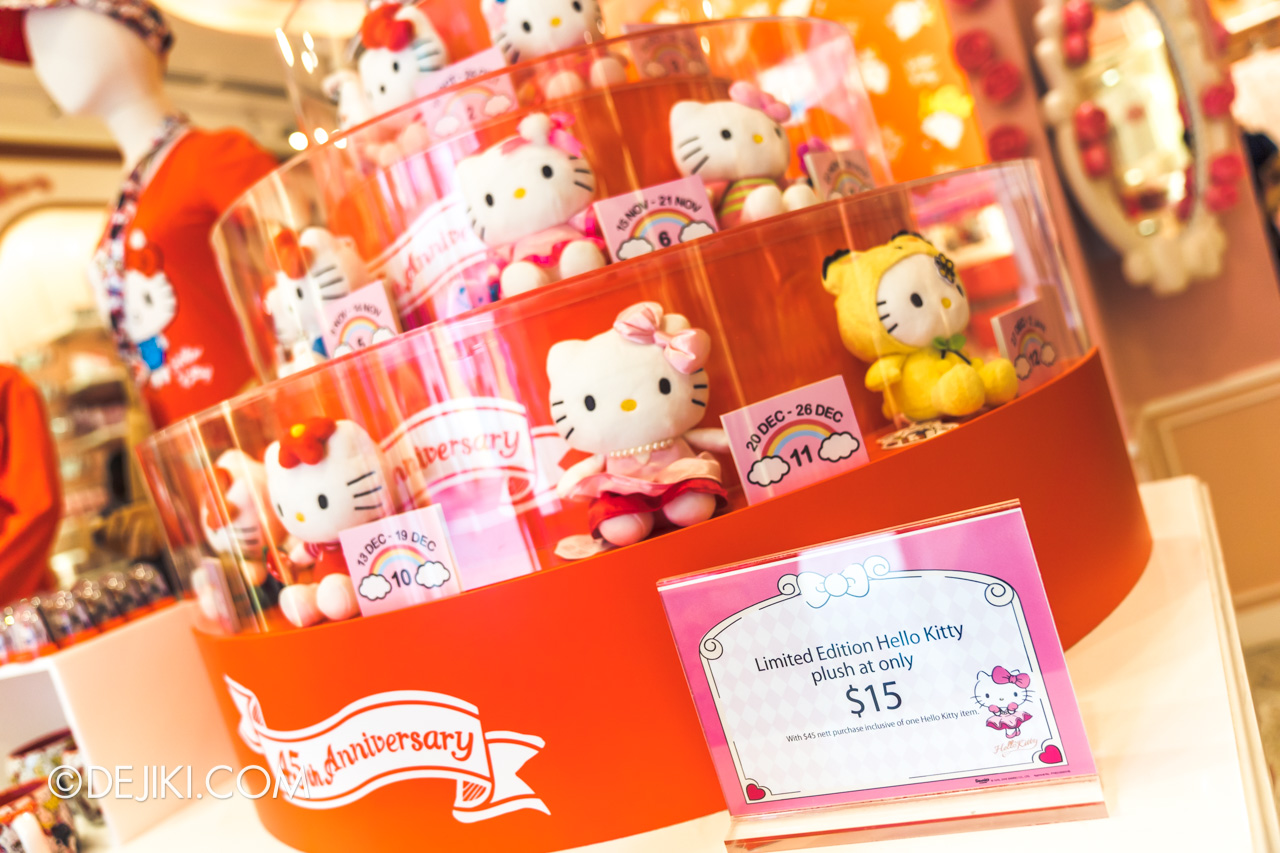 You don't have to queue to buy these limited edition plush toys, which is yours for S$15 each with a minimum $45 spend including one Hello Kitty item. For USS Passholders, your minimum spend is reduced to $35, but you'll still need to pay $15 to get the plush toy.
If you renew or sign up for the USS annual pass, you can buy one plush toy at $15 on the day your pass is processed at the park. A one-time waiver of the minimum spend, basically.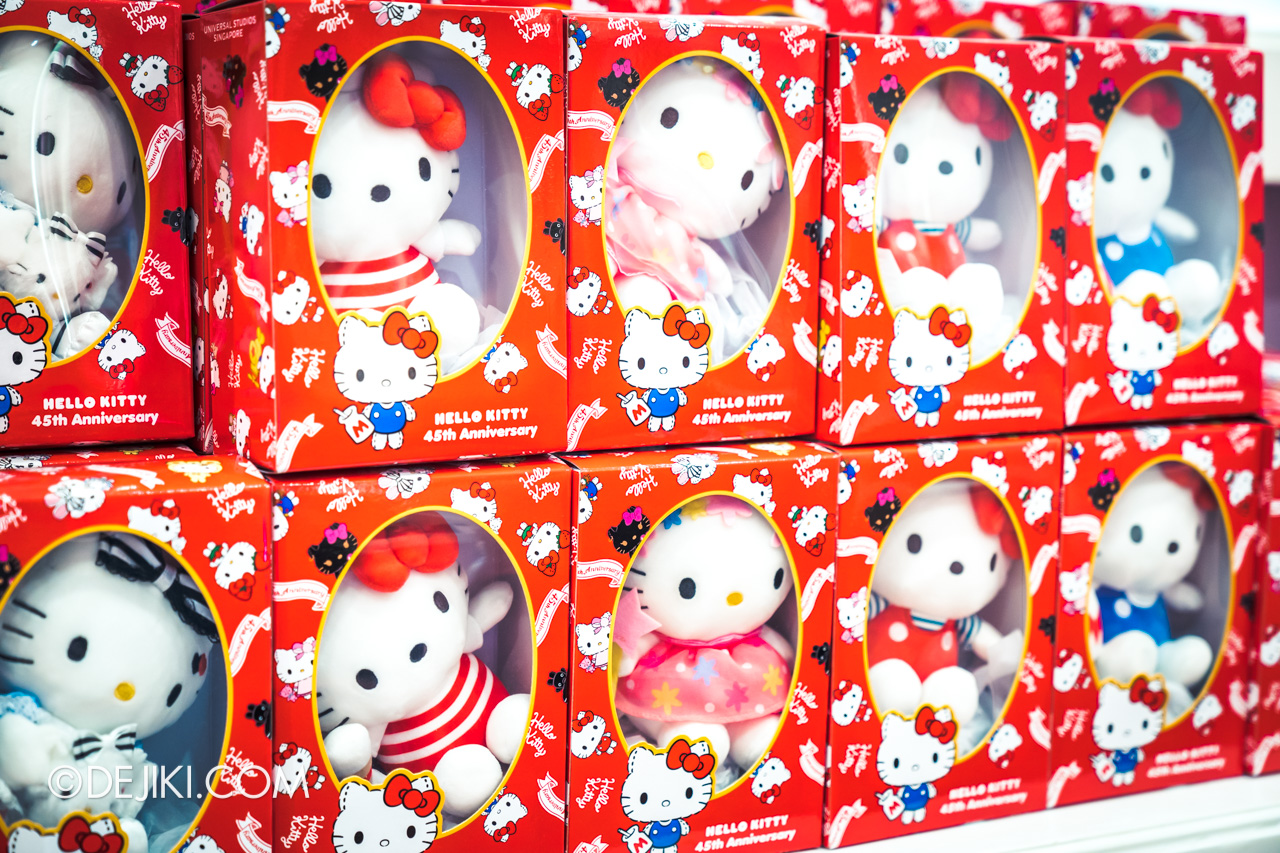 A new design will made available every Friday, and seems like some of the past releases are still available. There are 12 designs to collect.
Universal Studios Store: Partially closed for renovations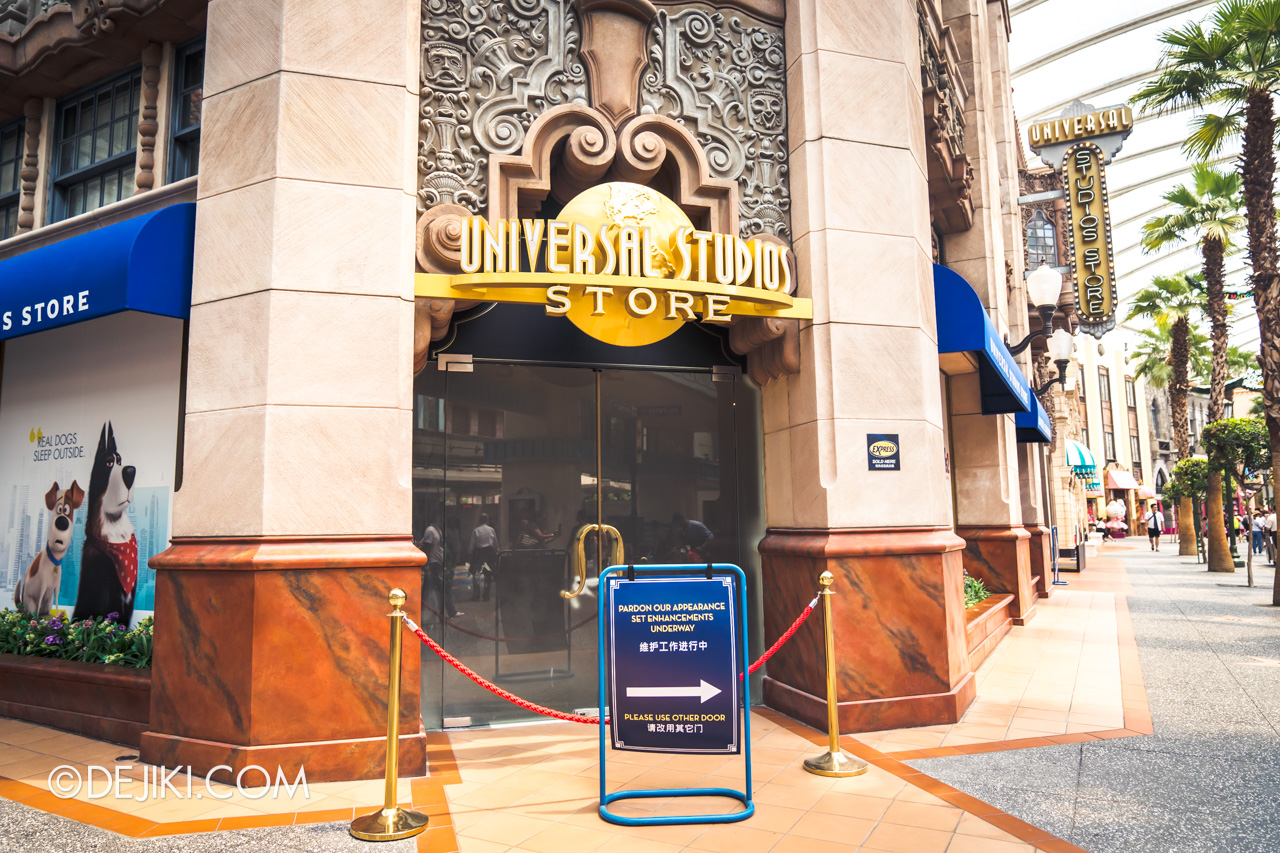 Speaking of shopping – don't be alarmed if you walk into the park to find that the Universal Studios Store is closed. Yes, about half of it is currently blocked up for renovations.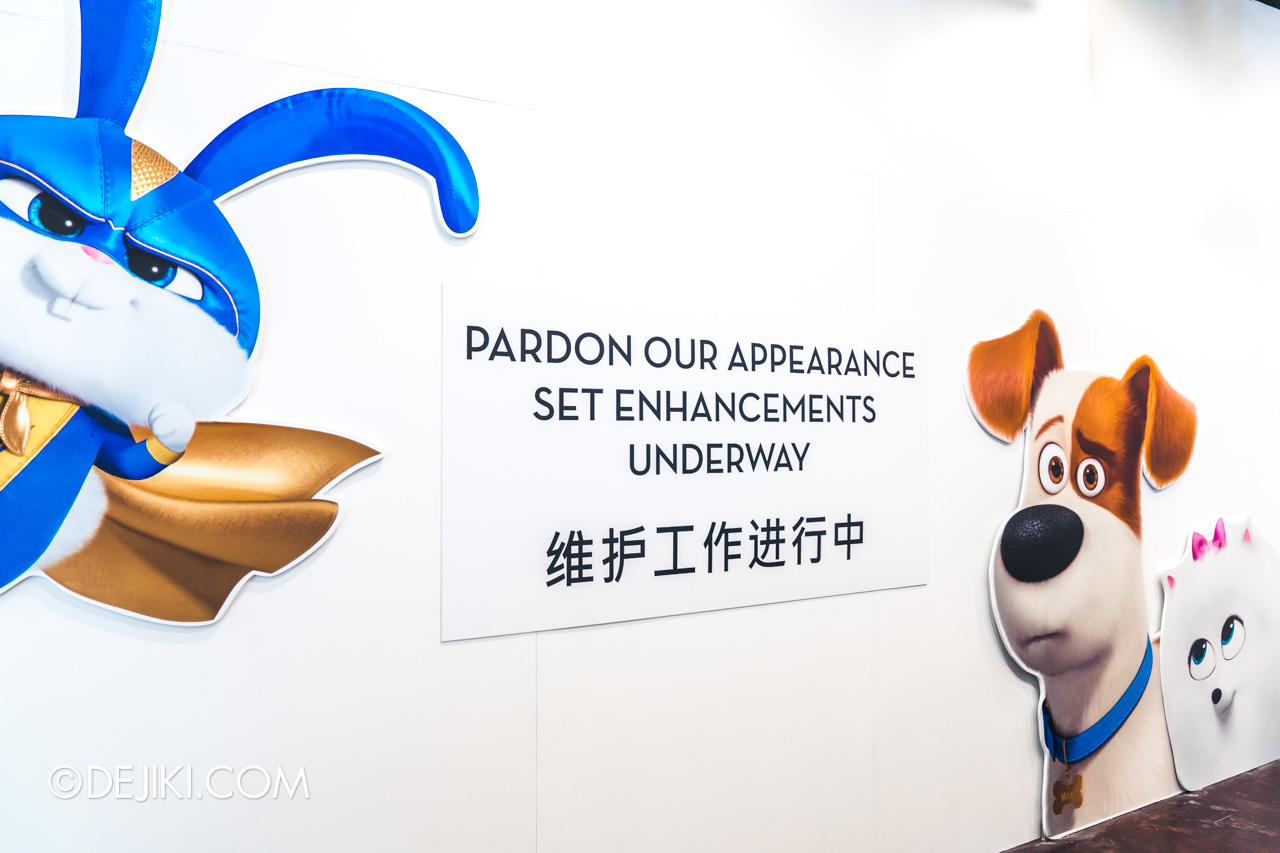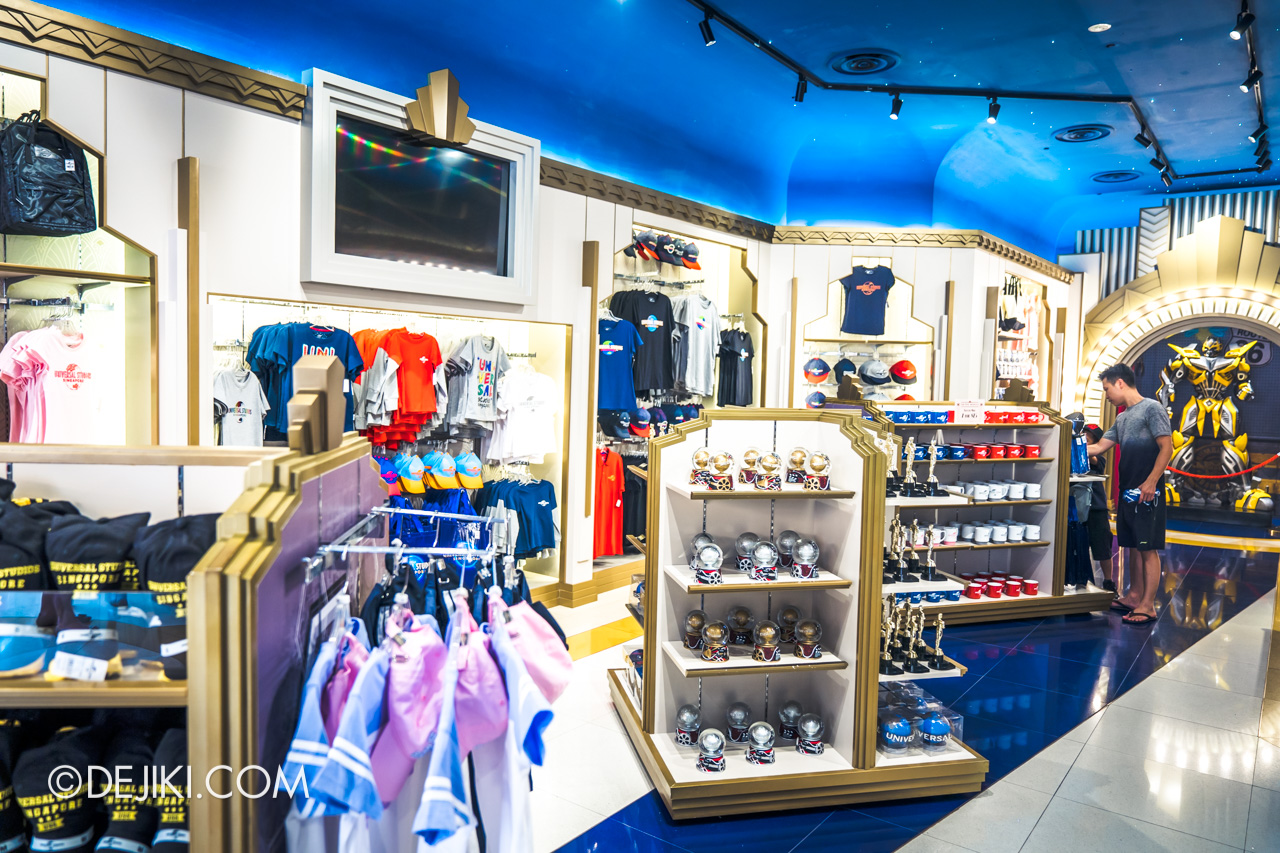 You can still find Universal Studios-themed merch, along with other park essentials, at the Silver Screen store across the street.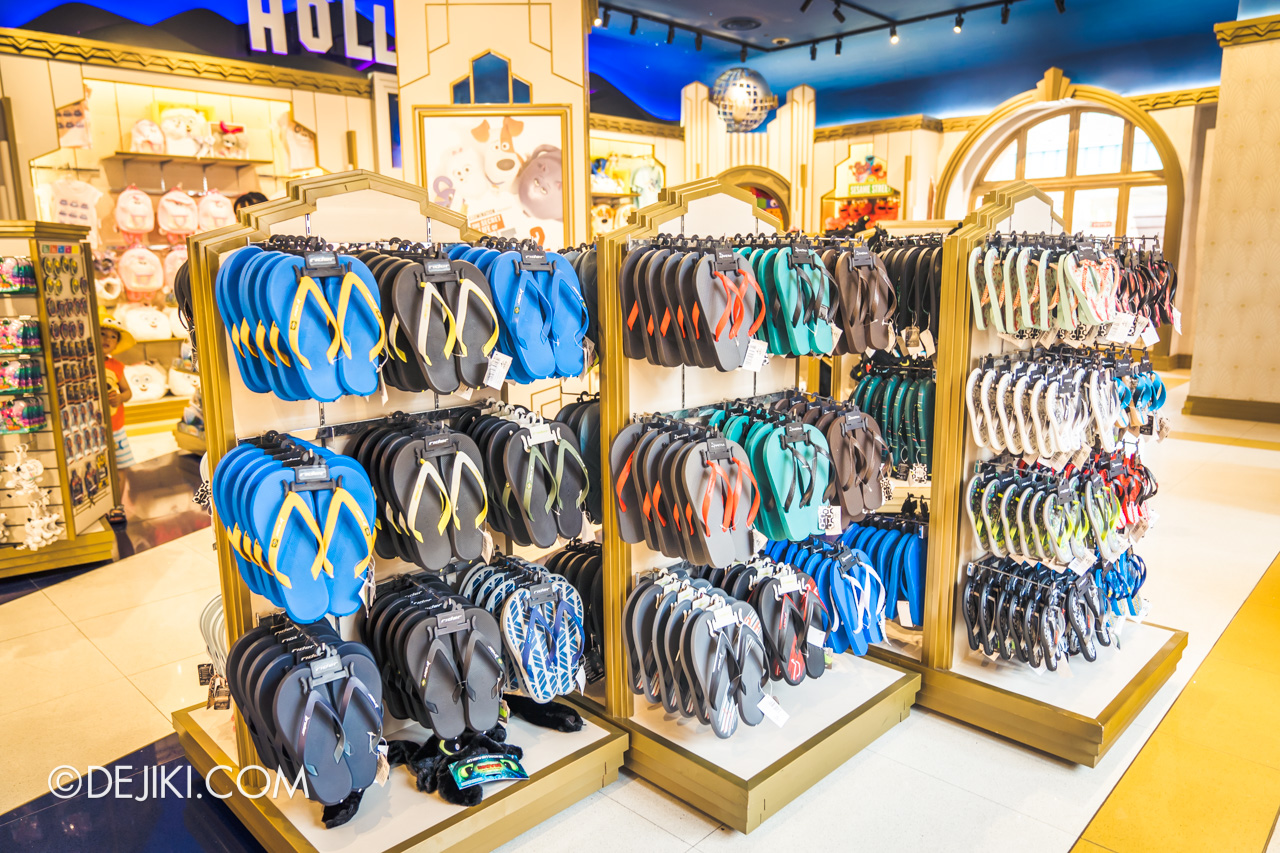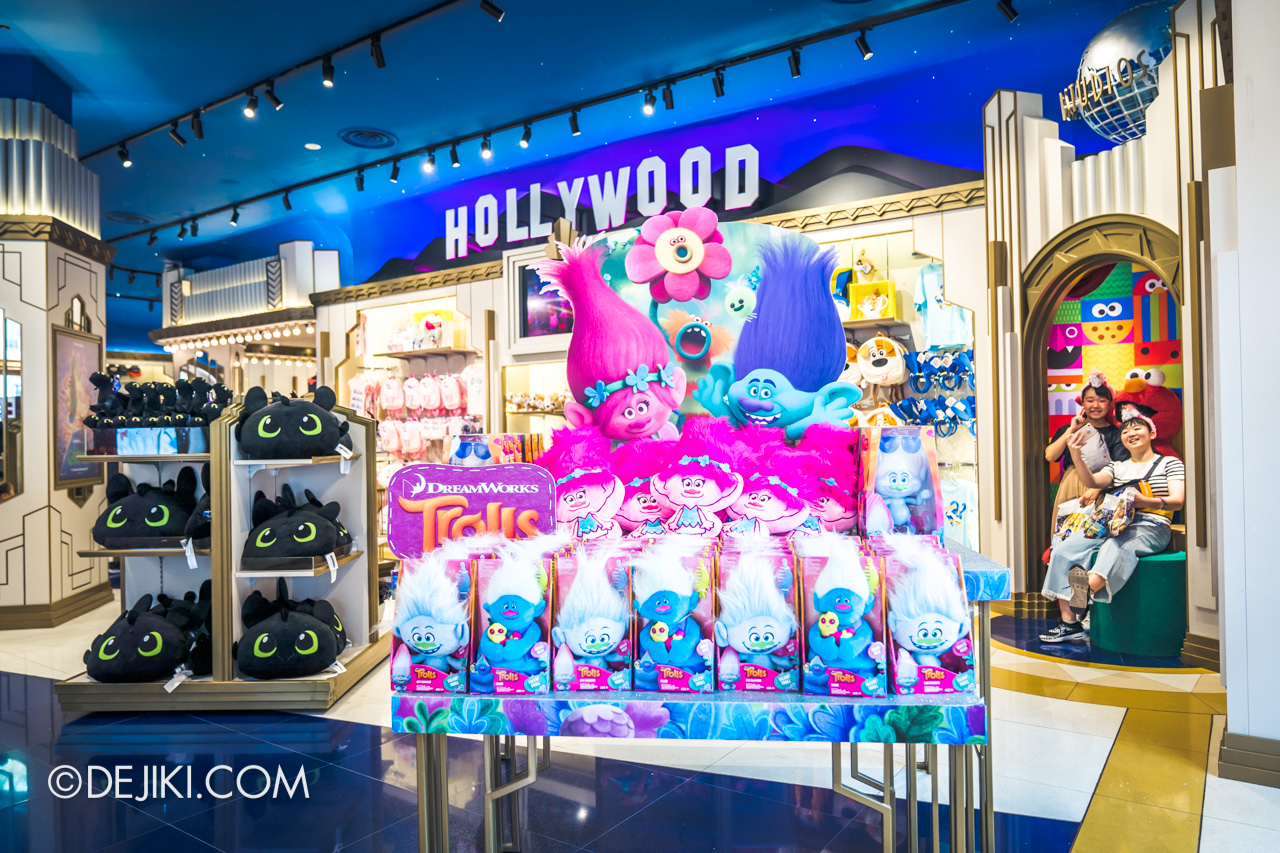 Life after Halloween Horror Nights 9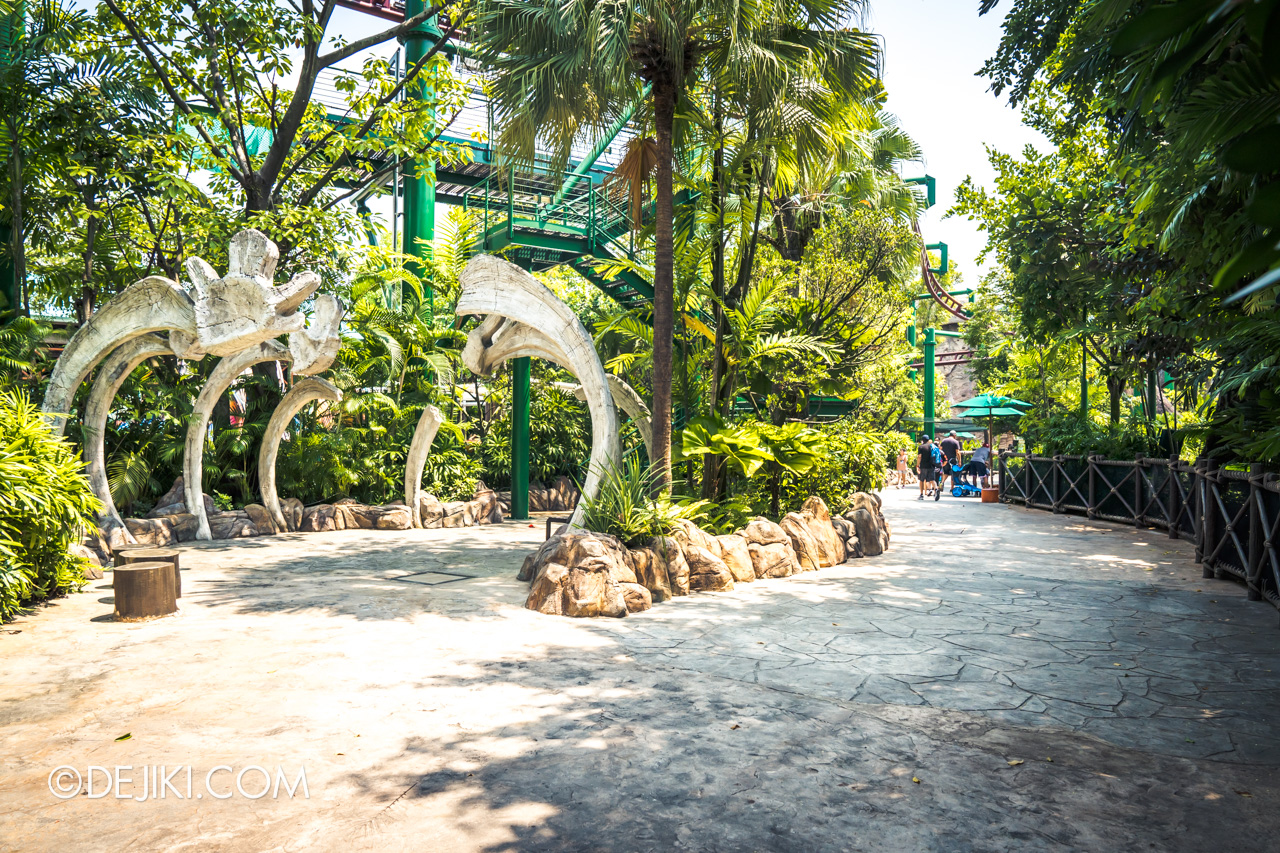 It's just a week after the final night of Halloween Horror Nights 9, and much of the event has vanished.
Metalheads have packed up and left.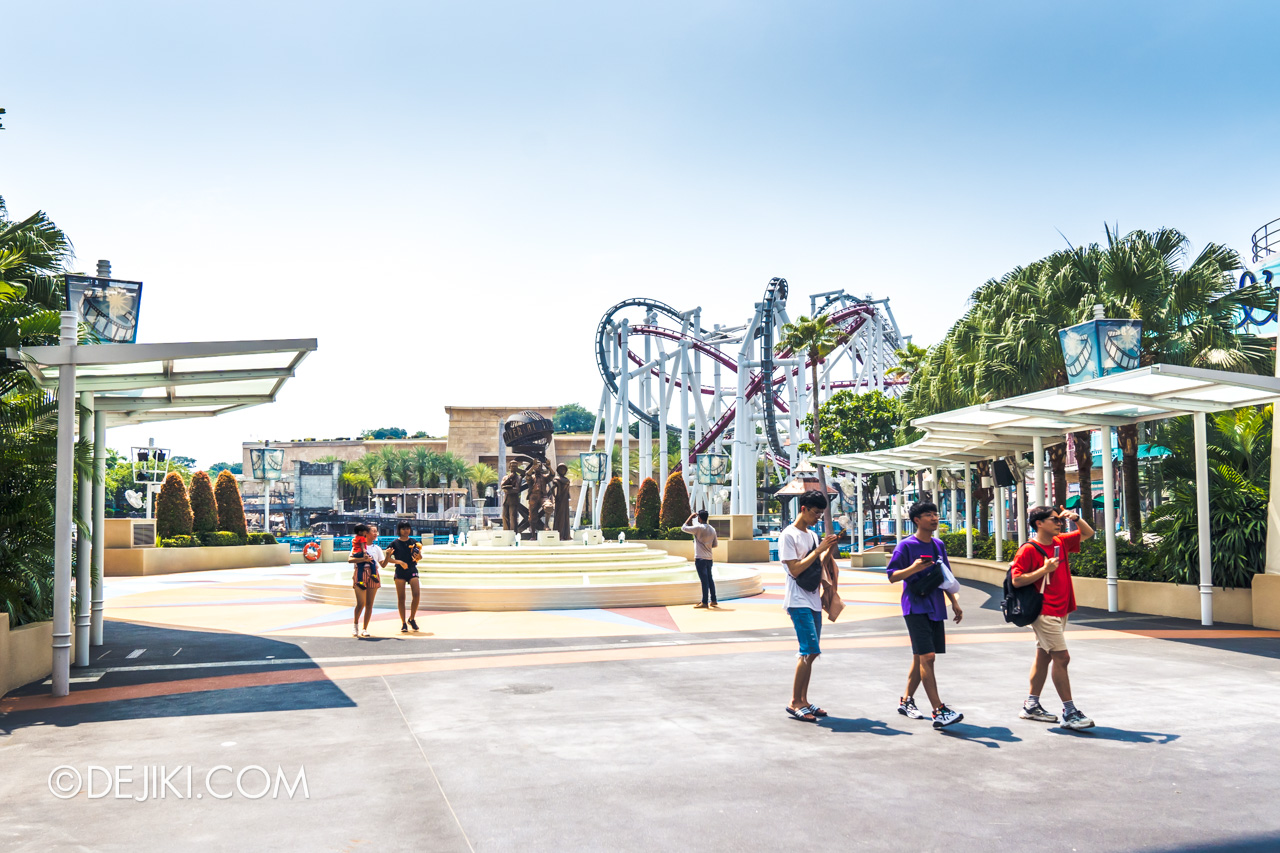 Now this part feels so empty without the Halloween Carnival. You can still play games at the Bullring area outside the park.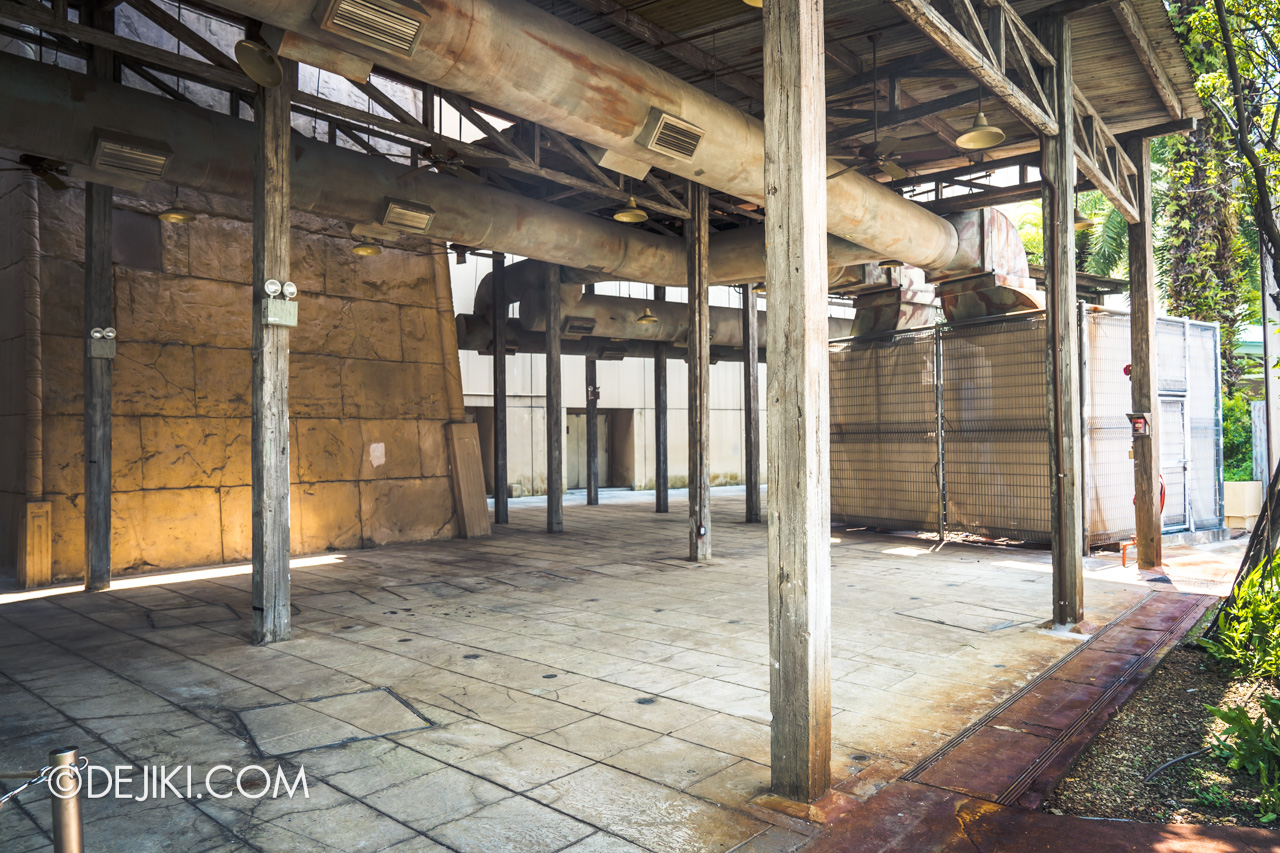 The Spirit Dolls site is completely cleared out. Actually, the only thing visible to all is the remains of the Twisted Clown University:
Other changes seen at the park
This is quite a long park update, because I took a break since Mid July to cover Halloween Horror Nights specific changes.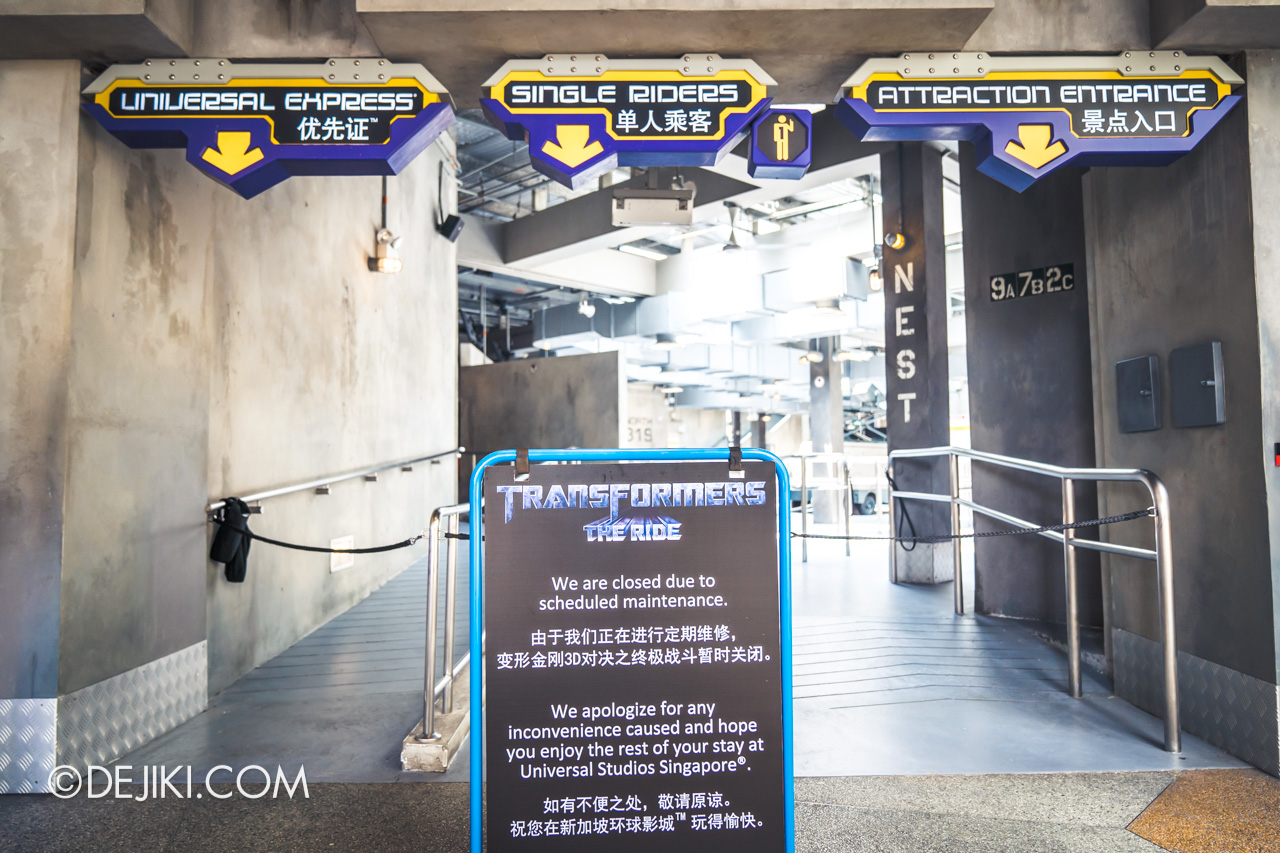 Transformers: The Ride is currently closed for maintenance from 4 Nov till 15 Nov 2019. I hope this ride gets the Infitec projection upgrade or a 'TRUE 4K' update some day.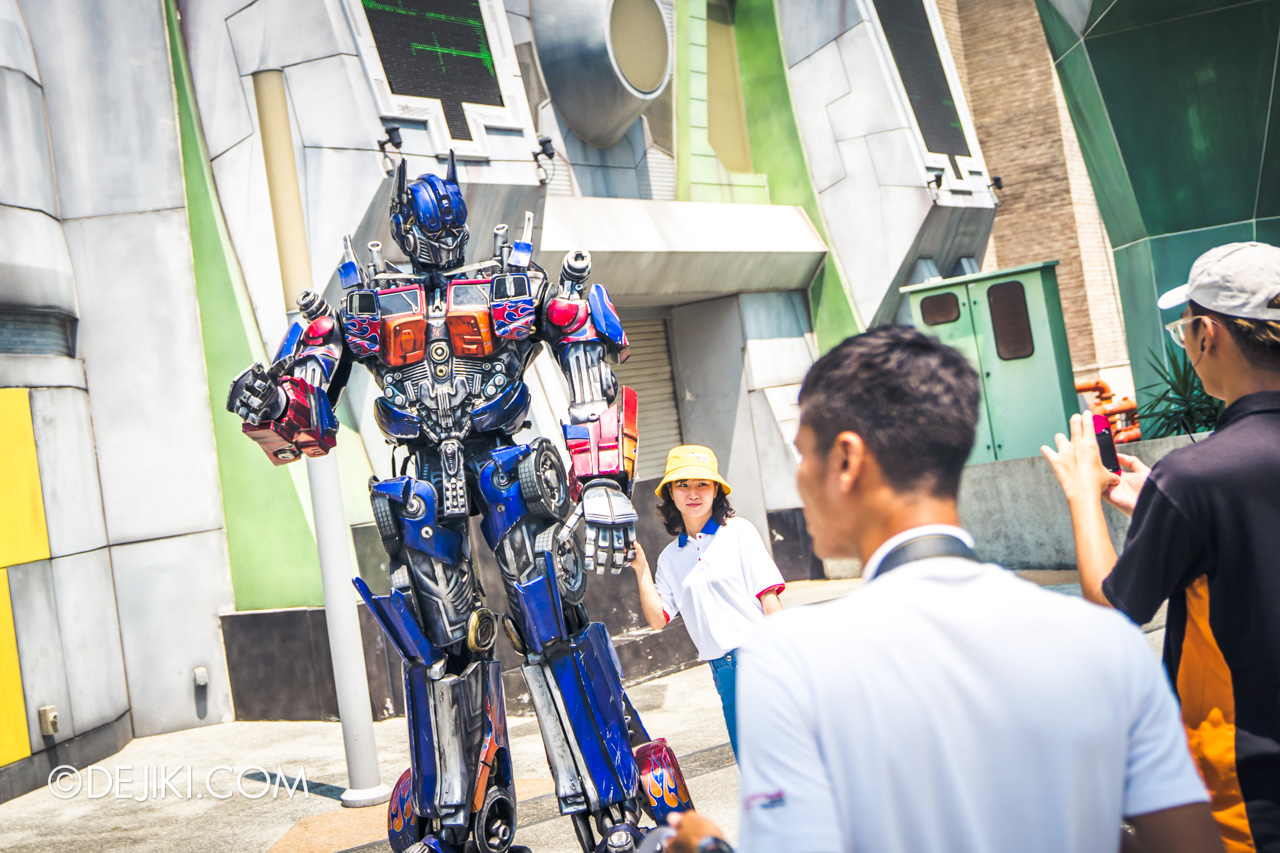 In the near future, the Transformers Meet and Greet location, which is currently outdoors, will be shifted into Starbot Cafe.
Some park fans may be aware that the Sci-Fi City stilt-walkers sometimes appear at the Cafe's side entrance for Meet and Greet. Now, that entire area has been redone into a small space for proper Meet and Greet sessions.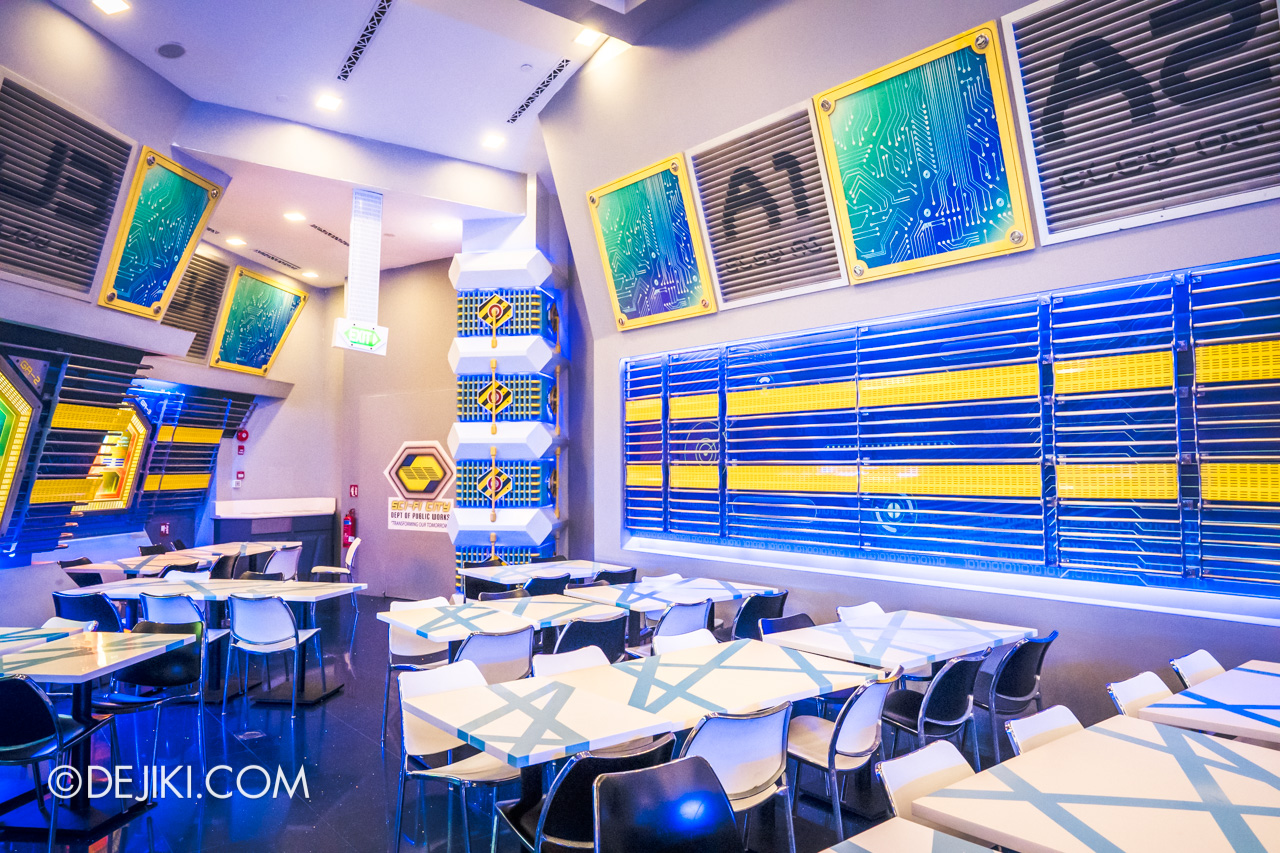 One side of the cafe now feels more cramped with the modifications.
The rest of the cafe is the same, though.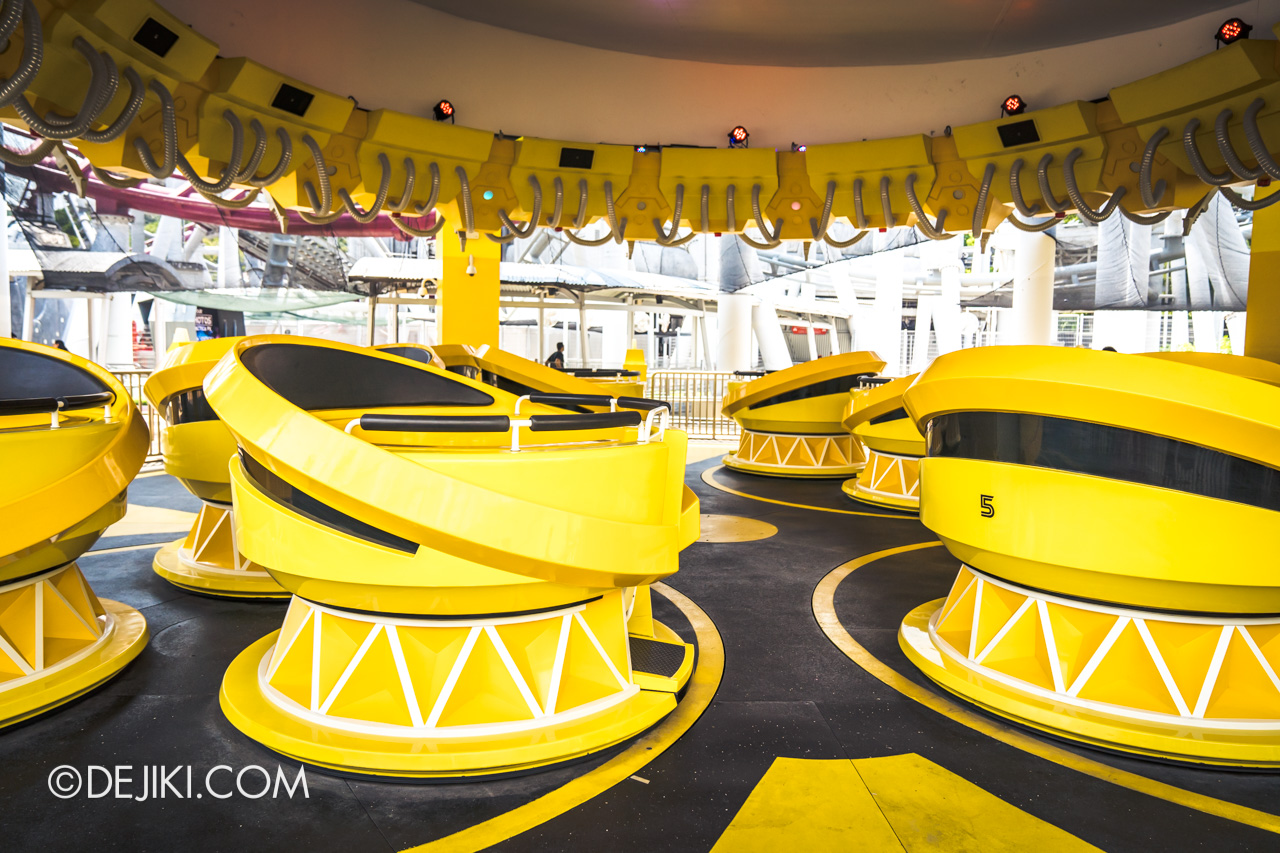 I'm not sure when this happened, but the spinning pods of the Accelerator no longer spin individually. The centre 'wheel' of this tea cups style ride is now locked and no longer move. That certainly took the thrills out of this ride down a few notches.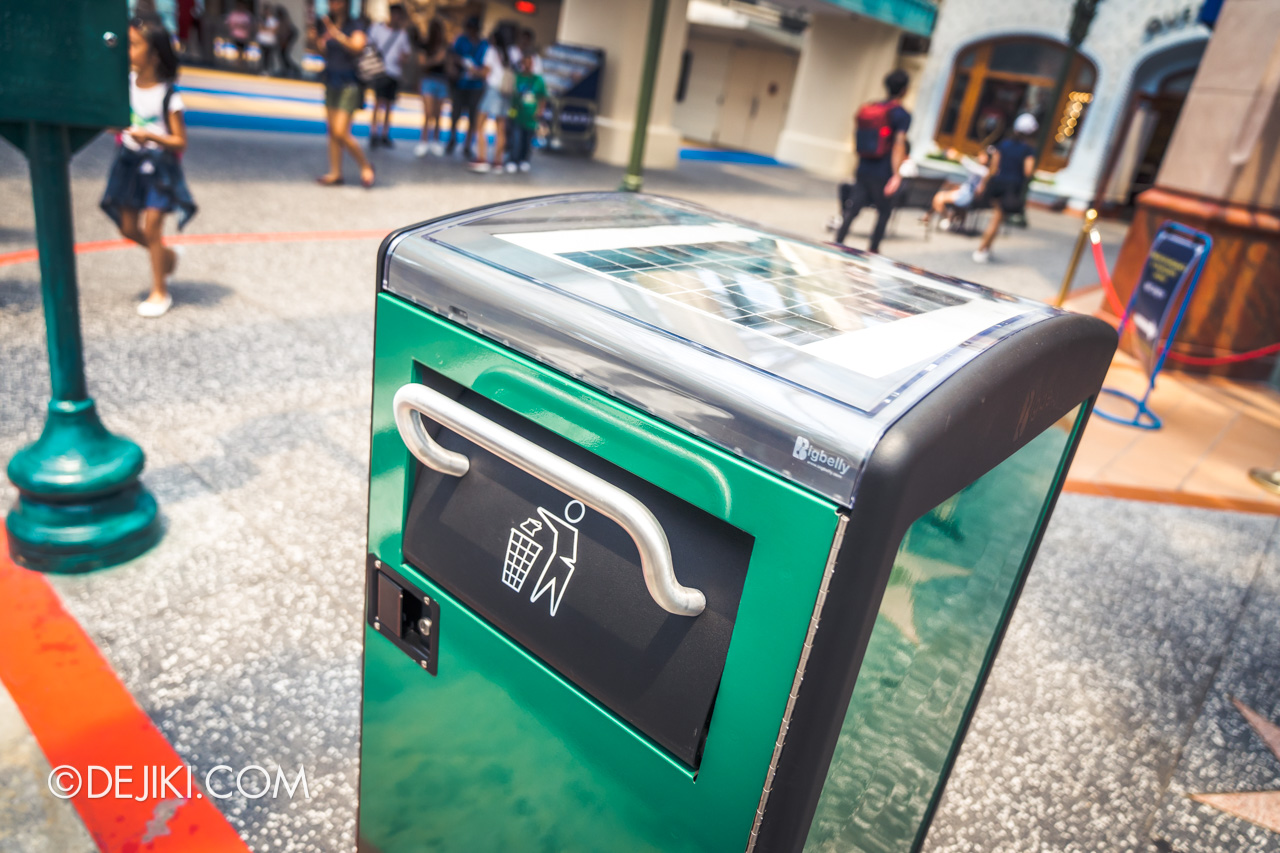 Have you seen these Bigbelly Smart Recycling Bins at the park?
A portion of the Revenge of the Mummy ride facade is being covered up. Looks like some extensive structural work being done here.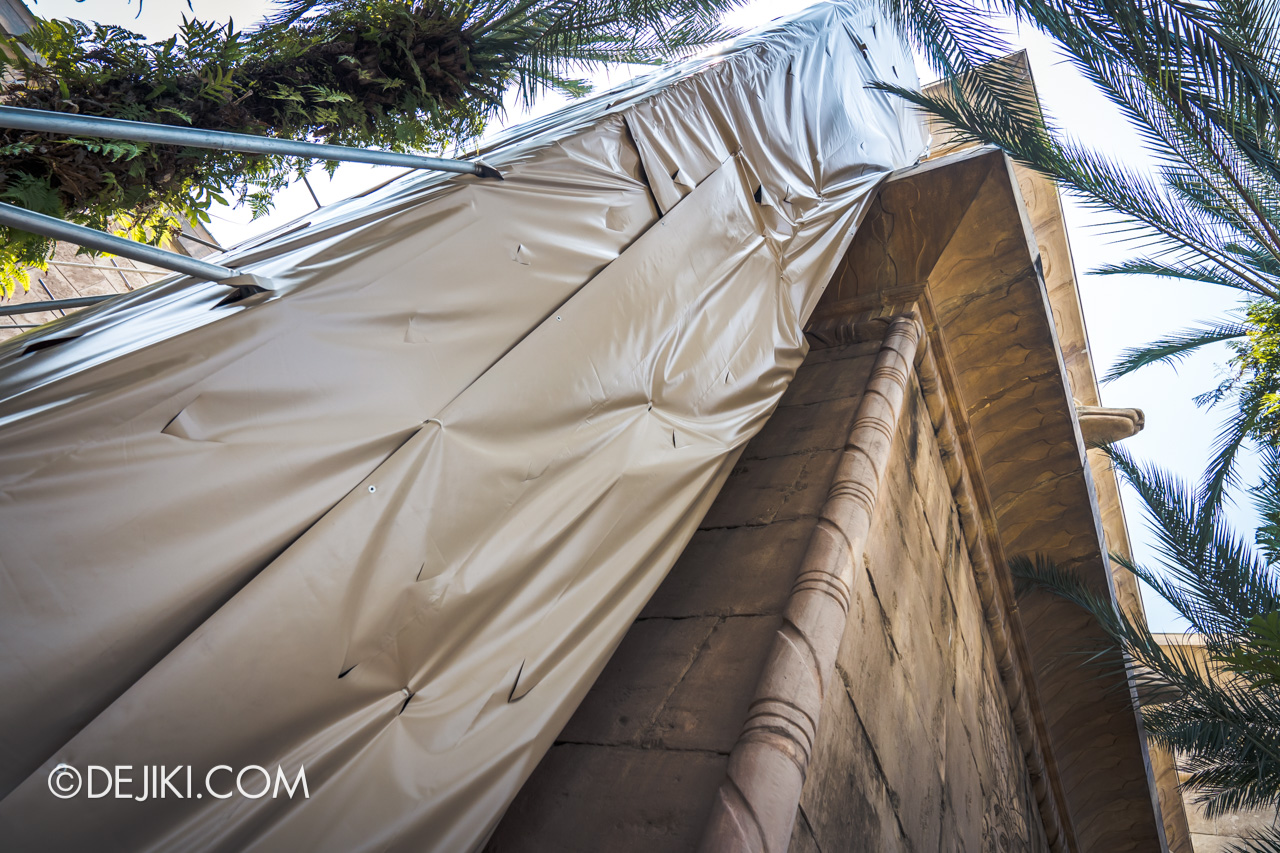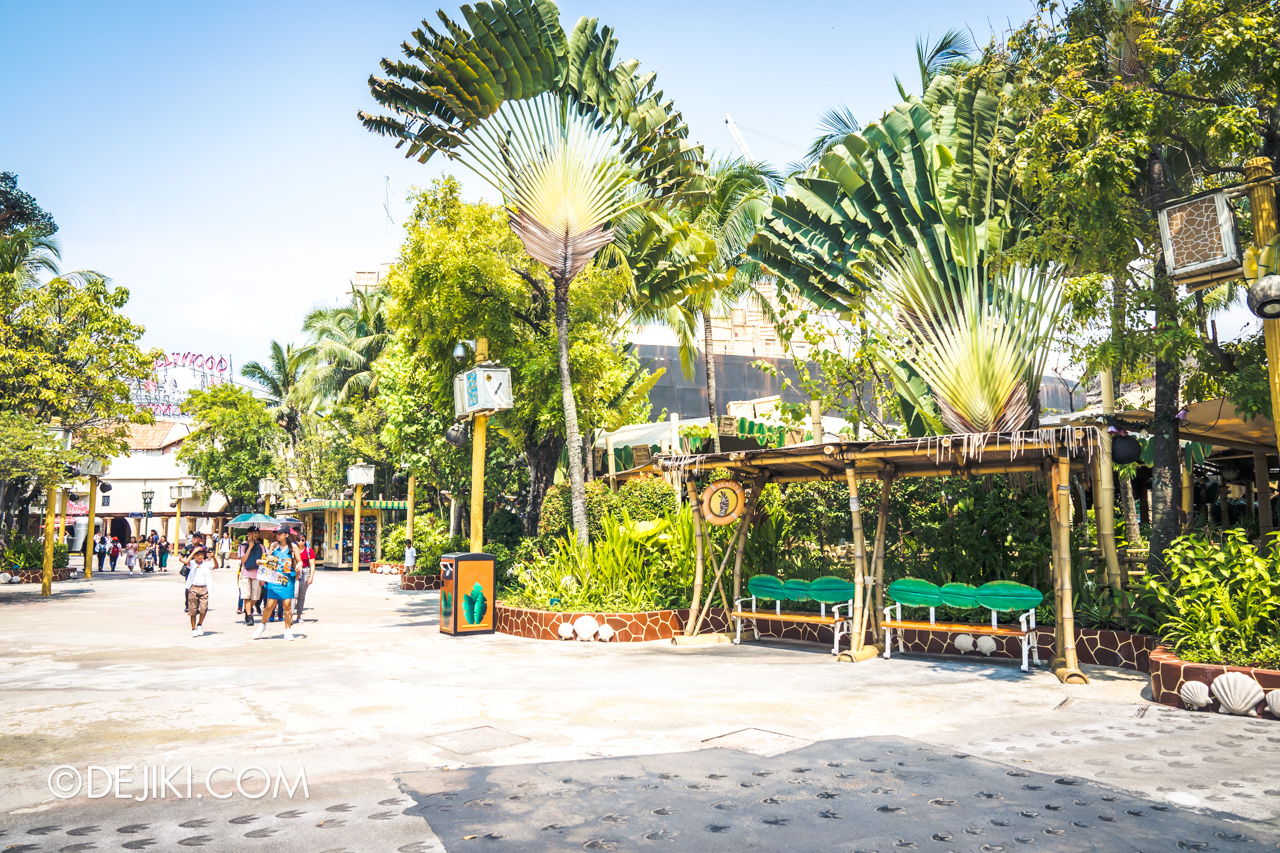 Lastly, if RWS is still on schedule to complete its ambitious resort expansion by 2025, then the Madagascar zone would likely need to close within a year. I guess they'd want to keep it around until the 10th Anniversary (March 2020) but who knows…
---
A Universal Christmas is held at Universal Studios Singapore from 2 Dec 2019 to 1 Jan 2020. All shows featured in this article are included in regular park admission. Additional charge may apply for some activities.
Get your tickets at Universal Studios Singapore park entrance or via Klook online.
(Purchases made via Klook will help support Dejiki.com at no extra cost to you)
Subscribe to Dejiki.com or Like my Facebook page for notifications of updates.
---