Enjoy spooky fun for all at Universal Studios Singapore's Trick or Thrills 2023 Day Halloween Event!
Universal Studios Singapore – Trick or Thrills 2023
From 6 Sept till 5 Nov 2023, Universal Studios Singapore's Day Halloween event brings mischievous fun to the park's daytime offerings. The shows and experiences featured in this article are included with daytime park admission, but some activities are separately charged.
On select nights, the park will transform into a realm of darkness – Halloween Horror Nights 11, replete with horrifying haunted houses and scare zones. As you can see in photo above, the Scaremony Stage is set with a wall filled with doors, with the upper wall breaking apart. Now, which door will you open..?
Park hours during Trick or Thrills 2023
11AM – 6PM: From 6 Sept to 23 Sept, and 5 Nov
10AM – 5PM: From 24 Sept to 4 Nov
Park hours subject to change; please check RWSentosa website on your day of visit.
---
Vlog: Universal Studios Singapore TRICK or THRILLS 2023
Watch the highlights of this year's daytime Halloween event at Universal Studios Singapore, from Meet and Greets to new shows such as Trolls: Hug Time Jubilee!
---
The Candy Conquest (show at New York Library)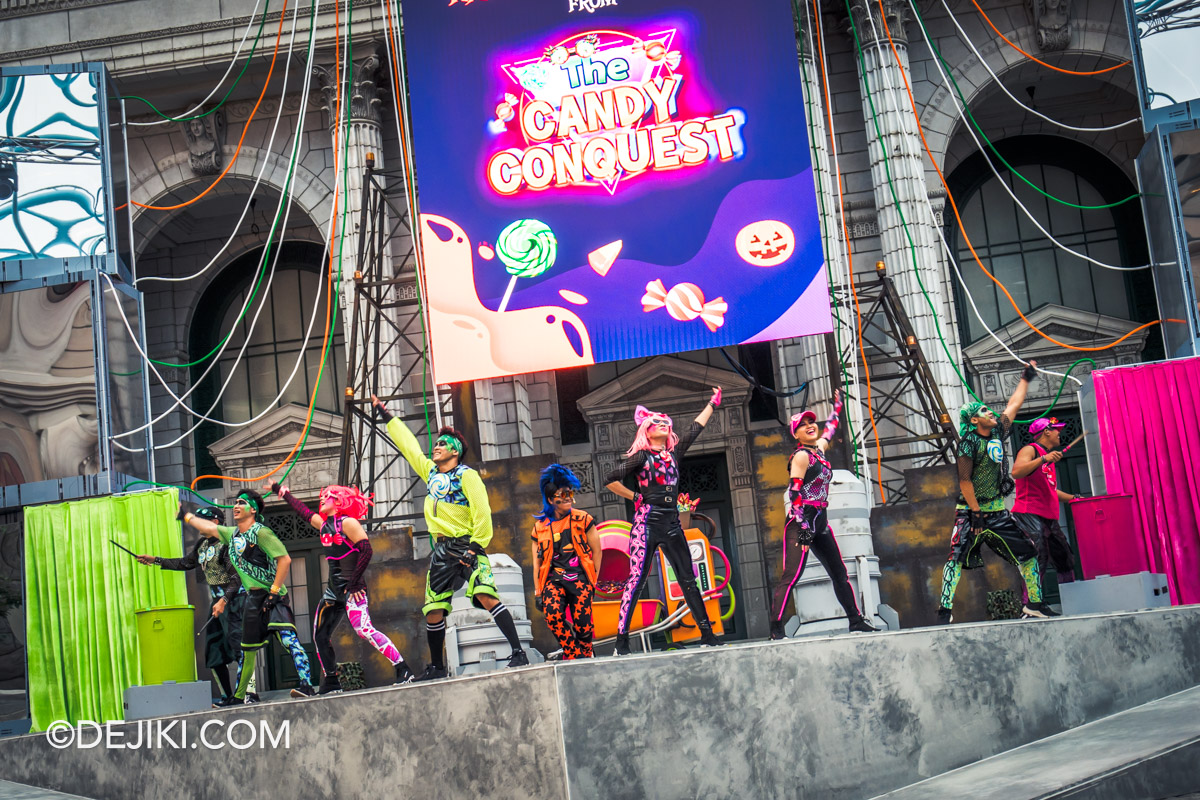 This year, a certain heist for the world's candy has somehow ended up with a showdown at Universal Studios Singapore.
Catch this show at the New York Library, where The Candy Crooks (in Pink) and The Lolly Bandits (in Green) engage in an exciting drum and dance battle to claim all the candy in the world!
If you're lucky or the best dressed – you may be picked to take part in the Conquest! Yes, costumes are allowed during the day at Universal Studios Singapore during the event period. Please refer to the costume guidelines here.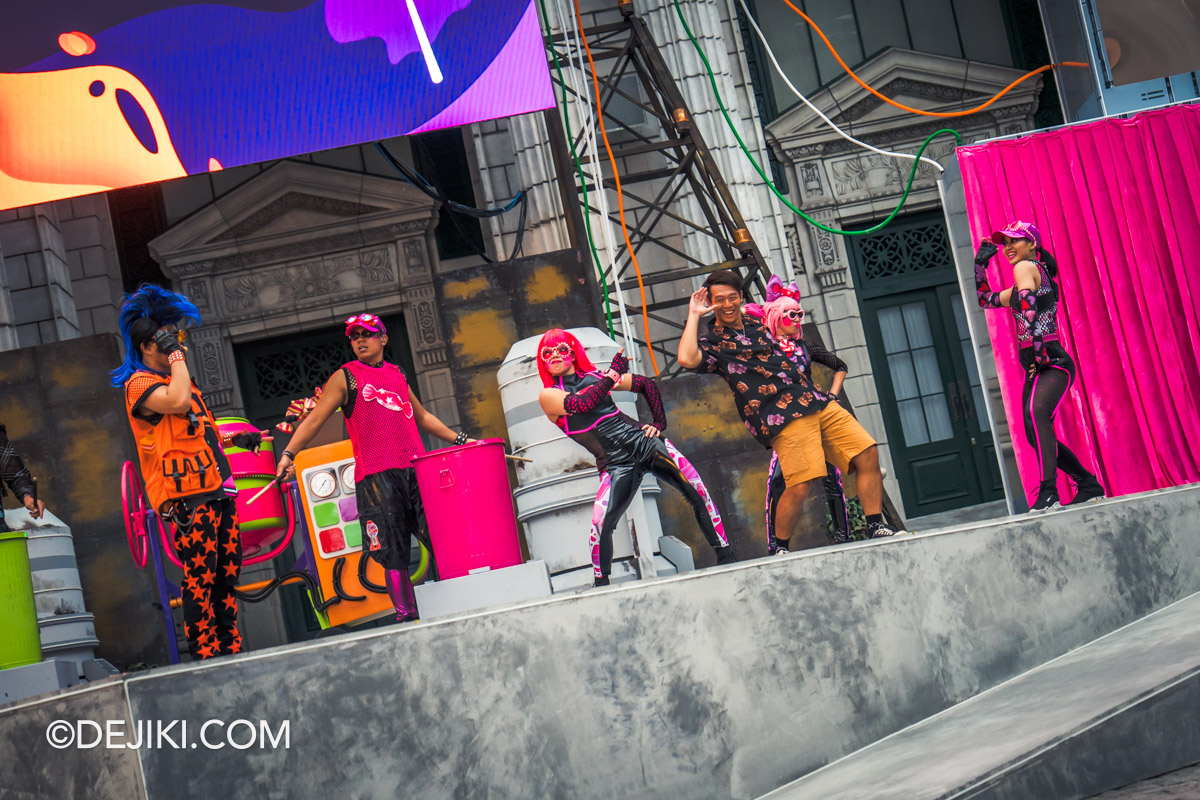 Stay around for Candy Giveaway and photo time with the crew!
This show is somewhat the successor to the Sweet & Sour Squad from 2022's event, while also retaining some aspects of Rhythm Truck, which is taking a break throughout the Halloween season.
---
Halloween Meet & Greets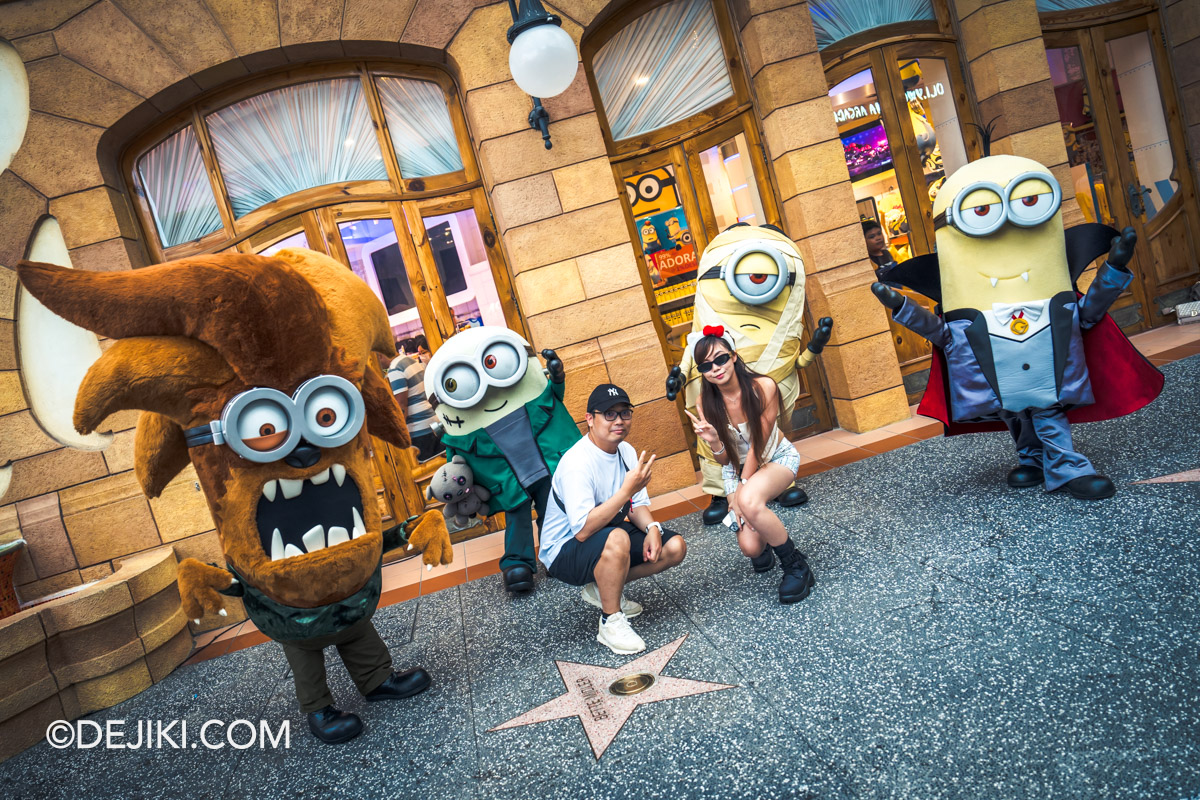 Meet the stars dressed in Halloween outfits around Universal Studios Singapore: Minion Monsters, Gru's Girls and Sesame Street friends!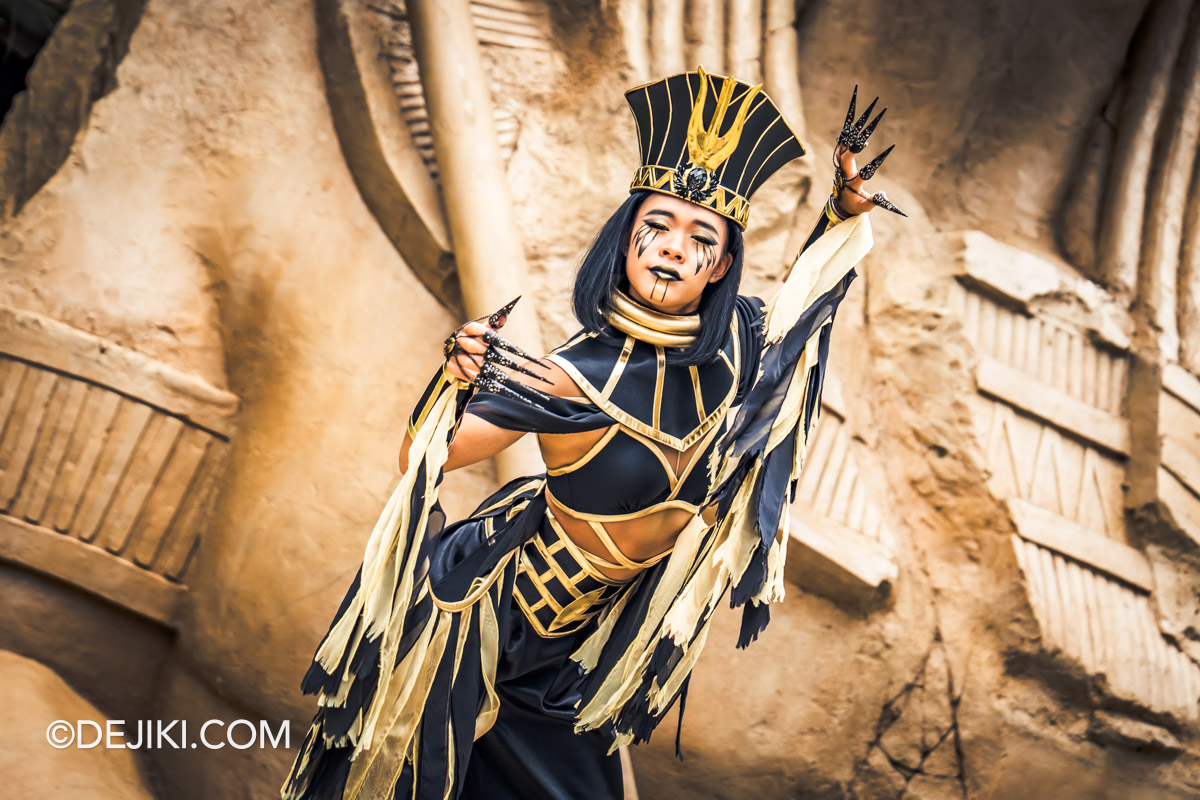 The Sorceress awaits you in Ancient Egypt. She is a new character debuting this year. Also returning to Ancient Egypt is the Scorpion King.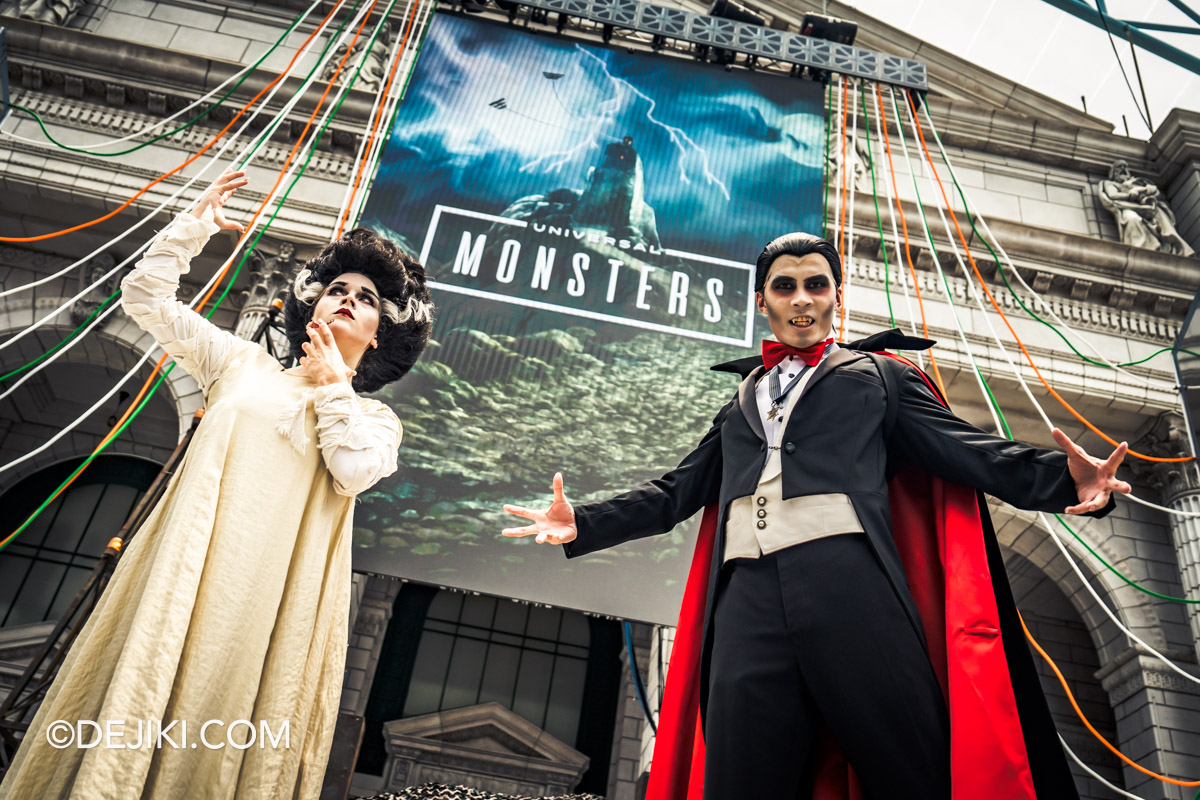 Legendary film icons, the Universal Monsters, are also back for Halloween season, after their last appearance at the Universal Monsters Scream Alley (Trick or Thrills 2011). Meet the Frankenstein's Monster, Bride of Frankenstein and Dracula as they lurk at the Library stage.
---
Spooky Treats – 2023 Halloween F&B at Universal Studios Singapore
A series of eerie food has landed in the park – do you dare to try these sweet treats?
If you have a bigger appetite, go for these main dishes that can be found in restaurants around the park:
The Sewage Chicken Hot Dog Combo (Fossil Fuels at Jurassic Park)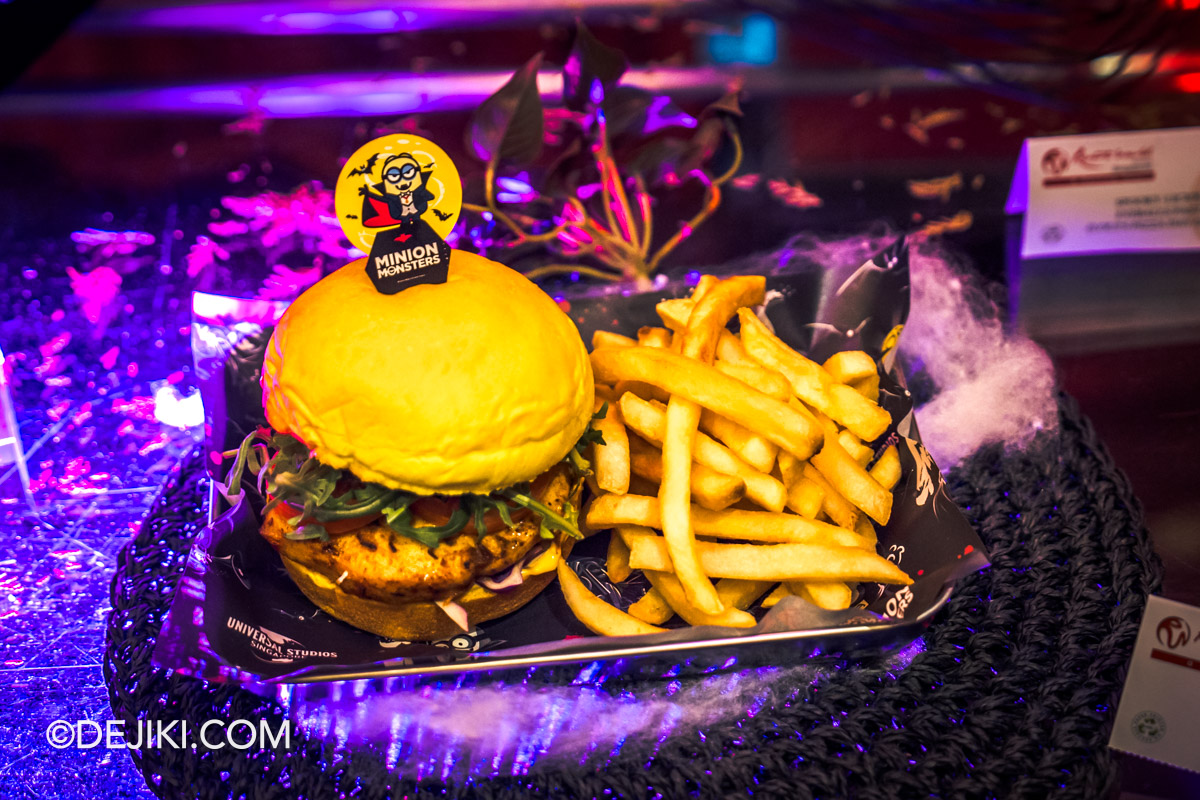 Minion Halloween Chicken Burger (Mel's Drive-In at Hollywood)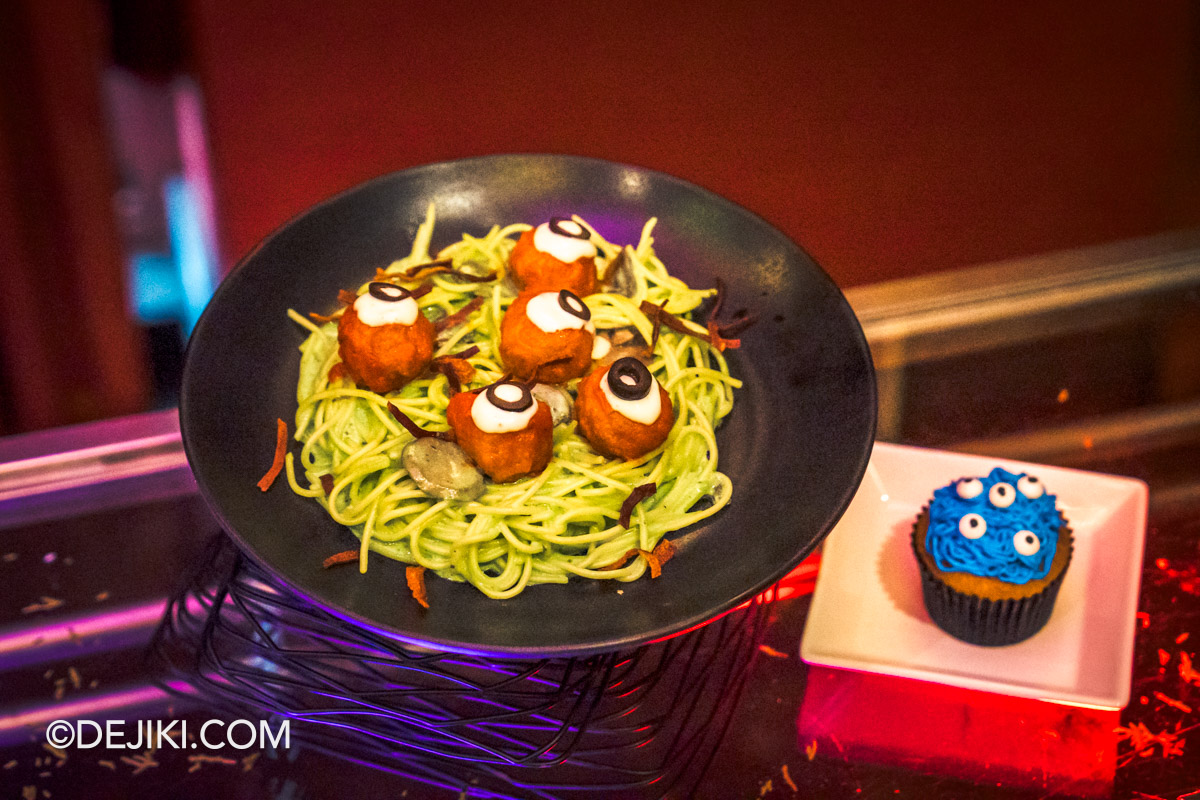 Spooky Eyeball Pasta (Loui's NY Pizza Parlor at New York)
The Molded Fried Chicken (Goldilocks at Far Far Away)
2023 Halloween merchandise at Universal Studios Singapore
New Minion Monsters souvenirs can be found at Minion Mart, including Franken-Bob and Zombie Tim plush toys in big and keychain sizes, along with a new Minion Monsters plush tote bag that comes with a dangling bat keychain.
Take your pick from the selection of Kuromi items, from T-shirts, plush toys to bags and pouches – all available at the Gudetama section in Universal Studios Store (Hollywood) right beside Hello Kitty Studio.
---
Minion Monsters Gachapon Station
Outside the Hollywood China Bistro (soon to be converted back from Hollywood China Arcade), is a new Spend-and-Redeem promotion offering collectible Minion Monsters pins. These are the three pin designs available: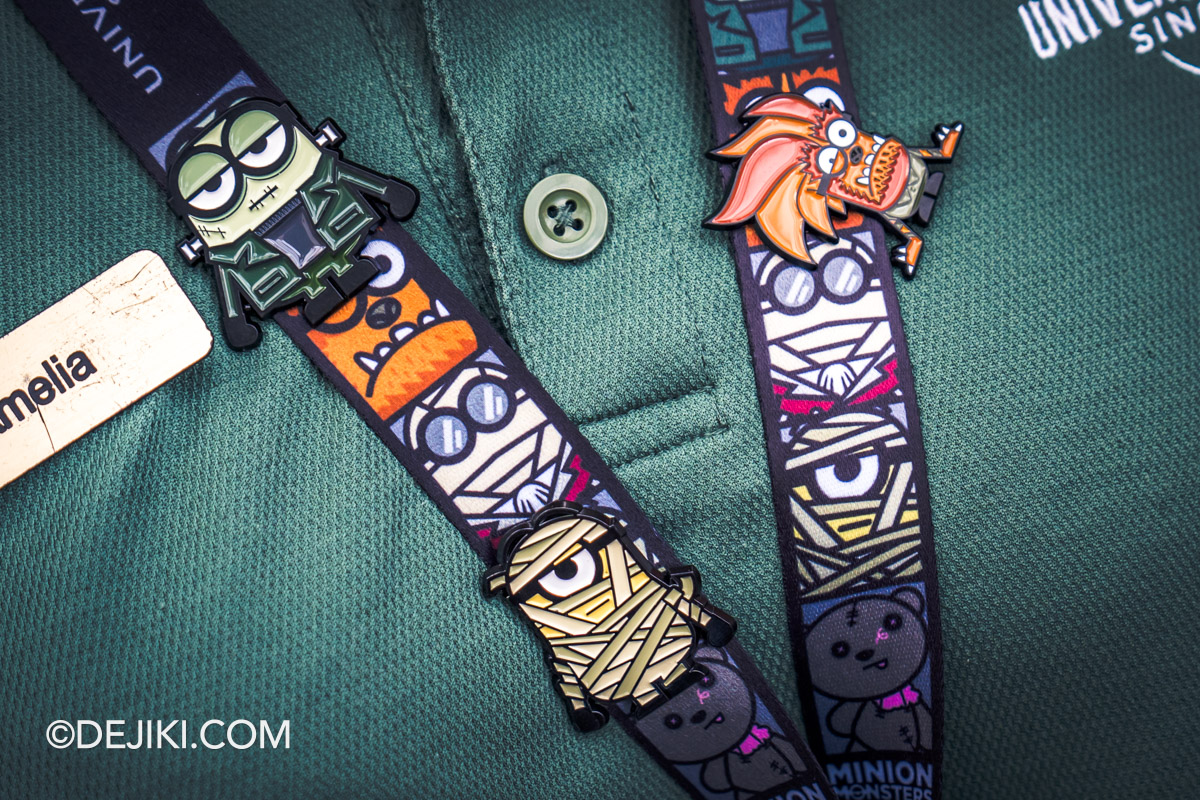 You need to achieve a minimum spend of $100 with any two combined receipts from retail or F&B for 1 gachapon token. If you hit $160 spending across two receipts, then you qualify for 3 gachapon tokens. In addition, you need to follow @universalstudiossingapore on Instagram.
---
Other Park Updates
Halloween Horror Nights 11
For those who have been waiting for park updates on Halloween Horror Nights 11, check out my coverage from the first media preview, which uncovers some secrets of the houses: DIYU: Descent Into Hell, and Rebirth of the Matriarch. My BEFORE DARK series will be making a return this month. Jump to HHN11: BEFORE DARK now!
Meanwhile, visit my HHN11 Event Guide to learn more about this year's line-up of houses, zones and shows, as well as ticket prices.
DIE-ning in Hell (on selected non-HHN nights)
For those who are keen to try out the DIE-ning in Hell Add-On without a ticket to HHN11, there is a special package available on select dates (Mondays and Tuesdays): 3, 9, 10, 16, 17, 23, 24, 30 and 31 Oct.
This special package only includes the dining experience without park admission as it is not required. You do get a $20 discount voucher for an admission ticket to HHN11 (till 4 Nov) or Trick or Thrills 2023 (till 5 Nov), if you plan to return to the park.
---
Minion Land construction updates
Minion Land construction is in full swing, with the closure of King Julien's Beach Party-Go-Round for its conversion to a Minions Carousel ride. Also the show building for the Despicable Me Minion Mayhem motion simulator theatre attraction is nearly done with its exterior structural works. The expansion is expected to open sometime towards late 2024.
From Hollywood boulevard, it's clear that the iconic ship and baobab tree are no more.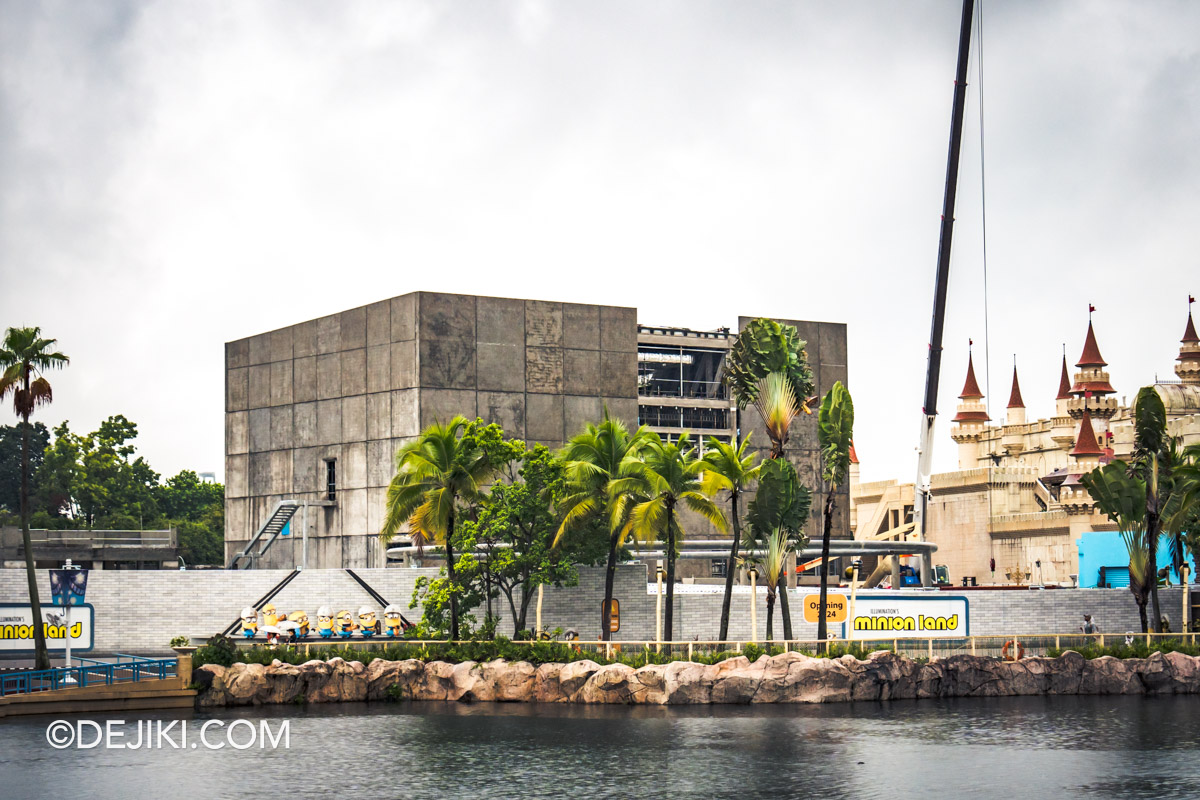 The show building for Despicable Me: Minion Mayhem is taking shape, along with the stripped-down carousel structure.
The hoarding design was also updated with a Minion theme, removing the last traces of Madagascar in this part of the park.
---
Universal Studios Singapore – Attraction Updates
Finally there are some updates on park attractions – returning, new and upcoming!
Over at The Lost World, Waterworld has also reopened from early August 2023.
There will be two shows for Waterworld on most days.
The Trolls will be starring in an upcoming show, Trolls Hug Time Jubilee at the Pantages Hollywood Theater. I suppose this would permanently replace Elmo's TV Time. Stay tuned for an official announcement from the park on its availability.
With that, the park would have restored almost all the attractions that were paused in 2020, except the ones that have closed permanently, such as Amber Rock Climb and the rides in Madagascar zone.
Speaking of Amber Rock Climb, a replacement wall climbing attraction known as Ready Set Rescue was installed along the facade of the Lights, Camera, Action! building. Let's wait for the park to announce the launch of this activity.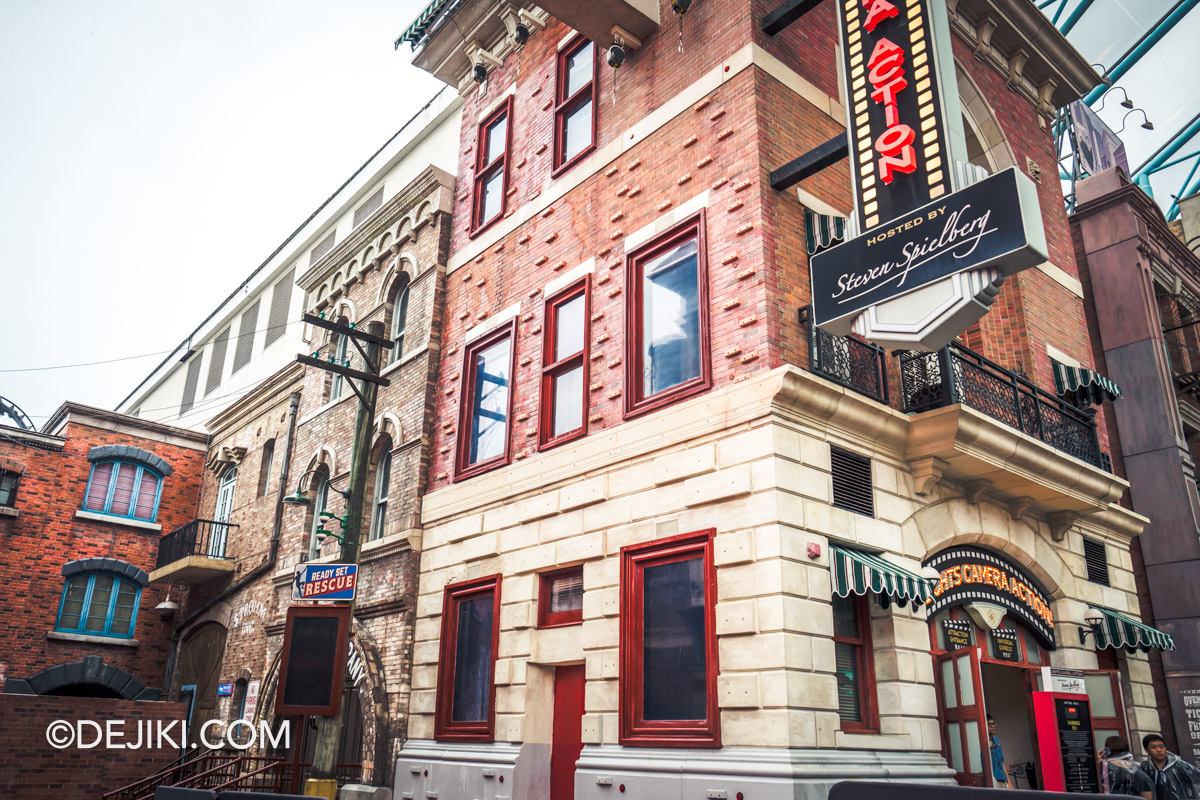 Given its highly prominent location, perhaps this wall climbing activity could become even more popular than the Jurassic edition.
Jurassic Park 30th Anniversary Merchandise
In celebration of the 30th Anniversary of the legendary 'Jurassic Park' film, there is a selection of new Jurassic Park-themed merchandise in several Universal Studios Parks worldwide, including Singapore.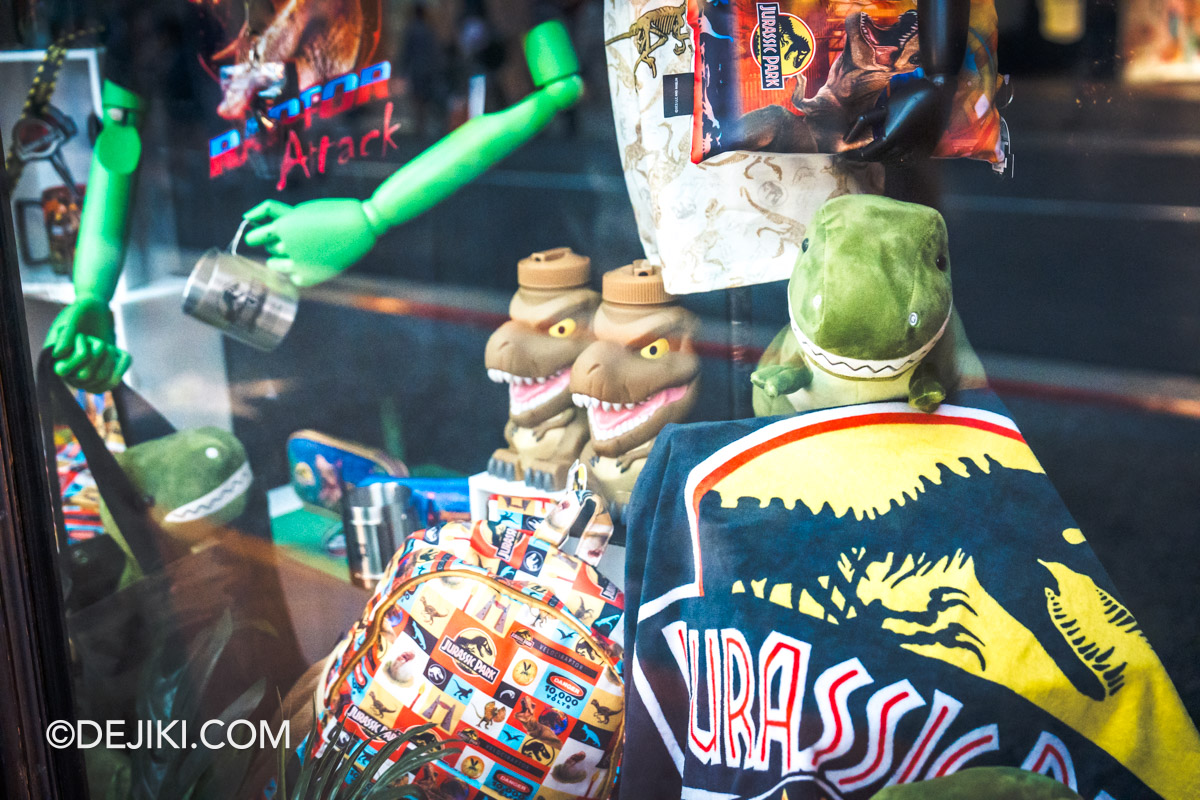 Check out the displays at the Hollywood store window, as well as a dedicated section in Dino-Store, in Jurassic Park zone itself.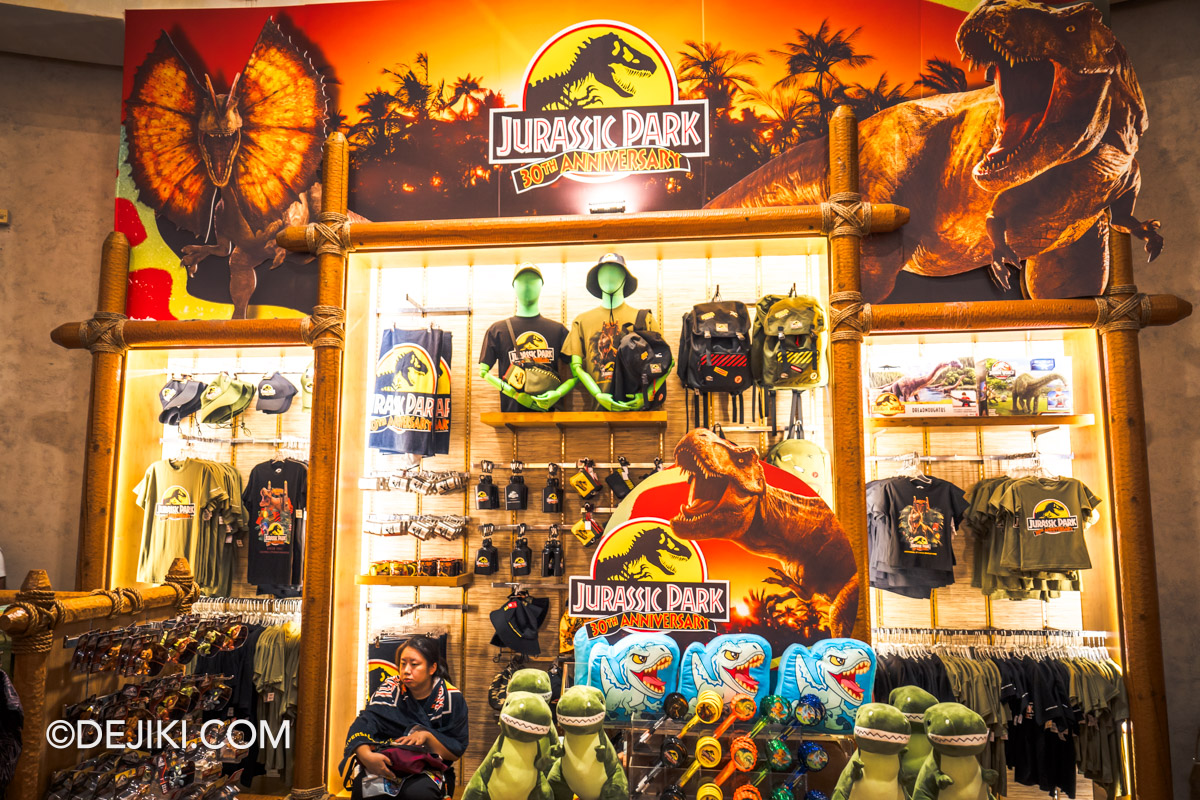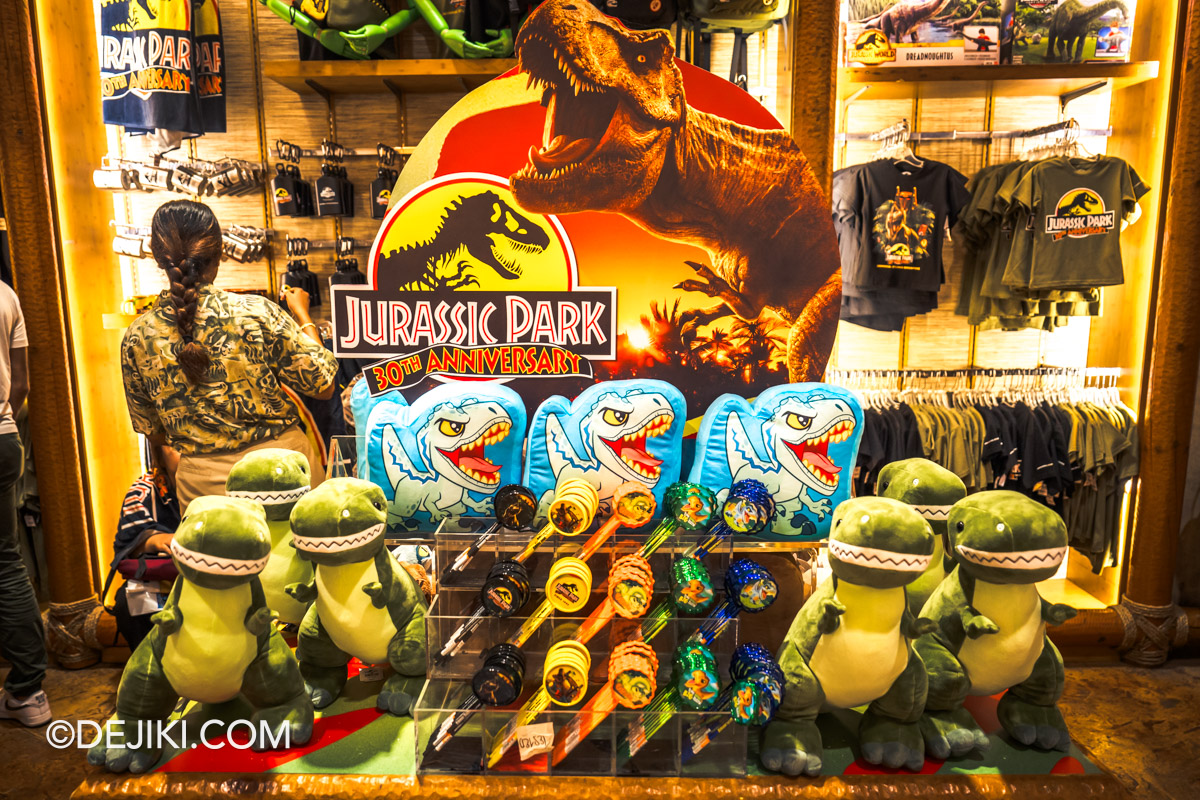 ---
Me Want (Nasty) Cookie! (and Ice Cream)
Nasty Cookie has landed at Universal Studios Singapore, taking over the Cookie Monster-themed cart in New York. Enjoy!
New Candylicious Store
A new Candylicious store has replaced the Silver Screen store, which had been closed since the 2020 pandemic.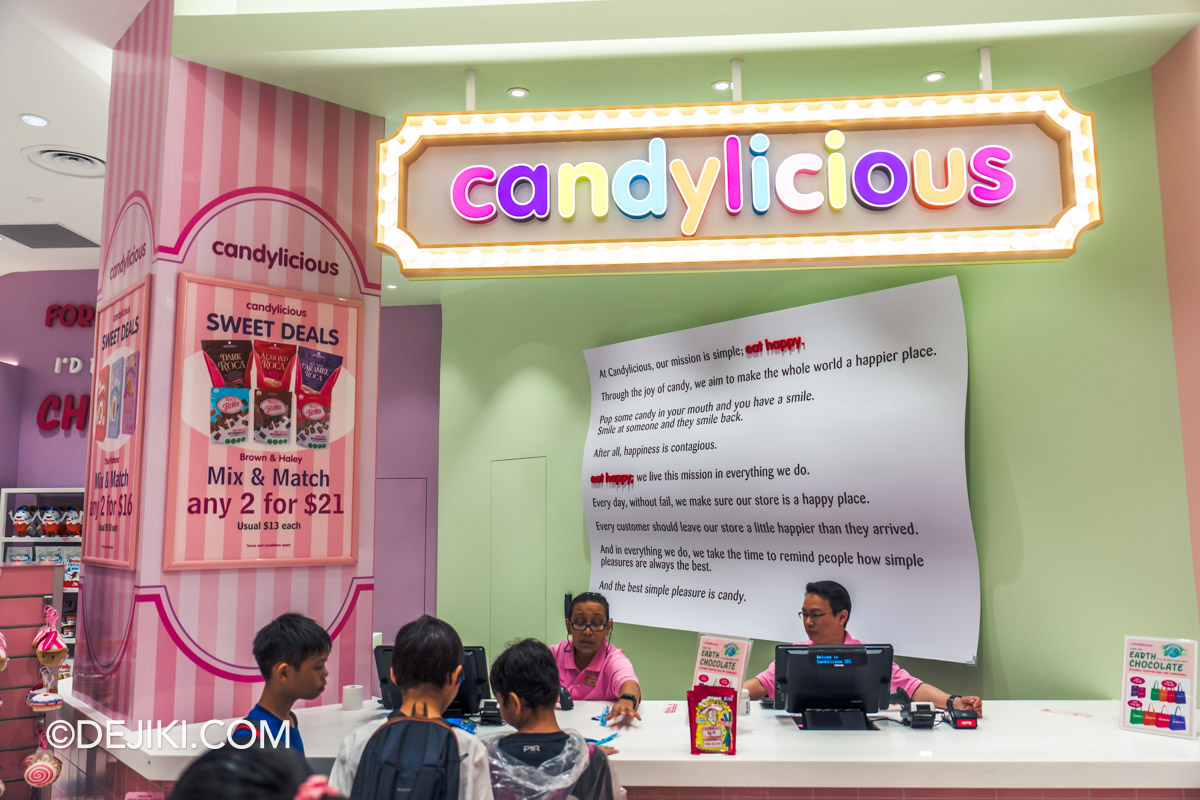 During the Day Halloween event, guests can take part in a Candy Grab for $9. Grab as much candy as you can within 3 tries, and whatever you can keep in your Pumpkin bucket is all yours! The Candy Grab is only available on select days during the Trick or Thrills 2023 event: Fridays to Sundays in Sept, and Fridays to Mondays from Oct to Nov 2023.
---
Universal Studios Singapore's Trick or Thrills 2023!
USS Daytime Halloween Event
6 Sept – 5 Nov 2023
Only during daytime park hours (park hours may vary throughout event period).
USS Park Tickets do not include admission to Halloween Horror Nights, which is a separately-ticketed event.
Book your tickets via RWSentosa website or my Klook links:
Category
Price
Universal Studios Singapore TRICK or THRILLS 2023


Daytime Halloween Event


Select the 'One-Day Admission Ticket' Option on Klook

from

$82/ 61
(Adult/ Child)
More info/ Book now »
Universal Studios Singapore TRICK or THRILLS 2023


RWS-exclusive package


+ Halloween-themed set meal
+ $5 Kuromi merchandise voucher

Child ticket package includes a pumpkin bucket (while stocks last) OR $5 retail voucher.

Scroll to bottom of page to select packages. UOB card members can enjoy additional privileges for selected packages.

from

$98/ 76
(Adult/ Child)
More info/ Book now »