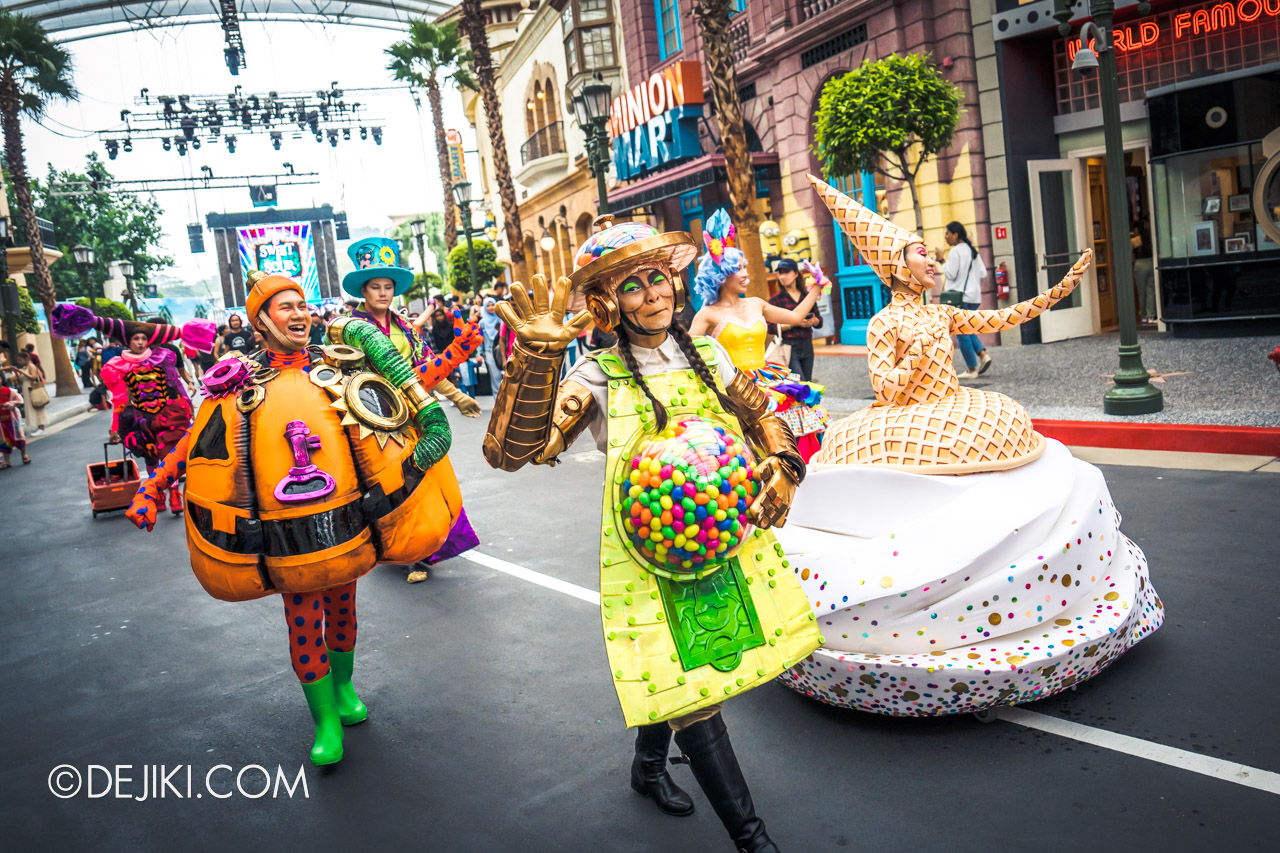 Playful spooks run riot at Universal Studios Singapore's TRICK or THRILLS 2022 Halloween event! Find out more in this article.
Trick or Thrills 2022 at Universal Studios Singapore
Universal Studios Singapore's daytime Halloween event, Trick or Thrills, is back from 7 September to 6 November 2022, offering spooky fun for all ages.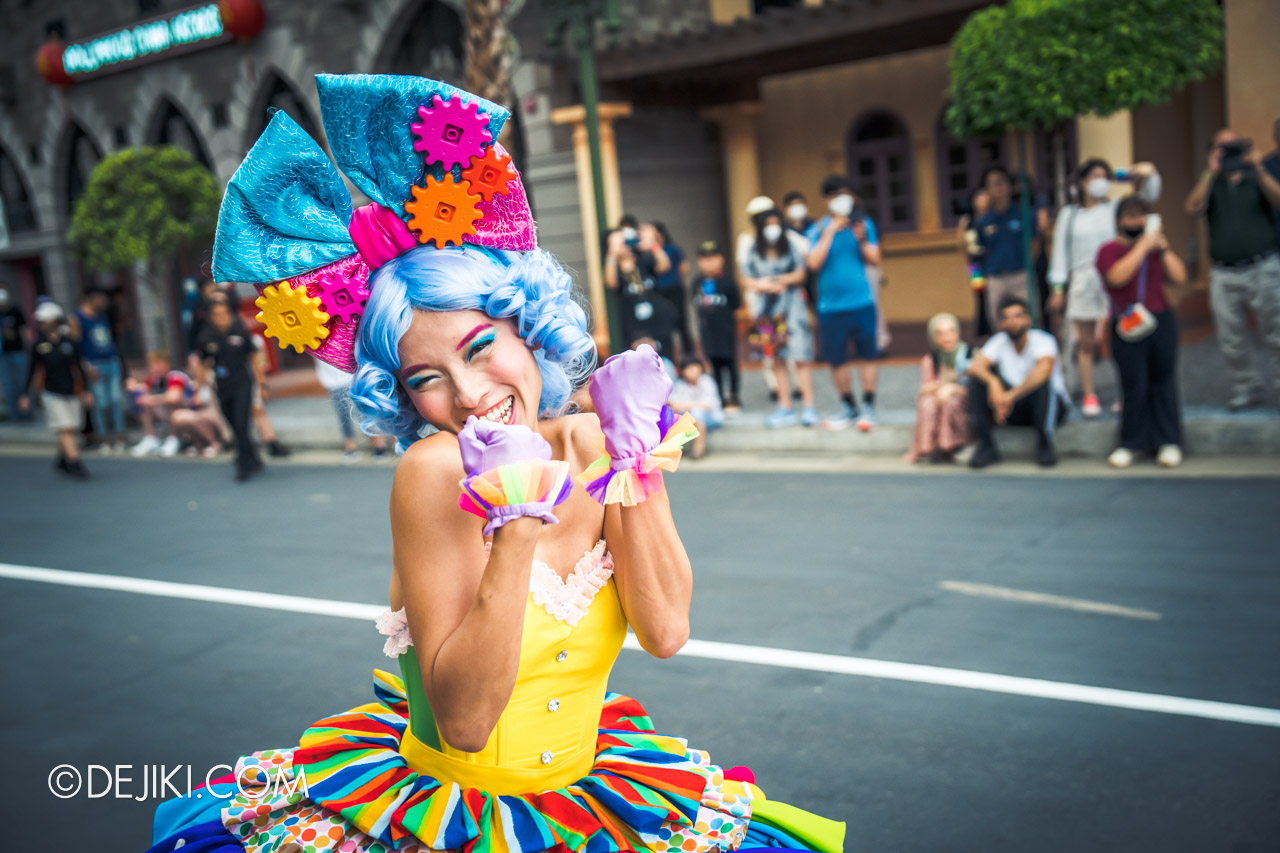 With the further easing of social distancing measures, the park has bigger entertainment offerings compared to the last two years, including a parade and many characters available to meet at the same time. Masks (face coverings) are also optional at the park.
If you feel brave enough, you can extend your day ticket (on select event nights) and stay in the park after dark for actual scary adventures at Halloween Horror Nights 10.
---
Sweet & Sour Squad Parade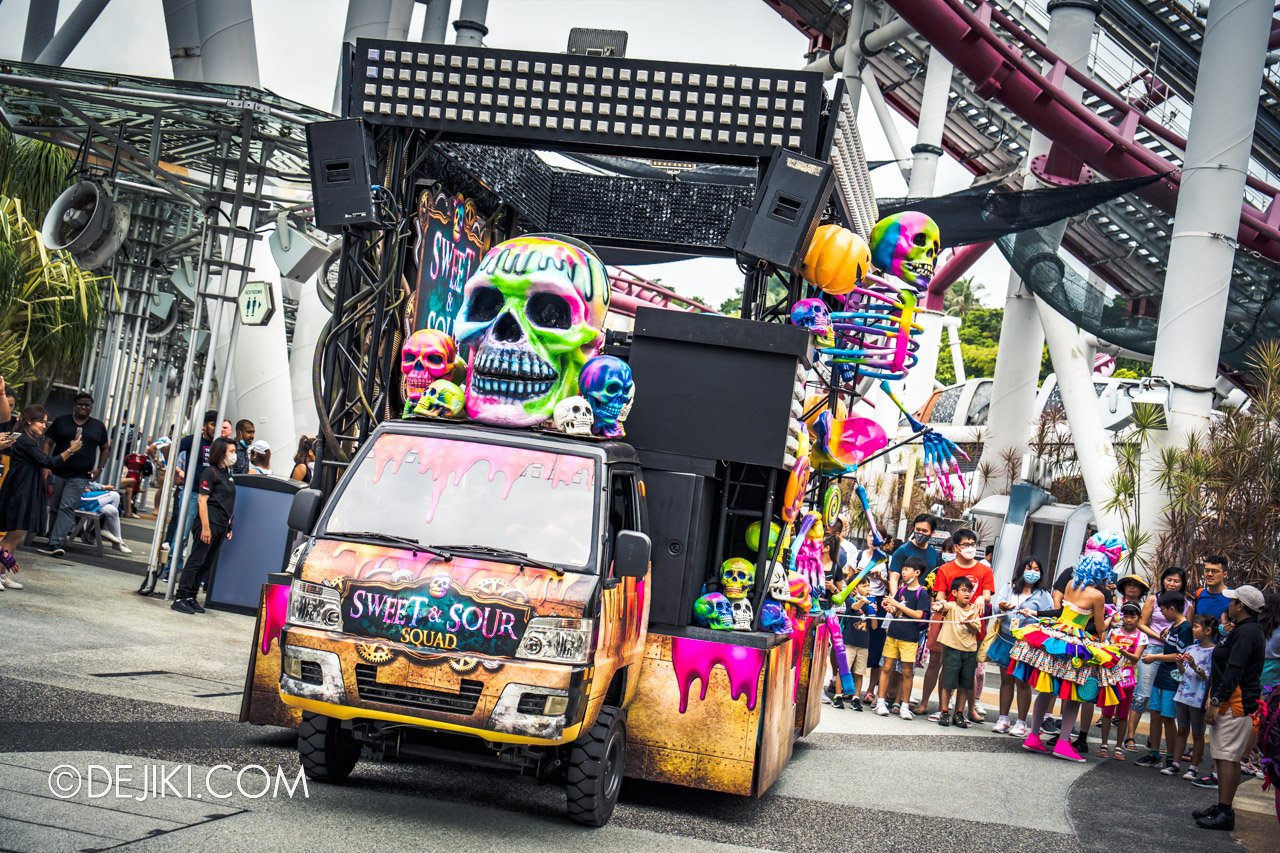 Get sugar rush as you catch the Sweet & Sour Squad parade! Starting from Waterworld, this park-wide procession is filled with eclectic characters and candy collecting opportunities.
The parade features colourful characters visiting the park from a fantastical candy factory. Owned by the outlandish candy maker, The Creator, the squad has mountains of candy to share with park guests at Universal Studios Singapore.
For brief moments, this colourful cavalcade will briefly pause along the route, for the important candy giveaway break!
Sweet & Sour Squad reuses the Rhythm Truck, which was last seen at IT'S SHOWTIME! Premium Experience for Christmas 2021. It also marks the first time the park's full Hollywood Dreams Parade route (which goes through The Lost World, Ancient Egypt, Sci-Fi City and New York) is back in use for a show.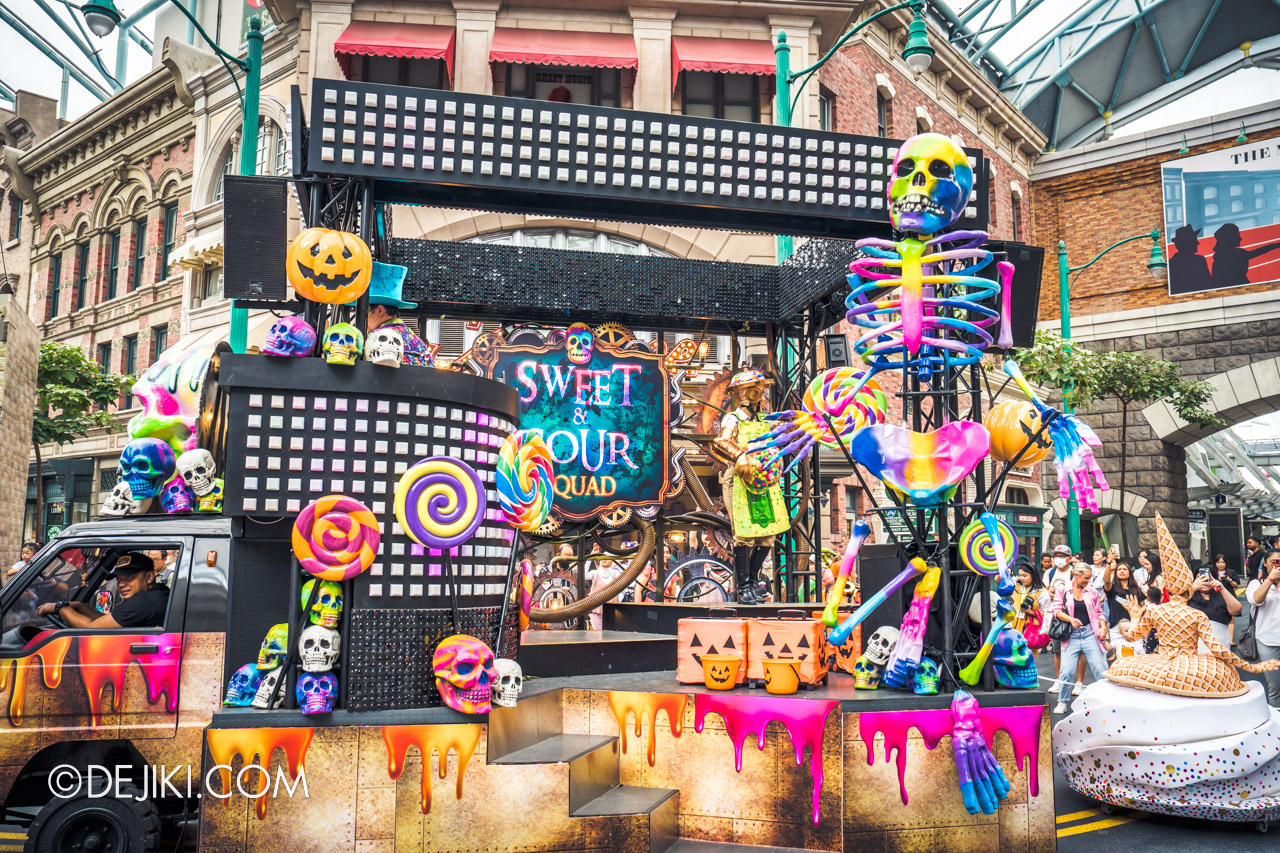 During inclement weather, the Parade will be presented in an alternate Meet & Greet format at New York.
---
Sweet & Sour Squad – Mass Meet & Greet at New York
Meet the Sweet & Sour Squad, along with the Minion Monsters, Gru's Girls, and friends from Madagascar at the Hollywood stage!
Sweet & Sour Squad assembled at Hollywood stage for a new show! Here, The Creator will formally introduce some of the employees from his candy factory.
After proper introductions and a little contest to seek the most stylish guest of the day, other friends from the park will join in the fun!
This mass Meet & Greet session happens just once a day, and only the best dressed guest will get the honour of being part of this epic photo opportunity.
But for everyone else, don't worry, you can still take photos with different groups of characters along Hollywood: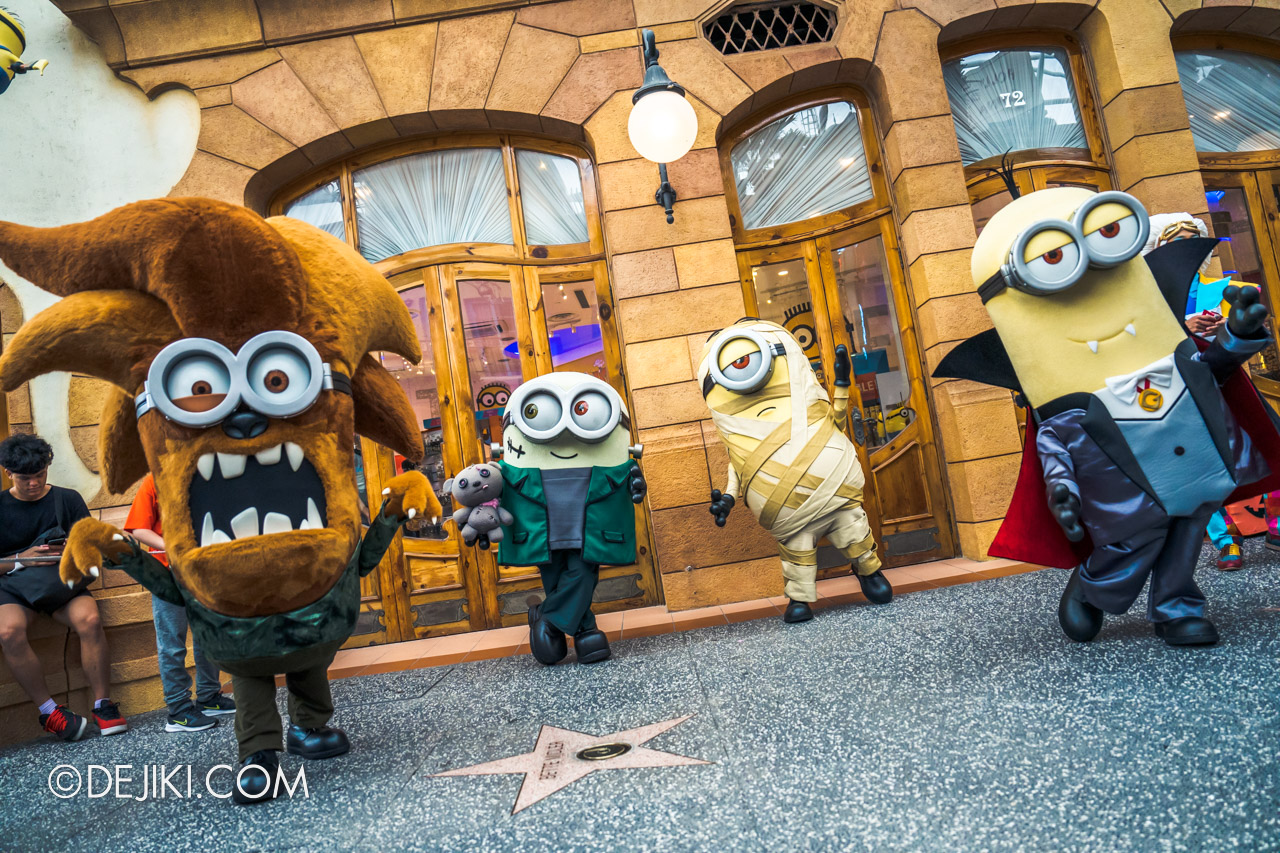 At other times during the day, the stage is also used for character Meet & Greets for Minion Monsters, Gru's Girls, and Madagascar.
Note: Costumes are allowed during the park's daytime operations, provided guests follow the park guidelines. However, costumes and masks (except face coverings such as surgical masks) are not allowed during Halloween Horror Nights 10.
---
Sesame Street Fortress of Fun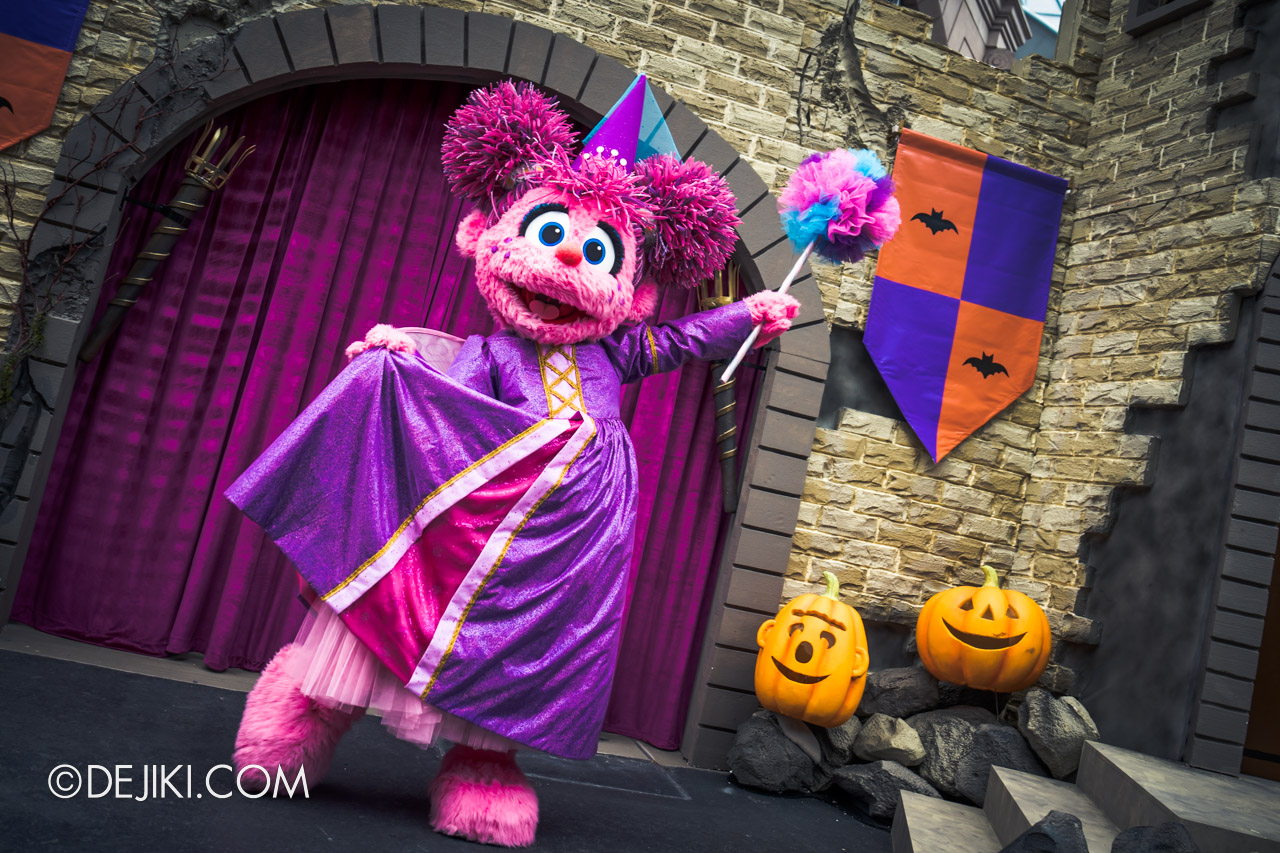 Step inside the Sesame Street gang's Fortress of Fun for unique photo opportunities with Abby Cadabby, Big Bird, Cookie Monster, Oscar, and The Count – all dressed in Medieval-themed outfits.
Oscar as a Knight and Big Bird dressed as a Dragon.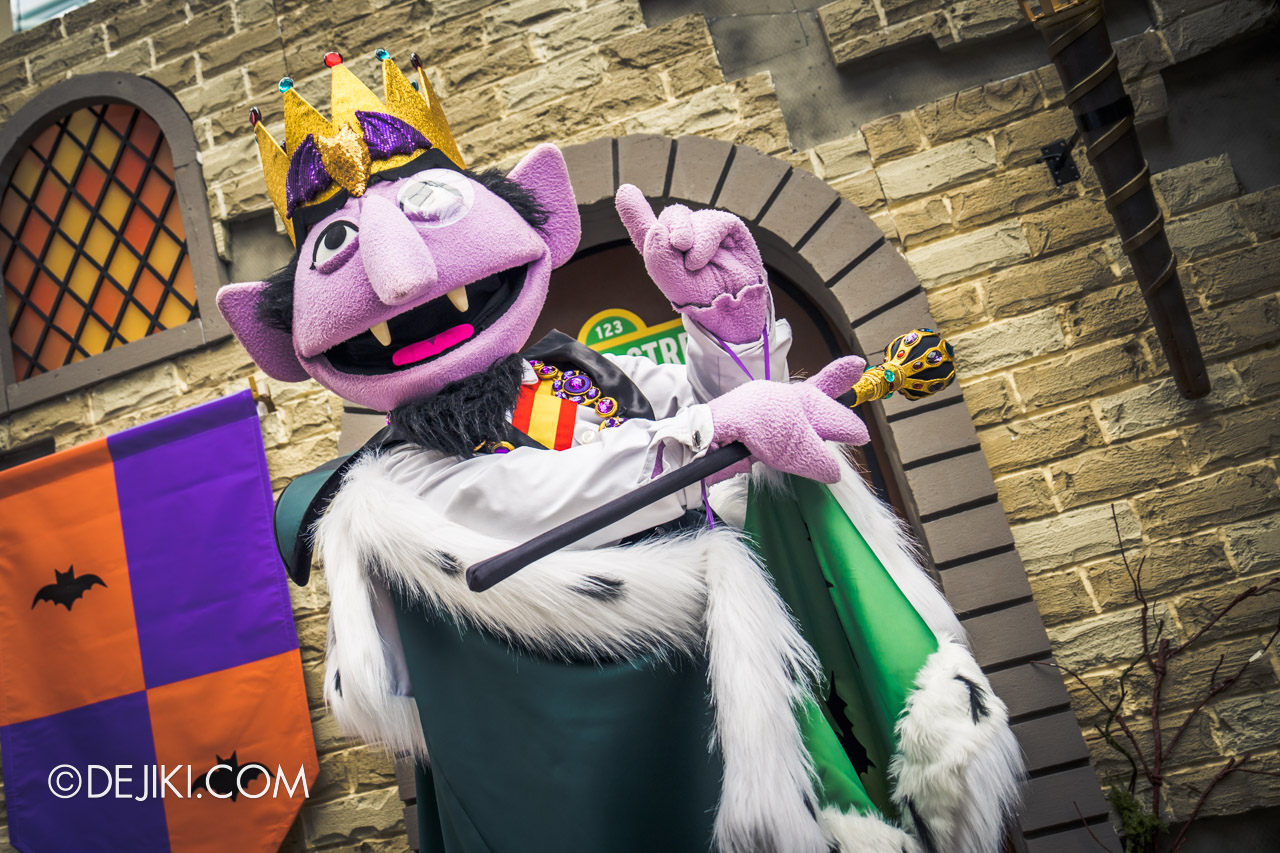 The Count as a King.
Abby Cadabby as a Princess. Cookie Monster as a Court Jester.
This is the 'day version' of HHN10 Dark Zodiac scare zone, using the ruined castle scenic design and theming for both day and night events. Quite neat.
When night falls, dramatic show lighting and special effects should transform this fun fortress into the nightmarish realm where the Dark Zodiac roam.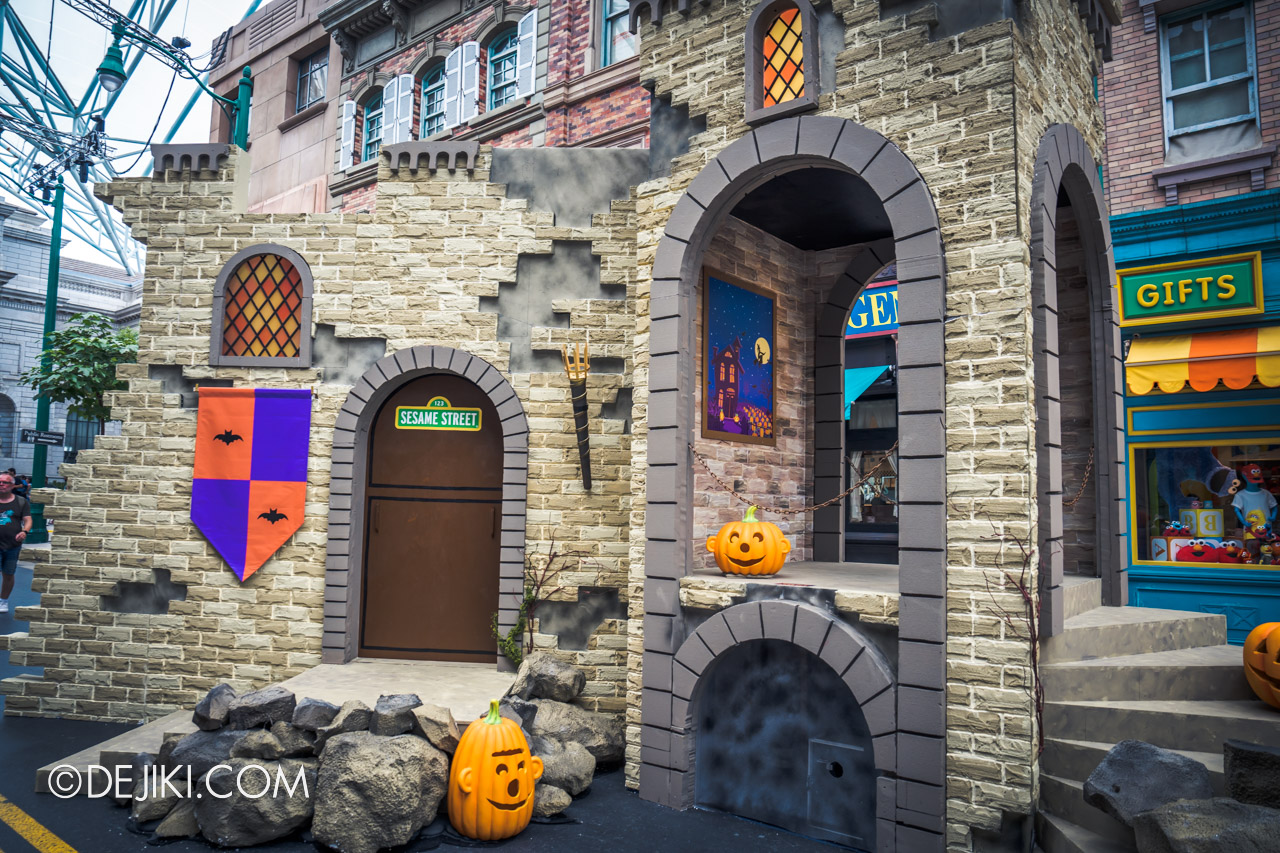 Spot the special pumpkins…
---
Rock N' Trolls
The Trolls are back with their heavy metal inspired outfits for this year's Rock N' Trolls, and they brought new friends along this time!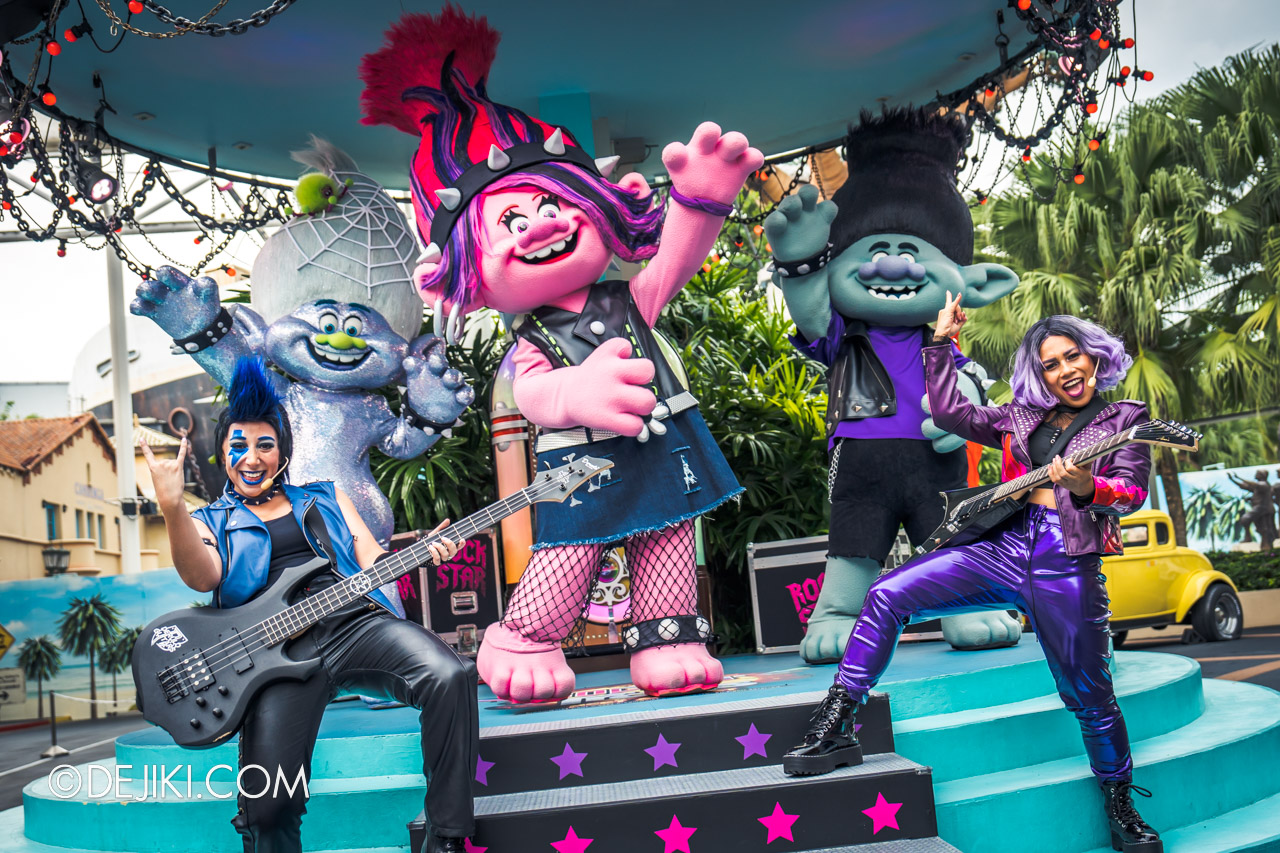 Catch the Rock N' Trolls Show at Mel's Stage and stay back for a Meet & Greet with Poppy, Branch and Guy Diamond, together with Roxy and Electra.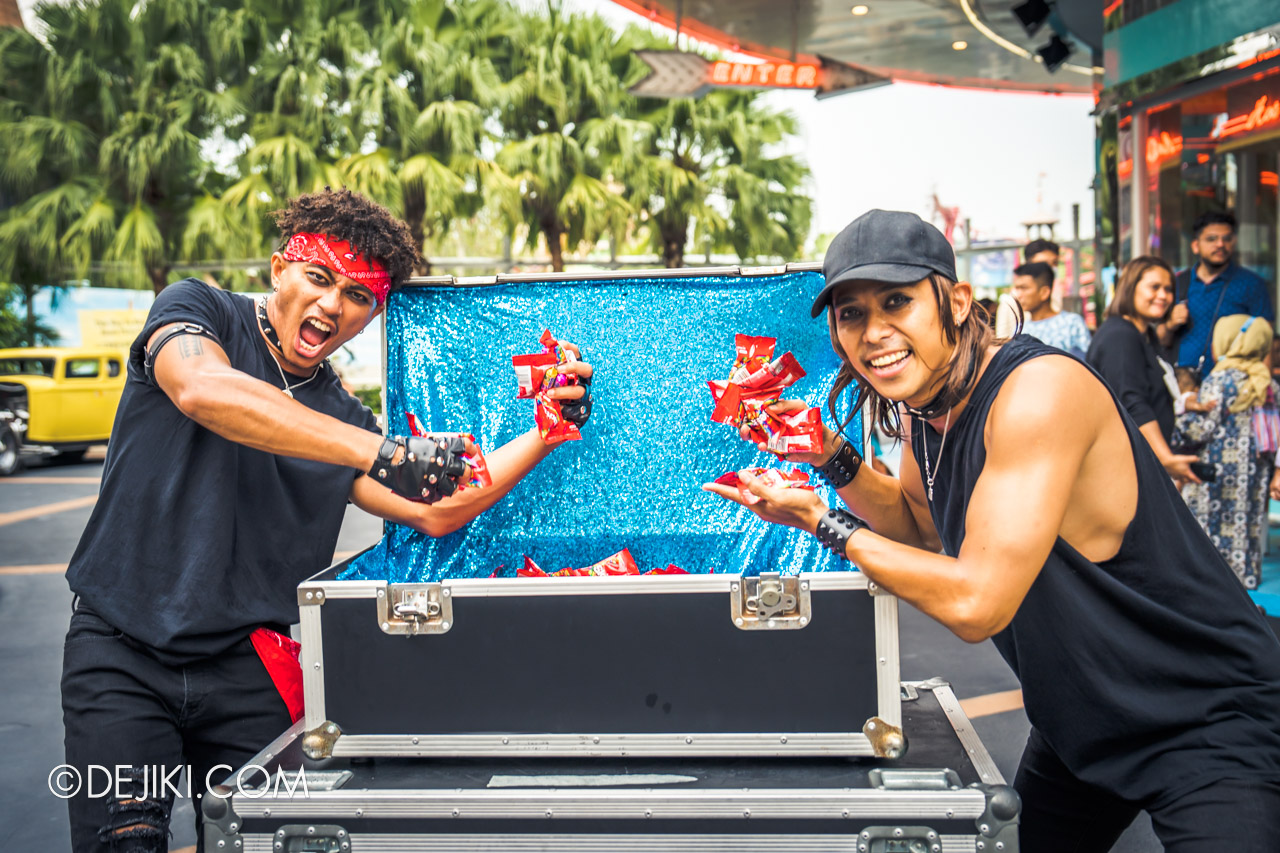 Grab some candy after taking photos with the gang!
---
Ancient Egypt Meet & Greet
This season also marks the triumphant return of the ripped characters of Ancient Egypt – they have been away since early 2020.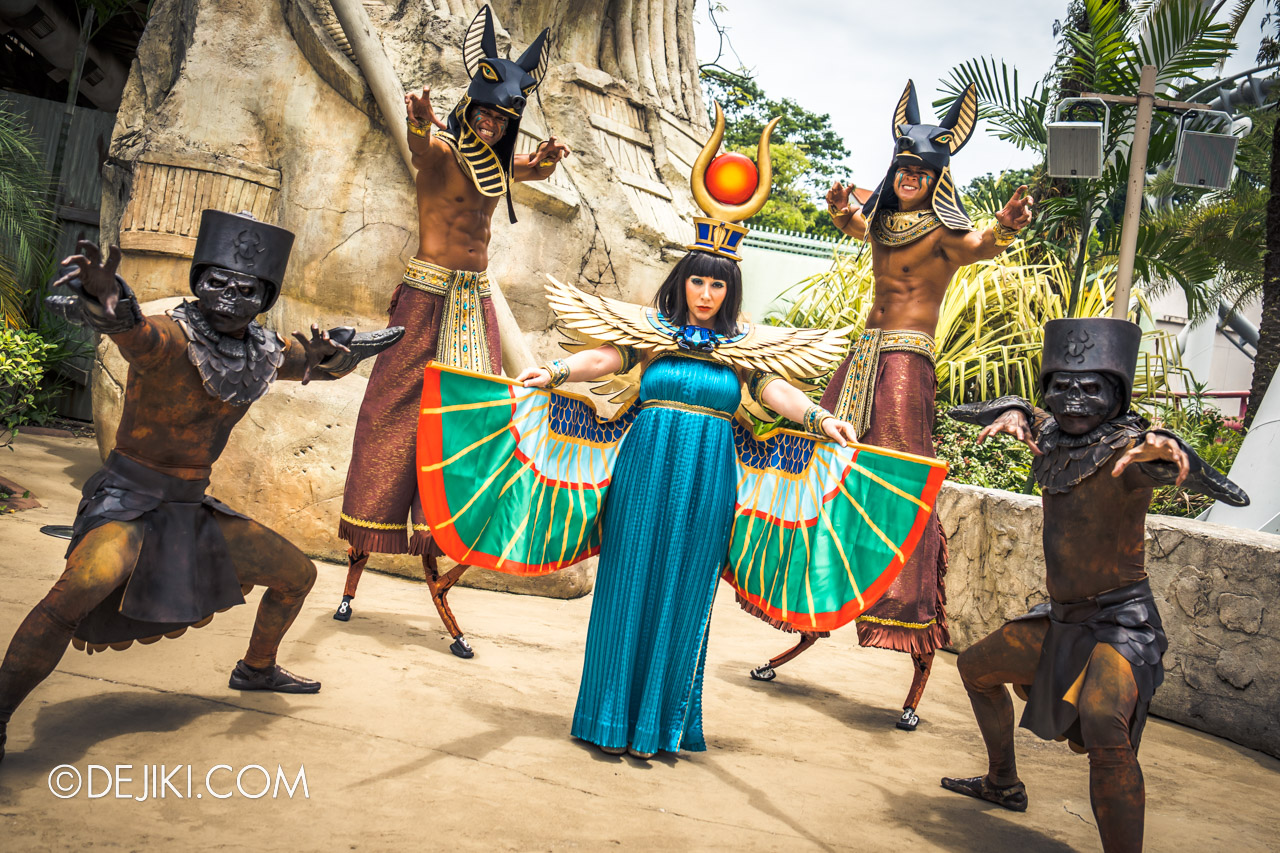 Apart from the iconic Anubis, you can now take photos with Isis (or Scarab Princess) and the Undead.
---
USS Trick or Thrills 2022 vlog
Watch highlights from this year's event in this vlog!
---
Halloween Horror Nights 10 Updates
HHN10, the region's largest horror event is slowly shaping up for a chilling return. Peek at the impending horrors that will be unleashed at night, in a separate Halloween Horror Nights 10: Before Dark feature article.
Check out my HHN10 Event Guide for all you need to know about this year's Halloween Horror Nights 10 event, including the highlights, ticket prices, and more.
---
Enjoy TRICK or THRILLS 2022
Get your tickets via RWSentosa website, or these Klook links: