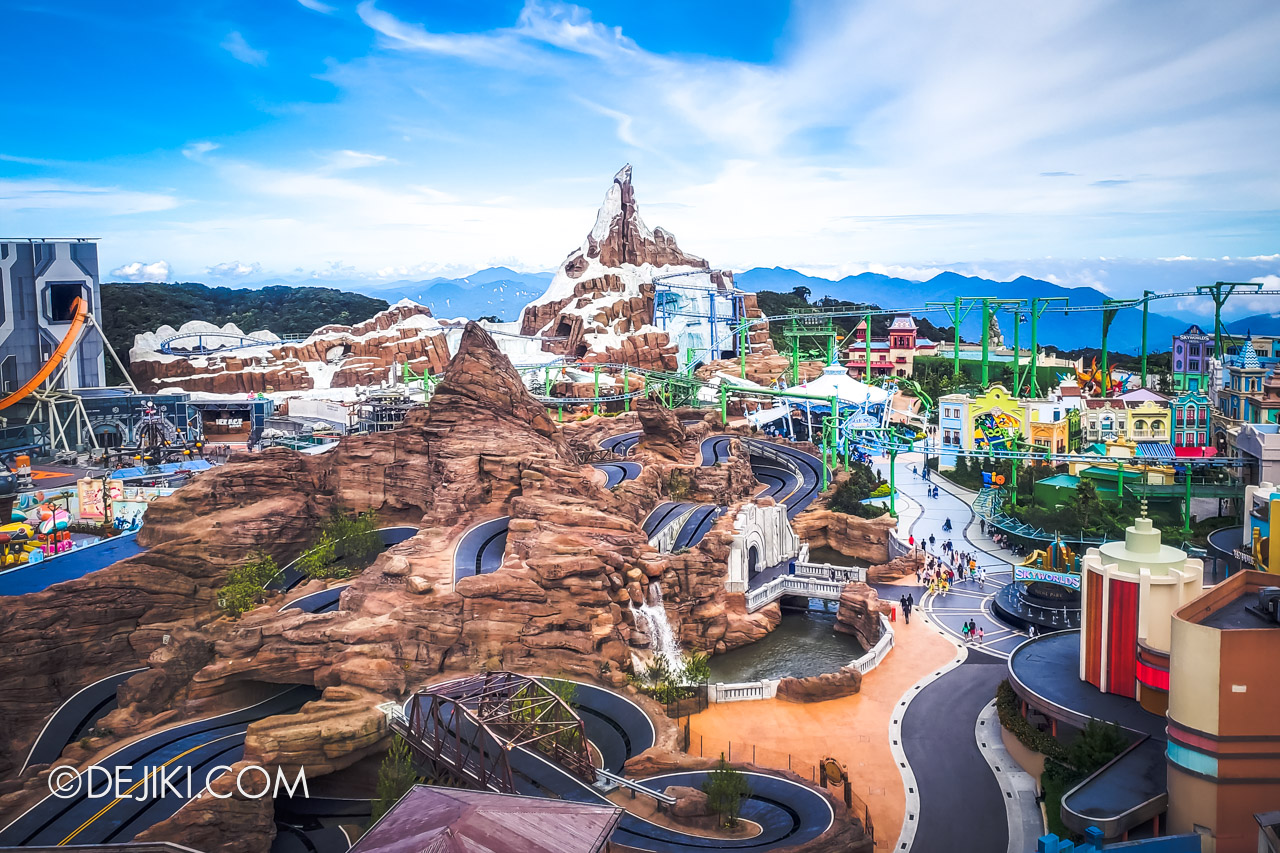 Explore the Genting SkyWorlds Theme Park at Genting Highlands and discover its marvelous themed zones and high-flying thrills.
Genting SkyWorlds Theme Park: A Brief History
This theme park was built as part of Genting Group's ambitious plans to redevelop their Resorts World Genting resort, which had aging attractions and facilities. First announced in 2013 as '20th Century Fox Movie World', it was expected to open in 2016 with over 20 rides based on film franchises under Fox Studios and its subsidiaries.
With Disney's acquisition of 20th Century Fox, the park met a major hurdle: Fox terminated its agreement with Genting Group in 2018, sparking a lengthy legal battle between the companies. It was eventually settled with Disney allowing Genting to operate the theme park with limited usage of certain film franchises' intellectual property. The park was also renamed Genting SkyWorlds.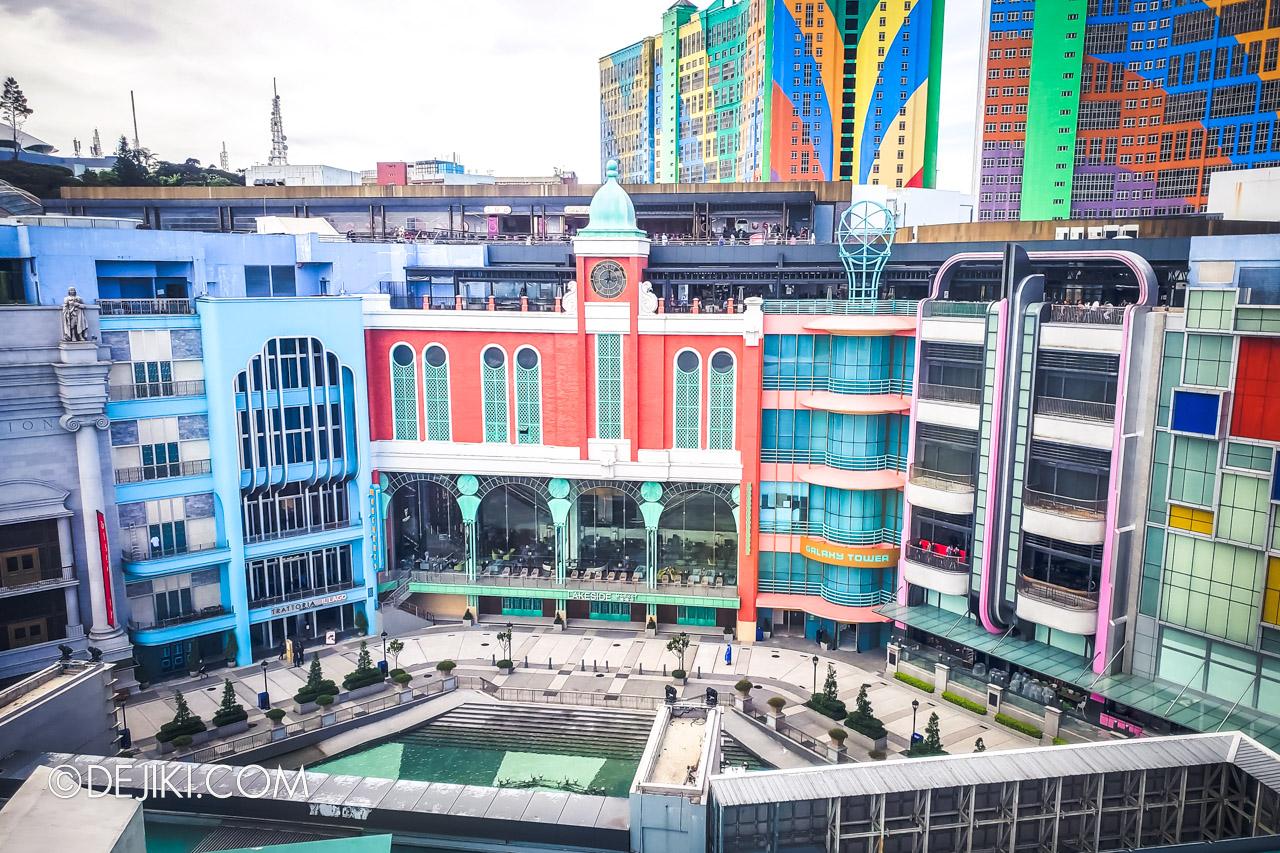 Construction progress slowed down during these legal entanglements, among other reasons such as the global pandemic. In February 2022, Genting has finally soft-opened the theme park, with some attractions available in technical rehearsals, while others will open much later.
One of my reader friends, Wee-Sen Choo, visited the theme park in May 2022. He has generously contributed his photos and a trip report on his experience at this new theme park.
Photographs, park impressions and review by Wee-Sen Choo. Photos and article edited by Nicholas Yau.
Please note that this is a guest contribution and not an official DEJIKI review of the park, as I have not personally visited the theme park. Opinions here are Wee-Sen's, and not representative of Nicholas or DEJIKI.COM
---
Genting SkyWorlds Theme Park Photo Tour
Entrance area and plaza
Described by some netizens as the 'Universal Studios' of Genting Highlands, the outdoor theme park features 9 unique "worlds", or themed zones:
Visitors entering SkyWorlds will first step into a movie theatre lobby, with retail stores and a Starbucks café. It resembles the one at Dolby Theater in Hollywood, with golden carvings of the various film franchises decorating each entrance of the park retail store, Studio Emporium.
The hallway leads into a large atrium-like space before opening into the outdoor 'hub' of the park – the fountain with the Skyworlds logo. To the left of this hub is a Hong Kong café restaurant named Han's Cha Chaan Teng.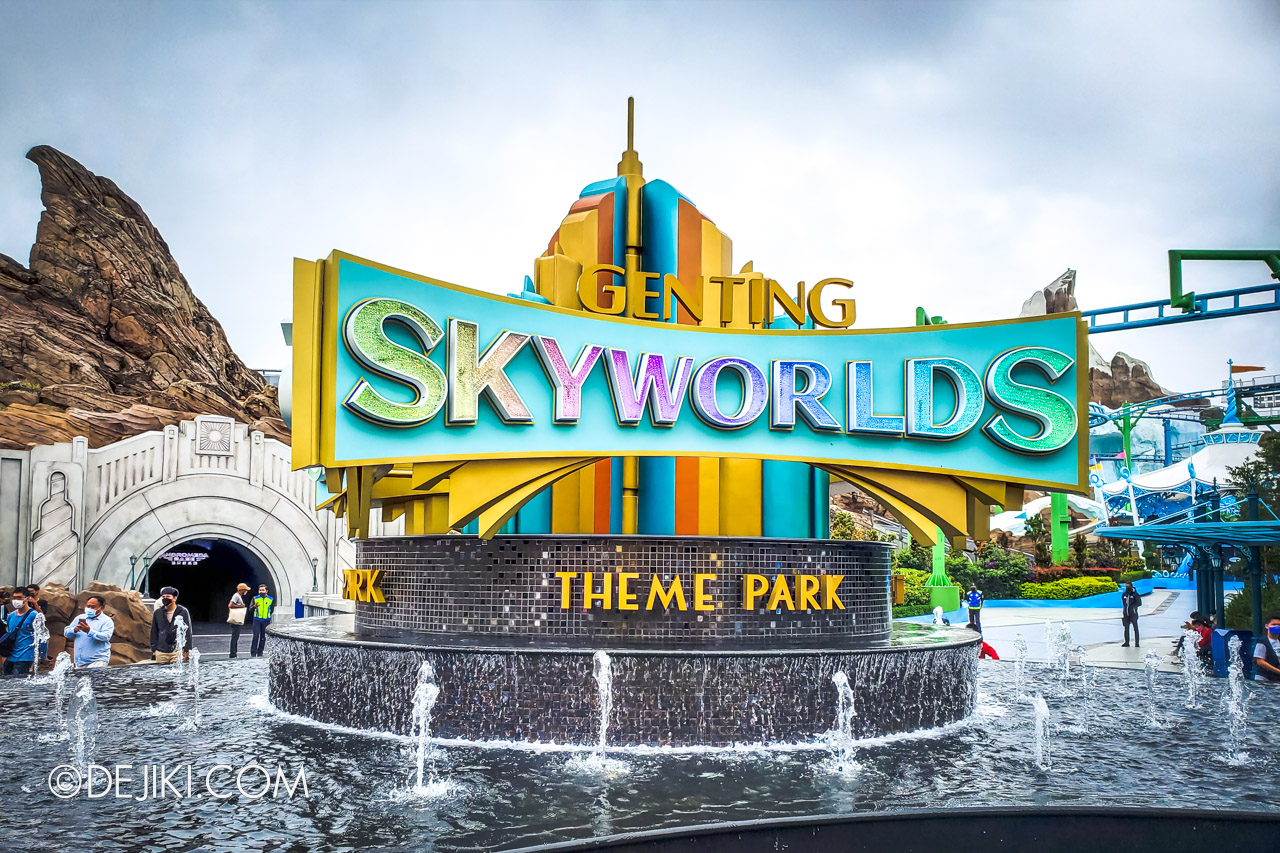 Eagle Mountain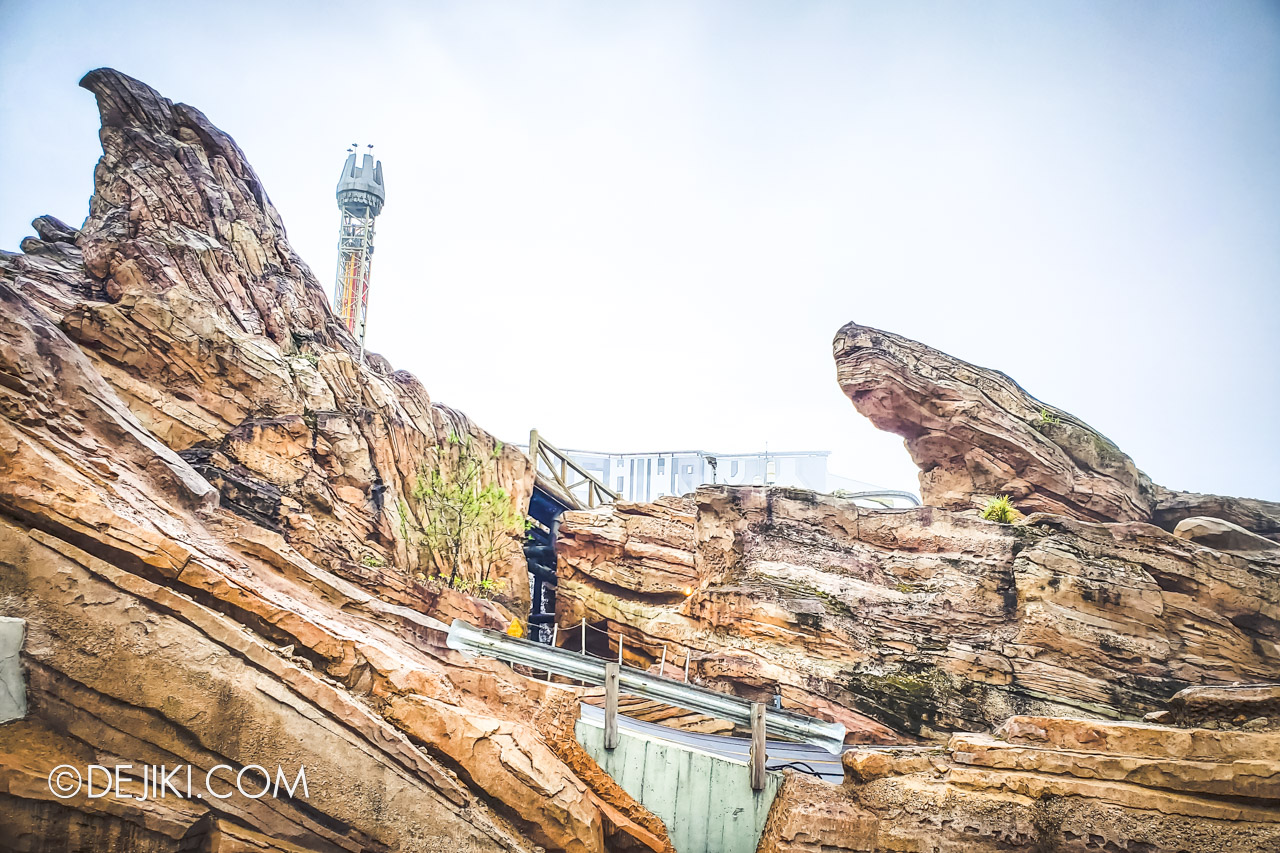 Directly in front of the hub is the Eagle Mountain zone, which was previously themed to the Sons of Anarchy Fox TV series. After the legal settlement, the tie-up was dropped in favour of a more generic biker culture theme. This zone has just one main attraction, Mad Ramp Peak – Full Throttle Racing, a dueling 'power coaster'. However, the track layout looks more like a 'Test Track' ride than a typical roller coaster.
I thought Eagle Mountain is a nicely themed area with the rollercoaster tracks weaving through the zone. From what I can see of the attraction from outside, I think it would be a fun ride. Too bad it was not ready during this soft opening phase.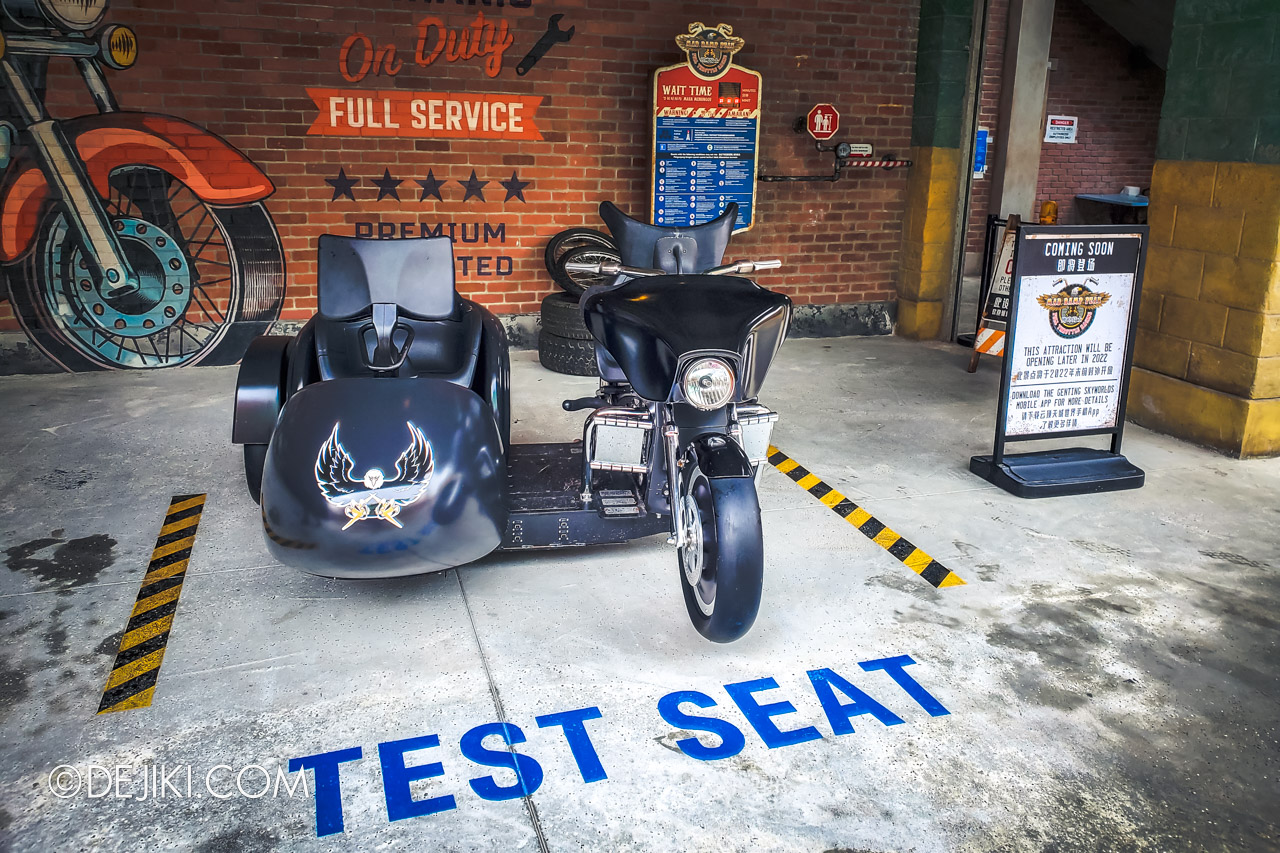 Test seats for Mad Ramp Peak – Full Throttle Racing
Classic Burgers is the only food outlet here, and the Freedom Shop located at the attraction exit sells mainly biker and Harley Davidson themed merchandise. Underneath the attraction is a tunnel that leads to another zone, Andromeda Base.
Rio
There are 3 zones themed to (now-defunct) Blue Sky Studios properties. One of them is based on Rio (2011), which in this park is an L-shaped area with 2 attractions: Samba Gliders and Rio Carnaval Chaos – a suspended roller coaster and a turntable 'teacup' style ride respectively.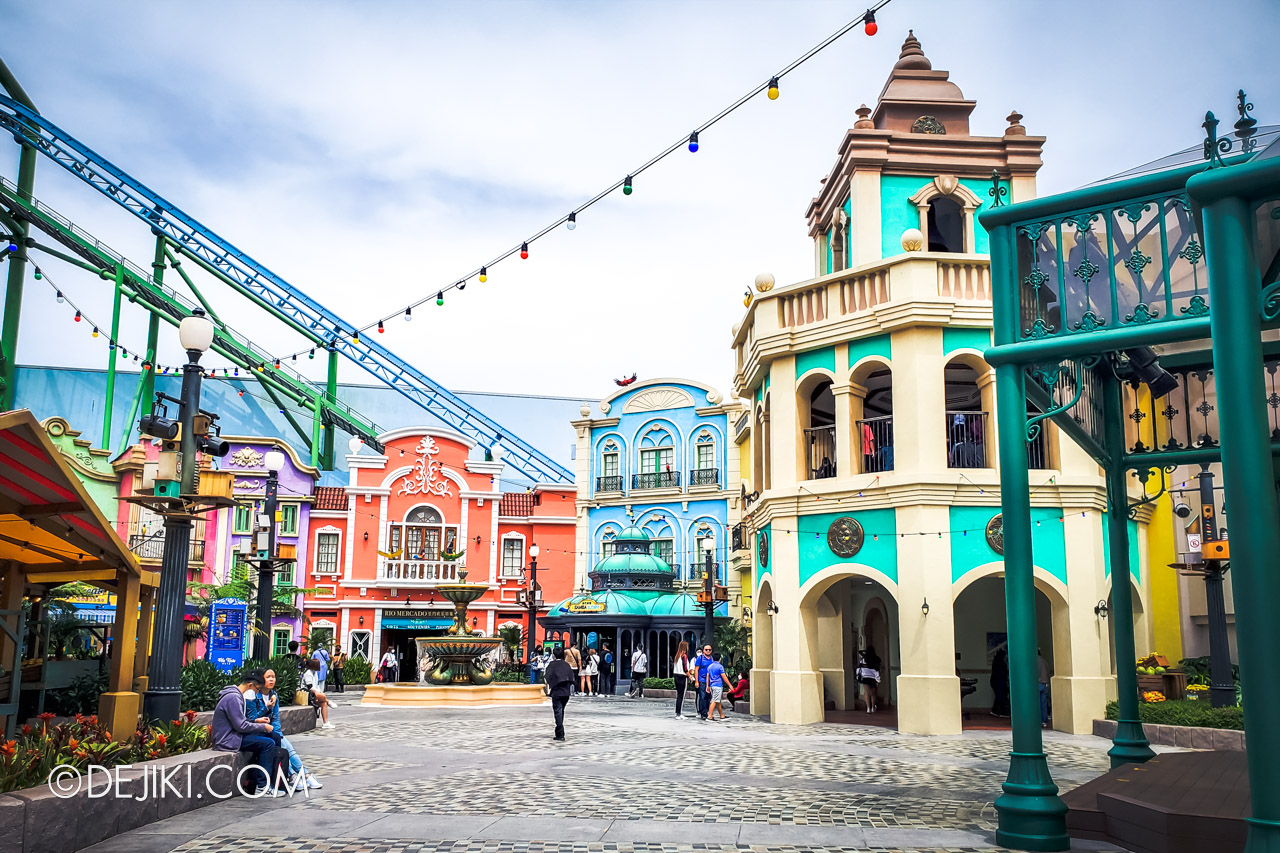 Streets in Rio zone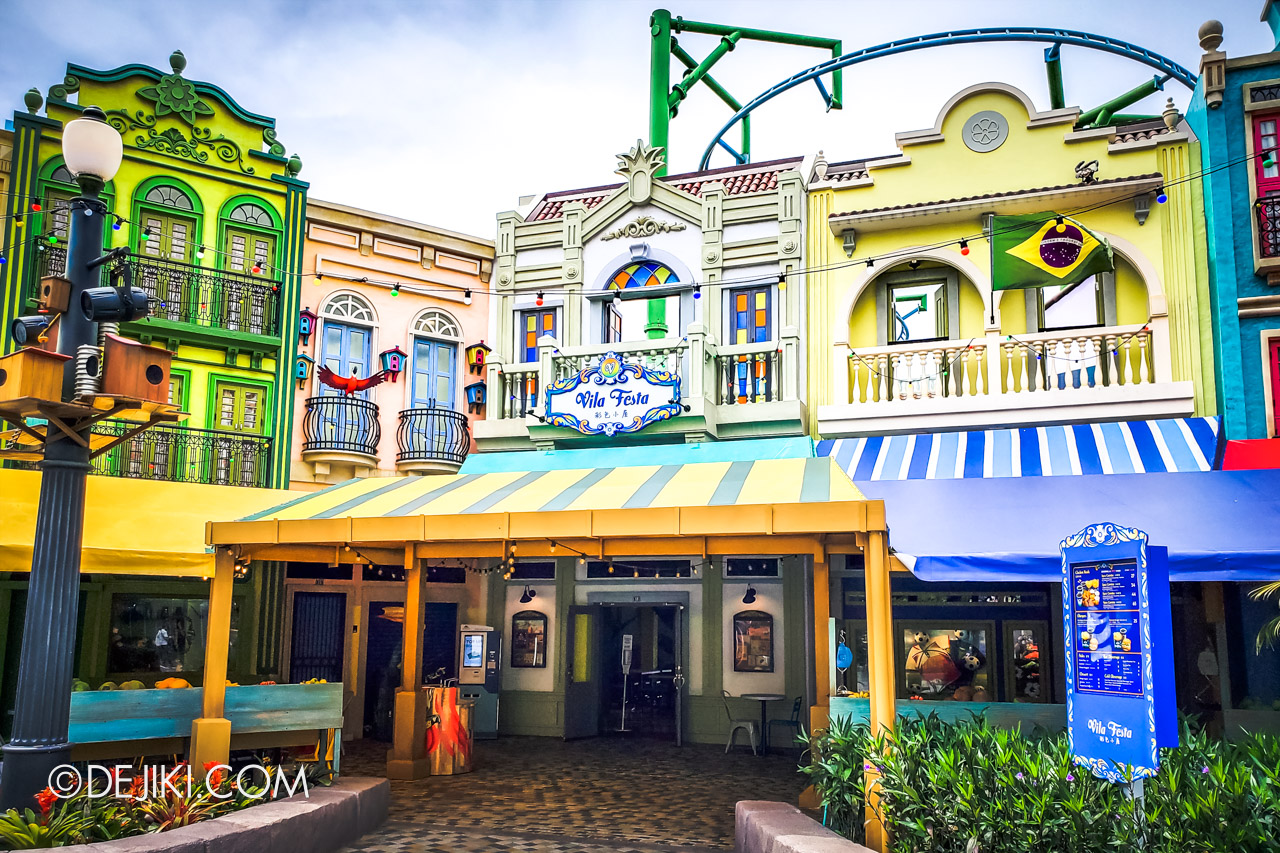 Vila Festa restaurant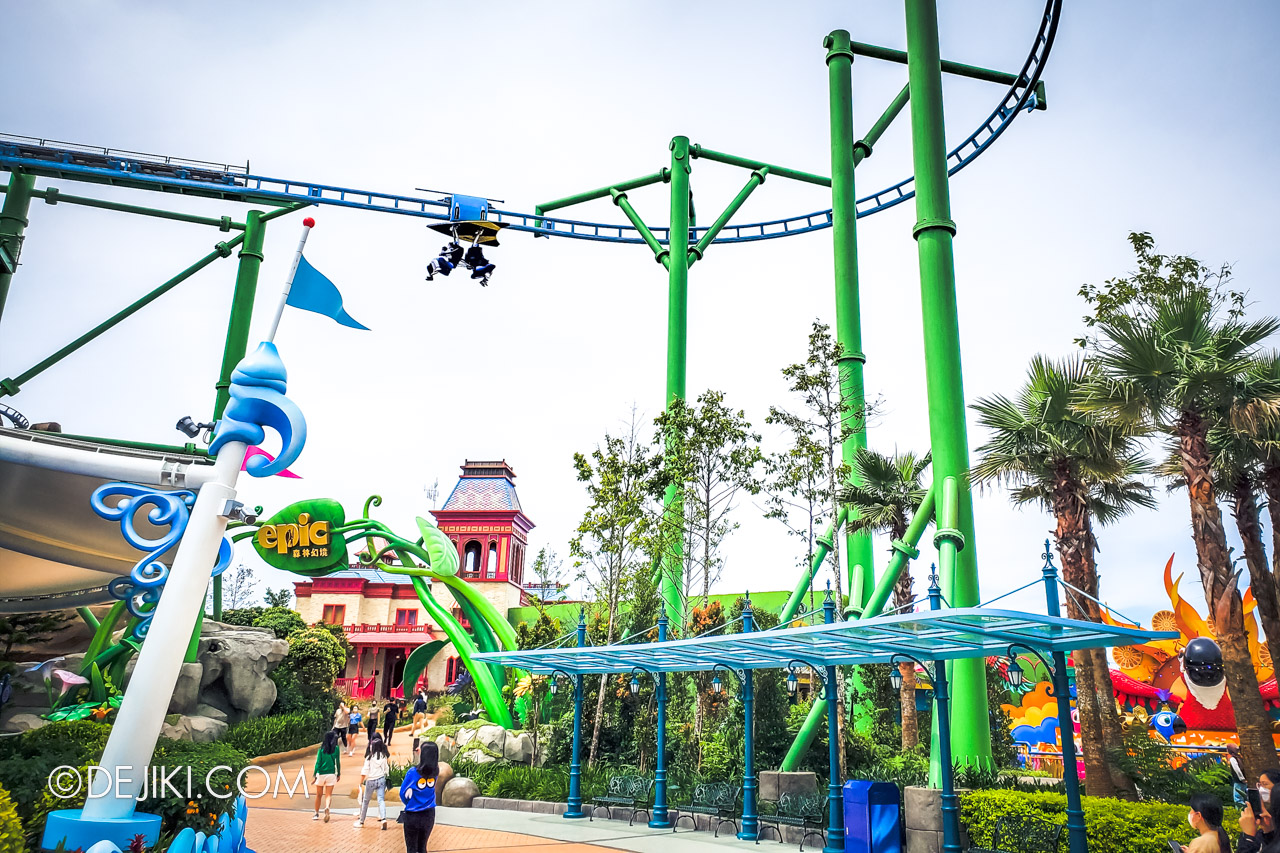 Samba Gliders will bring riders across Blue Sky Studios areas
Sadly, the Carnaval Chaos ride was a disappointment. The ride does not spin fast enough and moving from one turntable to another was not quick enough to create "near-miss" moments for the ride to feel exciting.
Carnaval Chaos ride
Epic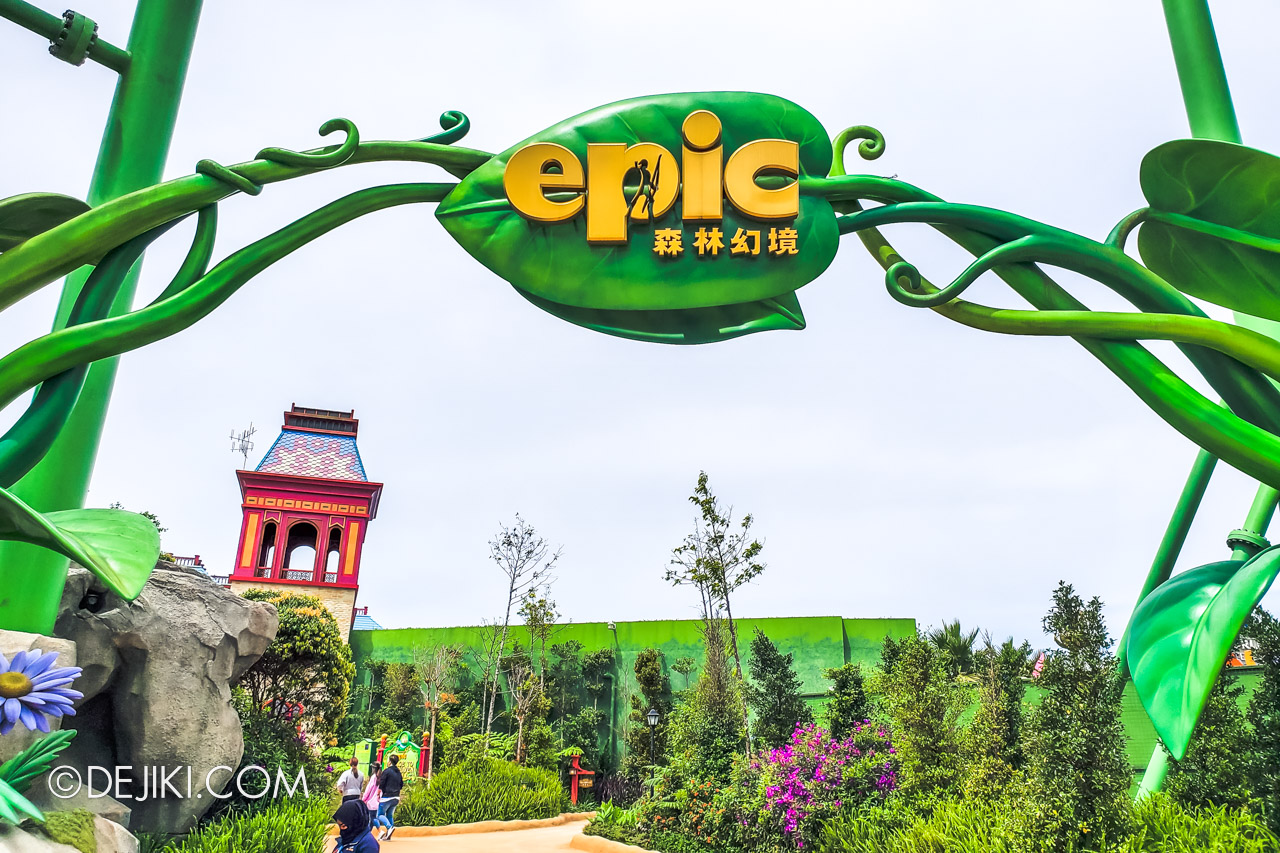 The second Blue Sky zone is themed to the 2013 animation titled Epic. Theming here attempts to create a perspective illusion: as you walk deeper into the zone, the sets gradually 'enlarges', and you will soon find yourself among oversized flora and props. This zone houses 2 attractions: Epic Voyage to Moonhaven, an indoor boat ride, and the Epic Hummingbird Flyers spinner ride.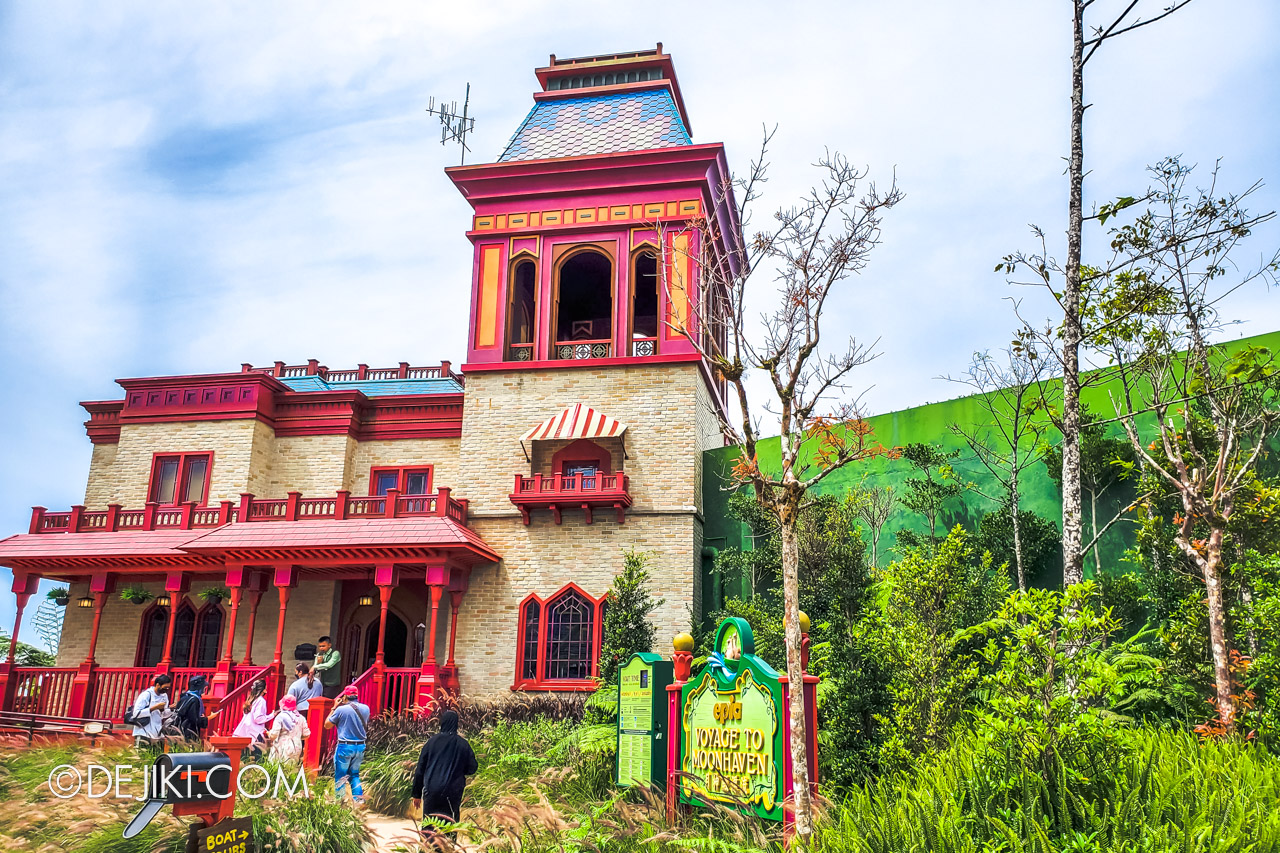 Epic Voyage to Moonhaven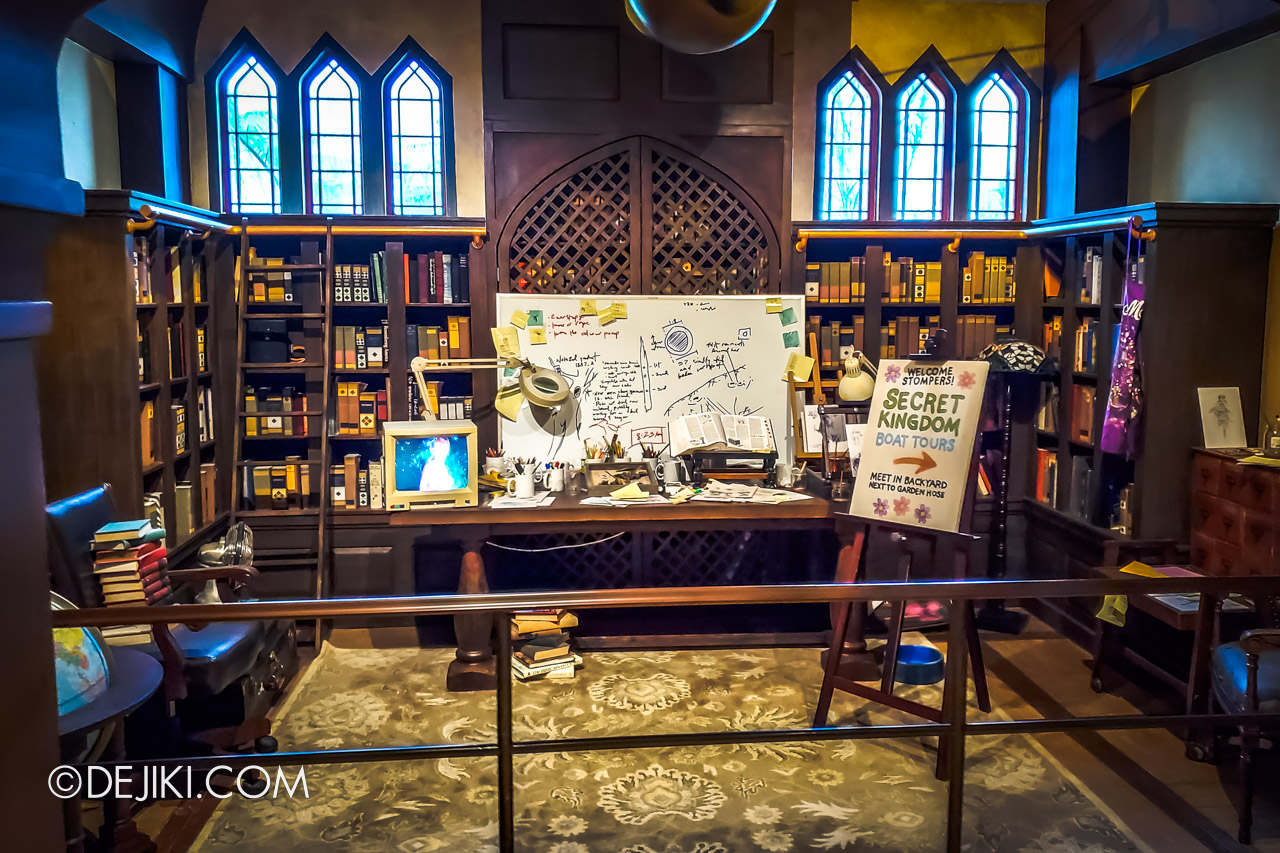 Queue interior at Epic Voyage to Moonhaven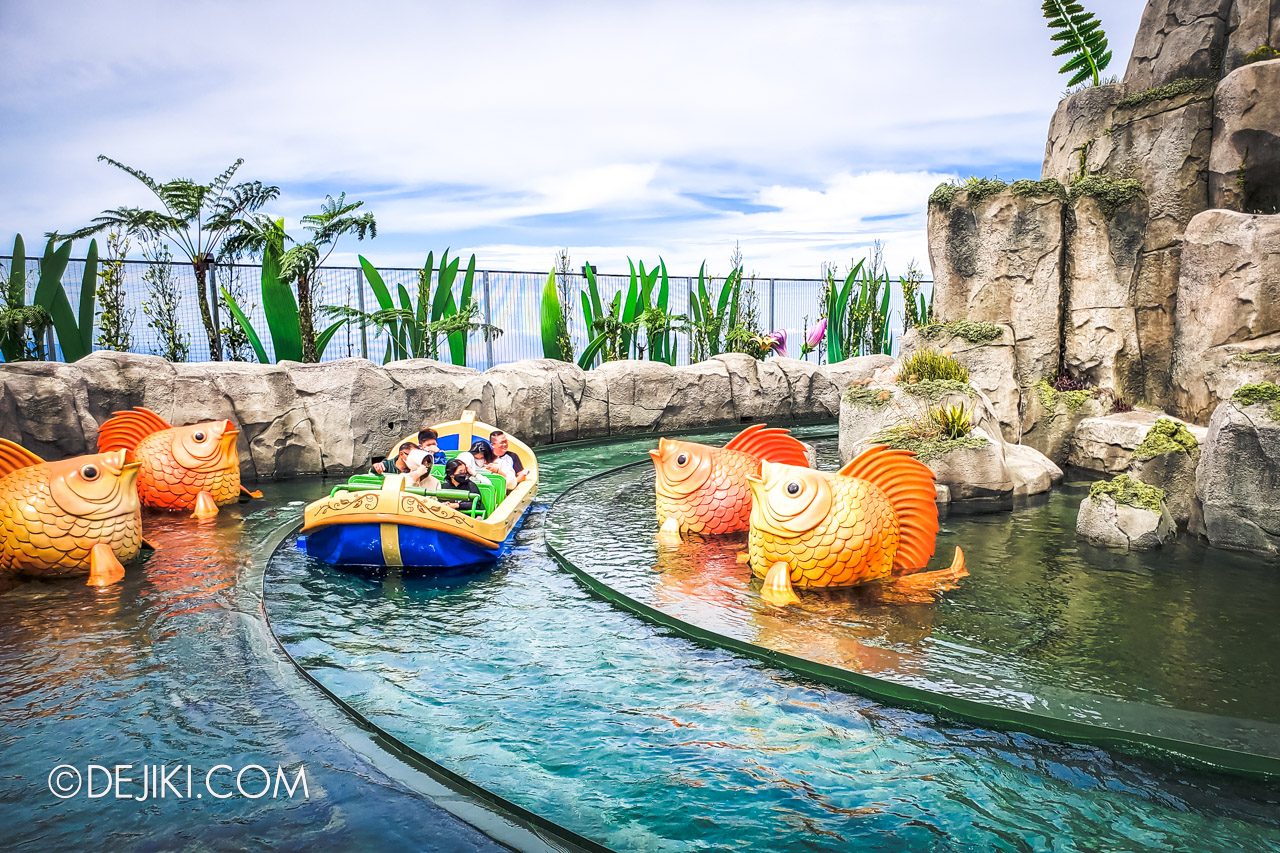 Outdoor scene at Epic Voyage to Moonhaven
Despite being placed in a corner, I feel that the Epic zone is easily the best themed and most immersive. The dark ride is charming, and it is impressive that its large show building is well-hidden as part of design.
The Epic Hummingbird Flyers spinner ride is interesting as it mimics a similar ride in Universal Islands of Adventure in Orlando, Florida, with riders trying to dodge water squirts as the vehicles spin.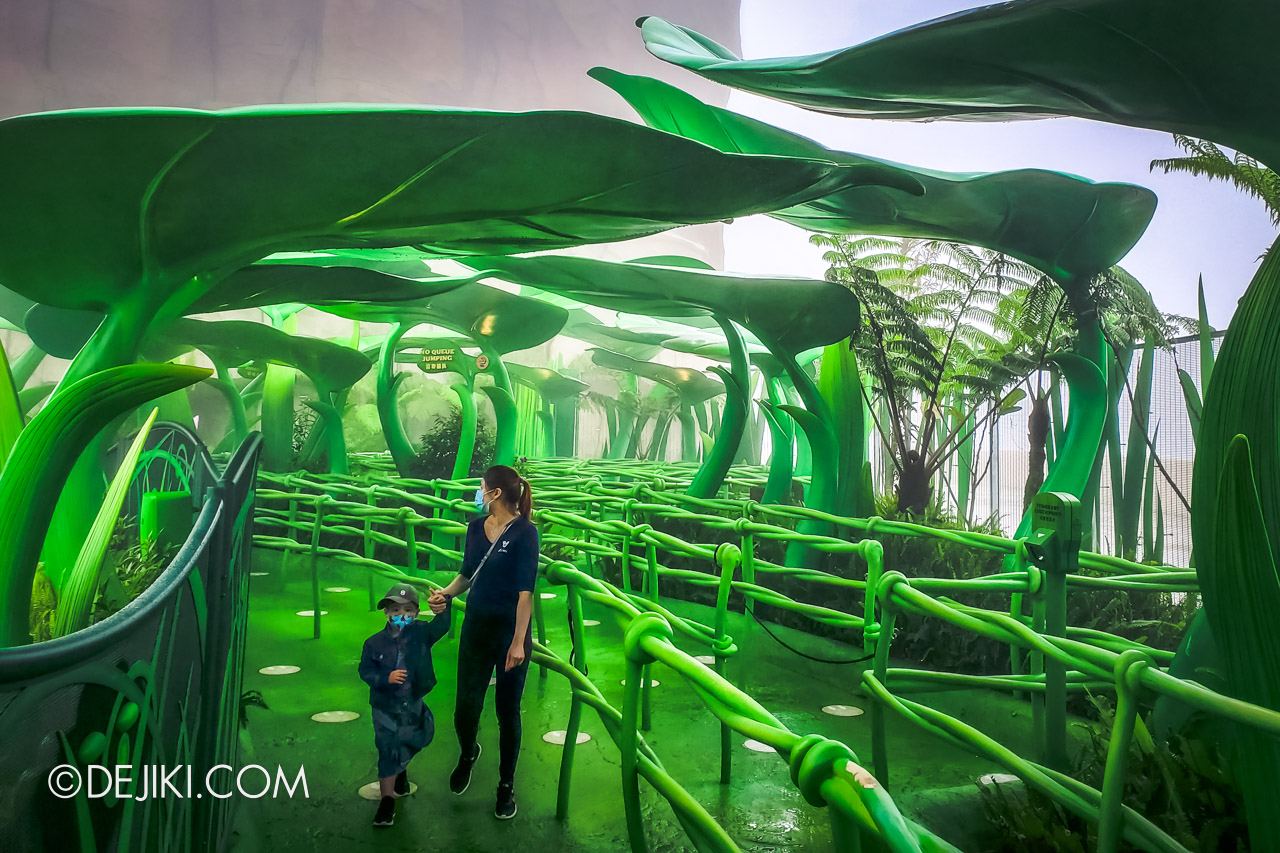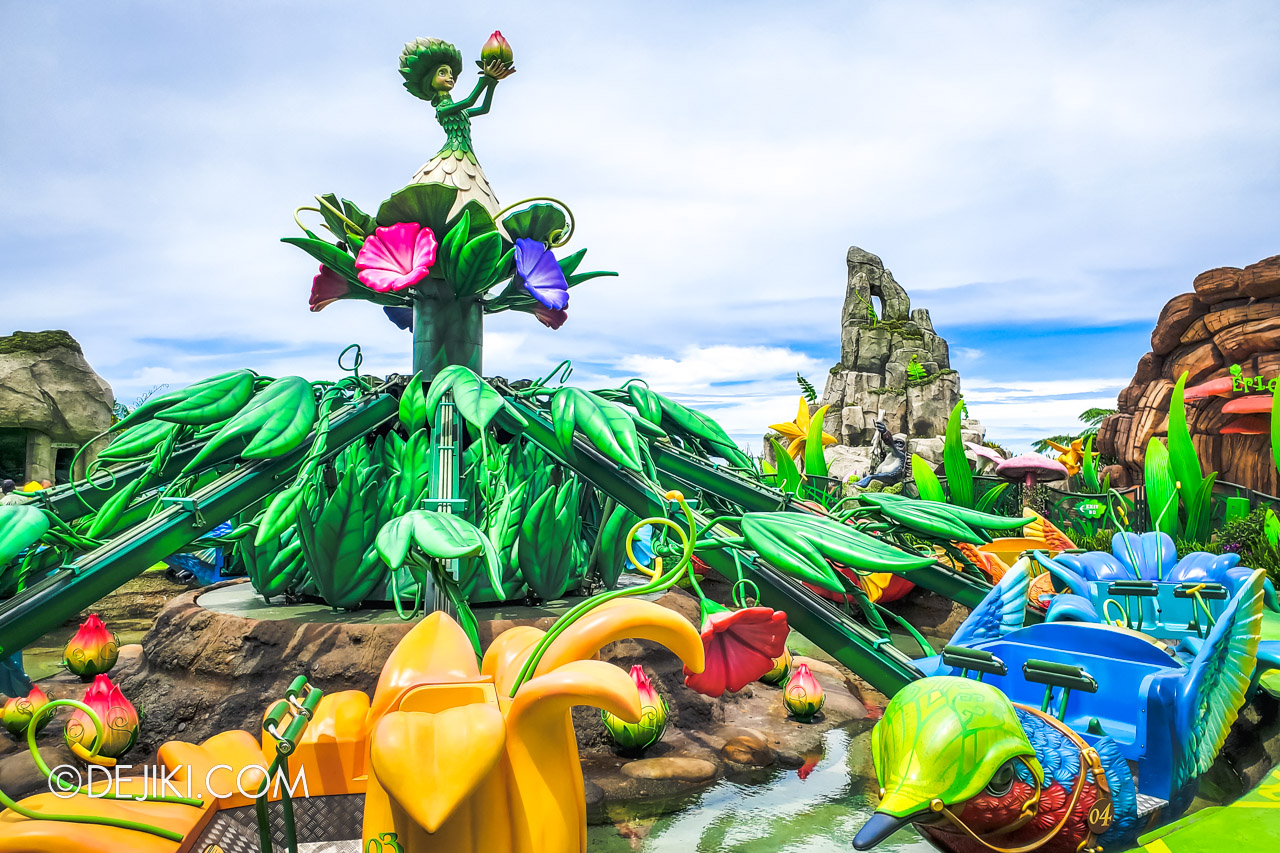 Epic Hummingbird Flyers

Feeling small in the world of Epic
Ice Age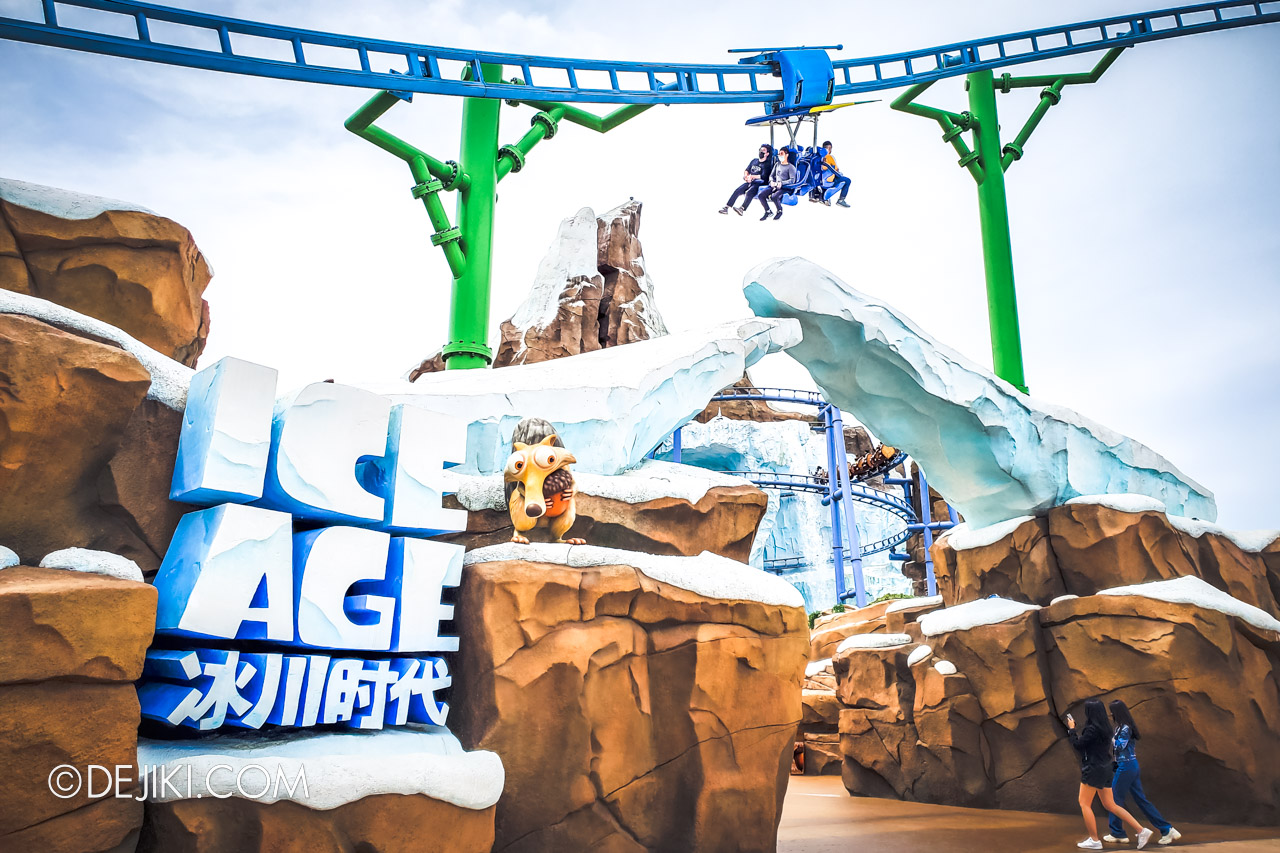 The last and largest Blue Sky zone is themed to the Ice Age film franchise. This area is framed by a large mountain range, with glaciers and rockwork filling out the zone. Visitors can look forward to its main attraction, Ice Age: Expedition Thin Ice, which is a trackless dark ride within the mountain. Other attractions include Acorn Adventure: a mine-train roller coaster weaving through the mountain, Sid's Rock n Slide: a flat roller-skater ride, and also a large open playground for the little ones: Mammoth Fun Zone.
Acorn Adventure coaster tracks surrounding an icy waterfall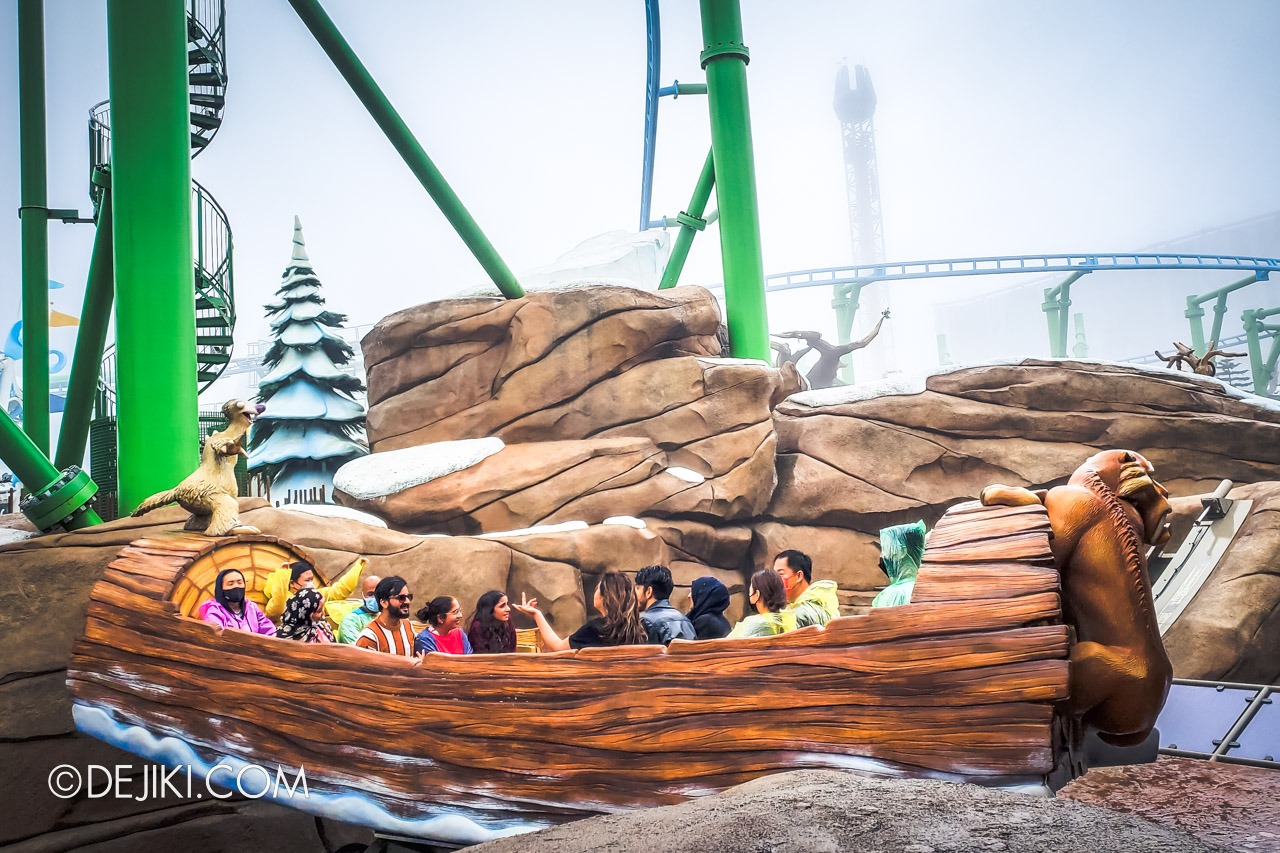 Sid's Rock n Slide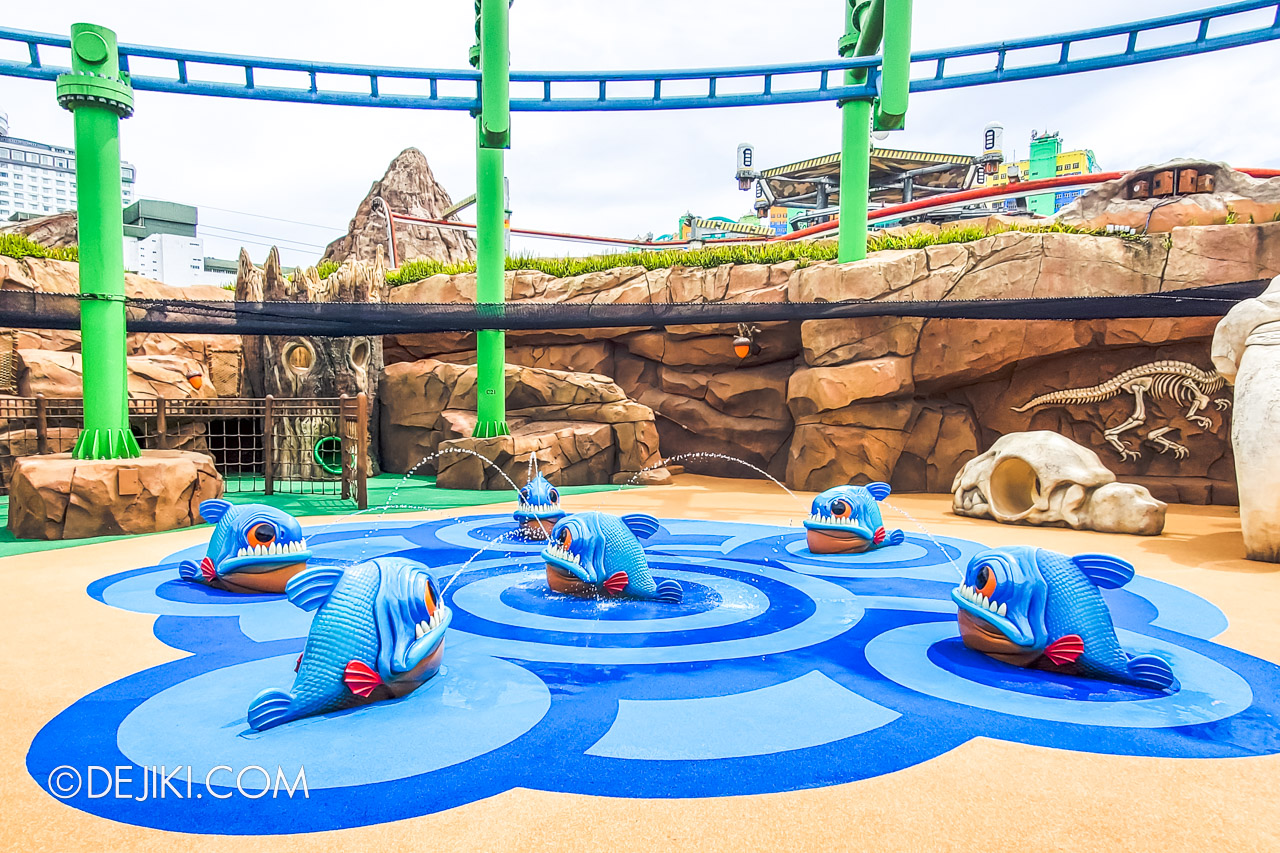 Mammoth Fun Zone
Buck's Café will offer visitors with local cuisine, while other snack choices are available at food carts Crash and Eddie's Frozen Treats and Peaches' Cocoa Concoctions. The Cavern Treasures at the exit to Acorn Adventure will meet your shopping needs. There's also a small theatre in the zone that hosts shows starring the Ice Age characters.
At the heart of all 3 Blue Sky zones is the Blue Sky Carousel, a two-tiered merry-go-round featuring all the Blue Sky characters.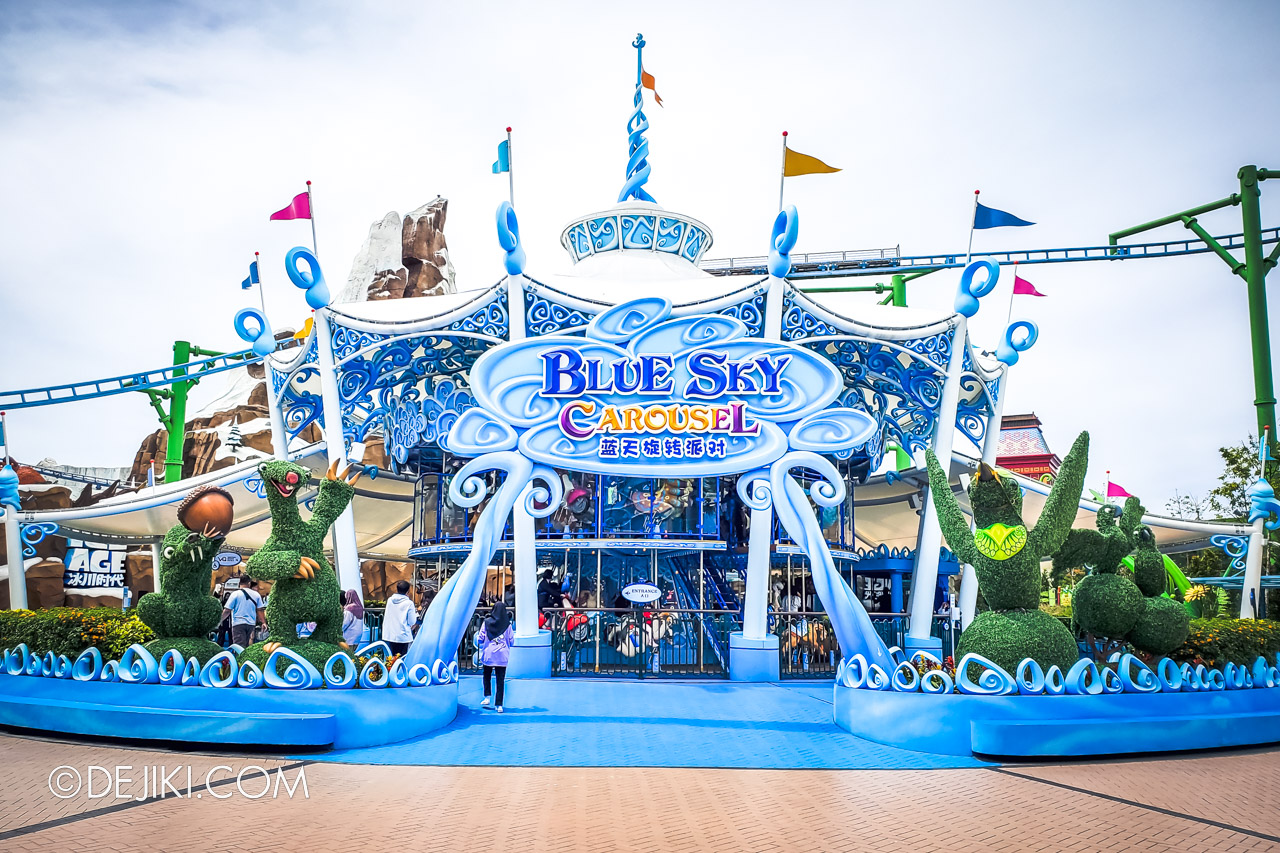 Andromeda Base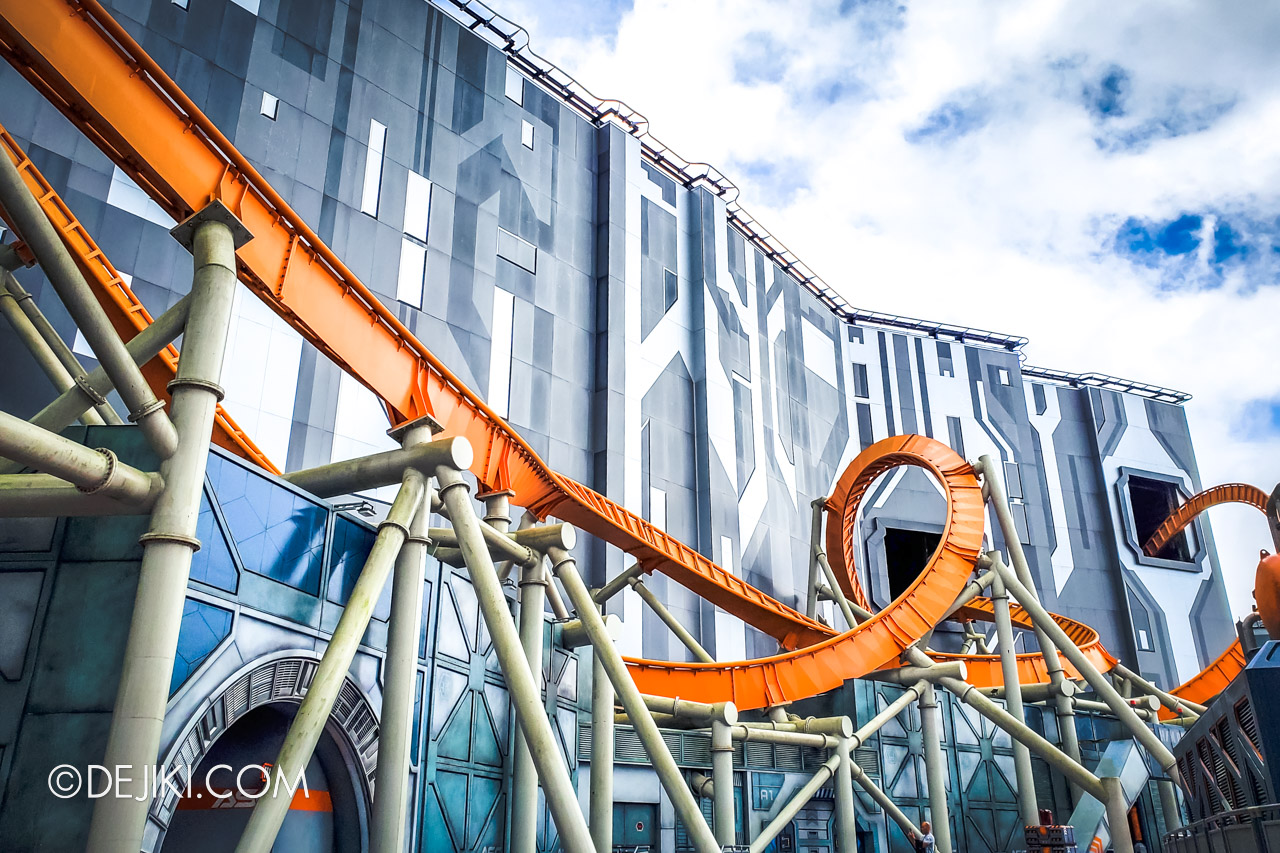 The imposing Andromeda Base features a yet-to-be-renamed SFX rollercoaster with indoor and outdoor sections. Originally, this was to be themed to Aliens vs Predator. In front of this coaster are 2 flat rides: Alpha Fighter Pilots, an Air Race spinner ride by Zamperla, and the Terraform Tower Challenge drop tower.
Alpha Fighter Pilots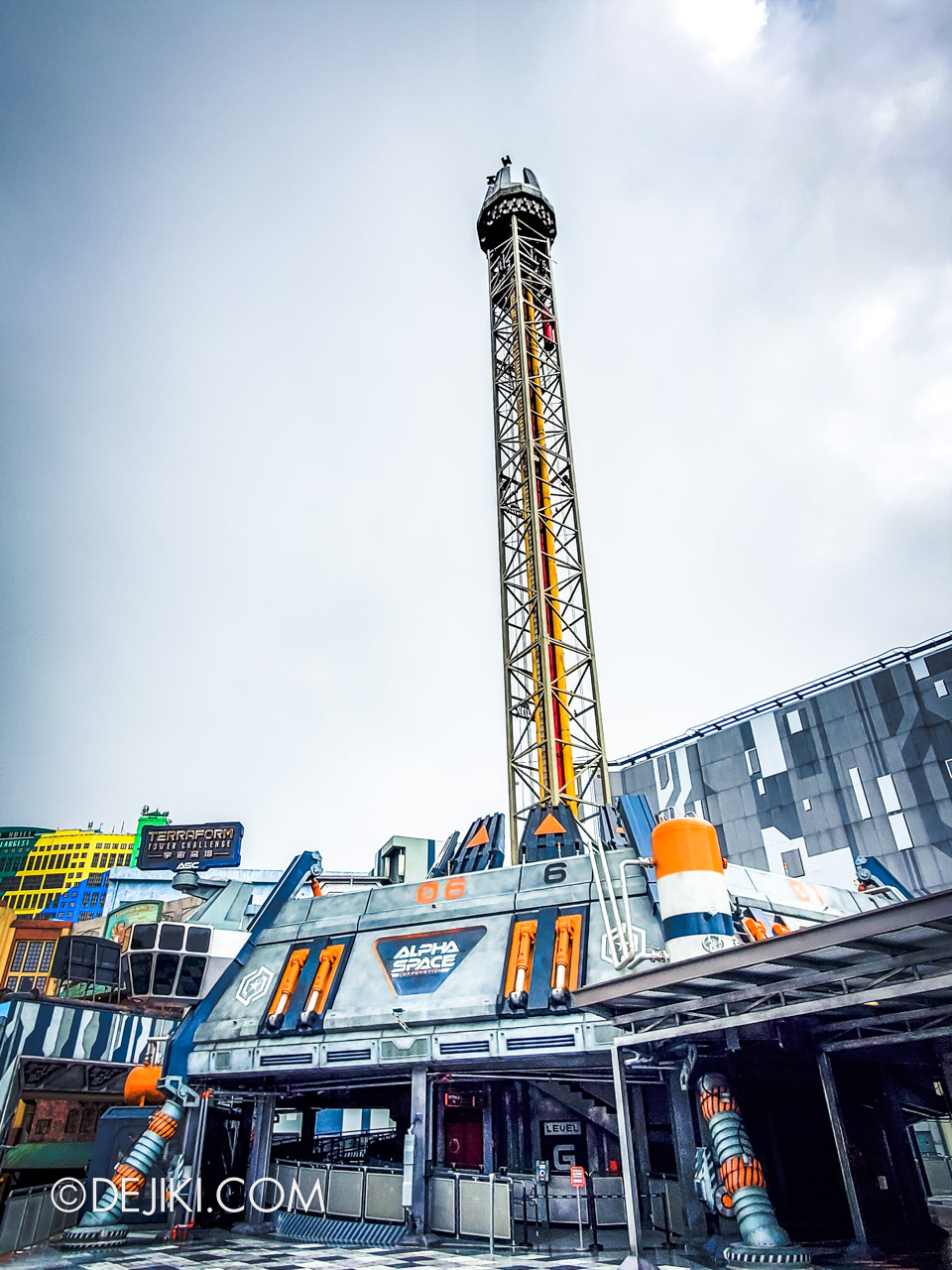 Terraform Tower Challenge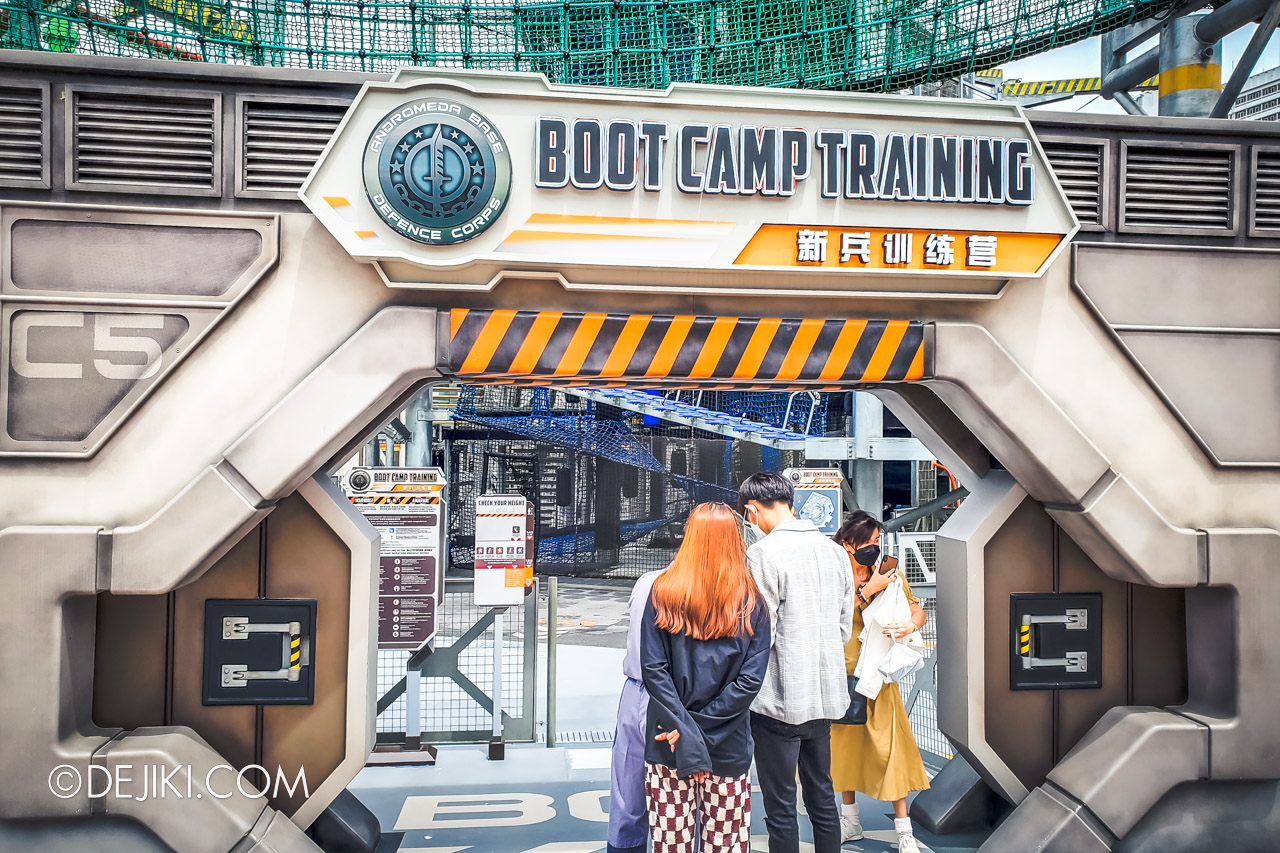 Boot Camp Training
If you want some hands-on thrills, try the Boot Camp Training – a ropes course with a zipline 'coaster' segment. Until the rollercoaster opens in 2023, there are no other facilities apart from 2 quick service kiosks: Sergeant Sully's Juice Boosters and EXO Grab N Go.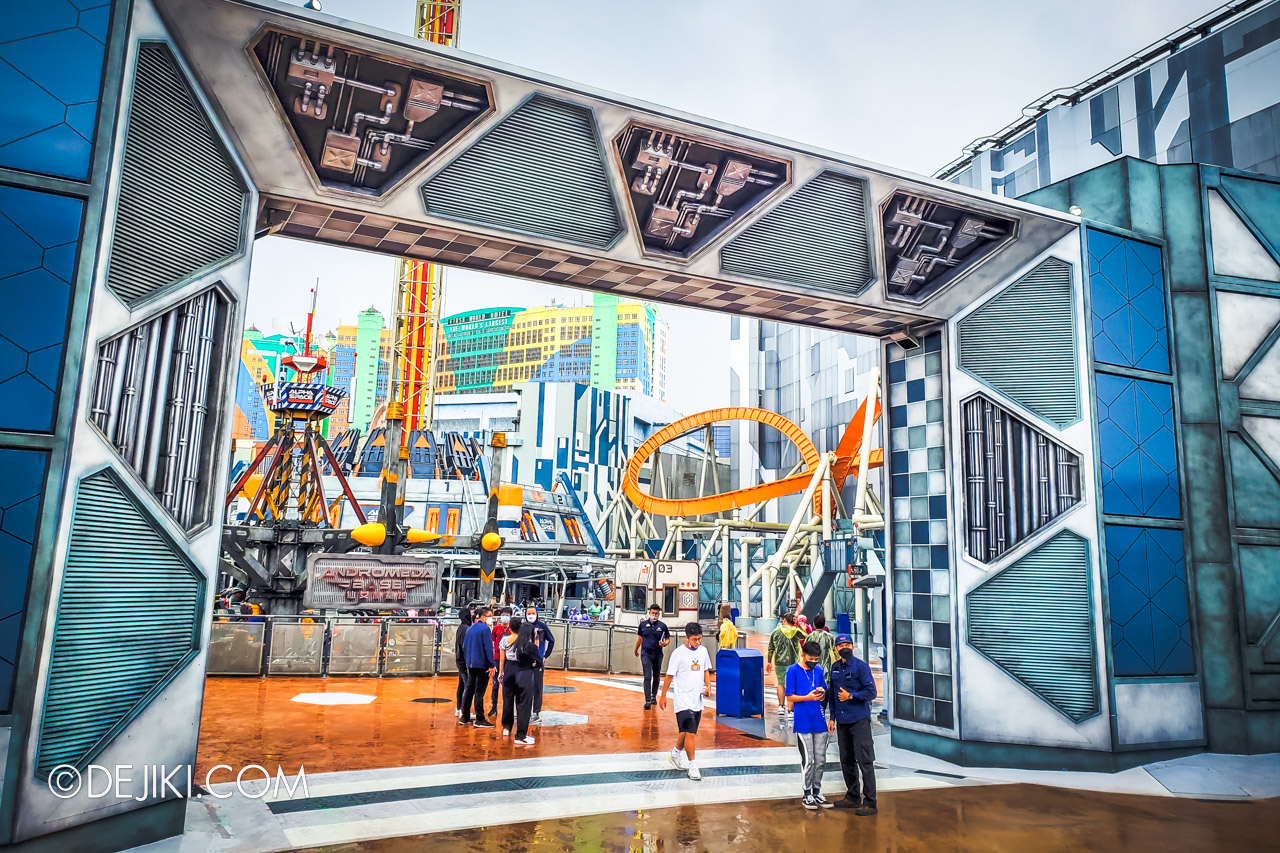 Theming wise, this zone feels rather generic with metallic accents all around trying to conjure a "spacey" futuristic vibe. The saving grace in this place is the ropes course which was fun, but short, and had a line all day. Without the rollercoaster, the other flat rides are just not unique enough to carry the zone, as such rides are very common in amusement parks around the world.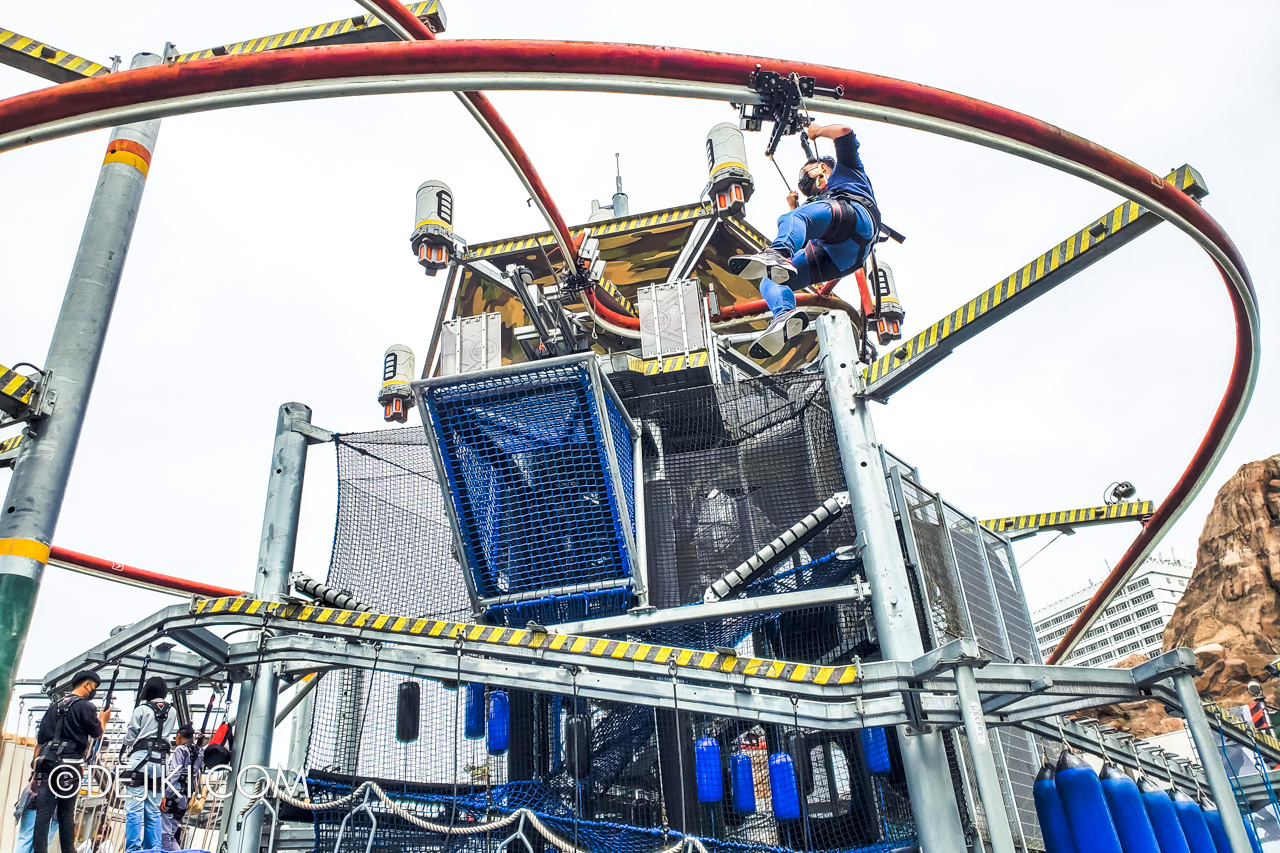 Gliding segment in Boot Camp Training
Liberty Lane
Leading out from Andromeda Base is a small alley named Liberty Lane, loosely themed to San Francisco. The only attraction here is Invasion of the Planet of the Apes, supposedly a dark ride. Apart from building facades for photo taking, the only other highlights here would be the food carts Chips and Dips, Golden Gate Garage, and Redwoods Trading Post, which is the gift shop at exit of the Apes attraction.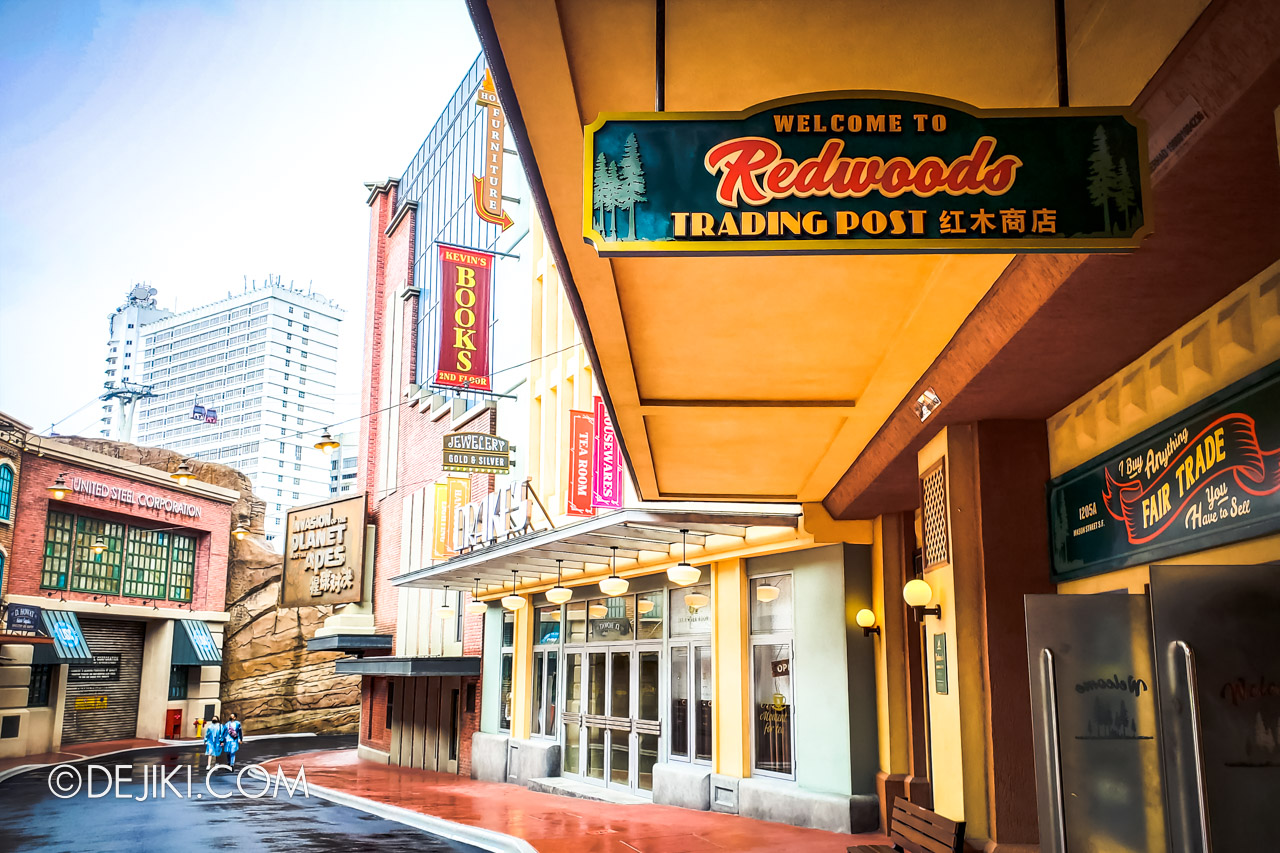 As Liberty Lane's marquee attraction is not open, I must reserve judgement for my overall opinion. This is a very small area but well-themed, as the buildings' height block out the rest of the park.
Robots Rivet Town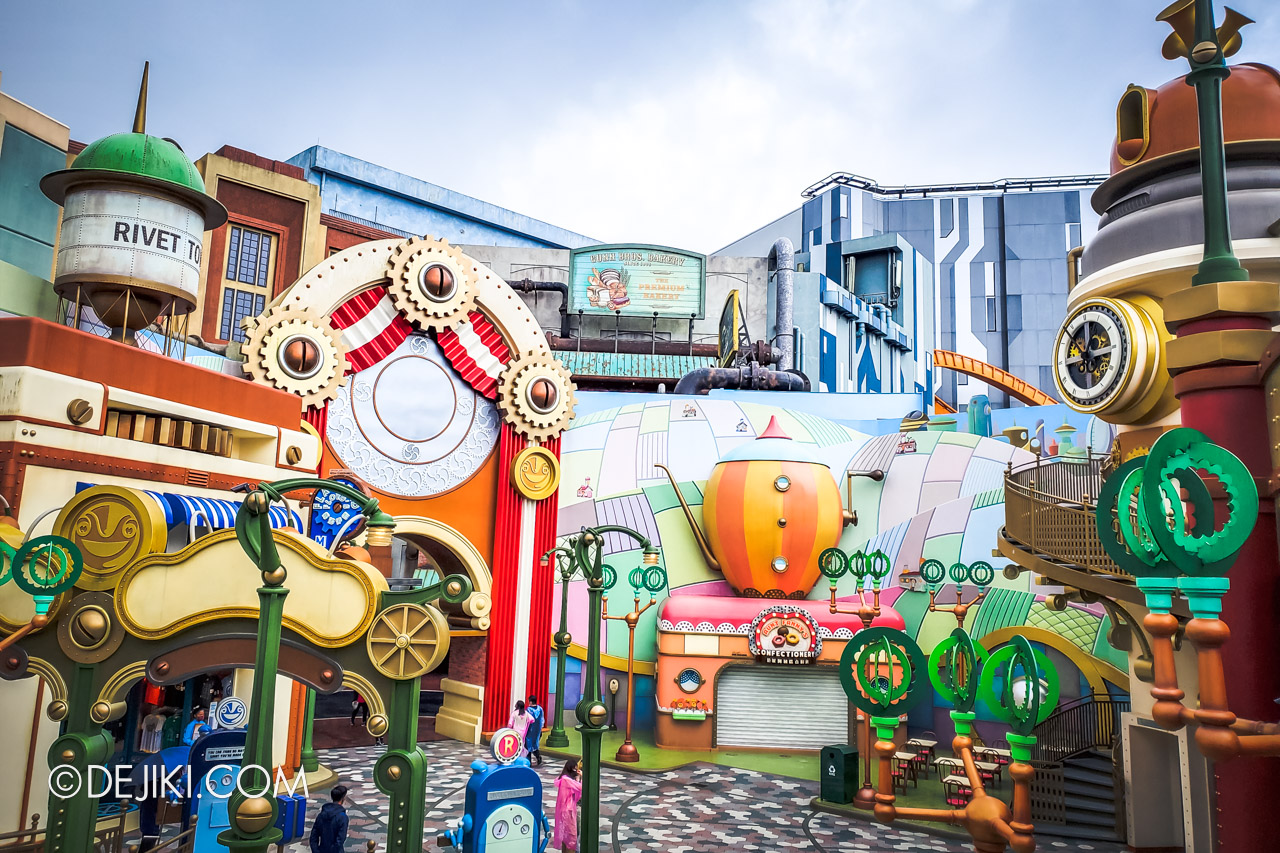 This is a very small, enclosed zone themed to Robots animated film, which you have to enter via Liberty Lane. Rivet Town offers 2 flat rides are stacked on each other: Bigweld's Zeppelins and Rivet Town Roller. This whimsical zone has small kiosks selling food (Aunt Fanny's Confectionery) and merchandise (Flathead Floyd's Mart) at the town's entrance/ exit.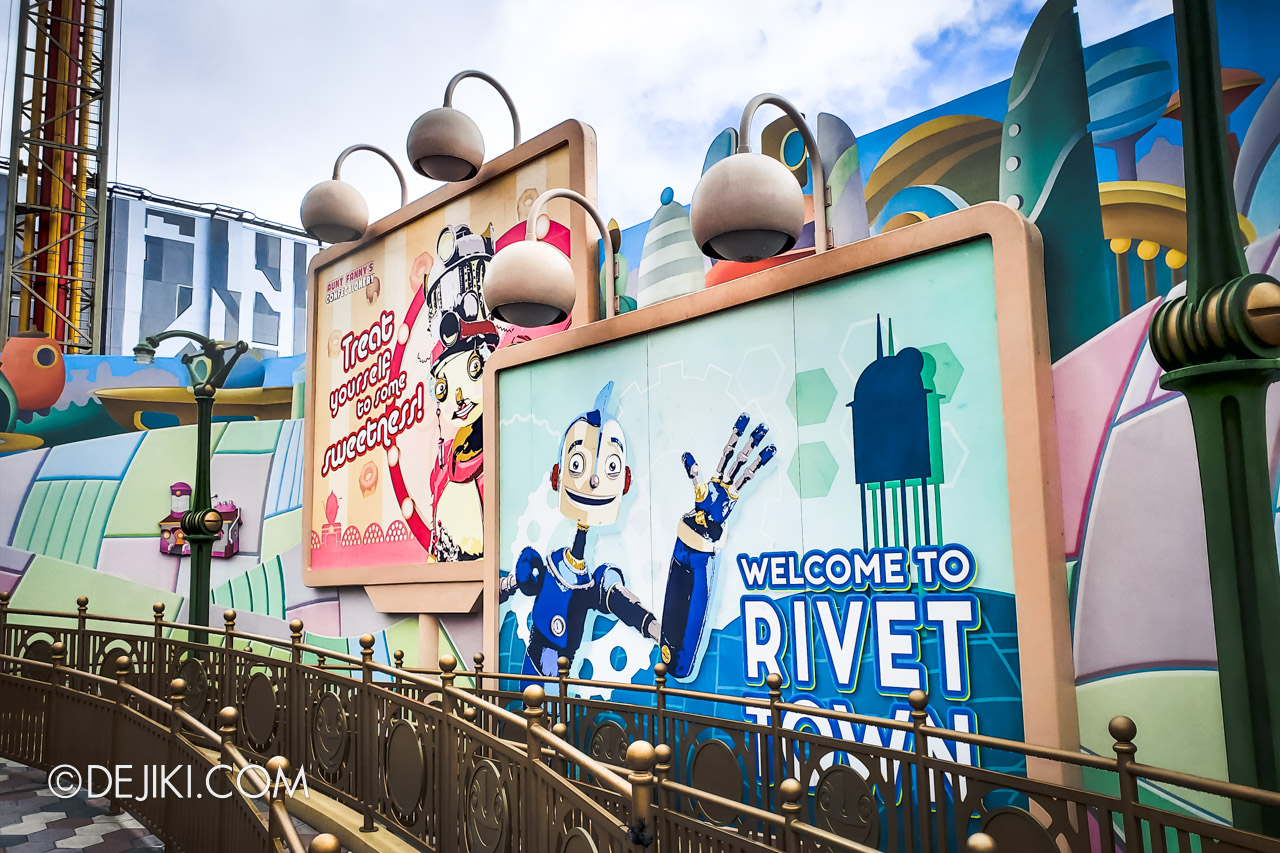 Central Park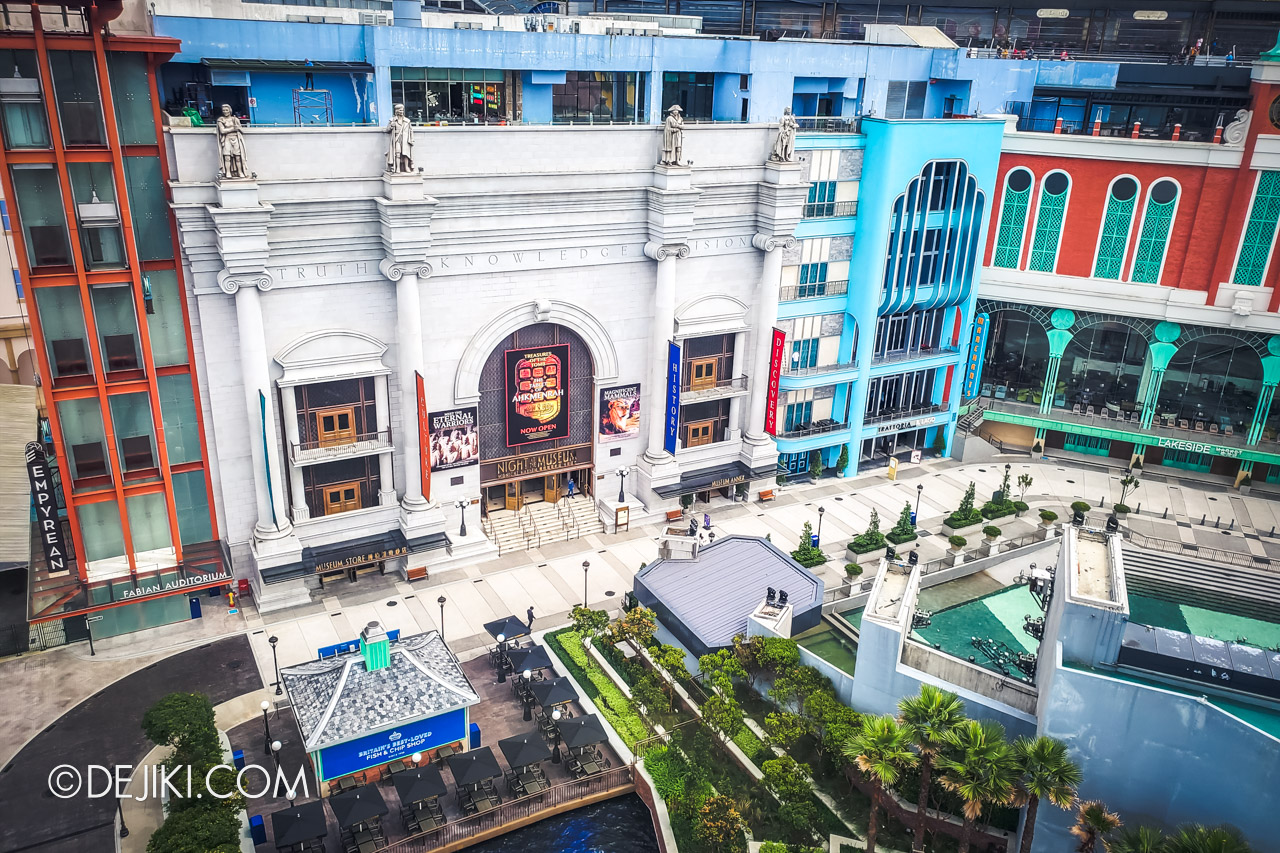 Lastly, we've come to Central Park, which is inspired by New York. There is a large fountain and stage in the middle where both daytime and nighttime shows are held with a screen as the backdrop. This is also the only covered area (other than the entrance plaza) as it is also the second entrance to the SkyWorlds theme park.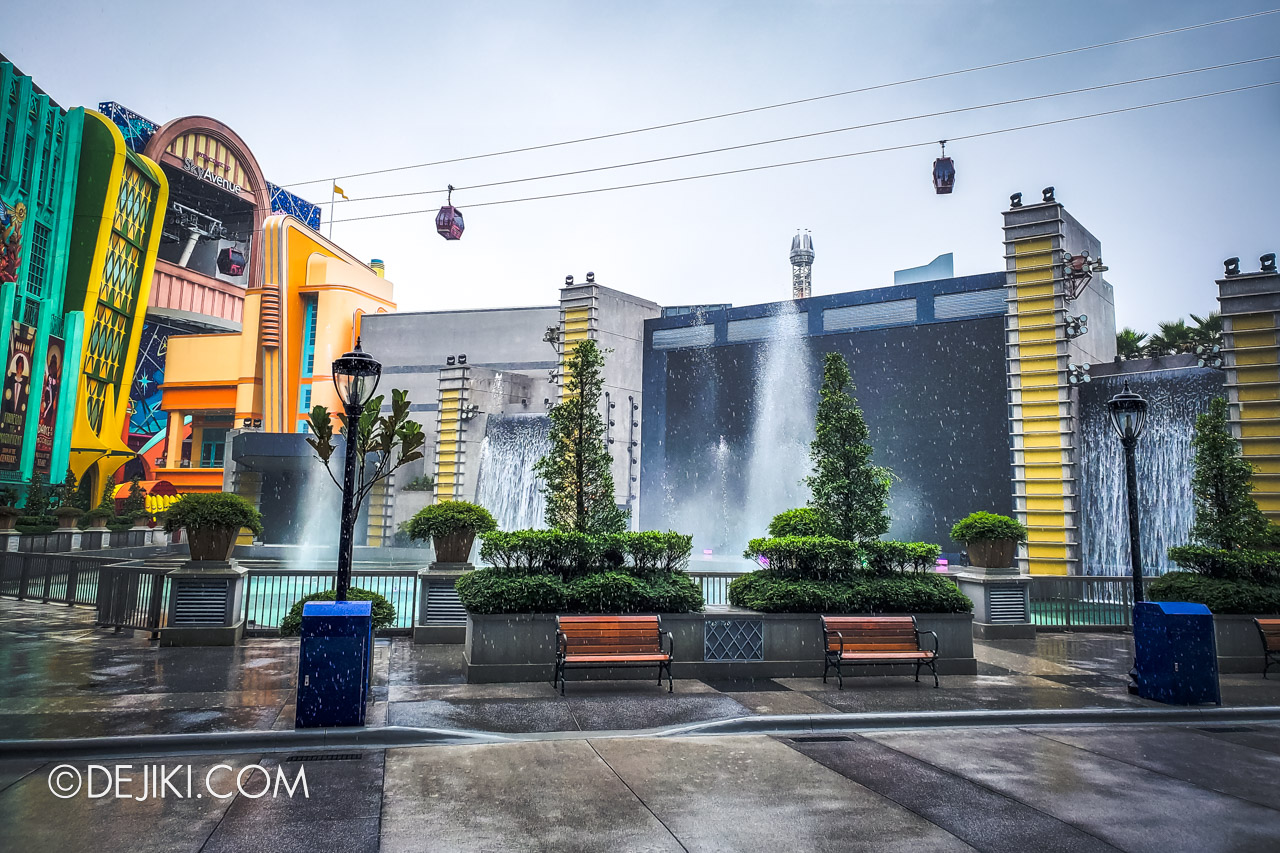 Attractions here include Independence Day: Defiance, a flying theatre ride, ESD Global Defender, a Technical Park Aerobat (aka Enterprise-style flat ride), and Night at the Museum: Midnight Mayhem, a trackless shooting dark ride like Disney Parks' Toy Story Midway Mania attractions.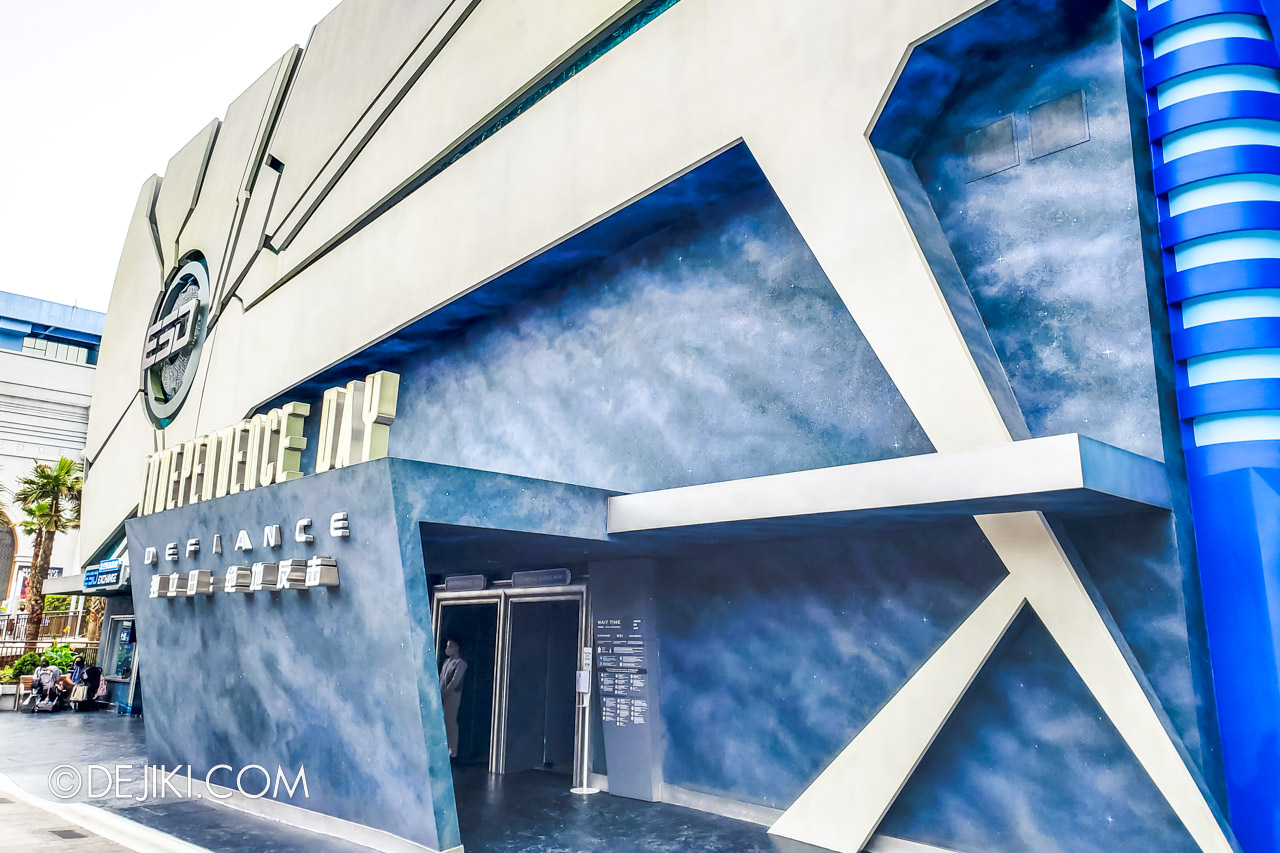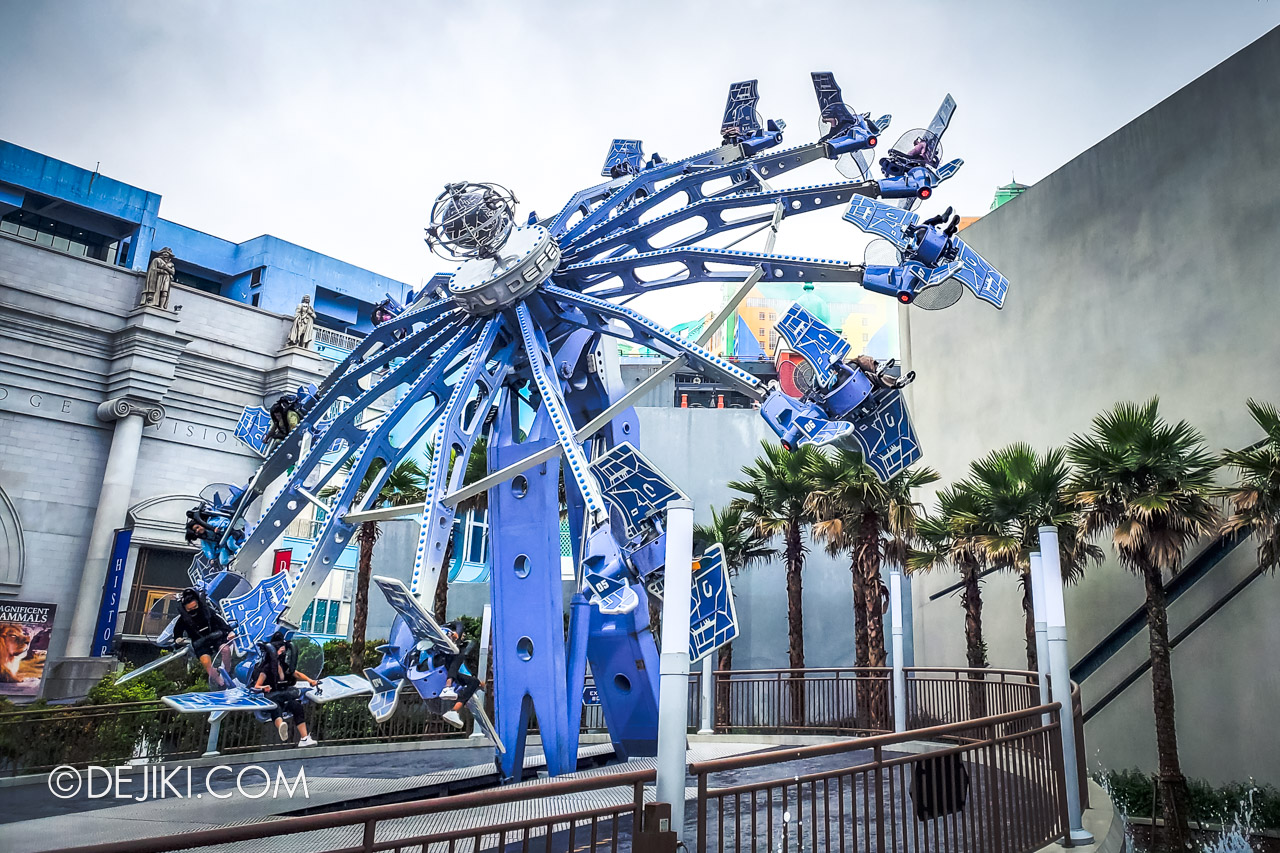 The Galaxy Store here is a smaller version of the Studio Emporium, while 2 other shops in the area are linked to attractions: ESD Exchange and Museum Store. There are several dining options here: Trattoria Il Lago, Cosmic Café, Starlet's Pizza, Lakeside Market, with Il Lago being the only sit-down restaurant. Harry Ramsden's Fish and Chips is an outdoor kiosk with sitting areas flanking the ESD flat ride and fountain.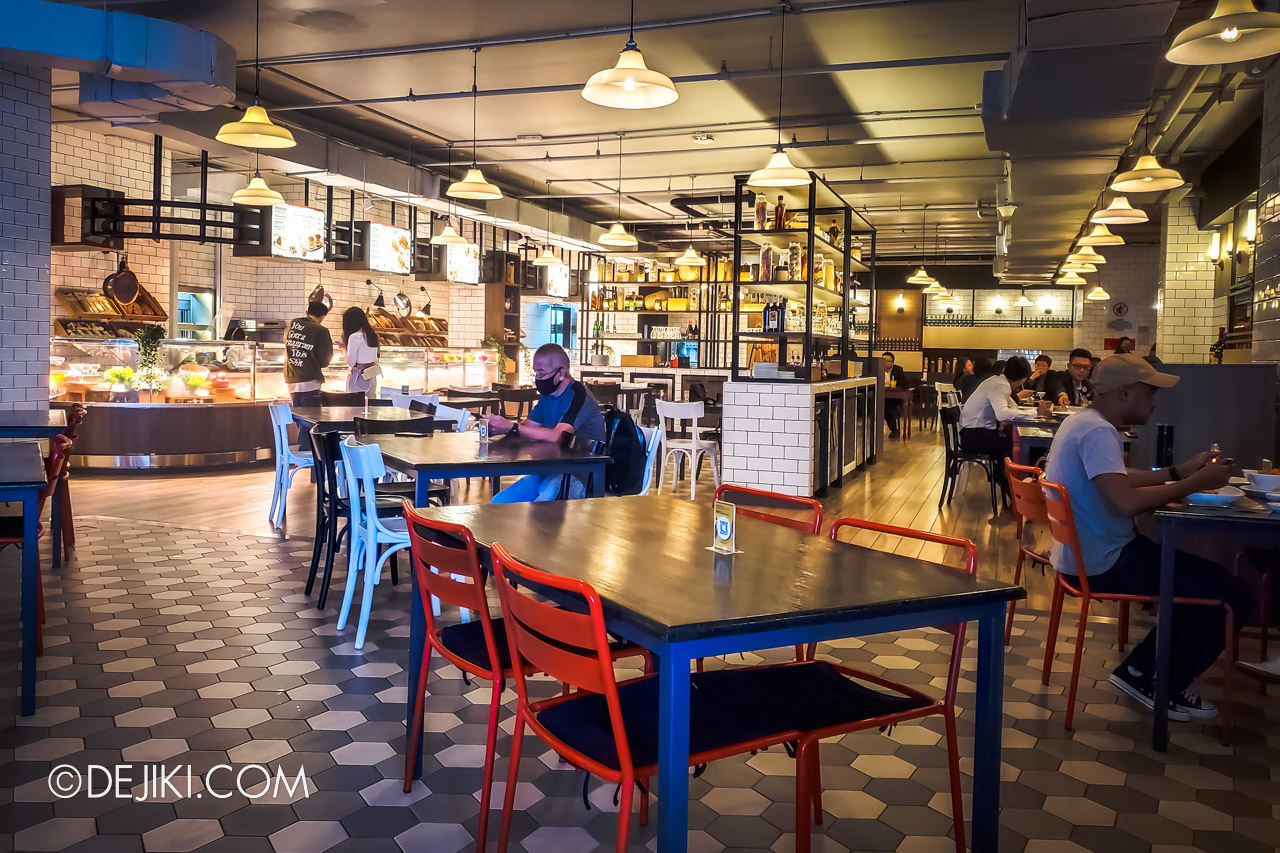 Inside Trattoria Il Lago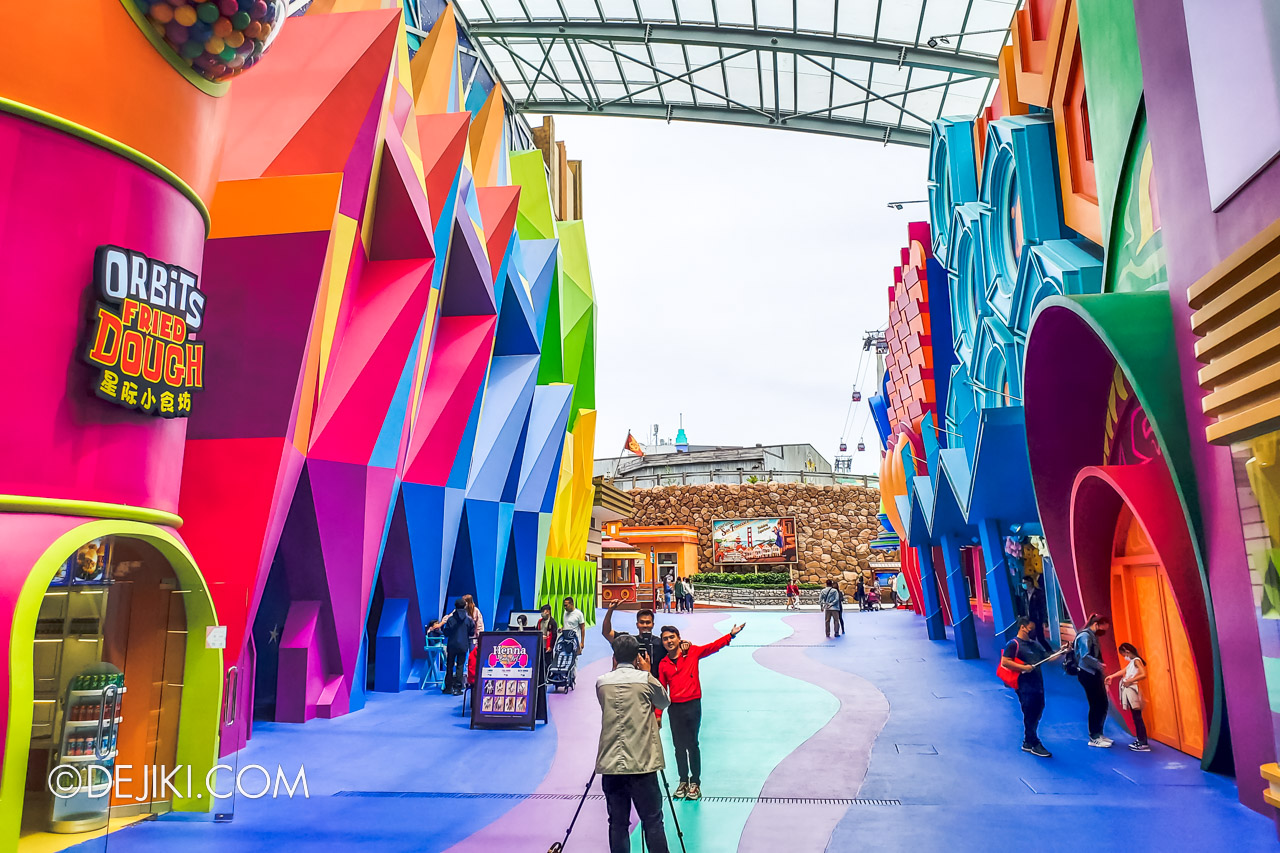 Grab a quite bite from other quick service kiosks along this colorful lane: Jetpack Coffee, Orbits Fried Dough and FUHU Shack. There are also carnival games in this covered area of Central Park for those feeling lucky.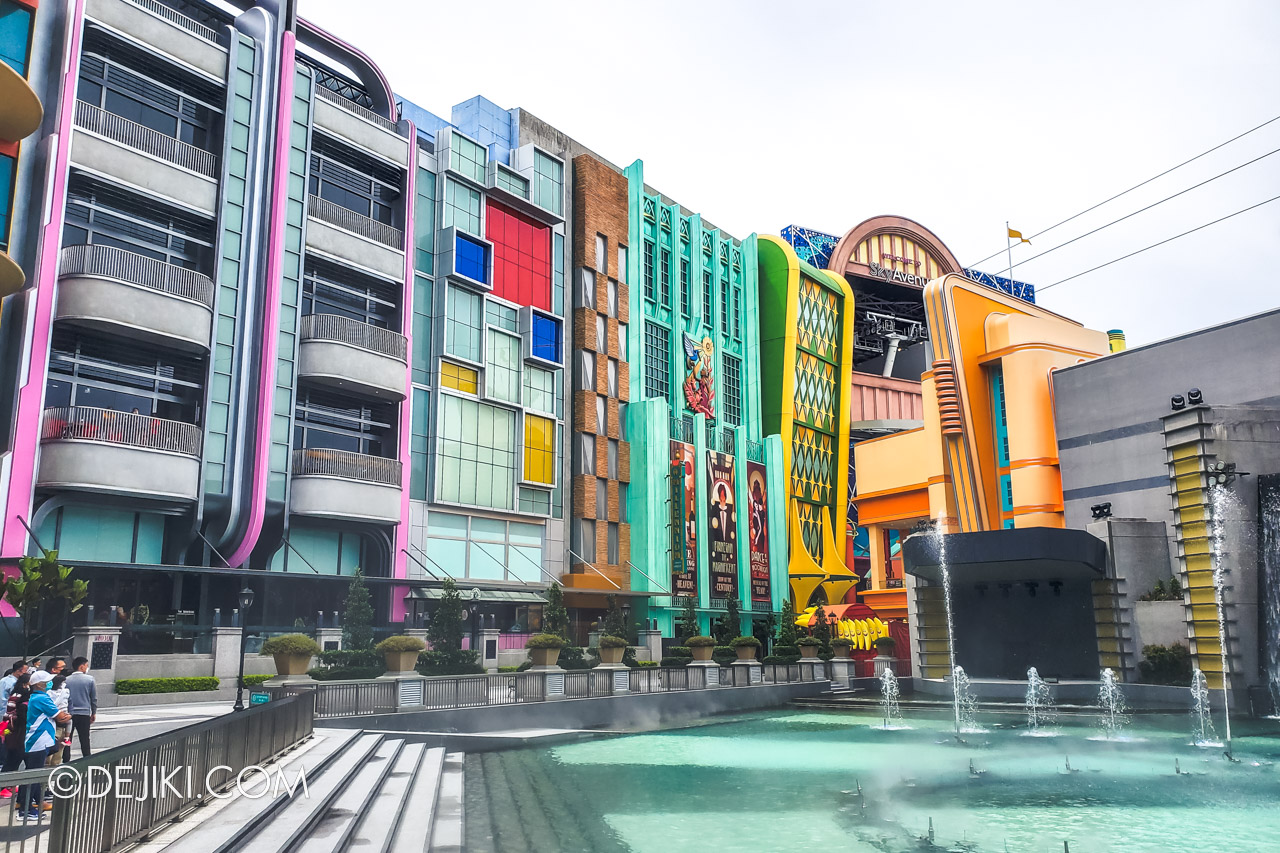 Central Park feels haphazard as the zone tries to incorporate rather disparate attractions: The ESD flat ride and Independence Day attractions sharing a similar theme, and then we have the Night At The Museum dark ride based on New York City.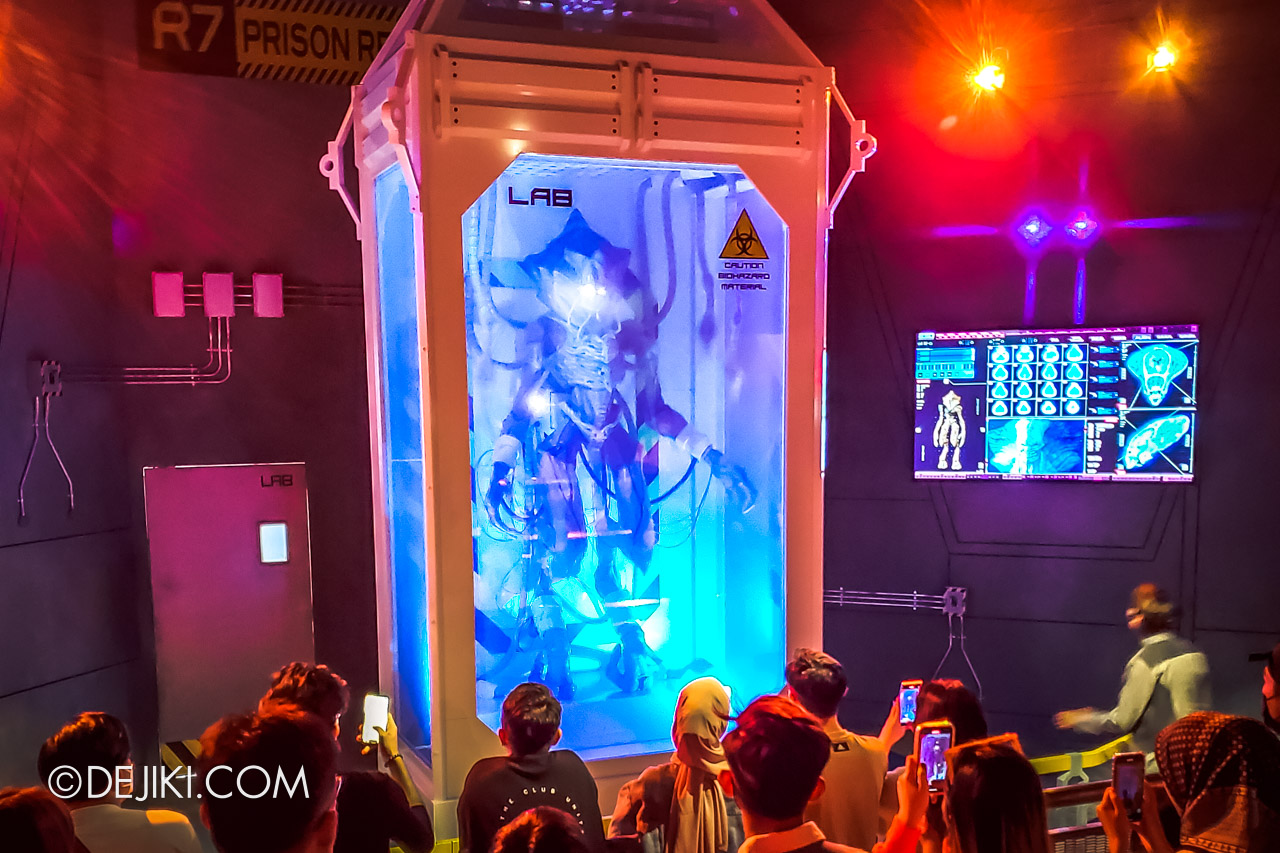 Inside Independence Day: Defiance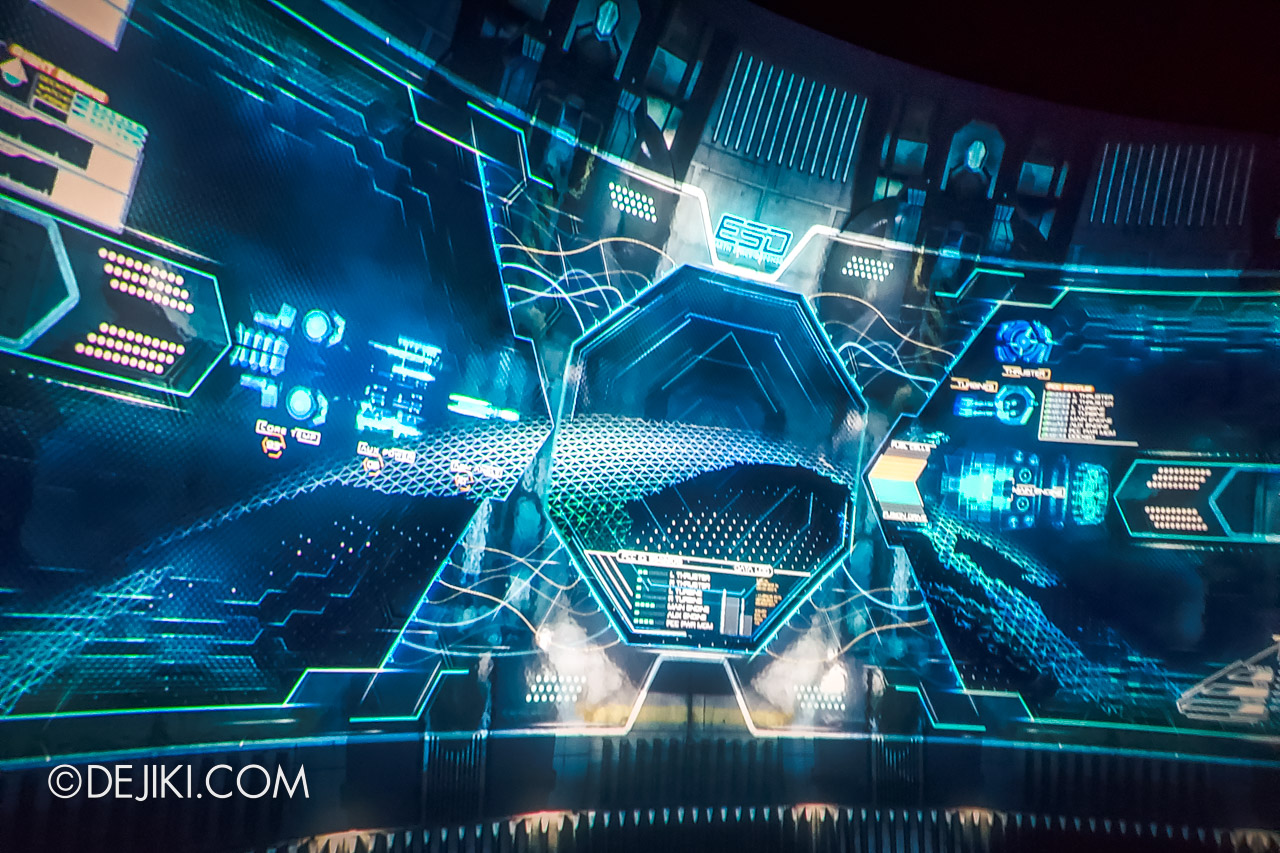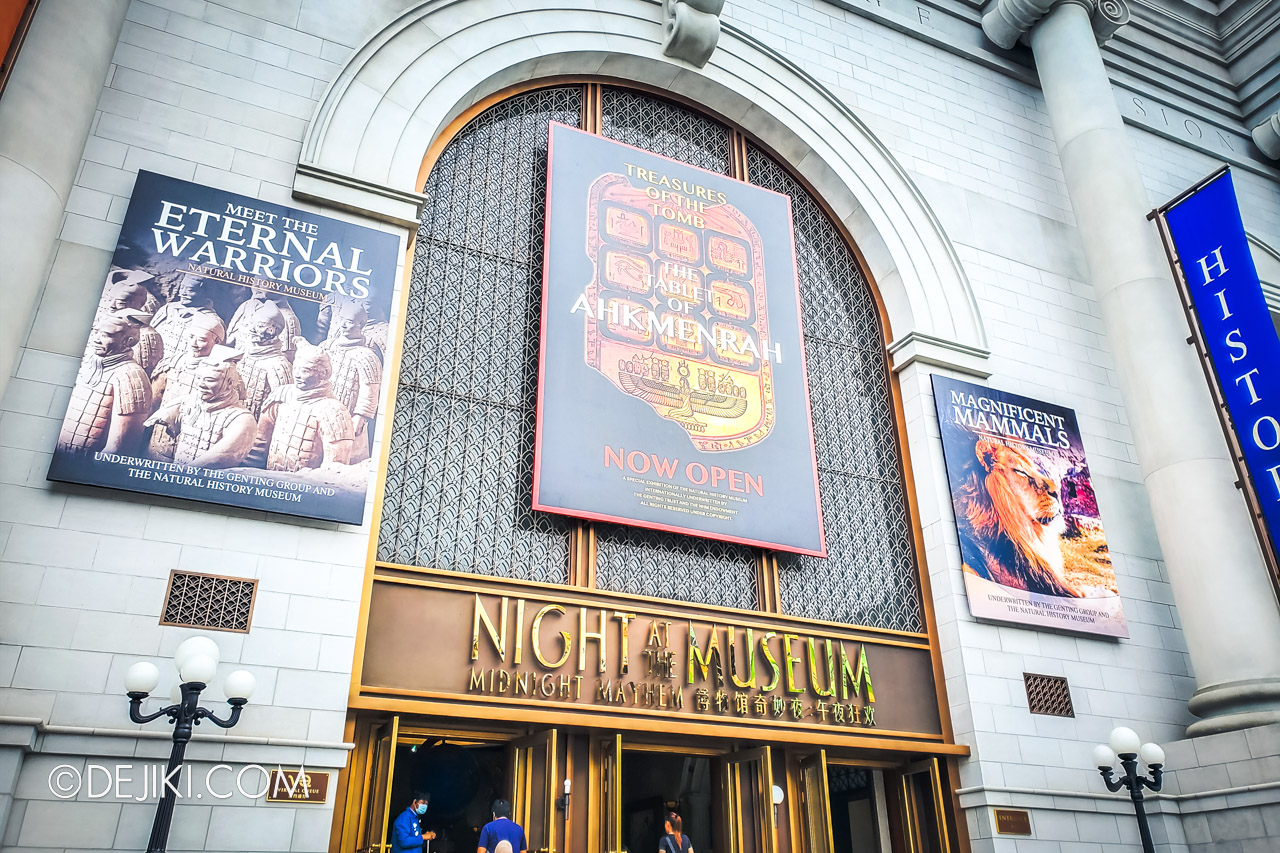 The Night At The Museum shooting dark ride was a disappointment. Though I appreciate the queue theming and the trackless aspect of it, the ride itself is very lightly themed, with only dark curtains separating the various screens for the interactive shooting segments, and blank concrete walls for transition. It was a letdown and I've been on better rides at Legoland. The 3D glasses were also a poor fit. Nonetheless, enjoy some photos from this attraction's queue and load platform: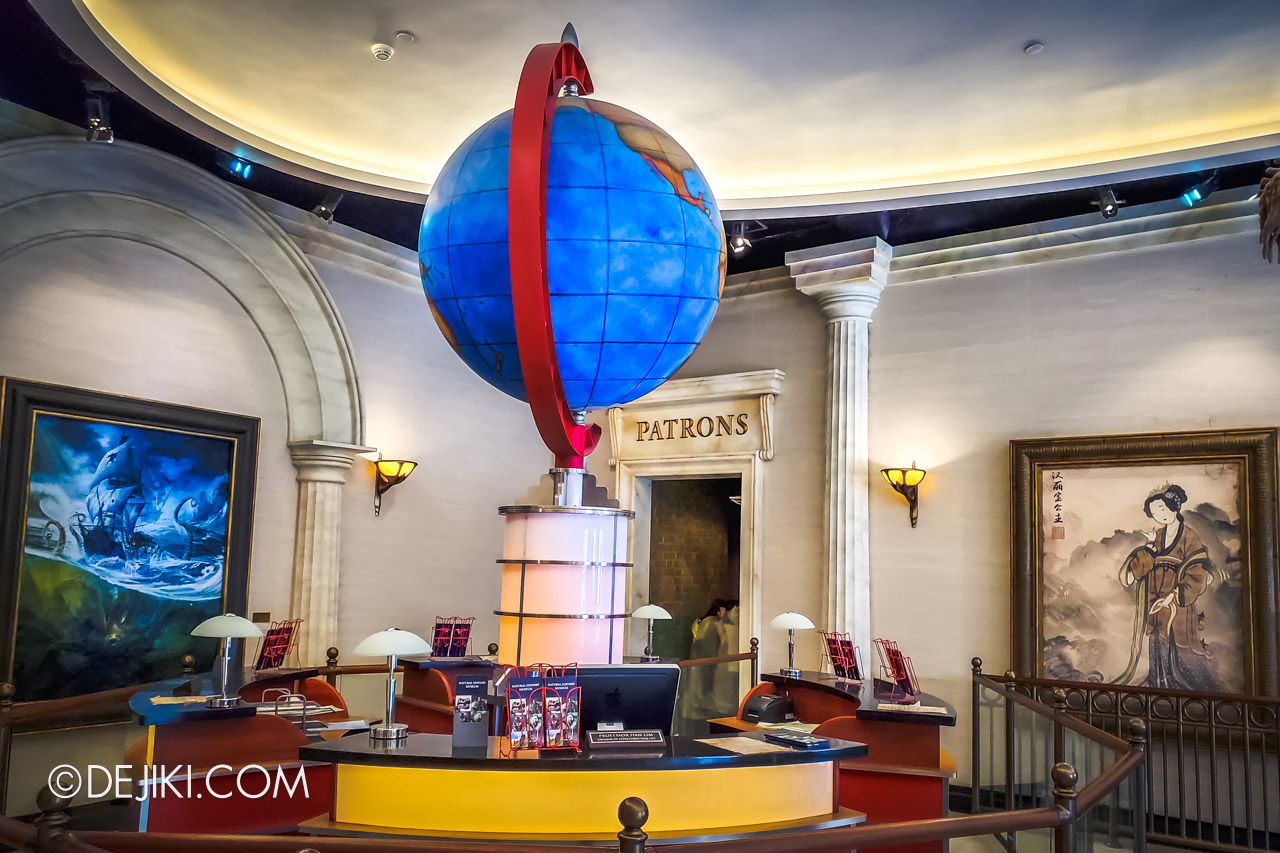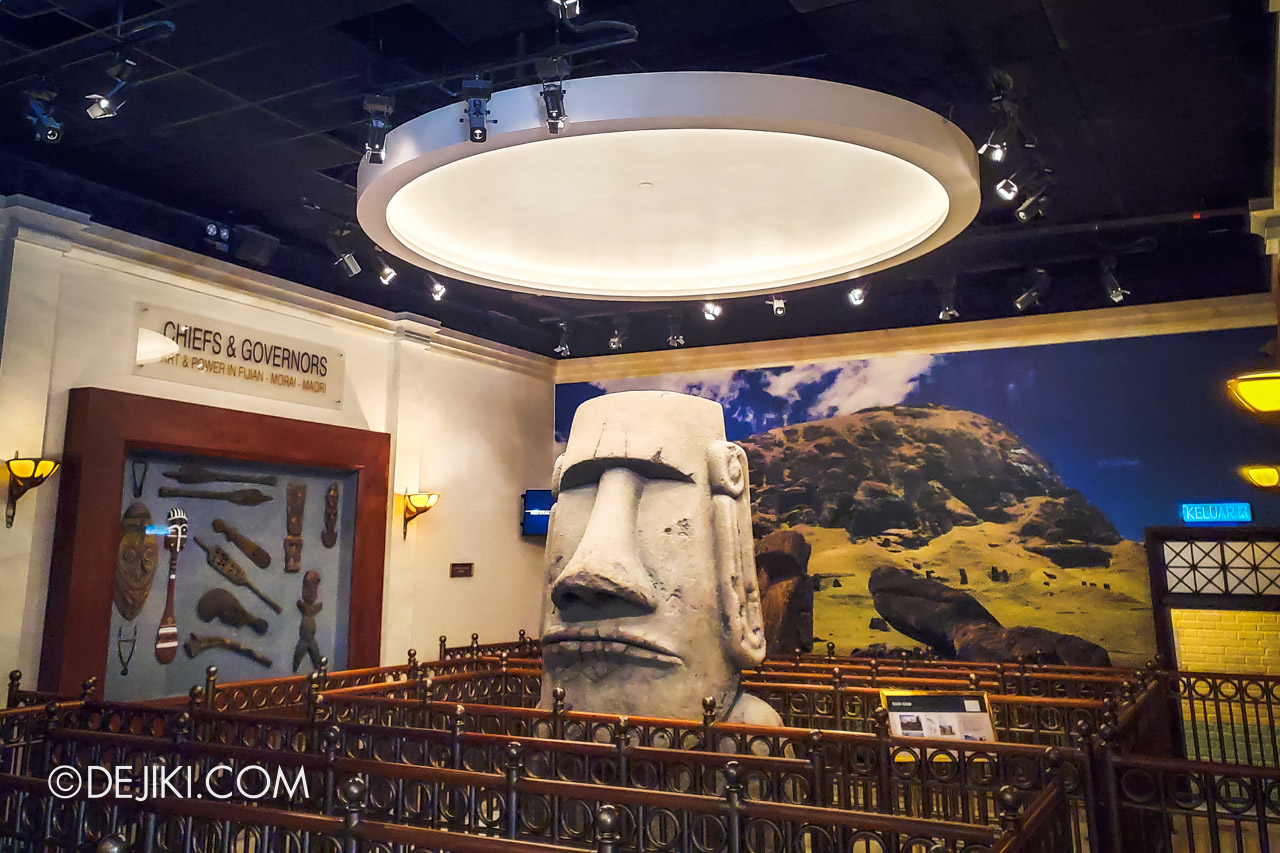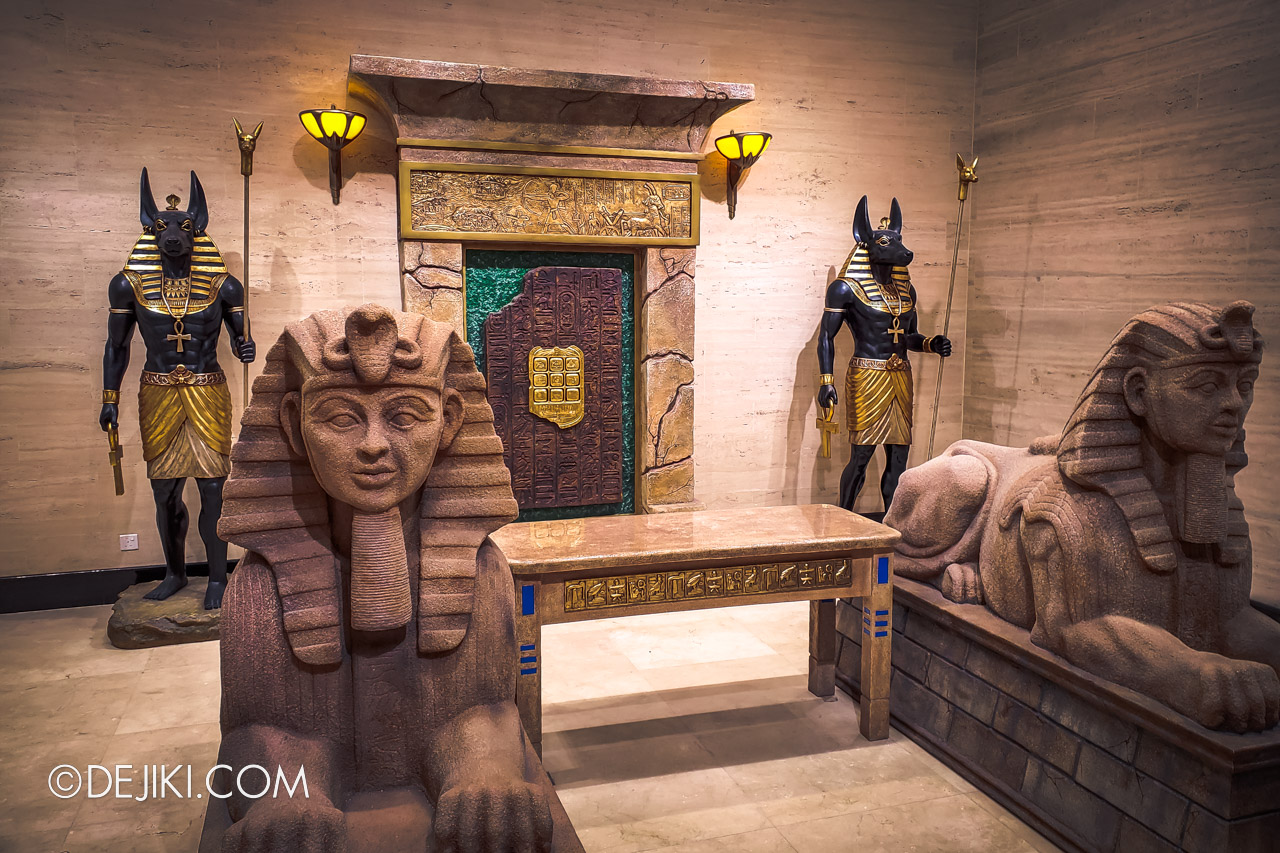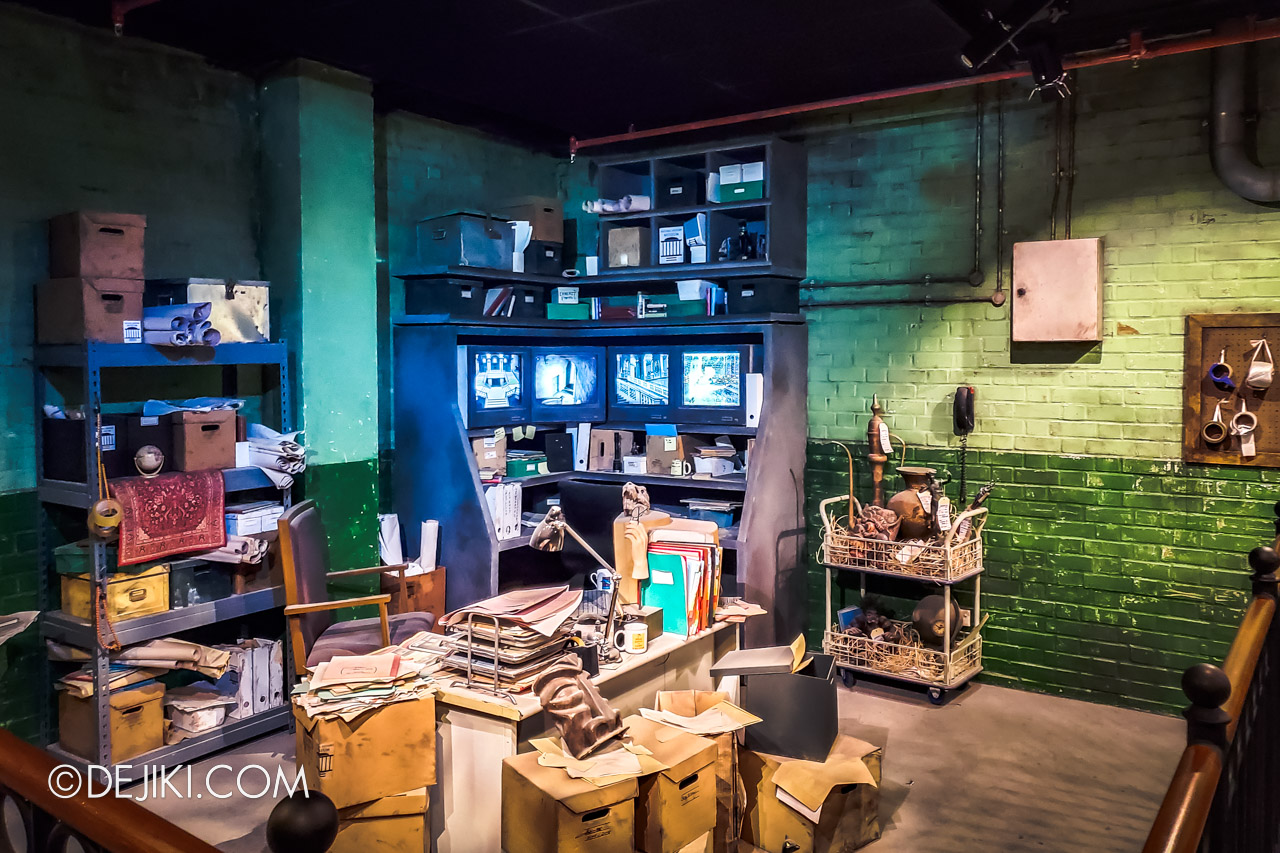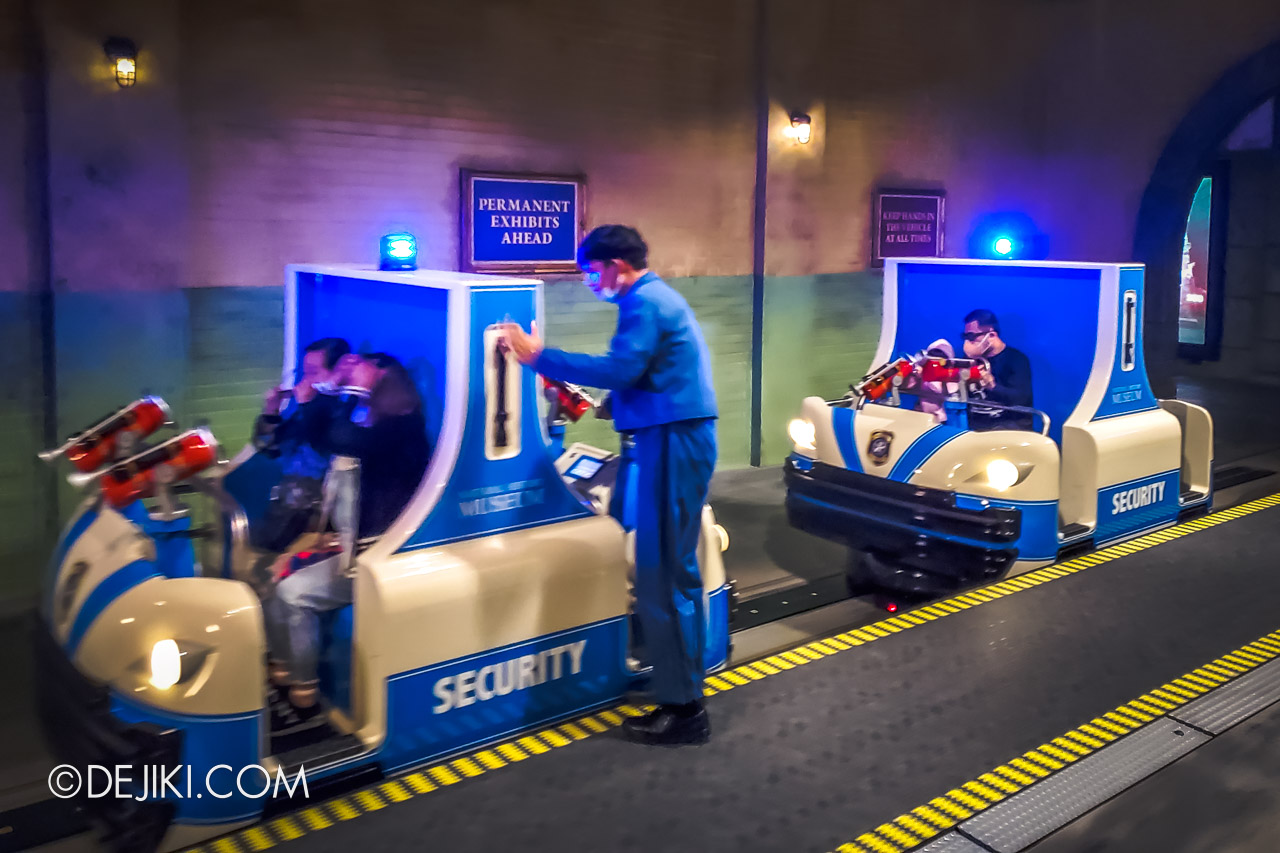 ---
Genting SkyWorlds Theme Park – Overall Impressions and Review
As an avid theme park goer who has travelled to various major international theme parks, I think the park has managed to squeeze much into the small space it has been given, with a relatively good mix of attractions. Although many of the marquee attractions are not open yet, I must say what they have on offer are comparable to Universal Parks or Busch Gardens.
I think this is a nice park that has replaced the old Genting Outdoor Theme Park, which is mainly a lake with sporadic attractions around it. SkyWorld's theming was of high quality overall and the full line-up of attractions is compelling enough for both families and thrill seekers. However, as many of the marquee attractions (2 dark rides and 2 coasters) are still not ready, going now may seem less value-for-money. However, the wet weather and low crowds may trump the otherwise incomplete attraction roster.
In terms of food, pricing is reasonable for a place like this, and quality is on par with other major theme parks. Souvenirs available in stores looks limited – I suspect the park is trying to phase out those labelled 'Fox Movie World' and bring in the unique Skyworlds merchandise. Pricing is likewise reasonable.
I think a repeat visit when all attractions are up would be a better gauge of both the quality of the theme park and its appeal in the region, pandemic notwithstanding.
---
Visiting Genting SkyWorlds Theme Park soon? What you need to know
Soft Opening Phase
As the park is still in soft opening phase (until further notice), some attractions are still in 'technical rehearsal' or just not open yet. Do keep this in mind when you make plans to visit. The soft opening phase may be extended up to months ahead.
Currently, the park is operating at a reduced capacity during this soft opening phase. With opening hours from 11AM to 6PM, a typical visitor gets only 7 hours of park touring time.
Weather can make or break your day at this park. Genting Highlands, the resort where this park is built, boasts to be 1,690m above sea level, and high above the Klang valley. As such it is prone to cloud cover, rain, and the foggy 'Silent Hill' effect. Much of the park is uncovered, with only a small area being under cover à la Universal Studios Singapore's New York area.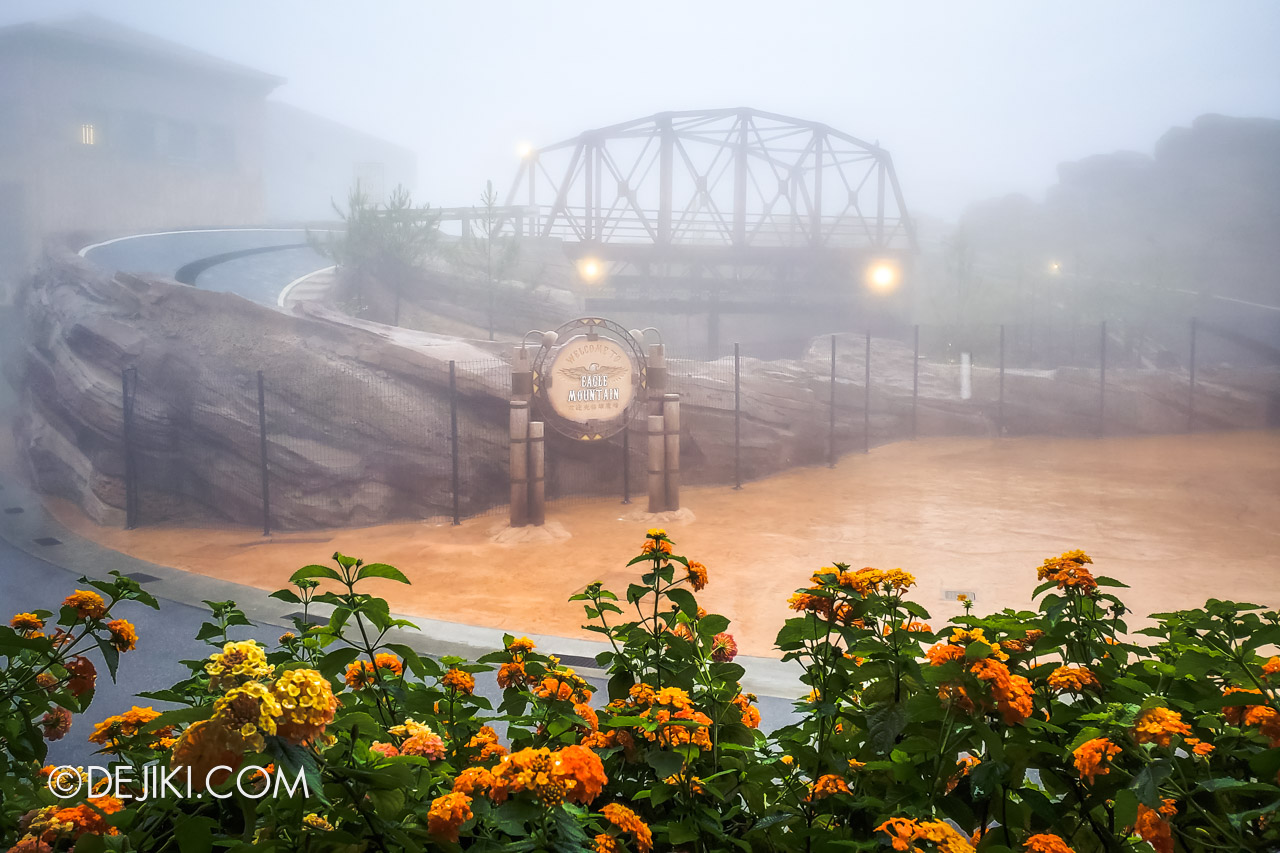 The park can get foggy at times.
Rain and Rainy Day Guarantee
Rain gear is essential to enjoy the park during inclement weather and during my visit disposable vinyl ponchos were on sale at the park for a mere RM10. Fortunately, during this soft opening phase, the park offers a rainy day guarantee whereby affected guests may be offered a free return visit within 12 months from the day the guarantee is activated (at discretion of the park). You will be notified via the Genting SkyWorlds mobile app, and you can show the original ticket invoice to the guest services counter for issuance of new tickets.
Genting SkyWorlds App
This Official App is essential to your visit, as it will be both your digital ticket and guide to the park – including park map, attraction wait times, show times, and more. It also offers other important services such as Virtual Queue booking and Photographer services. You will also receive notifications on merchandise sales and the Rainy Day Guarantee, if it is activated.
Free Wi-Fi access is provided within the park (but not outside, such as in Genting SkyAvenue), so that guests can easily access services on the App, and of course, post their memories online.
Genting SkyWorld's Queue booking system: Virtual Queue (VQ) reservations
Akin to the Disney Fastpass (now Genie+ in US parks) and Universal Express, Genting SkyWorlds offers a queue booking system accessible from its official app. Currently, each park ticket includes (up to 6) VQ reservation slots during soft opening. Use the App to scan and link your park tickets to use VQ reservations. All rides are included in the VQ system, although the service may or may not be required to get on the ride. During my visit, only Samba Flyers require a VQ reservation.
An information board in the park showing wait times and VQ availability
Park Entrances
The main entrance of the park is accessible from Genting SkyAvenue, the large shopping complex linking the Awana Skyway station (for those arriving from the Genting Premium Outlets and Kuala Lumpur) and the older sections of the resort, namely Genting Grand Hotel, Highlands Hotel and the rethemed SkyWorlds Hotel.
Due to space constraints, there is not really a lot of space in the entrance area for group photos, especially in front of the decorative fountain. In this area you can find the typical ticket counters, guest services counter, and information boards bearing park opening timings, park map and unavailable attractions.
There is an alternative entrance accessible from SkyAvenue itself right below the Skyway station although it is currently not in use.
Getting to Genting SkyWorlds at Genting Highlands
There are many ways of getting to Genting Highlands from Singapore. These include taking a direct coach (there are many companies providing this service), taking a flight (which requires many transfers) or self driving. Check out Resorts World Genting's website for more information.
---
Get your tickets to Genting SkyWorlds
Note: Pricing may vary depending on prevailing promotions. Prices are correct at time of article publication.
1-Day Pass include 6 Virtual Queue (VQ) reservations.
1-Day Pass with Photo+ Access allows you to use in-park cameras to capture moments around the park and while on attractions. Photos and videos will be saved to the album in your Genting SkyWorlds App.
*Child/ Senior Pricing:
Guests above 60 years old qualify for the 'Senior' price.
The park uses these rules to determine child ticket prices:
– Free entry for children with a height of 89cm or below
– Children aged 0-17 must be accompanied by a paying adult
– Children with a height of 110cm and above will be charged the same rate as adults