Tokyo Disneyland and Tokyo DisneySea are huge Disney theme parks, with a lot of rides, shows to enjoy and countless places to explore. A day at either park is often not enough to cover most, or even half of the attractions.
Both theme parks are crowded most days of the year, but during some holiday periods, things get really out of control. You need a game plan to maximize your time.
(Cover: Tokyo Disneyland Gateway from JR Maihama)
My Five Key Tips
Here are some general tips and tricks for anyone visiting Tokyo Disney Resort. Some of these are from popular Japanese websites, online forums, plus some from my research at the park. These are in no way absolute or even always correct – they are just some pointers from someone who loves theme parks and visits them often.
I followed these tips for my late July trip to both Tokyo Disneyland and Tokyo DisneySea. That period was considered "moderately crowded" by the Japanese: School summer vacation just started, the weather is warmer, almost all key attractions are open. Wait times for most popular rides usually stay steady around the 80-120 minute range, with some exceptions (Toy Story Mania! and Monsters, Inc. Ride and Go Seek). Other rides have shorter waits, from 15 to 60 minutes.
Things only get serious a few weeks later in August, where wait times are generally 50% longer. During this moderate to high peak season, the parks are usually open from around 8:00AM/8:30AM/9:00AM till 10:00PM. Obviously if you can travel during the off peak periods, you don't have to be very aggressive with your park strategy. However, if your visit happens to fall on a public holiday (or worse, a chain of public holidays), do be prepared for very crowded walkways, plus long lines for attractions and food.
1. Get to know the parks and plan ahead
It is risky to visit the parks unprepared. I know some people love to be surprised with bewildering sights at the park but… while you pause to immerse yourself with amazingly themed spaces, everyone else is probably out of one attraction and running to another. Do your research beforehand and know what the parks offer.
Visit the official Tokyo Disney Resort website and have a look at the park's attractions, restaurants and stores. Check which attractions will be closed during your visit. Make a list of all the places you can and must go – the rides that you have to get on, and restaurants that you wish to dine in. Obviously you will visit the other places in the park, but it is good to have a core list of "must-do" items so that you won't forget.
Take a look at the Park Schedules of Tokyo Disneyland and Tokyo DisneySea to know what time the park opens and closes. That also tells you how much time you can spend at the park.
Crowd Forecast Data
If your travel dates are flexible, you might want to look at the Tokyo Disney Resort Park Crowd Forecast Calendar (Japanese Only). This is a website that predicts the number of people that may be in the park using various factors such as vacation periods, holidays, seasonal weather etc. It is only in Japanese, but the design is quite universal – it looks like a calendar.
More about the Crowd Forecast Calendar
The Red and Blue bar at the top allow you to switch between the ディズニーランド (Tokyo Disneyland) and ディズニーシー (Tokyo DisneySea). Here's a rough translation:
Each date box at the calendar has a few details: The day (of course), weather and min/max temperature and a coloured box which shows the estimated number of people in the park, in thousands. (So a 47 means 47,0000+ people). The colour shown is a quick way for you to visualize which are the worst periods to visit – you really don't want to see red (or worse, the black squares):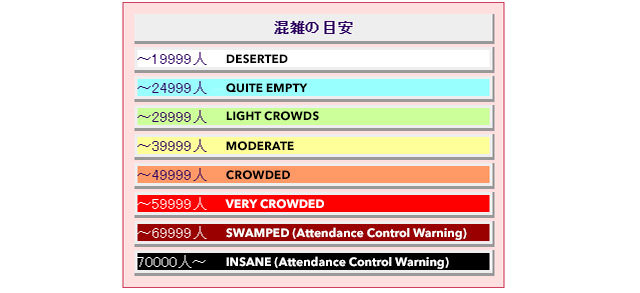 Attendance Control means that the park gates may close when the number of people admitted to the parks are close to the capacity limit. When Attendance Control is activated, the park restricts admission at the gates. Only guest with dated tickets, or tickets with the special clause (admission allowed even when attendance control in place) may enter the park.
Other Sections
There are other interesting sections at this website, including archived wait time data, strategies and even a chart showing a breakdown of attractions suitable for children. If anyone's interested in a translated chart, do let me know and I'll work on it.

---
With all of this information, you can draw up your battle plan park itinerary.
---
2. Be Ahead
This is difficult, because the most of the Japanese guests are already ahead of the game. They know the park inside out. They get guidebooks (and even bring them to the park). They know why the long wait at the park entrance is worth the effort. What you can do is to either do the complete opposite, or follow what the locals do.
Be at the park early
Be at the park early. How early? Sometime before the park opens. If you're think about 10-20 minutes, you're already late.
The Japanese park guests camp at the entrance hours before. This might sound very excessive for some people, but it is a key strategy to avoid the nasty 2-3 hour wait at some attractions: Toy Story Mania (Tokyo DisneySea) and Monsters, Inc. Ride and Go Seek. Some people even turn up early so that they could wait in the covered sections of the entrance.

The outer ring of the entrance plaza, where the ticketing counters are. The closer you are to the covered area, the better your chances of being the first thousands to be in. No one is queuing to buy tickets here, by the way. They are all lined up for the turnstiles.

The inner ring of the entrance – this is where your tickets get scanned.

You have to figure out the "sweetspot" time to arrive at the gates – not too late that it brings no benefits, but not too early that you get bored and tired of waiting. I just decide to be at the gates at least an hour before. The closer you are to the covered parts of the entrance, the higher your chances of scoring the elusive Fastpasses for the parks' most popular attractions: Toy Story Mania! and Monsters, Inc. Ride and Go Seek!
The reality of being there early: You are investing time, hoping for better utilized time later in the day. I know this sounds incredulous for some people ("I'm here on vacation, not queuing for an smartphone!"), but then again, the time you have in the park is limited (and you are spending quite a bit to get in…). It's all up to you.
Buying tickets in advance
There isn't really a need to get tickets before arriving at the park, because queues for ticketing counters are really short (or nonexistent). Most guests have already bought tickets beforehand and are in the long lines for the turnstiles. If it's your first day at the park and you're early (and with someone), what you can do is to split up – someone gets the tickets, someone waits in line.
Know where it gets crowded
Some areas of the park will get crowded at certain times of the day, such as the following list – click to expand it. The local park guests are generally very, very patient. Everyone queues up at queues for rides and food in neat lines, with no pushing and no exasperation.
Crowded periods at the park (Click to expand)
Restaurants (Lunch peak hours between 11AM~1PM)
– For table service restaurants, you can make a Priority Seating reservation, which allows you to return at a later time with minimal wait. You often have to make the reservation 2-3 hours before. So remember to do so in the morning for lunch, or early afternoon for dinner. Priority Seating is not a standard reservation. You may still have to wait, but in most situations you are next in line.
Restaurants with Priority Seating
Tokyo Disneyland
Eastside Cafe (World Bazaar)
Restaurant Hokusai (World Bazaar)
Blue Bayou Restaurant (Adventureland)
Tokyo DisneySea
Ristorante di Canaletto (Mediterranean Harbor)
Magellan's (Mediterranean Harbor)
S.S. Columbia Dining Room (American Waterfront)
Restaurant Sakura (American Waterfront)
Sailing Day Buffet (American Waterfront)
---
– Some fast food restaurants will have meals packaged in take-out boxes.
– Last resort: Buy snacks and popcorn around the park.
---
Parade Route (Tokyo Disneyland)
Guests will start to settle down and sit along the parade route. Before and during a parade, the route is sealed off to guests. Do note that the crowds will stay there for quite a while (and when crowds start to disperse, it's very messy). During a parade, rides along the route (especially The Haunted Mansion) will have shorter wait times.
---
American Waterfront and Toyville Trolley Park (Tokyo DisneySea)
This entire area gets very crowded in the morning, as everyone is trying to claim the elusive Toy Story Mania Fastpasses. When the crowds here get out of control, the path to American Waterfront is sealed off and guests are directed back to Mediterranean Harbor.
---
Park Shops, especially the "Main stores"
The main park souvenir stores, located at World Bazaar (Tokyo Disneyland) and Mediterranean Harbor (Tokyo DisneySea), become progressively crowded from the late afternoon. If you're thinking of picking up gifts at the end of the day, that's going to be a hell of an experience. It might seem like some crazy 70% off sale is happening, but it's just the stores doing regular business.

---
3. Fastpass
Fastpass – Your ticket to reducing hours of standing in line. Every Disney park guest needs to know how the system works, and use it well to maximize the limited time at the theme park.
180 minutes wait for Toy Story Mania, 22 minutes after the park gates opens.
What is Fastpass
Fastpass is a queue system that allows guests to cut waiting time at participating attractions. They do this by designating guests a period of time to return to the attraction and allowing guests to use a dedicated line during that time period. While waiting for your Fastpass Return time, you can wait for another attraction or do something else.
Fastpass is free for all guests to use, unlike Universal Express at Universal Studios Theme Parks.
To get and use a Fastpass
Fastpass Distribution for Monsters, Inc. Ride and Go Seek!
1. Find the Fastpass ticketing machines at an attraction of your choice. Look at the current standby wait time and Fastpass Return time. If the Fastpass Return time fits your plan, then…
2. Insert your park ticket into slot at the machine to scan your ticket.
3. Collect the Fastpass, freshly printed from the machine. Note the Fastpass Return Time printed on the ticket. Also, look at the bottom of the ticket for the Next Fastpass Available time.
4. Return to the attraction at the designated return time.
---
The R&R of Fastpass (Click to expand)
Rules of Fastpass
–
You need your Park ticket to get a Fastpass. NEVER LOSE your park ticket!
– You can only use a Park ticket that has been scanned for admission to get a Fastpass. The system will reject any other used/unused/expired/invalid tickets.
– One Fastpass ticket is good for one guest. No sharing. Everyone needs their own Fastpass.
– You cannot choose your Fastpass Return Time. You can however, choose to only scan your tickets when you decide that the Fastpass return time is favourable.
– Fastpass is only valid at the attraction it is printed for. So no, you can't use a Space Mountain Fastpass at Splash Mountain.
– Fastpass is not available all day and night. Once all available Fastpasses are distributed (also known as "Sold out"), the machines will be closed and sealed away. This also means that not all attractions will end Fastpass distribution at the same time.
– Fastpass may not be available for an attraction all days of the year.
– Fastpass does not guarantee admission to an attraction.
– You can get a second Fastpass after two hours or when the designated period for the earlier ticket has started, whichever is earlier.
– You can only have one valid Fastpass per attraction at any time. This means you cannot get a second Fastpass for the same attraction until after the designated return period for the first ticket is over.

---
How Fastpass works
More on how Fastpass works (Click to expand)
Every attraction in the park has a certain hourly operating capacity – based on the number of ride vehicles and seating available, duration of each experience, etc. Fastpass reserves some of the operating capacity for guests who use the system.
Let's say a ride like Toy Story Mania can accommodate 1000 guests per hour. Every hour, 700 of this capacity is reserved for Fastpass guests, while the remaining 300 will go to the Standby line (the normal queue).
You go to the Toy Story Mania Fastpass machine and collect a Fastpass Ticket. The time now is 9AM, but the ticket says to return at 2PM. That means you have been allocated a reservation – 1 out of 700 – for the 2PM-3PM timeslot.
Every hour, about 700 guests with the Fastpass tickets revisit Toy Story Mania and enter the Fastpass line. They then get onto the ride in mere minutes. This is because the Fastpass lane is configured for a capacity of 700 guests (with Fastpass tickets) per hour, and the only expect that number of guests every hour.
The folks who just walked into the Standby Line had to wait up to 3 hours – because they are in the line that could only accommodate 300 guests per hour, and there's about 900+ people waiting in line now.
This is a very simplistic explanation. The system is more complicated than that. It takes account of other factors, including having a target Standby wait time and allocating Fastpass distribution intervals to match the target. The flow control rate for both Standby and Fastpass lines also do not stay the same for the entire day.

---
110 Minutes for Splash?!!
ALWAYS plan for the next Fastpass
Don't start celebrating once you get a Fastpass. You should plan for another Fastpass before you qualify to get them.
Your next Fastpass for another attraction is available the moment the return window of your last Fastpass is open, or two hours after the last Fastpass was issued – whichever is earlier.
If you qualify for another Fastpass but can't make a decision – Pick the attraction that has a later Fastpass Return timing. Why? That means that the Fastpass distribution for that ride will end earlier as it has lesser Fastpasses to give out than another attraction.
However, if you want to get a Fastpass for the same attraction, a special rule applies. You have to wait for the return window of that Fastpass to end. This prevents you from having two Fastpasses for the same attraction at the same time.
Example
At 9:00AM, you collected a Fastpass for Tower of Terror with return time at 2:30PM~3:30PM.
You can collect a Fastpass for another ride, say Raging Spirits, at 11:00AM.
If you want another Tower of Terror Fastpass, you have to wait until after 3:30PM.
What you can do, in this scenario, is to get Fastpasses for other rides. For example, if you did collect the Raging Spirits Fastpass at 11AM, you can collect a Fastpass for Journey to the Center of the Earth at 1PM. The next Fastpass will be available at 3PM, but since the Tower of Terror Return time has not ended, you will have to wait another 30 minutes before the machine is able to print valid Fastpasses.
In this scenario, what I would do is to enter Tower of Terror with my Fastpass at 3:15PM, then upon leaving the ride, immediately head to the Tower of Terror Fastpass machines.
---
Still can't decide which Fastpass to get??
You should only get a Fastpass for an attraction if it is "worth it", not because the machines are closest to you, the ticket illustration is cute, etc. Always remember that after taking a Fastpass, you will need to wait a while until the next one is available.
How is an attraction worth taking a Fastpass? One way is to look at the current Standby Wait Time and use that as a gauge. While Fastpasses will reduce wait time in almost all situations, a ride that has a much longer Standby line (150+ minutes) will make its Fastpass far more valuable that others (40-60 minutes).
It doesn't mean that you can't take a ride without a Fastpass. If the Standby wait time for a popular attraction (Space Mountain, Splash Mountain, Big Thunder Mountain, Journey to the Center of the Earth, Tower of Terror, Indiana Jones Adventure, etc) is 60-80 minutes, it's considered moderate and you may want to just wait in line. Of course, make sure that you also have Fastpasses with return window so that you can visit the other attractions after this one.
A tale of three Fastpasses taken in a single day
Monsters, Inc: Ride and Go Seek: the one that's crazy to get.
Pooh's Hunny Hunt: The one that used to be hard to get.
Star Tours: The Adventures Continue: the one that is surprisingly not difficult to get.
---
4. Language
English signage is all around
Tokyo Disneyland and Tokyo DisneySea are theme parks designed to look foreign for its Japanese audience. The parks have subtle and explicit design elements to emphasize the parks as cultural products from America.
When you walk around the park, you will realise that almost all directional signs, information boards and menus in the park are in English. The same goes for the decorative signage in the parks – almost all in English, with Japanese appended like subtitles. So both Tokyo Disney parks will not seem completely alien for most of us.
So are the rides in English?
The use of English as an design aesthetic stops when it comes to dialogue. Most of the parks' show and ride dialogue are in Japanese. These attractions are localized with Japanese dialogue: Some with basic voice dubbing over the original US "versions" of the attraction, others being completely redone.
Some notable exceptions where dialogue is still in English include:
Haunted Mansion: Leota's Seance and Graveyard Finale
Pirates of the Caribbean: Every scene after the waterfall
Splash Mountain: Some songs (or parts of songs) are in English
Surprisingly, the resort's 30th Anniversary theme song, Happiness is Here, is completely in English.
---
English captions are available
At these attractions, you can ask for a Subtitle Display Device from a cast member:
Tokyo Disneyland
The Enchanted Tiki Room: Stitch Presents "Aloha E Komo Mai!"
Tokyo DisneySea
Magic Lamp Theater
Mermaid Lagoon Theater
Captions are also available in Chinese (Traditional and Simplified).
The actual subtitle device is a small gadget that looks like an iPhone in a themed drop-proof case. It will display subtitles during the attraction's pre-show and main show.
---
What Cast Members say at rides
Cast members at both Disney parks have standard scripts to follow. Don't worry about the language barrier if you don't speak Japanese.
Cast Member at the Haunted Mansion, at the Standby/Fastpass Merging Point
At the entrance of an attraction
Apart from greeting and attracting people to enter an attraction, they will usually tell the current wait time for the attraction.
Fastpass attractions only: Cast members will ask you to show your Fastpasses and check that they are valid.
Standby/Fastpass Merging Point
For all Fastpass-enabled attractions, there will be a point in the queue where both Standby and Fastpass lines merge and proceed to ride loading or a pre-show as one line, or group.
Standby Line only: Cast members will ask you about the number of people in your group (Nanmei sama desuka? 何名様ですか?). Depending on the flow of people on Fastpass, they will either ask you to stop or invite you to the next area. Just watch their hand signals.
Fastpass Line only: Same as Standby, except cast members will also ask you to surrender your Fastpasses. Hand them over.
Ride Loading Area
At the ride loading area, cast members will ask you again about the number of people in your group (Nanmei sama desuka? 何名様ですか?). They will then direct you to a row on the loading platform.
Pay attention to the hands of the cast member, because apart from telling you which number to go to (in Japanese), they will use their hands to show the number as well. It is simple and clear except perhaps for rides with very long loading platforms (Big Thunder Mountain – up to 15 rows). If all else fails (and you look confused and lost), they will graciously walk you to the row.
---
English Park Maps and Time Guides
Park maps in English are not available everywhere in the park. Be sure to grab them when purchasing tickets (though sometimes they might not be available), from your hotel or at the Disney Parks' Guest Relations office. For Tokyo DisneySea, you can grab maps from the street level of the monorail station – there's a small guest relations office on the way out.
What you won't be able to get however, is the detailed park event leaflet, which not only describes seasonal programmes, but also unique limited edition merchandise. This is only available in Japanese.
---
5. Pace your day
Remember to eat, drink and recharge
It's easy to forget about staying hydrated when you're having a lot of fun. Or sometimes you are stuck in the 60~120+ minute queue for a ride. One thing to remember: Eating and drinking while in the line is perfectly acceptable. So if you're hungry or thirsty, don't forget to grab a quick bite and drink before stepping into an attraction's line that comes with a long wait.
When you're not rushing to another attraction, take a break. These are beautiful parks and it's lovely to just walk about and enjoy the surroundings.
Space out the shopping
It's very easy to miss out on the cute park merchandise. Not everything is available at every store. Bags can be brought up to every ride, even high-speed thrillers like Big Thunder Mountain, Splash Mountain, Space Mountain, Tower of Terror, Indiana Jones Adventure AND Raging Spirits.
So don't worry about buying stuff during the day. Just leave the bigger items (and fragile ones) for the end of the day.
Unfortunately, there's no "Pick-up at Park Exit" service at the parks. Disney Hotel guests can enjoy room delivery service though. If you're not staying at a Disney Hotel, you can rent lockers at the park entrance to keep your shopping, but you have to walk there and do it yourself.
---
Other Tips and Tricks
Notable facts at the Tokyo Disney Parks
The less obvious rules and other notable things (Click to expand)
Here are some of my observations during this trip to Tokyo Disney theme parks. As a frequent visitor to Universal Studios Singapore, I am accustomed to the rules of that park. However, Disney Parks do things differently, and Tokyo Disney Parks also have their own rules. These may vary and may change any time.
Fastpass Return Time is not strongly enforced (yet) at both Tokyo Disneyland and Tokyo DisneySea. I was able to enter the Fastpass queue as early as 20 minutes before the return period printed on my ticket, or as late as 15 minutes after expiry. I think most cast members only check that guests have valid and correct Fastpasses that were printed on the same day.
I have read that the cast members in Japan are much stricter, which is why I am surprised that our Fastpass tickets were happily accepted despite being "against the rules". It could be luck, or it also could be that they saw me running like crazy to the Fastpass entrance and us not speaking a word of Japanese. I suppose that: if the rides go down due to technical difficulties, cast members will be very flexible with return times, especially if the ride was down during the return period.
You can bring almost anything onto the rides, including shopping bags and popcorn buckets. Even onto Indiana Jones Adventure, Raging Spirits and Tower of Terror! In fact you have to carry your bags along onto the ride. Some of the rides have big seat pockets that you can use to stow your belongings inside (Indiana Jones Adventure and Journey to the Center of the Earth). There are even bag hooks on the Indiana Jones Adventure ride vehicles for shopping bags.
You may eat and drink in the attraction queue area. This is very different from USS, where guests are told to throw away their food and drinks (except bottles) before they can be allowed in.
Sneaking into Fastpass line without a valid Fastpass will result in being shown to the nearest exit. No explanation will be accepted.
Standby line for some attractions may close early if the wait time is too long during the parks' last hours of operations. An example: 120+ minutes wait for Toy Story Mania at 8:00PM, 2 hours before the park closes. The Standby Line will close and only guests with Fastpasses with valid return periods will be allowed into the queue.
Video recording and photography is allowed at most public areas as long as its safe to do so (slow rides) and if it does not affect the experience of other guest (including being a hindrance). The same thing applies for smartphones.
Tripods, monopods and similar camera equipment are not allowed anywhere at the park. The tiny ones are still acceptable. If you need someone to take a photo for you, the cast members are always willing to help.
During live performances (including parades), you may not hold your camera any higher than your head. You will also be asked to take off any character headbands or hats if it blocks the view of other guests behind you.
Popcorn costs ¥300 for a small cardboard box. Souvenir buckets are available – prices range from ¥1500+ for a basic bucket to ¥3000+ for a fanciful design with a matching strap. If you buy the parks' souvenir buckets, a refill will cost ¥500. If you love popcorn, each park has several stands, some with unique flavours (Curry? Coffee? Sea Salt? Soy?? Milk Tea??)
Checking out your purchases at Disney Park stores can be quite an experience. The cast members will carefully lay everything out on the table nicely (to make sure you bought the right items and perhaps for you to admire). When you hand money over, they have a cool way of counting the notes. Coins go straight into the machine (auto count, auto dispense change too). Cast members will also carefully wrap your goodies, placing items one at a time into shopping bags. They don't just sweep them off the table and lump them all into bags. Also, if cast members appear to be asking you a question at checkout, most of the time they are asking if you need extra gift bags.
Have a Nintendo 3DS? Bring it to the parks! It's Streetpass Heaven! There are just too many Nintendo 3DS consoles in the park. The kids have them, the adults have them (in their bags, mostly). As I was waiting for the parks to open, I had endless streams of "visits" at my Streetpass Plaza. I completed a lot of Puzzles and Find Mii quests in half an hour. Too bad the game only allows us to clear 10 Mii visits at a time.
---
Mobile Internet
If you have mobile internet access, you have an advantage. You can get the attraction statues and wait times while on the go. This saves a lot of time because the wait times for the entire park can only be found at two boards in Tokyo DisneySea (and only one board at World Bazaar at Tokyo Disneyland). With this information, you can make better decisions on where to hit next.
Update: As the Smartphone App and Deep Disney website are no longer available, I would recommend using TDRExplorer's excellent TDRNow WebApp to check wait times and other information.
Android smartphone users can get this excellent free App called Tokyo Disney Time, which shows real-time status and wait time for attractions. On top of that, it also shows the real-time Fastpass Return Times that is being distributed (this is not shown on the Information Boards at the parks), which is excellent in deciding on which Fastpass to get. Every time you open the App, it will also display important updates as pop-ups, such as temporary closure at attractions.
Deep Disney's Wait Time Information
Oh My Toyville Trolley Park! 340 minutes! That's a 5 hours 40 minutes wait for Toy Story Mania!

All smartphone users can refer to Deep Disney's Wait Time page, which shows also the same information in 15 minute increments. While the data is not in real-time, you can use this page to get a rough gauge on wait time trends, as well as the interval of Fastpass distribution/depletion.
---
Running
Basically, run. Run like the Doctor.
Obviously running will save a lot more time, but please run:
– Only if you are able to. That means having stamina, no existing pains/sprains/injuries, and the right footwear.
– Carefully. Don't run into things, other people and especially small children.
– Only if you need to. Don't waste energy, and don't run and cut other people in line.
Running is essential for The Great Toy Story Mania Morning Madness. Everyone will race you for it. In fact, some people don't even run. They sprint. Read on.
Early Morning Fastpass Dash: Where to run
Tokyo DisneySea: Toy Story Mania! Morning Madness!
This is my route for Toy Story Mania. I started off at the left-most (from ground level) gate at the South Wing. That line will have two turnstiles at the end, so it actually moves faster.
For this race, you will be running along the main path towards American Waterfront from Mediterranean Harbor, circling around the southern end of Porto Paradiso and the entire Venetian wing of Hotel Miracosta. Basically, just keep left and stick to the main pathway after entering the park. About 90% of park guests will be heading that direction. (Of course, you can go to other areas of the park, but the benefits will be shortlived and not as advantageous as getting a Toy Story Mania Fastpass).
Things can get a bit crazy because there are two bottlenecks along the way: The grand archway at Mediterranean Harbor, and the bridge that connects to American Waterfront. Be careful around these areas, because for some reason, some parents leave their kids to roam around unattended here (Are they insane??!)
This mad rush is always so bad that cast members need to be stationed along the "route", requesting guests not to run for the safety of everyone. The truth is, the runners would just ignore and run past them. Towards American Waterfront, ropes are also put in place to funnel runners into an cordoned holding area. Over here they do crowd control and only allow batches of people to move into the Fastpass Distribution queue inside Toyville Trolley Park. It can get quite tense – so don't expect people to be courteous here. This line for Fastpass takes up most of the switchbacks that are used for Standby line. After going that, the queue automatically breaks into shorter lines in front of the Fastpass machines.
This isn't even the queue for the ride…
Apart from the adrenaline rush, it's almost like a competition. The prize? Fastpasses. The thousand-odd guests staying at Hotel Miracosta, who can all enter the park early via an exclusive entrance, already have a huge lead. They are the first patrons of the day for the ride, and of course, have first dibs for Fastpass. That is why, even if you are first in the race, you might find that the Fastpass Return time is already in the afternoon and the Standby line is more than an hour. These hotel guests would grab Fastpasses and head straight into the Standby line.
If you'd like to enter the Standby Line for Toy Story Mania during the morning rush period, the line starts from the area outside the entrance to Tower of Terror.
If you're not in the Fastpass Distribution queue that is inside Toyville Trolley Park within 30-40 minutes after Tokyo DisneySea opens, you have a high-risk of not being able to get a Fastpass. Fastpass distribution for this ride usually ends within an hour after the park opens.
---
Tokyo Disneyland: Monsters, Inc. Ride and Go Seek! Run
Compared to the Toy Story Mania race, this is a lot more relaxed. Guests still run, but the Fastpass queue (or mob) is not as long as its cousin at DisneySea. The route is also shorter.
The moment you step out of World Bazaar and enter Tomorrowland, look for the cast member (in a blue uniform) holding a sign that states where the line starts. Don't just rush in, you might end up outside the actual queue area and won't be able to get to the machines.
There are no cast members in the holding area to control guests, so everyone will automatically break into separate lines here.
---
Be Fit
Be in good health and keep fit. These parks are huge and it can get quite exhausting if you want to maximize your day. I'm not saying that you should train as if you're running for a marathon (though that would be great), but be ready for long hours of walking and standing.
And of course, getting comfortable and well-padded footwear is essential.
Park exclusive merchandise
Some of the things sold in the parks are strictly exclusive and are not sold elsewhere. An example would be Duffy and Shellie May bears. Both product collections – the bears, in various sizes and styles and every other sort of accessories and related items – are exclusively sold at a few stores in Tokyo DisneySea only. You cannot find them at Tokyo Disneyland or the Bon Voyage store. If your budget is tight and you're looking for something cute and unique to the parks, head to Tokyo DisneySea for them (Aunt Peg's Village Store, McDuck's Department Store and Galleria Disney) and hunt down these cute toys.
Shellie May is the most special because she can only be found at Tokyo DisneySea. Duffy can be found at other Disney parks worldwide. However, Tokyo DisneySea offers unique costumes and accessories (such as a Duffy carrier bag and Duffy popcorn bucket) which cannot be found anywhere else in the world.
Also exclusive to the Tokyo Disney Resort theme parks: An incredible collection of confections, all in fancy and attractive packaging. Due to the local custom of buying gifts back, you will see a lot of cookies, crackers, chocolates and sweets – all in nice tin boxes.
---
More Tips and Tricks, from you.
So that's 5500+ words of tips and tricks for you. I'm still no expert on Tokyo Disney Resort's theme parks – so don't take these tips as the "right" way to spend a day at the parks. Everyone has their own needs and preferences, so what may worked for me may not be the best thing for someone else.
But if you have a great tip to share, feel free to post a comment? Feel free to share! I'll compile from the comments section and post submitted tips and tricks here.
An Introduction
|
Getting There and Around
|
Pocket Wi-Fi
|
Tips and Tricks
---
Tokyo DisneySea
Mediterranean Harbor
|
Mediterranean Harbor at night
|
Fortress Explorations
Magellan's
|
American Waterfront
|
Tower of Terror
|
Toy Story Mania!
Port Discovery
|
Indiana Jones Adventure: Temple of the Crystal Skull
Lost River Delta & Raging Spirits
|
Sindbad's Storybook Voyage
Arabian Coast
|
Arabian Coast at night
|
Mermaid Lagoon
Mysterious Island
|
Journey to the Center of the Earth
Mysterious Island at night & 20,000 Leagues Under the Sea
Tokyo Disneyland
World Bazaar
|
World Bazaar at night
|
Adventureland
|
Pirates of the Caribbean
Westernland & Big Thunder Mountain Railroad
|
Splash Mountain
Haunted Mansion
|
Pooh's Hunny Hunt
|
Fantasyland
|
Fantasyland at night
Cinderella's Fairy Tale Hall
|
Toon Town
|
Roger Rabbit's Car Toon Spin
Monsters, Inc. Ride & Go Seek
|
Star Tours: The Adventures Continue
Tomorrowland & Space Mountain
|
Happiness is Here Parade
---
Subscribe to Dejiki.com or Like my Facebook page for notifications of updates.
---