Mystic Point is the latest themed area to open at Hong Kong Disneyland, completing the park's major expansion project. This theme area heavily involves Lord Henry Mystic, an eccentric art collector who has explored the world and amassed a stunning collection of artifacts from around the world. He invites park guests into Mystic Manor, his home, and his private museum.
This is probably my favourite themed area in Hong Kong Disneyland because of Mystic Manor – a top-rate indoor dark ride that deserves more than just a mention. This attraction will be fully covered in upcoming features.
For now, let's have a quick run around Mystic Point and briefly explore the area.
I say a quick run, because during this trip I wasn't able to take my time in the park. Much of my time in Mystic Point was spent inside Mystic Manor, so the photos I have of the outside are quite sparse and taken at random times of the day. So this is a chop-chop photo tour.
One morning, we ran right into Mystic Point after getting into the park. Surprisingly, Mystic Point was empty (so was Toy Story Land, but that's for another entry). It seems like most park guests are still at Main Street, U.S.A. or Fantasyland.
I didn't want to waste the opportunity to shoot Mystic Manor with less people, so we went straight into the queue for that.
In those brief moments, Mystic Point definitely captured our attention – the colour scheme: Purple, Teal and Cream (sometimes gold) expresses a spirit of mystery, exoticism and luxury.
So much details and motifs – and it's just an entrance to a restaurant!
Garden of Wonders
Located directly across the Manor's adjacent buildings is a small Garden of Wonders. There are a few interesting, and ancient-looking sculptures and art here, with illusions being a major visual theme.
Our new friends from superadrianme check out the Lamassu Bas Relief sculpture, which utilizes a scale illusion.
When viewed through a specific angle (through this viewing point), the illusion appears.
Of course, it's an illusion of scale, not a doppelganger of my sister (that, I think, might make my mom go crazy).
Detail at the back of one of the three columns.
Nearby, the Neptune Oblique Anamorphic Mosaic produces a stunning visage of the ground opening to new depths. Unfortunately because of the sun, this illusion cannot be properly seen through the viewing station.
So here's an off-angle shot feat. Sakura Haruka and superadrianme.
Unlike typical 3D street paintings, this one is a mosaic. Stunning, really.
The last work of art is a series of Sculptural Anamorphic pieces: Qilin, Phoenix and Koi. When viewed together…
…at the viewing station, they form a dragon.
Well, I must come back to the Gardens for a reshoot someday.
Explorer's Club Restaurant
The Explorer's Club is an extension of Mystic Manor. Here, Lord Henry Mystic hosts gatherings for members of the Society of Explorers and Adventurers. It is divided into several rooms and is meant to showcase Lord Mystic's vast collection of rare items all around the world.
This counter service restaurant serves flavours from Japan, Korea and South-East Asia. The seating area is divided into several sections, each with a different theme – which makes dining here an adventure in itself. Scattered around the dining halls are artifacts belong to Lord Henry Mystic, with little anecdotes describing the objects and his journeys.
I didn't have time to stay around this area, but the restaurant is incredible exquisite for Hong Kong Disneyland. It felt like I stepped into Tokyo DisneySea for a moment.
Strange masks greet you as you walk in.. Some of them will make eye contact.
Explorer's Club is a Halal-certified restaurant in Hong Kong Disneyland. This is the second Halal-certified restaurant in the park; the other being Tahitian Terrace in Adventureland.
The interior is really gorgeous. Reminds me of the amazing Casbah Food Court at Tokyo DisneySea (photo tour coming!)
We dined at the Egyptian Room, which ironically despite its size, looks far more authentic and realistic than the Oasis Spice Cafe at Universal Studios Singapore.
My lunch – Bento Box with Baked Salmon, preserved vegetables, mixed mushrooms and steamed rice. HUGE servings of everything.
My sister's lunch – Korean Ginseng Chicken Soup with kimchi and steamed rice. You get a full (though small) chicken.
Both sets go HKD138 (~ SGD22.30) each and include a small soft drink. I'm surprised at the pricing because I don't think Tokyo Disney Resort's park restaurants even charged that much. But then again the portions were really large – it might be wise for two adults to just share a meal. Hopefully the park could drop the prices in the future and reduce the portions.
Some other sets include Hainanese Chicken Rice and Nasi Goreng, which go for slightly less: HKD128 (~ SGD20.70). We'll obviously be out of our minds to have these sets when they're everywhere in Singapore, but I think tourists from the region and locals would love to savour these iconic dishes at Mystic Point.
The Archive Shop
The Archive Shop is the post-ride store for the Mystic Manor ride. I'm putting the photos here instead of the Mystic Manor article because there are already too many photos in those entries.
This is the store where you can grab everything related to Mystic Point and Mystic Manor here, including the adorable Albert plush toys!
The Albert plush also comes in a mini keychain version for HKD78 (~ SGD12.60). Apparently last week the park also launched Talking Albert for HKD235 (~ SGD37.90).
And strangely, Lord Henry plush toy. Well erm…
Anyway, some merchandise from The Twilight Zone Tower of Terror can also be found at this shop. But why not the other, more suitable Tower of Terror: Hotel Hightower? It's part of the same "universe", and it would be cool to find Shiriki Utundu here.
Portrait of Lord Henry and Albert. Very popular "photo op spot" in the store.
A fearsome Garuda statue which stands right behind the checkout counters. Scary.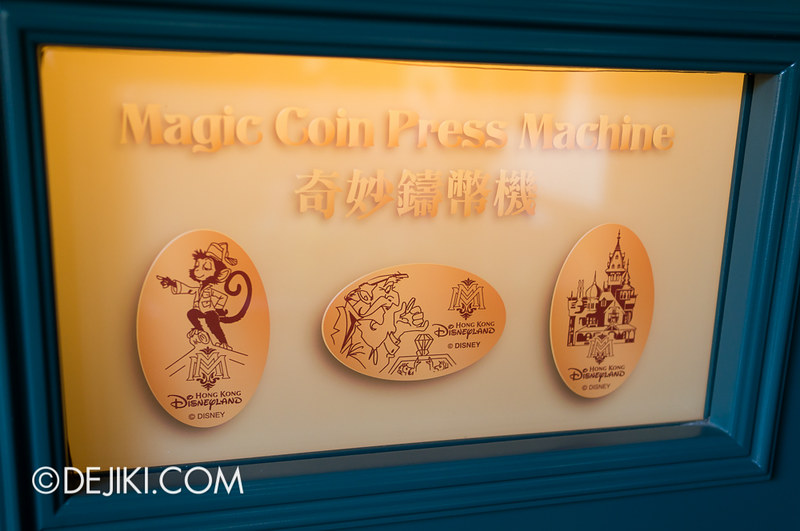 Don't miss the Magic Coin Press Machine outside the shop (turn left at the doors). Nifty souvenirs for HKD15 (~ SGD2.40) each!
The next update continues into Mystic Manor – an indoor dark ride that brings guests through Lord Henry Mystic's eccentric home and museum of rare antiquities. The attraction also has an incredible pre-show, thus the Mystic Manor feature will be in two parts.
---
Remember to take part in the Sparkling Christmas Giveaway – SGD90 worth of Hong Kong Disneyland park merchandise could be yours!
A Sparkling Christmas is held at Hong Kong Disneyland from now till 5 January 2014


Puppets in the Park | Christmas Illumination | Main Street, U.S.A. - Christmas Town
Flights of Fantasy parade - revisited | Mystic Point | Mystic Manor - Part One (Pre-show)
Mystic Manor - Part Two (The Ride) | Disney's Hollywood Hotel |
Hong Kong Disneyland - Photo Tour series
Mystic Point (under construction) | Main Street U.S.A. | Toy Story Land (Day)
Toy Story Land (Night) | Adventureland | Fantasyland | Grizzly Gulch
Grizzly Gulch: Big Grizzly Mountain | Tomorrowland | Flights of Fantasy parade
NEW: Mystic Point | Mystic Manor (Pre-show) | Mystic Manor (The Ride)
Disney's Hollywood Hotel | Frozen Village (Summer 2015)
---
Subscribe to Dejiki.com or Like my Facebook page for notifications of updates.
---