I've said this many times, over and over: Hong Kong Disneyland is one of my favourite theme parks. It has changed so much since it opened! Three new themed lands, and a new dark ride that has left the world in awe. And then the park recently announced the new Iron Man attraction.
If there's one thing Hong Kong Disneyland is really great at – apart from adding new attractions that guests actually want – it would be their seasonal events. They are always elaborate and as sophisticated as any park with the Disney Parks brand. I have wanted to visit their Halloween event for years, but October has been always the month that I don't have time to travel. But soon, soon!
Christmas is the park's most important holiday season and my visit last year gave an experience that was nothing short of amazing: The decorations at the park transforms Main Street, USA. into a festive wonderland; the overall atmosphere is just incredible, and quite magical. This year, Hong Kong Disneyland presents A Sparkling Christmas – a joyous celebration at the park from 14 November 2013 till 5 January 2013.
A Sparkling Christmas! at Hong Kong Disneyland
You might be wondering why I'm writing about the park's 2013 Christmas event… and using photos from last year's entry. That's because the event hasn't started, and I'm not there yet.
Very soon, I'll be at Hong Kong Disneyland to cover the park's magical festivities!
Apart from Sparkling Christmas photo features, there will definitely be entries on the world-famous Mystic Point. There might be some other surprises, so stay tuned! I'll be regularly posting updates over at the Dejiki.com Facebook page.
A Sparkling Giveaway!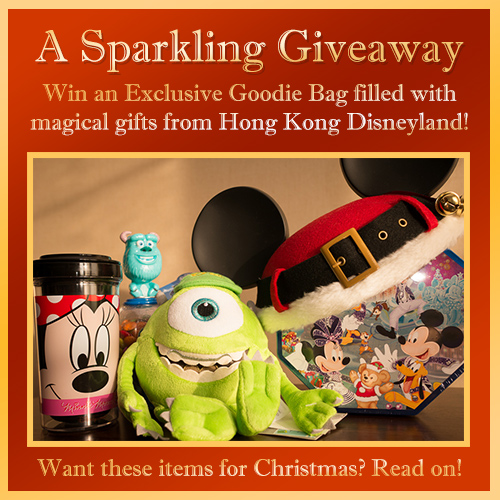 Thanks to Hong Kong Disneyland, three lucky readers will get a special goodie bag from the park, filled with merchandise worth more than SGD90!
Submission period to participate in this giveaway has closed. Winners will be contacted by 3 December 2013!
Giveaway Details
Take part in this giveaway with just these simple steps!
Bring home the magic of Hong Kong Disneyland – without going to the park! Of course everyone would want to visit the park – but you stand a chance to win yourself a bag of christmas goodies if you take part in this giveaway!
1. Be a Hong Kong Disneyland Facebook page fan.
2. Be a Dejiki.com Facebook page fan.
3. Post a photo that has Christmas and Disney elements on the Dejiki.com Facebook Wall. In the post, share what is the one thing you love most about Christmas, and add all three of these hashtags: #HKDisneyland, #Christmas, #Happy
4. Share the Dejiki.com giveaway post for bonus points!
Your photos do not need to be taken at Hong Kong Disneyland or any Disney theme park! As long as it has Disney and Christmas elements, it'll be great and qualify for the giveaway!
Rules and Guidelines
– Submissions will be accepted from now till 28 November 2013, 11:59PM Singapore Time (GMT+8).
– You may use any photos online and create your new photo out of it.
– Multiple submissions (to increase chances of winning) are allowed, however each participant may only win one goodie bag.
– Three lucky readers will win a Hong Kong Disneyland Goodie Bag.
– Entries will be graded based on Creativity of Photo and Caption. Sharing Dejiki.com's giveaway post on Facebook will earn a bonus.
– Entries that are incomplete (Steps 1 to 4 not done) will not qualify.
– Three entries with the highest score will win. In event of a tie, winners will be picked through a random draw.
– This giveaway is open to readers in Singapore only.
– Results will be announced by 3 December 2013.
– Winners will be contacted via Facebook with collection details.
* Giveaway items are sponsored by Hong Kong Disneyland.
* This giveaway is in no way sponsored, endorsed or administered by, or associated with, Facebook.
---
Special Thanks to Hong Kong Disneyland for inviting Dejiki.com to a tour of Christmas festivities at the resort.
Disclaimer: Hong Kong Disneyland has partially sponsored travel expenses for Dejiki.com. No monetary compensation has been accepted for writing entries on Hong Kong Disneyland Resort, including its facilities, entertainment programme and products.
Subscribe to Dejiki.com or Like my Facebook page for notifications of updates.
---