Mystic Point is one of the new themed areas at Hong Kong Disneyland. Slated to open in Mid 2013, the themed zone features key attraction Mystic Manor and a play area called Garden of Wonders.
I'm very excited about Mystic Manor and had a chance to see the area under construction when I was at Hong Kong Disneyland recently. While I cannot comment (critically) about its architecture, I'm amazed at how it looks in reality. There is a lot of detail everywhere and the colour scheme reflects the area's adventure, mystery and occult character well. Enjoy the photographs and read about Mystic Manor as you go along.
※ Some photographs have been edited for dramatic presentation.
---
Mystic Manor is Hong Kong Disneyland's answer to the classic Haunted Mansion attraction found in other Magic Kingdom Disney Parks worldwide. Three of these, called Haunted Mansion, can be found at Disneyland (Anaheim), Magic Kingdom (Walt Disney World) and Tokyo Disneyland. With a new story, design and location, the Haunted Mansion was re-imagined as the Phantom Manor at Disneyland Paris. Fun Fact: Each of these attractions are housed in a different themed area in each park (In the order of park names mentioned above: New Orleans Square, Liberty Square, Fantasyland and Frontierland), giving the mansion a unique home all around the world.
Before Hong Kong Disneyland opened, there were several rumours circulating about its Haunted Mansion. The park didn't open with one. Well, neither did the first Disneyland. Several rumours went around, including one popular idea: A Mansion at Adventureland, with the safari and voodoo as its themes.
That didn't happen, but years later something even more exciting was announced – The park will expand with three new themed zones, one of which is called Mystic Point, and it will have a new, unique attraction that is both spooky, mysterious, and comedic.
Mystic Point is set in 1908, and is a site where supernatural events and mysteries. In its heart is Mystic Manor, home to Lord Henry Mystic. He is a member of the Society of Explorers and Adventurers (Sound familiar? This is carried over from Tokyo DisneySea.) and in his home is an extensive collection of artifacts from around the world. Also in Mystic Point: the Adventurer's Club is a themed restaurant located near the Manor. There is also a themed retail store, called Archive Shop which should sit between the Manor and Restaurant.
The experience of Mystic Manor is a tour around the manor, where guests are seated in trackless ride vehicles. The ride technology is said to be very similar to the one used at Pooh's Hunny Hunt at Tokyo Disneyland. The story revealed so far speaks of a whirlwind adventure (literally – in one of the scenes apparently) where Lord Mystic's pet monkey, Albert, opens an enchanted box which causes ALL the artifacts to come alive, Night at the Museum style.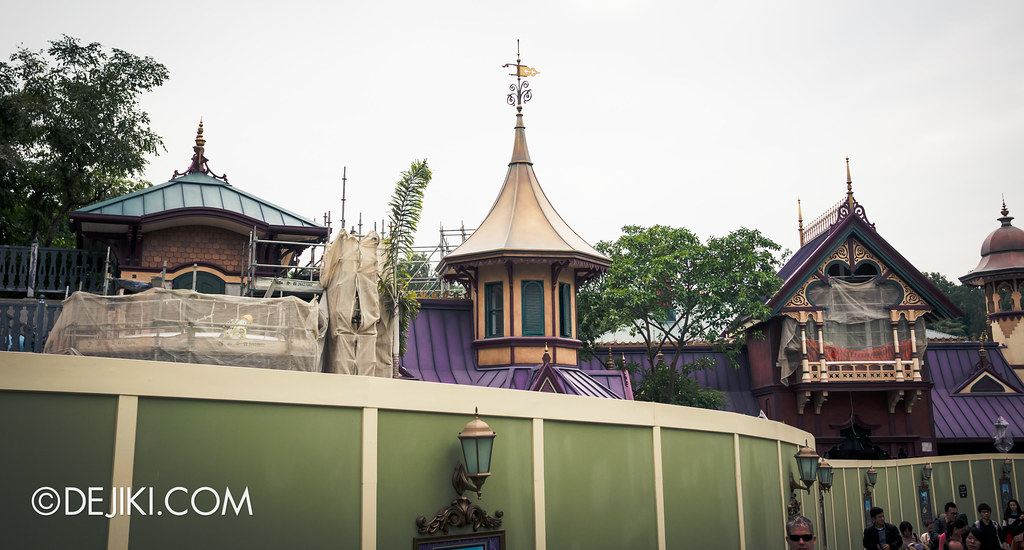 Here are photos of the Archive Shop and Adventurer's Club buildings.
This tower reminds me of some mosque towers, especially with the geometric window grille design.

Overview of the area, viewed from Toy Story Land. On the left is the Garden of Wonders. This is both a play zone and a rest/viewing venue, where the Hong Kong Disneyland Railroad and part of Jungle River Cruise's River of Adventure may be seen.
And here are some night photos of the area, just for fun:
The Manor at night. Nothing much to see because the show lighting isn't on, but from the lit windows, we can tell which levels are "real" and will possibly have some effects installed.
Stay tuned for more updates and photos from Hong Kong Disneyland! I'm excited to present extensive photo tours of all the themed areas in the park, including the new Grizzly Gulch and Toy Story Land.
Hong Kong Disneyland - Photo Tour series
Mystic Point (under construction) | Main Street U.S.A. | Toy Story Land (Day)
Toy Story Land (Night) | Adventureland | Fantasyland | Grizzly Gulch
Grizzly Gulch: Big Grizzly Mountain | Tomorrowland | Flights of Fantasy parade
NEW: Mystic Point | Mystic Manor (Pre-show) | Mystic Manor (The Ride)
Disney's Hollywood Hotel | Frozen Village (Summer 2015)
---
Subscribe to Dejiki.com or Like my Facebook page for notifications of updates.
---