Go on a photo tour around S.E.A. Aquarium and check out the changes in this long-overdue attraction report!
Seas of Change
Or… a brief history of S.E.A. Aquarium and Marine Life Park
In the early years of RWS, the S.E.A. Aquarium and other attractions around it such as Adventure Cove Waterpark (currently suspended) and Dolphin Island formed the Marine Life Park mega attraction. Back then, the Aquarium was also known as the world's largest. The Marine Life Park brand was quietly discontinued a few years later, and the attractions became more distinct – with S.E.A. Aquarium leading with a stronger focus on conservation and educational experiences.
The Aquarium's initial design had a concept of exploring marine life around regional oceans (hence, the name: South East Asia Aquarium) and had displays divided into 11 areas. The narrative of exploring the seas was further expanded with the Maritime Experiential Museum (MEM), which formed a rather immersive prelude to the Aquarium.
What I heard was guests generally want to get to the Aquarium ASAP and not go on an additional 20-minute walk through a market and reliving the history of maritime trade. Or in the case of the Typhoon Theatre experience, another 10 minutes to literally sink into the greater depths of the ocean.
Even with unique pop-up events (Pokemon? Who knew?) and a major revamp in 2017 that included "Insta-ready" environments, I think guests still prefer to see the tanks first (or only that) – even if it meant walking a great distance outdoors to get to the "new entrance" at the back (The "original" entrance is now the exit). The resort decided to close MEM for good in March 2020 to make way for the upcoming expansion of S.E.A. Aquarium into Singapore Oceanarium.
(It's actually a far longer story if you consider the original plans but let's not go into that anymore)
S.E.A. Aquarium – 2021 Photo Tour
A visit to the S.E.A. Aquarium today is not unlike in the past – the layout is still the same, and most of the habitats are still there – though with safe management measures, guests can no longer walk freely back and forth around the entire complex. Obvious markers are placed on floor all over the aquarium for social distancing, and also helps with allocating space for viewing the displays without crowding. The largest display, the Open Ocean Habitat, has a "one-way" route that discourages backtracking.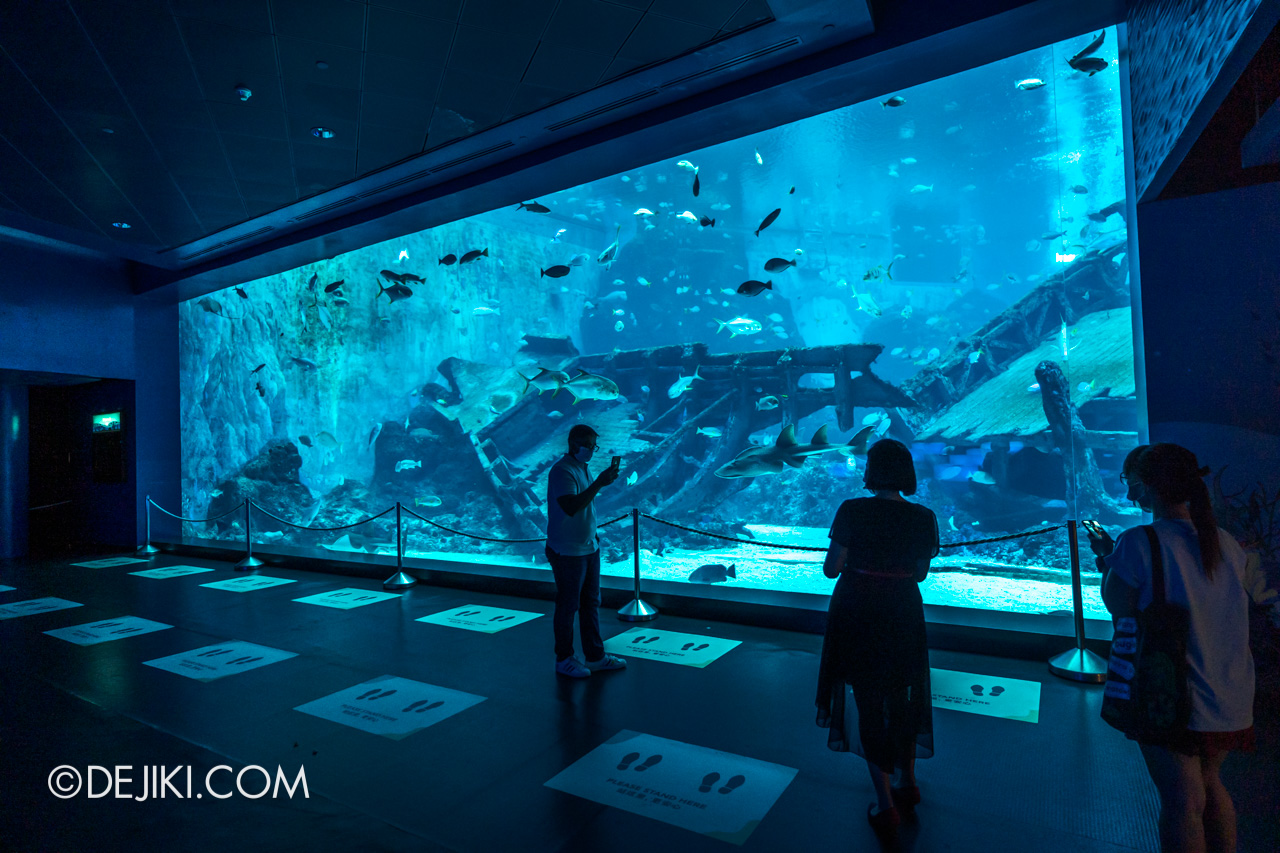 With the Typhoon Theatre (a mild 4D motion simulator show) closed, the exit ramp is now a serene viewing gallery for the Shipwreck habitat.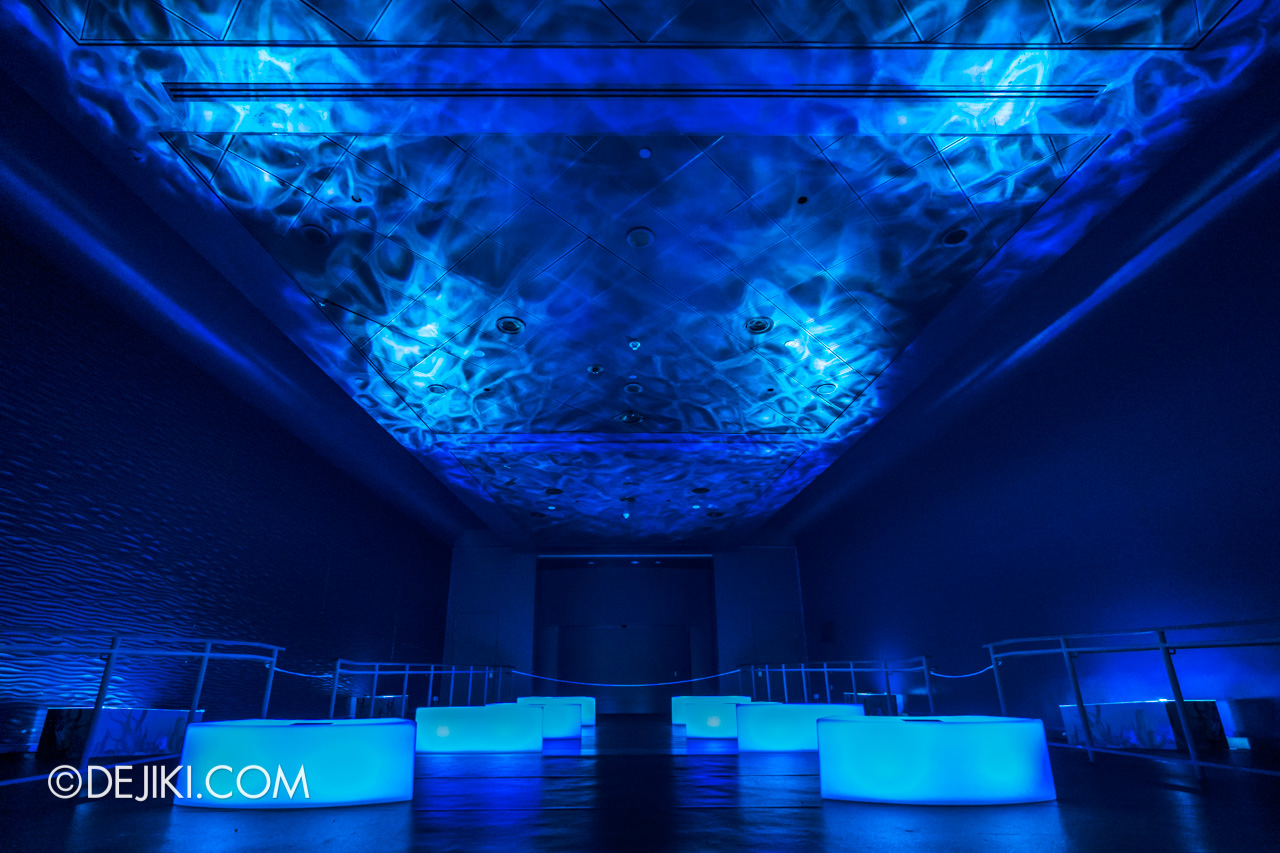 A brief walk under the tunnel and now you're in School of Fish, a new area to kickstart your learning journey. The 11 habitat zones are now reshuffled into 9 areas.
With new information panels on the walls, lighting in many areas of the Aquarium are now much brighter.
There are also all-new lighting effects, such as RGB light strips at the Coral Garden.
Timings for feeding sessions at S.E.A. Aquarium are no longer announced, but it still happens several times a day – if you're lucky enough to catch it. Character meet and greets are also suspended for now.
While Adventure Cove Waterpark is still closed, Dolphin Island has reopened late last year, with select interaction programmes available for bookings.
The ever-popular sea jelly section is of course, always around and plenty filled with mesmerising jellies.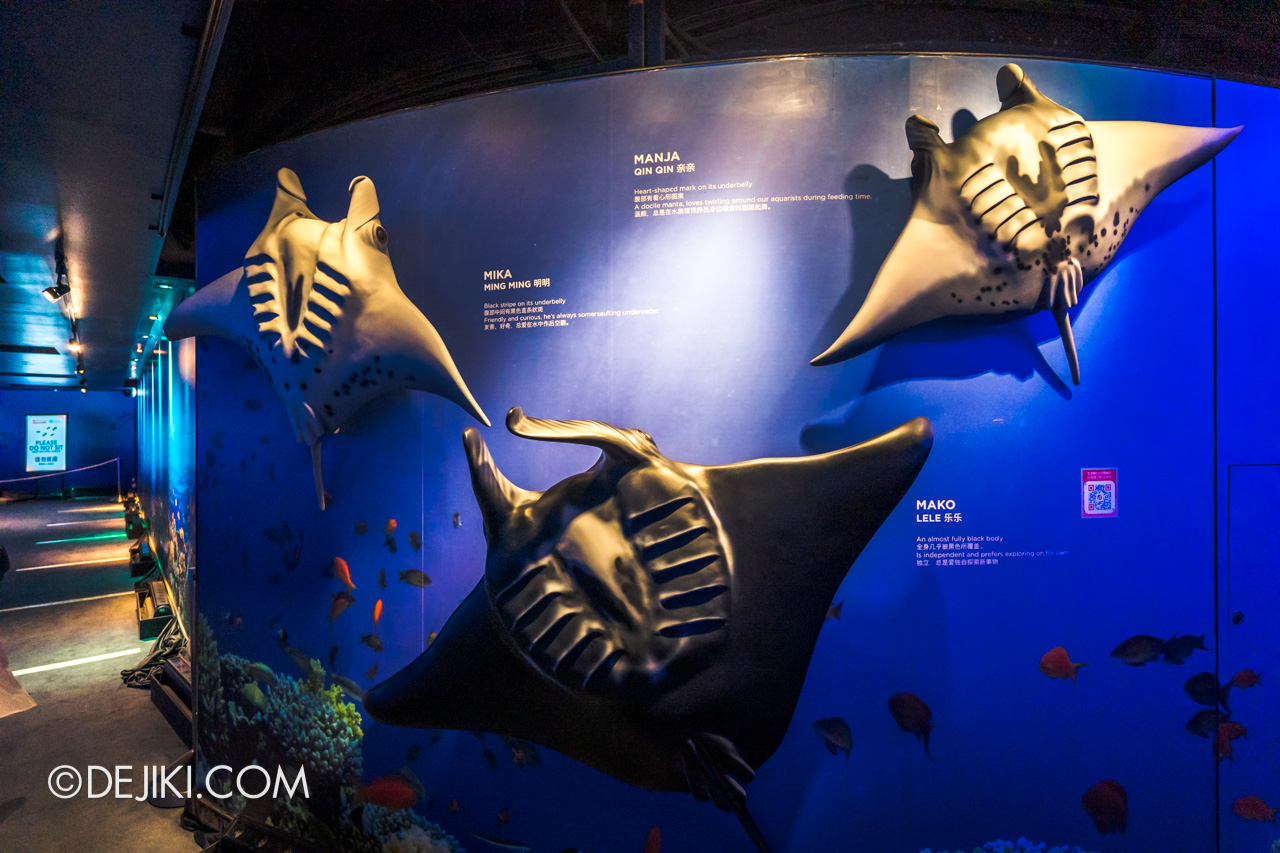 Before you step into the Open Ocean Habitat queue, check out this spotter's guide for the three iconic manta rays and their names.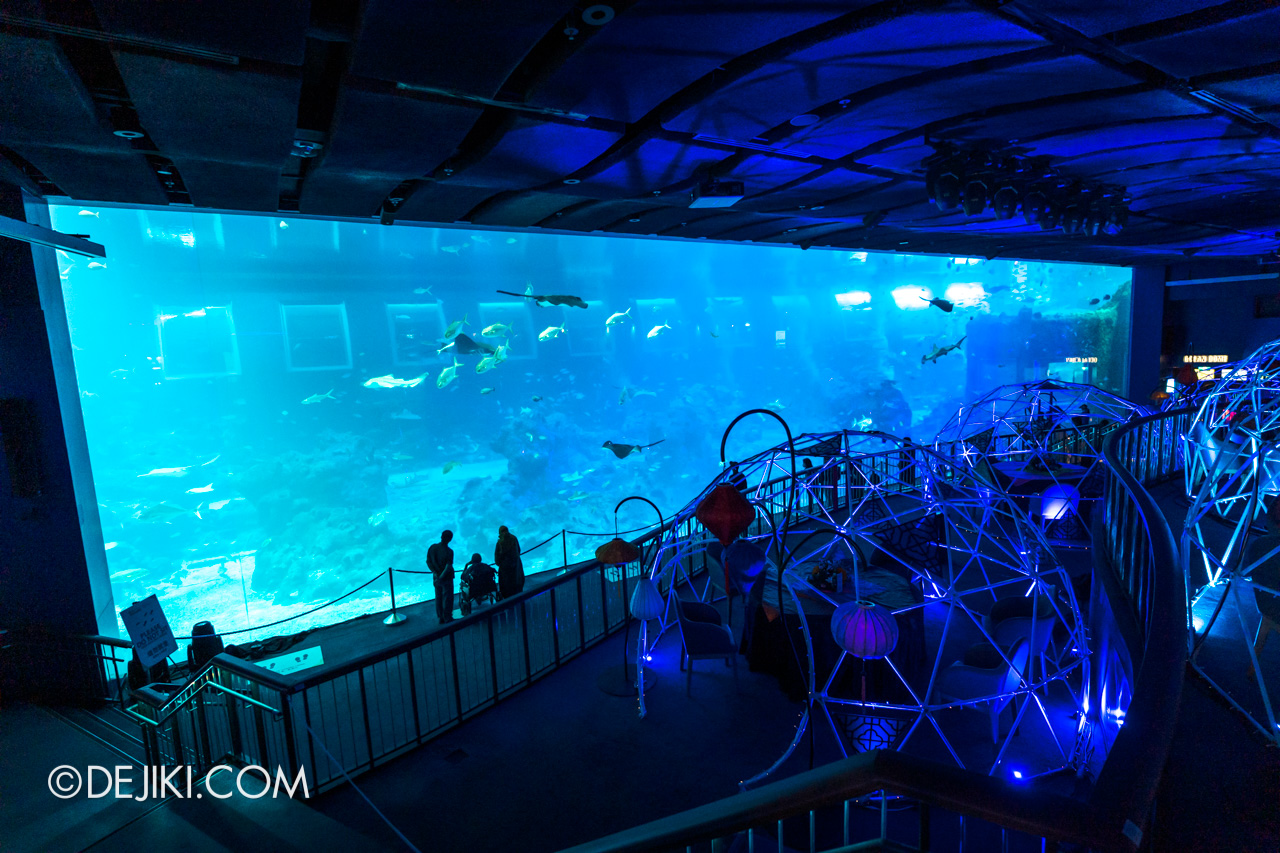 The tiered viewing gallery here has been home to Aqua Gastronomy, an "underwater" dining experience created in response to safe management measures. Diners can book one of these geometric "pods" and enjoy a thematic meal accompanied with the grandeur of the massive aquarium.
With the dining pods setup and safe management measures, the "Up-close Encounters" Add-on has been suspended. This means that the 'closer' spots for the main Open Ocean Habitat (which are now the only spaces to stand at) and the Open Ocean Dome are open for all guests to view without extra charge. Capacity permitting, of course.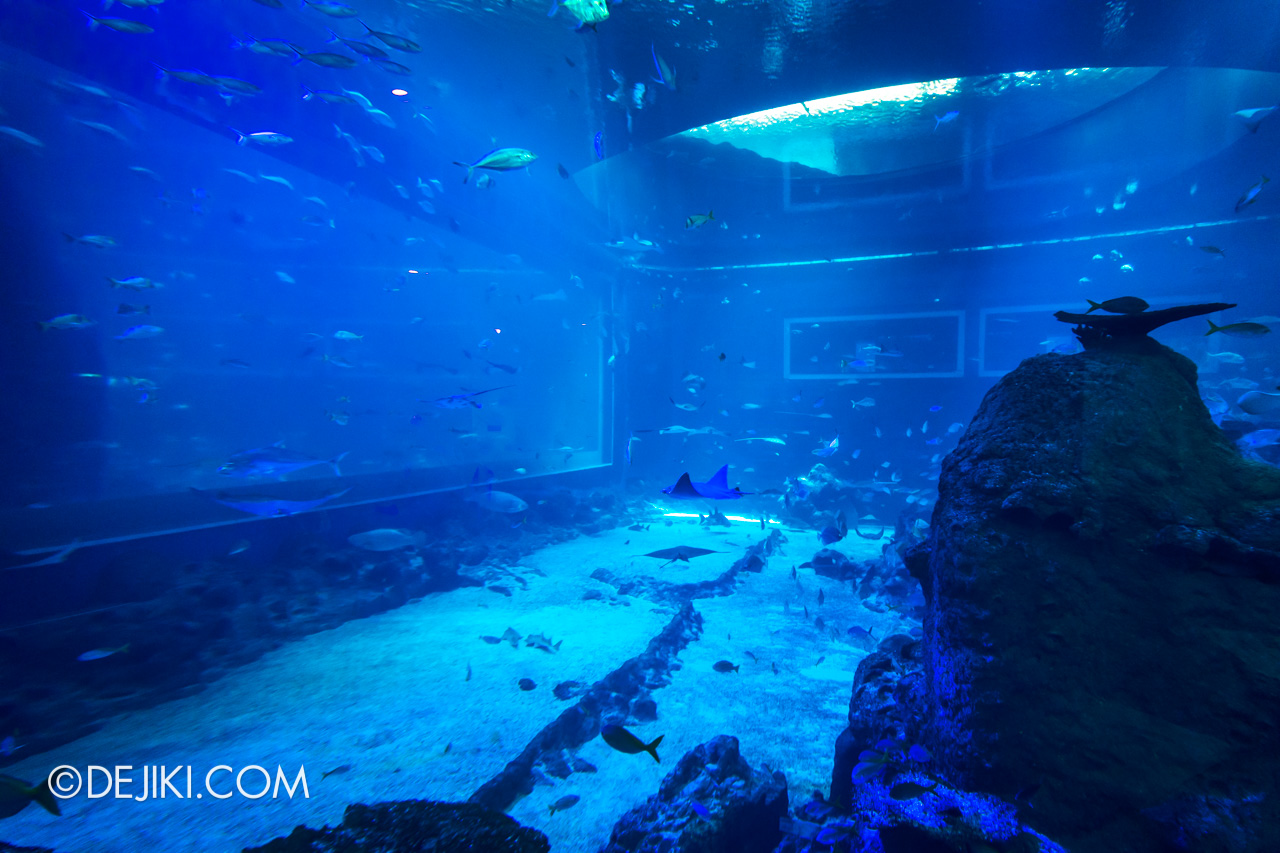 The second half of the Aquarium journey is dedicated to "quirky" marine life (elephant fish being one fo them) as well as coral reefs.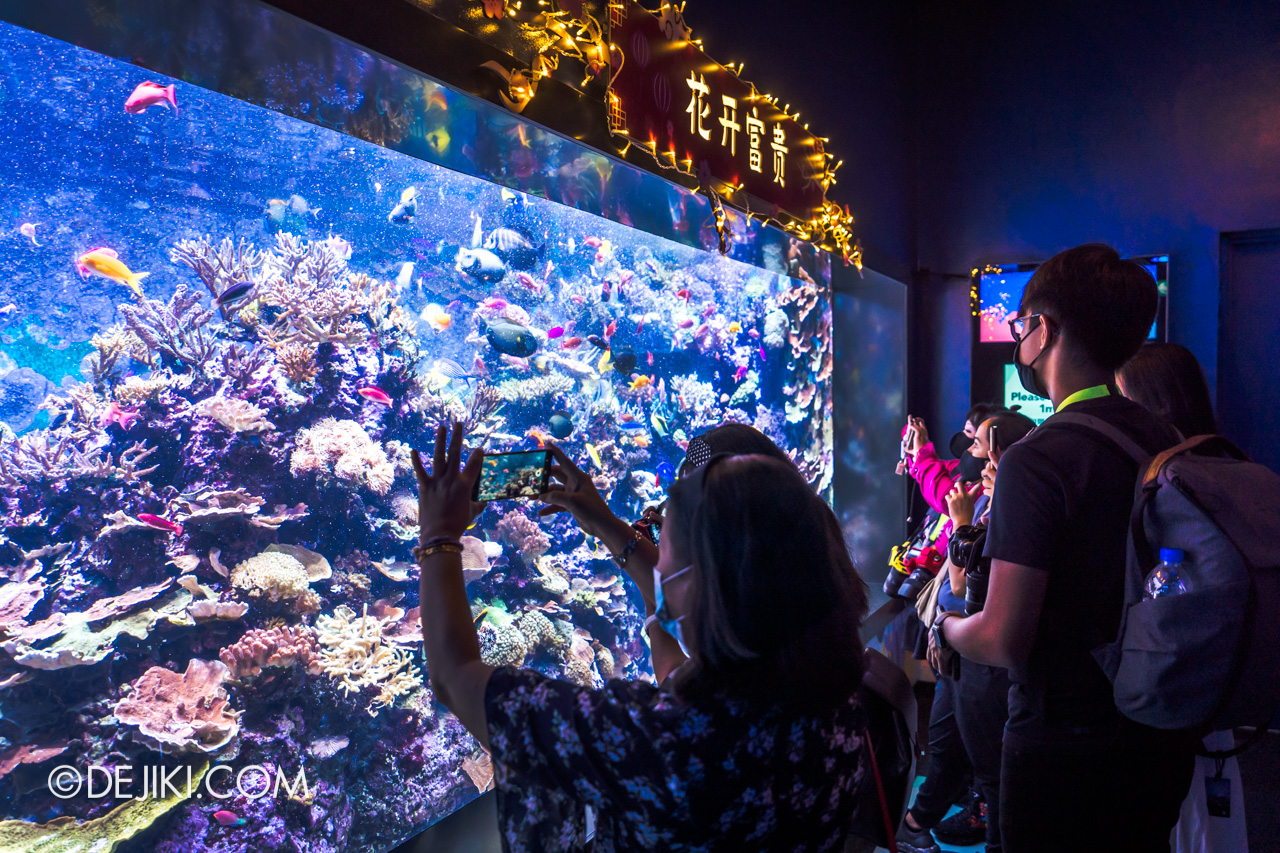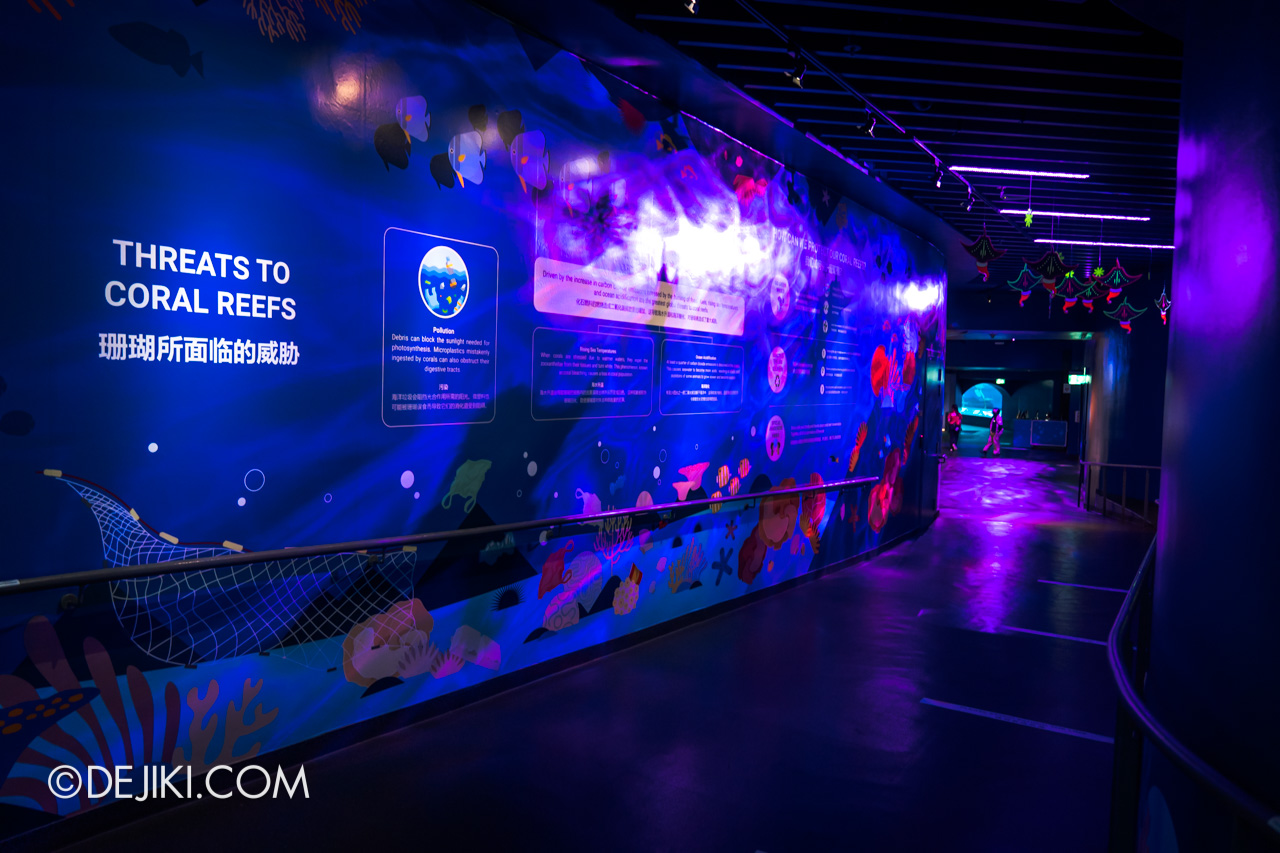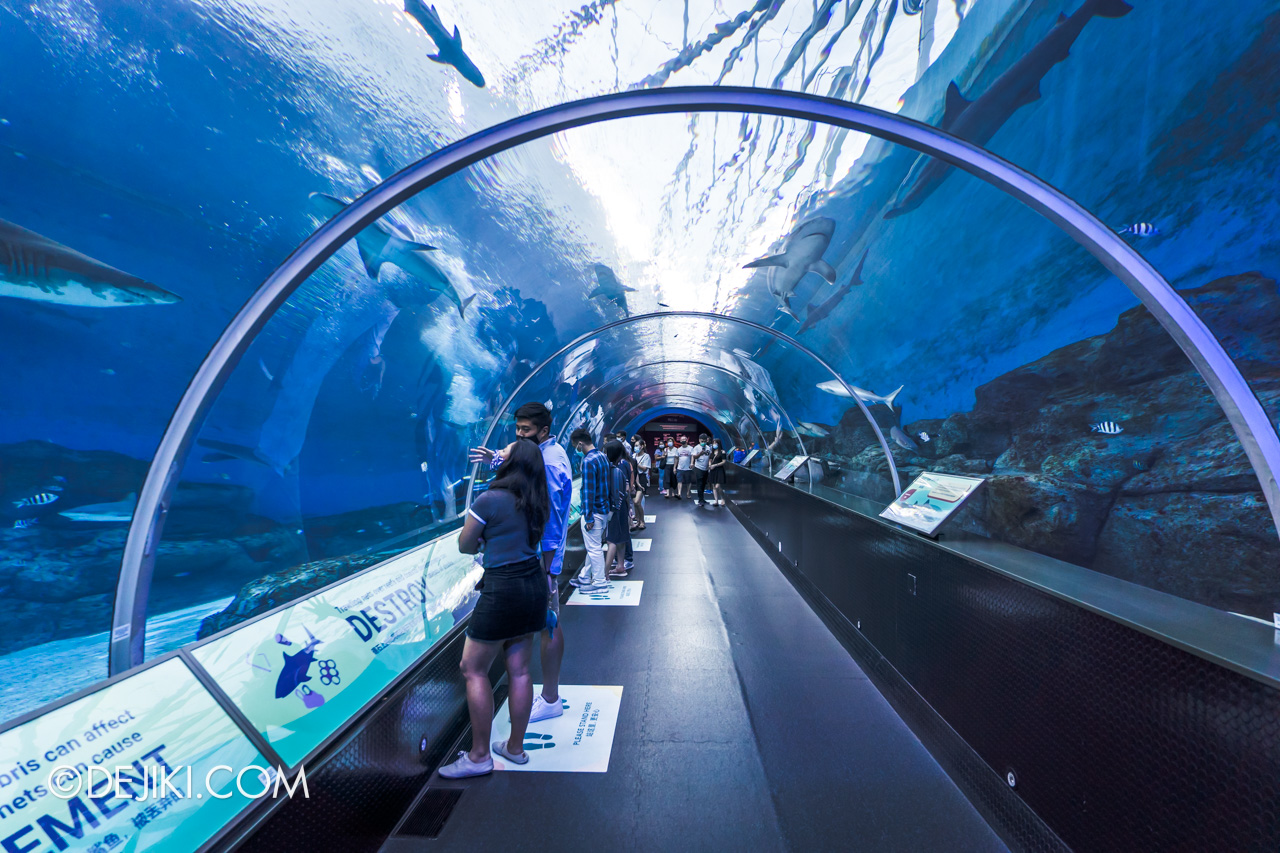 The Shark Seas habitat is now the Apex Predator zone.
After stepping out of the Aquarium proper: Welcome to the second store in this attraction (the first is beside the Dolphin viewing windows).
But that's not all! There is a new section here displaying various kinds of Poison Arrow Frogs.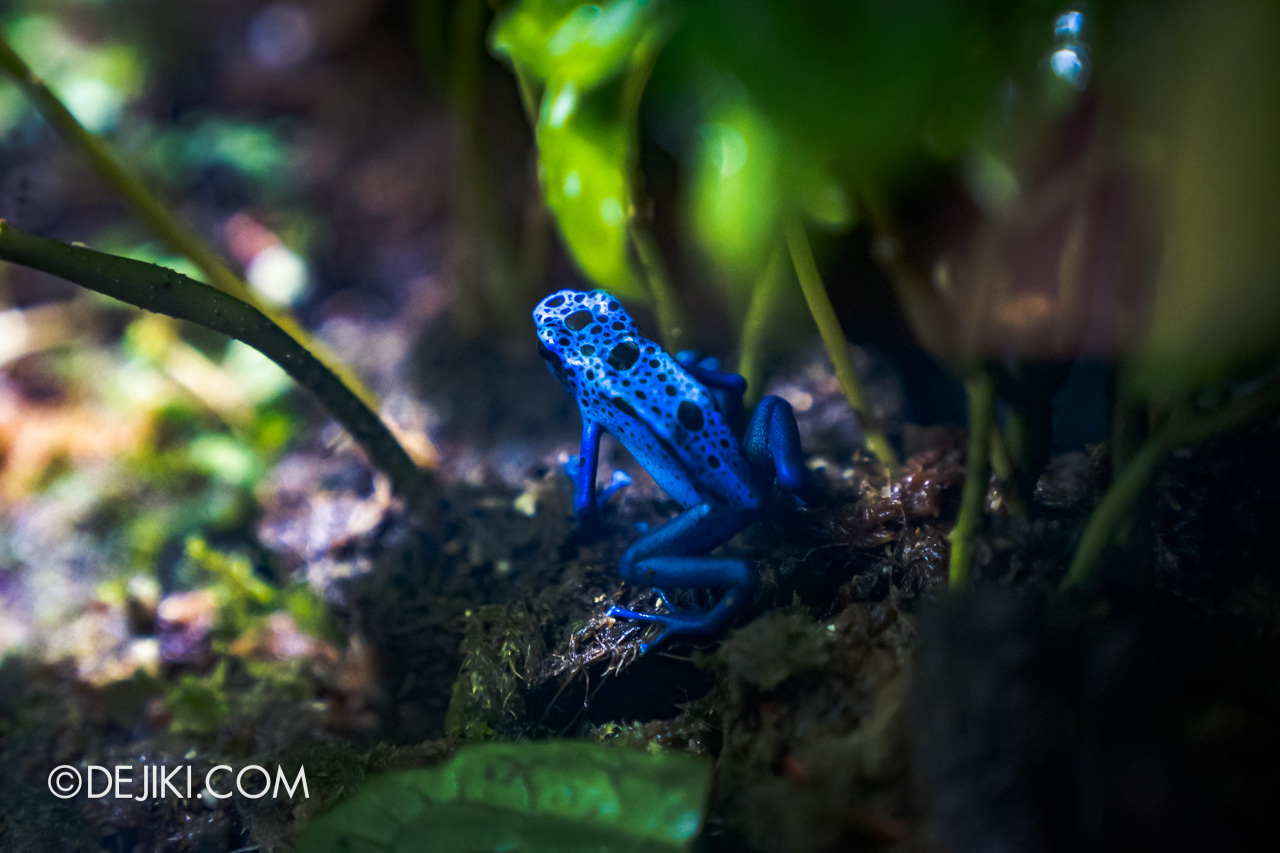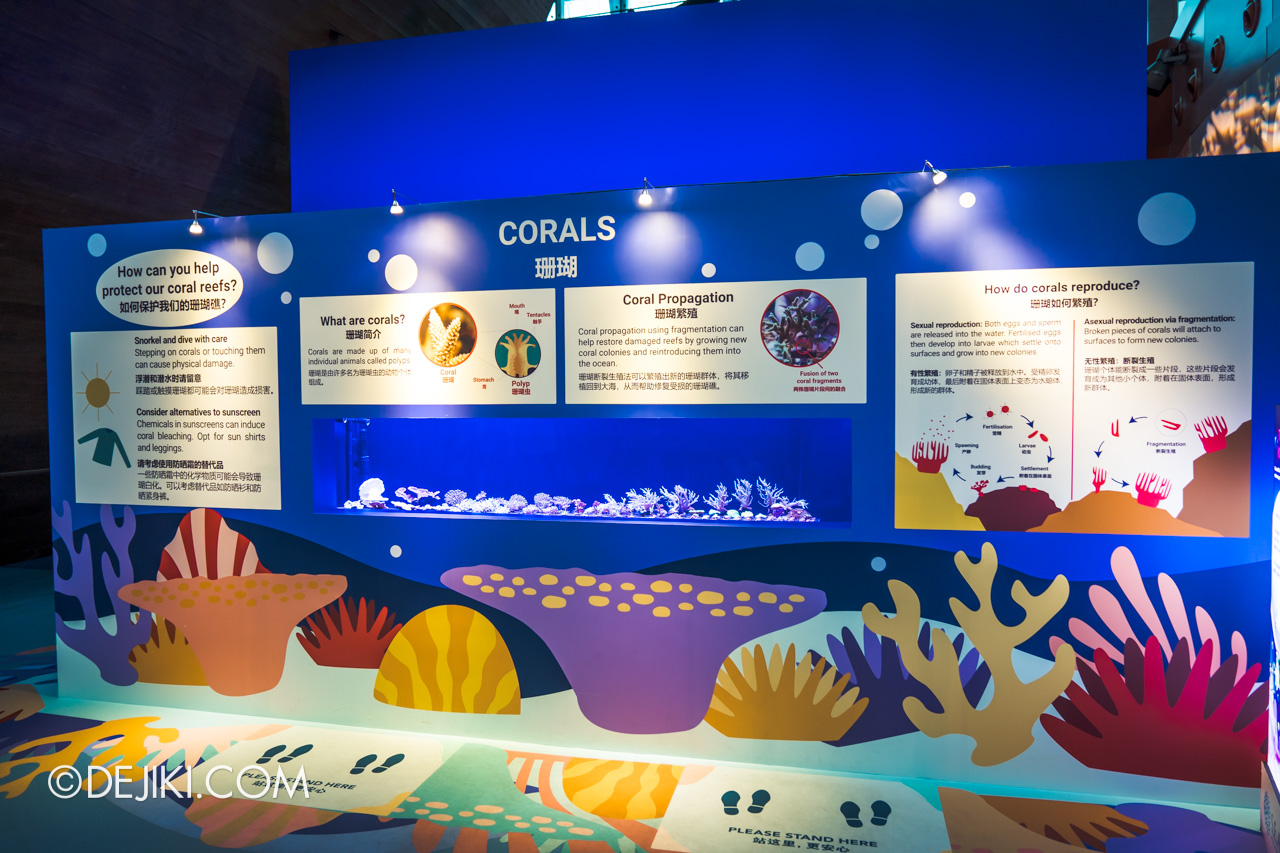 Along with more information on coral conservation, including the Aquarium's efforts to grow new colonies.
The Discovery Pool, which was previously at the Coral Garden area, has shifted out to the space where a video theatre used to be.
One last look before heading up the one-way escalator to the exit. The ship above this wall is the Jewel of Muscat, a ship that was specially built for the MEM using traditional methods and materials (no nails!). It went on a six-month voyage from Muscat and found its home in this Museum. Perhaps it will also have a place in the new Singapore Oceanarium.
But what of the gigantic Bao Chuan and parts of the original Maritime Experiential Museum? Only time will tell.
So would now be a good time to visit the S.E.A. Aquarium? Leisure travel isn't going to resume so soon, so there might be a window to enjoy the existing exhibits before overseas tourists gradually return. Now that the December holidays (and SingapoRediscover voucher hysteria) are over, there is a lull period before the next busy period (upcoming school holidays, and last minute frantic redemption of vouchers).
Buying S.E.A. Aquarium Tickets with SingapoRediscover vouchers
If you plan to use SingapoRediscover vouchers to buy tickets to S.E.A. Aquarium, feel free to use my Klook link!
Klook is one of the authorised booking partners of the voucher programme, and you can easily use the website or App to redeem your voucher for attractions. Just make sure the ticket you are booking is marked [SRV Eligible].
(Purchases made via this link will help support Dejiki.com at no extra cost to you)
NOTE: Reservations Required for Tickets purchased from Official Partners
For all tickets purchased from official ticketing partners, making a reservation prior to visiting the Aquarium is required. Please go to the RWS Attractions Reservations website to do so.
Only tickets purchased directly from RWS do not require reservations.
---
Marine Life Park attractions series
S.E.A. Aquarium
Nov 2012 (Preview) | Nov 2012 (Full Review) | Feb 2013 | May 2013 | March 2014 | Feb 2021

Adventure Cove Waterpark
Nov 2012 (Full Review) | May 2013

Dolphin Island
Jan 2014 (Trainer for a Day experience)

Maritime Experiential Museum
Oct 2011 (Preview) | Oct 2016 (Pokemon Research Exhibition) | Dec 2017 (Redesign)
---
Subscribe to Dejiki.com or Like my Facebook page for notifications of updates.
---