Let's have a walk around the S.E.A. Aquarium at Marine Life Park and see what has changed since November 2012.
Admission Changes
S.E.A. Aquarium now has a non-peak and peak calendar for 2013. One Day passes have different entitlements depending on the day it was purchased for.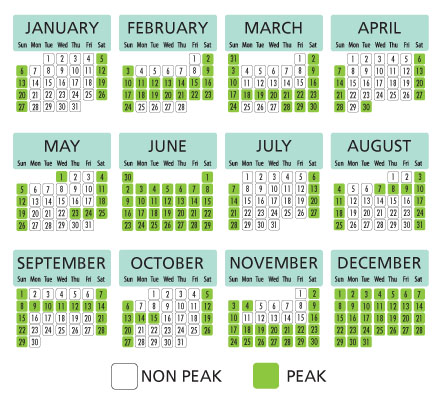 © Resorts World at Sentosa
The prices for Non-Peak One Day Pass and Peak One Day Pass remain the same, at $29 per adult and $20 for each child or senior guest. The student concession rate ($20) is no longer offered.
However, on Non-Peak days, each One Day pass include admission to the Typhoon Theatre.
On Peak days, admission to the Typhoon Theatre is a $10~15 add-on, and this includes the use of priority queue to S.E.A. Aquarium.
This add-on pass is called Priority Queue and does not include admission to S.E.A. Aquarium.

Non-Peak day: Typhoon Theatre included in admission.

Peak day: Typhoon Theatre + Priority Queue to S.E.A. Aquarium available as a $10 upgrade.
---
For S.E.A. Aquarium Annual Passholders:
Non-Peak days: Free admission to the Typhoon Theatre.
Peak days: Use of Priority Queue to S.E.A. Aquarium. Admission to the Typhoon Theatre only with a $10 Priority Queue add-on.
---
A walk around S.E.A. Aquarium
From my past few visits, the Aquarium is quite crowded on weekdays and very packed on weekends, to the extent where walking around is difficult.
The Dolphin Island section is still blocked off at the moment, although there are some on the walls for guests who must have a photo with dolphins taken.
The sea jelly section at Ocean Journey is ever-changing. Every week or two one of the tanks is replaced with something new.
The largest tank used to have spotted jellyfish when the aquarium first opened.
---
Press A Penny arrives at Marine Life Park
Even the S.E.A. Aquarium has a Press A Penny machine now.
Like the other machines at the resort, it's $2 per coin, and you will need to turn the crank (or leave it to the Aquarium staff to do it for you).
This machine is located at the Open Ocean Habitat (right at the entrance, from Ocean Journey, so it's hard to miss).

Here are the designs available. Collect them all!
---
Open Ocean Habitat
The world's largest aquarium viewing panel looks a lot less empty than before with massive schools of fish filling up the waters.
The most notable addition here is the Giant Manta Ray, which swoops around with grandeur and always accompanied with schools of fish.
You might have heard that the Open Ocean's viewing panel was vandalized by some irresponsible guests. A line has been placed at a distance from the panel, but as you can see…
It doesn't work. There are still guests pressing their hands, feet (with shoes on) or even their faces on the glass.
---
The walk around the Aquarium continues…
Since the aquarium's opening in November, most of the empty walls are now adorned with informational posters (such as the ones above) or decorative wall decals of marine creatures to enhance the overall look.
During weekends (especially afternoons), it may be difficult to walk around the Aquarium. The Moray Eel and Shark Seas areas are some of the most crowded spots.
Mystery of the Year: Why are dinosaur plush toys sold at S.E.A. Aquarium?
S.E.A. Aquarium – photo update is a serendipitous feature series on Dejiki.com. Unlike Universal Studios Singapore, the Aquarium does not change as often to allow monthly updates to be feasible. This series replaces my original plan to extensively write features on every single exhibit in the Aquarium, which would leave many people with less reason to visit this attraction.
As a serendipitous series, new entries will be published when a significant addition or noteworthy change is discovered during my random trips to S.E.A. Aquarium.
My original review of S.E.A. Aquarium can be found here.
---
---
Marine Life Park attractions series
S.E.A. Aquarium
Nov 2012 (Preview) | Nov 2012 (Full Review) | Feb 2013 | May 2013 | March 2014 | Feb 2021

Adventure Cove Waterpark
Nov 2012 (Full Review) | May 2013

Dolphin Island
Jan 2014 (Trainer for a Day experience)

Maritime Experiential Museum
Oct 2011 (Preview) | Oct 2016 (Pokemon Research Exhibition) | Dec 2017 (Redesign)
---
Subscribe to Dejiki.com or Like my Facebook page for notifications of updates.
---