Explore 9 terrifying horror attractions at Sunway Lagoon's Nights of Frights 8, the event with the highest number of haunted houses in the region!
Nights of Frights 8 at Sunway Lagoon Review by DEJIKI
Sunway Lagoon's massive scarefest, Nights of Fright (NOF) is back after its last run back in 2019. This is the region's largest horror-themed event just by the number of haunted house attractions: there are 8. The event also has a unique theatre show, 99 Doors, along with other street stage shows and roaming scare actor encounters all over, completing the park-wide horror experience.
While also taking place within a theme park, Sunway's event is not the same as the other major event in the region – both have their strengths and merits. The Nights of Fright event offers a wider variety of houses, with larger sets and design elements that would be unusual in one-off, temporary houses that Singaporean horror fans would be accustomed to. While horror is at the core of all the haunted houses, the themes vary from the 'classic' cinematic horror to others that are more entertaining and fun – so that park guests can enjoy a spread of entertainment options.
With so many horror attractions to experience, it felt worth it to make the trip to KL to experience Nights of Fright 8. The Sunway Lagoon resort has a few hotels with reasonably-priced rooms, and with a big shopping mall connecting everything together, it was quite a convenient and exciting weekend getaway for spooky fun. Other plus points for this event include its lower ticket and express pass prices(RM206, or S$62 for both admission and express), and consideration in maintaining the best experience for guests by pulsing some groups into houses.
Note: I was invited by Sunway Lagoon and Lynton V Harris (the creator of Nights of Fright) to experience the Nights of Fright 8 event. Guided tour in houses, park ticket and express pass were provided. However, all opinions are of my own; this is not a sponsored article.
---
WARNING
Photos of Nights of Fright 8 horror attractions are featured in this article, which contains spoilers. Photography conducted with permission from Sunway Lagoon.
Copyright Note: All photos on this website, including NOF attraction photos cannot be reuploaded anywhere without my permission.
---
Nights of Frights 8 Photo Tour: Haunted Houses and Experiences
Blood.Shed.2
Let's start with the most intense: Blood.Shed.2. This is my favourite haunted house for its sheer intensity and horrifying surprises.
Your journey begins in a cave – where you have to walk in near darkness through a "pool" of blood. Cue invisible whispers.
Once you manage to get out, the path literally takes a sharp turn, and you will have to go inside a few interconnected buildings – this is where the true horrors begin.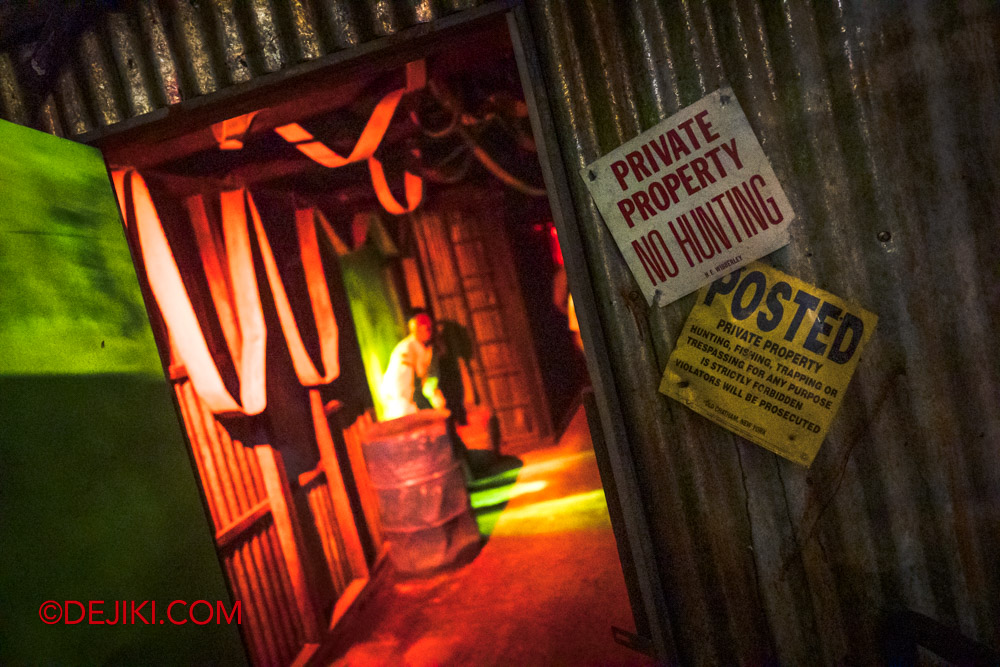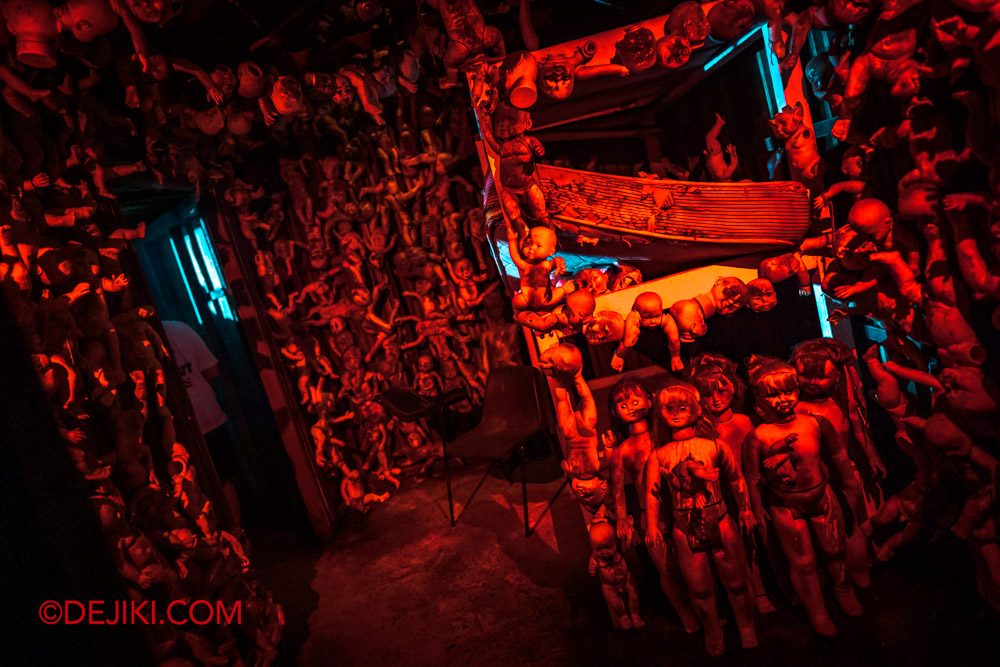 Scenic design at this house shines (literally blood red) with the volume of detail.
Being one of the larger houses, lighting also feels very cinematic, often with dramatic shadows deliberately bleeding through spaces – inside and outside, creating a feeling that you're not actually inside a haunted house, but trapped in a boundless space. Add in loud sound effects and it intensifies the fear factor.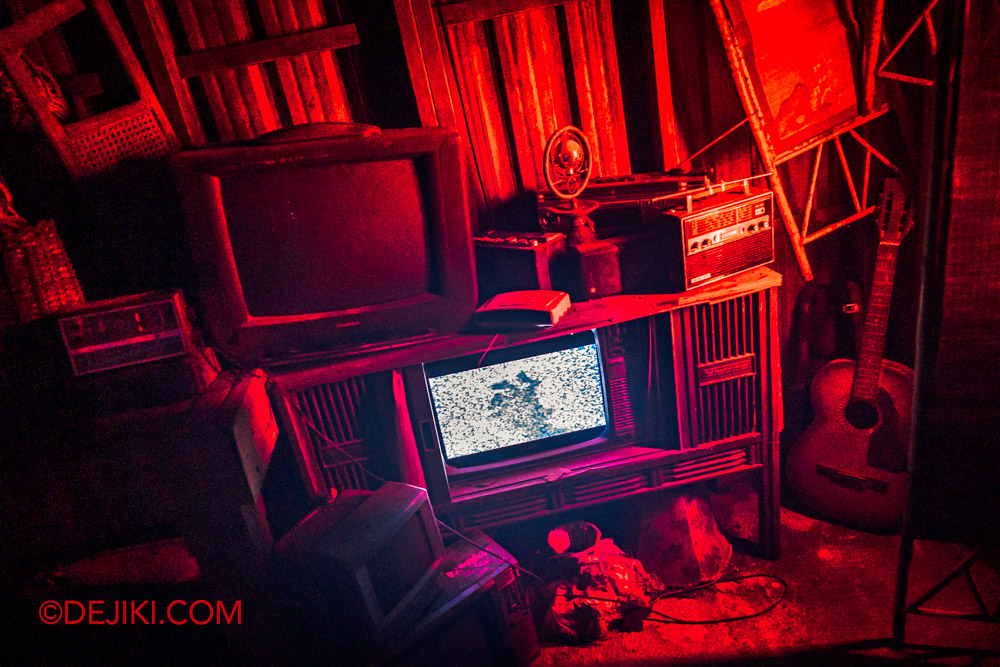 The unconventional layout (which is a common design attribute in Sunway) can make you feel immersed – in fact sometimes you aren't sure which way to walk, given how wide the spaces feel.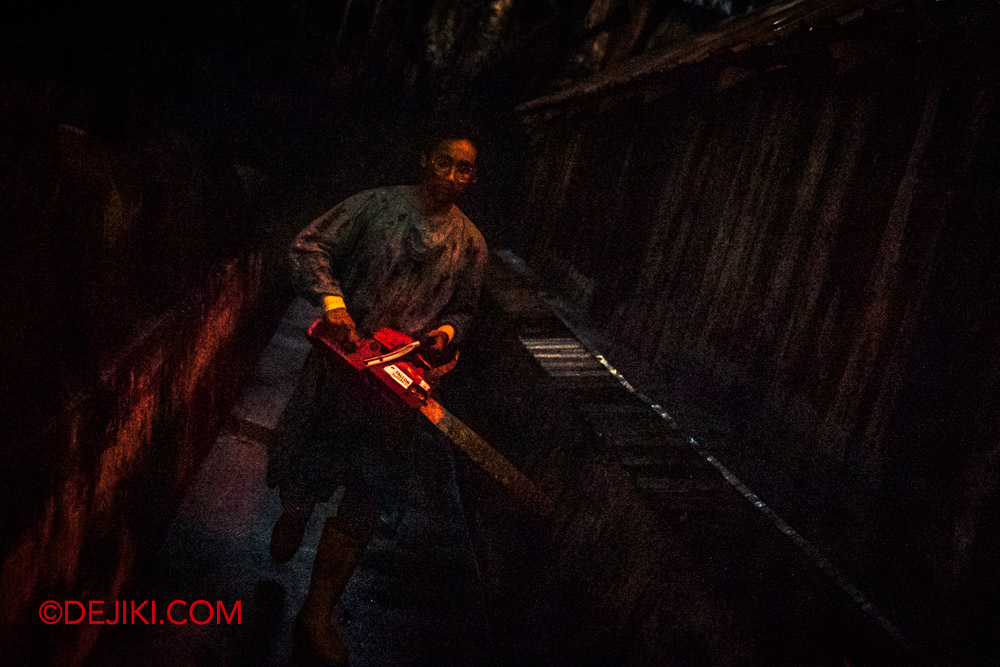 Blood.Shed.2 ends off with a thrilling escape from a madman running towards you with a chainsaw!
Presentation: ★★★★★
Horror Level: ★★★★★★
---
The Harvest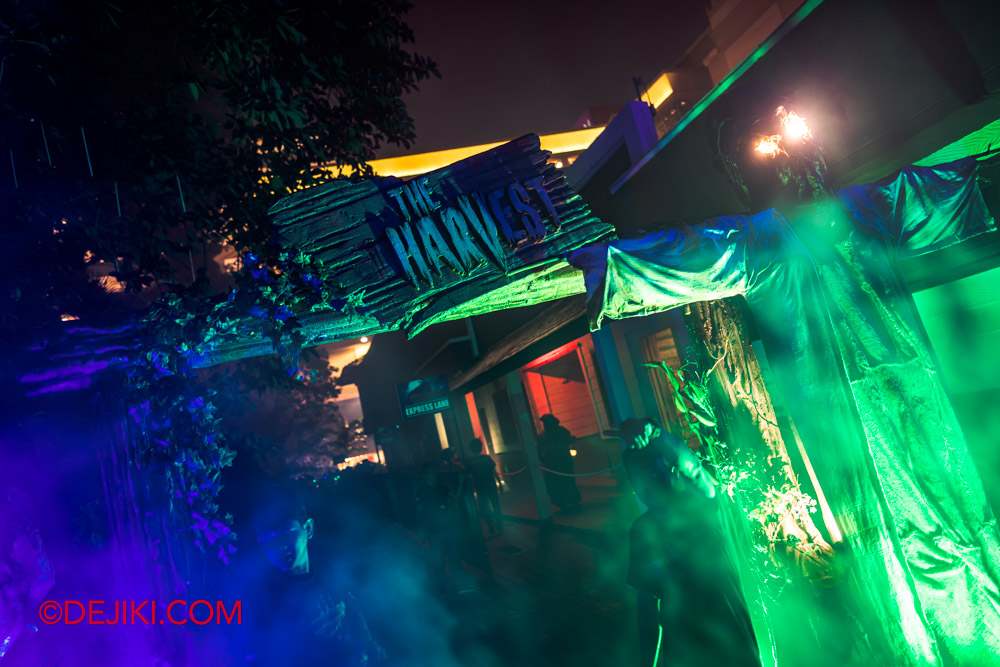 The Harvest felt like the longest haunted house experience, because the route brings you through both indoor and outdoor spaces.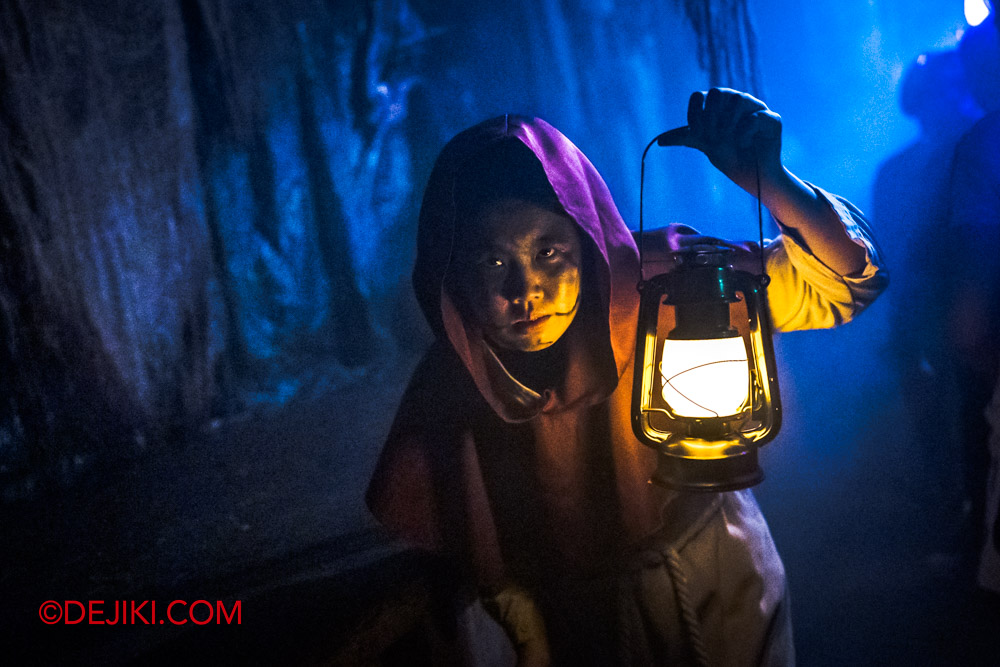 Essentially the 'last harvest' left the world destroyed, and you will have escape from the (possessed) scarecrows, and lifeless human survivors.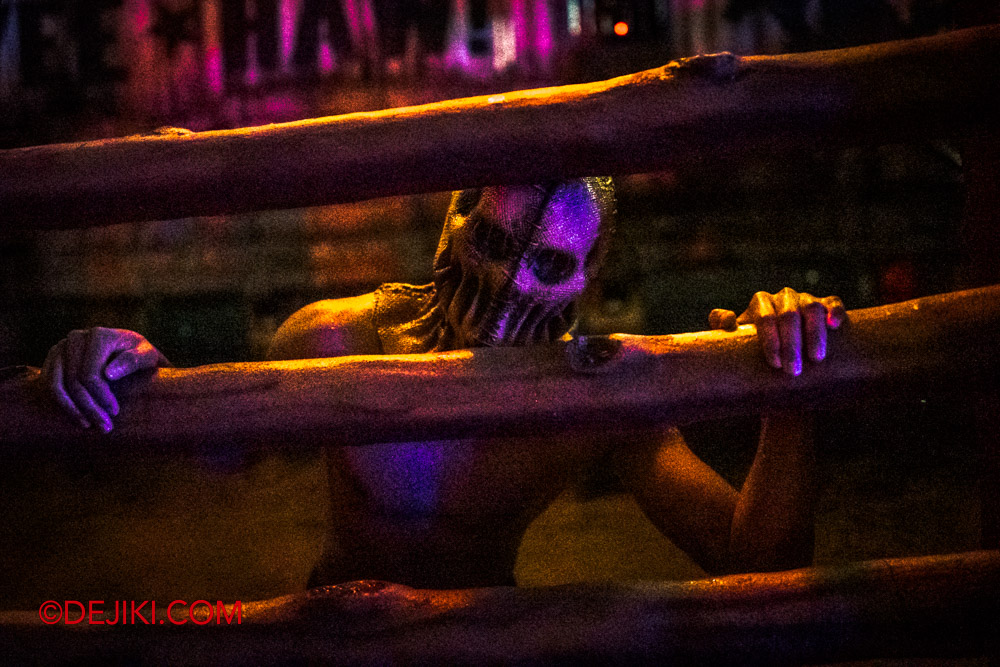 There's even a scarecrow in the water.
Compared to the noisy Blood.Shed.2, this is a survival horror adventure with an unsettling premise.
Presentation: ★★★★☆
Horror Level: ★★★★☆
---
LYCAN – The Werewolves of London
Another one of the new houses this year, LYCAN transports you to '1870s Victorian England'.
Right after entering a room with curious artefacts, you're pushed outside to a smoky, dark hallway.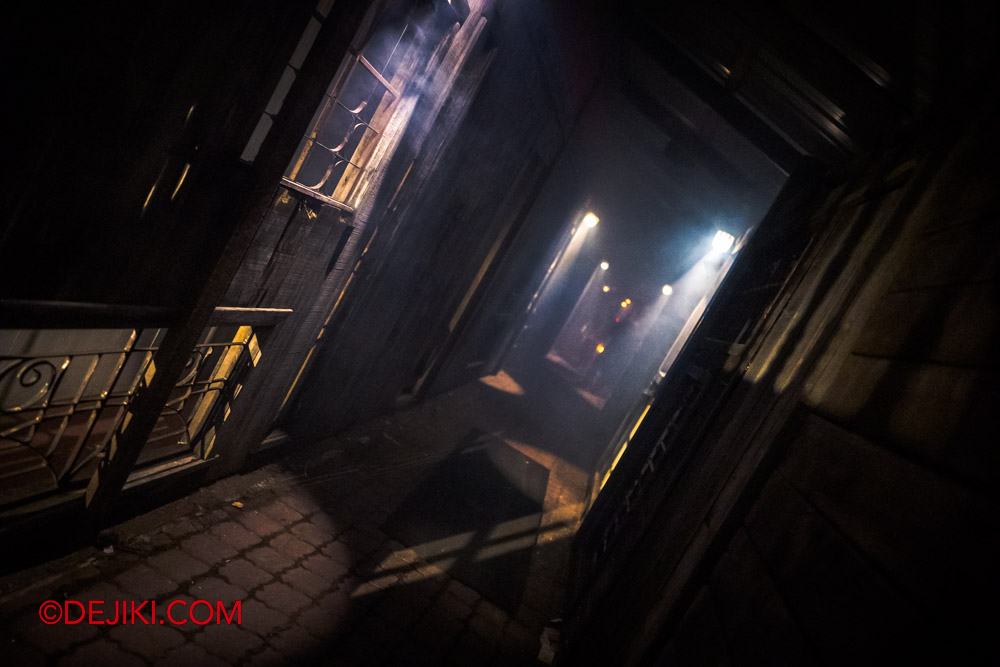 It's incredible dark, and seems endless.
Whenever you see lights move, you better watch your step.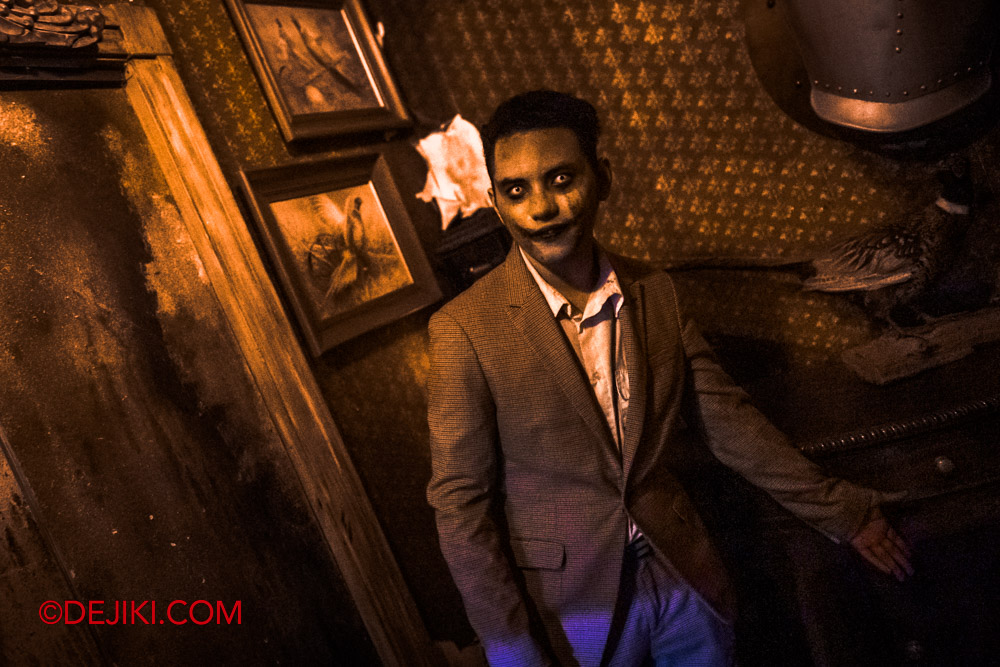 Towards the end, you'll walk up a flight of stairs and into a mysterious home of Wallace Keating.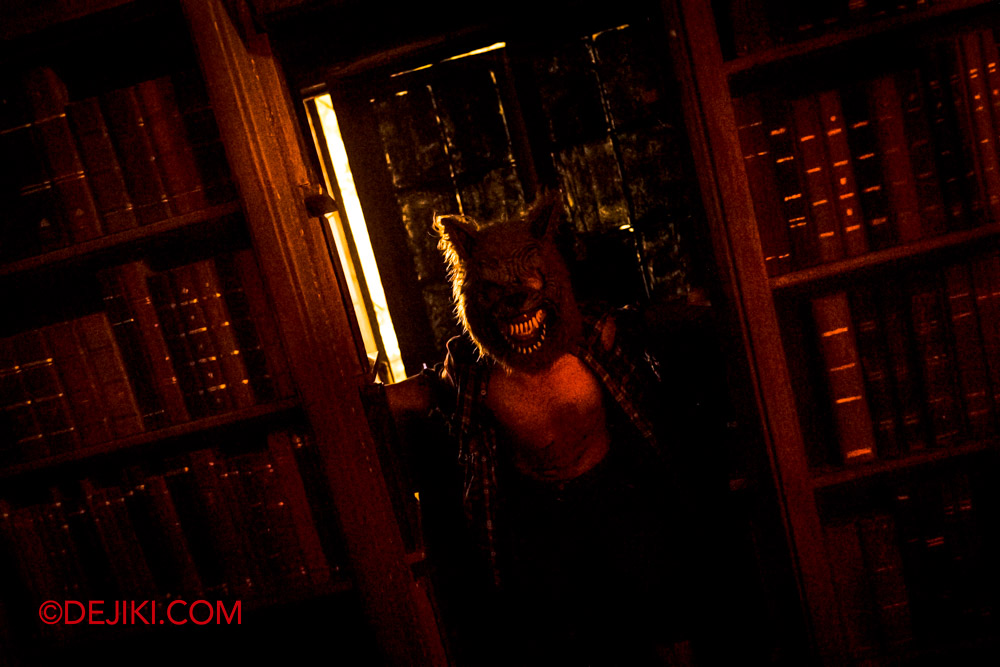 Werewolves start circling, and are on the attack.
As a house, Lycan had a great start, but after going through its most impressive rooms, the story runs quickly through corridors before heading into an abrupt end.
Presentation: ★★★★★
Horror Level: ★★★★★
---
The Hotel Deville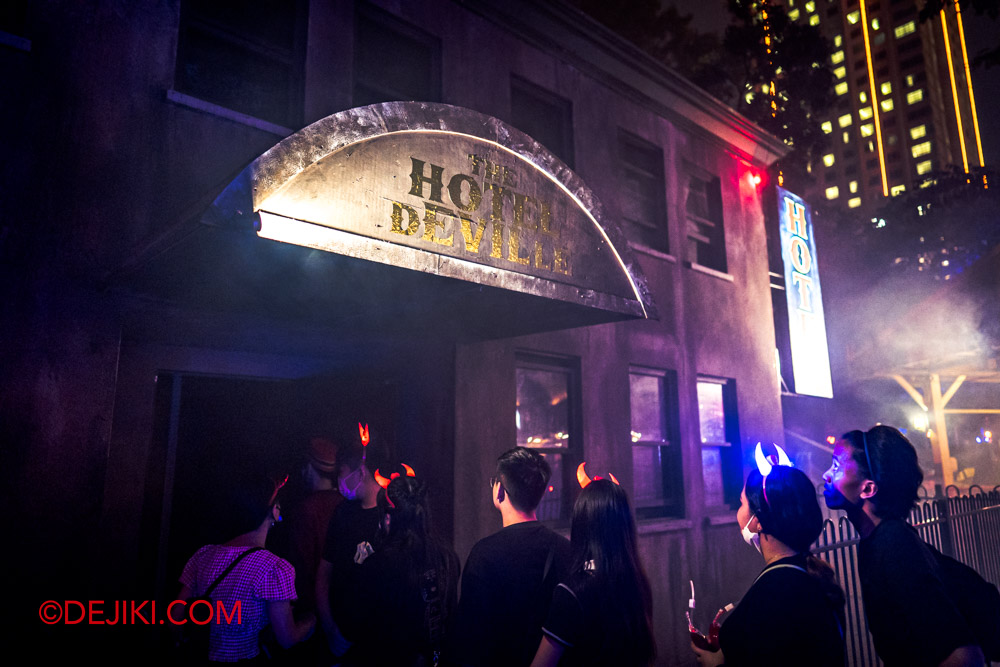 Welcome to Hotel Deville, a 'Scare B&B' where you might not be able to leave once you check in!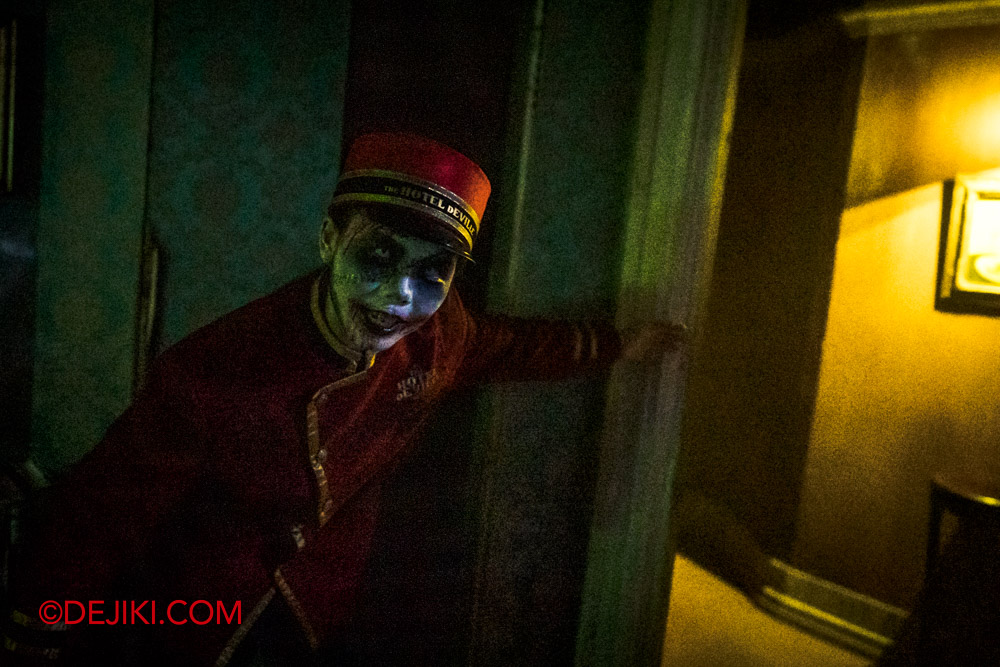 Your tour around this hotel will take you through both the back areas and guest rooms.
As with any haunted hotels – corridors that make you feel very "lost".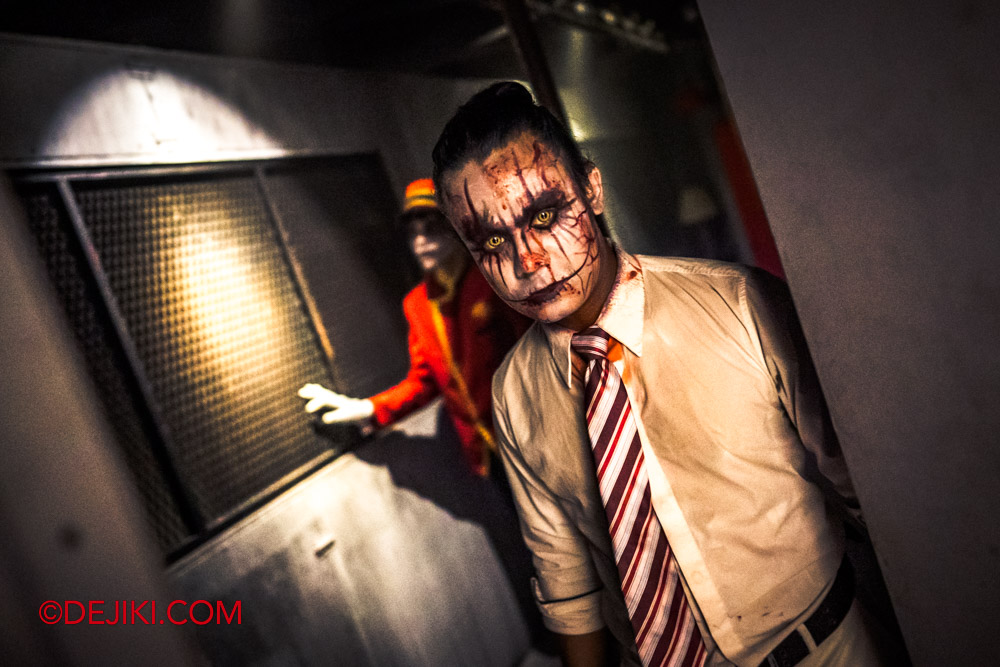 It may not be as luxurious as the Golden Monument, but Hotel Deville feels more like a real haunted hotel.
Presentation: ★★★★☆
Horror Level: ★★★★☆
---
99 Doors at ScaryTales Theater
Inspired by the actual and abandoned '99-door mansion' in Penang, witness the horrors within the mansion as you watch a horror film short in the ScaryTales Theater.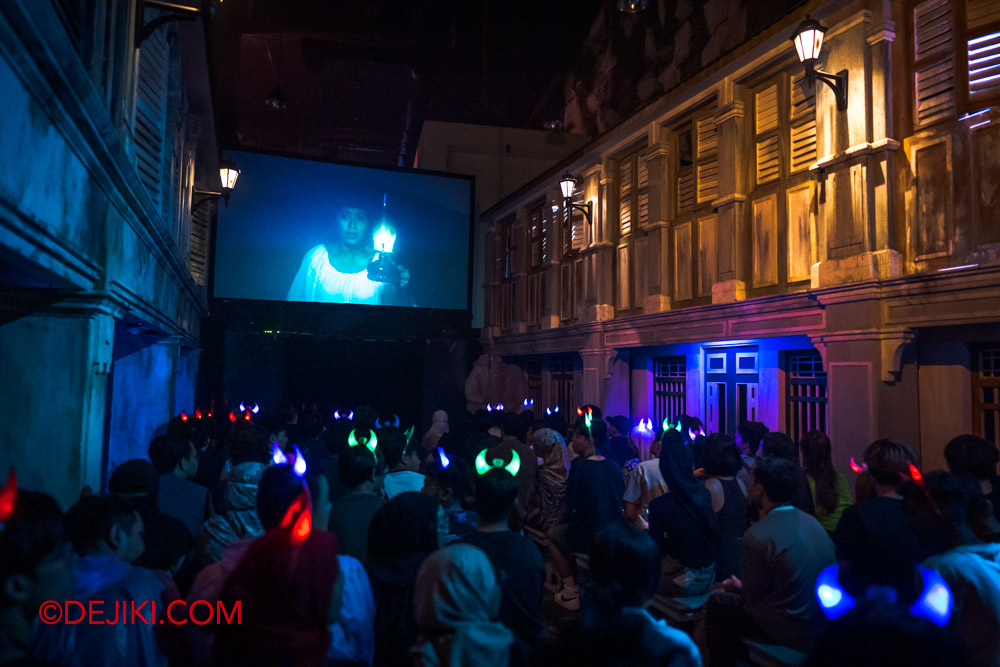 As the video plays, spirits begin to manifest all over the theater. The film itself is already quite terrifying (and it's quite beautifully shot), but the 'interactive' part of this theater is what makes the experience truly memorable.
Presentation: ★★★★★
Horror Level: ★★★★☆
---
Horrorwood Studios & Zombie Hunters
Wax figures of popular horror icons slowly come alive in this museum.
Now that they've escaped – they're on the hunt. For you.
Just when you thought you escape from the likes of Freddy Kruger and Pennywise, the hallways lead you directly into the next haunted house – Zombie Hunters.
It's a zombie outbreak that's quickly spinning out of control.
You'll have to make quick decisions to escape from the walking dead!
Presentation: ★★★☆☆
Horror Level: ★★★★★
---
Lucha Libre in UV3D
Step inside an underground wrestling club where matches are taking place.
With the use of 3D glasses and the experience of walking around wrestlers engaged in bouts, this haunted house has a more fun and entertaining tone, rather than a horrifying one.
Presentation: ★★★☆☆
Horror Level: ★★★☆☆
---
SHARKNADO
Sharknado Alive! is a permanent attraction at Sunway Lagoon that opened in 2019. It's also available during Nights of Fright as an enhanced version with a bigger cast and tweaked effects.
This haunted house brings the iconic comedy disaster film and all its absurd moments to life. You will go in and out of scenes from the movie – something like a soundstage tour. That is, until things change, and keep changing!
All I can say is to always expect the unexpected, especially when you thought your Sharknado experience has ended.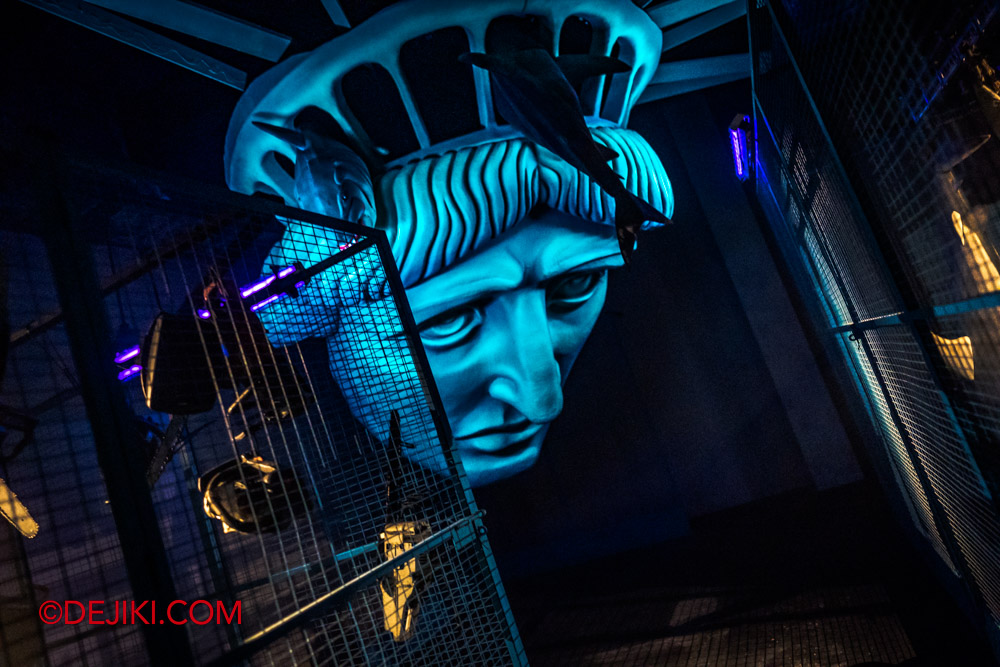 As this is a permanent attraction, the overall design is at a different quality level, with more elaborate effects and dramatic scenes.
Presentation: ★★★★★
Horror Level: ★★☆☆☆
---
Roaming Characters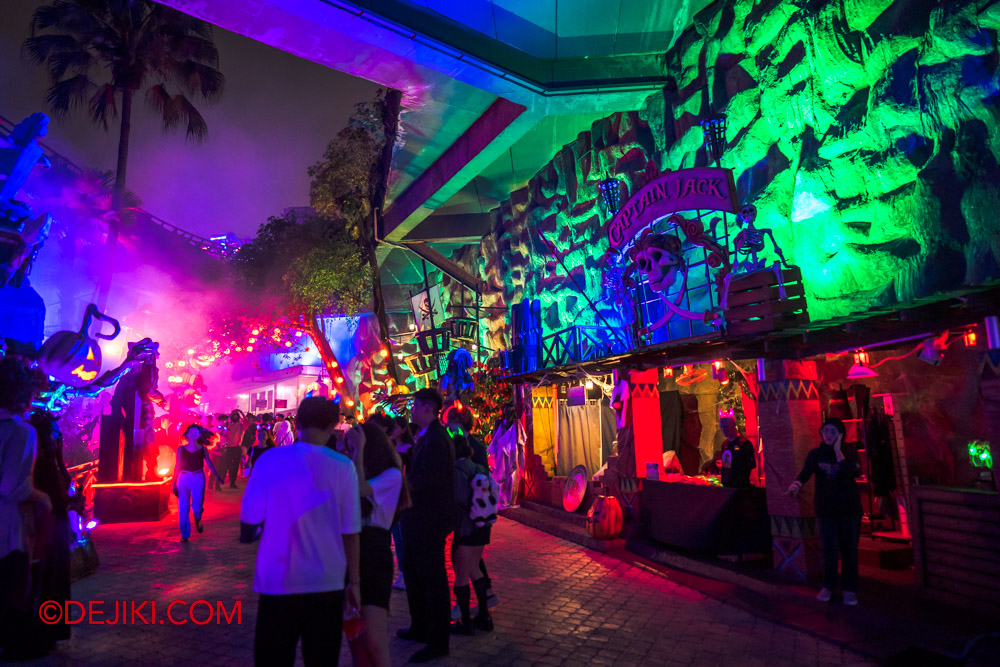 The spooky fun from the houses often leak outside. While the park has a handful of scare zones, most scare actors free roam all over the park, including around the queue lines, to keep guests entertained throughout the night. Here are just some of them: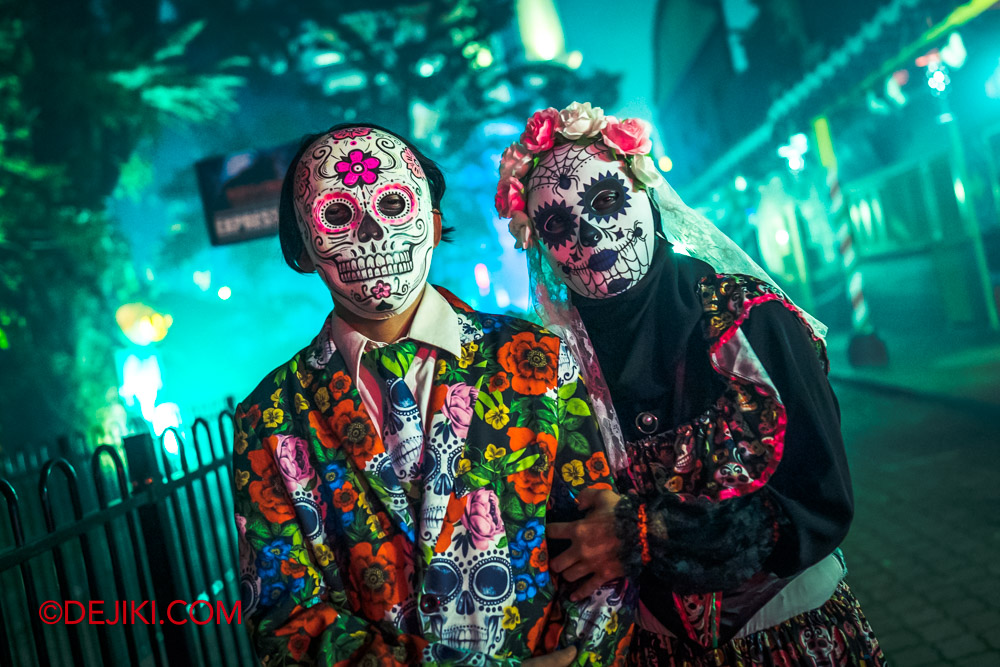 ---
Queues and Other Event Information
Along with its 9 haunted attractions, a selected mix of amusement rides will also be open during Nights of Fright. But that's not the main reason for visiting this event, right?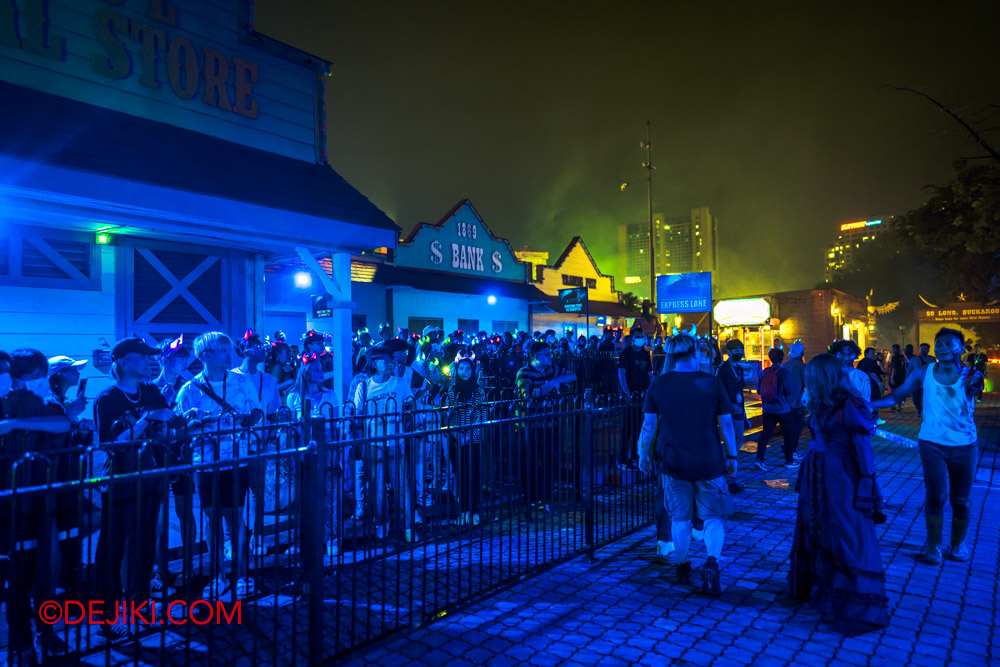 If you are a horror fan planning to visit for haunted houses (and returning again before the end of park hours), the best thing to do is to buy the Express Pass. Unfortunately this is already sold out for all remaining event nights at time of writing.
For most houses, guests are pulsed in small groups for the best experience. At some haunted houses, guests will hold onto a rope together as they walk, creating a more intense experience.
You can also catch some stage shows (or even take part in interactive games) at the event's main stage.
---
Nights of Fright 8 at Sunway Lagoon Malaysia
Event Season: Every Friday, Saturday and Sunday from 30 Sep – 30 Oct 2022, and 31 Oct 2022
Remaining Event Dates: 28, 29, 30, 31 Oct 2022
Event Hours: 7:30PM to 11:30PM
Category
Price
Nights of Fright 8

Admission Ticket

RM118 (~S$35.5)
Nights of Fright 8

Xpress Pass Add-on

RM88 (~S$26.5)
More information available at the Nights of Fright 8 official website.