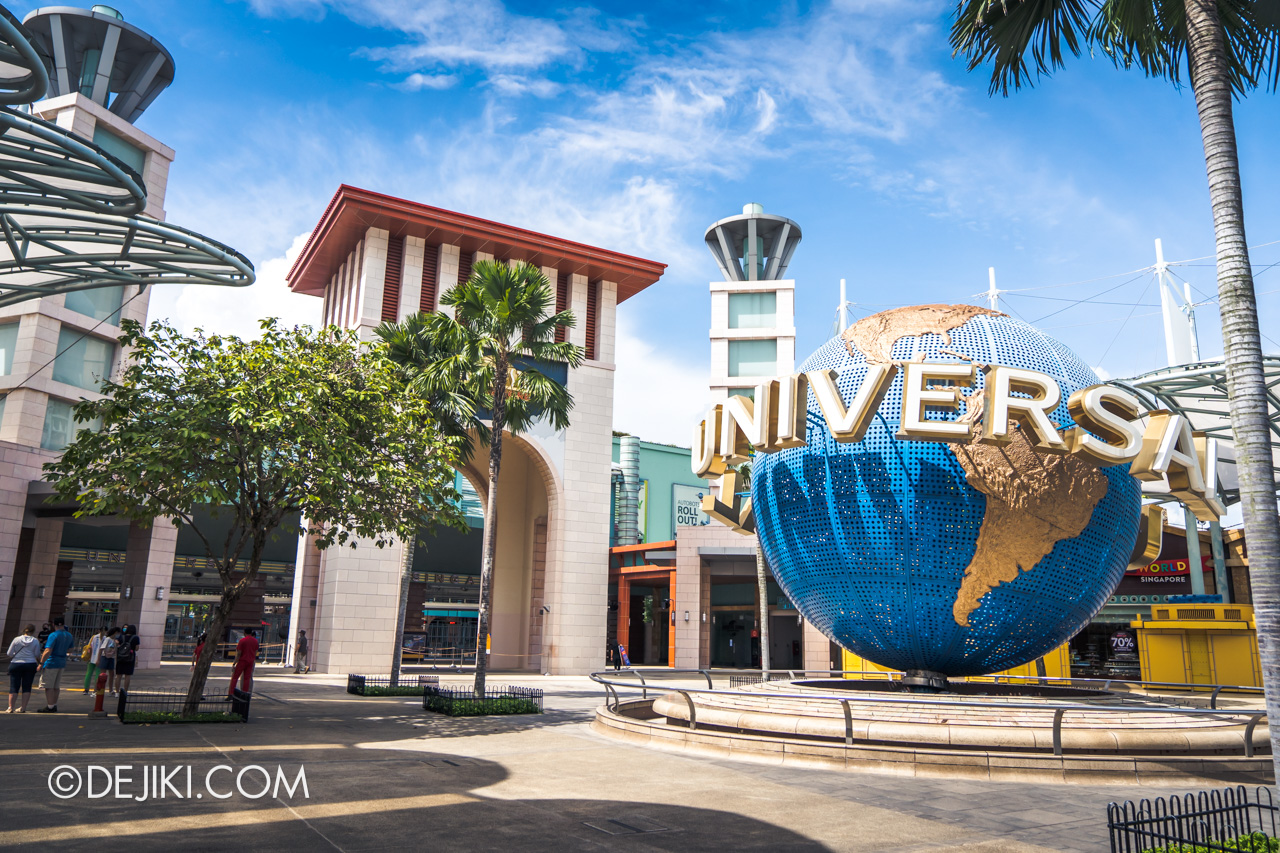 What's it like to visit Universal Studio Singapore now? Check out photos and updates from the reopened theme park and see the various protocols implemented to meet the required standards of safety and cleanliness.
One thing to note about what's featured in this article: This is an evolving situation and the park will likely improve its processes over time, and adjust its safe management measures based on any new and updated guidelines from the Singapore government.
USS Park Entry Procedure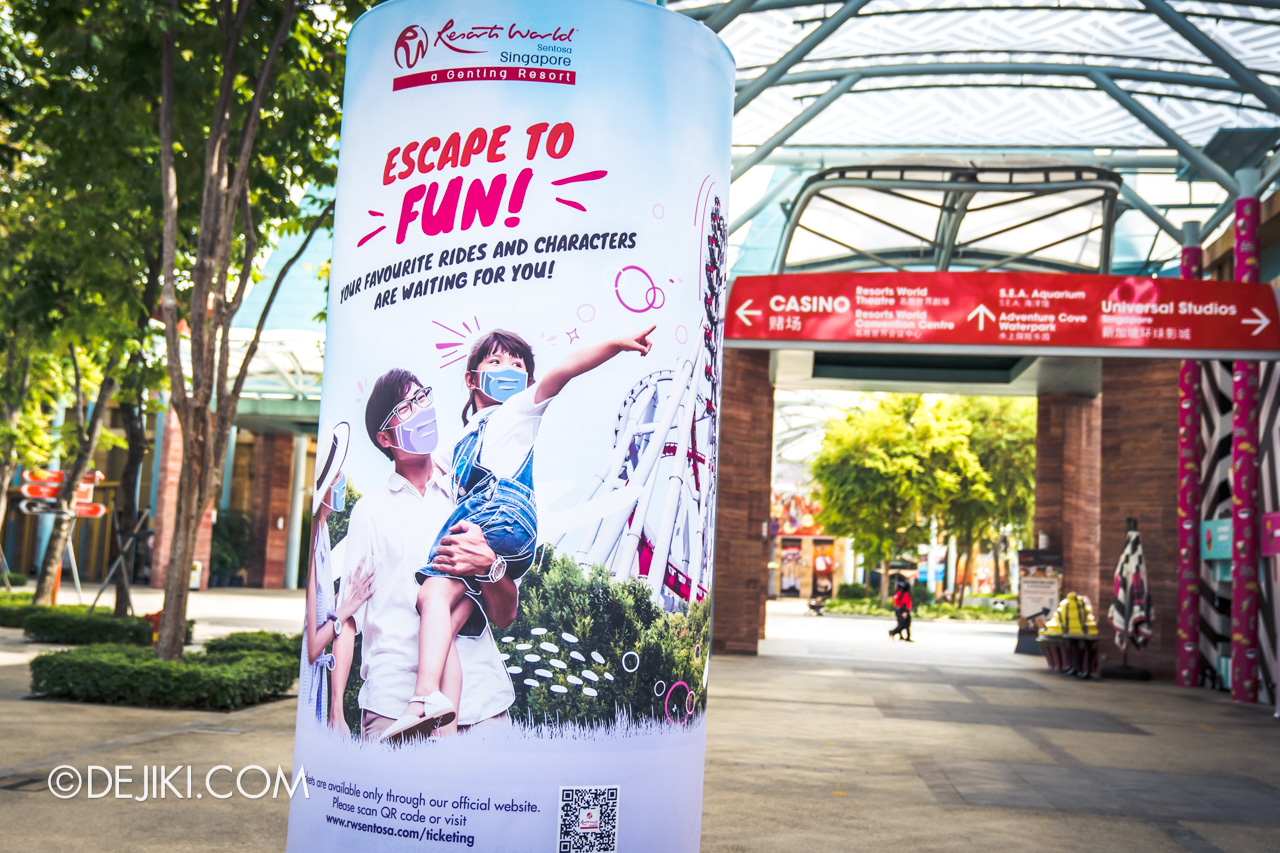 Changes start before you even arrive at the park. USS tickets are now only sold online at www.rwsentosa.com/ticketing, and there is a difference between these new 'Singapore Residents' tickets (purchased from 30 June 2020 onwards) and other tickets. Here's a breakdown:
Ticket Kinds
One-Day Pass,
Annual/ Season Pass
One-Day Pass (SG Residents*)
purchased from 30 June 2020 onwards
Default time to enter park
2PM
12PM
Need to make reservation?
Yes, via RWS Reservation website.
No need. Already included.
Priority Entry Special Add-on?
S$9 add-on
Already included.
* Only Singapore Resident One-Day tickets purchased from 30 June include early admission to the park from 12PM. Other One-Day tickets, such as non-SG residents and other promotions (e.g. Mastercard, Maybank), purchased from 30 June onwards do not include priority entry special. These tickets may only be used to enter the park from 2PM.
All Annual/ Season passholders require a reservation booked in advance via the RWS Reservation website. Please do not arrive at USS without a reservation confirmation as you may be turned away if the park has reached its capacity for the day. Also, All Passholders can only enter the park from 2PM, unless they purchase the Priority Entry Special for S$9.
To facilitate crowd control, temperature scanning, reservations checking, and contact tracing efforts via SafeEntry, the park has set up an extended queue line and holding area at the park entrance.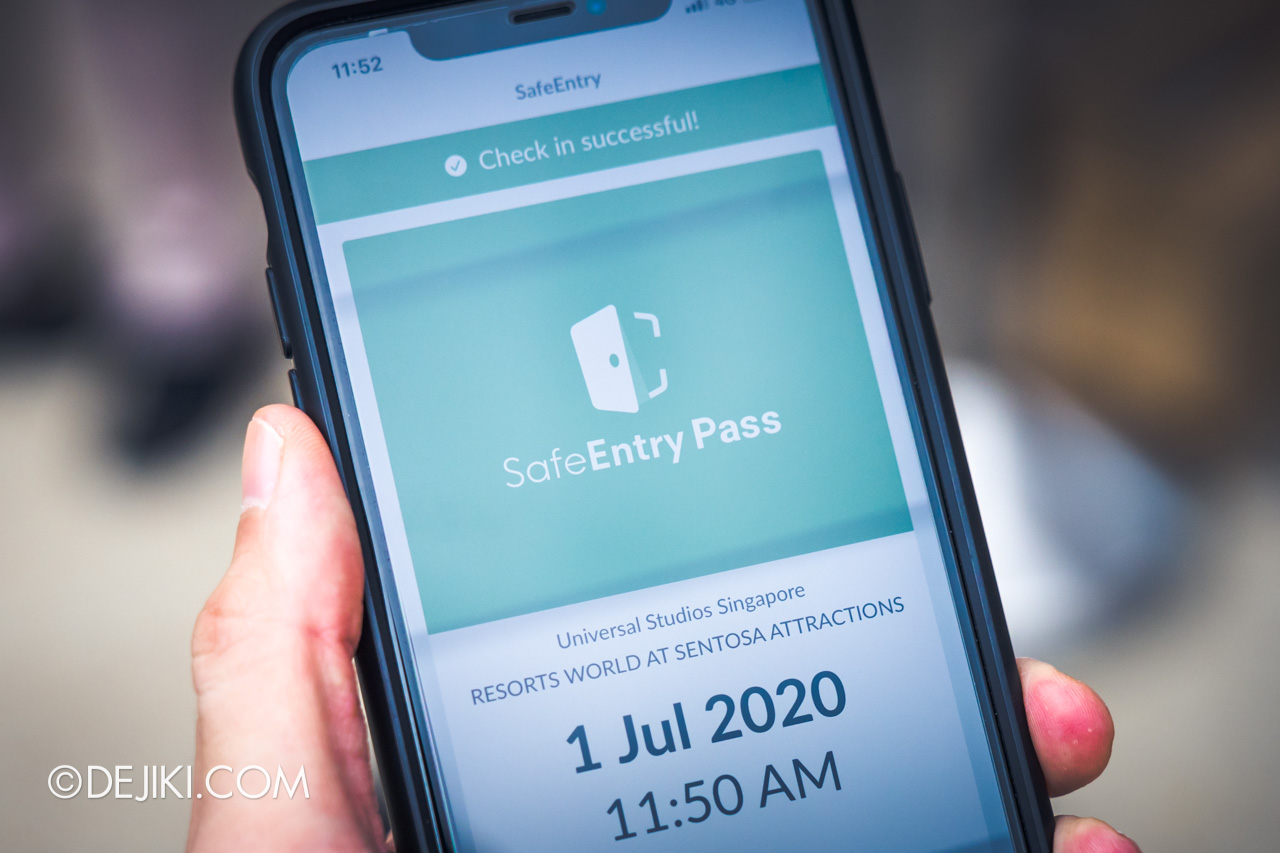 The first thing you need to do is to SafeEntry check in. If you have SingPass, please use the SingPass Mobile smartphone app to speed things up signficantly.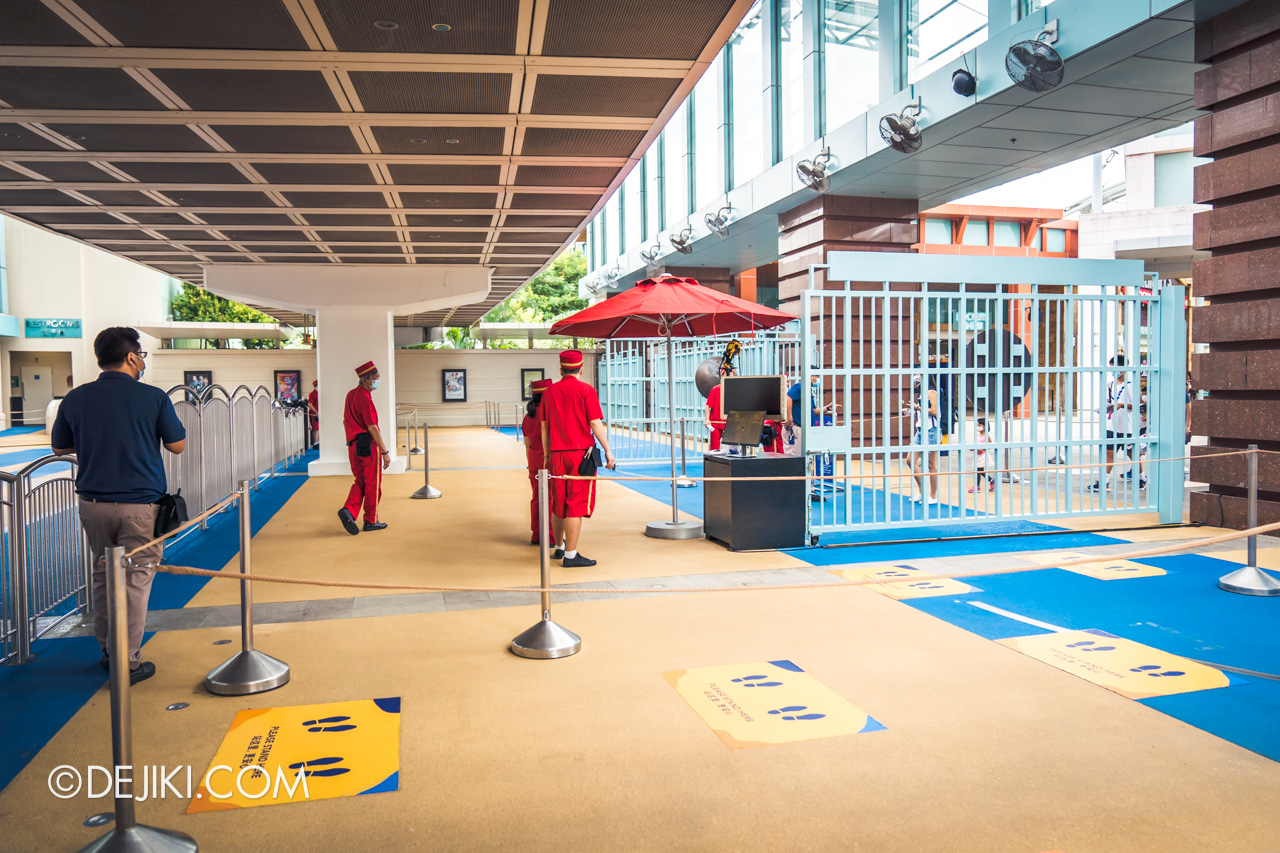 Temperature scanning is done as you walk in, while park crew may verify your park tickets, reservations and SafeEntry Check-in Pass along the way.
Once the park has opened, you can self-scan your tickets and be on your way.
What is the Priority Entry Special?
Priority Entry Special offers access to the park 2 hours earlier, from 12PM. During this time, you can look forward to exploring the park with significantly less guests around, exclusive Meet and Greet sessions, dining at selected restaurants – Mel's Drive-In, Discovery Food Court, Goldilocks, Friar's, and Loui's NY Pizza Parlor (on weekends and public holidays).
Attractions will not be available during these first 2 hours.
It's quite unusual to see the park so empty in the afternoon – though the situation is likely different on weekends.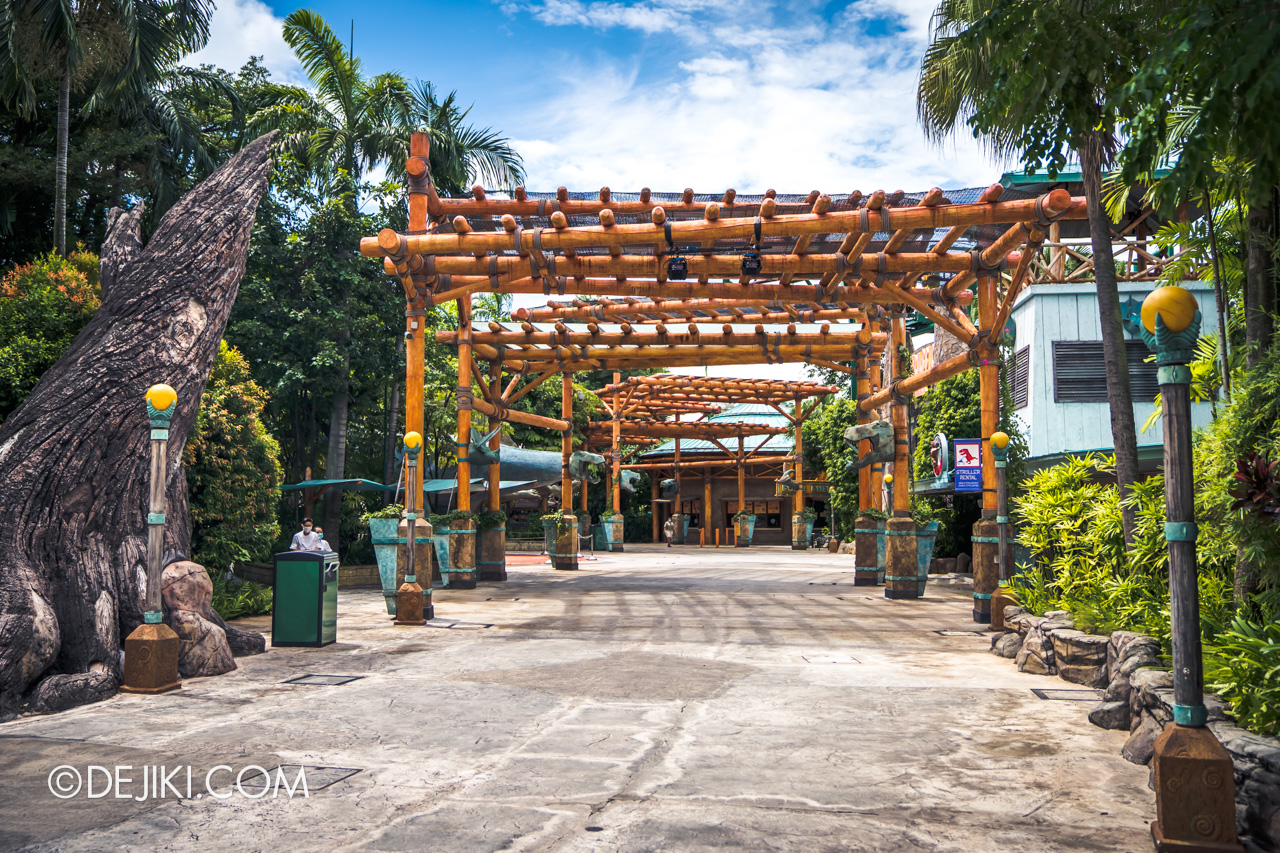 But if you've ever wanted to feel like a celebrity and take photos in the park with few people around – this offers you the best opportunity! The park's spaces are open for you to explore, and of course, you can stake out near the rides and be first in line when attractions officially open.
Some Meet and Greet sessions happen around the park during these 2 hours, so best to check with the park crew members for all available opportunities.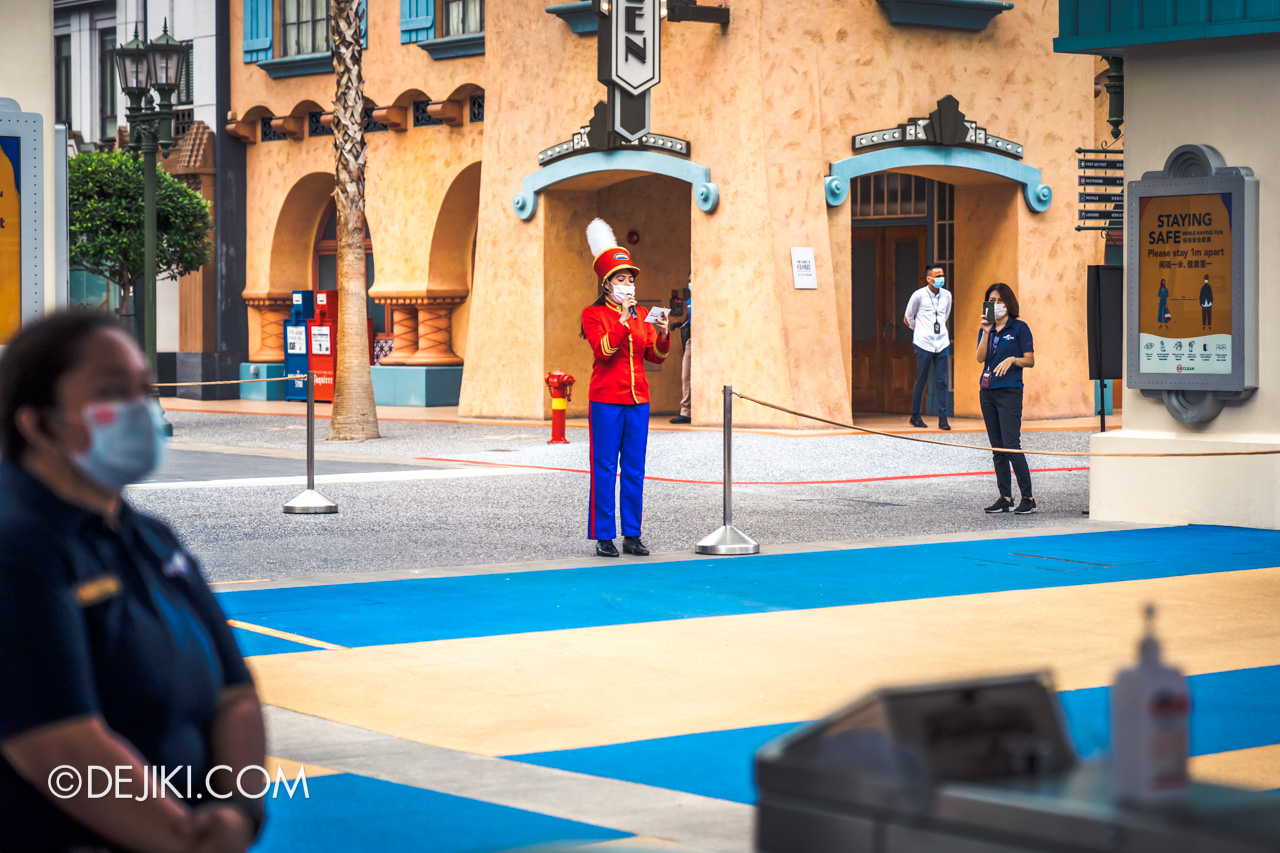 Whether you arrive at the park at 12PM or 2PM, the park will do a modified Opening – which has now transformed into a briefing of sorts to remind guests to abide with new rules as they enjoy their day in the park.
Also depending on the situation, the park may open slightly earlier than 2PM.
Changes to rides at USS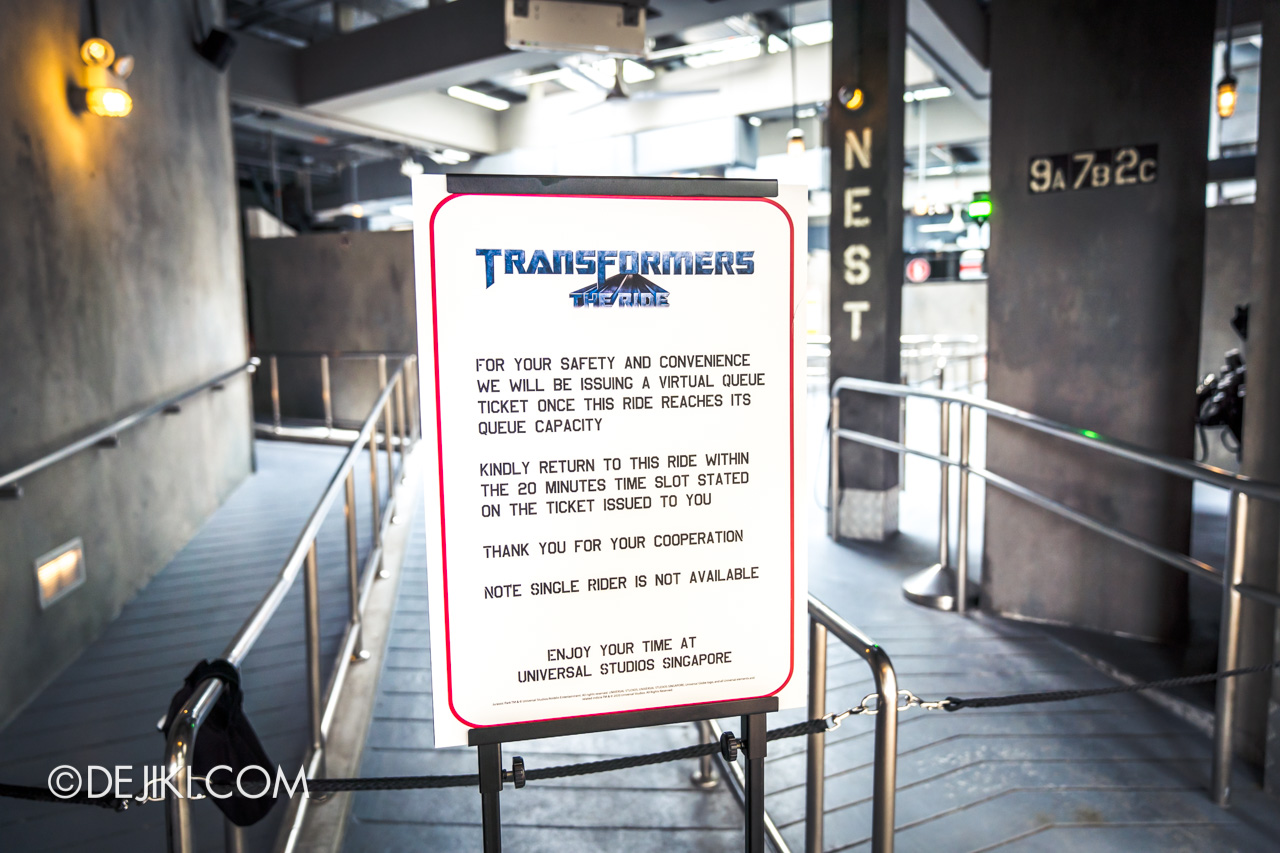 While 14 ride attractions have reopened, they are operating at lower capacity and with disinfection procedures, adding slight delay after every ride cycle. Thus, despite the lower park attendance, not all rides have zero wait time.
A Virtual Queue system will be deployed at select rides if the queue reaches its capacity. Guests will be given a queue ticket with a timeslot to return later in the day. Guests with Universal Express passes should be able to use the Express line whenever they wish.
The rides with Virtual Queue are:
Transformers: The Ride
Battlestar Galactica: HUMAN
Battlestar Galactica: CYLON
Revenge of The Mummy
Jurassic Park Rapids Adventure
Canopy Flyer
Enchanted Airways
It appears that the park targets to maintain the maximum wait time for attractions at around 20 minutes. Queues may be temporarily closed if the wait time is near or at 20 minutes.
Footprints are now all over the rides' queue to remind guests on distancing requirements.
For Transformers: The Ride, 3D glasses are no longer available for self pick up. Ride crew will hand the glasses to guests at the boarding area.
High contact surfaces in attractions are regularly cleaned.
As for ride vehicles, surfaces that are in contact with guests (seats and safety restraints) are also cleaned by the park crew after every ride cycle.
Alternate row loading is implemented at the rides, meaning there would be an empty row between different groups of guests. This doesn't mean that seats are marked as closed.
It also means that for most attractions, the capacity is halved.
Mask wearing is mandatory even for guests on rides! You may scream and shout as loud as you wish, just remember to keep your masks on. Don't pull it down because there is a risk of the losing your mask during the ride.
Canopy Flyer vehicles have a capacity of 4 guests. Now it would typically seat 1 or 2 guests per vehicle, unless there is a group of 3 or 4 guests visiting the park together – these guests can then board the same vehicle.
This, together with the cleaning procedure after every ride cycle, does significantly increase the wait time for Canopy Flyer.
As Universal Express and Single Rider are both not available for Canopy Flyer, I'd recommend either taking this ride first, or saving it for the night. The park is open until 9PM, anyway.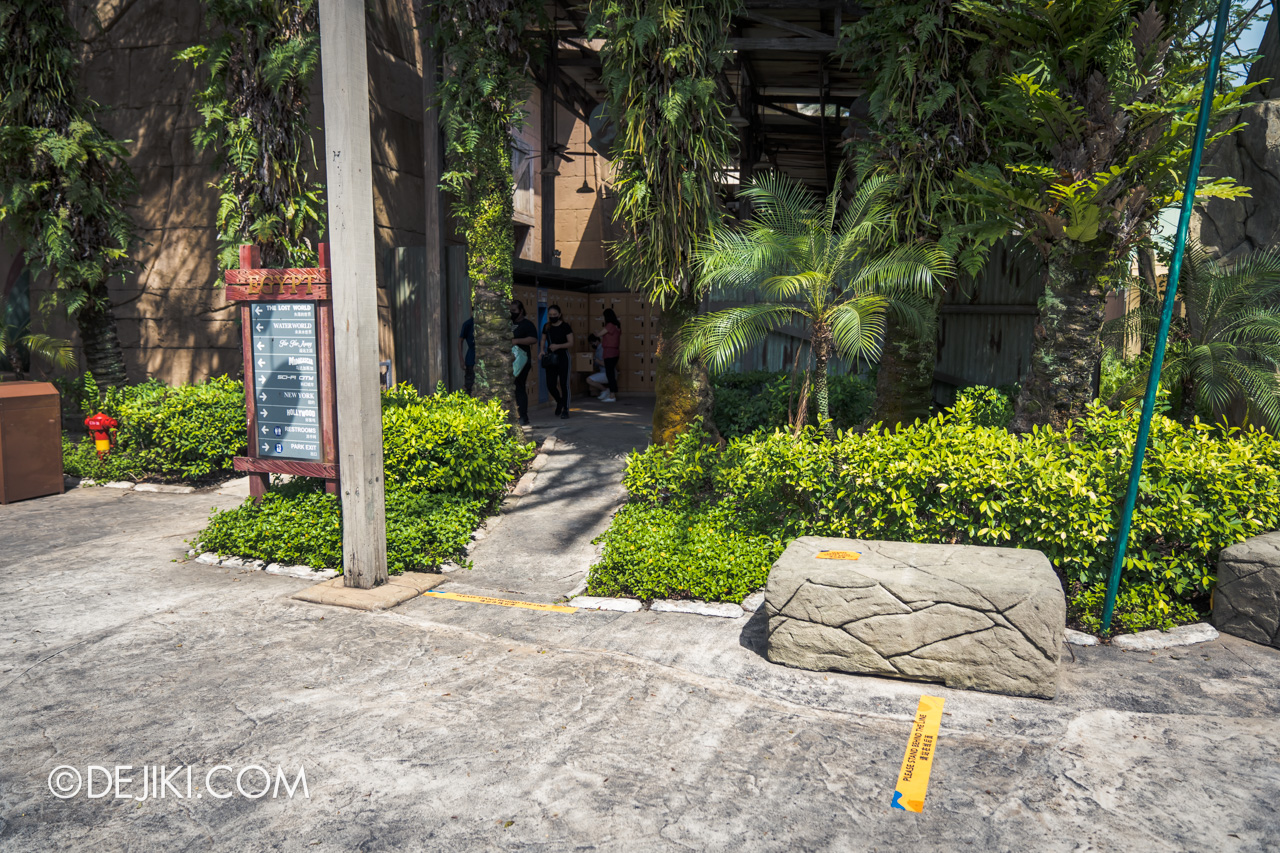 Crowd management is also done at the lockers in the park. Sometimes you might even need to line up to get in. The lockers at the main entrance of Revenge of the Mummy is currently closed.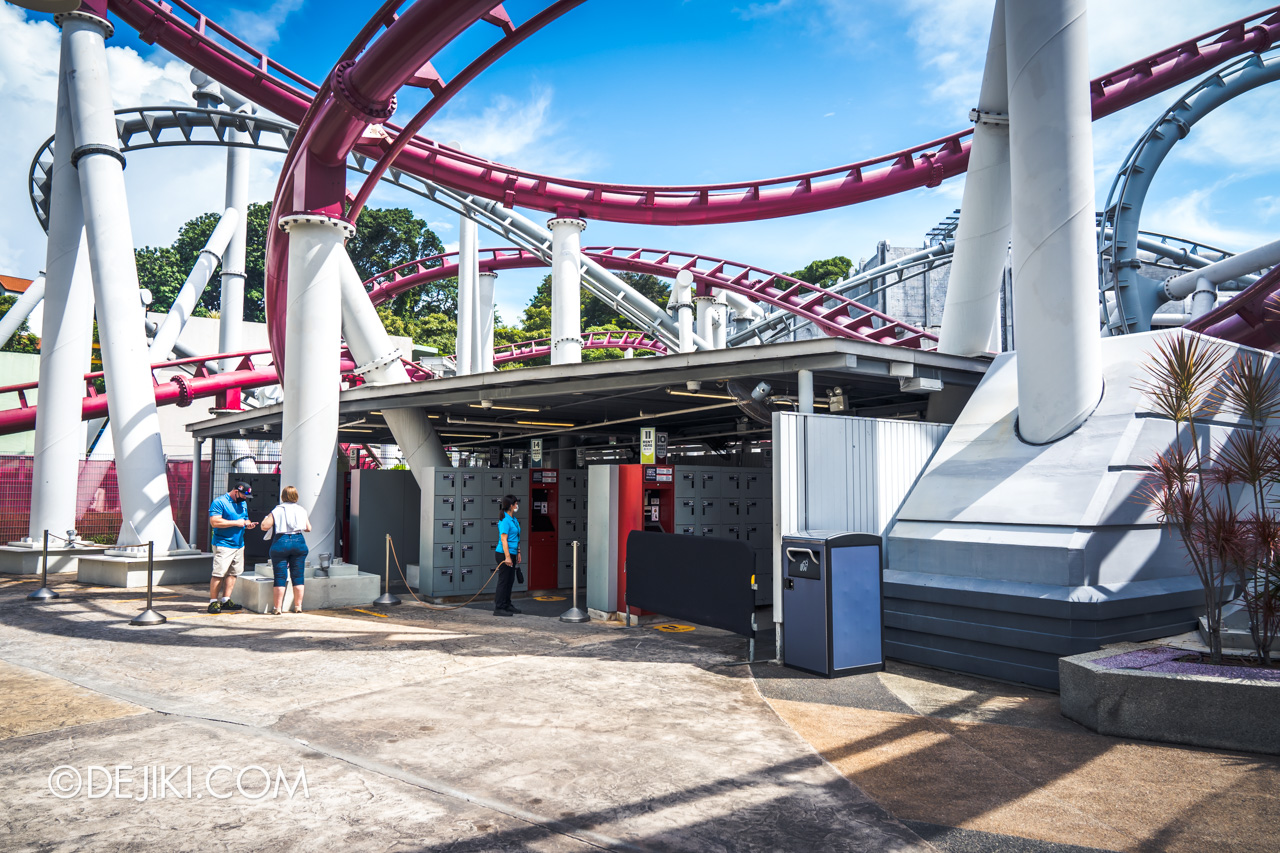 If you're taking the park's high-speed roller coaster rides, you'll have to use the lockers on the side of the Mummy building, or the one beside Battlestar Galactica. Good that they're near each other.
Only two 'non-show' attractions are unavailable: Amber Rock Climb and Magic Potion Spin.
Safe Management Measures at restaurants
Restaurants in the park now have less seating, and shields are added at the cashier counters.
Digital menus are available online, with QR codes conveniently located at every table.
Contactless payments are preferred at the park now, and for cash payments, trays are used to minimise direct contact.
Also spotted: shields at some tables.
Retail store updates
Similar to restaurants, safety shields are installed at the stores' checkout counters. The checkout procedure is also adjusted to reduce direct contact between guests and park crew.
If you've misplaced or broke your mask, you can buy a replacement at the park. Prices start from S$5.
While Universal Studios Singapore's 10th Anniversary Celebrations are likely scrapped, you can still bring home a set of 'Celebrating 10 Years' souvenir glasses for S$15. Available at Transformers Supply Vault and Universal Studios Store.
Not all retail stores (and carts) are open, which is only logical with the 25% park capacity limit. You can still grab popular items at the largest store in Hollywood zone.
In addition, Hollywood China Arcade is closed, and the windows are masked off. No news on whether this video arcade would reopen.
It's just a bit strange to see store windows appearing like this.
Other noteworthy park changes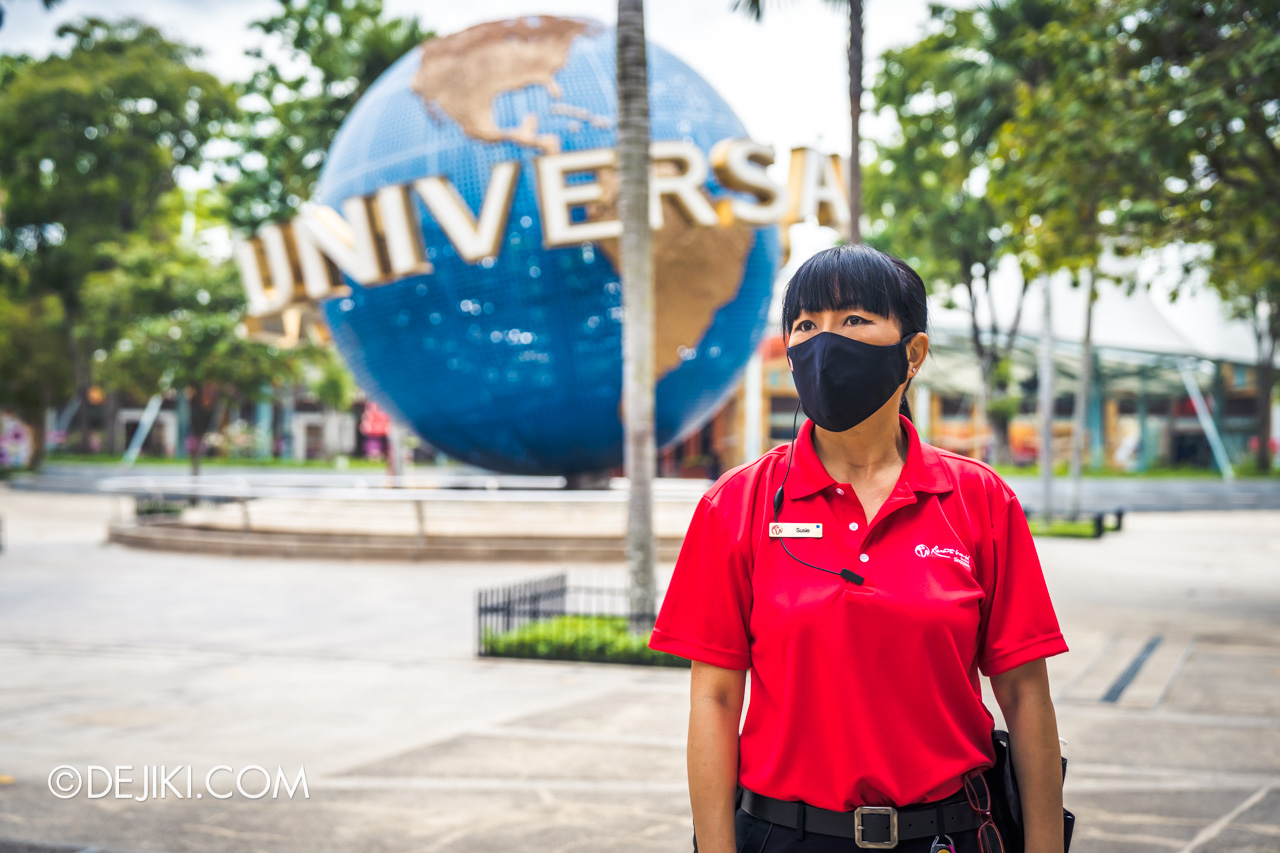 Safe Distancing Ambassadors now rove around the park to ensure that guests comply with new park rules, including wearing of masks at all times and keeping a safe distance from other groups of guests.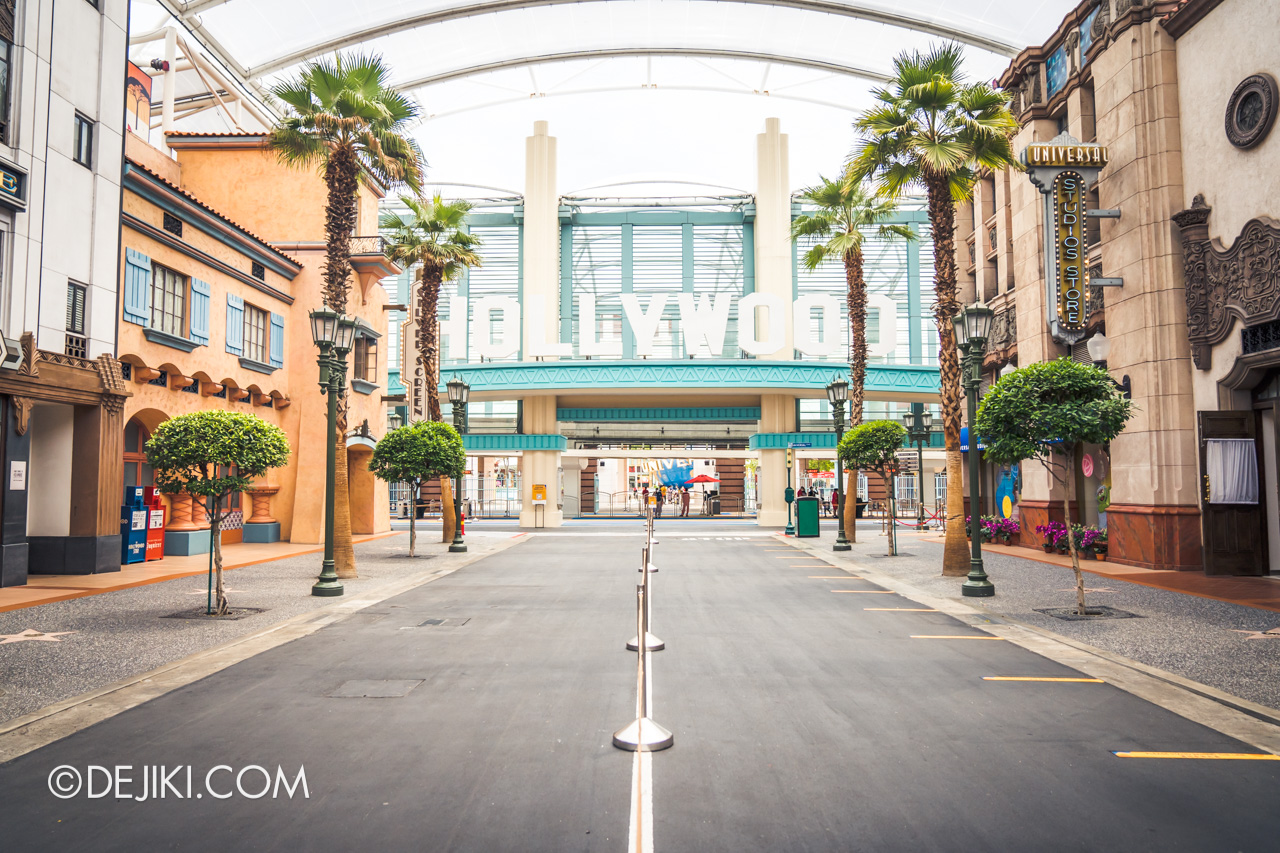 Main street divided: A rope now splits Hollywood zone – although you can still cut across at some points. Possibly to help divert traffic entering and leaving the park and prevent crowding at the usual spots.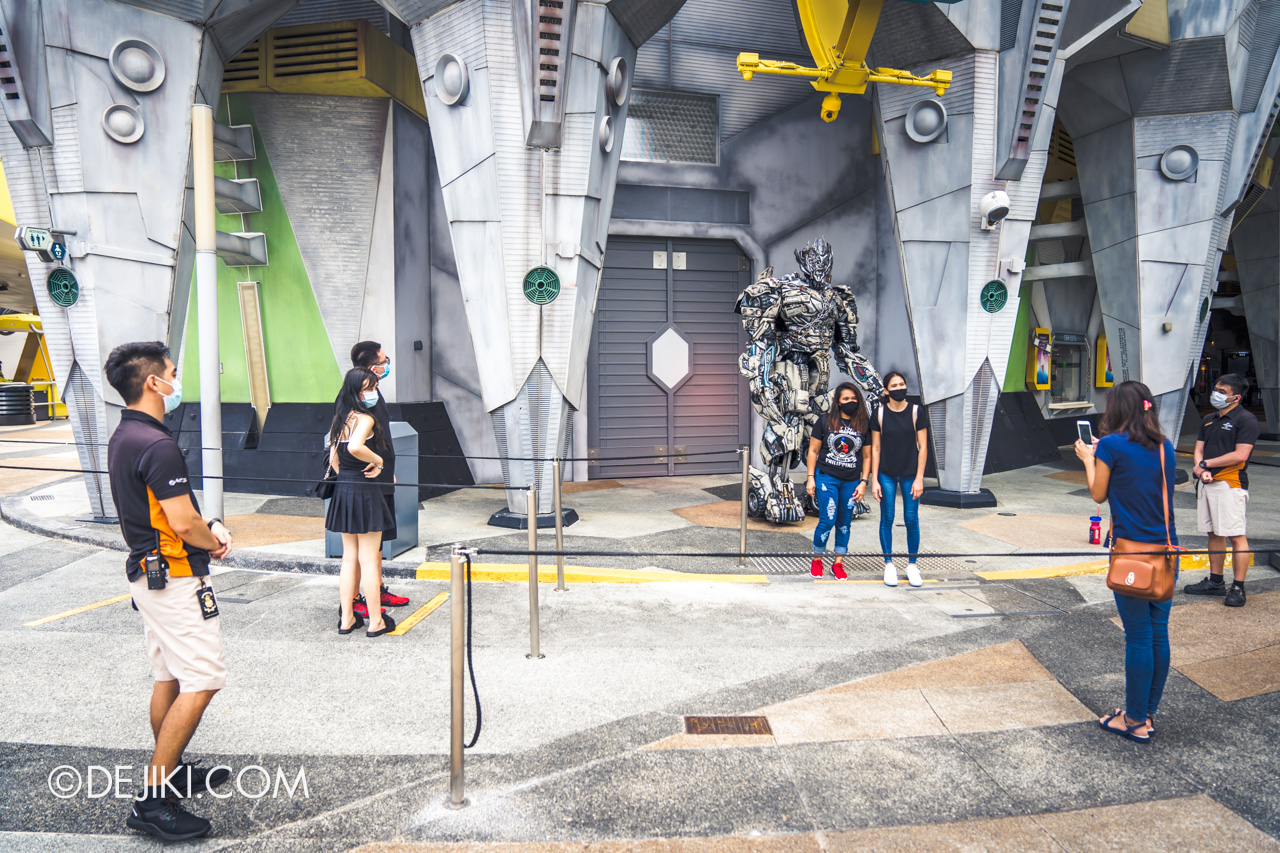 Meet and Greet is available during regular park hours, but with some adjustments. For a start, only animated characters will appear. Seems like the park's Star Guides (aka character attendants) will not be assisting guests with taking photos using guests' personal devices. The park's photography service provider, Digiphoto, will be at some Meet and Greet sets.
Instead, selfies are encouraged. Guests still have to stand at a distance away from the characters. No touching!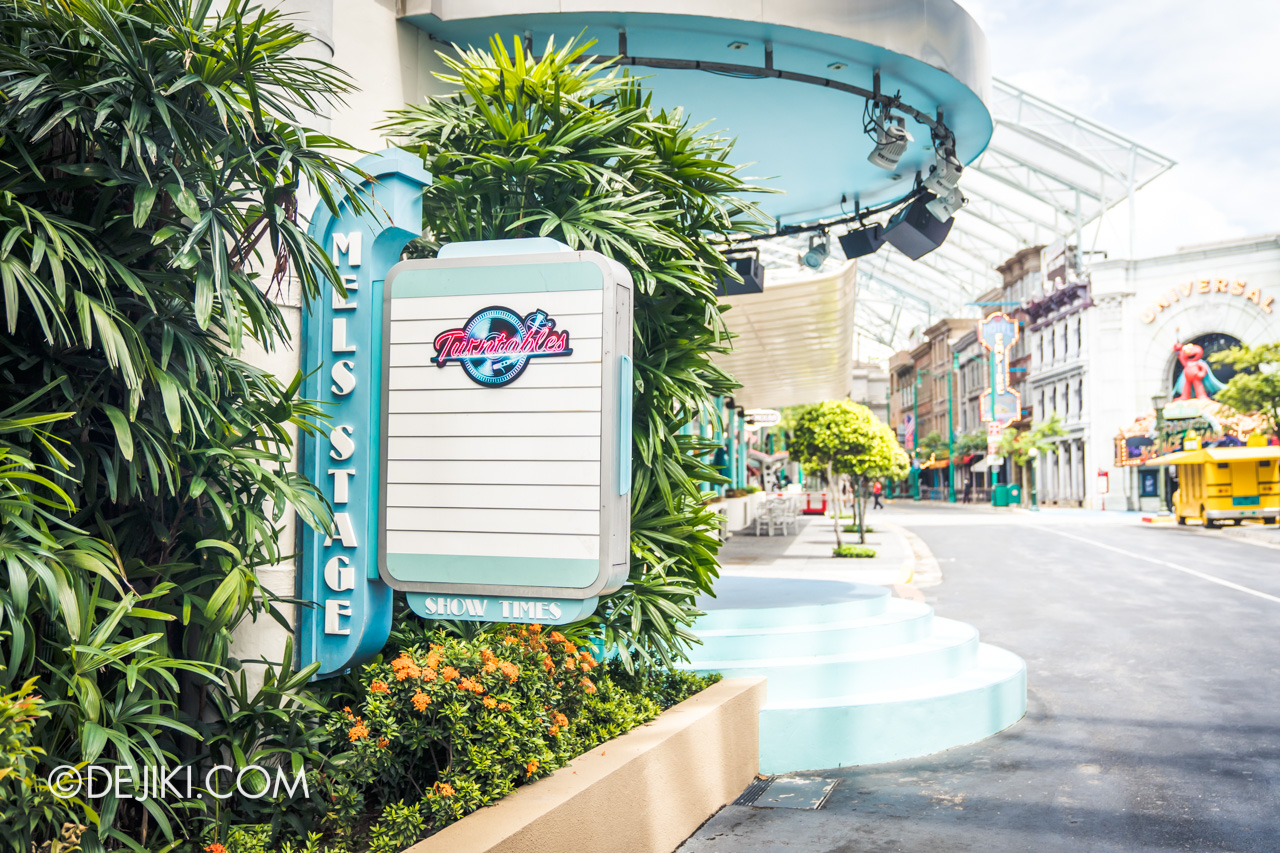 All of the park's shows are unavailable until further notice.
You may not realise this until you get tired in the park, but almost all of the benches in the park were removed, save for some (e.g. the stones in Ancient Egypt). If you need a place to sit down and rest, head to the restaurants that are open.
Another thing that you may not notice immediately is the removal of all printed studio guides (park maps) and show schedules. It has been replaced with the Universal Studios Singapore app.
Download it from the App Store for iOS devices and Play Store for Android devices.
Drinking fountains are unavailable. Heads up for those who bring refillable bottles.
At this moment, construction works for Halloween Horror Nights 10 (HHN10) have not taken place at the usual haunted house sites. It is unlikely for HHN10 to be held in the same format as past years.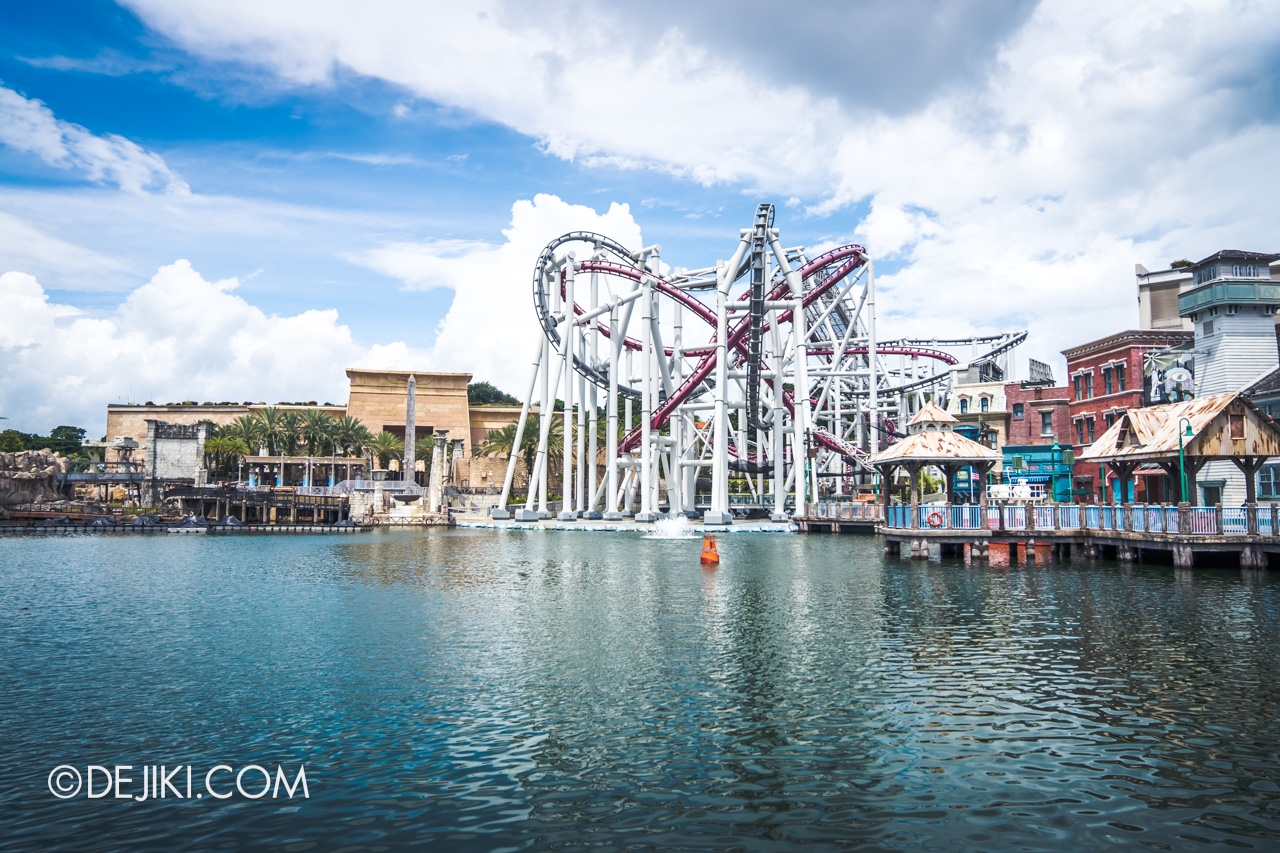 It's probably not a high priority matter for now: portions of the park did seem a bit more faded since my last visit in late March. However, it seems like some other parts of the park did get cleaned up and repainted, notably in Ancient Egypt and Jurassic Park, looking more vibrant than before:
The Raptor Nest area in Jurassic Park looks totally refreshed.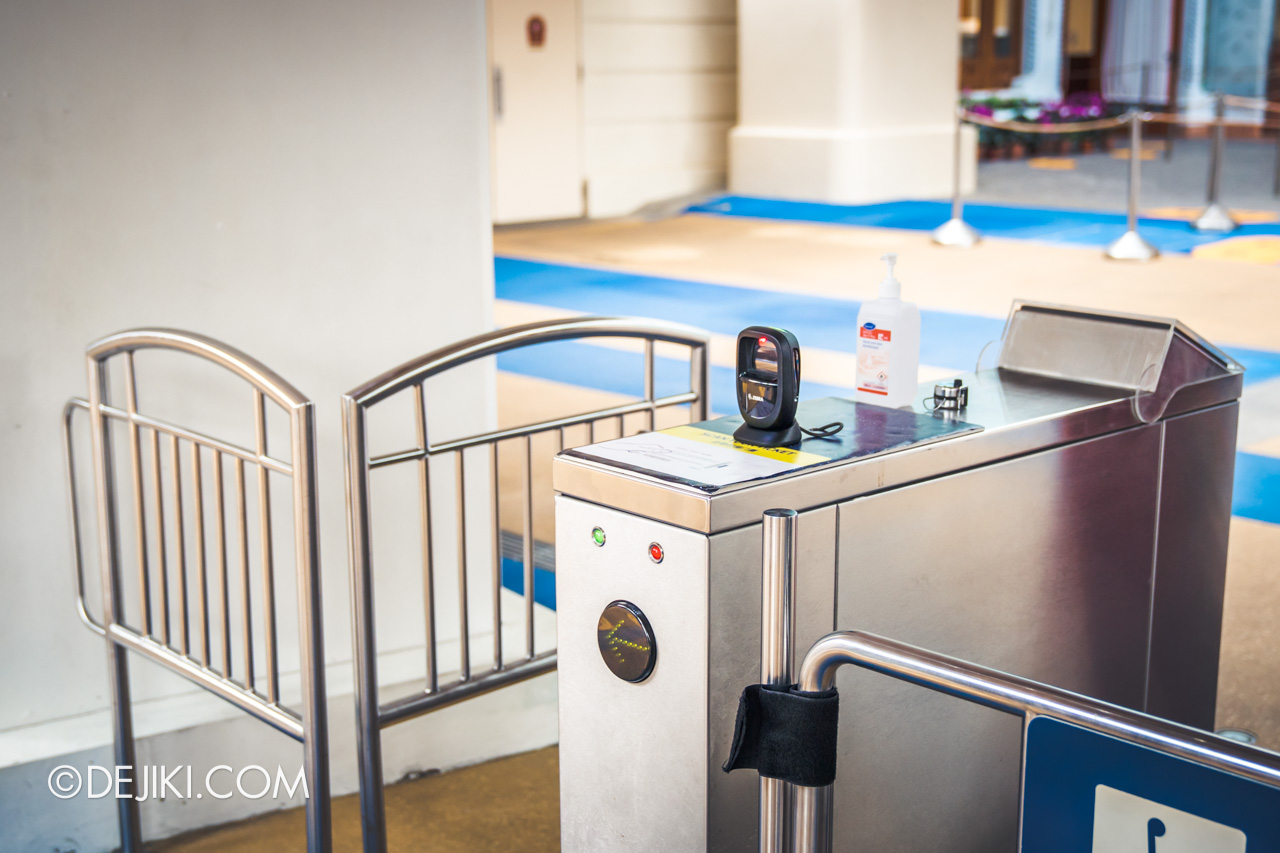 Remember the facial recognition system at the park entrance? Obviously it wouldn't work now with mandatory mask wearing at the park. The turnstiles are now equipped with these simple self-help scanners.
Leaving the park? Don't forget to do the SafeEntry check out while you walk through the line to exit the park.
Now then, are you planning to visit Universal Studios Singapore soon?
Subscribe to Dejiki.com or Like my Facebook page for notifications of updates.
---