Get "re-routed" and uncover new gems in Little India district in this new festival format debuting at Singapore Design Week 2022.
What is Re-Route Festival 2022?
This is multi-format festival, created by PLUS Collaboratives, spotlights the heritage of the Little India district in Singapore.
Launching in conjunction with Singapore Design Week 2022, Re-Route Festival takes a design-based placemaking concept, with creative collaborations delivering experiences that connect visitors with site-specific stories. Visitors can explore this iconic district through unconventional ways and learn more about its lesser-known history with a new perspective.
---
Highlights of Re-Route Festival 2022
Through design activations, experiences, art installations and other programmes, the festival intends to "re-route" visitors slightly away from the place they intended to go and discover something new in the process.
Even by attending this preview, I was already "re-routed" and discovered some places beyond the usual shopping and dining spots at Little India. Tip: Take public transport and go on a walking tour; you can easily clock your daily steps. Anyway, during the media tour I saw and got a sampling of some experiences, including:
Food Tours

Chef Drew Nocente with Re-Route Festival Director Mervin Tan
Discover several eateries in the district and taste some of Chef Drew Nocente's culinary creations – creative pairings for dishes found in Little India, when you sign up for the Gastro Intersections Food Tour (S$78).
Here at Usman's Restaurant (current owner on right), we sampled garlic naan with a dip made of stracciatella, pistachio, and beetroot.
Later on, we were led into this side alley where Nandini's Chaat Adda was seemingly hidden. This is part of another experience called Other than Prata: A Little India Food Walk (S$68), which is conducted by Let's Go Tours.
The highlight here: Pani Puri, crisp puffed up balls filled with a spicy (or sweet) filling.
Apart from the food tour, you can also find specially curated dishes made in collaboration with various merchants around Little India – even Old Chang Kee.
---
Design Activations
Across Little India, several 'design activations' – from pop-up artworks to built installations – can be found during the festival.
Titled Curiosity Capsule, this giant gachapon machine dispenses capsules that contains illustrations by artist Valerie Khong that is inspired by a place in the district, along with a random voucher. You'll need to get the Festival Kit for a ticket to redeem a capsule (see below)
The largest installation at this festival is the Re-Route Lookout Tower, which can be found at Lembu Square (Lembu Road).
With an observatory deck (of sorts) at the very top, it offers a very nice vantage point to see and take photos of the surrounding urban landscape.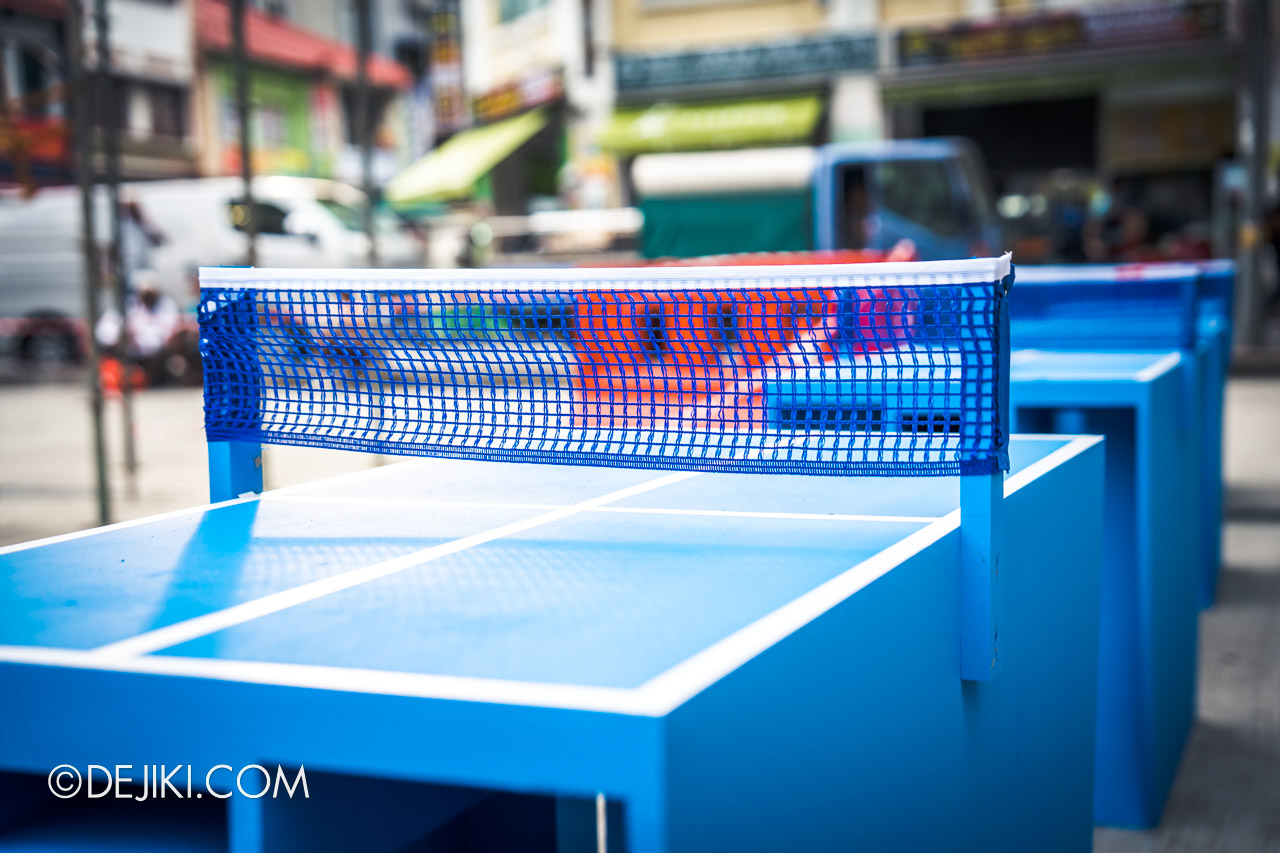 Near the Lookout Tower: Common Games Uncommon Connections, with odd-shaped and tiny table tennis tables.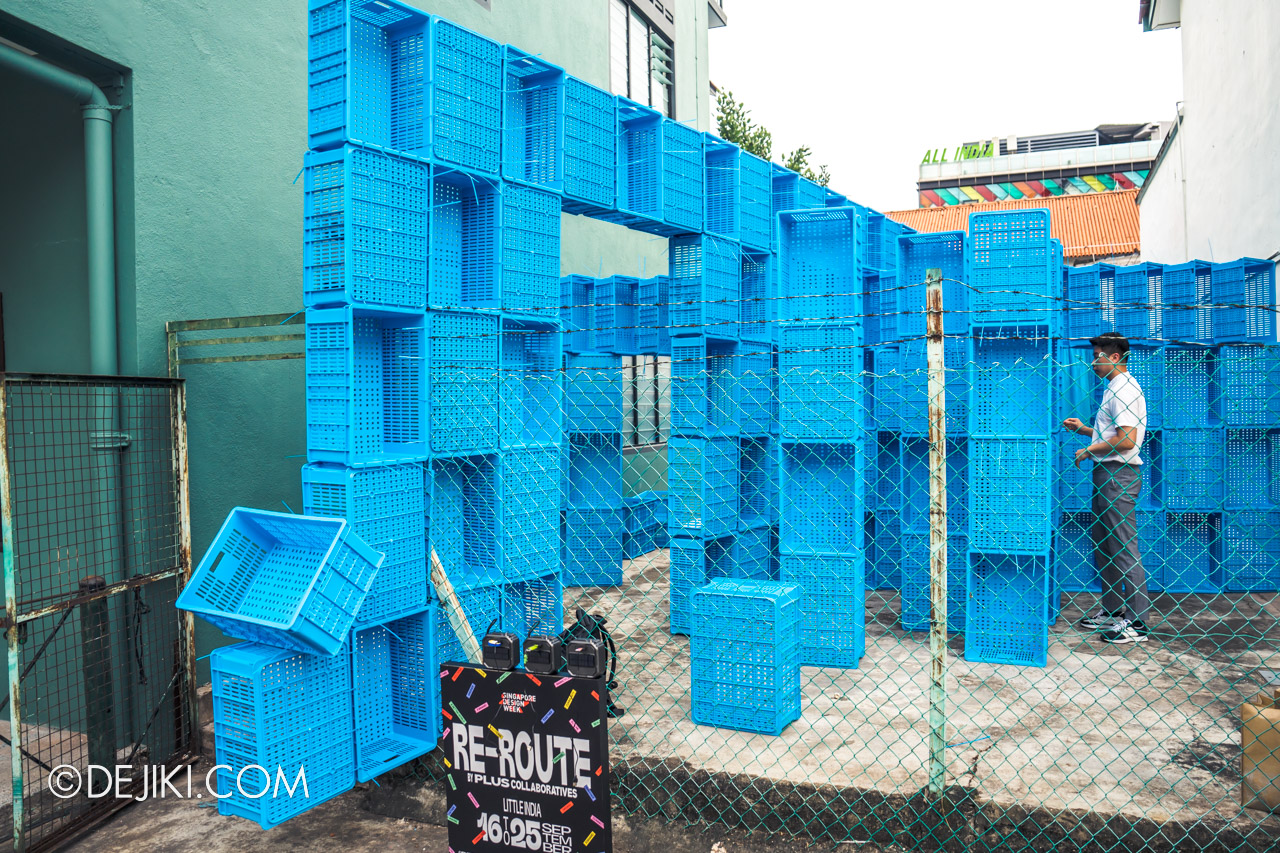 PLASTIK_SILO (UPSTRS_), an installation created with plastic crates in the exact shade of blue as the Festival.
Personas of The Racecourse (Dan Wong/ A Good Citizen) are these cartoon photo cutouts scattered around numerous sites at the festival.
Re-Route Sporting Club, as a sort of merch corner, is where you can find festival goods by collaborating creatives.
The visual design of this entire festival is really quite something.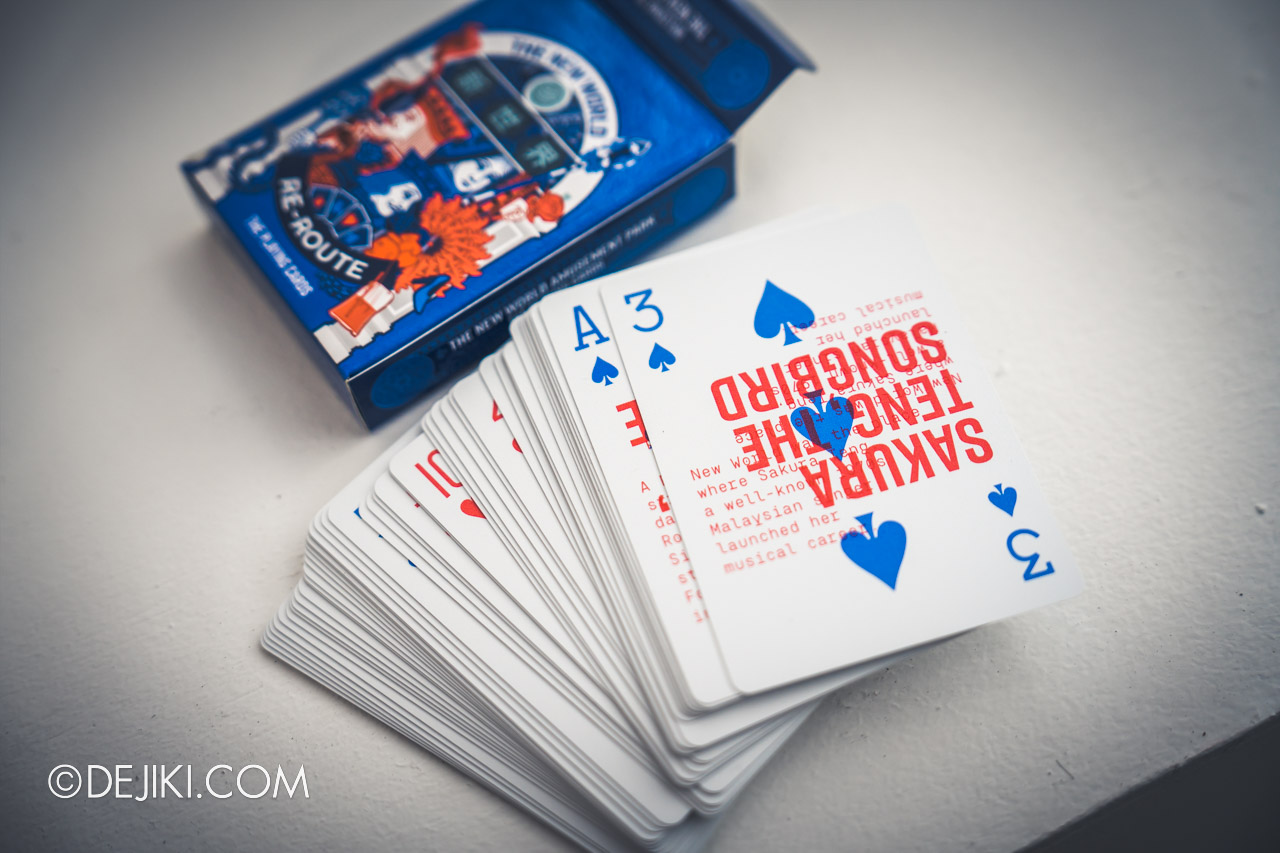 One item that I really liked was this deck of playing cards, which was inspired by the New World Amusement Park that once at Jalan Besar. Each card has a story.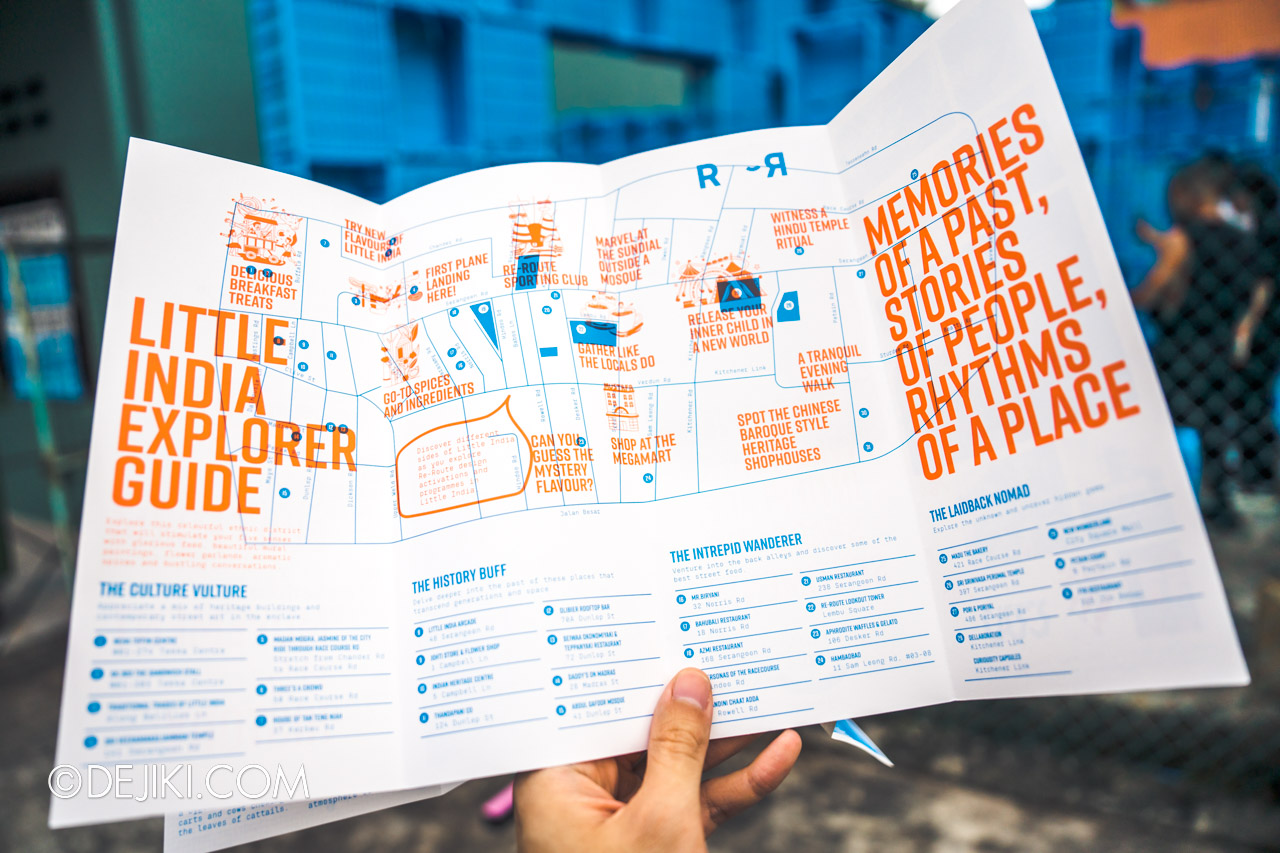 Re-Route Festival Kit (S$14) sold here includes the ticket for curiosity capsule, and a handful of useful items (blue face mask), a hand fan, red-lensed paper glasses which will "reveal" something different at the festival printed materials, and these visually attractive vouchers (which can be used at partner F&B outlets in the area), all in a reusable transparent tote bag.
---
Re-Route Festival 2022
16 September to 9 October 2022
Various locations around Singapore's Little India district.
Free admission to installations. Some activities and experiences are separately charged. Check out the available programmes, pricing and details on the Re-Route Festival page.