Singapore Night Festival returns in 2022 with the theme, Rebirth. Enjoy new Night Lights, Projection Mapping installations, performances and more at this year's Night Fest.
---
Singapore Night Festival 2022
From 19 – 27 August 2022, Singapore Night Festival is back to illuminate the Bras Basah.Bugis precinct. Visit and discover 15 Night Lights, 6 Projection Mapping installations, a major Highlight Act and other performances, a bustling Festival Village, and various experiential programmes in the city. This article will take you through many highlights of SG Night Fest 2022 that you can see and snap!
---
Highlight Act: Cathay Hotel: The Curse of the Missing Red Shoe (Vertical Submarine)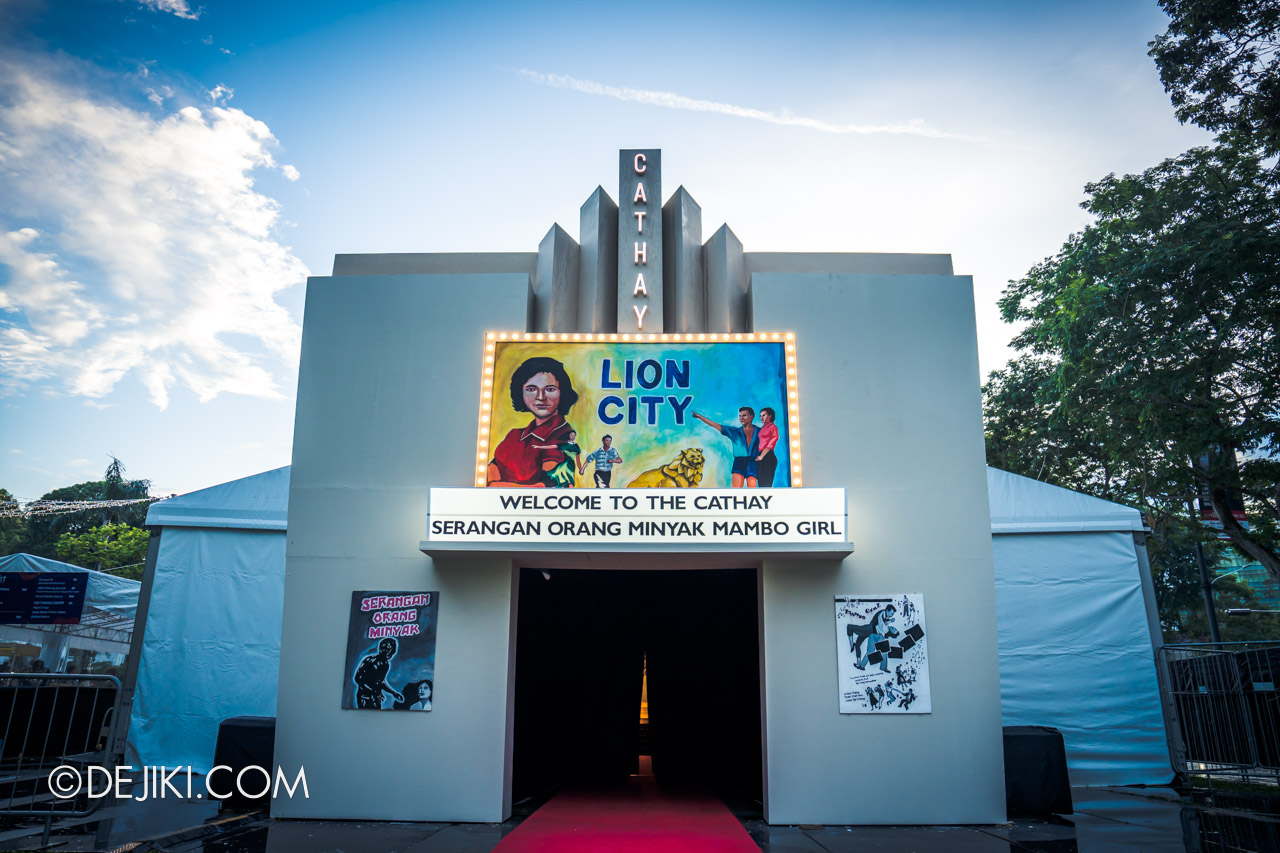 Every Night Festival has a headlining act. For this year, you can step into Cathay Hotel and experience a mysterious love story inspired by the 1960 Cathay film, Lion City.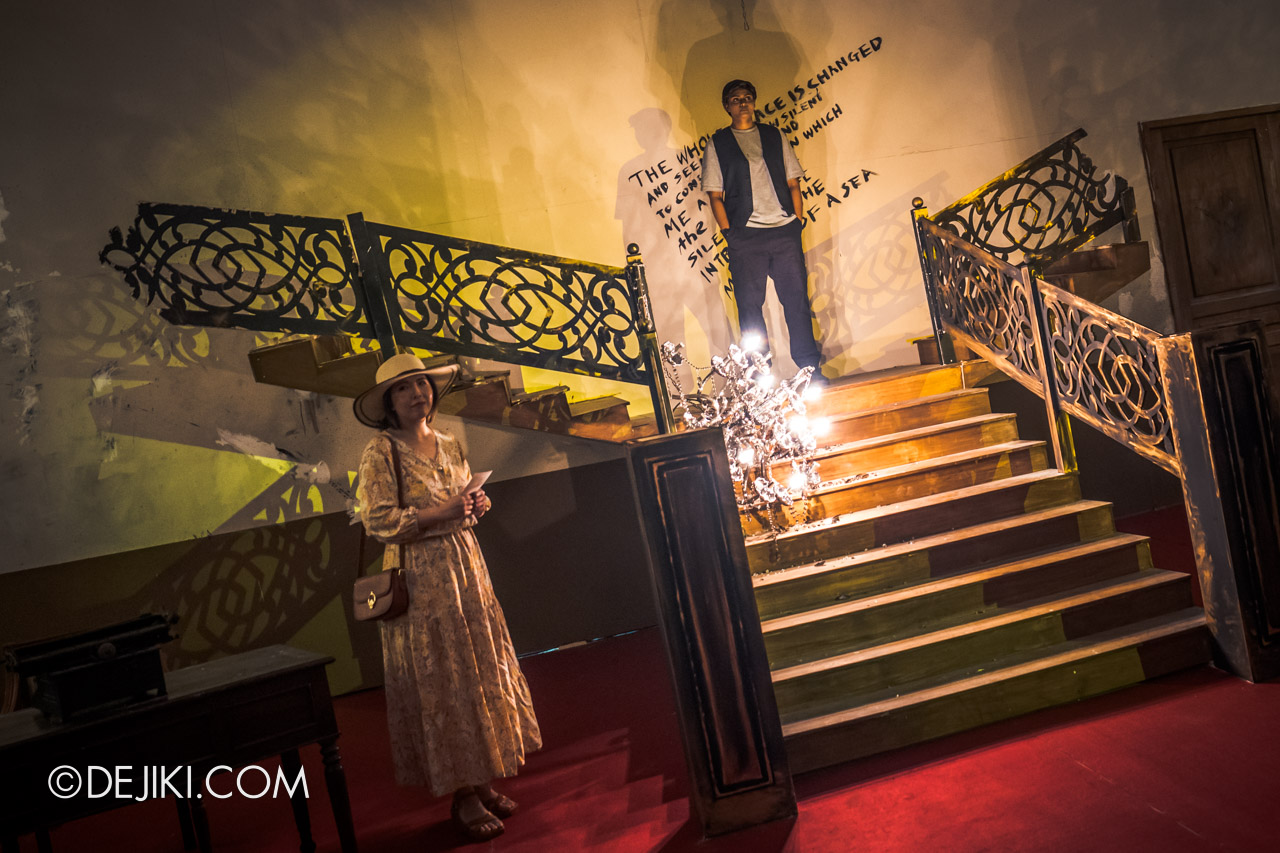 In this immersive theatre performance, you will encounter characters from the Cathay cinematic universe as the story of the curse separating the lovers unfold.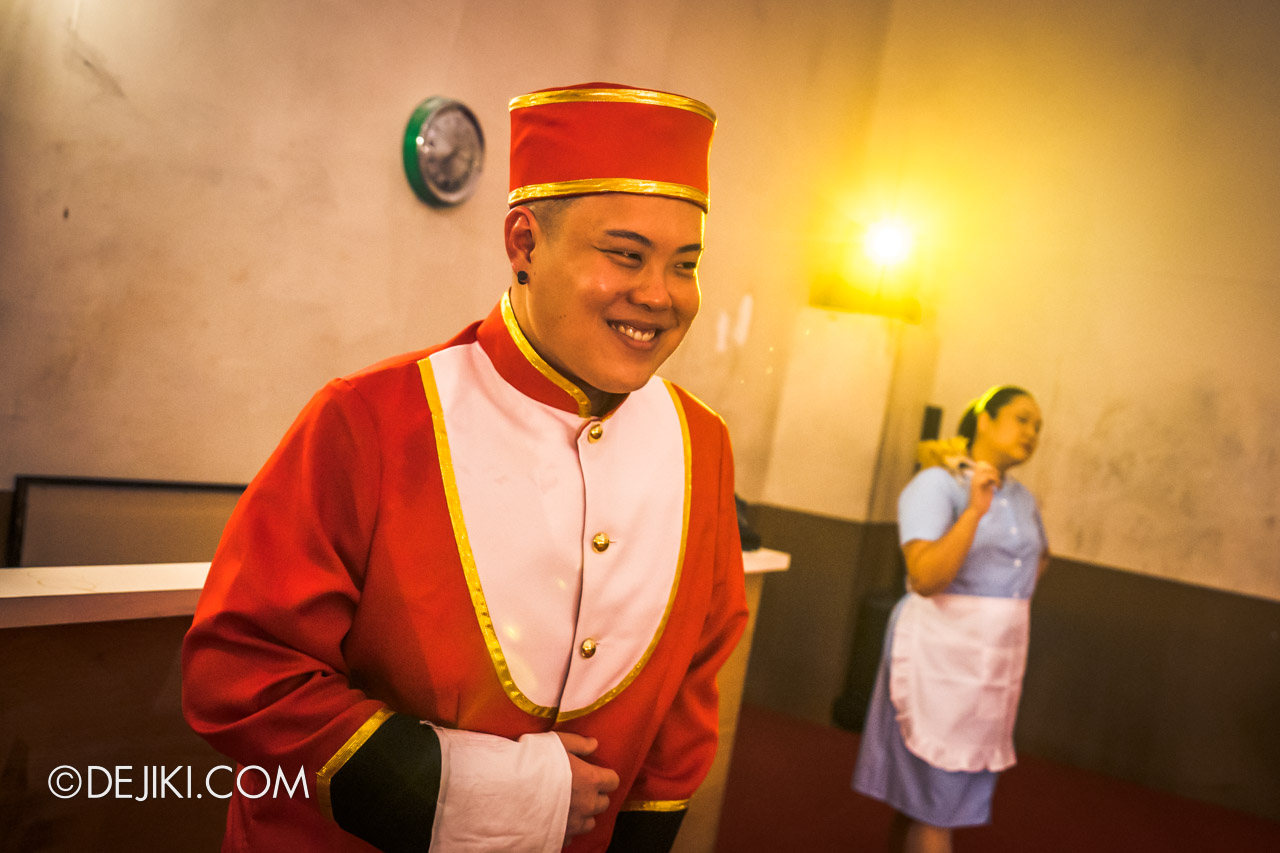 While the media preview was only an opportunity to take photos of the cast and sets, Director Jeremiah Choy explained that the story will come alive as the audience are led around the Hotel by a unique Dweller character.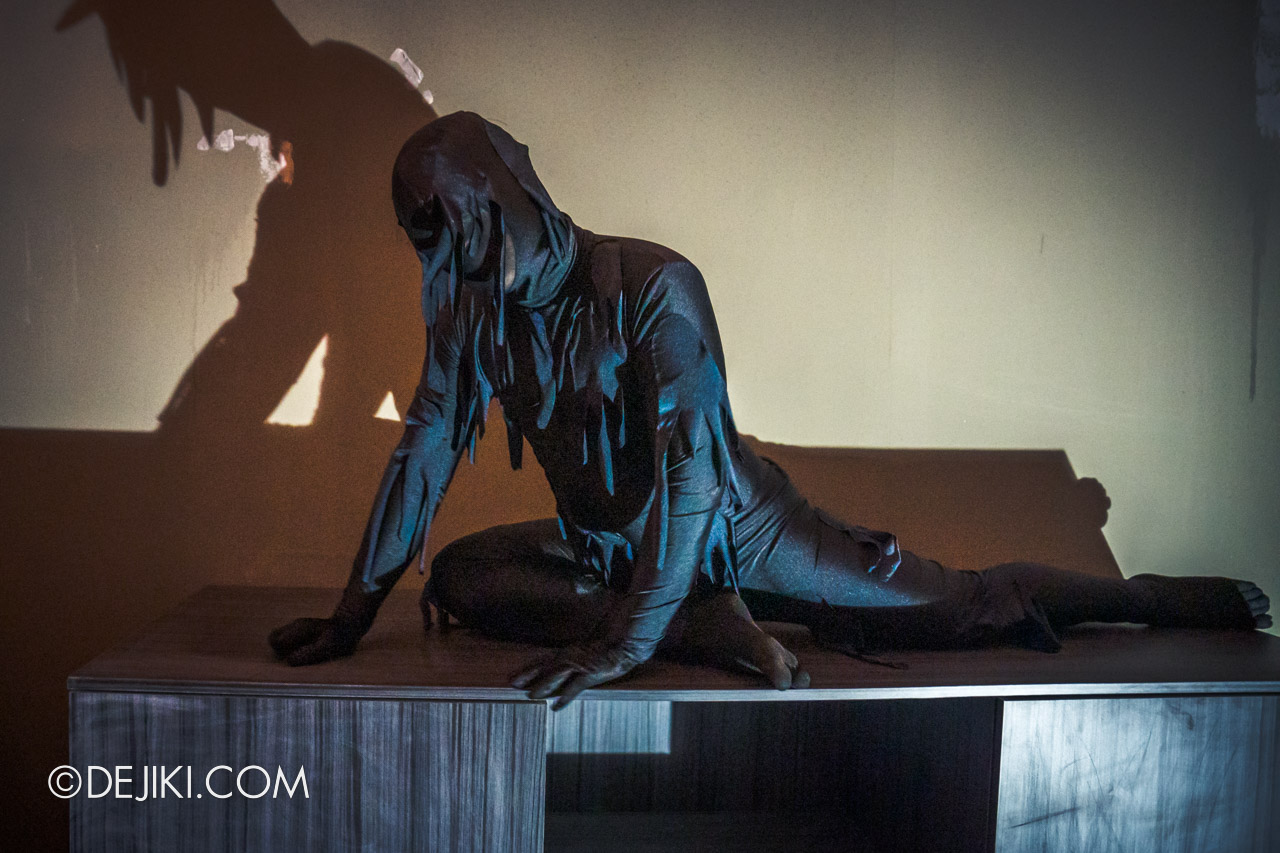 There are parts where the experience felt like HHN haunted houses – not that it's scary (there's definitely an ambiance), but with the interesting transitions between various scenes.
Cathay Hotel: The Curse of the Missing Red Shoe features local actors (some you may already recognise in this article), including Munah Bagharib, Kysha Ashreen, Rizman Putra, Rebekah Sangeetha Dorai, Sahid Nasheer, Edward Foo, Andrew Marko, Xavier Kang, and many more.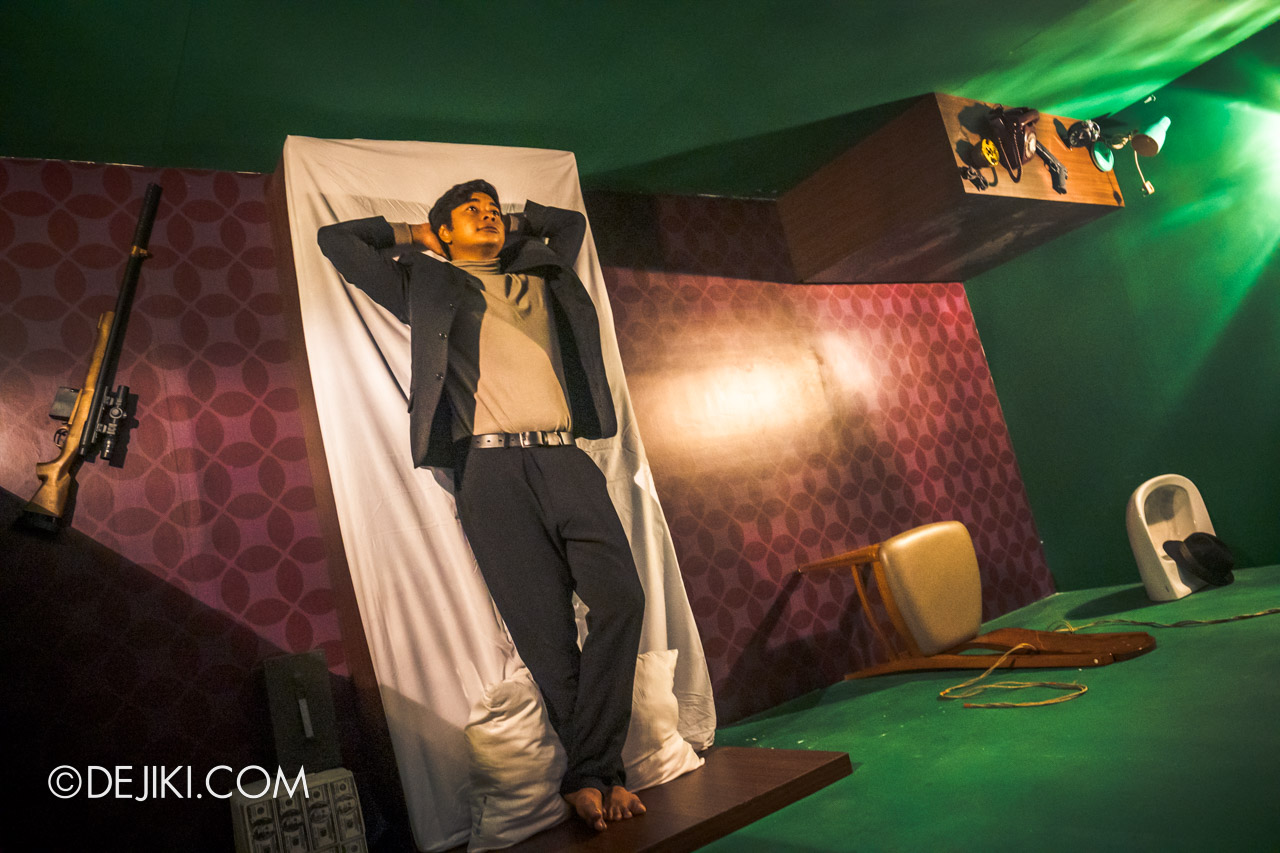 The Cathay Hotel highlight act takes place at Cathay Green, an open field across from The Cathay, and you can get your tickets from Klook.
Shows are available on 19, 20, 24, 25, 26, 27 August 2022 at 7:30PM and 8:45PM. On 19, 20, 26, 27 August, there will be an additional show at 10PM.
Category
Price
Cathay Hotel: The Curse of the Missing Red Shoe
$33


Buy now»

Cathay Hotel: The Curse of the Missing Red Shoe (Bundle)
$28 per ticket if you buy a Bundle of 4
$112


Buy now»
---
Projection mapping installations
Projection mapping art has been a mainstay of Night Fest, bringing building facades to life with shining, vibrant overlays.
Midnight Show at the Capitol (MOJOKO)
Revisit Singapore's cinemas from a bygone era as posters of classic movie posters give a new look to the face of the National Archives of Singapore building.
Stories from Forbidden Hill (Maxin10sity)
Ancient myths and legends come to life on the historic façade of the National Museum of Singapore, retelling Singapore's origins through visions of nature, drawings and precious artefacts.
This is the largest and most vibrant project mapping this year, and of course will be very popular during the festival.
Through Worlds (Jo Ho and Intriguant)
Dive into the multiverse of endless possibilities, as this projection mapping takes you to alternate environments connected through CHIJMES – in time and space.
Stamford Clock Tower projections
This year, the Stamford Clock Tower will be home to three projection mapping art created by different artists:
(Shown above) The Melting Pot (Adeline Tan and Benedict Teo) – A mesmerising kaleidoscope offers a unique look into the area's rich multicultural communities, as motifs and patterns reflect an amalgamation of distinct design elements.
Glitches of You (Amanda Tan) – The artist's personal journey and identity expressed in a hypnotic dance of glitch art and pixels.
Madeleine (Luer) – Go on a visual journey through Bras Basah.Bugis precinct's heritage as you take in this vibrantly-styled animation.
---
Night Lights installations
These 15 artworks around the Bras Basah.Bugis precinct will highlight the everyday spaces, now reimagined with unique and quirky installations – with the festival theme, Rebirth.
An Ocean Without The Anchor (Speak Cryptic)
Placed somewhere along Singapore's original shoreline before land reclamation (now the entrance to Raffles City mall), this Night Light comprises elements of a kampung in the form of a Lighthouse – a beacon of hope shining bright. You can also enjoy relaxing soundscapes of the sea and life of the people who were here before.
Celebration of Life+Style (Justin Lee)
These sculptures outside Stamford Arts Centre juxtapose traditional Eastern art with modern life.
City of Books (Fish Jaafar)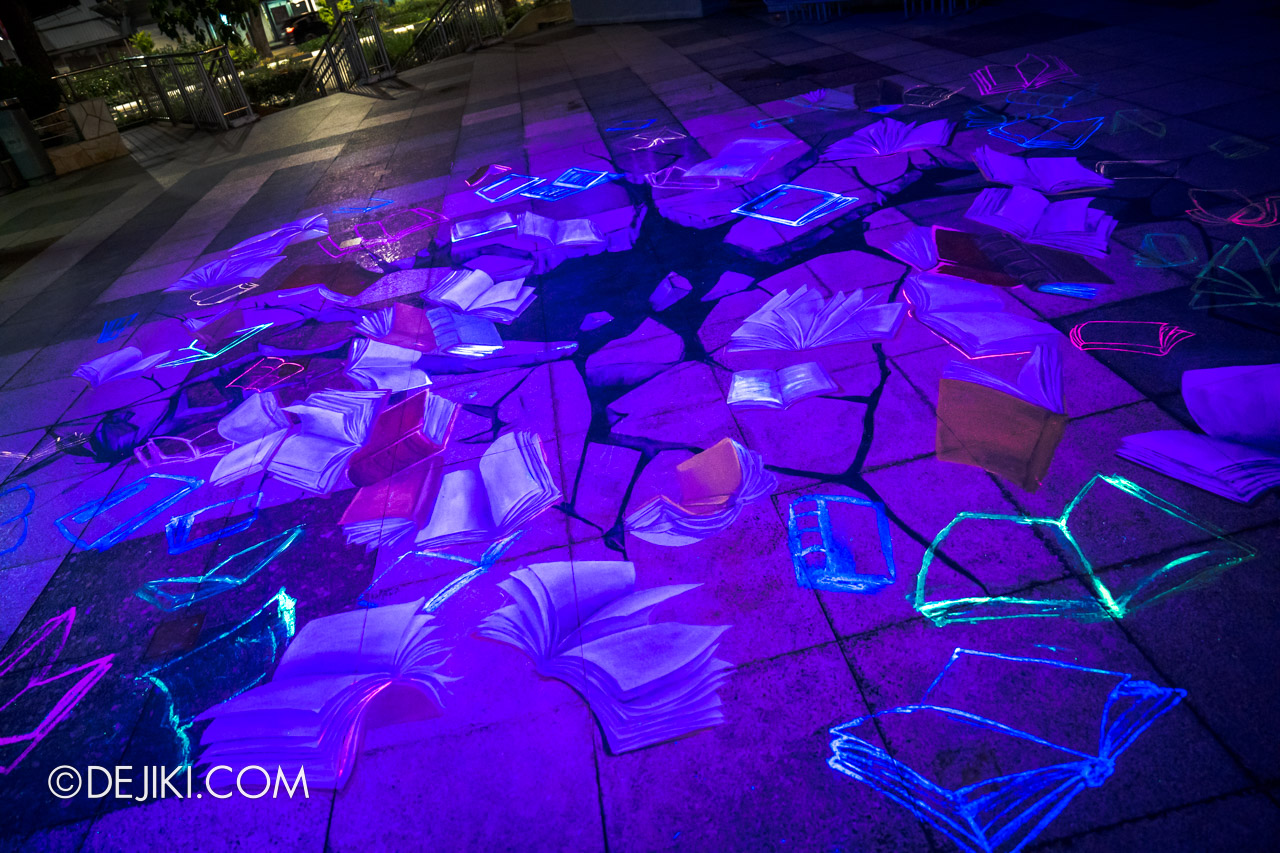 Find this anamorphic pavement mural at Bras Basah Complex, which is a nod to the building's identity as an enduring retail space for books.
Fēcundus (Twardzik Ching Chor Leng)
Inspired by the original meaning of Bras Basah (beras basa, lit: "wet rice"), this interactive night light invites you to play around with these giant inflatables and form sculptures with other festival visitors.
latent (BBB edition) (Chok Si Xuan)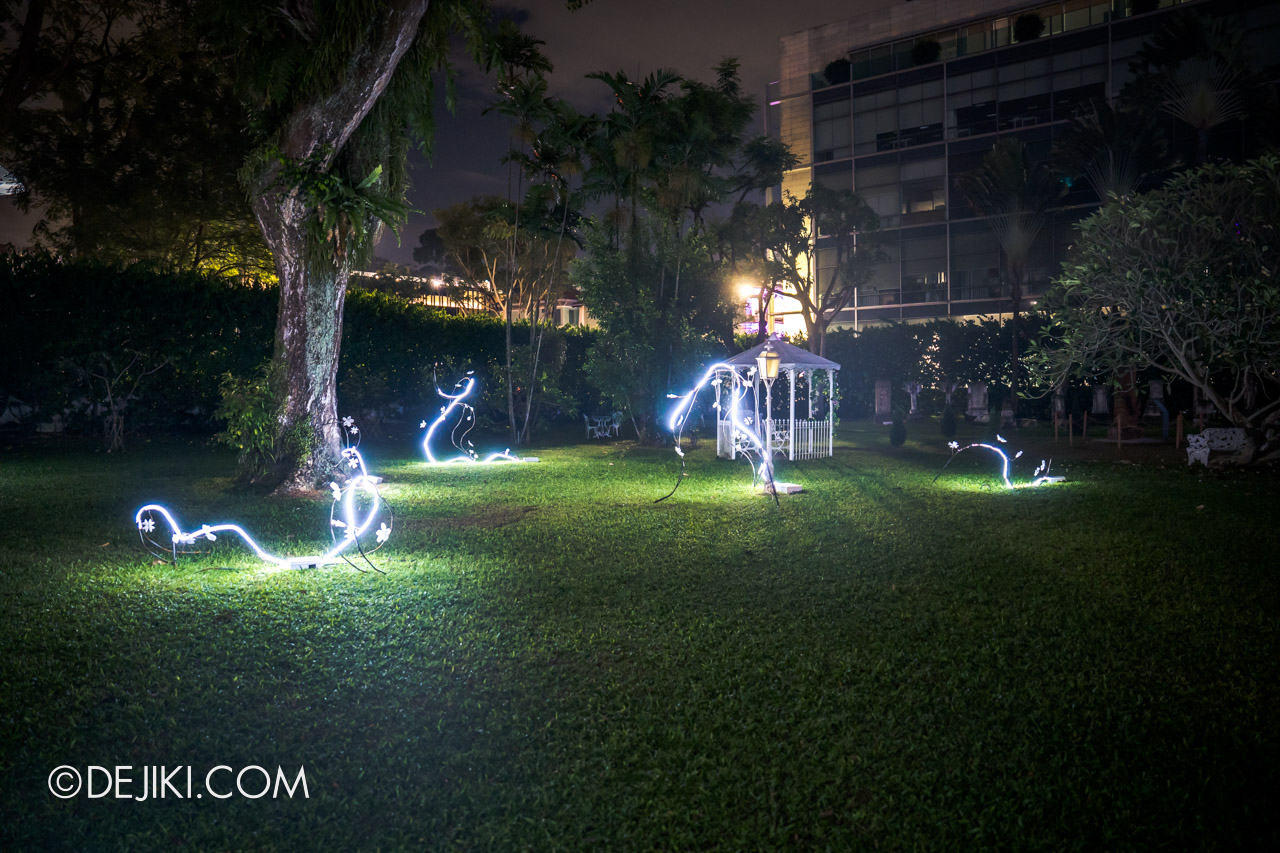 Mechanical flowers adorn the green space of the Armenian Apostolic Church – both beautiful and haunting at the same time.
Fun fact: Singapore's national flower, the orchid hybrid Vanda Miss Joaquim, was bred by Singaporean Armenian Agnes Joaqium.
NOCTURNE: Conversations with Waterloo (Nhawfal Juma'at)
The momentary feeling of overhearing a conversation in a communal space is what these sculptures at Waterloo Centre are trying to say.
Have a rest here, and listen in.
Paddy Fields (FARM)
These lights along Stamford Canal echoes the practice of drying rice along the banks of the river centuries ago.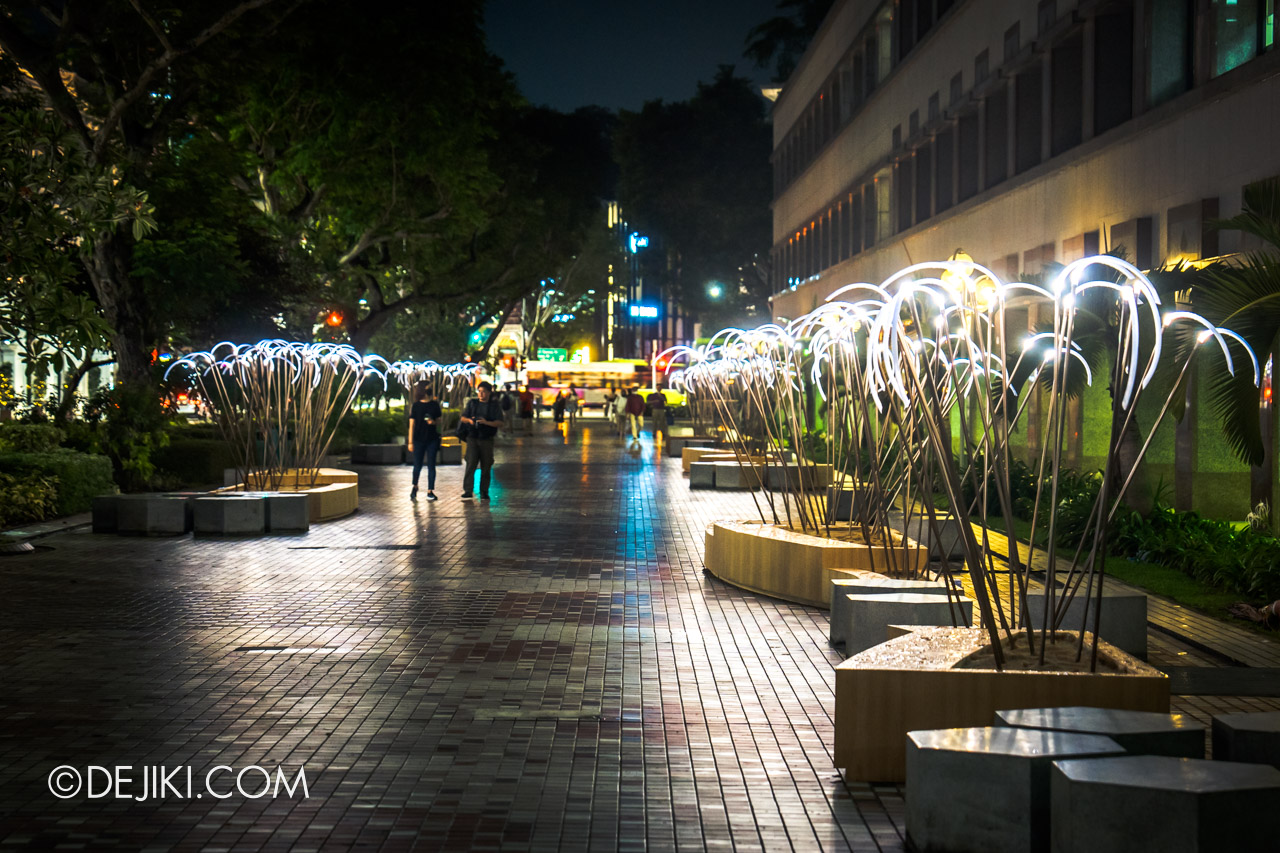 PALIMPSEST (William Chan and Brandon Tay)
Translucent screens and deconstructed cubes pop and dazzle with intensity – alluding to the life and energy of the Armenian Street and its various phases of reinvention over the decades.
Steps (2022) (Victoria Hertel)
The Glass Staircase at National Museum of Singapore gets a literal "glow up", with fleeting light effects at every step.
tobyato bird pitstop (tobyato)
Come and join plump, inflatable birds as they take a rest at "pitstops" in Farquhar Gardens. To reach this artwork, take the escalator behind the National Museum of Singapore.
Tunnel Graffiti (Lynette Quek)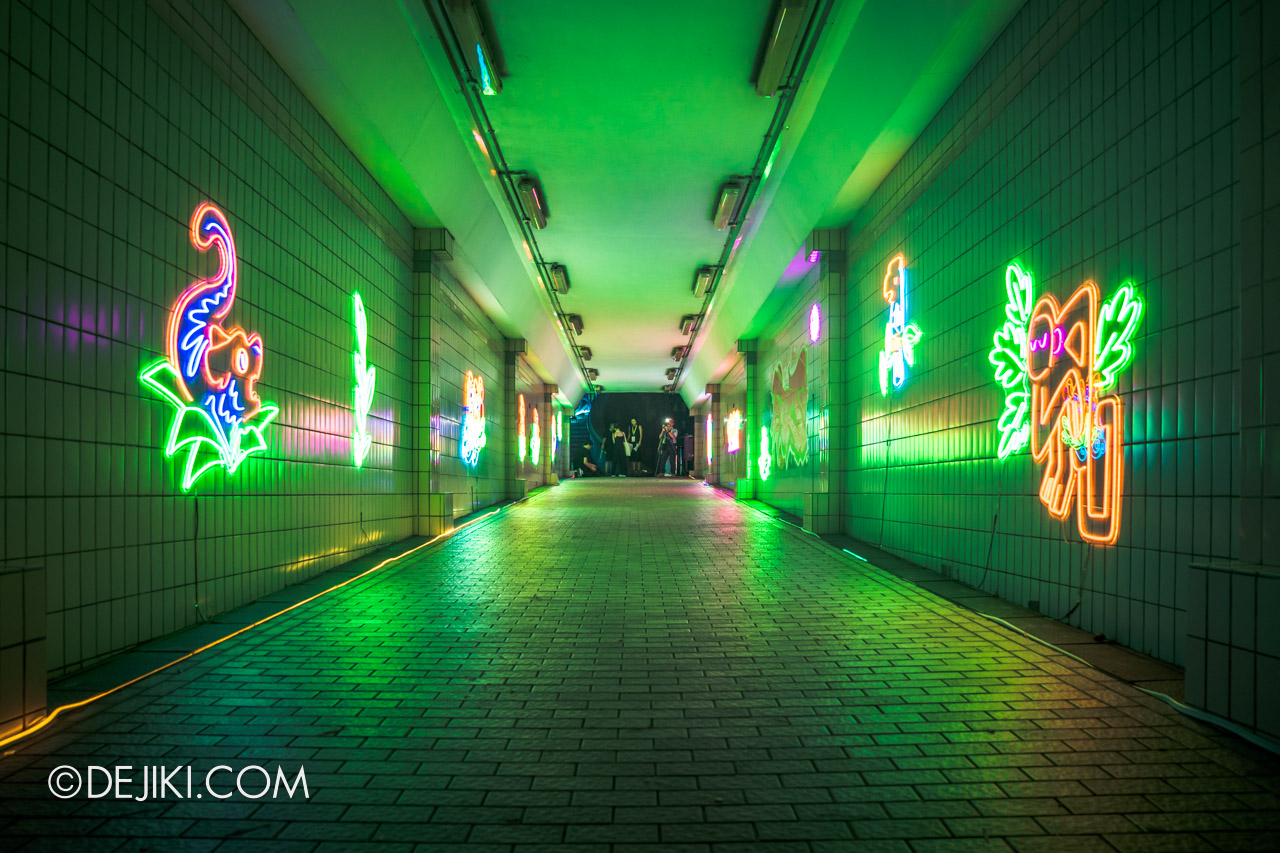 Motifs of old come to life with a new Street art twist at the Fort Canning Tree Tunnel. Make some noise and wake up the drawings within.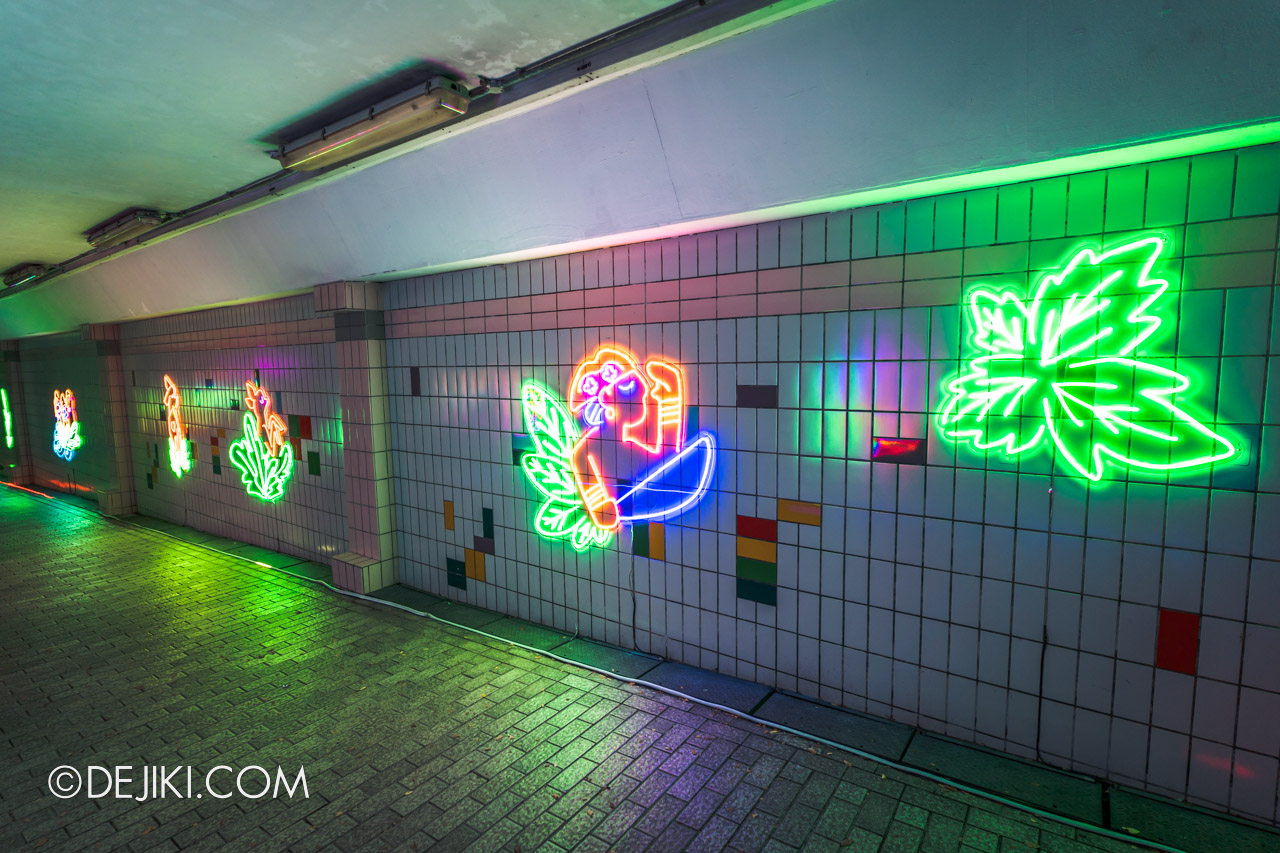 Under My Tree Roof (Chloë Manasseh)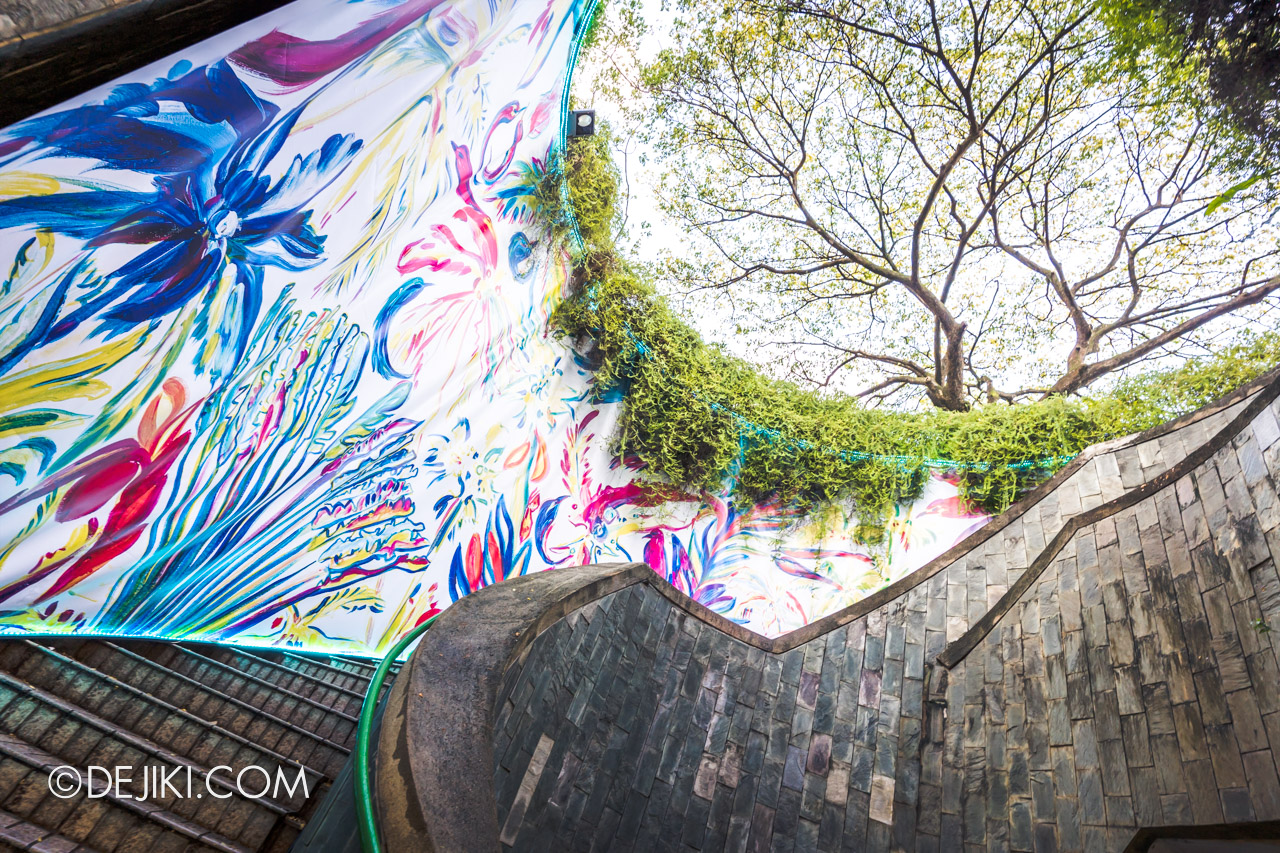 Continue further to the spiral staircase at Fort Canning Park and see how this popular Instagram spot has transformed – both in the day and after dark.
We can no longer be strangers after this (Perception3)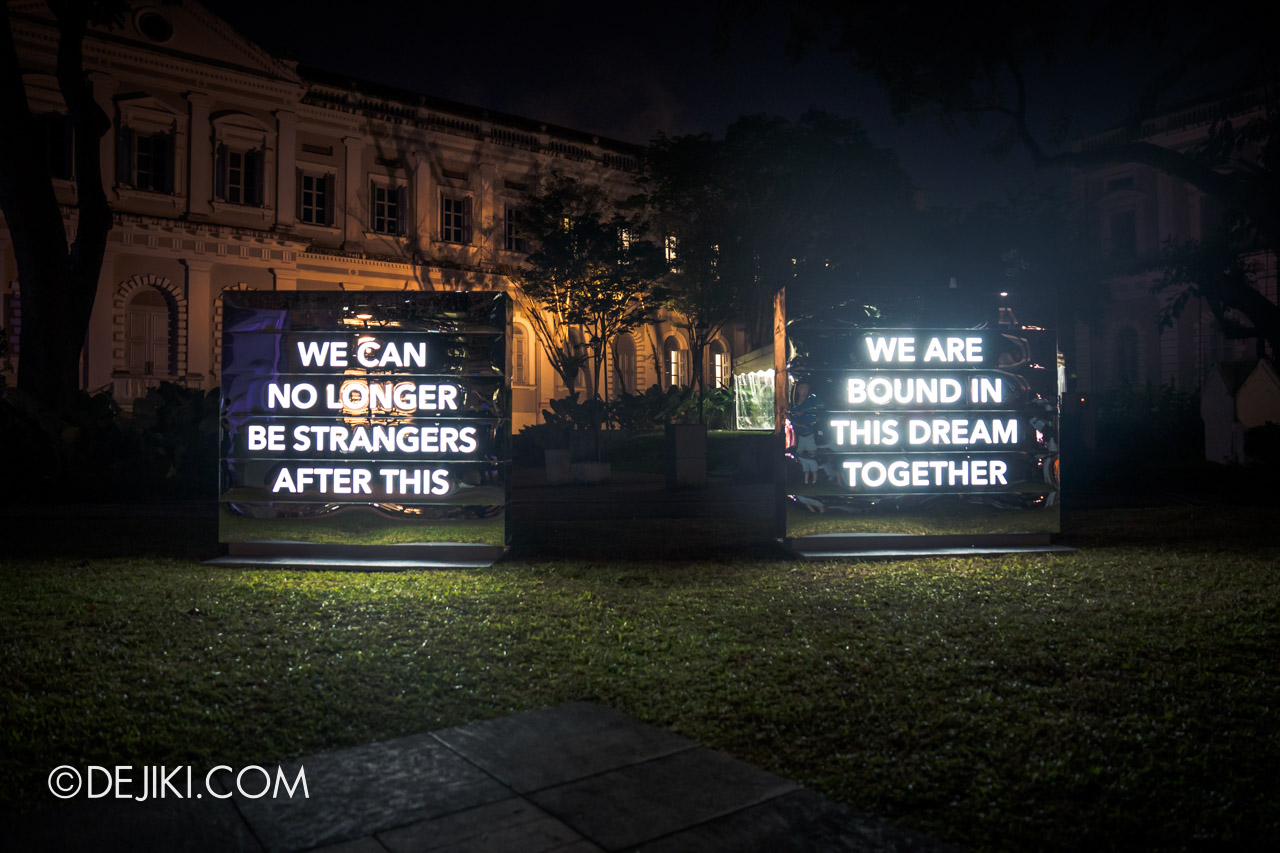 Reflect on these messages placed under the Banyan Tree at National Museum of Singapore.
#SGNIGHTFEST (Pan-United)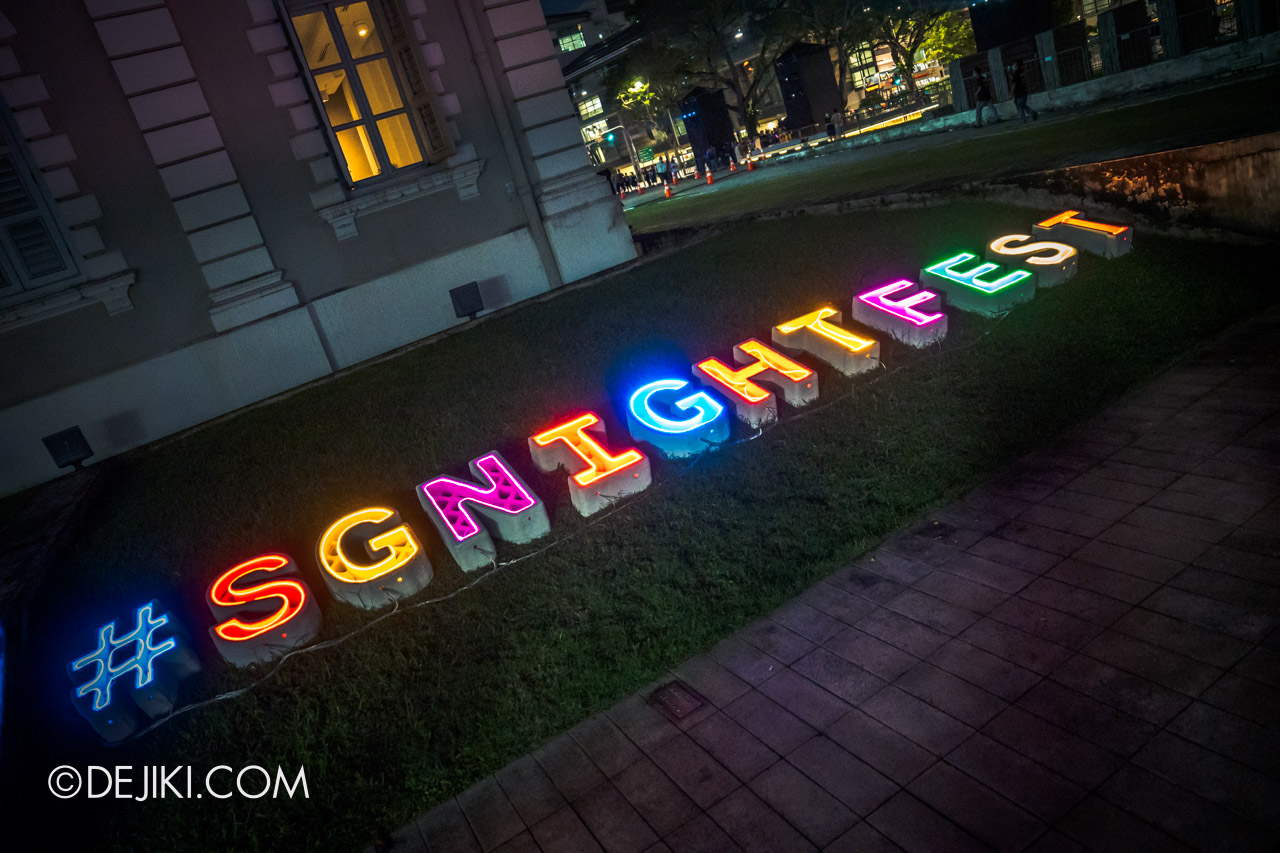 Memorialise your SG Night Fest visit with photos at this Night Light. Made out of 3D-printed concrete, these colourful letters light up a section of the lawn of the National Museum of Singapore.
TERRARIUM (Aux Media Group, Binary Style, PAPERSYNTHESIS and BIOS: Living NFTs)
Wander inside the National Design Centre and find yourself in a hybridised reality that has taken the form of a digital garden landscape.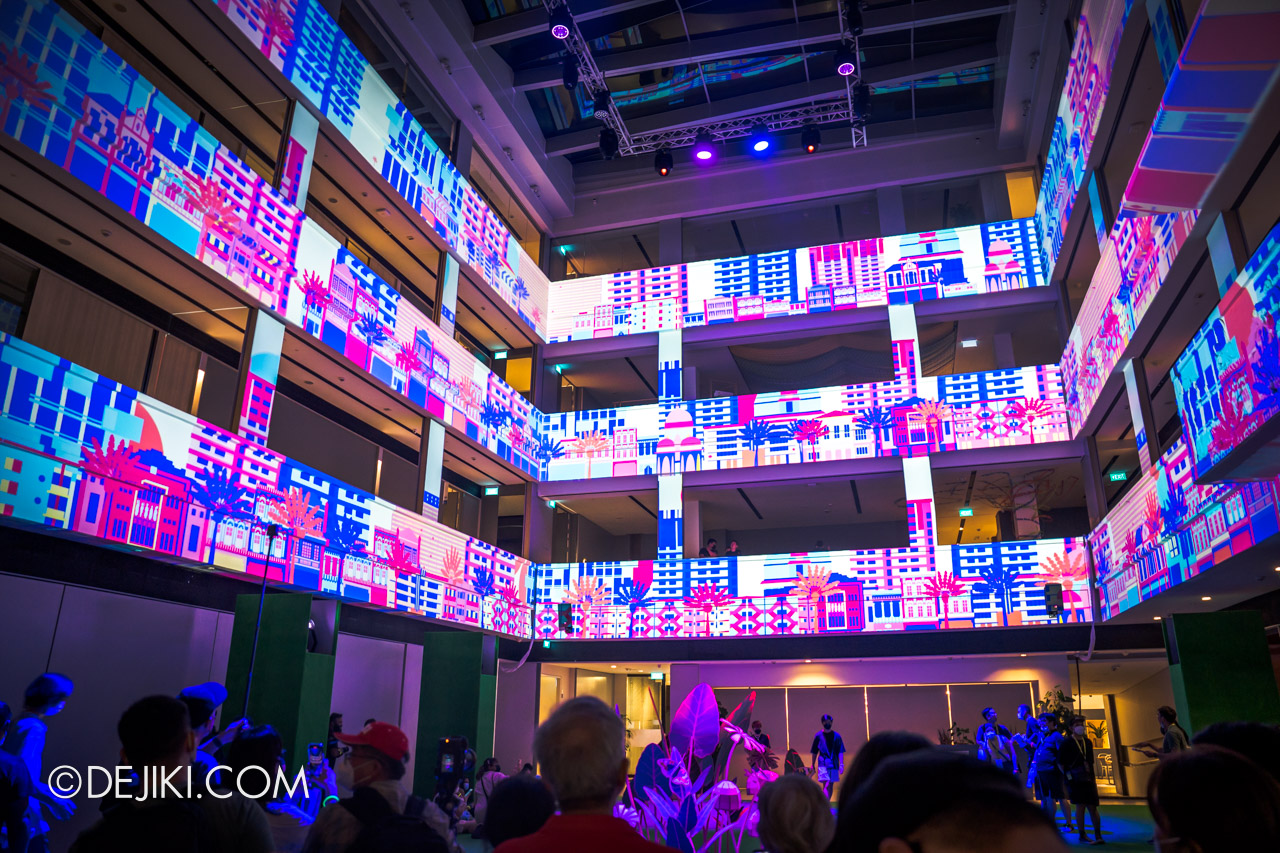 ---
Singapore Night Festival 2022
19 – 27 August 2022
7:30PM ~ 12:00AM
Bras Basah.Bugis Precinct
Free Admission to Night Lights and Projection Mapping installations
Check out the Festival Map and plan your route before heading down.
For full festival line-up, including performances and experiential programmes, visit the Singapore Night Festival 2022 website. Some experiences may require registration, or are separately charged.