Universal Studios Singapore is preparing for their next big event – A Universal Christmas – and other new additions at the park. See them here!
Hello Kitty Studio
Hello Kitty Studio store has replaced a dining room in the original Hollywood China Bistro and the Roslyn Mann Make-Up Studio building facade (that was inspired by a real 'Max Factor' Building in Hollywood).
Hello Kitty Studio – NOW OPEN!
She's here! Walk around Hello Kitty Studio store here!
Universal Studios exclusive Hello Kitty merch will be sold here, but I doubt there will be space for a complicated meet-and-greet experience like in Japan as the Madagascar ride building is just right behind.

These are popcorn buckets and plush toys.
When is this store opening? No idea – but it looks ready for another wave of kitty kraze. Maybe they'll sync with the other major Sanrio event happening in Singapore.
Here is a promo image of all the merch available at Hello Kitty Studio: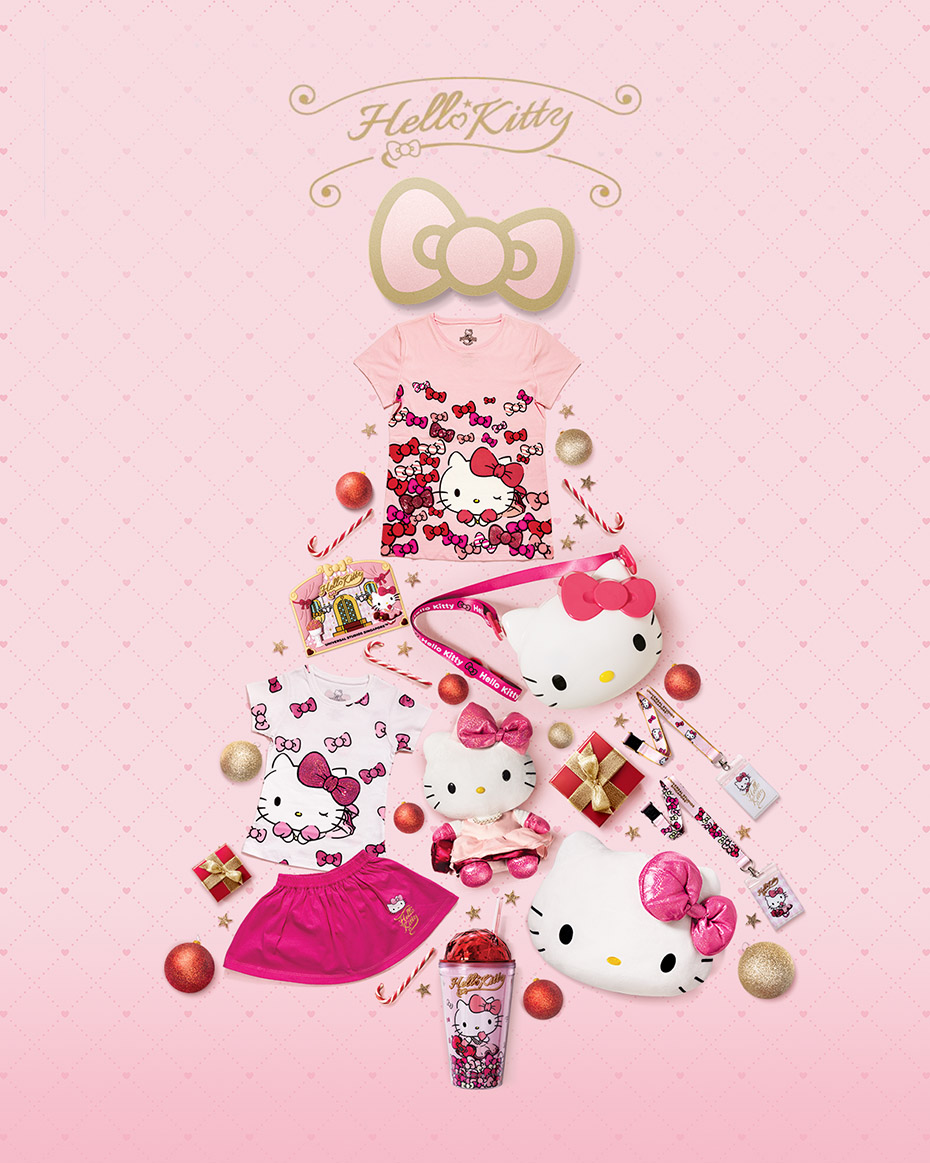 Hollywood China Arcade
This video arcade has opened! Check it out here.
A Universal Christmas
From 1 December 2017 to 1 January 2018, Universal Studios Singapore will hold its seasonal event, A Universal Christmas. Park hours will be adjusted to 10:00AM to 9:00PM in December, while park hours will be extended to 11:30PM on 31 December 2017.
No news on this year's countdown party event yet, or it might not be happening.
Discounted Park Tickets – After 5pm admission
During the event period, visitors can purchase evening admission tickets to USS at $55 (adult) and $50 (child). The evening tickets can also be bought as a bundle at $98 (1 adult and 1 child). These tickets can be used to enter the park at 5pm during the event.
As the park is clearing out the Sinisters, Christmas is already rolling in.
An interesting tree at Hollywood. With no signs of a stage… yet. As for Christmas Shows and attractions, it looks like many shows from last year's entertainment line-up will return. Here's what I know so far:
A Universal Christmas – USS Christmas 2017
1 Dec 2017 – 1 Jan 2018
Park Hours: 10:00AM – 9:00PM
(Special Hours: 10:00AM – 11:30PM on 31 Dec 2017)
Search For A Christmas Star (New York)
Performed at New York Library stage, be enthralled by aerialists, special effects and projection mapping.
Under The Mistletoe (New York)
Meet Marilyn Monroe and Betty Boop under the Mistletoe – where drama ensues.
Santa's Snowy Sleigh Ride (Parade)
A mini parade around some park zones with Santa and his entourage.
Santa's Workshop (Stage 28)
An interactive attraction, similar to last year's Santa's Village, but now with tasks for guests to complete.
Oscar's Grouchmas Show (Pantages Hollywood Theatre)
An all-new stage show featuring the Sesame Street gang.
Mel's Rockin' Christmas (Hollywood)
The Cruisers and Dinettes bring festive cheer at Mel's Stage.
King Julien's Tropical Christmas Party (Madagascar)
Dance for the Magic Christmas Beans (Far Far Away)
Updated shows at the Dreamworks zones with a Christmas twist.
Christmas Fireworks Spectacular (Hollywood)
End your day at the park with dazzling pyrotechnics.
Beetlejuice Santa (Sting Alley)
Guess who's back in time for Christmas?
Snowfall
(Very likely returning)
---
Check out the construction progress of the USS Christmas overlay:
Glittering archway will guide you to a bedazzled World of Stars.
Two shows will be held in New York: Search For A Christmas Star, and Santa's Snowy Sleigh Ride.
Equipment for aerialists are being installed overhead. The rig extends from one end of the street to nearly the other.
The stage doesn't have the fancy style of Marilyn's Under the Mistletoe show yet, but there's still a lot of time to dress it up.
Some sort of Beetlejuice Santa meet-and-greet attraction is being installed at Sting Alley.
Under the Mistletoe 2017 starring Beetlejuice. Horrifying.
Something looks.. familiar.
The Dreamworks zones will also be getting some festive colours.
Will you be making a trip to the park this December for A Universal Christmas?
Subscribe to Dejiki.com or Like my Facebook page for notifications of updates.
---