Hot Updates: Universal Studios Singapore's Halloween Horror Nights 7 and changes to Despicable Me Breakout Party event. Read all about it!
The park's iconic Universal archway now has new decorations – minions flying away with balloons. Isn't it adorable? If only there's a Minion ride in Singapore!
The Minions' takeover at Universal Studios Singapore will end in about a month, and since our last event review, there were new additions at the park for this event.
The stage has been modified so it's just a smaller jailbird minion cutout.
One that's constantly judging.
Game booths
The Minions' Breakout Party at USS just got more fun, with new games added a few weeks ago.
Of all the games, Super Silly Space Killer is the easiest to win, especially if you are able to play from the lanes at the side. You have to throw two small sandbags to bring down a pyramid of cans.
(Probably after you've read this, the park may have made adjustments for balance.)
It's the most popular booth, and the prizes are decent – so line up for your turn!
Although this is the famous carnival game featured in the movies, there's no Fluffy unicorn to win here.
Pop-A-Nana
Pop-A-Nana has set up shop outside Hollywood China Bistro. Get all your Minion-themed snacks and desserts here!
USS Minion Food Pricelist
Banana Bingsu Ice (with Blueberry sauce) – $10
Banana flavoured popcorn – $8
Banana Swiss roll – $8
Mini churros (with Banana chocolate dip) – $8
Minion Soft Serve Ice Cream (Banana Flavour) – $4
Minion Punch (Orange juice with Blue Curacao) – $8
Minion cookie – $5
Minion chocolate cupcake – $6
Hop over to the original post on Despicable Me Minion Breakout Party event for more info.
Exclusive freebies for USS Passholders
USS passholders can collect a free tattoo from the Despicable Me Tattoo Parlour. One tattoo per day only.
Some passholders may be entitled to collect complimentary event vouchers, for the park's game booths and F&B. Eligible passholders would receive an SMS text from RWSATTPASS.
For games, each eligible member will receive 6 vouchers, three for the month of July and three for August. The same three meal vouchers will also be given for each month. So in all, you get an awesome stack of 12 vouchers.
Halloween Horror Nights 7
Halloween Horror Nights 7 construction is in full swing, with tents and walls for 4 outdoor houses already up since early July.
The four houses spotted are built at: Ancient Egypt, Jurassic Park, Waterworld, and beside Soundstage 28.
The tent built at the Salem Witch House site looks unlikely to be used for a haunted house. If USS decides to use Soundstage 28 for HHN7, then we will have the luxurious air-conditioned space for the 5th house.
The park has revealed that HHN7 will run from 29 September to 29 October 2017. From what I've gathered, here is the event calendar for Halloween Horror Nights 7 (to be confirmed):
USS has also quietly posted this year's official logo, which is formed with many scribbles of "7" in many languages forming the number.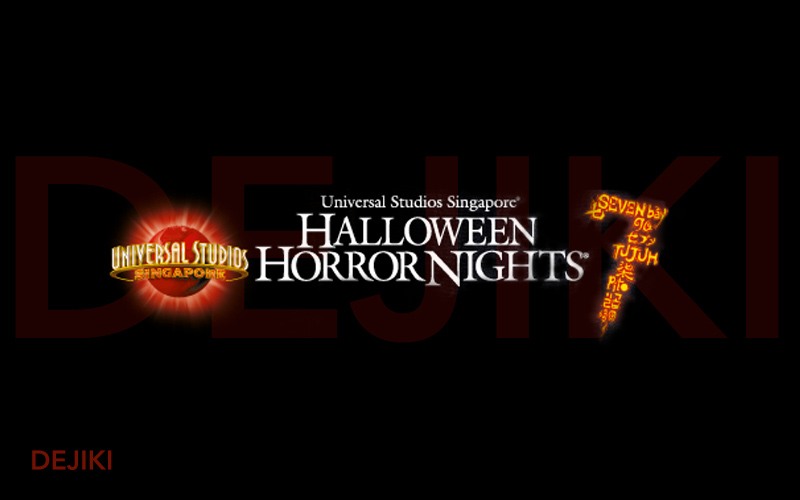 What could be the theme this year? Letting our imagination run wild, it could be… Seven Deadly Sins, Seven Days, Seven Seas, Seven Horcruxes, Seven Kingdoms of Westeros, S Club 7, 7-Eleven… and the list goes on. I am sure the park won't miss the opportunity to play on the number 7.
Well, we will have to wait a little longer for more information.
Subscribe to Dejiki.com or Like my Facebook page for notifications of updates.
---