UPDATE: Transformers: The Ride has officially opened!
---
Transformers: The Ride started its technical rehearsals today at Universal Studios Singapore. I am pleased to say that it is an amazing ride, and you can read all about it right here! Where else, huh? 🙂
This extended entry features a photo tour of the pre-show elements, a detailed description of the ride elements and some technical bits, followed by my review of the ride.
Update!
LATEST: Differences between Hollywood and Singapore versions (see below)
– Recent changes to the ride added (under Technical Info)
– Preshow videos added!
– New section on safety instructions
– More videos added
– New section on preshow
– More photos – panoramics added!
– Correction: Transformers character names fixed
– Ride Transcript and On-ride Audio Recording now available. Check below!

Differences between Hollywood and Singapore versions
This entry is written with information from the ride at Universal Studios Singapore. Here is a comparison with the ride at Universal Studios Hollywood.
– Entrance to ride building is completely different. Hollywood version has a giant billboard of Optimus and Megatron in an explosive duel, and guests enter the building from the front (or extra switchbacks from the side). In Singapore, the actual ride building is obscured and guests enter the queue via a gate at Sci-Fi City.
– Queue layout is entirely different but similar rooms exist. Such as the Allspark Containment Chamber (which is larger in Hollywood).
– Crew members are dressed as military personnel, with combat fatigues in Hollywood. In Singapore, they are dressed as NEST personnel, but appear more like support staff wearing office dress.
– Hollywood version uses the new Infitec 3D glasses (also used in the recently updated "The Amazing Adventures of Spider-man" at Universal's Islands of Adventure). The Singapore version uses the – unfortunately older and cheaper – polarized 3D glasses.
– First scene in Hollywood has working bullet ricochet effect (the effect is out-of-sync and incomplete in Singapore).
– Finale scene in Hollywood has a burst of fog before the ride vehicle passes under Megatron.
– Unloading platform in Hollywood looks more "damaged", with more areas, such as ceiling vents, being "ripped apart and destroyed" during the exciting parts of the ride.
---
Dear site owners, I would appreciate if you do not redistribute, modify or copy and paste photos/text for your website without my consent. Feel free to link back to this page directly.
This entry is periodically updated whenever new information and corrections are available.
---
Photos
Entrance: Outside the base
Bumblebee now stands above the Marquee! He's not alone on the streets of Sci-Fi City. Look out for EVAC at the other side, unveiling soon!
Technical Rehearsals.
Welcome to Switchback land. This portion of the queue is actually behind some New York building facades, and it continues to the left to a large switchback zone directly behind the New York Public Library facade.
From here on, the queue area becomes heavily themed.
Inside NEST
The theming within the NEST base is just incredible. So much detail, so much dramatic lighting. There's an impressive number of video panels as well!

About The Preshow
The NEST queue area is an elaborate preshow that provides guests with the important background information about Transformers and the narrative for the ride. Yes, I understand from some Transformers fans that "this is XYZ in this film but ZYX in that film, or this already happened in this film", so just tell yourself that Transformers: The Ride takes place in an alternate universe.
Welcome to NEST – The Orientation
The first queue area features General Morshower and Rachet. They introduce NEST (Nonbiological Extraterrestrial Species Treaty) and the Autobots (Optimus, Bumblebee, Ironhide, Sideswipe and even Wheelie) to park guests – who are NEST's new recruits, and supposed to be going through training.
Decepticon Defense Strategies, Hosted by Ironhide
The second area, after the Allspark Containment Chamber has Ironhide presenting important defense strategies against the Decepticons.
Emergency at NEST
Things change for the worse at the the third area, as the Decepticons have infiltrated the base and NEST is in need of a new hero. EVAC, a newcomer Autobot, is mentioned. The "training" for human recruits is suspended due to this emergency.
The new plan
The next area has General Morshower briefing recruits about their mission. This is the where EVAC starts speaking to the humans. It just so happens that everyone who is new (EVAC and Recruits) will be protecting the Allspark in their first mission.
The lady with a robotic voice
The last part of the preshow is the safety information. Presented by "a lady with a robotic voice", this is where guests/recruits witness an interesting conversation between EVAC and the Safety Instructor AI.
NEW! Watch some of the Preshow videos here!
Universal Express / Single Riders
The much shorter Universal Express / Single Riders queue bypasses most of the NEST base scenes, including switchback land. There are still a lot of video panels here so guests will not miss out on the story.
Loading Platform
Unfortunately the photos have to stop here. Photography is not allowed at the loading platform.
Characters
Here is the list of characters featured in Transformers: The Ride.
Autobots
Evac, Optimus Prime, Rachet, Bumblebee, Ironhide, Sideswipe, Wheelie.
Decepticons
Megatron, Ravage, Sideways, Grindor, Bonecrusher, Starscream, Devastator.
Humans
General Glenn Morshower, Theodore Stallworth and other unnamed NEST personnel.
Others
Safety Instructor AI Voice 301.
---
---
General and Safety Information about Transformers: The Ride
GUEST HEIGHT REQUIREMENT
Guests will need to be at least 102cm tall to ride.
Guests between 102cm and 122cm tall will need to be accompanied by a supervising companion.
Parents with young children should be mindful that this ride includes loud noises, sudden movements, dramatic special effects and encounters with giant menacing robots.
While there is no age limit or requirement, each child must sit on their own seat (no sitting on parent's lap or carried by parent) for the entire duration of the ride.
CHILD/PARENT SWAP: For Parents with young children
Dear parents with young kids, note that "Child/Parent Swap" is available for this attraction. So how does it work?
Essentially, parents will take turns to experience the ride. One parent will wait in line and experience this attraction while the other stays in the Family Room with their child/children. After one parent has completed the attraction, they can swap with their partner in the family room. The other parent can immediately board the ride without waiting in line. This option is also available at: Revenge of the Mummy and Jurassic Park Rapids Adventure.
Kindly approach the park crew at the entrance of Tranformers: The Ride for assistance and entry to the Family Room.
GUEST HEIGHT LIMIT
For safety reasons, guests who are above 190cm tall will need to enter the attraction via an alternate entrance, that is: through the Transformers Supply Vault retail store and walking into the ride exit. This means that guests that are more than 190cm tall will bypass the NEST pre-show and queue area. This is because of the low ceiling at some points of the queue area.
(Thanks to Jens Nissen for this info)
GUESTS WITH MOTION SICKNESS
Do note that guests prone to motion sickness, dizziness or giddiness are not encouraged to go on this ride. If you are sensitive to flashing/bright lights or easily feel queasy watching 3D films, please take this ride with caution. Take off the 3D glasses if you feel uncomfortable during the ride.
SKIP THE LONG LINES
There are 2 ways to shorten your waiting time. The easy way (which requires extra payment) is to buy a Universal Express pass, the other is to use the Single Rider line.
UNIVERSAL EXPRESS
Present your Universal Express pass at the entrance, then at the loading platform.
One-use at this attraction. There is usually no queue at this line, and even if there is, the crew members are supposed to serve Express Passholders first. This is practiced is most situations. Waiting time estimated to be 0 to 10 minutes.
SINGLE RIDER
Simply take this line and enjoy a shorter waiting time. I queued in this lane just to check how much time you can save. On a day where the waiting time for the normal line is 120-130 minutes, I stayed in the Single Rider queue for 40 minutes. Not too bad, but do note that if you with friends or other company, you will very likely be separated into different seats, or even vehicles.
OTHER ACTIONS/BEHAVIOURS
Only put on your 3D glasses when instructed.
Keep your hands and arms inside the vehicle at all times.
Remain seated during the ride unless instructed.
Ensure that your belongings are stowed in the net pockets, or placed safely on the ground.
---
About the Ride
In Transformers: The Ride, guests are NEST Recruits and will assist EVAC, an autobot. You will be basically sitting inside EVAC throughout the ride.
This is a high-speed motion simulator ride that moves on a track through different scenes/rooms. The ride does not take place in one room "that shakes", and it is also NOT a theatre with 4D effects.
It does get intense at some parts of the ride and is not recommended for people with motion sickness.
WARNING: From here on is the spoiler-filled, detailed and possibly very technical overview of the attraction. If you do not wish to be spoiled (or confused), please scroll down until you see "END OF SPOILERS"!
---
To read detailed information about the ride, click on one of the section titles below to expand the section.
Scene by Scene Description
Let's get down to the details. Here's a summary of the scenes.
EVAC here refers both the character, and the ride vehicle. Capitalized names refer to the characters and terms from the Transformers film franchise. I apologise if I got the names wrong, there is so much action (please do let me know via comments)
Scene-by-Scene Description
For the entirety of the ride, guests are sitting in EVAC and experiencing the events from its point of view. In some scenes, guests can see EVAC's arms: grabbing items or firing weapons. As EVAC is carrying human recruits, he does not completely transform throughout the ride.
– AFTER LOADING: EVAC speaks to the recruits, then moves out of the loading platform and takes a turn.
– 3D SCREEN 1: Ravage snatches the canister containing the Allspark, jumps onto EVAC for a while and then runs across the catwalk above. EVAC does a 180 and faces the next screen.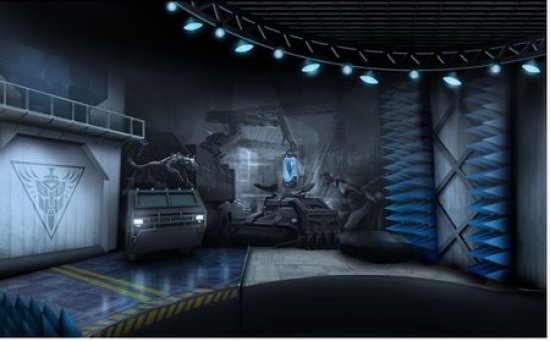 3D Screen 1 (Ravage steals the Allspark) Photo from: Robert Niles, Theme Park Insider
*Note: This is concept art, the actual scene is quite different.

– 3D SCREEN 2: Bumblebee grabs the Allspark and fights with Sideways. EVAC manages to grab the shard and the other two robots fight it out. EVAC quickly speeds out of NEST.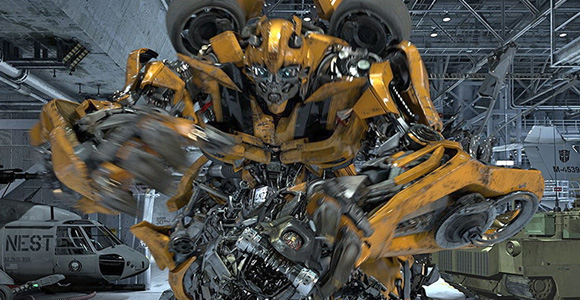 3D Screen 2 (Bumblebee pulls Ravage apart) Photo from: Resorts World Sentosa

– ELEVATOR 1 + 3D SCREEN 3: Optimus is pleased to know that the Allspark is recovered, and does his "AUTOBOTS, ROLL OUT!". Unfortunately, just MERE seconds after moving, Megatron appears from nowhere. Some intense battling here, EVAC reverses back underground and Grindor, another decepticon, is briefly stalled by a passing subway, with his helicopter blades spin dangerously close. EVAC zooms into the next scene.
During this sequence, the ride vehicle moves up to the second level.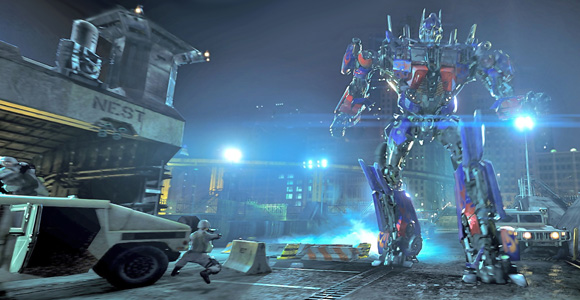 3D Screen 3 (Beginning segment, EVAC meets Optimus) Photo from: Resorts World Sentosa

– 3D SCREEN 4: Megatron is back. "Fools, you can't escape Megatron!". He grabs EVAC (the ride vehicle goes crazy here to simulate the "struggling" motion) while EVAC desperately tries to "engage reverse thrusters". Megatron loses his grip, falling backwards slightly and breaks a pipe, splashing water onto EVAC (and guests).
– Underground Scene. EVAC stops at a dead end for a short time, then reverses the other way. "Wrong way, we're trapped!"
– 3D SCREEN 5: Megatron is back again. After destroying some parts of a construction site, he fires a missile at EVAC – in slow motion. No flames here, but a hot air vent and fog creates the illusion of impact. EVAC goes through the hole in the building caused by the explosion (which has exposed metal bars still looking "red hot").

3D Screen 5 (Megatron fires a missile at EVAC) Photo from: Resorts World Sentosa

– 3D SCREEN 6: Inside this building, things start to get windy and you realize that everything is being sucked out by Devastator. Suddenly EVAC is thrown into the air, but manages to escape the vortex. Rachet and Ironhide appear briefly at this scene. EVAC spins into the next scene…
– 3D SCREEN 7: EVAC meets Sideswipe, who offers some much-needed help with the decepticons. EVAC manages to weave around traffic, crashes into Bonecrusher, but his guns are jammed. Sideswipe throws a gun and we see EVAC fire it. We feel strong gusts from the back…
– 3D SCREEN 8: Devastator is back again and there's nowhere to run. EVAC "activates battle shields" and blitz right through its crazy clockwork of gears (sending the human recruits screaming). The ride vehicle goes into this crazy gattling gun movement here. EVAC manages to escape but Starscream catches him and flings him up into the air, hurling EVAC across several blocks, including a dramatic crash into an office floor. EVAC finally lands at a construction site, narrowly avoids a collision, but bumps into some drums…
– Construction site: EVAC charges into clouds of heavy fog, from those drums that he just tipped over. EVAC asks if recruits are OK (some guests would shout YES!! but some screamed instead)
– 3D SCREEN 9: Optimus and Megatron battles it out at the construction site, with Megatron seemingly winning. Optimus tells EVAC to "protect the Allspark" as EVAC reverses into another scene.
– 3D SCREEN 10: Starscream appears again and gets fired by some NEST helicopters. He transforms and flies away.
– ELEVATOR 2 + 3D SCREEN 11: EVAC says "we're on our own", then finds Optimus and Megatron at the top of the building. He slams the Allspark right into Megatron and we freefall to the street below. Bumblebee suddenly appears and saves the day~. Reverse again, into the destroyed building complex.
During the second half of this sequence, the ride vehicle starts to slowly descend to the first level.
– 3D SCREEN 12: Optimus calls EVAC to "report in", then congratulates EVAC and the recruits. EVAC turns and we see..
– Megatron, defeated, half through the ceiling. EVAC asks the recruits to ride with him again.
– Unloading Platform
---
Ride Transcript and On-ride Audio Recording
---
Interesting Technical Bits
Interesting Technical Bits
I have taken the ride several times today and it was very stable. There were just some minor delays (no major breakdowns). Here are some interesting bits about the ride:
RIDE DURATION
Approximately 4 minutes 30 seconds
RIDE VEHICLE
The Ride Vehicle seats 12 guests, 4 guests per row.
One lap bar (safety restraint) per row. Guests will need to pull down the lap bars themselves at loading and push it up at unloading.
Ride vehicles can spin, tilt, shake and shift.
Bags and belongings can be brought onto the ride. There are small pouches in front of each seat (for small items). All bags must be placed on the floor.
Guests will enter from the right side of the vehicle. Once the door on each ride vehicle is closed, all guests are completely enclosed within the ride vehicle.
The ride vehicles are physically similar to those used in "The Amazing Adventures of Spiderman" ride, with NEST logos on the inside and painted outside to resemble EVAC.
WHICH SEAT/ROW SHOULD I TAKE?
The first row has the most amount of legroom and also *feels* like it has the most intense ride movement, especially when the ride vehicle spins and swerves. Guests in the first row will be completely immersed in the 3D scenes and fog effects. However, the 3D effect often breaks for the the left-most seat – the viewing angle from that seat does not allow the two projection images to align properly for the 3D effect to work.
The last row allows guests to see the 3D projection as well as physical scenes. If 3D imagery makes you feel dizzy, I would recommend the last row.
The second/middle row is in between for the visuals, but does not feel as intense – as it is closest to the center of gravity of each ride vehicle.
Most importantly, if 3D (or flashing images) gives you a headache for any reason, be warned: The ride combines a lot of action-packed 3D visuals – a lot of on-screen movement and rapid brightness changes – with aggressive physical movements from the ride vehicle. I've heard from some people who felt sick after riding it a few times (some just once), so be mindful about this.
3D GLASSES
Blue 3D glasses are used in the ride, known as "Battle Glasses". It's same as the ones used for the Spider-man ride at Universal Studios Japan.
LOADING/UNLOADING PLATFORM
One long continuous platform that allows 2 ride vehicles to be loaded and 2 ride vehicles to be unloaded at any time.
PROJECTIONS
The park wasn't kidding when they said they were using some crazy high-definition projectors. Most of the 3D projections are sharp, except for 3D SCREEN 9. It's very pixelated compared to the rest.
There is a mix of flat (or almost flat) screens, parabolic screens, and two pairs of TALL screens for the elevator scenes. Some screen are embedded into the scenes, while others are in large rooms with a wide projection that completely surrounds guests.
The projections for the large screens are so wide that it extends beyond our typical point of view. It's hard to see the "edge" of the projection (unless you want to find it). For these screens, the projected image requires 4 projectors.
ELEVATORS
The ride uses two elevators, but there are actually two pairs of elevators – a total of 4! However, each ride vehicle will only use two elevators in a ride cycle.
Each elevator has a tall projection screen. The ride track splits before the elevators. The ride vehicle will turn in different directions when exiting from another elevator. This means that (physical) scene and props that are located before and right after the elevators are mirrored, until the ride track merges again.
And yes, the elevator is beside its own twin. To make it even clearer:
Elevator1 (Screen 3) – A
Elevator1 (Screen 3) – B
Elevator2 (Screen 11) – A
Elevator2 (Screen 11) – B
Edit: Just to clarify again, there are 4 elevators, meaning there are 4 screens.
It makes sense to have 2 pairs of elevators: for redundancy and capacity. This way, the ride can still operate when one (or a pair) goes breaks down. Also, the elevators are not just used to quickly transport ride vehicles – a lengthy 3D sequence occurs in the elevator as well. At maximum capacity, one elevator does its reset sequence while another is serving a ride vehicle.
During peak periods, the ride will use both elevators to maximize capacity. The switching is very fast and seamless, I did not even realize until my friend pointed this out. It appears that the ride will always choose the left-most elevator when there are lighter crowds.
While there are extra-tall screens in the elevators, the projected screen area does not change. Rather, the projected area moves along with the ride vehicle. Thus, unless you already know about the elevators, you will probably never realize that they were there (or even the fact that there are two levels in this attraction). It's just very well disguised!
DUAL LEVEL RIDE BUILDING
The first level of the ride building houses:
– NEST Queue Area
– Loading/Unloading
– 3 Ride Screens
– 4 Ride Screens within Elevators
– Ride Vehicle Maintenance and Storage
The second level of the ride building houses:
– The remaining ride scenes, including the extra wide screens.
ANIMATRONICS
There are no Transformers robots in animatronic form. I know this is disappointing for many theme park fans, but unlike Spiderman, there aren't any animated props as well. The ride really focuses on high-definition, realistic 3D video screens, augmented with various "4D" special effects (see below).
SPECIAL EFFECTS
Combination of: Dramatic lighting, LED on props, strobe lighting, fog, wind, water and hot air.
The hot air effect is used when EVAC narrowly dodges Megatron's missile. There is a vent that produces a constant curtain of warm air. The ride vehicle will move under it, putting all riders through that curtain.
UPDATE: 14/12/2011
RECENT CHANGES
– The ride profile (physical movement) has been toned down. The ride is very tamed compare to the soft opening phase.
– The net pockets located in front of every seat has been removed. Guests have to place their bags and loose articles on the floor now.
---
END OF SPOILERS
---
My Thoughts
Transformers: The Ride opened in secret today, and it has sucked in almost all the park guests walking around the park via Sci-Fi City. Everyone was excited and left the ride amazed. I guess the park achieved what they set out to do – this ride has certainly raised the bar and is now the park's latest blockbuster. As an attraction, all the elements are very well put together – this is stellar work by Thierry Coup and his team at Universal Creative. The queue/preshow design is impressively done and will certainly keep guests entertained during the long waiting times. Until Jurassic Park Rapids Adventure reopens in 2012, Sci-Fi City is the place to be.
There are many (easily missed) nice touches in the attraction, such as instructions and warnings translated into 3 other languages (Chinese, Malay and Tamil) and ride safety spiels presented by the Transformer robots. The ride safety/breakdown announcements are not themed, but it has been re-recorded and is slightly different from the ones used for other rides.
The queue design in the NEST base is very straightforward, with clever use of hidden switchbacks (instead of monotonous blocks of switchback zones – Madagascar: A Crate Adventure, I'm looking at you) so it is very difficult to end up walking in the wrong direction, or get caught in the boring grind of walking around repetitively. The standby line separates from the other two (Express/Single Riders) right at the start – it's almost impossible for guests to end up at the wrong queue lane, unlike the other attractions in the park where lanes run parallel and people (by mistake or not) cross to the wrong side.
While the ride was in technical rehearsal, it was been running quite smoothly with no major problems. However I think there should always be two groupers at loading. It is just too crazy for one crew member to group guests and split them into rows, and there were some who seemed too stressed and struggled with crowd management at area before loading. The different queue lanes have to be merged into 6 loading rows, capable of holding 2 groups each. It is not an easy job. I've seen a few instances where they have to raise their voice or give snarky remarks – and this just sours the experience for everyone. Perhaps having another colleague here would take the heat off.
There are many similarities between Transformers: The Ride and The Amazing Adventures of Spiderman, because they use similar ride technology. However, the track layout is different and the programming, projections and everything else are ENTIRELY different. You can never experience a battle between giant robots anywhere else (well, until the same ride opens in Universal Studios Hollywood next year). There is however, lack of physical animated props – but frankly, after experiencing the ride, it makes little sense to spend a lot of money on expensive and complex animatronics when the 3D implementation is much easier and just as convincing for those high-speed sequences. Edit: So I would say that this ride isn't as revolutionary as Harry Potter and the Forbidden Journey, Transformers: The Ride makes the best out of the amazing Spider-man ride system and embellishes it with technological upgrades, mainly on the projections. The use of 3D videos also differ greatly from Spider-man.
I would say that you have to ride Transformers yourself to know how great it is, and see how everything is put together so amazingly – it really is the best (and as John Hallenbeck admits – the MOST expensive) attraction in Universal Studios Singapore. If you have taken the ride, do share your thoughts in the comments!
Subscribe to Dejiki.com or Like my Facebook page for notifications of updates.
---