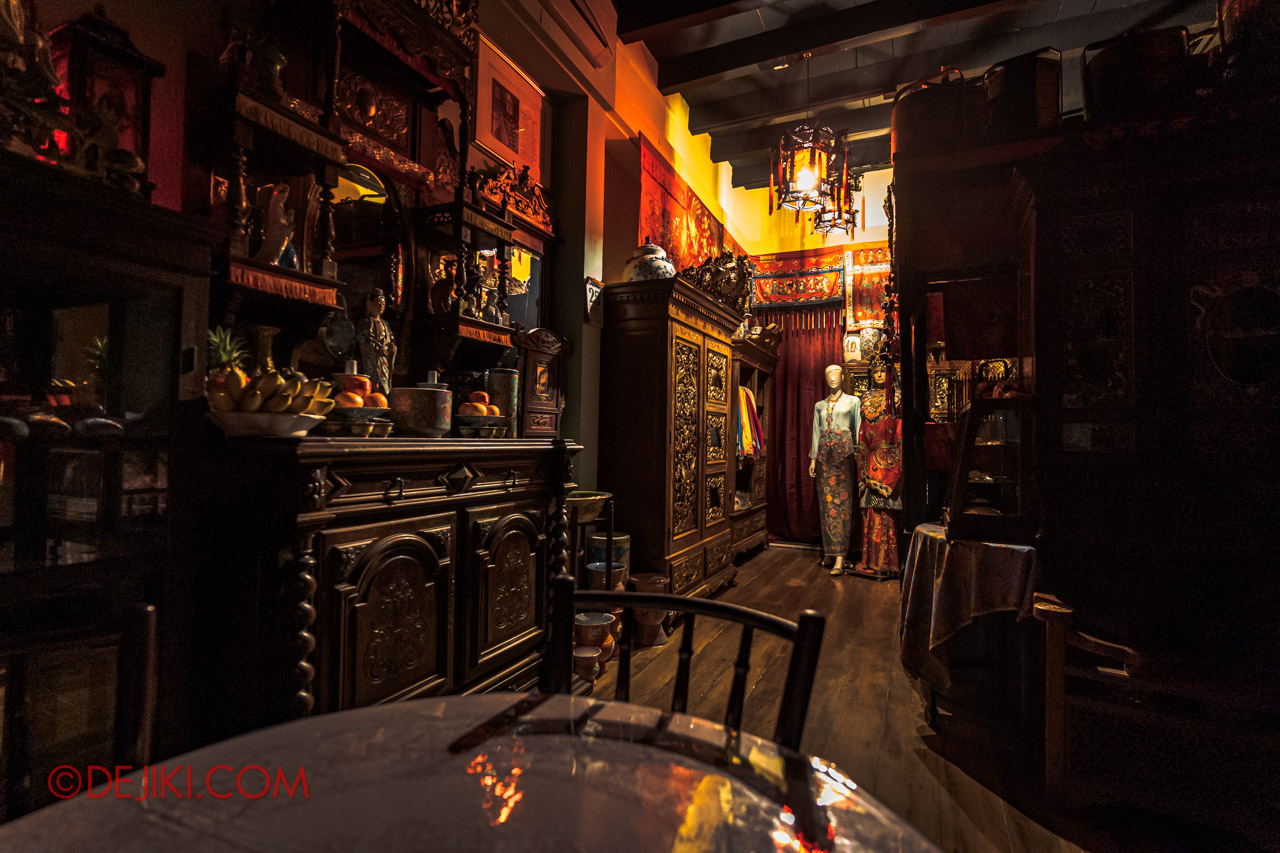 For the brave and curious: Fright Night at the Museum – Halloween Edition by Xperience DMC will bring you on an adventure in Joo Chiat as you uncover mysteries and witness paranormal activity in a private Peranakan museum.
What is Fright Night at the Museum?
This is a 90-minute guided night tour around Joo Chiat area, where you will learn the area's rich Peranakan history: from life of some of its past inhabitants to architectural elements that have endured. Along the way the tour guide will share the tragic story of a Peranakan woman who once lived in the area, and the tour route leads you through conserved buildings, dark corridors and into the very home where she took her life. It is now converted into a private Peranakan museum brimming with curios and rare artefacts – where her spirit is believed to still linger.
Highlights: The Tour Experience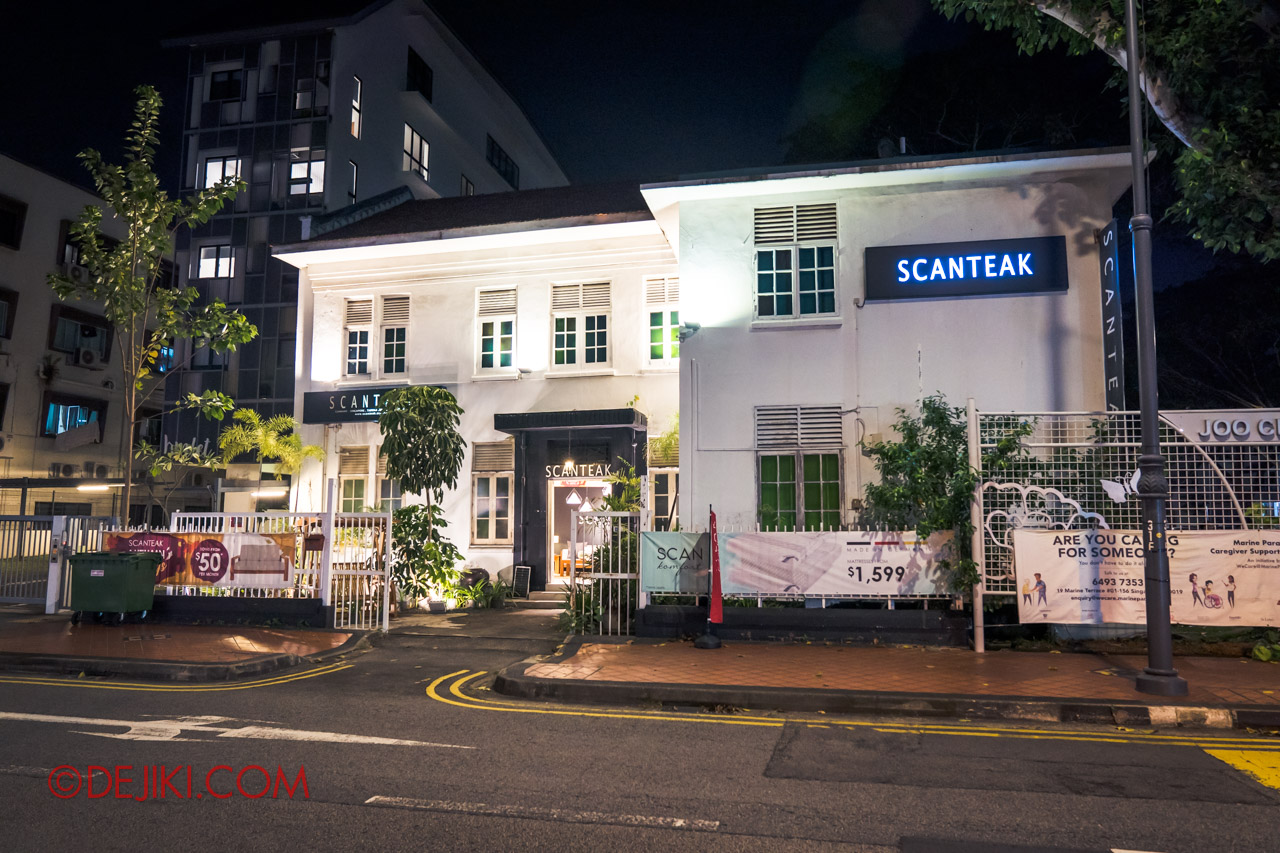 The tour began at the Scanteak Building along Joo Chiat Road, which is the Former Joo Chiat Maternal and Child Health Clinic. It was set up in 1907 to resolve the high infant mortality rate in Singapore then. Originally, the colonial-style building was red.
It is now white, and has a mural on one side by TYC with the theme of "Life and Healing".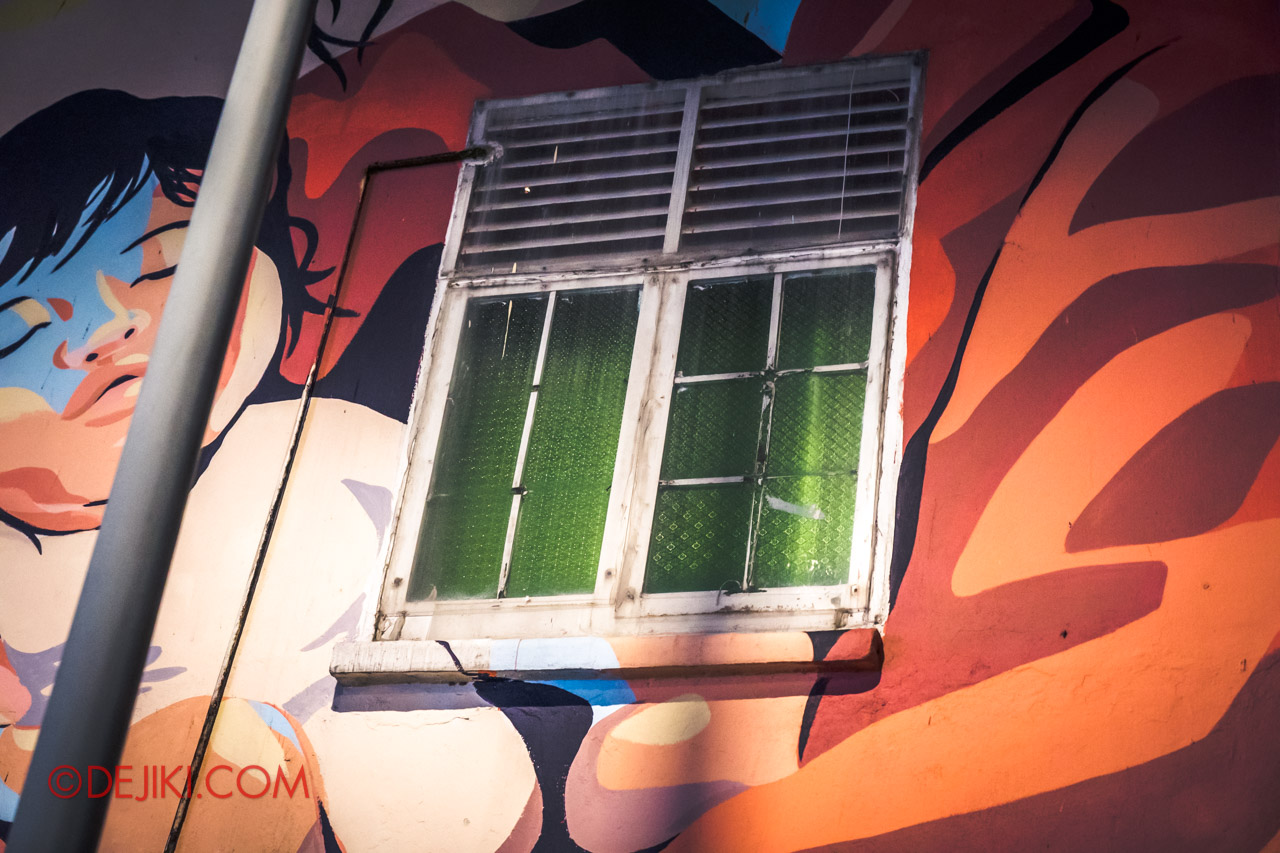 Here we were introduced to the story of Rose, a Nyonya (Peranakan woman) who once lived in Joo Chiat. Her sister was unfortunately a stillborn at the clinic. There are ghostly sightings at this particular window around midnight.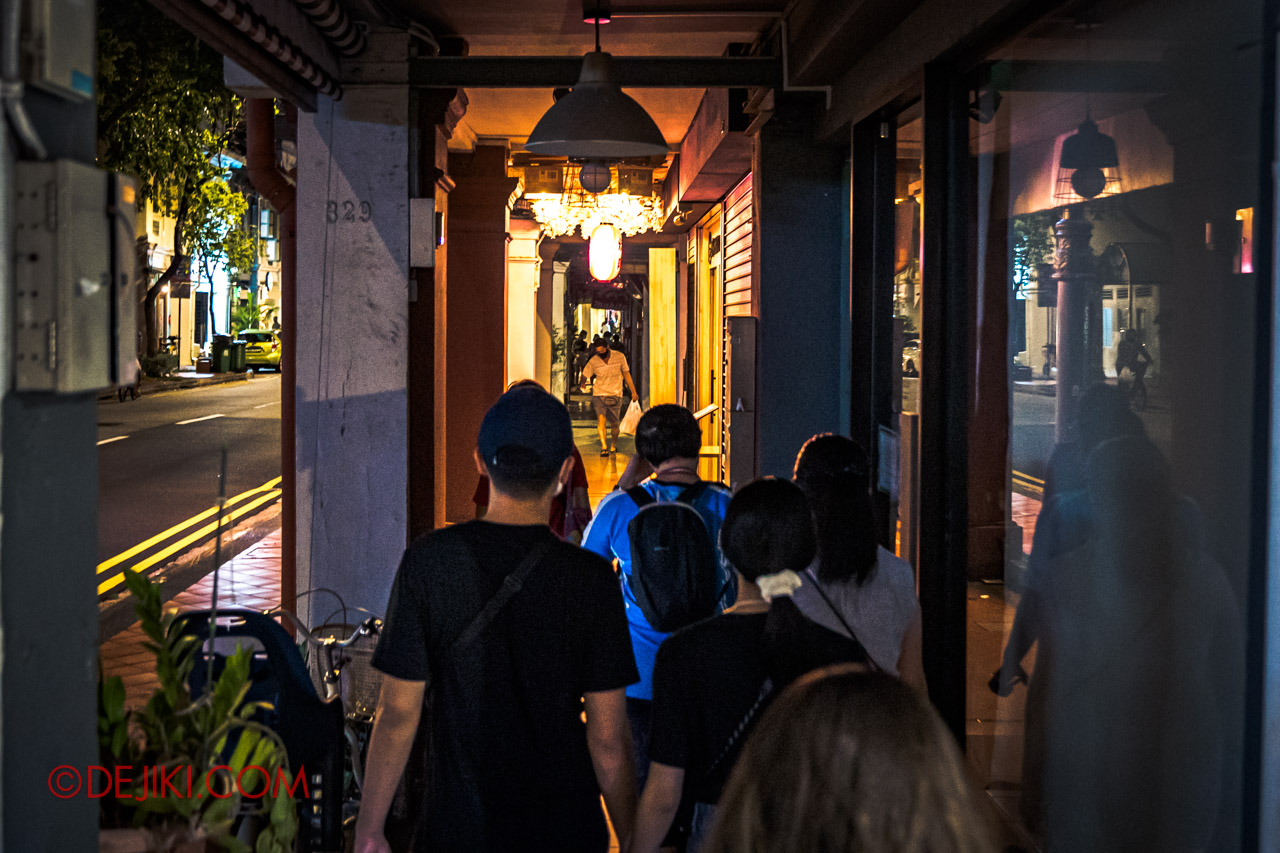 We left the building and continued walking around the shophouses.
Linda, our friendly and engaging Tour Guide for this night tour, is also a Peranakan. Throughout the tour she shared about her life as a Nyonya, and how some traditions have endured the times despite redevelopment in the area. Even the simplest things as keeping specific plants.
She did warn that we may feel or see some things along the tour – but the best thing to do is not to react or talk about it.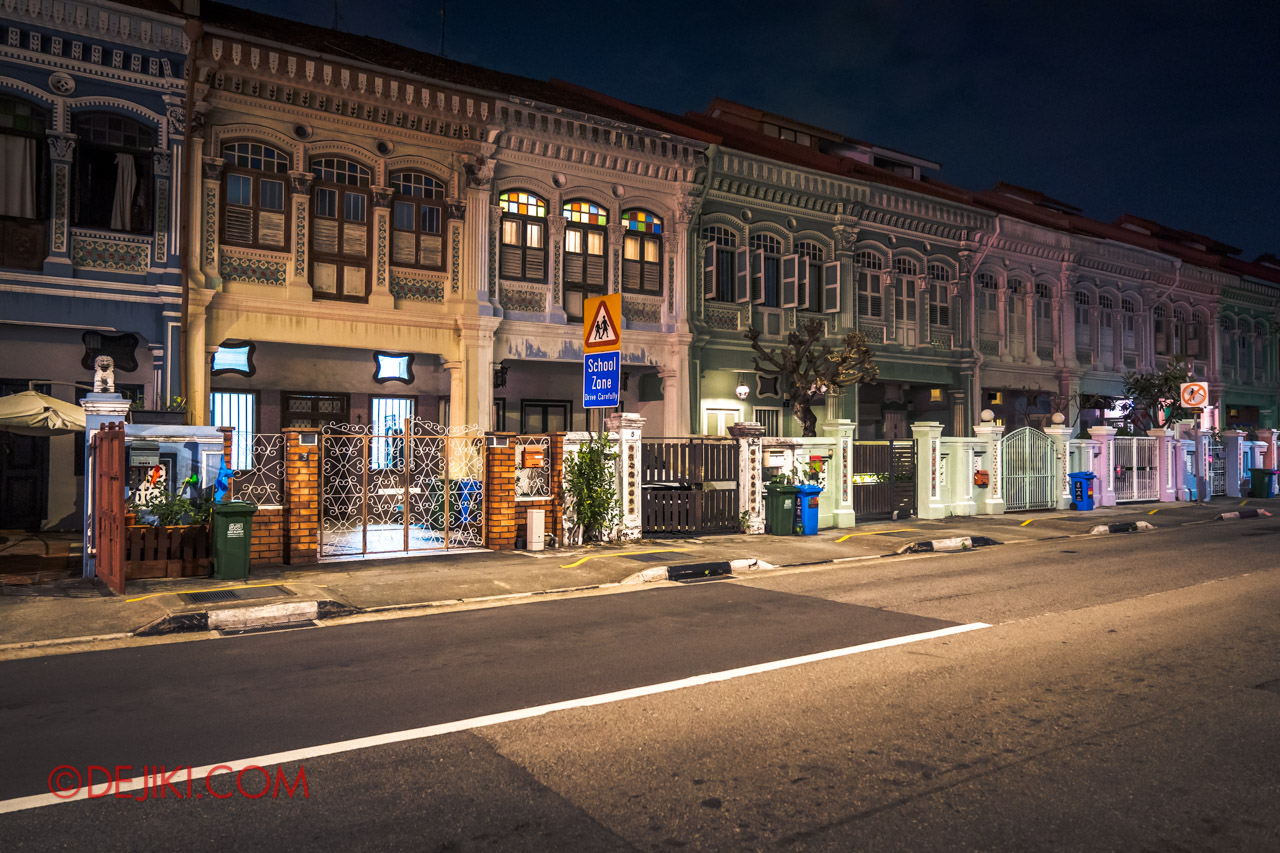 Our walk continued into the iconic Koon Seng Road, filled with conserved houses on both sides of the block. Interestingly, each row of houses share distinctive features in the facade – one with imported tiles, another with floral plaster motifs.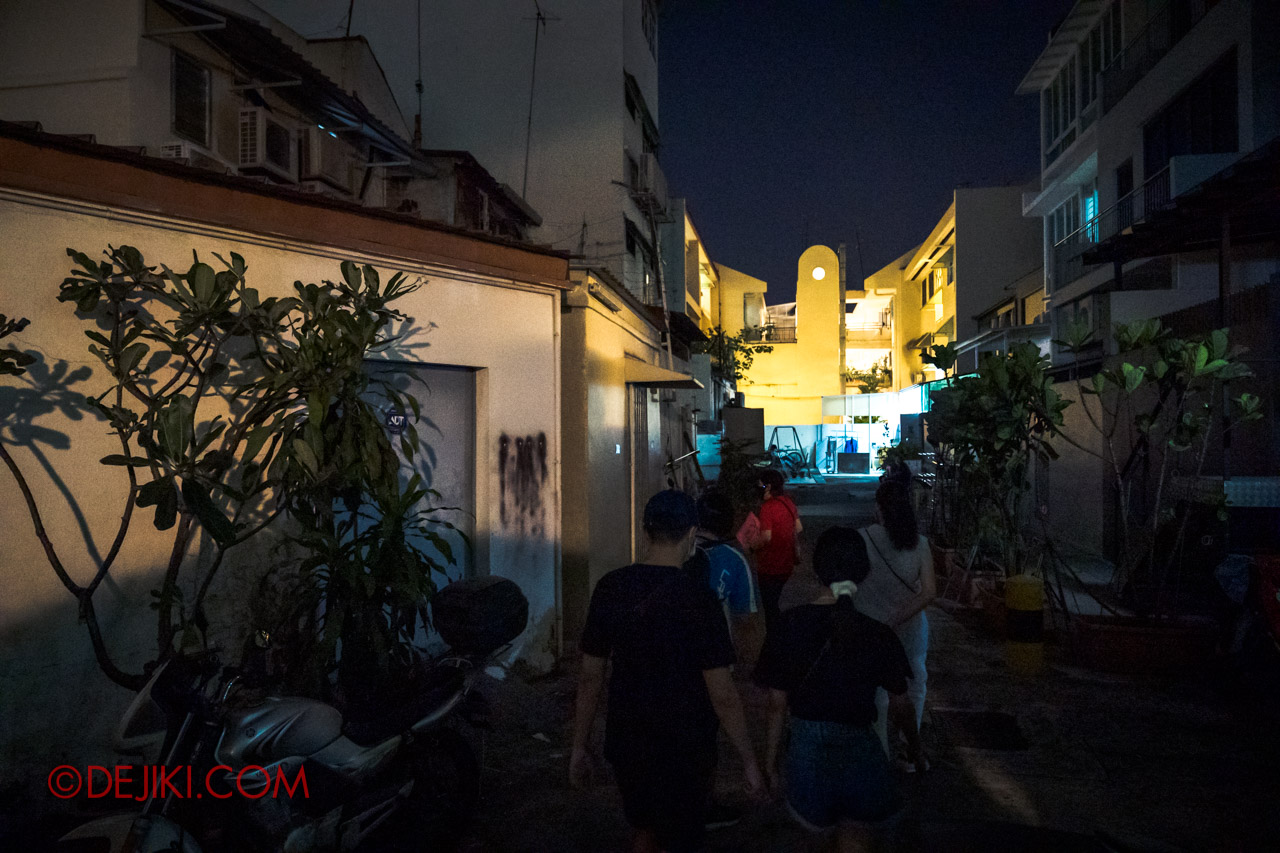 We then retreated into the back of some shophouses to learn more about how night soil was collected in the past. The way out was an uneasy walk through a narrow alleyway between the houses.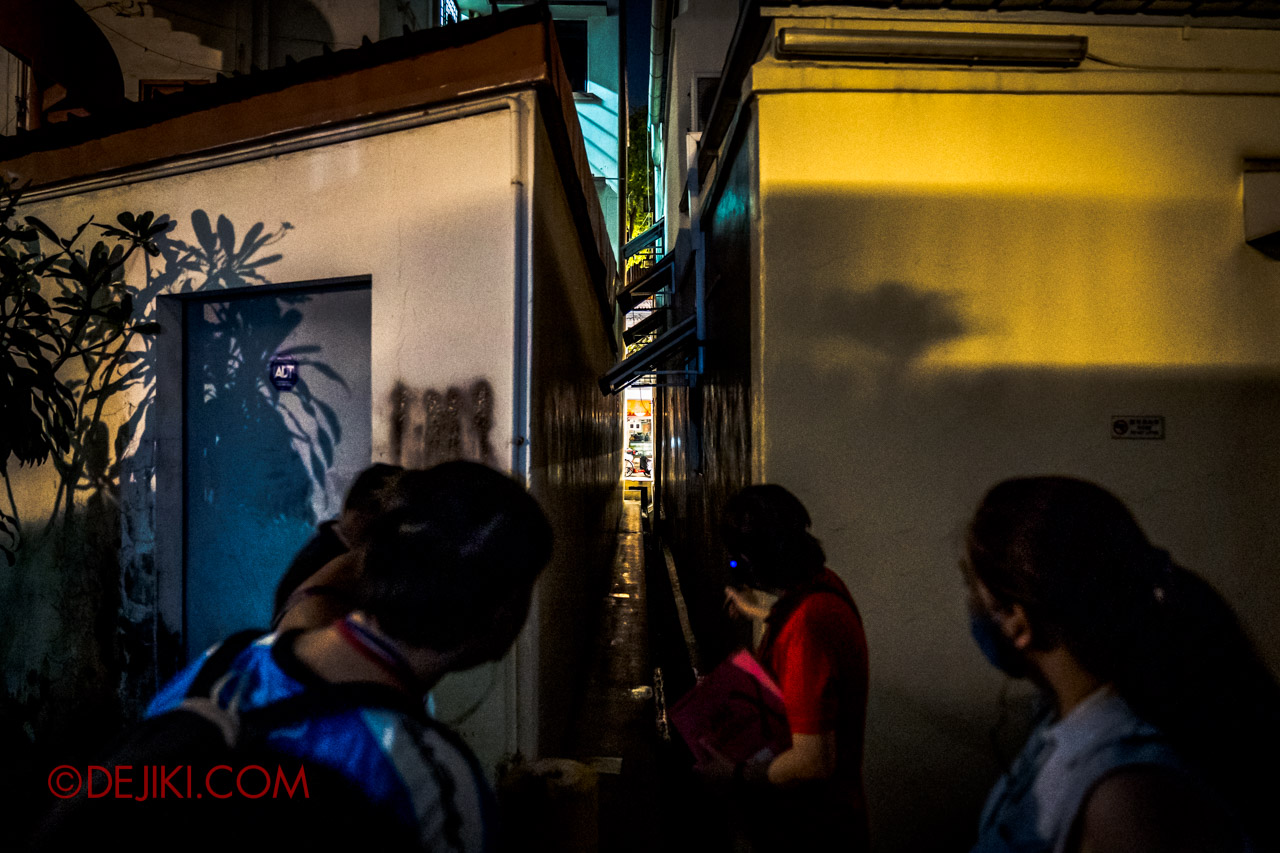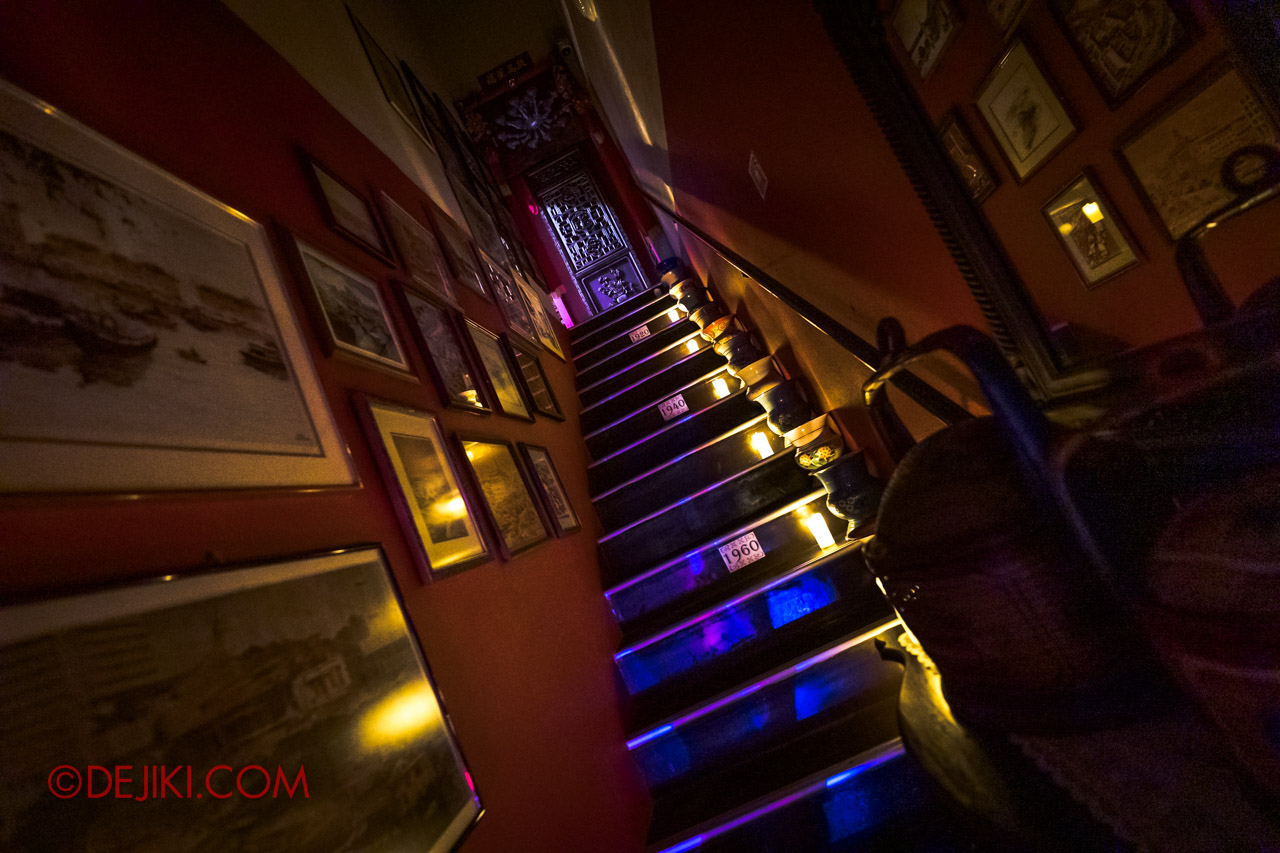 Finally, we're nearly at the private Peranakan museum – with a creepy candle-lit stairway welcoming us in.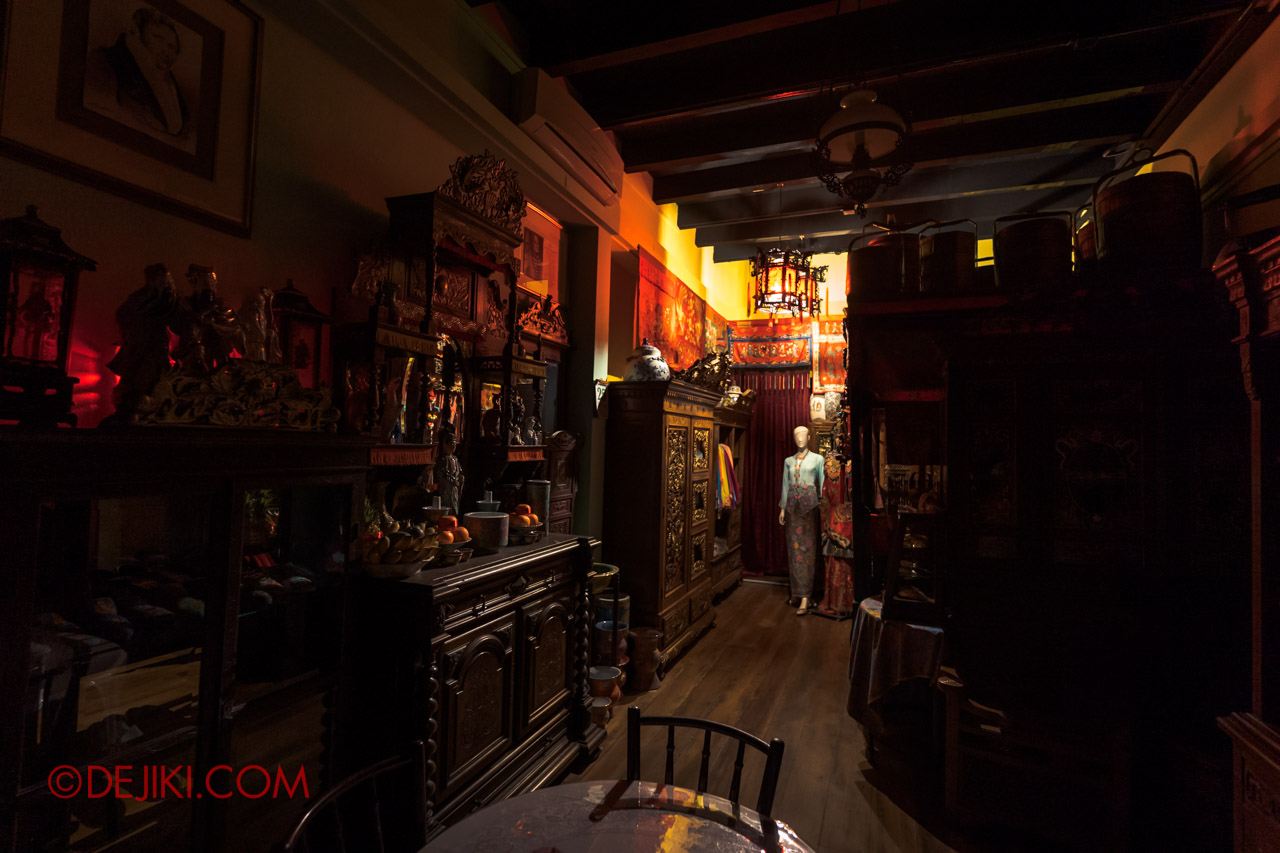 It was even more eerie inside – only these lanterns offered the much-needed light. There were numerous artefacts in this museum that was set up in a home-like setting. Many areas were stacked floor to ceiling with items.
Bringing our attention to the only lit area of the museum, Linda went through the design details of the matrimonial bed exhibit, which was constructed without nails and heavily adorned with embroidered drapes and bells.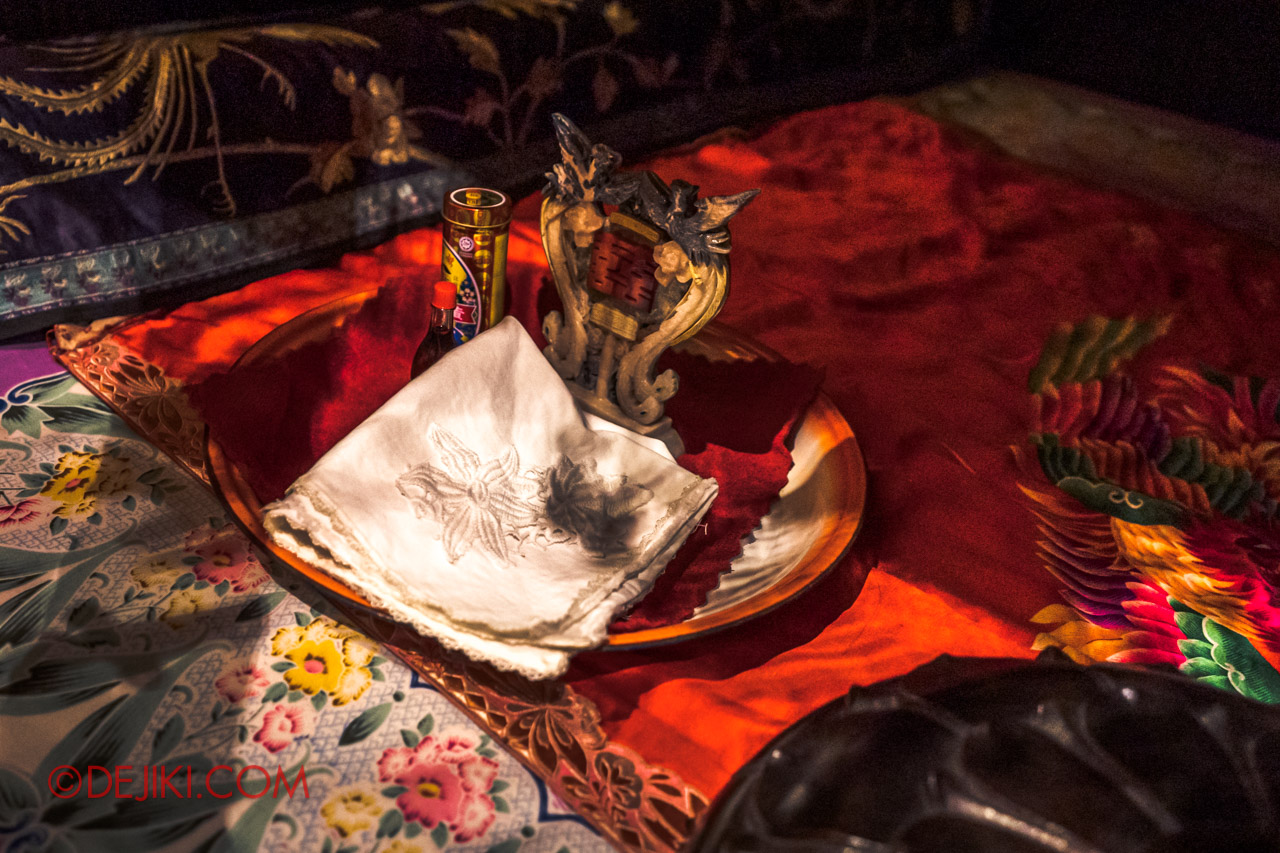 An embroidered white handkerchief – used as part of a test in the long list of Peranakan wedding customs.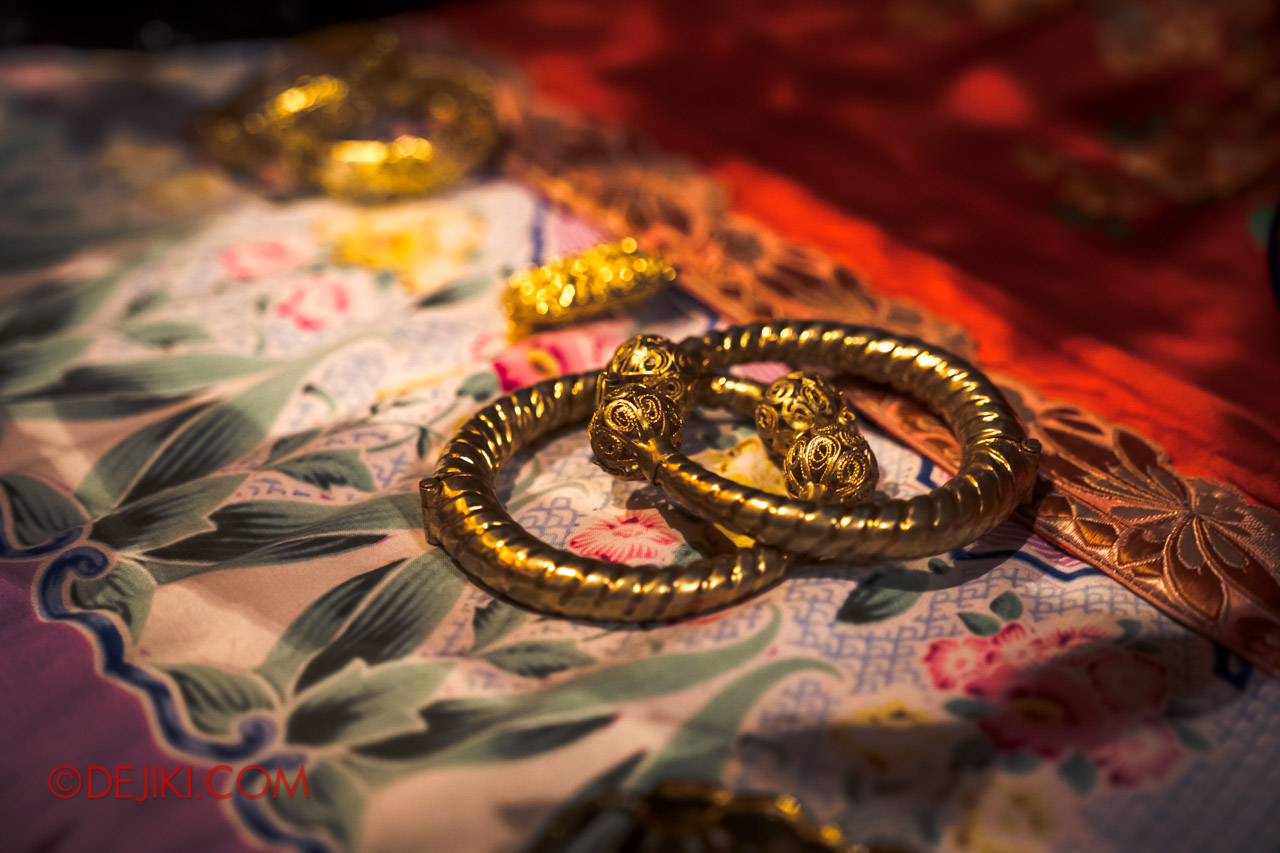 Exquisite jewellery pieces, such as these anklets, are used during wedding ceremonies.
A hanging bell suddenly rang. Some tour guests gasped. Linda paused – and then moved on.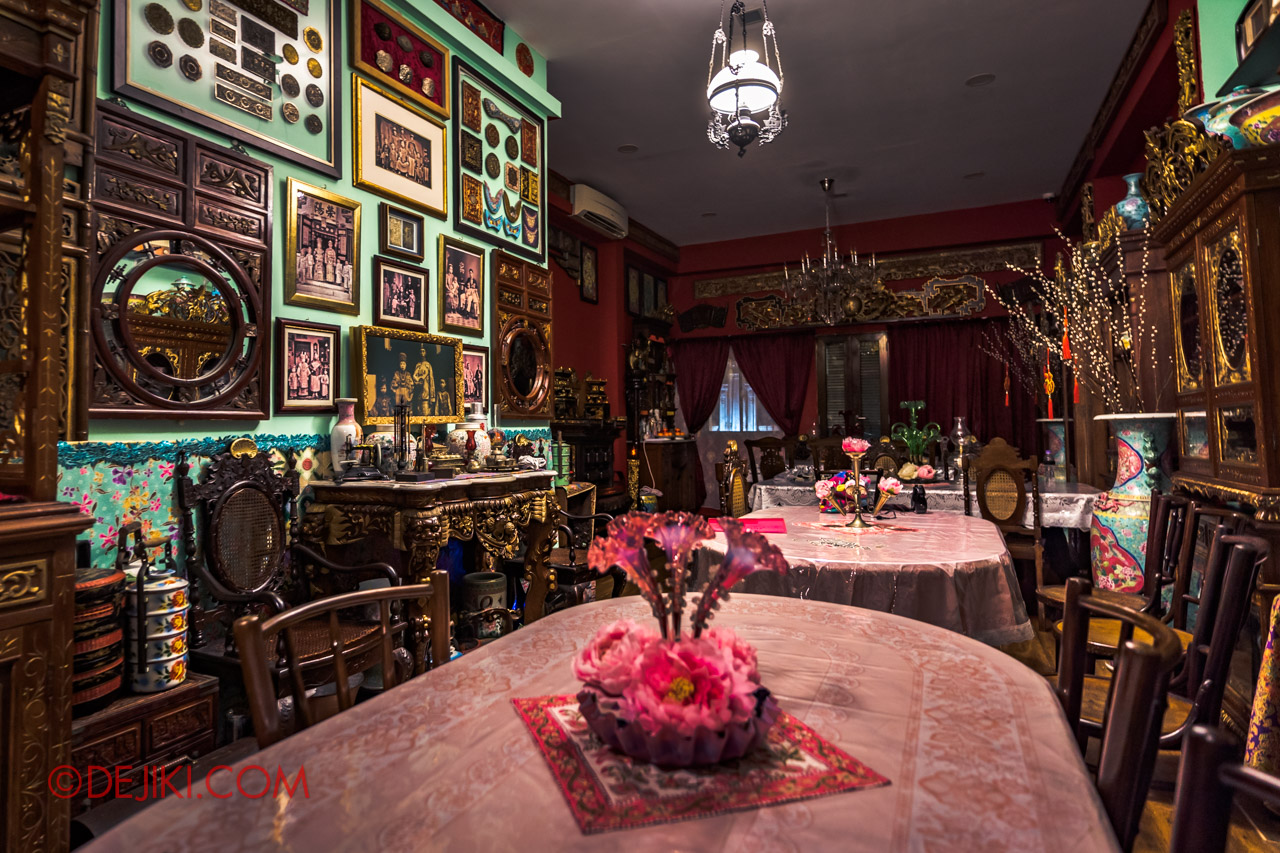 We continued our tour in another area of the museum, now no longer engulfed in shadow.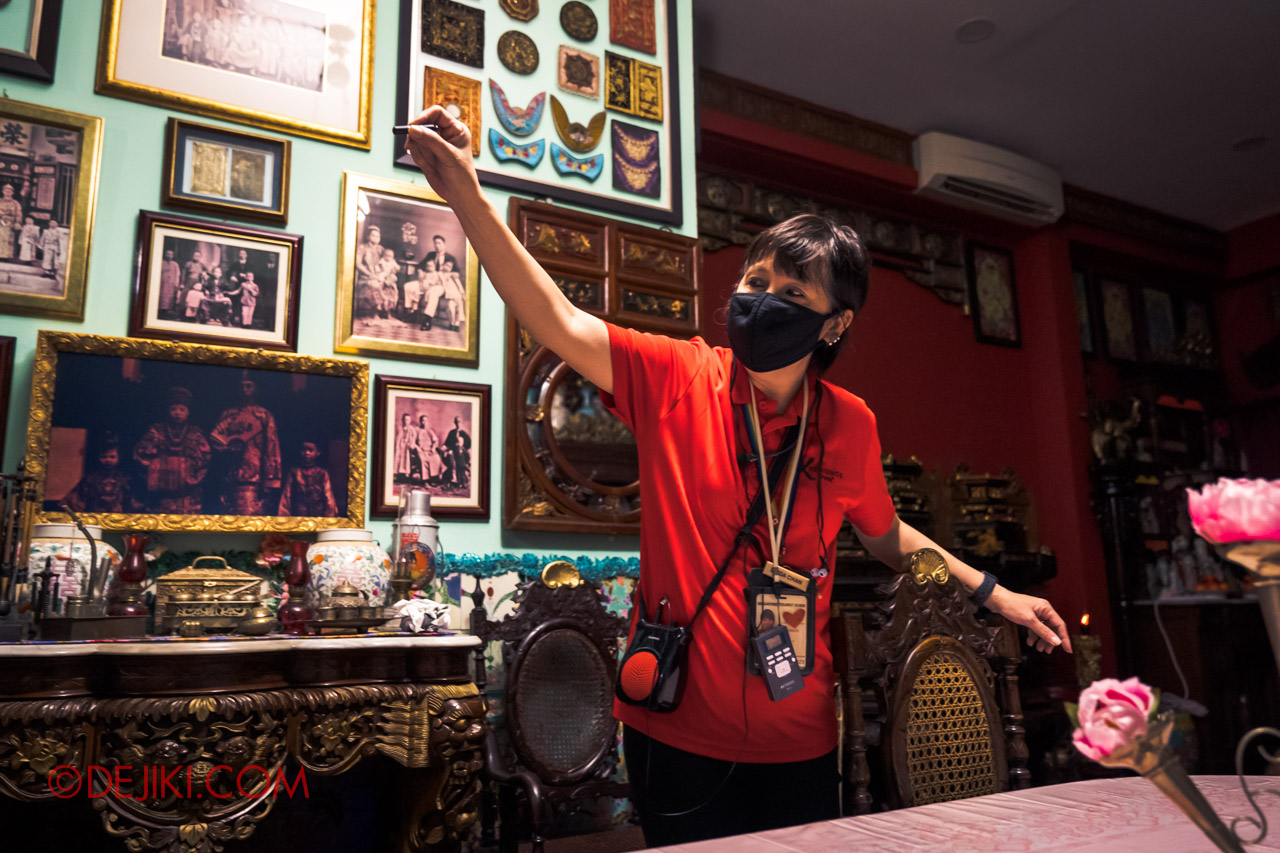 Linda continued to bring us through some interesting artefacts in the museum – from a wooden chair for toddlers, traditional beaded shoes, embroidered pillow ends that look like carved gold – the list goes on. There is certainly a lot to see here.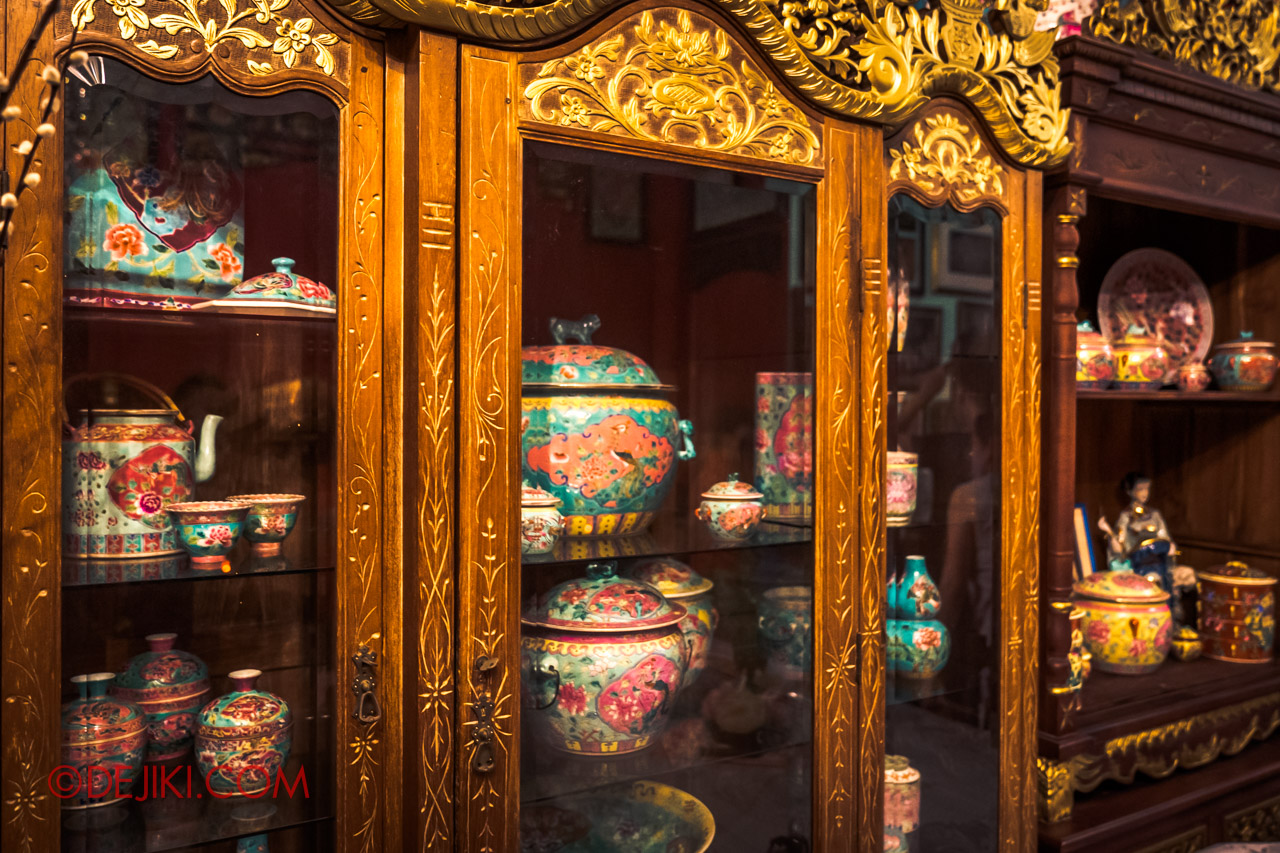 We were then allowed some time to walk around the museum and see the exhibits up close – provided we do not anger what we can't see.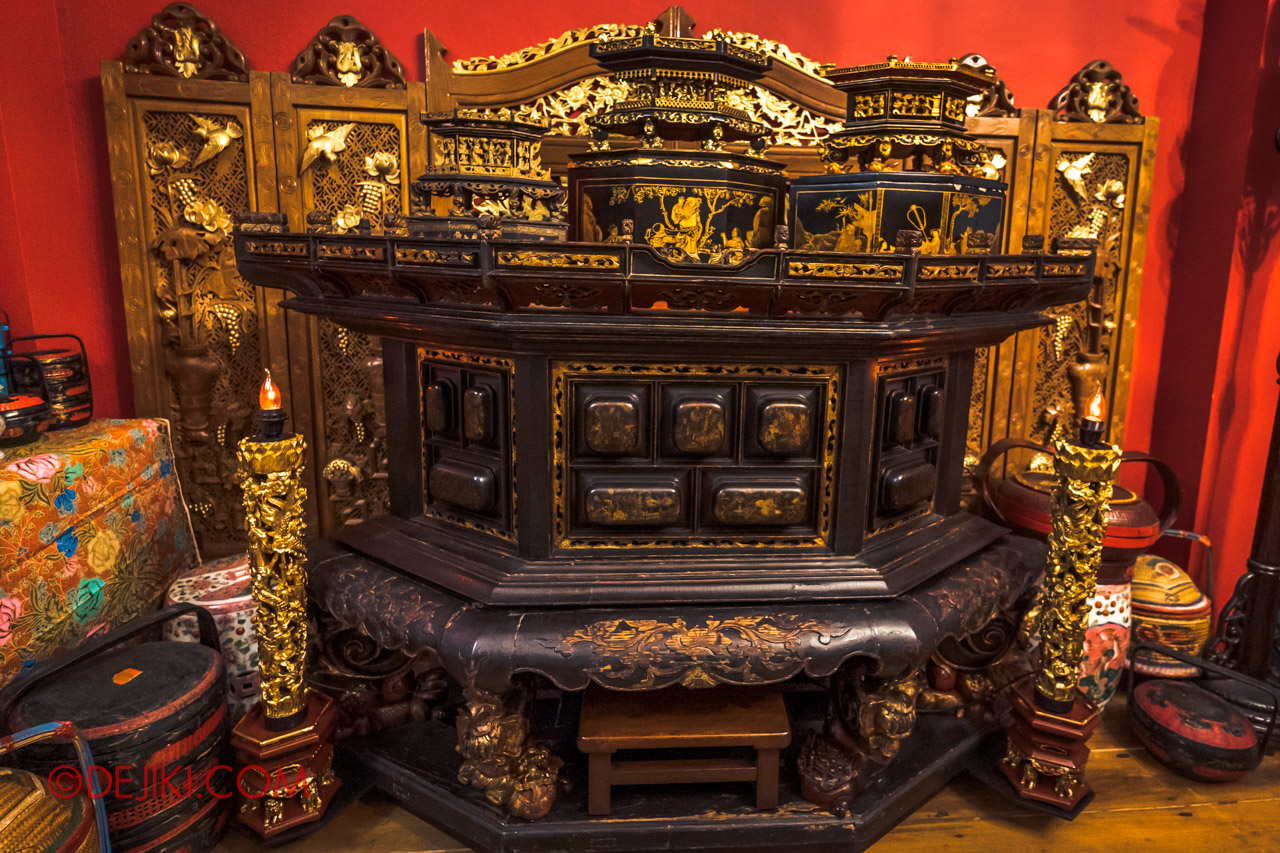 The museum is also home to a super-rare artefact: a giant chanap (offering box) that is essentially furniture. The typical-sized chanap and their storage boxes rest above it. These are used for offerings on the 1st and 15th of the month prayers, with towers of preserved fruit carvings placed above the boxes.
I was lucky – my tour was the first time photography of this artefact was allowed.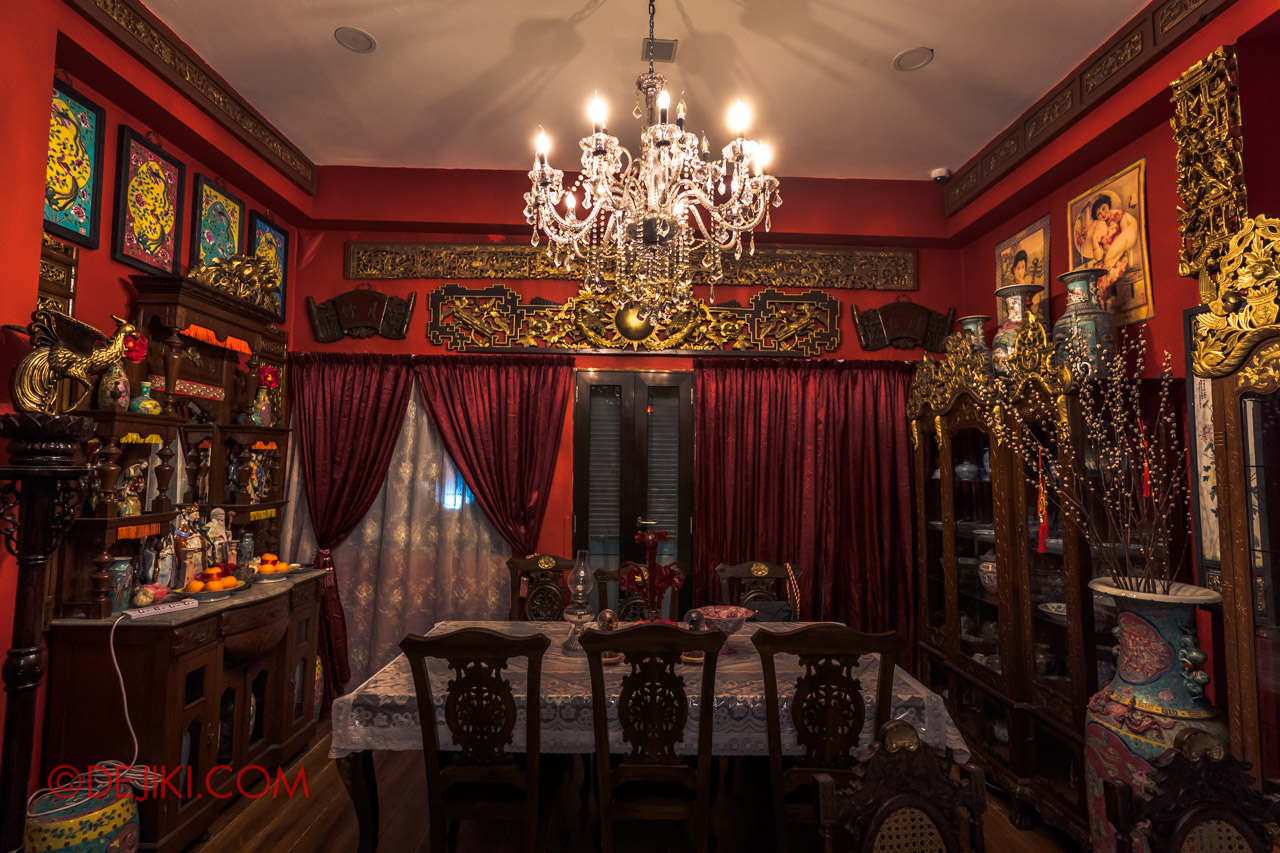 After learning more about the exhibits and seeing more unexplained happenings, it was time to bid farewell. As for Rose's story – I shall leave you to uncover her mystery at the museum, if you dare to visit.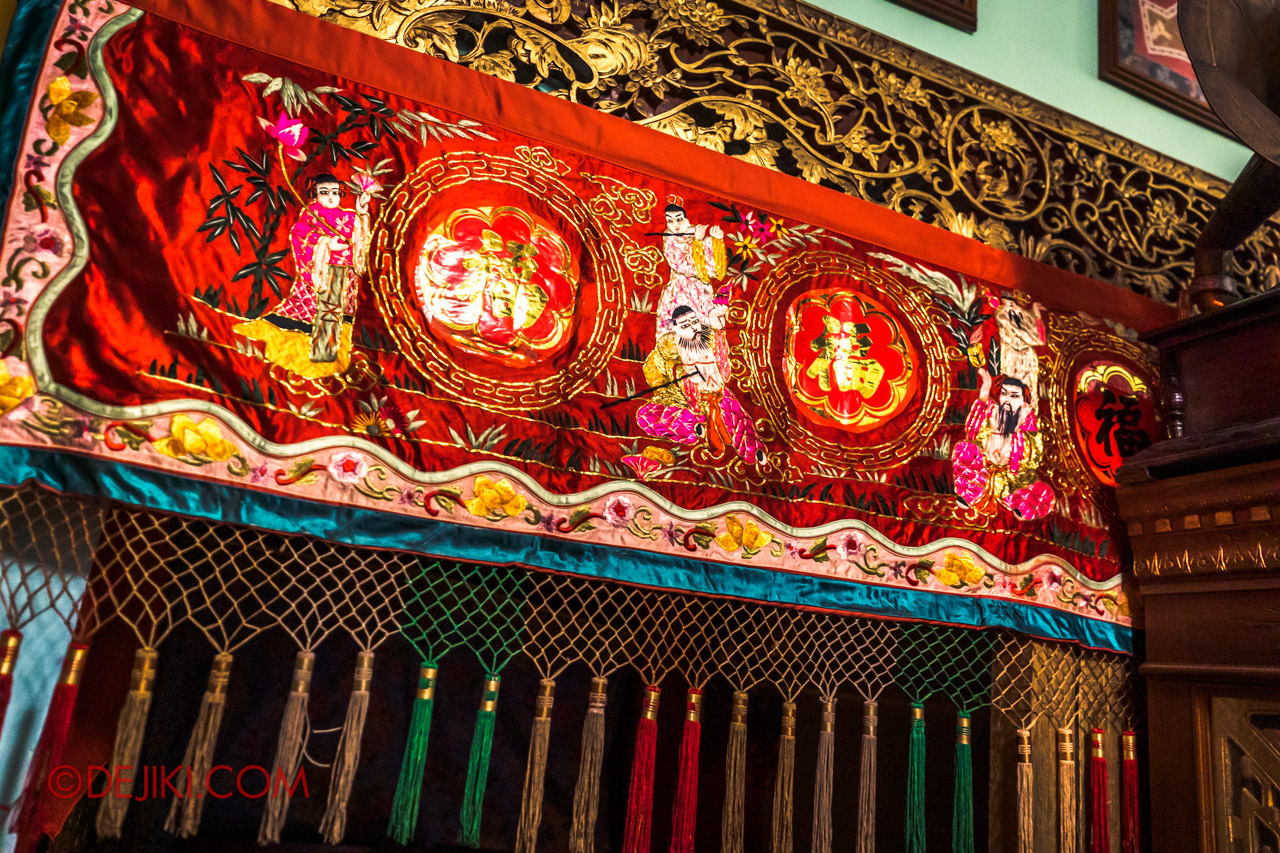 Fright Night at the Museum Tour Review
Now this was quite an enjoyable activity – a walking tour, museum tour and 'haunted' experience combined together in a tight 90-minute adventure that is both illuminating and entertaining.
I did not expect the museum to be scary at first (for the average person) but some may find walking up the candle-lit stairs to a dimly lit space to be already unsettling. That is just the start. The tone of the tour also started to shift when some paranormal activity began from the shadows. Our tour guide was unfazed; she did warn that Rose may still be around and the best thing to do is not to react. We then sat around the tables, I thought this would offer respite but it instead felt more like a vulnerable position to be in. I think most people will start to wonder what might manifest next in this creepy place that is possibly filled with haunted things.
The unnerving atmosphere creates a feeling of dread that slowly consumes you. This is something I've not experienced at major theme parks' Halloween events – where the scares are typically in-your-face, highly theatrical moments, and you know it'll stop when it's over. Over at this museum, you can never be so sure if your fright night has ended.
As I have watched The Little Nyonya (Mediacorp and iQIYI's remake), I am familiar with some of the Peranakan traditions and items. Now this is the chance to really see the real things and hear accounts on how they were used. Turns out the TV series was very accurate.
In compliance with prevailing safe distancing measures, each tour will be further divided into smaller sub-groups. A wireless audio system and earphones will be provided during the tour, so that you may hear the tour guide while standing apart.
---
Fright Night at the Museum – ticketing options and details
This experience is about 90 minutes long and is held around Joo Chiat area.
Due to the content and atmosphere of the tour experience (especially in the museum), it is not recommended for guests under 13 or the faint-hearted. Guests will need to climb a flight of steps to access the museum located on the second level of a shophouse.
This experience is available for booking exclusively via Klook.
Note: Tour slots and packages available while stocks last. Entitlements and pricing subject to change. Please click the links for latest rates.
Category
Price
Fright Night at the Museum (1 Person)
$68


Book now »

Fright Night at the Museum (2 Persons Hotel Bundle)
Package includes 1-night stay at Superior Room stay for 2 in Grand Mercure Singapore Roxy, with breakfast (valid till 30 June 2022)
Room booking does not to be the same date as the tour
$250


Book now »
Xperience DMC also offers a family-friendly, alternate version of the museum tour during the day, which you can discover more here: A Magical Time at the Museum (Kids-Friendly Halloween Edition)
(Purchases made via Klook links will help support Dejiki.com at no extra cost to you)
---
Subscribe to Dejiki.com or Like my Facebook page for notifications of updates.
---