Go on an island adventure at the all-new Tropical Thrills event at Universal Studios Singapore!
Tropical Thrills 2021 at Universal Studios Singapore
From March 2021, Universal Studios Singapore will delight guests with a new Tropical Thrills programme! The event is bringing new looks and characters for the park's popular meet and greet experiences, plus a new interactive meet and greet with King Kahula, a unique character created for this event.
While I did not get to see during the media preview, a seasonal line-up of activities and themed food should also be available around the park.
Island-themed Meet and Greet experiences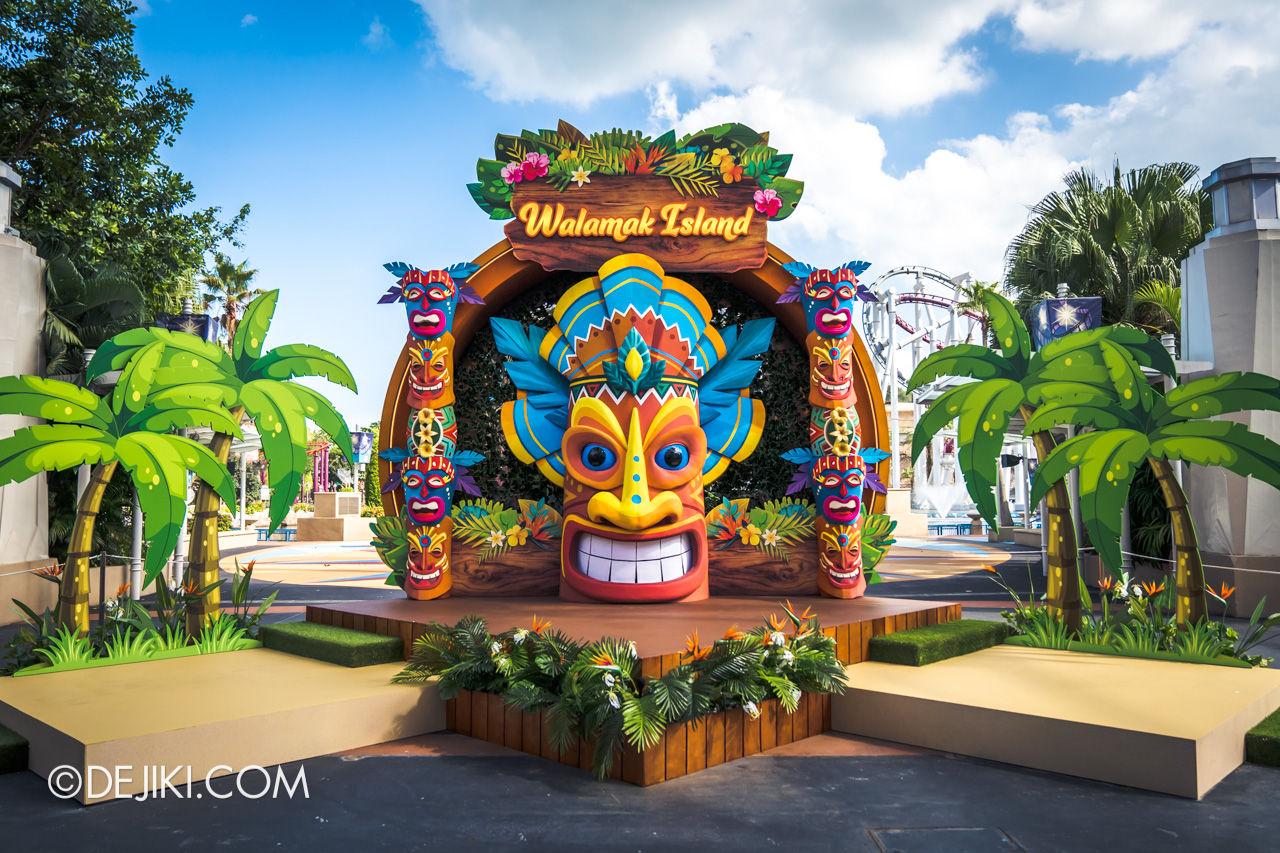 Hailing from Walamak Island, King Kahula will meet guests at the new stage set up at Hollywood, during the Aloha Talk with King Kahula experience. Expect lots of quick jokes and random comments from this giant talkative Tiki head.
During the other Tropical Thrills Meet and Greet sessions (with characters from three other animated film franchises), King Kahula will still interact with guests and sometimes adds funny comments on the park characters accompanying him at Walamak Island.
Despicable Me Meet and Greet will star Gru and the Minions, along with two hula dancers.
Branch and Poppy, which debuted in the 2018 Trollstopia event, have returned this year.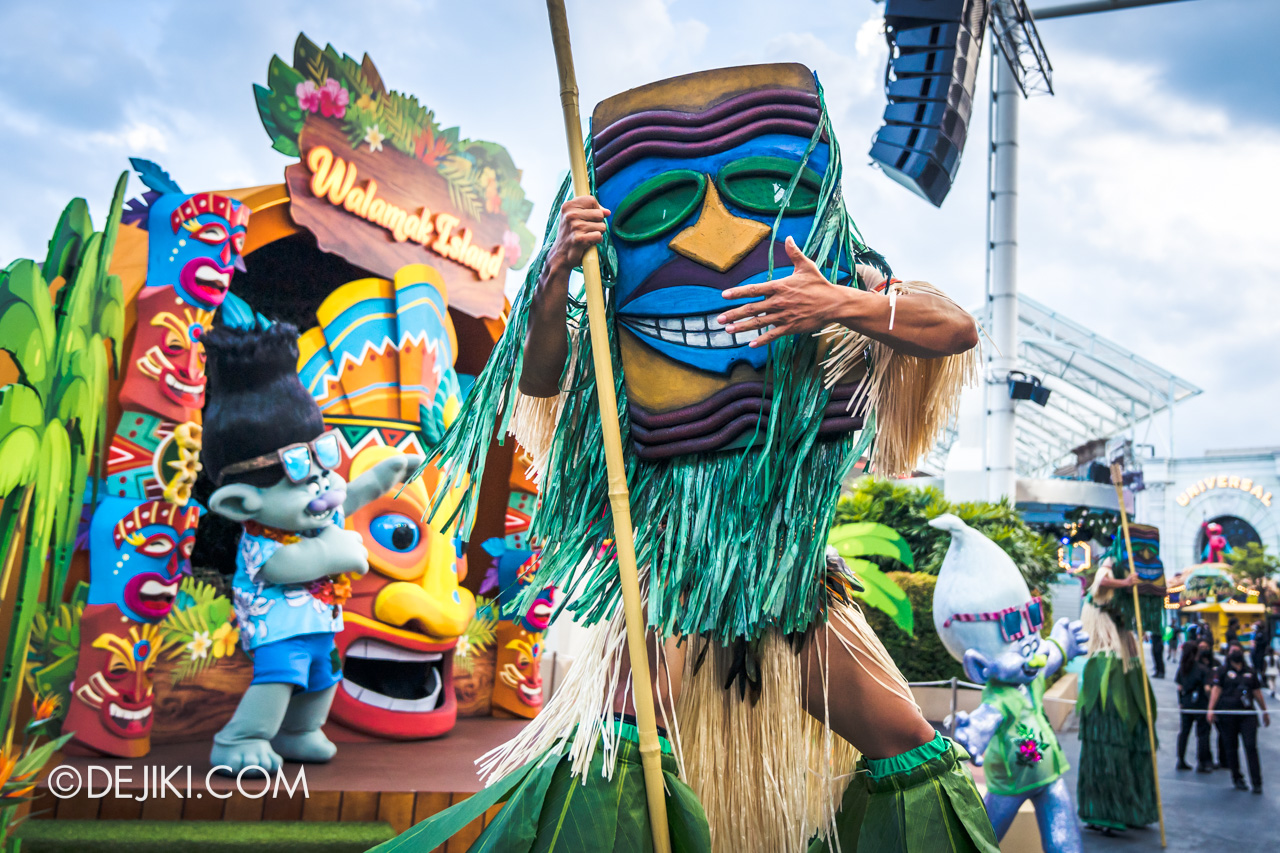 Tiki mask stilt walkers accompany the Trolls – actually this seems like the first reappearance of stilt walkers since the park's reopening (not counting the Transformers characters).
This event's Trolls Meet and Greet also marks Guy Diamond's debut at Universal Studios Singapore.
And over at Mel's Stage… now presenting Sesame Street!
For this season, Abby Cadabby, Elmo, Grover and Cookie Monster will be enjoying the holidays with their all-new outfits.
As part of safe management measures, guests will still need to stand at a designated marker away from park characters during Meet and Greet experiences.
Hollywood is also dressed up with a handful of surfboards featuring USS park characters.
The big store window at Universal Studios Store is now filled with merchandise based on the Shrek, Trolls and Madagascar films.
---
I am quite surprised that there was even a new park event, given that most programmes had scaled down even before the pandemic struck in 2020. The post-CNY period also has always been a question mark for events – though there was an annual Easter thing for a couple of years. I'm sure the 'island' theme will remind some people of 2016's Soak Out event.
The park's expansion and new rides won't be arriving for a few years, so Meet and Greet experiences have become the "new attraction" in Universal Studios Singapore. Until the safe management measures relax further (who knows when, and how much), it is likely that similar events will be held for the year ahead.
February and March 2021 park updates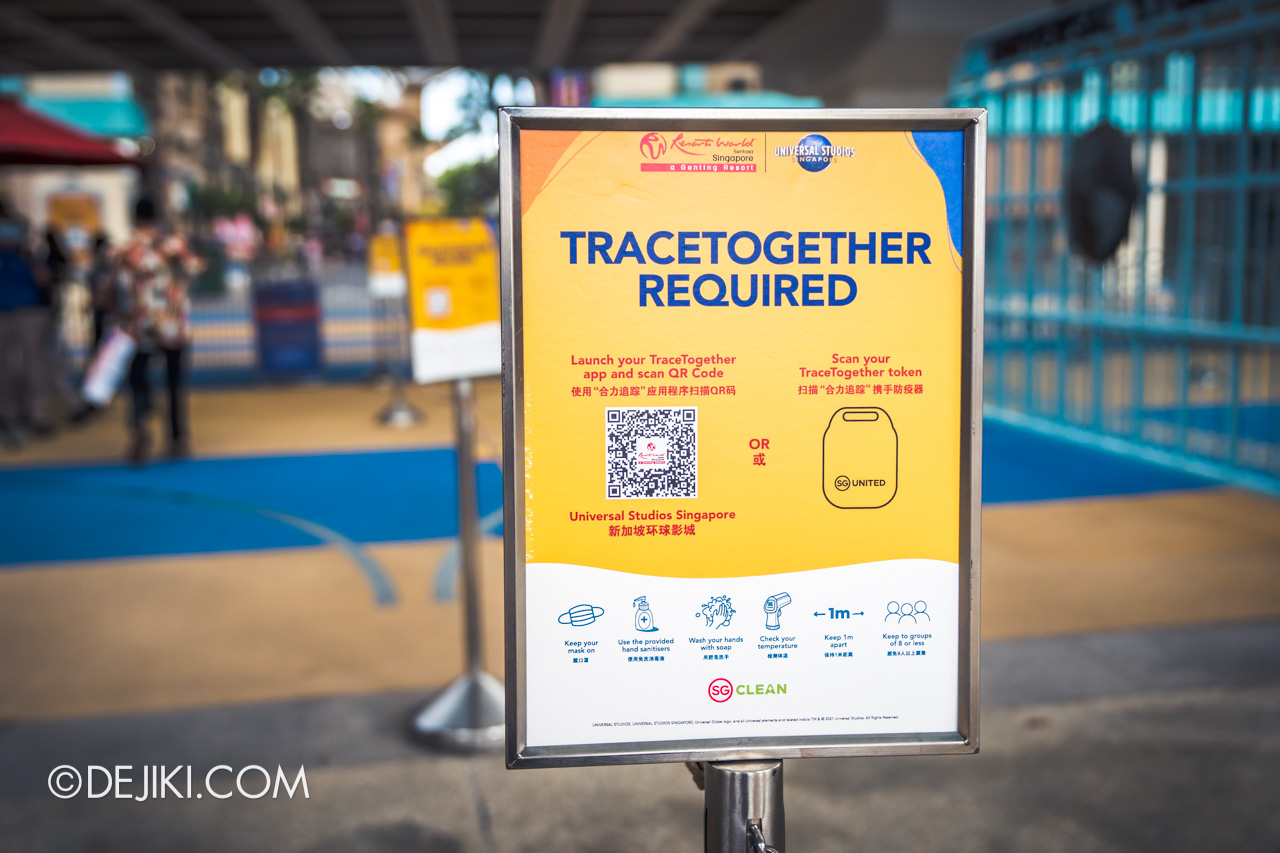 Universal Studios Singapore is now a TraceTogether Required place, so visitors will need to either have the App or Token ready to check in at the park.
For some time in February, the park is running 20 minute cycles for some rides, such as Accelerator, Dino-Soarin' and King Julien's Beach Party-Go-Round. Unsurprisingly, these are all flat rides/ spinners which barely gets filled up on normal cycles, especially on weekdays. But in my most recent visit these signs were all removed – so perhaps it was just a trial for days with very low attendance.
More nets spotted at Battlestar Galactica, expanding the coverage on the open street right below it.
Madagascar: A Crate Adventure is still open – but I hear that it is very likely going to end its run this year, so that works on Super Nintendo World may finally begin. Last call to meet the animals!
Over at the other end of Madagascar, nearer to Far Far Away, the restrooms have been blocked off – would works be starting from here?
And perhaps the time has come for Elmo's TV Time, a Sesame Street stage show unique to Singapore. Some months back, the sign was removed from the Pantages Hollywood Theater, which now shows this "Welcome to Universal Studios Singapore".
Rumour has it that the theatre building may be redeveloped into another attraction… and there is an IP in the park's expansion plans that could very well end up right here.
In the meantime, the theatre entrance is now used for some Meet and Greet characters to enter the front of house.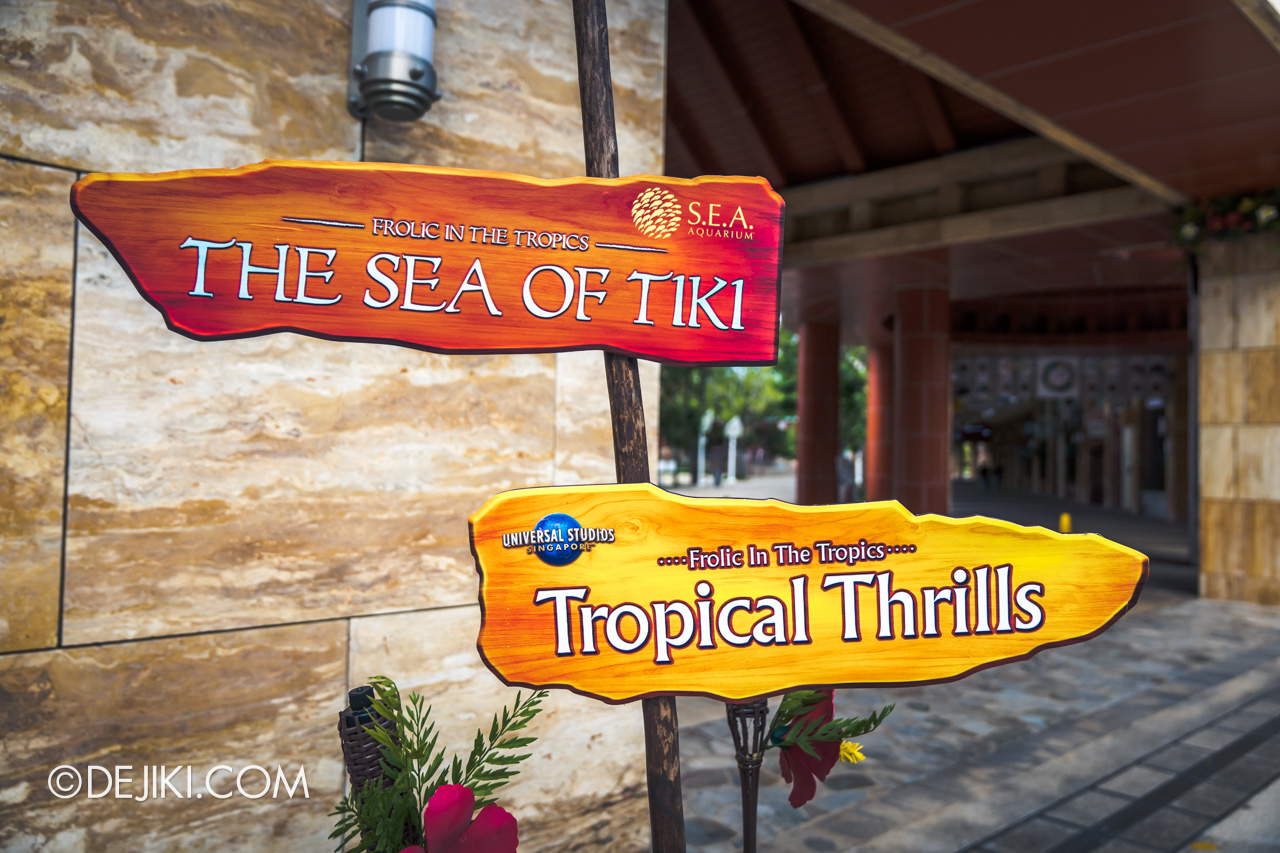 Anyway – Universal Studios Singapore's Tropical Thrills is part of a resort-wide Frolic in the Tropics programme, with The Sea of Tiki happening at S.E.A. Aquarium. Both events will run from now till mid year – would you be using your SingapoRediscover vouchers to visit the resort?
---
Buying USS Tickets with SingapoRediscover vouchers
If you plan to use SingapoRediscover vouchers to buy tickets to Universal Studios Singapore, feel free to use my Klook link!
Klook is one of the authorised booking partners of the voucher programme, and you can easily use the website or App to redeem your voucher for attractions. Just make sure the ticket you are booking is marked [SRV Eligible].
(Purchases made via this link will help support Dejiki.com at no extra cost to you)
NOTE: Reservations Required for Tickets purchased from Official Partners
For all tickets purchased from official ticketing partners, making a reservation prior to visiting the park is required. Please go to the RWS Attractions Reservations website to do so.
Only tickets purchased directly from RWS do not require reservations.
Subscribe to Dejiki.com or Like my Facebook page for notifications of updates.
---