Tag Archives | louis vuitton
Discover the creative process behind Louis Vuitton's Autumn/Winter 2015/2016 collection at the Louis Vuitton Series 3 exhibition.
I'm back after spending an evening at the Louis Vuitton Island Maison at Marina Bay Sands. It was an exclusive preview and there are certainly less than a hundred guests within this gigantic store, leaving my family to tour the Maison rather peacefully with our very sweet and charming guide. In short, this store IS amazing. While I've been to the other stores in Singapore and the two Maison stores at Hong Kong, there is just something special about the Island Maison.
The store feels like a mix between a museum and a luxury cruise liner (especially with the Mezzanine level which does resemble a ship's deck). They could've easily built more retail space, but instead there are only two levels at the Island section – the expansive and high ceiling within the Crystal Pavilion is embellished with the eye-catching, floating art called "Upper Strut" by Richard Deacon. The glass facets of the Crystal are filled with cascading white "sails" to block out the excess sunlight, but also gives momentary glimpses into the sea outside. With port holes, deck furniture and an abundance of teak panels, it almost feels like you are "traveling". You just have to see it.
Before I start bombarding this post with photos, here is a "directory" of all the sections in the Island Maison:
Louis Vuitton Island Maison – Store Layout
Marina Bay Sands Shoppes – Basement Level 1
Store Entrance
Fine Jewellery
Timepieces
Exotic/Rare Leather Goods
Marina Bay Sands Shoppes – Basement Level 2
Store Entrance
Bookstore
Gallery/Tunnel to Crystal Pavilion
Crystal Pavilion North – Level 1
"Jetty"/Outdoor Store Entrance
Men's Universe: Ready to Wear, Bags and Leather Goods, Accessories
Women's Universe: Ready to Wear, Bags and Leather Goods, Accessories
Crystal Pavilion North – Mezzanine Level
Travel Room: Trunks, Luggage, Travel Accessories, Ready to Wear
Custom Order Collection
---
Some interesting info!
There are no "limited editions" or commemorative products for the store's grand opening. Apparently, the company wants to stop associating products (or at least, special variants) with store launches.
Although the store is completely air-conditioned, those who are sensitive to heat should be aware that the Crystal Pavilion gets a little warm throughout the afternoon. It is a structure mostly made of glass and has generous amounts of sunlight sieving in, after all.
Also, the store can no longer sell items on display, so even if you see something you like on display, you might not be able to bring it home. This rule has been around for years but has been rarely enforced in Singapore, until now at Island Maison. This is to ensure that the customer receives "brand new" pieces.
Unlike the other stores in Singapore, where you can pick and try as much as you like and pay for the item you've been touching, the staff can only fetch (brand new) merchandise for customers only after payment. I'm not sure if this is the standard practice everywhere else in the world, but I have observed this at some stores overseas.
Apart from some convenience installations, there are lifts at the Island Maison (but not at the Marina Bay Sands Shoppes sections), an outdoor sitting area, a private lounge and yes, even guest washrooms. Throw in a café and I believe some guests will never want to leave.
---
Ready for the tour of the Island Maison? Click "Read Full Story!"
Update!
I have returned from the preview tour of the Louis Vuitton Island Maison! Read all about it in this new blog post!
---
17th September marks the grand opening of the Louis Vuitton Island Maison at Marina Bay Sands, Singapore. This is the first Maison store in South-east Asia and more excitingly: the world's first "Island" store. Taking up the entire Crystal Pavilion North at the Sands, the Island Maison spans four stories, two levels underground (from Marina Bay Sands Shoppes) which connects to the two above-ground floors in the Crystal.
I can't say how excited I am – the Island Maison, like the other 11 in the world, is more than just a place to purchase expensive leather goods. There will be exhibition spaces, galleries and even a bookstore. And yes, this is the 12th Maison in the world. There are many other intriguing design features, just waiting to be explored, in this one of a kind store designed by award-winning architect Peter Marino. Since this is Singapore's latest flagship store after all, expect to see Louis Vuitton's entire offering, from their extensive, timeless luggage line-up to the latest Prêt-à-Porter collections, on the shelves. We can also expect a large amount of seasonal exclusives to be made available at this store.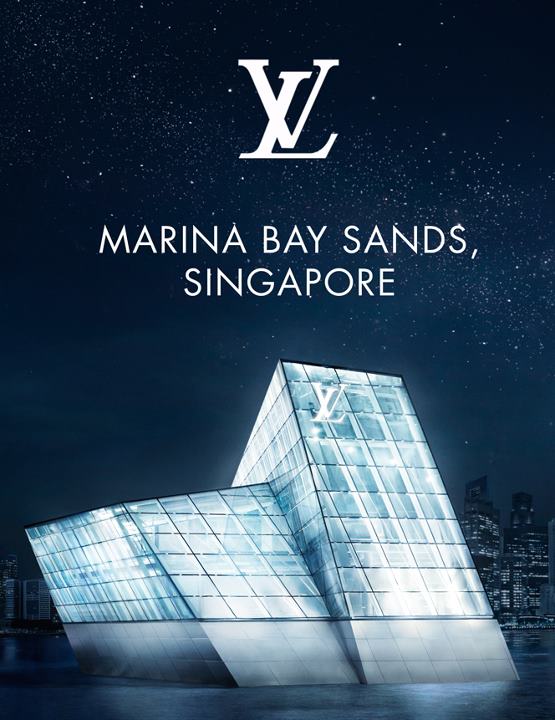 This momentous occasion will take place on the evening of 17th September around the Marina Bay area, with a Gala Opening at the Island Maison followed by a party at One on the Bund at Clifford Pier. Celebrities, socialites and Louis Vuitton's valued clients will be able to travel to the store at Crystal Pavilion – North, which has a nautical theme after all, via the waters of Marina Bay. You can imagine those luxury yachts sailing around Marina Bay area now.
The Grand Opening festivities can be viewed online on Louis Vuitton's Facebook page. It will be streamed LIVE from 7PM Singapore Time (GMT+8).
I've spotted this cute video from Chuvaness.com, featuring Louis Vuitton's iconic Groom character! This short animation actually gives a stylised, 3D look into the store's layout. So wow, there are escalators and a travellator? I've only heard of the Champs-Élysées store having nicely decorated escalators!
I am extremely fortunate to be invited to the Island Maison preview tour and grand opening party. LVMH has sent me these beautiful invitation packages!
What really surprised me was this leather envelope, crafted in Taiga leather, holding the acrylic invitation card for the Grand Opening party. It has been hot-pressed with "Marina Bay Sands SINGAPORE 2011"
While the store officially opens to the public on 18th September, I will be attending the preview tour with my family this Friday. I will try to get as many pictures as I can from this majestic landmark made of glass and steel. Stay tuned!