Update: 05/10/2011
iPhone 4S annnounced
Apple has unveiled an update to their most popular smartphone, iPhone 4. While the revised product is physically similar to the CDMA (Verizon) iPhone 4, the real changes occur under the hood:
– Dual-core A5 processor, also found in iPad 2
– 8 Megapixel rear camera, Improved camera abilities and 1080p video recording
– Siri Voice Recognition
– World phone (supports UMTS/HSDPA/HSUPA, GSM/EDGE, CDMA)
– Bluetooth 4.0 support
– 64GB model now offered
– Airplay Mirroring
Should I upgrade?
Personally, I would recommend iPhone 3G/3GS users to upgrade to enjoy the latest set of features (and er, for some people, this is strangely important for social inclusion/status) – either to the latest iPhone 4S or if budget is tight: the iPhone 4 (which is now available at a lower price). Even after 15 months, it is still a solid-performing smartphone, with the most beautiful screen and a form-factor I call "almost perfect". All new features (except the ones listed above) will be supported on the iPhone 4 as well.
Current iPhone 4 users should stay put for the next generation iPhone, although it appears that it might be a longer wait than we expect.
iPhone 4S will be available in Singapore on 28th October 2011.
iOS 5 will be released on 12th October 2011 (13th October 2011 in Singapore).
---
The new iPhone will be revealed at Apple's media event next week. Along with the birth of the new "must-have" gadget is the public release of iOS 5 for iPhone 4, iPhone 3GS, iPad and iPad 2.
I have used iOS 5 on my iPhone 4 for about three months now and it has been a wonderful experience. While the new features in iOS 5 are not completely groundbreaking or even new – in fact Apple adopted most of them from their competitors. It is not just a copy-and-paste job – the features are highly customised for Apple's devices and I believe that it will allow Apple to re-deliver functional and memorable experiences for their customers.
A number of friends have seen some of the features on my iPhone and wanted to see an entry about them – I'm consolidating my personal favourite features from iOS 5. Perhaps after reading this, you might be compelled to update the moment it's made available.
Notifications
Yes, yes, everyone is talking about notifications. Before iOS 4, notifications are just disruptive blue bubbles that burst onto your screen, tell you something, and then just vanish away. If you receive a series of notifications, you will only see the most recent one.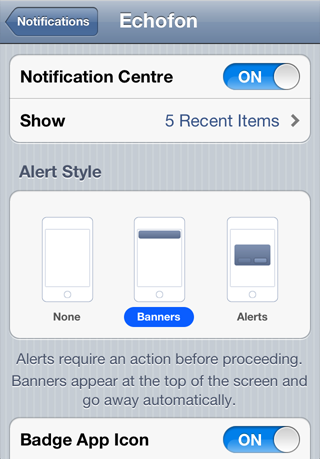 Notifications system has been completely revamped in iOS 5, allowing users to use a much more subtle banner (appearing at the top) which appears for a short moment before it rolls away. You can still keep the Bubble Alerts if you want to. This will definitely be welcomed by all iPhone users and… jeered by Android OS and WebOS users, because they had this for years (doesn't look as nice as iOS though).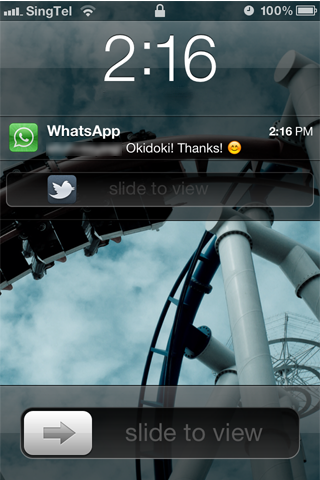 Notifications can also appear on the Lock screen as a list – that don't go away automatically until you unlock your iPhone. So now you can peek at your emails and messages without even unlocking. And… you can slide the notification item to open the App and go right into your message/email/whatever – very handy!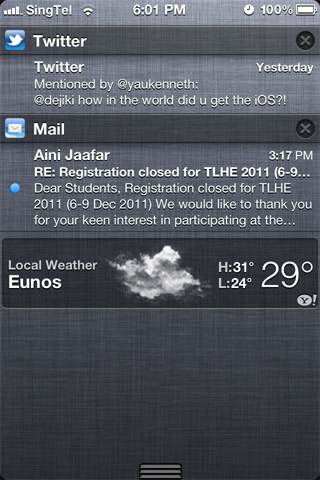 You can also view your notifications from any App. Simply drag your finger from the top of the screen and the notifications screen appears. Stock and Weather Apps can exist as mini interactive widgets here.
Wi-Fi/Background Syncing
If you're one of those people who don't sync your iPhone often (causing long sync times) or somehow only receive calls when your iPhone is syncing, then you will be glad to know that in iOS 5, there is no "Sync in Progress" screen anymore. You can still use your iPhone when it is syncing (take note of the sync arrows at the top-left corner in the image below).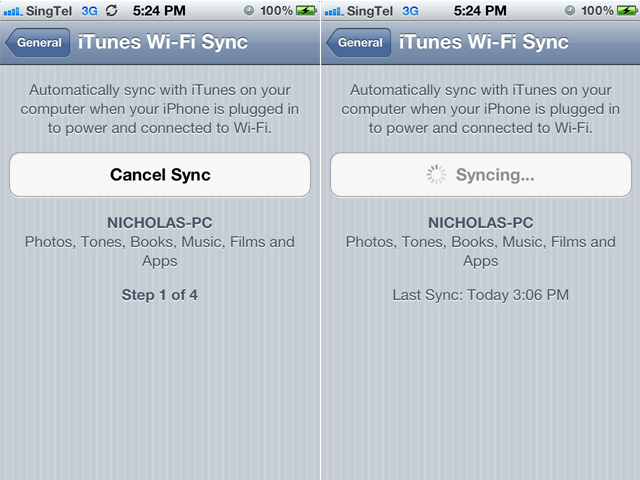 You will also be pleased to know that you can sync via Wi-Fi, although it's a lot slower. So when your iPhone is plugged in to power, Wi-Fi syncing will begin automatically. This is great if you use Speaker Docks, or some sort of charging station that is not connected to your Mac or PC.
iCloud
But what if you're not into syncing with a Mac or PC? You can start syncing "into the air" with iCloud. You probably need to know that iCloud is tied to your iTunes/App Store account. If you happen to share your account (and share Apps) with friends and/or family, this can become quite complicated. The whole idea of iCloud is to allow users to shift their data across their own Apple devices, so if you are sharing accounts, data will be pushed to all devices using the same account to download Apps.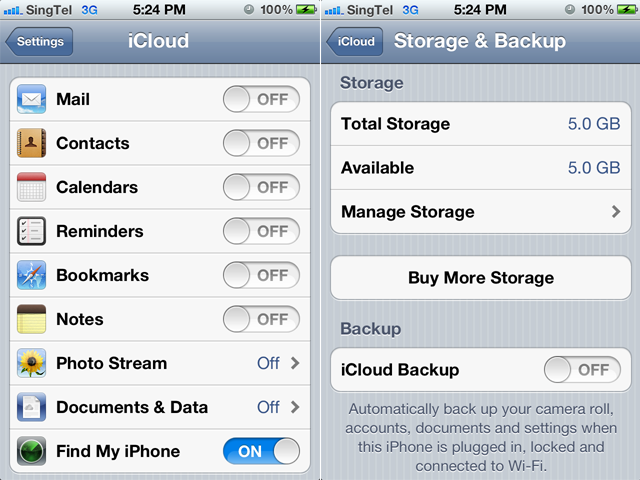 Still, it is something that you may want to consider using for back-up, since iCloud (and the 5GB of space) is free.
iMessage
iMessage is Apple's official answer to "WhatsApp". You can send messages using Wi-Fi and cellular data. Unlike WhatsApp, iMessage works on all iOS devices that support iOS 5, including the newer iPod touch and iPad. You can set it so that people can iMessage you via (naturally) your phone number and/or an email address (especially for iPod touch and iPad users). Just like FaceTime, I believe this will be merged into iChat or made available somehow in Mac OS X – In fact, I think Apple will want to complete the circle and implement a voice service, like Voice-over-IP, in the future.

Even after 3 months, I have not used this feature as the people I communicate with often do not have access to iOS 5. But this is a noteworthy feature because it's free and works on many devices – Yes, you can finally save on your SMS quota and chat with that aunty who refuses to pay $0.99 for WhatsApp!
The not-so-exciting-but-may-be-important-for-some-people features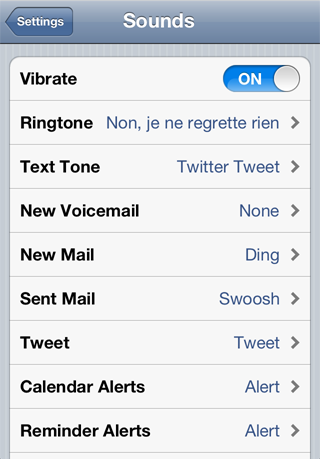 All alert sounds can be customised in iOS 5 – with any sound in the iPhone ringtone format (.m4r). Yes, you are finally free from Apple's limited but iconic choices. And… (I'm sure some people will be VERY EXCITED about this) you can have text alert tones that are 30 seconds long now.

Also, users will be able to choose vibration alert patterns – or even create their own – and specify different patterns for different contacts.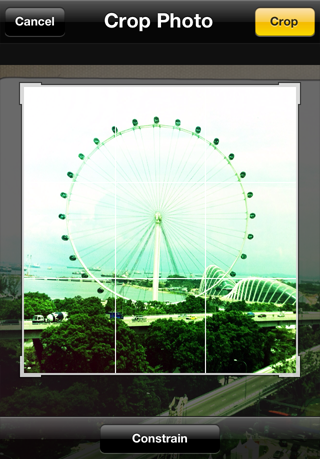 The Camera/Photo App has a slew of new features, including simple but useful editing tools (Crop, Basic Adjustments) and FINALLY – the ability to take photos with the Volume-Up button. It is definitely a lot better than the touchscreen. And oh, there is a short-cut to the Camera App from the Lock screen – Simply double-tap home (as if you are calling iPod controls) and a Camera button will appear next to "Slide to Unlock".
---
This is certainly not an exhaustive list of all the new features in iOS 5. There are A LOT of minor, but still useful tweaks almost everywhere. For a full list, refer to Apple's website. iOS 5 will be released on 12th October 2011 (13th October 2011 in Singapore).
The following devices are compatible iOS 5, but not all features are supported on older devices:
iPhone 3GS, iPhone 4
iPod touch (third-generation, 2009), iPod touch (fourth-generation, 2010)
iPad, iPad 2
The new iPhone will also be unveiled the same day and should include some exclusive features for its new hardware, to entice switchers and give current iPhone owners a little push to upgrade. Frankly, if you are intending to upgrade and wish to get rid of your older model, I highly recommend selling your device right now before the resale market (especially in Singapore) just flips over.