Update!
I have returned from the preview tour of the Louis Vuitton Island Maison! Read all about it in this new blog post!
---
17th September marks the grand opening of the Louis Vuitton Island Maison at Marina Bay Sands, Singapore. This is the first Maison store in South-east Asia and more excitingly: the world's first "Island" store. Taking up the entire Crystal Pavilion North at the Sands, the Island Maison spans four stories, two levels underground (from Marina Bay Sands Shoppes) which connects to the two above-ground floors in the Crystal.
I can't say how excited I am – the Island Maison, like the other 11 in the world, is more than just a place to purchase expensive leather goods. There will be exhibition spaces, galleries and even a bookstore. And yes, this is the 12th Maison in the world. There are many other intriguing design features, just waiting to be explored, in this one of a kind store designed by award-winning architect Peter Marino. Since this is Singapore's latest flagship store after all, expect to see Louis Vuitton's entire offering, from their extensive, timeless luggage line-up to the latest Prêt-à-Porter collections, on the shelves. We can also expect a large amount of seasonal exclusives to be made available at this store.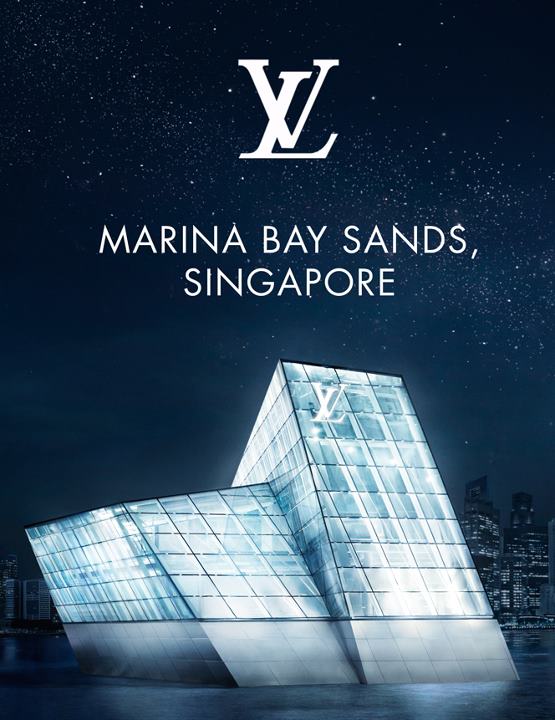 This momentous occasion will take place on the evening of 17th September around the Marina Bay area, with a Gala Opening at the Island Maison followed by a party at One on the Bund at Clifford Pier. Celebrities, socialites and Louis Vuitton's valued clients will be able to travel to the store at Crystal Pavilion – North, which has a nautical theme after all, via the waters of Marina Bay. You can imagine those luxury yachts sailing around Marina Bay area now.
The Grand Opening festivities can be viewed online on Louis Vuitton's Facebook page. It will be streamed LIVE from 7PM Singapore Time (GMT+8).
I've spotted this cute video from Chuvaness.com, featuring Louis Vuitton's iconic Groom character! This short animation actually gives a stylised, 3D look into the store's layout. So wow, there are escalators and a travellator? I've only heard of the Champs-Élysées store having nicely decorated escalators!
I am extremely fortunate to be invited to the Island Maison preview tour and grand opening party. LVMH has sent me these beautiful invitation packages!
What really surprised me was this leather envelope, crafted in Taiga leather, holding the acrylic invitation card for the Grand Opening party. It has been hot-pressed with "Marina Bay Sands SINGAPORE 2011"
While the store officially opens to the public on 18th September, I will be attending the preview tour with my family this Friday. I will try to get as many pictures as I can from this majestic landmark made of glass and steel. Stay tuned!